Bundled up in cozy sweatshirts and woolen stockings, families in American homes all over gather to begin the holiday season by feasting on exotic cuisine. Thanksgiving occurs on the fourth Thursday of every November, where people sit down at a table along with family and friends to celebrate every good that has occurred in each one's life and how grateful they are for everything.
This year, Thanksgiving falls on 25th November, 2021 and here are 6 epic ways to spend Thanksgiving in Dubai.
Thanksgiving In Dubai
---
With chill weather and tourists all over the city, you know that festive season is about to hit Dubai. Numerous Thanksgiving gatherings take place in Dubai to inculcate the true spirit of Thanksgiving and keep it festivity alive even though you may be away from home.
Tag along with your favourite people, enjoy a luscious feast, and relish everything you have. From American dine-in venues to additional tips to make your trip memorable, we have you all covered!
6 Ways To Spend Thanksgiving In Dubai
---
For those of you who are traveling this Thanksgiving to Dubai, we are not going to let you compromise on your classic turkey and stuffing. Here is your guide to know where to eat and from things to do for an epic Thanksgiving in Dubai.
Take A Spin At The Dubai Ice Rink
The Dubai Ice Rink, located at the Dubai Mall, is a prominent leisure point for people residing in the Downtown Dubai community and the surrounding regions. If you miss the chill weather in America and wish to experience the same, we have a pinch of it, right here in Dubai. This indoor ice rink in Dubai allows you to glide across the gigantic rinks and also offers a Disco session every two hours. If you are an amateur at ice-skating, the Olympic-sized ice rink offers several coaching sessions to help you skate with ease. Enjoy Thanksgiving this year by skating under snow with your loved ones.
Have a Thanksgiving meal in the Desert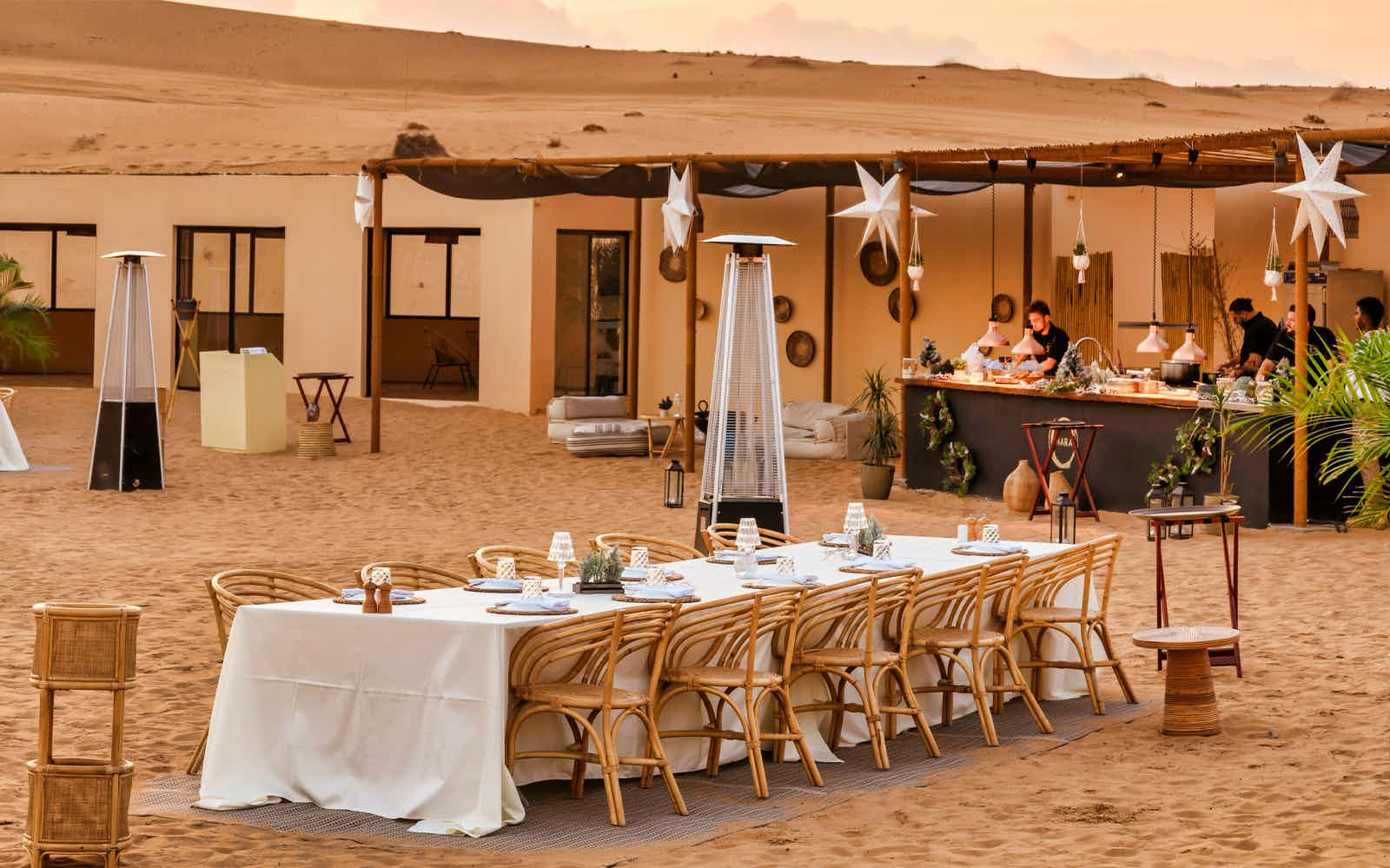 How about a Thanksgiving meal in the desert? Sign up for a desert safari experience in Dubai and enjoy a BBQ dinner in the desert safari camp with Egyptian Tanoura dance performances, adventure sports like dune bashing, camel riding and more. With high-quality hospitality, there are guides designated to assist you for the trip and help you at every stage of the Desert Safari Dubai. What better way to spend an offbeat Thanksgiving experience in Dubai?!
Related Read: All about choosing the best Dubai Desert Safari
Enjoy Thanksgiving on a Traditional Dhow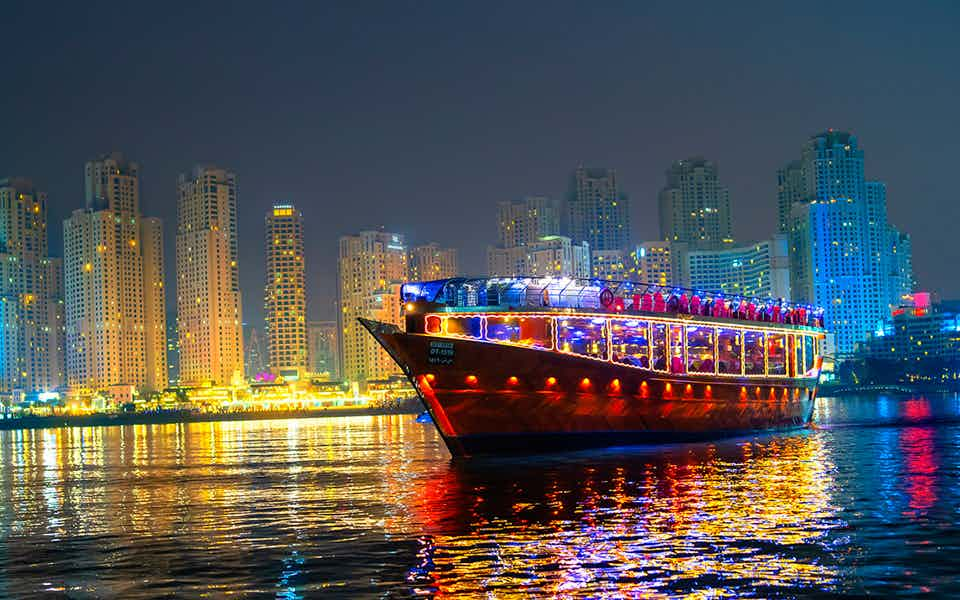 A mouth-smacking international buffet on board and taking in the lights and sights of Dubai on the water accounts for a perfect Thanksgiving. You can enjoy an evening on a 2-hour cruise with a variety of international cuisine on a traditional Arabian Dhow (a one-or two-masted Arab sailing vessel), inclusive of a glass-enclosed lower deck and an open upper deck.
Hop onto the traditional Dhow to have a perfect blend of old and new combined with a visual dining experience of Dubai's famous attractions and skyscrapers along the artificial canal.
Related Read: Discover the best of Dubai Dhow Cruises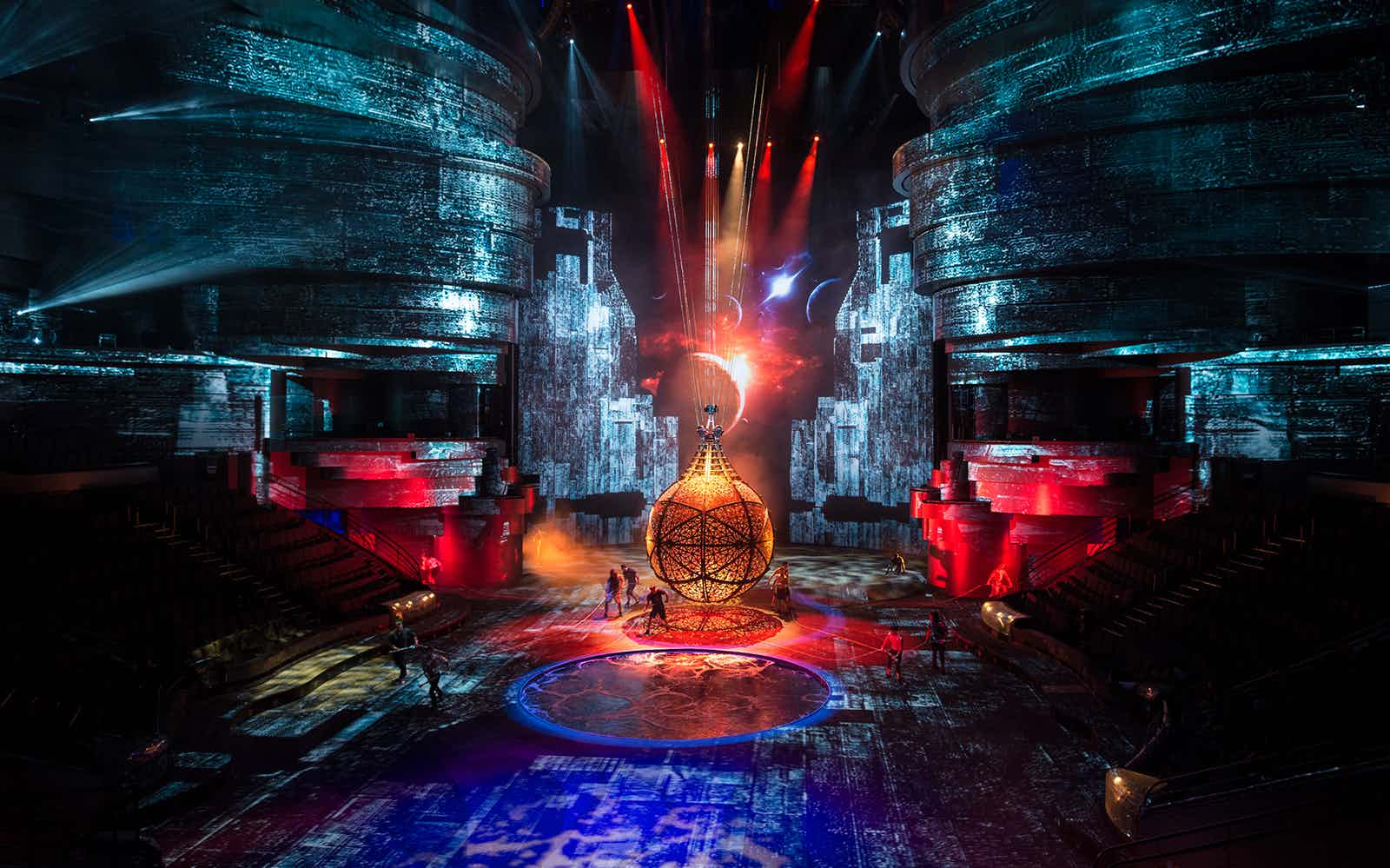 This Thanksgiving, do something different and experience an extraordinary aqua-stage-based live show – La Perle, featuring 65 artists across 23 different countries. You can witness actors and acrobats performing a breathtaking fusion of artistic acts during the fast-paced live show.
Situated in the heart of Dubai at Al Habtoor City, La Perle is Dubai's purpose-built theatre which promises to give you a visually captivating experience envisaged by Dragone. The artists perform mind-blowing aerial feats, such as diving from a height of 25 meters. Audiences are close to the action and get a perfect panoramic experience, with projection walls in the theatre. High-definition speakers are installed into the 1300 seat theatre and are sure to teleport you to a world beyond.
Get To Pick-Up Your Own Thanksgiving Meal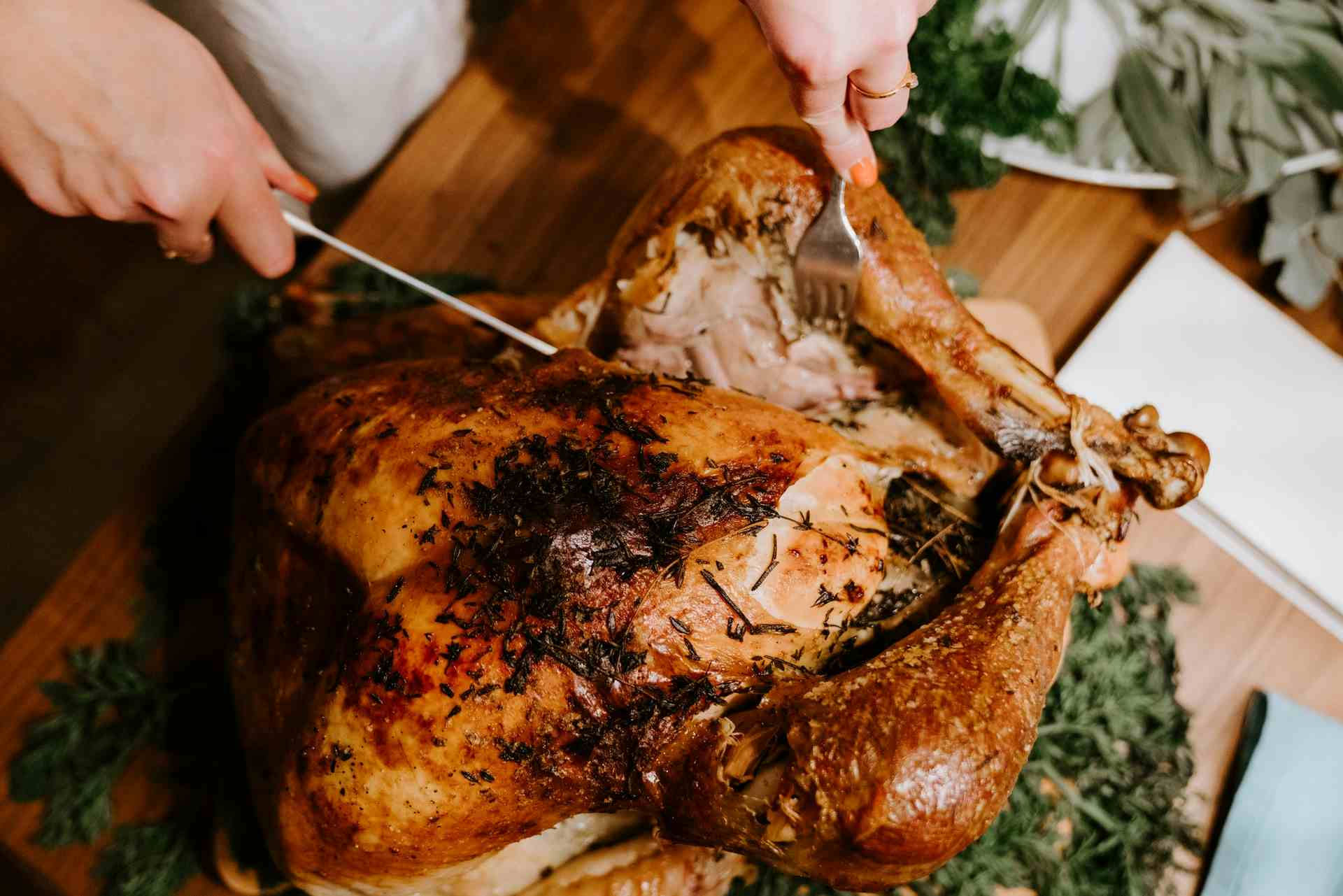 How easy would it be if someone did all the prep work for you for that ideal Thanksgiving meal while you sat back all cozy under the spreads of your nest? Here are some Turkey takeaways we think you'll like.
#1 Jones the Grocer
Jones the Grocer in Dubai is a family favourite for every meal of the day. For Thanksgiving, the Jones Roast Turkey comes with cranberry sauce, juniper-infused gravy, sage, and stuffing. They also provide a perfectly tender Aussie roasted lamb leg with roast caramelized garlic and rich rosemary gravy. The sides include fluffy duck roasted potatoes, gourmet sausages in beef bacon, and cauliflower cheese. Now that is something you wouldn't want to miss trying.
Cost: Roast without sides – Dhs 695 / Roast with sides – Dhs 899 (serves 8-10 people)
#2 Jumeirah Golf Estates
The Jumeirah Golf Estate serves turkey takeaway with all the trimmings, starting at Dhs 450. If you have a sweet tooth, order desserts too. Available from November 24 to December 30. Ensure that you order 48 hours in advance before it hits the rush hour.
Cost: 4 to 5 kg Turkey costs Dhs 450/ 9 kg Turkey costs Dhs 750
#3 Emirates Golf Club
Emirates Golf Club is giving away turkey to make your Thanksgiving a joyous one. You will get a small turkey and trimmings for Dhs 106 or you can pick from roast beef sirloin, foie gras terrine, and yule log. This service is available from November 24 to December 30. Ensure that you order 48 hours in advance before it hits the rush hour.
Cost: Small Turkey serves 4 people – Dhs 290 / Large Turkey serves 8-9 people – Dhs 620
#4 Atlantis ''Truffle Stuffed'' Takeaway Turkey
Grab your turkey from Atlantis, with all the sides, trimmings, and more. You will get cranberry sauce, mashed potatoes, and giblet gravy. You can enjoy this from November 25 to December 30, along with an additional turkey upgrade of truffle stuffed turkey from Ossiano for Dhs 350. This is available between December 24 and 26. Ensure that you order 48 hours in advance before it hits the rush hour.
Cost: Medium Turkey serves 6-8 people – Dhs 795 / Large Turkey serves 10 to 12 people – Dhs 1095
Head Out To Have A Perfect Thanksgiving Meal With Tasty Deals!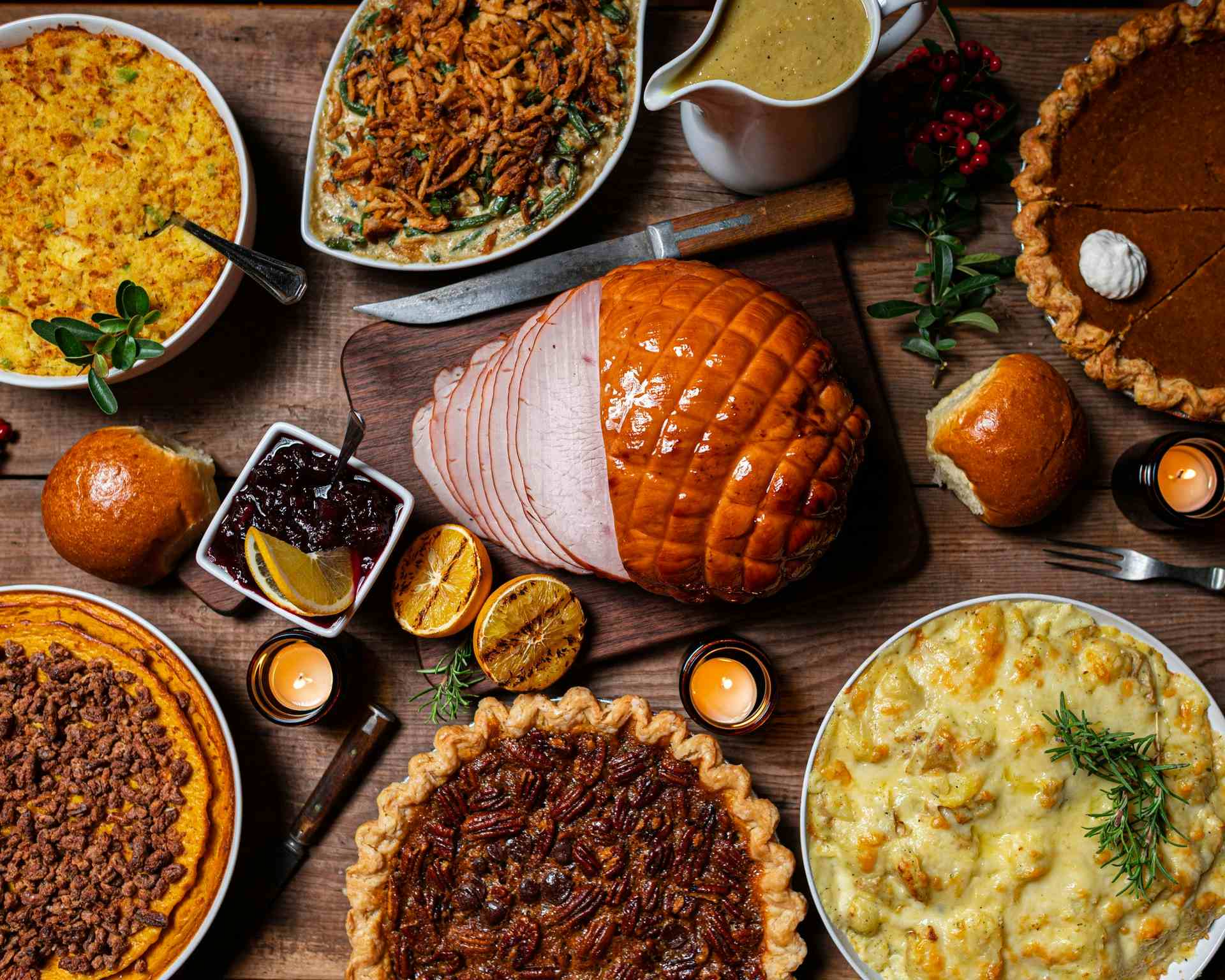 The festival involves a gathering of family and friends around a sumptuous dinner with roasted turkey, pumpkin pie, mashed potatoes and so much more! But organizing a Thanksgiving meal can be slightly chaotic. If you wish to take a break from the monotony and want to enjoy dinner without having to cook for long hours, there are numerous restaurants that honor this occasion and offer wholesome Thanksgiving dinner in the country.
#1 Claw BBQ
If You Want to enjoy live American football on TV while munching on your favourite cuisine, then you should feast at Claw BBQ on Thanksgiving. You can enjoy a buffet full of traditional meals like turkey, Pumpkin pie, and much more for only AED 150. If you love American food and crab, then this is the place for you.
Location: Souq Al Bahar, Downtown Dubai, United Arab Emirates
#2 Hell's Kitchen
Gordon Ramsay's Hell's Kitchen in Dubai is inspired by his reality TV show and is an ideal stop to dine this Thanksgiving. With world-class cooking, the kitchens are all set to turn up the heat with a three-course Thanksgiving-inspired menu featuring pecan pie, pumpkin pie, candied yam, and of course the famous Turkey Wellington. Guests can enjoy the thanksgiving menu without beverages, which would be approximately AED 300 per head, and with beverages, it would be around AED 395 per head.
Location: Caesars Palace Bluewaters Dubai, Bluewaters Island, United Arab Emirates
#3 Fuchsia Urban Thai
For those who are urging for a guilt-free and bite-size portion of delicious Thai flavours, you should not miss out on visiting Fuchsia Urban Thai. The restaurant offers a unique Thanksgiving dinner with dishes like pink dim-sum stuffed with minced turkey priced at approximately AED 40.
Location: Shop P-03, Plaza Level, Building 04, Bay Square, Business Bay, Dubai, United Arab Emirates
#4 Brunch And Cake
With an ambiance that makes you want to Instagram everything around, the Brunch and Cake in Dubai's Jumeirah 1 offers a delicious single-serving turkey with exotic sides. You can enjoy all flavours of the season through this meal and is a go-to spot for Thanksgiving. You can enjoy a platter of roasted potatoes, rainbow carrots along with slow-roasted Turkey. Apart from this, you can enjoy a palette of goat cheese, beetroot, and pumpkin galette for the price of AED 83 per head.
Location: Ground Floor, Wasl 51, Al Wasl Road, Jumeirah 1, Dubai, United Arab Emirates
#5 Culture Café – Dubai Marriott Harbour
Enjoy all the classic favorites during this festive season and feast to your heart's content with a turkey platter, sweet potato pie, roasted apple, and more at Dubai's famous neighbourhood café - Culture Café. The two-course meal is priced at around AED 130 per head. If you are heading with a bigger crowd, you can opt for a three-course meal at AED 150 per head. You can enjoy a platter of roasted potatoes, rainbow carrots along with slow-roasted Turkey. Apart from this, you can enjoy a palette of goat cheese, beetroot, and pumpkin galette for the price of AED 83 per head.
Location: Ground Level Dubai Marriott Harbour Hotel & Suites, King Salman Bin Abdul Aziz Al Saud Street Dubai, United Arab Emirates
#6 Brasserie Boulud
At Brasserie Boulud, Thanksgiving is celebrated by serving a menu inspired by Daniel Boulud's signature dishes like Turkey stuffing, mashed potatoes, pumpkin pie, butternut squash soup, and much more. The festive meal will cost around AED 195 per head.
Location: Al Masha Street, Le Royal Meridien Beach Resort & Spa, Dubai, United Arab Emirates
Tips on Spending Thanksgiving in Dubai
---
With notorious transportation delays and travel snags, the Thanksgiving holiday is the busiest time of the year to travel. This holiday season, we are here to ease some of those travel headaches to escape for a drama-free adventure. You'll surely be thankful for these Thanksgiving travel tips!
Travel Light
If you have family in Dubai, consider shipping some of your belongings, especially presents, bulky items, and extra clothes to lighten your traveling load.
Shop Till You Drop
For all the shopaholics who are in search of great deals, Dubai is the one-stop destination. The Dubai Mall is one of the biggest shopping malls in the world with excellent views of the city and offers attractive deals during this season. With about 1200 shops, shoppers can shop using a special coupon code and buy gifts for their loved ones. Since you are already here, don't forget to check out the dancing Dubai Fountain and the Dubai Aquarium - the largest indoor suspended aquarium in the world hich is housed inside the mall.
Beaches During Winters? Yes!
People around the world are forever delighted when the beach season arrives. Unlike other places in the globe, the beach season in Dubai is enjoyed during the winters. Usually, it is too hot in Dubai to venture outside during the summers.
International travellers looking to spend their Thanksgiving in a winter destination, where you need not wear gloves and heavy coats, Dubai should be your go-to hub. Imagine spending winters in a pair of swimsuits! Cool, isn't it?
Related Read: Best Beaches in Dubai – Your Guide to the Best Outdoor Beach Activities In Dubai
Visit Dubai Global Village
Known to be the leading festival park, the Dubai Global Village is known to host numerous events every year from October till April beginning. Since the country experiences a drop in temperature, large-scale events are usually held during this time.
This Thanksgiving, you should schedule a visit to the Global Village in Dubai and attend the series of festivals that are planned. Enjoy various cultural, shopping and entertainment activities.
Enjoy Water Sports and Water Parks in Dubai
Wondering how chill the waters are going to get during this season? 22 degrees Celsius! Yes, that's right. The residents of Dubai are accustomed to the high desert temperatures and might find it to be quite cold, but it isn't the case for visitors from Europe.
The waterparks in Dubai operate during the better part of the year but they may not be functional during the heights of the winter season. During Thanksgiving, the weather will be beginning to get slightly chill, so you can always check the closure dates before heading to the destination. If not waterparks, you can always enjoy a dip at resort swimming pools as they are open even during the coldest days since the pools are temperature controlled.
Related Read
Water Sports in Dubai – An Extensive Guide
The Ultimate Guide to the 5 Best Water Parks in Dubai

Explore The Rest of Dubai
Fancy heading out to some other must-visit Dubai attractions post-holiday? Take inspiration from our list of the best things to do in Dubai here. Use our comprehensive Dubai Travel Guide to explore the rest of Dubai in a hassle-free fashion with all the need-to-know information in hand.
In Dubai for a few days?
In the city for a few days and want some help charting out an itinerary? Check out our 1 day in Dubai, 3 days in Dubai & 5 days in Dubai itineraries for inspiration.
Yes, Thanksgiving is celebrated in Dubai. You'll find Thanksgiving deals, brunches and more during Thanksgiving.
Dubai in November marks the onset of tourist season and is the perfect time to visit the country.
November is definitely a good time to visit Dubai. Thankgiving deals in Dubai are a steal and the weather is perfect - making for a great time to visit Dubai.