Dubai Safari Park Reopening Date - 5th October 2020
---
With a wide range of fun activities and surprises, the Dubai Safari Park resumes functioning on 5th October 2020. Find out more about the effective measures put in place to ensure a safe and seamless experience for all visitors.
Safety Measures & New Rules at Dubai Safari Park
---
For safety reasons, all visitors are requested to follow social distancing of at least 2 meters from other guests throughout the venue. Thermal cameras have been installed along with mandatory temperature checks before entering the Safari Park.
Signages and floor markings have been placed at various points within the venue providing guests valuable safety guidelines. Starting 5th October, vending machines in the park will also provide masks and gloves for guests to purchase. Hand sanitizers on the other hand will be given to each visitor upon entry.
Activities such as animal feeding, educational and awareness programmes along with seasonal events have been introduced to incorporate a holistic experience for the visitors. After reopening, the Dubai Safari Park being both an animal reserve and educational center features a group of new animals, including Afican elephants and giraffes. Some of the rare ones would be Komodo dragon, spiral-horned antelope, Arabian Oryx, coloured African wild dog, gorilla, gibbon, bongo, and lemur.
Air conditioned trains will help the guests transport swiftly around the park. Bus tours are also made available by following the new safety guidelines which will also give visitors a chance to explore animals from both Africa and Asia.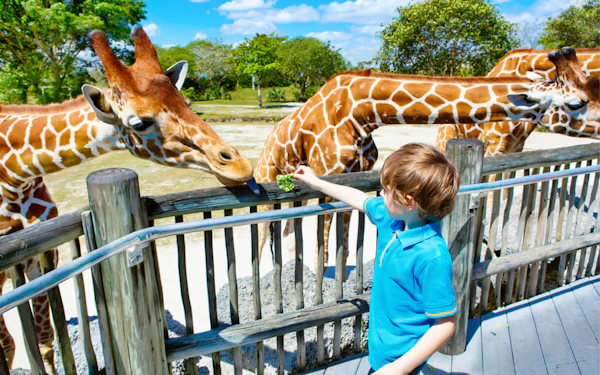 Booking Dubai Safari Park Tickets Online
---
Tickets for the Dubai Safari Parkare available here. To maintain a safe distance and to avoid overcrowding, it is advised to purchase tickets online before arriving at the venue. Free admission will be provided to children below the age of 3.
People of determination will be provided free access along with 2 other companions. Guests will be able to enter by displaying the SANAD Card.
Dubai Safari Park Tickets
Explore the 119 hectare animal sanctuary and take in the diverse array of wildlife which is rarely seen in the Arabian desert. Drive into the different zones on an eco-friendly solar-powered vehicles and you spend your day taking in the unique experience that is the Safari Park, Dubai.
Discover different zones and ecosystem of the animals and watch animal shows at two separate theatres
Special area for kids to interact with animals and learn more about them
See fascinating animals including lions, elephants, crocodiles, giraffes and more
Skip the Line Tickets
Schedule of Timing for the Shows
---
Small Theater Show (Bird Show), Everyday, 10 am - 10:30 am
Big Theater Show (Amazing Creatures of the World), Everyday, 11:30 am - 12 pm
Small Theater Show (Bird Show), Everyday, 1:30 pm - 2 pm
Big Theater Show (Amazing Creatures of the World), Everyday, 3 pm - 3:30 pm
Open Field (Raptor Show), Everyday, 4 pm - 4:30 pm
For more information about visiting the Dubai Safari Park, refer to their information page here.