The booming cultural hub of Dubai, known for its architectural wonders, also offers a robust art scene for tourists and locals alike to feast upon. The city is known for its extravagance and with top-tier galleries, art fairs, photography and design studios, street art installations, and several other art projects in the works, Dubai is soon set to emerge as a multifaceted hub for commercial art.
Enter through the gift shop and into the mysterious world of street artist Banksy by purchasing tickets to the temporary World of Banksy exhibition on display within Mall of the Emirates on Sheikh Zayed Road. Showcasing 120 original artworks that take visitors on a journey through Banksy's wide and cherished spectrum, The World of Banksy Dubai is the largest exhibition yet to be dedicated to the creative and satirical mastermind.
World of Banksy Dubai 2021
Essential Information
---
Banksy Dubai - Things to know
Suggested duration: 2 hours
World of Banksy ticket price: AED 75 for adults and AED 45 for kids
Opening Date: The exhibition opened on 5th April 2021
Closing Date: The exhibition will close on 30th June 2021
Must-see at Banksy Dubai
Girl with a Balloon | Flower Thrower | Mobile Lovers
World of Banksy Dubai Opening Hours
Daily from 12 noon to 12 midnight

World of Banksy Dubai Address
The Theatre inside Mall of the Emirates
Get Directions
Who is Banksy?
---
Banksy is the pseudonym of a guerrilla street artist from Bristol, England, who turned cities into canvases with politically charged and provocative artworks that reflect the cultural landscape. Over the years, his work has highlighted themes of capitalism, war, the human condition, and more; some even coated with a dash of dark humor. His striking images, moreover, are often accompanied by slogans. He is particularly known for using copyrighted material and for politicizing classic images. The characters that inhabit his artworks often include rats, apes, policemen, and children.
It is believed that Banksy started as a mere graffiti artist in the underground scene early on in the 1990s, but by the late 90s, he switched to stencils and soon achieved worldwide fame. Despite intense speculation, his true identity remains a mystery to this day, earning him a loyal cult following the world over.
Why Should You Visit The World of Banksy Dubai?
---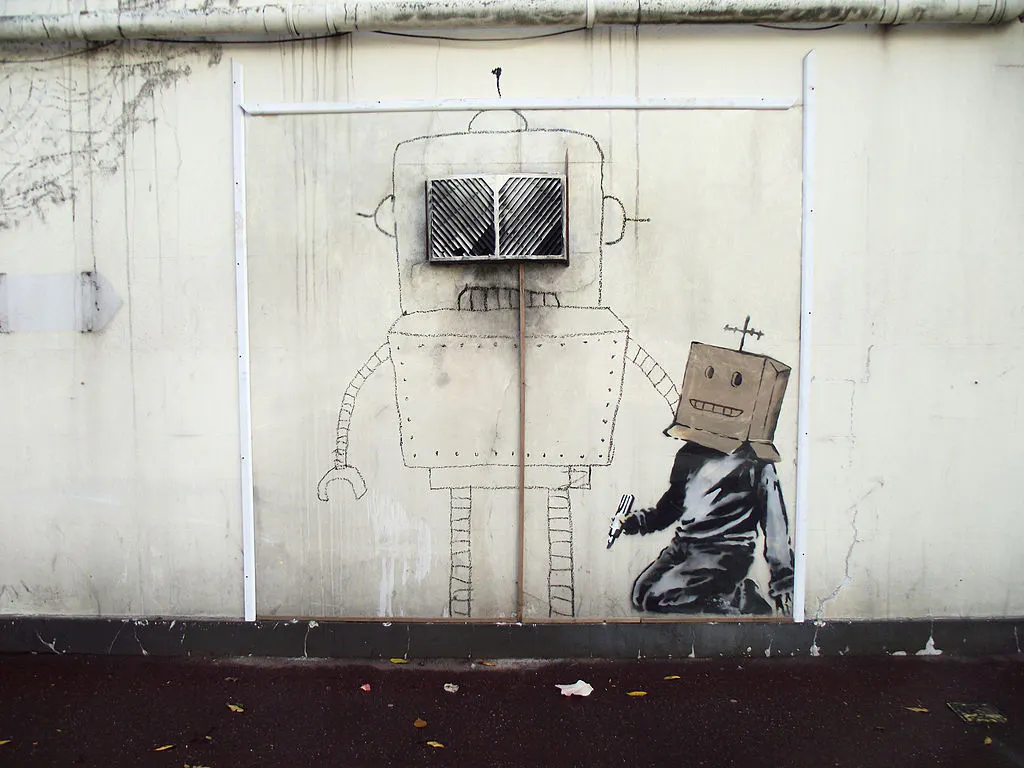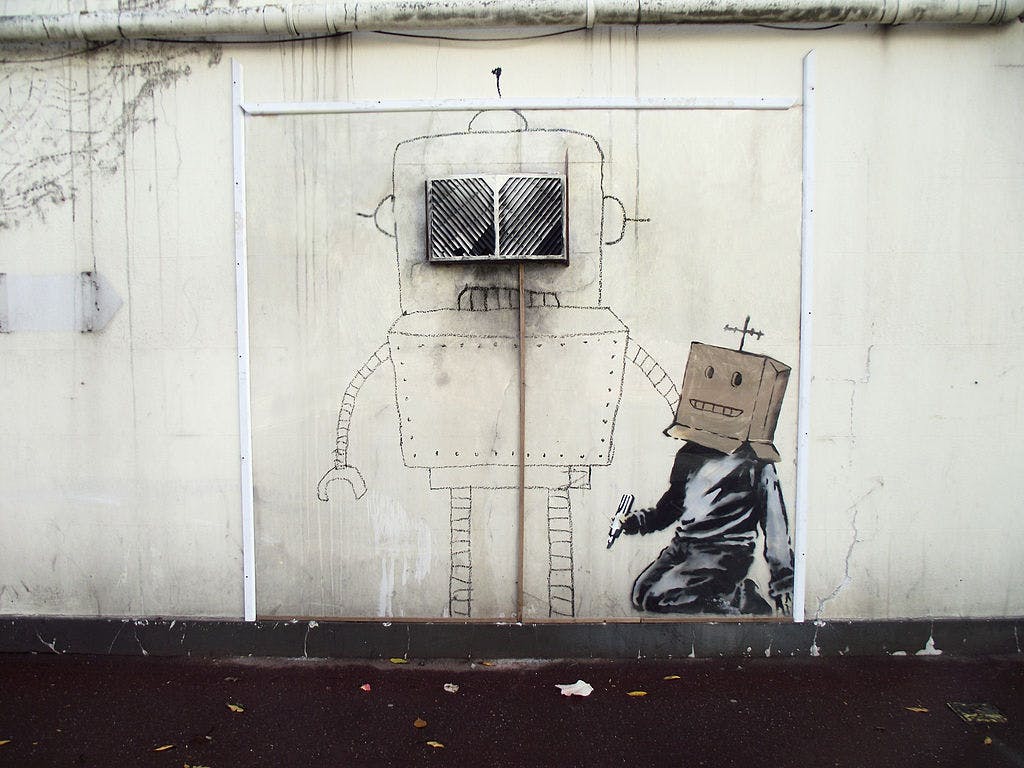 The story of Banksy is fascinating because not only has the artist managed to successfully conceal his identity but he's found fame for the very anonymity that his name carries. But not his art, which speaks directly to the viewers, evoking the kind of emotion that many fear to spell out. Through this World of Banksy Dubai exhibition, visitors get a peek inside the mind of this genius, and in some way understand why and where he comes from. From Palestine to the UK and US, this exhibition celebrates the sheer range of his commentary on the human condition with 120 original pieces including his most famous work.
COVID-19 Safety Measures at Banksy Dubai
---
To ensure the safety of its visitors, The World of Banksy Dubai has certain strict regulations in place:
All frequently touched areas are regularly sanitized.
The number of visitors is limited to avoid crowds.
All visitors are required to bring and wear masks.
Temperatures will be checked at the entrance.
Social distancing is enforced throughout the experience.
The World of Banksy Dubai Exhibition
---
Spread out across a massive 1,000 square meter area, the exhibition is spaced out through a series of rooms and runs daily between noon and midnight. The completely unauthorized exhibition (just the way Banksy would like it to be) includes recreations of his most famous pieces, such as Girl with a Balloon, Flower Thrower, Mobile Lovers, and several more. It features a perfect mix between his murals, paintings, and street art. In addition to this, visitors can also expect a photography exhibition by Philippe Bernaerts, a famous Belgian photographer who brings together a series of documentary pictures about street and city atmospheres.
Banksy's Most Iconic Artworks
---
1

Love Is In The Air – Flower Thrower (2003)
This graffiti, featuring a masked rioter throwing not a molotov cocktail but a bunch of flowers, is often seen as a symbol of peace and fortitude in the face of adversity. It first appeared in Jerusalem on a wall along the main road to Beit Sahour, Bethlehem.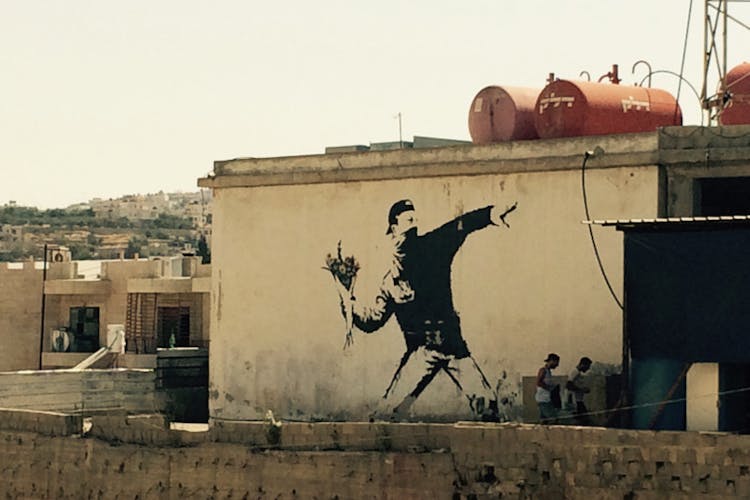 2

There Is Always Hope (2002)
This can be found in the South Bank, London. The image portrays a young girl and a bright heart-shaped balloon that signifies hope. Although it is simple, it is open for interpretation because the girl can be viewed as either losing the balloon or reaching for it.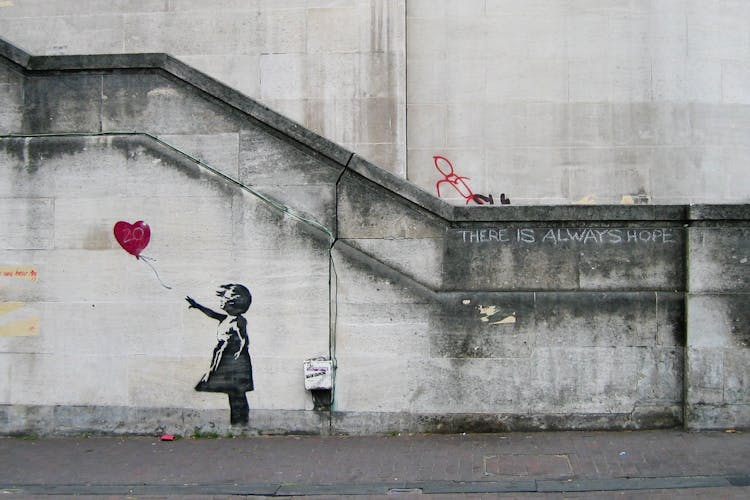 3

Unwelcome Intervention (2005)
Stenciled onto the Israeli-Palestinian West Bank barrier wall, this mural depicts two boys playing on the sand with a beach visible through a hole in the wall. This piece plays on the notion that the grass is greener on the other side and how wonderful life would be without walls.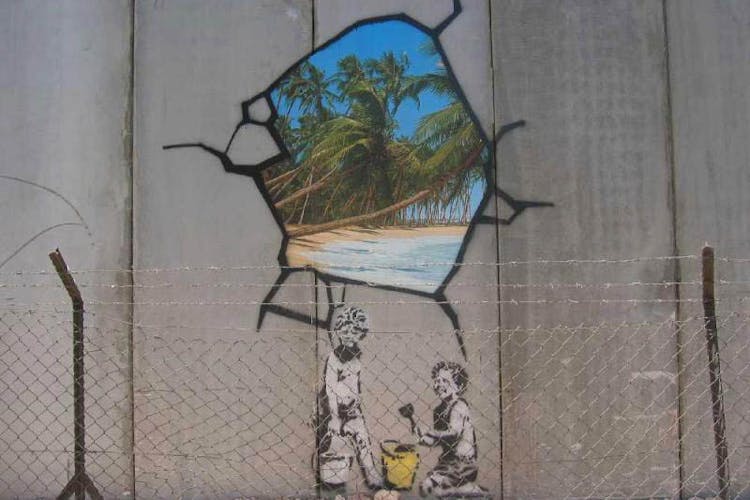 This satirical "bemusement park" is a spin-off on Disneyland and the average family day out. It features a demented assortment of bizarre and beautiful artworks by global artists and Banksy himself. The pieces here portray themes of apocalypse, anti-consumerism, and social critiques on celebrity culture.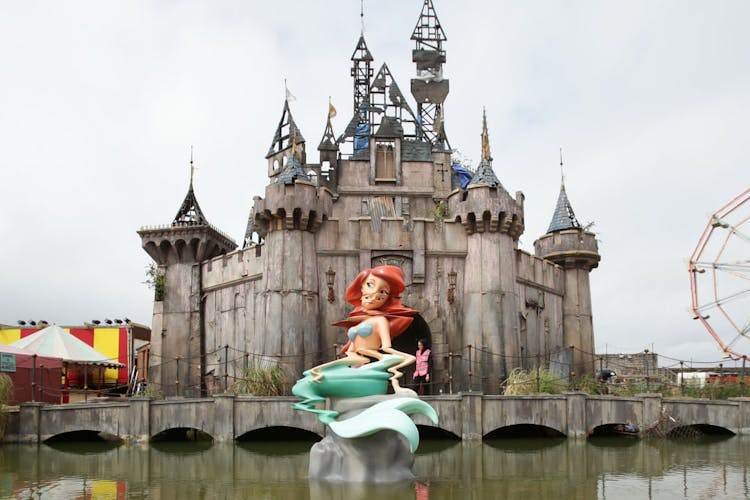 This piece holds a potent meaning that viewers often miss out on first looks. It shows a terrified naked girl with Mickey Mouse and Ronald McDonald holding her hand on either side. The original image of the girl was pictured during the napalm bombings in Vietnam in 1972.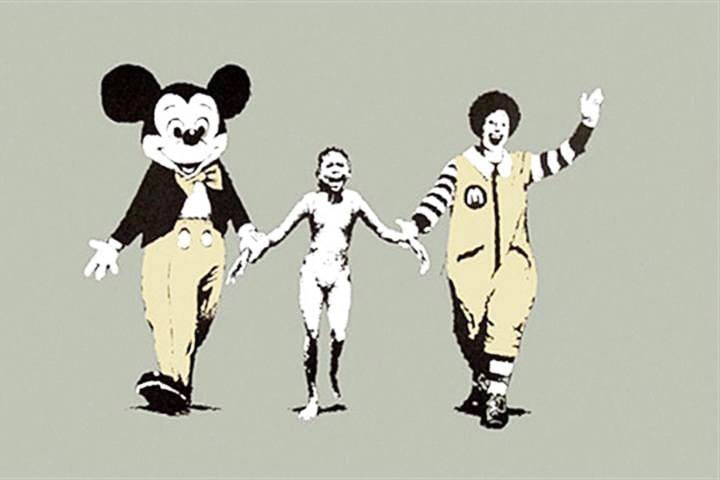 The World of Banksy Dubai Tickets
How Much Do Banksy Dubai Exhibition Tickets Cost?
---
In the wake of the COVID-19 pandemic, it is highly recommended that you purchase The World of Banksy Dubai tickets online in advance. Tickets start at AED 75 for adults and AED 45 for children aged 12 and under. There are also VIP tickets costing AED 110 with skip the line access, and another VVIP pass with a guide included is forthcoming, but prices are yet to be confirmed.
Tips for your Banksy Dubai visit
---
Disable the flash on your camera before clicking photos of the artwork.
Sanitize your hands regularly and avoid touching the artworks on display.
Please note that food and beverages cannot be carried inside.
Purchase a VIP ticket if you want to avoid the crowds and skip the lines.
Take your own time to explore the exhibition as there is no set time limit on the visit.
The Theatre where the exhibition is being showcased can be accessed directly from the car park area under Ski Dubai.
Visiting World of Banksy Dubai 2021
Practical Information
---
Opening Hours
The World of Banksy exhibition will remain open from 12 noon to 12 midnight.
Getting There
By Bus: Buses F29, F30, F33, F35, J01, 81, 93, and 105 will get you there.
By Metro: Take the Red Line metro to the Mall of Emirates station which opens directly into the mall.
By Car: If you're traveling by car, take the fourth interchange at Sheikh Zayed Road to reach the mall.
Parking
The Mall of Emirates has plenty of space for parking. Nearest parking to The Theatre is Orange Parking A6 located on level 2 within Mall of The Emirates.
It offers free parking on weekends and public holidays. Parking is free for the first 4 hours between Sunday and Thursday, after which a small fee is levied.
Best Time to Visit
The best time to visit The World of Banksy exhibition is during the day when the rush is relatively low.
Where To Dine Around The World of Banksy Dubai
---
Here are a few restaurants and eateries in Mall of the Emirates where you can grab a bite.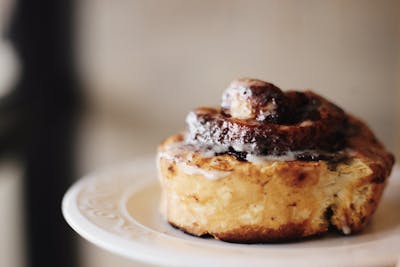 Cinnabon
Visit Cinnabon, a bakery restaurant and cafe located inside the Mall of the Emirates. Try out the world-famous Cinnamon rolls made of premium Indonesian cinnamon and topped off with sweet, rich, cream cheese-based frosting.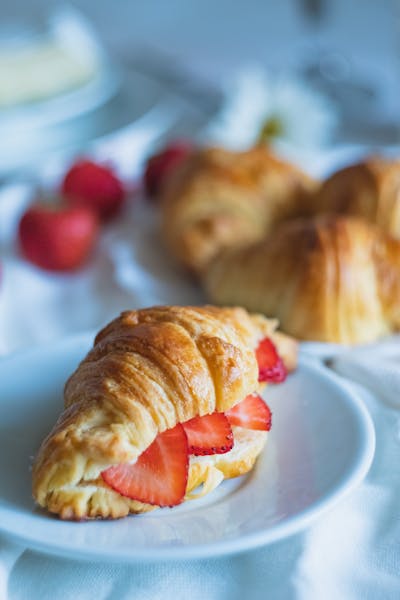 Le Pain Quotidien
This chic bakery brings an organic dining experience to the table with its rustic themed indoors, its black chalkboard with specials, wicker baskets, pastries, the communal table, and more. Enjoy an exclusive menu of choice cuisine prepared with the finest ingredients in town.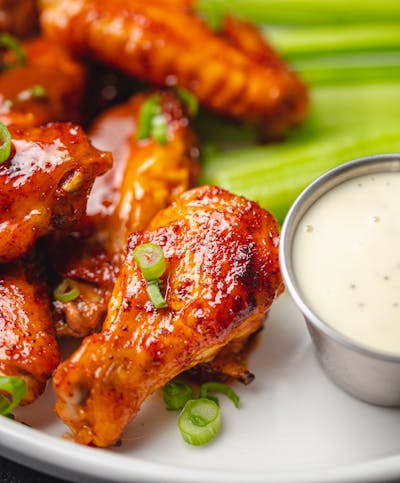 Nando's
Behind most of the things in Nando's is an extraordinary story. With delicious, addictive sauces, flame-grilled meats, and peri-peri in the center of it all, Nando's gives your taste buds a warm South African welcome.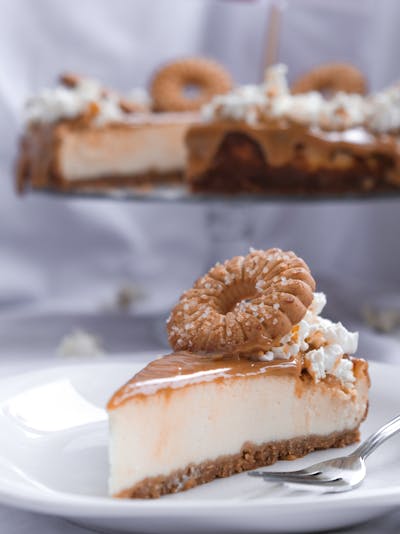 Cheesecake Factory
Even with 160 outlets over the world, Cheesecake Factory remains as unique as ever. The menu here boasts over 200 selections and approximately 50 legendary cheesecakes and specialty desserts. Apart from this, you will also find small plates & snacks, pasta, steaks, salads, sandwiches, and more.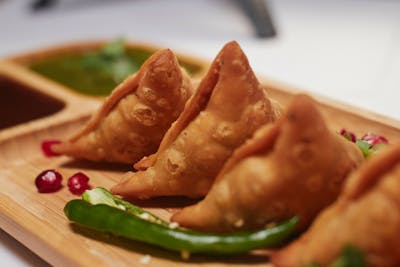 Bombay Chowpatty
This Dubai-based Indian restaurant chain is ideal for a quick bite. With simple interiors, a pleasant ambiance, and a tasty range of Bombay-style street food, this restaurant brings the true spirit of Akha Mumbai to Dubai.
FAQS
---
The World of Banksy Dubai will be exhibited from 5 April 2021 to June 30, 2021.
With 120 original artworks, The World of Banksy Dubai is the largest Banksy exhibition to date.
The easiest way to get to the World of Banksy exhibition is by metro. Take the Red Line and arrive directly at the Mall of Emirates station.
Tickets start at AED 75 for adults and AED 45 for children aged 12 and under. There are also VIP tickets costing AED 110 with skip the line access.
The exhibition is being held in Dubai and will be showcased in The Theatre, which is located on level 2 of Mall of the Emirates.
The most significant artwork has to be "Love Is In The Air" also known as Flower Thrower, which debuted in 2003 in Bethlehem, shortly after the West Bank Wall was constructed.
There is no set time limit on the visit. That being said, it will take you around 2-hours to comfortably browse and contemplate all the artworks in the exhibit.
The exhibition will open its doors around 12 noon and will remain open until 12 midnight, every day.
It is wise to avoid crowds during the COVID-19 pandemic, and hence skip the line tickets make for a convenient entry and safe experience.
Yes, it very much is. This immersive exhibition will take you around the world of Banksy, giving you a full picture of the artist's range and style.
Yes, the exhibition is suitable for kids. Banksy often places children at the center of his art, so there are many ways for kids to interpret and find meaning in his work.