Australia is an island continent surrounded by rich oceanic life. It houses some of the best interactive aquariums in the world. SEA LIFE Melbourne Aquarium is one such. Located at the heart of the coastal city, Melbourne, the Aquarium is a local and international favourite. Wondering why?
This guide tells you all the reasons why you should plan a visit to the eminent SEA Life Melbourne Aquarium. Learn about its unique aqua collection, the amusing 12 water zones, and tips for your visit!
SEA Life Melbourne Aquarium
Essential Information
---
SEA LIFE Melbourne Aquarium - Things to know
Best time to visit - 10 am - 12 pm on weekdays
Starting SEA LIFE Melbourne Aquarium Ticket price - AU$46
Duration - Approximately 3 hours
Closest Train Station - Flinders Street Railway Station
SEA LIFE Melbourne Aquarium - Opening Hours
Monday - Friday: 10 am-5 pm
Saturday - Sunday: 9:30 am - 5 pm
Tuesday and Wednesday are closed
SEA LIFE Melbourne Aquarium - Highlights
ICE AGE: 4-D Cinema Experience
Penguin Playground
Mermaid Garden (housed in 2.2 million litre oceanarium)
Interactive WonderWall

SEA LIFE Melbourne Aquarium Address
King St,
Melbourne VIC 3000, Australia
Get There
Why visit SEA Life Melbourne Aquarium
---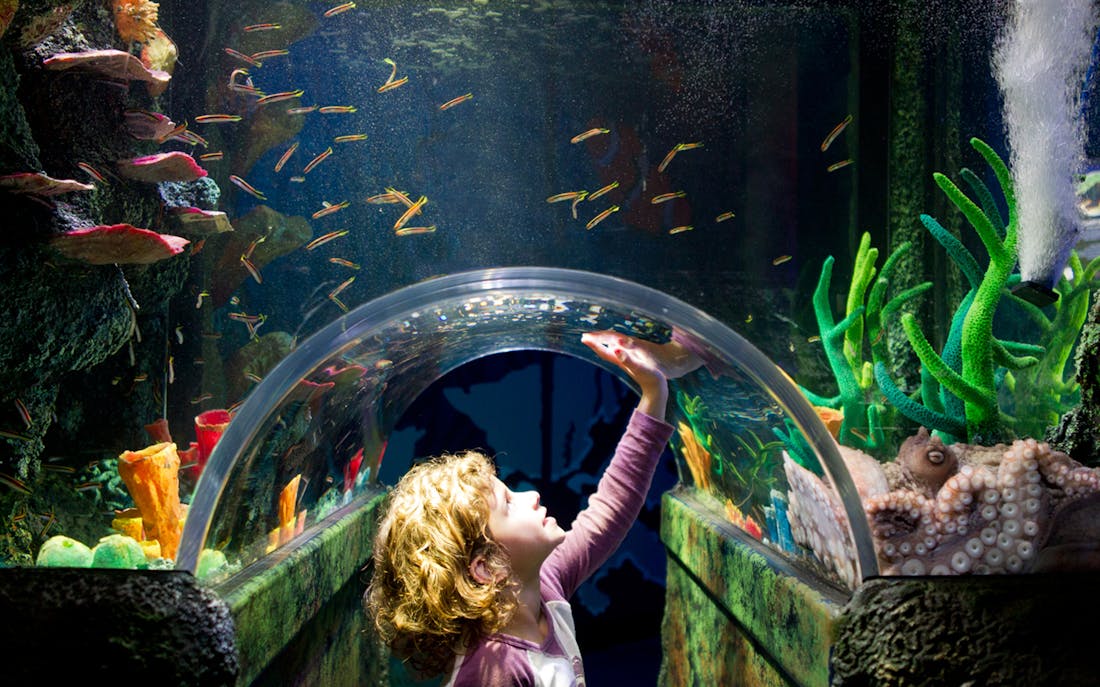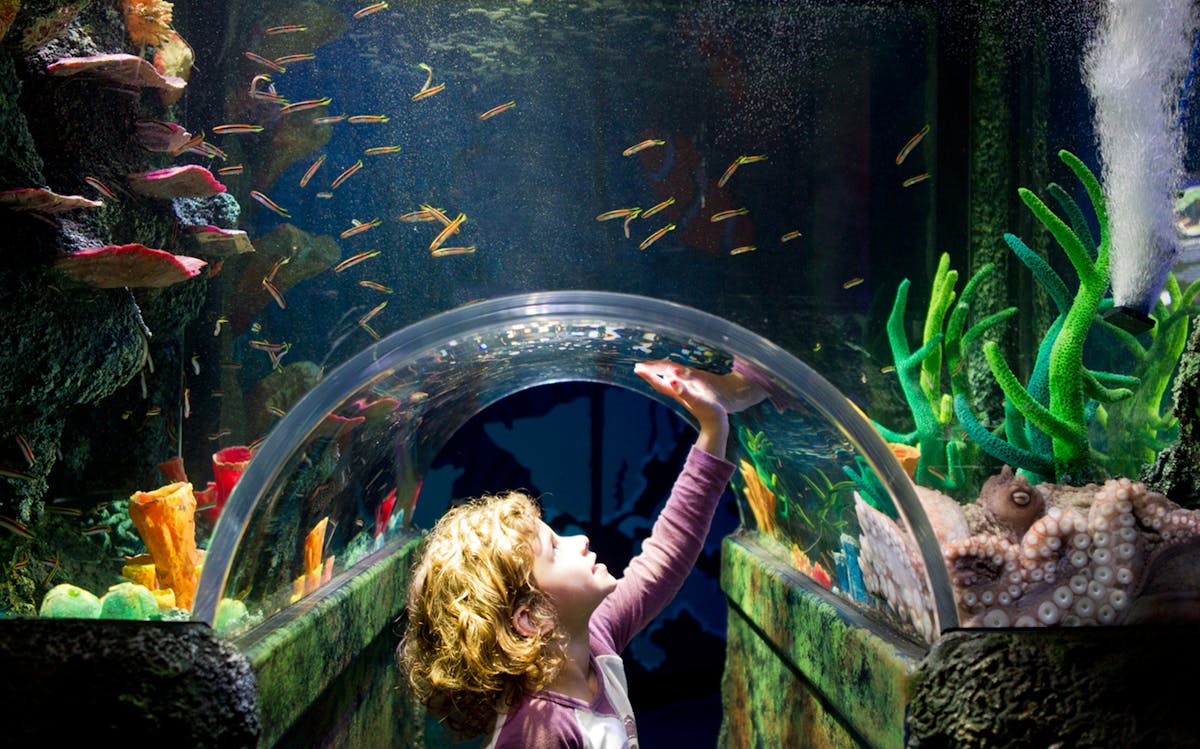 SEA LIFE Melbourne Aquarium is awarded the Best Aquatic Life Attraction – Australia by LUXlife Magazine.
The mighty aquarium is home to thousands of marine creatures. Many of them hail from the Southern Ocean and Antarctic regions.
The 12 incredible aquarium zones spread across 4 levels. They are created to provide the visitors with an immersive and educational experience. In one such interactive zone, you can even colour jellyfishes.
The aquarium building extends 23 feet below Melbourne's surface level. This allows you to see the oceanic species close to their natural habitat.
It is the first in the world to host a 2,200,000-litre oceanarium.
At the floating oceanarium, witness sharks, turtles, and seadragons swim over the head!
At Coral Atoll, meet clownfish (Nemo), and Blue Tang (Dory). Take the journey to Melbourne Aquarium to see more of these coral species and their spellbinding ecosystem.
Melbourne Aquarium's 12 Zones You Must See
---
There are 12 distinct and interactive zones at SEA Life Melbourne. Here is a glimpse of what you can expect.
1

ICE AGE: No Time For Nuts 4-D Cinema Experience
Ever wanted to jump into the TV screen while watching Ice Age? Melbourne Aquarium grants your wishes. Join Scrat, Manny, Diego and Sid on their journey through the Ice age with fun and laughter.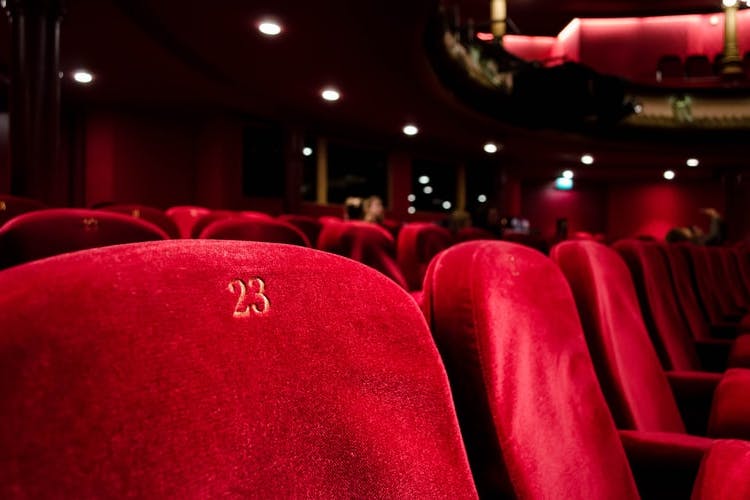 Watch the penguins as they glide, play and swim from close quarters. Penguin Playground is a tiny peek into King and Gentoo Penguins' lives.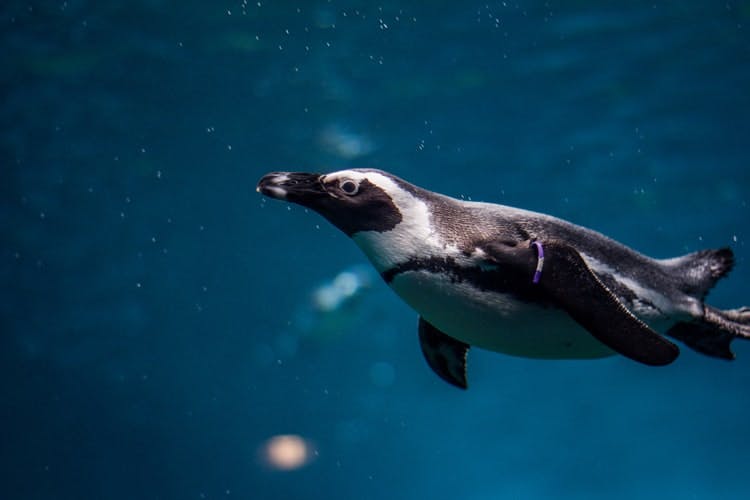 Jellyfishes are told to be dangerous. Ocean Invaders lets you get close to examine, get along with and learn about the lives of these mysterious ocean creatures.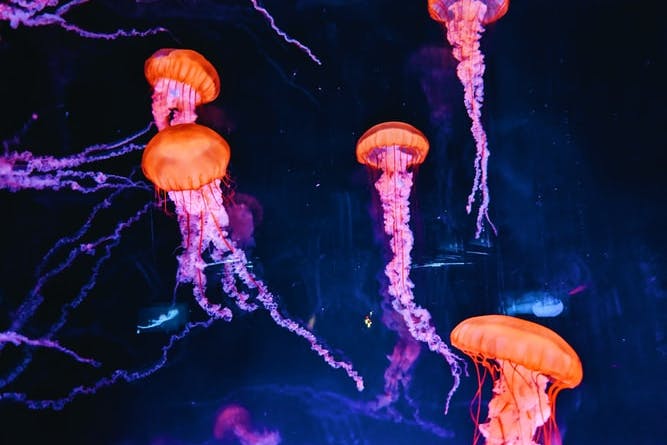 Take a journey beneath Melbourne Aquarium, into the waters of Port Phillip Bay to see the creatures who keep a low profile (literally live under the viewable surface) such as Fiddler rays and sharks. Bay of Rays provides the perfect opportunity for children and adults to study the waters of Melbourne city.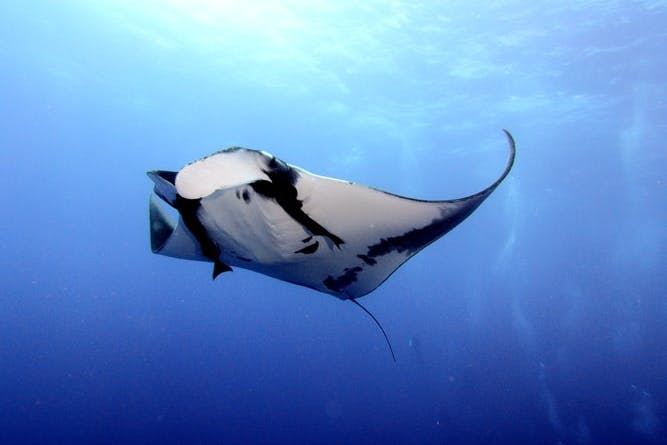 5

Touch & Feel Discovery Rockpools
Come close, too close and touch the marine creatures you are too afraid to with the help of an expert. At Discovery Rockpools you are allowed to go and see beyond the glass windows, the lives and textures of fascinating shore lives. 6

Come Face to Face with Pinjarra in Crocodile Lair
Look into the eyes of one of Australia's biggest crocodiles from a close distance. Meet Pinjarra, the most famous 55-year-old crocodile who weighs over 750 kilos and measures a mighty 5 meter in length.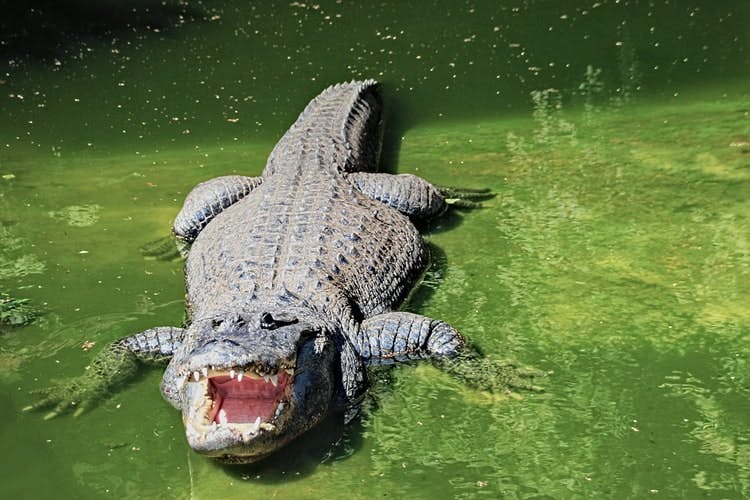 7

Discover the Wonder in Mermaid Garden
Do you believe in Mermaids? Sharks at Melbourne Aquarium, too. Discover the enchanting underwater Mermaid garden with stingrays, massive sharks and hundreds of multi-coloured marine creatures circle them.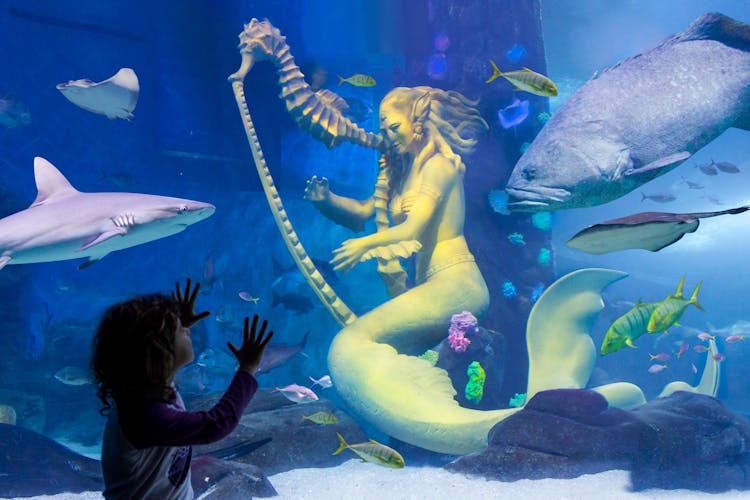 8

Marvel at the Vibrant Creatures in Coral Atoll
If Finding Nemo and Finding Dory are some of your favourite movies, Coral Atoll will leave you in awe. Populated with Clownfish, Blue Tang, Lionfish, and other coral species, Coral Atoll is a zone that brings you a glimpse of the Great Coral Reefs.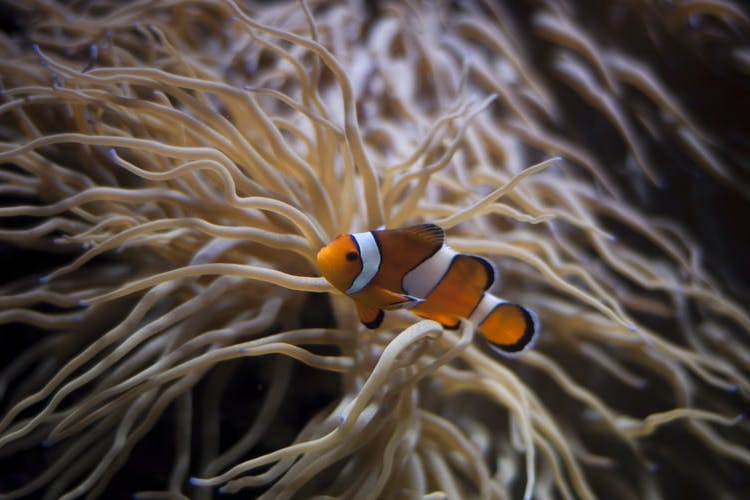 A mini-museum inside an already magnificent aquarium is seen only in Melbourne. Interactive WonderWall is an immersive interactive digital installation inspired by the mighty ocean. You can also colour your jellyfish on one of the awesome screens.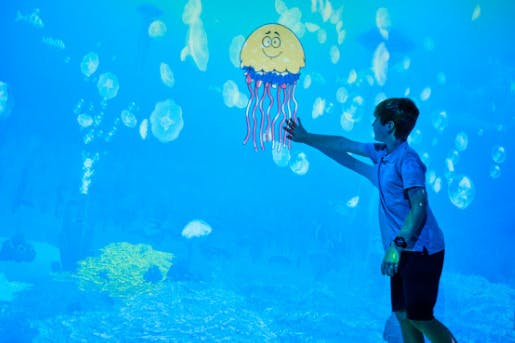 10

Journey Deep Below in Shipwreck Explorer
Get a peep into the depths of the ocean and their ecosystem in this zone. The creepy creatures spook you in a setting inspired by a shipwreck. Set your eyes on the snake-like Moray Eel, and the majestic Lionfish.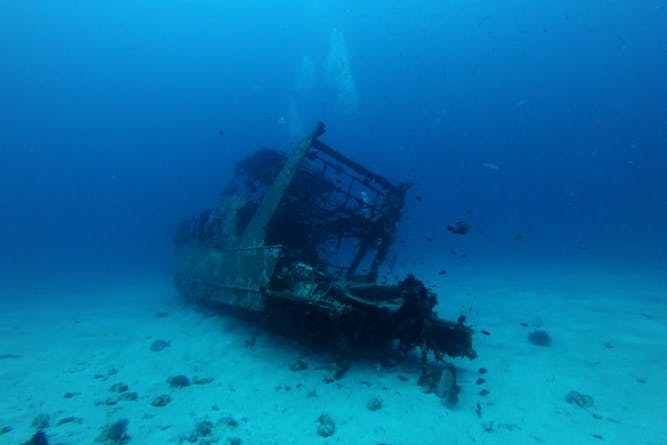 11

Discover Weird and Wonderful Creatures at Seahorse Pier
Wonder what species live on the ports and shores of Melbourne? The Seahorse Pier zone is home to the native species that you would encounter at the port decks. Some of the friends you would make here are Leafy & Weedy Sea Dragons, and Giant Cuttlefishes. Also, did you know that Seahorses cannot swim?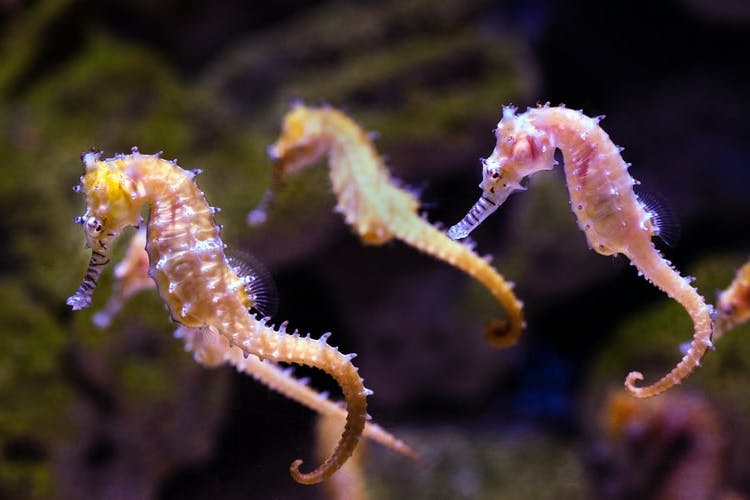 Be transported to the warm temperatures of the Ocean where you find sea animals such as Lungfish, sea lizards, and freshwater turtles. You will get to see them have a meal and what they do during their free time.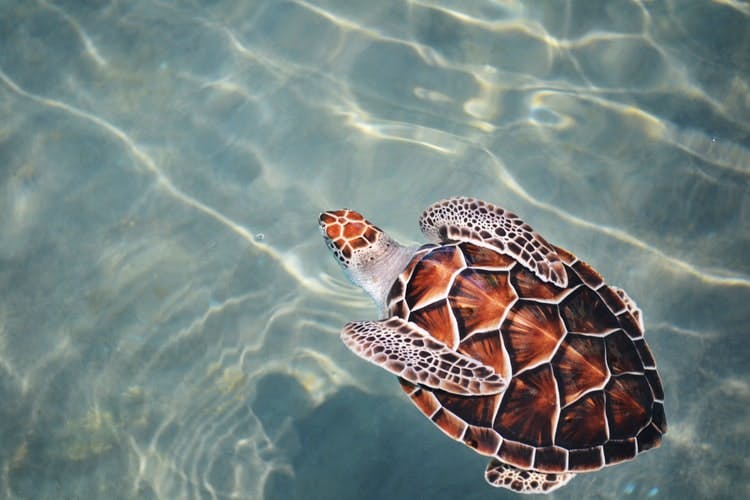 Sign up for our monthly newsletter
Your dose of travel fix - from hacks and deals to travel tips and everything in between, delivered monthly to your inbox
Please enter a valid email
Unsubscribe anytime
See SEA LIFE Melbourne Aquarium Virtually
---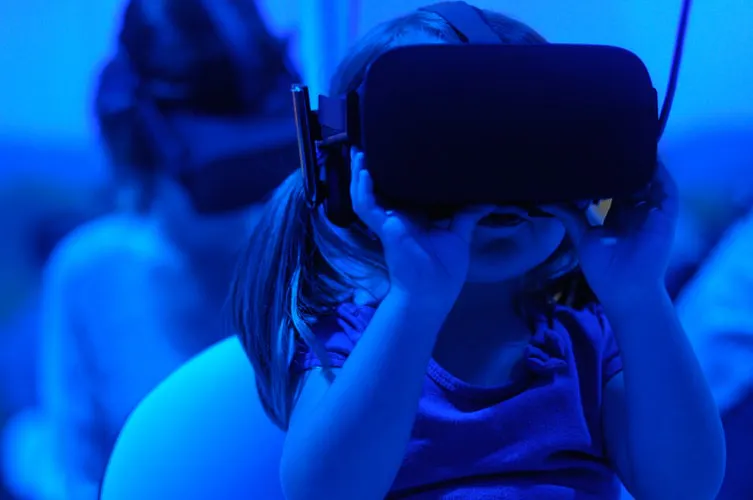 Live Stream from SEA LIFE Melbourne Aquarium
During the current pandemic, it is quite difficult for many of us to travel. Hence, Melbourne Aquarium brings the opportunity to catch a sight of some of their unique species from your comfort place. Learn interesting facts about your favourite species in real-time. See what the cheeky penguins and others do first after they wake up. Live stream dates are updated on the official website regularly.
Marine Mindfulness
Did you know that watching fishes improves our mood? Marine mindfulness is Melbourne Aquarium's new initiative to help people relax. There is a guided meditation featuring graceful jellyfishes. Oceanarium mediation is a 6-minute session of a school of fishes swimming in synchrony. A compliment corner features very polite sea friends is available for someone who deserves a pat.
Visiting Melbourne Aquarium
Practical Information
---
Melbourne Aquarium Opening Hours
Monday - Friday: 10 am-5 pm
Saturday - Sunday: 9:30 am - 5 pm
Tuesday and Wednesday are closed

Getting to Melbourne Aquarium
By Bus
The nearest bus stop is at Bond St/Flinders St and is a 5 minutes walk from the aquarium.
By Train
Get off at Flinders Street Railway Station and walk 10 minutes towards Flinders Street.

By Tram
Get down at Melbourne Aquarium Flinders St stop or Flinders Street West stop. The venue is 2 minutes from either stop.
Best time to visit SEA LIFE Melbourne
If you are a local, the best time to visit SEA LIFE Melbourne Aquarium would be during the morning hours on the weekdays. If you are a tourist the best time to visit would be between March-May and September - November. The weather is pleasant during these seasons. Fares and accommodations are also cheaper. Avoid visiting during peak summers and winters since the city attracts large crowds.
Accessibility
Wheelchairs are available and accessible through the aquarium.
Assistant animals are welcome with people with visual impairments.
Free entry for anyone accompanying a person with a disability and holding a valid carer.
Melbourne Aquarium parking
If you are arriving by car or your personal vehicle, it is preferred that you pre-purchase a parking ticket. The parking costs $22 on weekdays and $9 on weekends.
Insider Tips
To Make The Most Of Your Melbourne Aquarium Visit
---
Avoid visiting on weekends since they are packed. In such a case purchase your SEA LIFE Melbourne Tickets online to avoid long queues.
Set aside at least 3-4 hours to explore all the 12 zones, especially if you are visiting with children. The aquarium does not discriminate against age while fascinating its visitors.
Please note that the Aquarium is currently closed and is set to re-open on Friday 4 June 2021. Melbourne Aquarium follows Covid Safety measures such as mandatory face masks, hand sanitizing and maintaining a distance of 6 feet.
Some feeds and talks happen daily. Penguin encounters, Glass Bottom Boat and fish, shark and crocodile feeding sessions are some of them.
Visit their cafe to grab a coffee or to munch and take a break. They are most known for their tasty salads, and an assortment of fresh bakes.
A gift shop is just around the corner to send something special to your loved one and for some retail therapy.
Melbourne Aquarium MAP
---
Keep this map handy to explore all the 12 interactive zones.
SEA Life Melbourne Aquarium Reviews
---
Fabulous day. A special visit for my grandsons birthday. He was amazed by all the brilliant sealife on display. Not our first visit and won't be our last.

66Saints, May 2021
We didn't do any of the activities, but loved every moment of our 3 hrs there. The staff were amazing. One lady in the Penguin area was just amazing with my son. She did a little bit of sign language with him, then got a white board out and wrote to him behind the glass.. Made his day.. thank you so much for such an amazing experience. We will be back.
Things To Do Near Melbourne Aquarium
Top Attractions Nearby
---
1

Melbourne Sunrise Hot Air Balloon
Fly into the sunrise

Take a Melbourne Sunrise hot air balloon flight above the city's skyline. Gaspe at the breathtaking views of the city's iconic attractions such as Melbourne's Central Business District, the tall skyscrapers, the Yarra River, the charming inner suburbs, and the emerald parks.
2

Melbourne Zoo
Spend a day in the wild

Pay a visit to the Melbourne Zoo with Melbourne Aquarium to make the day a nature-filled experience. Discover more than 300 species and 500 animals at the zoo. Meet the king of this Jungle, Lion George to admire his elegance. You will also get to spot a variety of animals such as red pandas, white-cheeked gibbons, zebras, giraffes, macaws, tortoises, and platypus.
3

LEGOLAND Discovery Centre

Visit Legoland, a land of 12 themed Lego adventures for the old and young. It is made of 2 million Lego bricks that have been used to create various settings and attractions. There is a City Fire Academy where you can teach your kids to be brave like firefighters. The attraction also houses a Lego-themed cafe. It is only 19 Kms from SEA life Melbourne.

Get a chance to see Melbourne like never before. Eureka Skydeck is the highest observation deck in all of the Southern Hemisphere. View the skyline of Australia 300 meters above the ground level. Some of the top attractions you will see from here are Albert Park Lake, the Dandenong Ranges, Port Phillip Bay, the MCG, Federation Square, and more. Get your hands on the Eureka Skydeck Tickets to experience this yourself.
SEA Life Melbourne Aquarium FAQs
All Your Questions Answered
---
How much are tickets to the Melbourne Aquarium?
What can you see at the Melbourne Aquarium?
How Do you need to book the Melbourne Aquarium?
How do I get to the Melbourne Aquarium?
How long do you need at SEA LIFE Melbourne Aquarium?
How much does it cost to go to SEA LIFE Melbourne?
What animals are at the Melbourne Aquarium?
What sharks are in the Melbourne Aquarium?
Are there any discounted tickets to SEA LIFE Melbourne?
Ready To Explore Melbourne?
Check out our comprehensive guide of things to do in Melbourne packed with itineraries, tours, culture trips, best hotels, restaurants and a lot more.
SEA Life Melbourne Aquarium Guide