Melbourne is a top destination for travelers in Australia who want to experience something different and maybe even more refined than their barbecuing beach holiday to the coast. While many destinations in Australia are known for their pristine beaches and blistering hot weather, Melbourne has a character that's hard to match. Whether you're a culture vulture or someone who appreciates the finer things in life, you'll fall head over heels in love with this unforgettable destination. Boasting a rich cultural history as well as world-famous events and exhibitions, it doesn't get any better than this. Reveling in vibrant laneways, trendy neighborhoods, and a sophisticated foodie scene; Melbourne offers something for everyone to explore! This Melbourne trip planner will help you sort out your Melbourne itineraries, what to pack, the best time to visit Melbourne, and a lot more.
Best Time To Visit Melbourne
---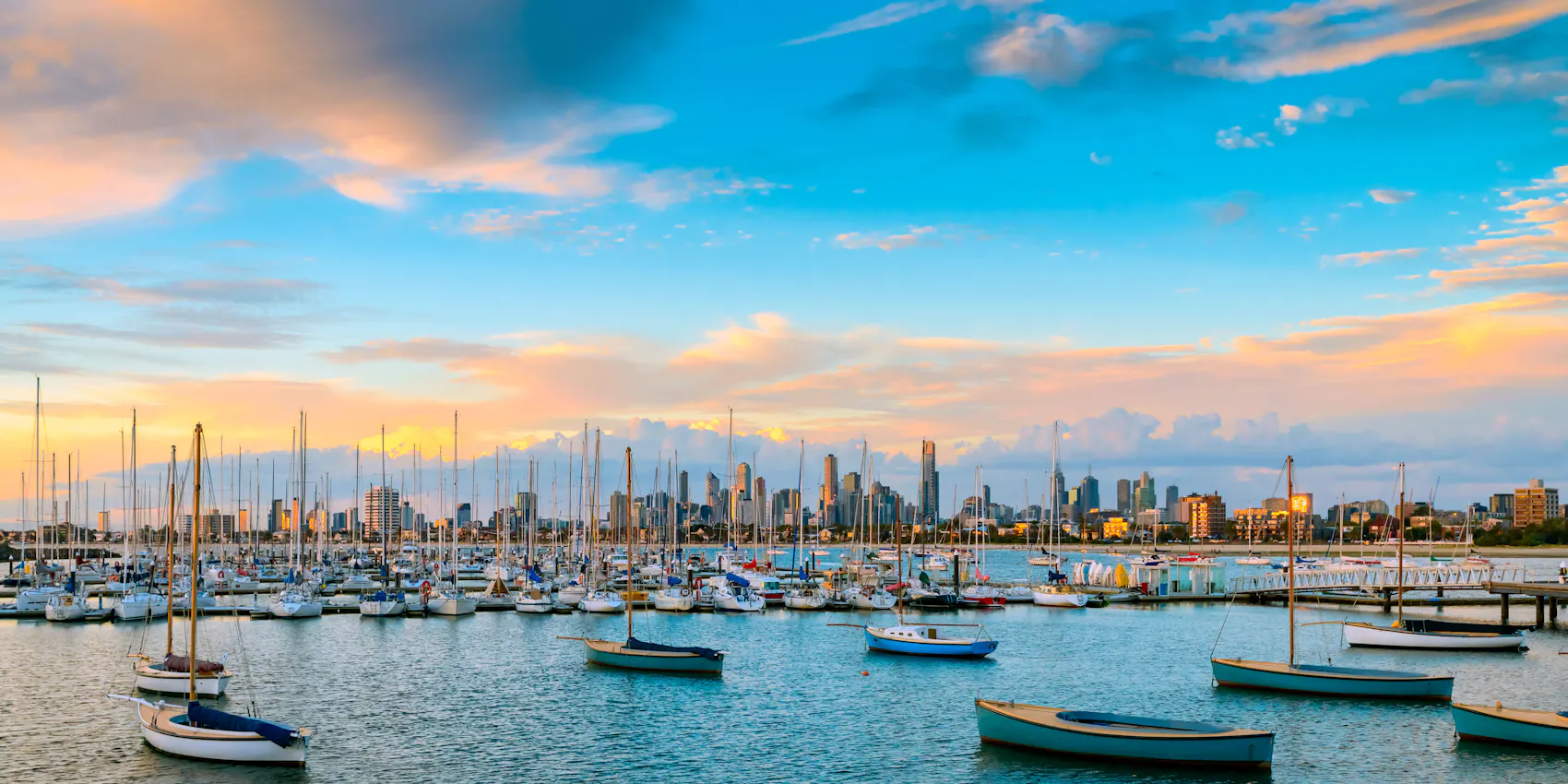 Melbourne is a great city to visit but not everyone can decide when to go. If you are visiting for the first time, you might want to know when is the best time to visit. This city experiences hot and sunny summers from December through February, which is when most tourists travel there. But it can get quite stuffy and stifling in the summer months. The best times for a visit are March through May and September through November, which tends to be favorable conditions in terms of temperature with fewer crowds across the board!
Read more about the best time to visit Melbourne.
Melbourne Itineraries
---
Depending on how long you're in Melbourne for - whether it's just a day, 3 or 5 days, we have the perfect itineraries crafted for you. Go through these Melbourne itineraries and plan your stay well in advance!
If this is your first time traveling to Melbourne, we know you'd love some help planning your daily itineraries. Apart from the basic planning (flight tickets, visa, accommodation etc.), you'll need to consider your day-to-day activities - where to go, what to see, how to get there, and more. But fret not, for we are here to help.
Melbourne 1-Day Itinerary
Melbourne 3-Day Itinerary
Packing For Melbourne
---
With a huge range of things to do, there's something for everyone in Melbourne. But how do you plan your Melbourne adventure? A lot of people do not know what they should pack and what they need to see. Melbourne is a place that has no limits when it comes to fashion. You will need some warm and fuzzy coats for those cool nights which might come about after the sun has gone down, but you should also bring your swimsuits in case you have time for a quick swimming session as well! Don't forget to pack your boots, overcoat, and a few dainty winter accessories to compete with Melbourne's moody weather.
Where to Stay in Melbourne
---
Melbourne is a city that has so much to offer. There are many different neighborhoods in Melbourne, each with its unique characteristics. If you are looking for a city that has a lot of green space, St. Kilda is the place for you. St. Kilda is one of the adventurous neighborhoods in Melbourne. It is a township located right near the ocean and boasts plenty of fresh seafood restaurants, trendy bars, and picturesque cafes. There are also many stunning old buildings, famous theaters (such as the Palais Theatre), and festivals that happen throughout the year like Viva! If you want to explore the arts, Fitzroy is the place for you. If you want to explore the nightlife, Southbank is the place for you. Melbourne has a lot to offer and all of these neighborhoods are worth exploring.
Accommodation on a Budget
Melbourne is a great city to visit, but it can be expensive to stay in Melbourne for a long period. There are budget-friendly accommodations with included breakfast and access to kitchens. Some of the cheap hotels in Melbourne are Oaks On Collins, Brady Hotels Central Melbourne, Atlantis Hotel Melbourne, YHA Melbourne Central, and The Victoria Hotel.
Nightlife
Melbourne is a city that has a lot to offer. Whether you are looking for some late-night food or want to go out and see some live music, Melbourne has it all. One of the most beautiful cities in the world, Melbourne has gorgeous cafes and bars on every street. You'll be greeted by the kindest, most open-minded people you've ever met; a melting pot of multiculturalism just like Australia itself. The Toff In Town, Bar Ampere, Loop Project Space & Bar, Cabinet Bar, Crown Melbourne, and Queen Victoria Night Markets are some of the notable names where you will get the experience the amazing nightlife of Melbourne.
Shopping Hub
Melbourne is a bustling city with so many things to do and see. Shopping is also one of the things that many people enjoy doing in Melbourne. There are so many unique shops and a wide variety of items to choose from. It's easy to get lost in the crowd, but it's also easy to have a good time. Bourke Street Mall, Queen Victoria Market, Chadstone Shopping Center, Melbourne Emporium, Melbourne Central, Brunswick Street, and Sydney Road are some places to shop till you drop!
Kiss of Luxury
Melbourne has a lot of great restaurants, but it can be hard to decide where to go. In Melbourne, you can have the best of both worlds because there are many options for every budget. The best part about dining in Melbourne is that there are so many different kinds of food. There are restaurants with American, Italian, and Thai food, and more. The city also has a wide variety of vegetarian and vegan options like Cutler & Co, MoVida, Attica, Rockpool Bar & Grill, Dinner by Heston, and The Carlton Wine Room.
Getting Around In Melbourne
---
Melbourne is a city with many attractions, which is why it can be difficult to get around. You can always rely on the public transport system and hop on a tram, train, or bus. To get to your destination quicker, you can purchase a Myki card, which will allow you to travel around the city using public transport. If you don't want to carry around a wallet or purse, you can also purchase a Myki card that has a built-in chip that you can swipe when you board the tram or train. To start your ride, tap your card on the reader when you board your chosen form of transport. Do make sure you tap off so that your fare is calculated correctly and you don't get charged any extra money.
Melbourne Travel Tips & Hacks
---
Melbourne is a beautiful city with a lot of things to do. You can walk around the city, visit some of the amazing museums, or get out and explore the surrounding areas. There are many things to do in Melbourne that you might not know about, so here are some Melbourne travel tricks and hacks.
If you are visiting Melbourne for the first time, try to plan your trip during a weekday so that you can avoid the busy weekend crowds.
If you need to travel around the city by public transport, make sure you have a map and know where you are going.
When it comes to food, Melbourne is a great place to try out new cuisines. Try something new and find your favorite!
Make sure you bring some extra cash with you because Melbourne has a lot of great shopping opportunities.
Melbourne is a very bike-friendly city so if you don't have your bike, rent one for the day!
Use your Myki card while boarding public transport. One can easily recharge it on the go and it's convenient too.
Pack light and be ready for four seasons as the weather in Melbourne can be extremely moody.
Embark on your journey early to get free train rides.
If you're headed to South Australia or a place known as an epicurean capital, then you should look forward to finding some free food. If you time it just right, you could end up getting a bucket load of goodies from brands looking to advertise their products in hopes of reaching the people most likely to enjoy them.
As a traveler, always keep with you at all times your passport and credit or debit cards. Also, remember to take note of the hotel or hostel's official address and contact details so that you can find your way back later.
5 Best Day Trips From Melbourne
---
Melbourne is a city that is popular with tourists, but many hidden gems are waiting to be discovered. Yarra Valley is famous for its wine production and it is also home to many wineries. It is a beautiful drive through the countryside and you will be able to experience the beautiful scenery and nature. There are plenty of wineries to visit along the way, so make sure you have your camera ready to capture all the amazing sights. One of the best day trips from Melbourne is the Great Ocean Road. The Great Ocean Road is a scenic drive that will take you through the twelve Apostles, limestone caves, and the Twelve Apostles Lighthouse. These are some of the places that you should include in your Melbourne itinerary.
Check out our list of 5 best day trips from Melbourne:
FAQs: Melbourne Trip Planner
---
Melbourne is a bustling city with so much to offer. From the amazing food, shopping, and nightlife, to the beautiful architecture and stunning beaches, Melbourne is a city that anyone would be lucky to visit.
The best time to visit Melbourne is from November to February when the weather is cooler and the locals are out enjoying the outdoors.
One can wander through Melbourne's laneways, explore vibrant art and culture scenes, discover the city's Aboriginal culture and embrace the eccentric nightlife of Melbourne. Plan your Melbourne itineraries judiciously before you pack your bags and set upon the journey!
The tram is the cheapest, most convenient, and most-popular mode of transportation in Melbourne.
While packing for Melbourne, make sure you have a balance of warm and lightweight clothes in your bag. Sundresses or skirts, cotton trousers, sandals, comfortable walking shoes, sunhat, sunscreen, and sunglasses are must-haves while packing for Melbourne.
St. Kilda is one of the adventurous neighborhoods and the best place to stay in Melbourne.
>
Melbourne Trip Planner Guide