Blue beaches, quirky wildlife in cool rainforests, spa towns, lush vineyards, penguin parades and spectacular skydive spots - you'll find all this and more within a few hours' drive of Melbourne. If you're looking for a break from the inner-city grid, take a day trip from Melbourne to any of the five destinations listed below. Get out and explore Melbourne's beautiful backyard!
5 Best Day Trips From Melbourne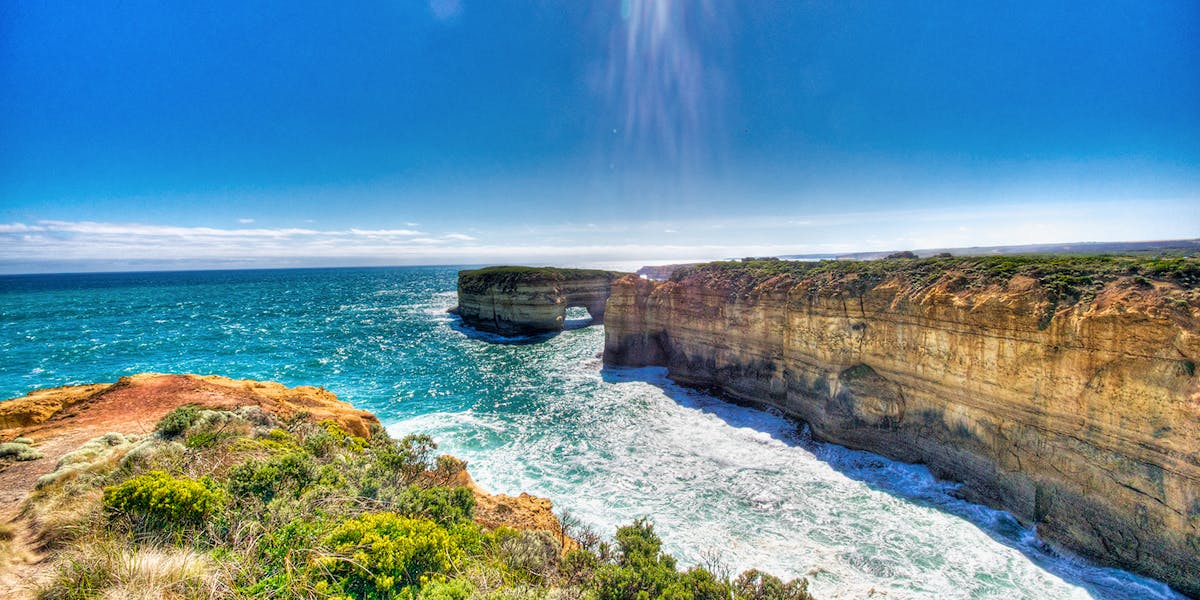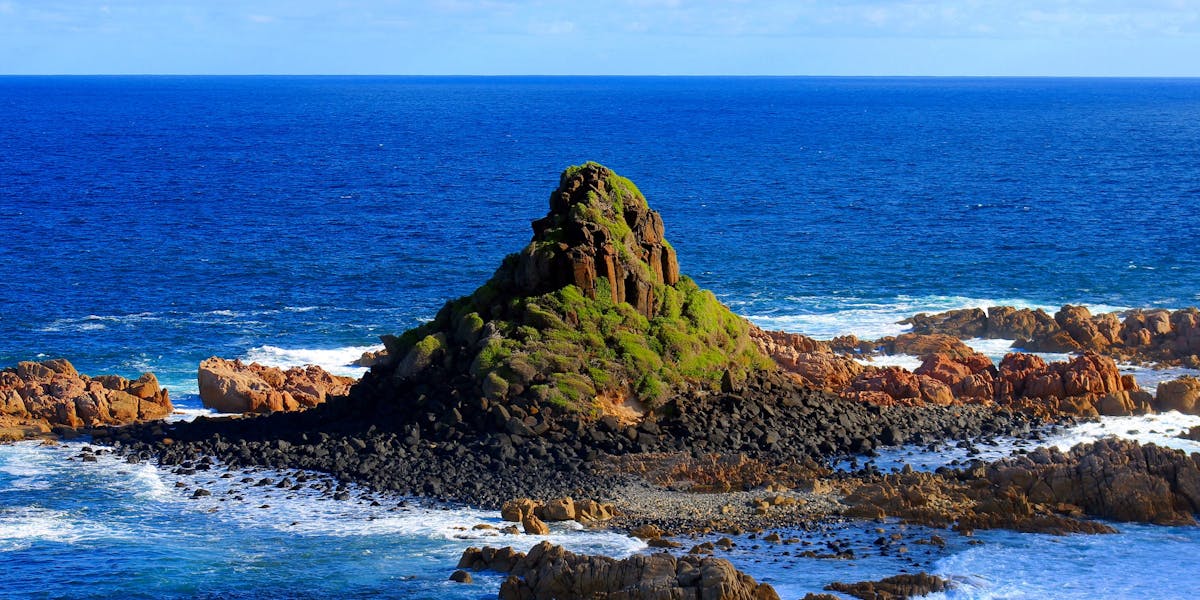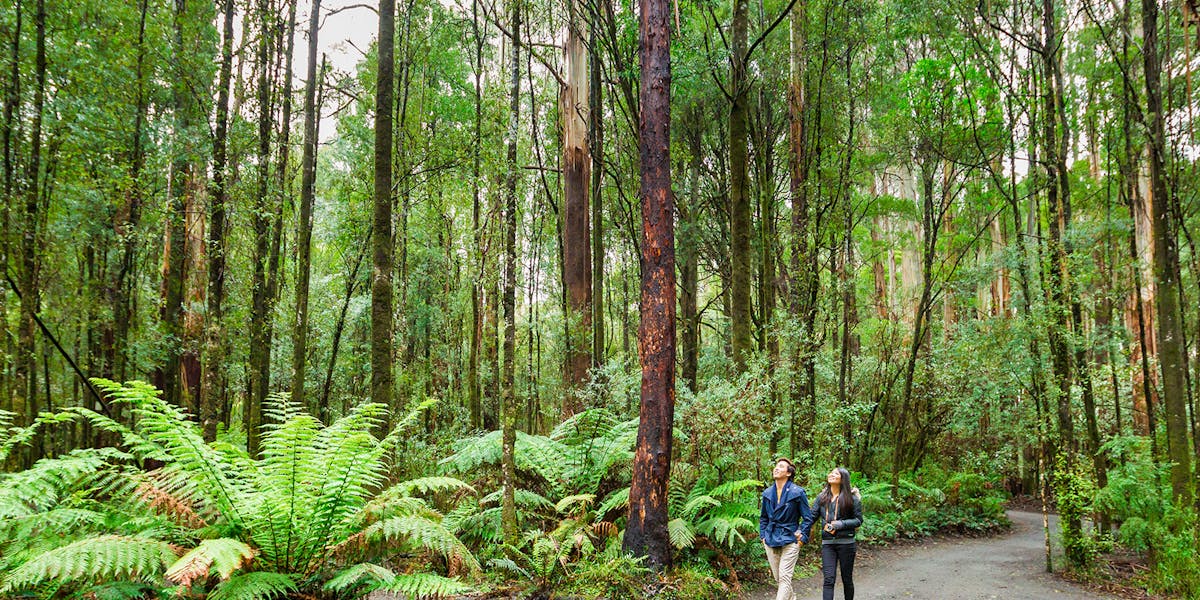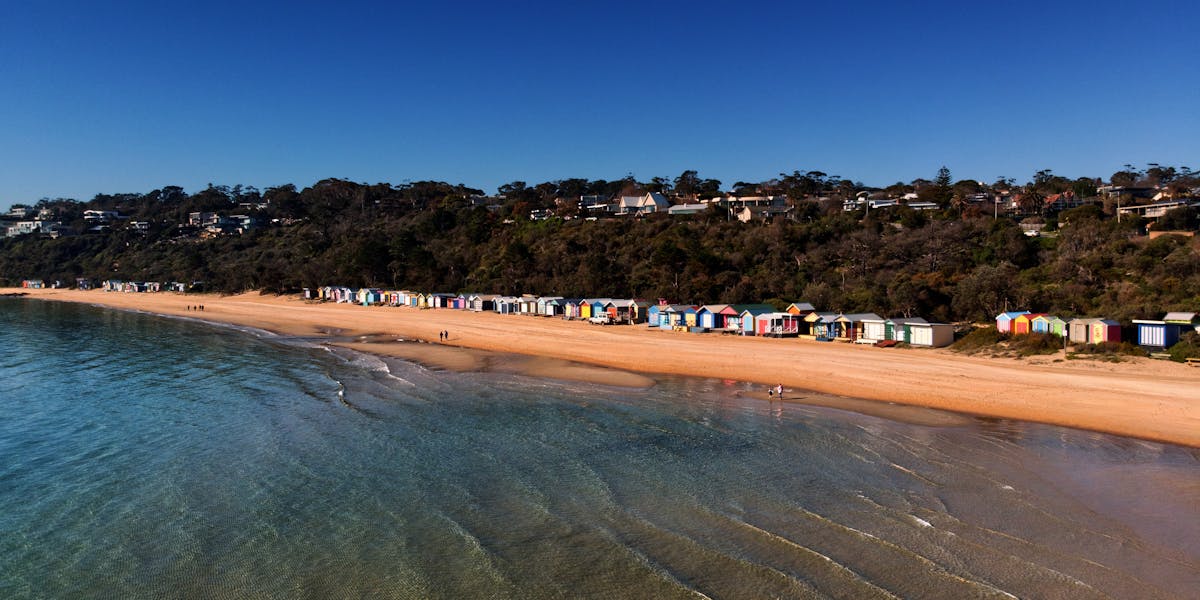 Mornington Peninsula
75 KM
1

Great Ocean Road
Day Trips From Sydney
113 km
Distance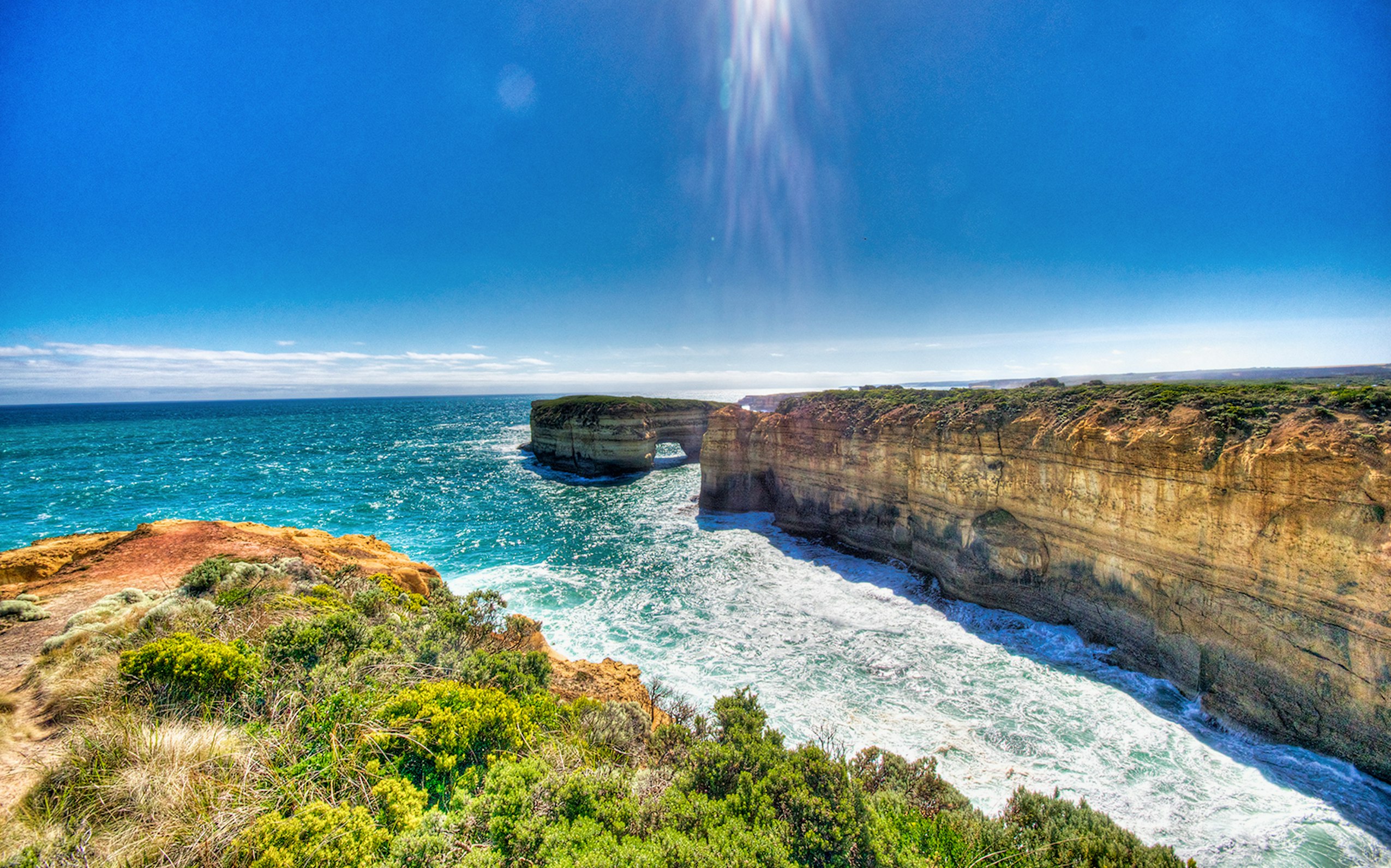 The Great Ocean route of 234 KM (151 Miles) stretches from Torquay to Allansford in Victoria state. Hugging the ocean on one side, the other side draped with lush rainforest-clad mountains to volcanic plains - this two-way scenic highway makes for an epic road trip destination. It covers iconic landmarks like the Twelve Apostles, Apollo Bay, and the Otways on its way - a chance to fall in love with the grandeur of nature.
Best Time to Visit
February to March, October to November
Travel Time
1 Hour 30 Minutes
12 Apostles
The Twelve Apostles are giant limestone stacks off the shore of Port Campbell National Park, magnificiently jutting out of the ocean. Despite the name the 12 apostles, there are only 8 left standing as Mother Nature, time and the salty waters have caused several of the apostles to fall. Make your way here for the best sunset glimpses of your lives.
Loch Ard Gorge
Loch Ard Gorge is a breathtaking natural formation, a short distance from the 12 apostles where the sea enters the area through a narrow opening between two rock pillars. The gorge has been named after a ship Loch Ard which ran aground nearby and the rock pillars are named Tom and Eva after the only two survivors.
The Grotto
The Grotto has multiple geological formations rolled into one and is one of the most spectacular points to view the coast. It is essentially a sinkhole in a limestone stack and opens out to a view of the sea and cliffs beyond.
Gibson Steps
Gibson steps are a set of 86 steep steps that head down from the cliffs to the beach near the twelve apostles. From below the steps you can marvel at the 70m limestone stacks from up close and feel the power of nature. Going up is not a task for the fainted heart though.
Cape Otway Lighthouse
The Cape Otway lighthouse is the oldest surviving lighthouse in Australia and was rightly known as the 'Beacon of Hope'. Built in 1848, it sits at the edge of the ocean almost 90m over the Bass Strait. Today, it is a spot for whale watching and a centre for learning about the aboriginal history.
Skydiving in Great Ocean Road
Skydiving is a popular sport at the Great Ocean Road and you're likely to spot many gutsy ones plummeting from the sky at 200 kmph from 15,000 feet above. In Melbourne, you have the option to choose from three different locations to make this jump: Great Ocean Road, Yarra Valley, and St. Kilda.
By Car
The Great Ocean Road is a 1.5 hour drive from Melbourne with dual lane smooth highways and excellent signposting. There are 2 main routes to reach the Great Ocean Road from Melbourne - an inland road that follows the Princes Highway from Geelong to Warrnambool, or drive over the West Gate Bridge and along the Bellarine Peninsula or Surf Coast Highway.
By Train
The V/line service offers frequent trains departing Melbourne's Southern Cross Station and running to both Geelong and Warrnambool.
By Coach
If you want to travel by bus, know that there are plenty from Geelong to Apollo Bay, Warrnambool, Port Fairy and Portland - all travelling via the Great Ocean Road
By Ferry
Another fun way to get to the Great Ocean Road is by using the ferry service from Queenscliff and the Bellarine Peninsula to Mornington Peninsula and Sorrento.
Organised tour from Melbourne to Great Ocean
Taking an organized bus tour from Melbourne to the Great Ocean Road is the best way to experience the best of the pictursque route from the comfort of your bus. You also get to cover the best view points.
2

Phillip Island
Day Trips From Sydney
142 km
Distance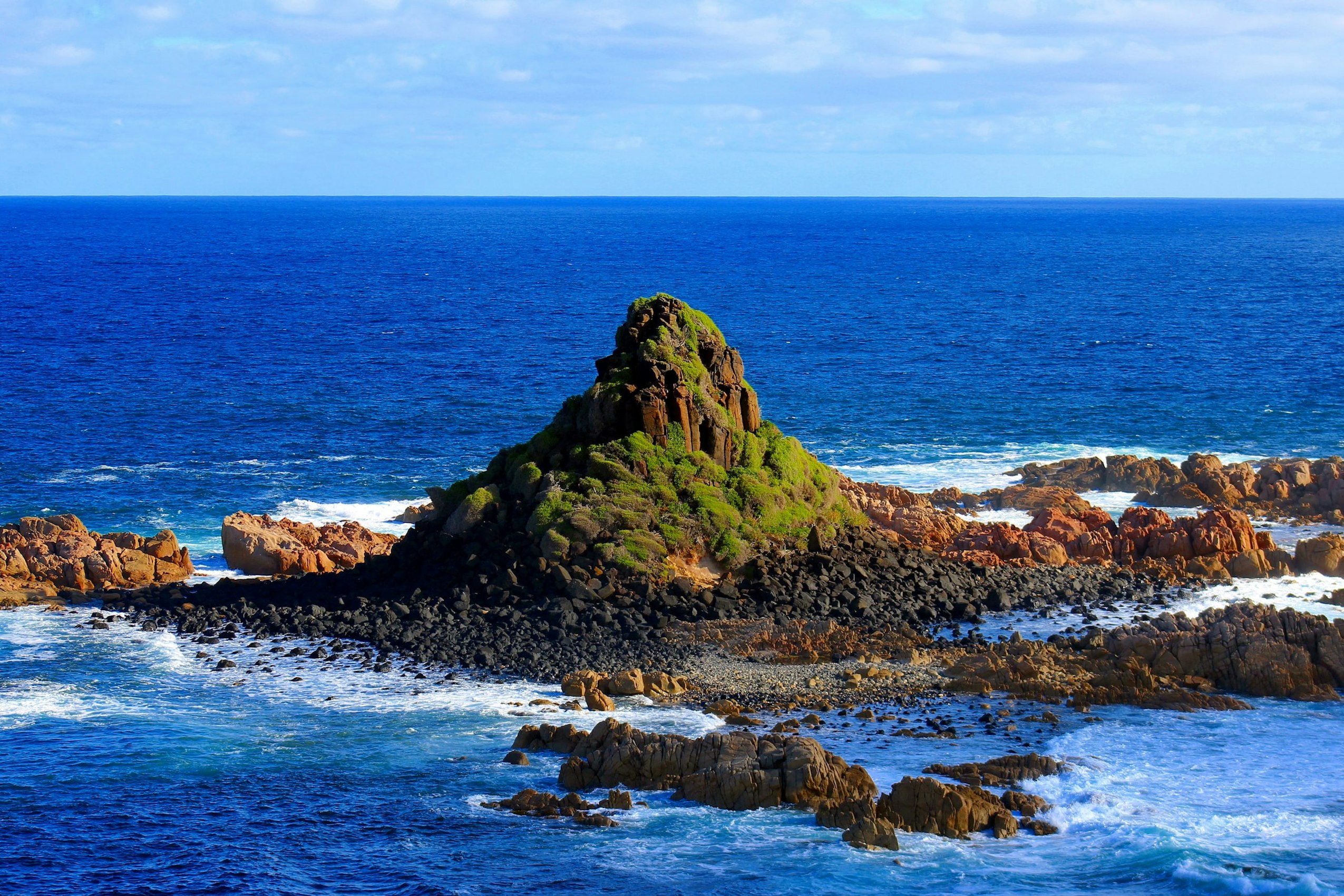 To the south-east of Melbourne dividing Western Port Bay and Bass Strait lies Phillip Island, a jewel surrounded by sea. Best known for its scenic natural hotspots, the island is also famous for for its wildlife parks, nocturnal sight of penguins walking home, motorsport history and sandy and sun kissed beaches. Be it feeding kangaroos by hand, enjoying the view of breath-taking coastal scenery or surfing in the tranquil beaches, Phillip Island is just the escape you need.
Best Time to Visit
November to March
Churchill Island Heritage Farm
Churchill Island is 19th century farm connected to Phillip Island by a bridge. Try your hands at quintessential farm activities like whip cracking, cow milking, sheep rearing while you play with the working dogs, Clydesdale horses, highland cattle and baby animals.
Phillip Island Wildlife Park
The largest wildlife animal sanctuary in Phillip Island, spread across 60 acres, is home to over 100 different species of Australian animals. Experience close encounters with kangaroos and wallabies - you can hand feed and even pat them!
Phillip Island National Surfing Reserve
The Phillip Island National Surfing Reserve is the first of its kind in Victoria and the reserve comprises of four breaks, Woolamai, Smiths, Summerland and Cat Bay. A walk and swim at any of the beaches of the island also makes for a wonderful time if you are not into surfing or should the weather not be in your favour.
Phillip Island Penguin Parade
The parade of these treasured little creatures trodding through their nightly routine is the real reason why people come to Phillip Island. Watch the sunset on the Summerland beach while thousands of Little Penguins come home to their burrows after a long day of fishing. Here's everything you need to know about the Phillip Island Penguin Parade.
By Car
The journey from Melbourne to Phillip Island takes only about 2 hours by road. Take the Monash Freeway (M1) to either South Gippsland Freeway (M420), Clyde Road (C407) or Koo Wee Rup Road (C422) exit. Follow the M420 and B420 sings to get to South Gippsland Highway over to Bass Highway to reach Phillip Island Road. There is no car ferry to Phillip Island. If you wish to bring your own or rented vehicle, you must pass by the bridge at San Remo.
By Bus
Many buses from V/Line services run to towns in Phillip Island including Newhaven, Cape Woolamai, Cowes from Melbourne and back. There is no direct bus to the island, hence the travel needs a change of bus at Koo Wee Rup. A bus journey typically takes about 2.5 hours.
By Train
There are no direct trains to the island from the mainland and hence will need a transfer via ferry or bus. If you prefer to take the bus, catch the train to Dandenong then take a V/Line bus to the Phillip Island. The bus journey from Dandenong to the Phillip Island bridge takes around 1 hour 45 minutes, and a further 20 to 25 minutes to Cowes.
By Ferry
If you want your make your travel more exciting, catch a suburban train from Melbourne to Frankston, then get to Stony Point from there. At Stony Point Jetty, board the Inter Island Ferries passenger catamaran which docks at the Cowes Jetty. The entire journey takes only about 2 hours.
By Air
If you are willing to spend lavishly, you can also travel by air as Phillip Island has its own airfield. Facing the Phillip Island road at Newheavens are Phillip Island Helicopters who also offer charter services. In about 30 minutes you will be flown from a suitable landing location in Melbourne to Phillip Island.
Organised tours from Melbourne to Phillip Island
On an organized tour, you get to experience the best of what Phillip Island has to offer, in the company of an expert guide. You get to go on a guided wildlife walk and hand-feed native Australian animals such as kangaroos, wallabies, koalas, Tasmanian devils, emus & more. After the wildlife walk, take your seat and watch the amazing penguin parade unfold in front of you. Comfortable coach transfers are included which means, you can do away with the hassle of planning your own transportation.
3

Yarra Valley
Day Trips From Sydney
58 km
Distance
Located in the north-central part of the greater Melbourne area, Yarra Valley is one of Australia's most coveted wine countries. From visiting the valley's famous fresh food store to make a stop at the De Bortoli Wines, this tour celebrates everything that is quintessentially Australian. Be prepared to encounter the culinary heaven of Australia, filled with wine, cheese, and chocolate.
Wine Tour
When you are at the heart of Victoria's Wine Country, a wine tour is an absolute must. Take a Gourmet Wine Tour and taste wine from De Bortoli Wines, Yering Station, and Rochford Winery. You will also be able to pick from four different meal options for your complimentary lunch at the Rochford Winery.
Skydiving
One of the most famous skydiving haunts is located at the Yarra Valley. The boundless stretch of wineries and Port Phillip Bay greet you as you take the leap with your tandem partner from 15,000 feet in the air. To say that the views are breathtaking would be a gross understatement.
Yarra Valley Chocolaterie & Ice Creamery
Among the many reasons for the popularity of Yarra Valley is the sheer amount of indulgences here. Yarra Valley Chocolaterie & Ice Creamery is the place for every chocolate and ice cream enthusiast - with a huge collection of gourmet chocolates, pastries, ice cream for you to load up on.
Yarra Valley Dairy
Located towards the south of Yarra Glen is this humble-looking farm that offers some of the best cheese in the area. You can sample cheese and buy some amazing variety of fresh dairy products. This spot is often missed by packaged tours, but Headout tours has you covered for this.
By Car
The fastest route from Melbourne to Yarra Valley is along the Eastern Freeway which continues to the Eastlink tollway. When you reach Coldstream, leave the Maroondah Highway and turn onto the Melba Highway to Yarra Glen.
By Bus
There are a number of travel companies that run buses from Melbourne to Yarra Valley. You can also take bus number 901 from Langhorn and bus number 685 from Lilydale to reach Yarra Valley.
By Train
Several trains connect Yarra Valley to Melbourne. You may have to change trains, but you can board trains from Southern Cross Station or Flinders Street Station that will take you to Yarra Valley via Ringwood and Lilydale.
Gourmet Tour From Melbourne to Yarra Valley
The most convenient and comfortable way of visiting the Yarra Valley is definitely an organized Gourmet Tour. This package not only takes care of the transfers but also provides you with a highly researched and optimized itinerary. The tour rate includes all entry fees and taxes. You will also be accompanied by expert guides to the locations so that you get the most out of your visit. Free WiFi, complimentary lunch, wine, chocolate, and cheese tastings are some of the other benefits clubbed with this package.
4

Great Otway National Park
Day Trips From Sydney
210 km
Distance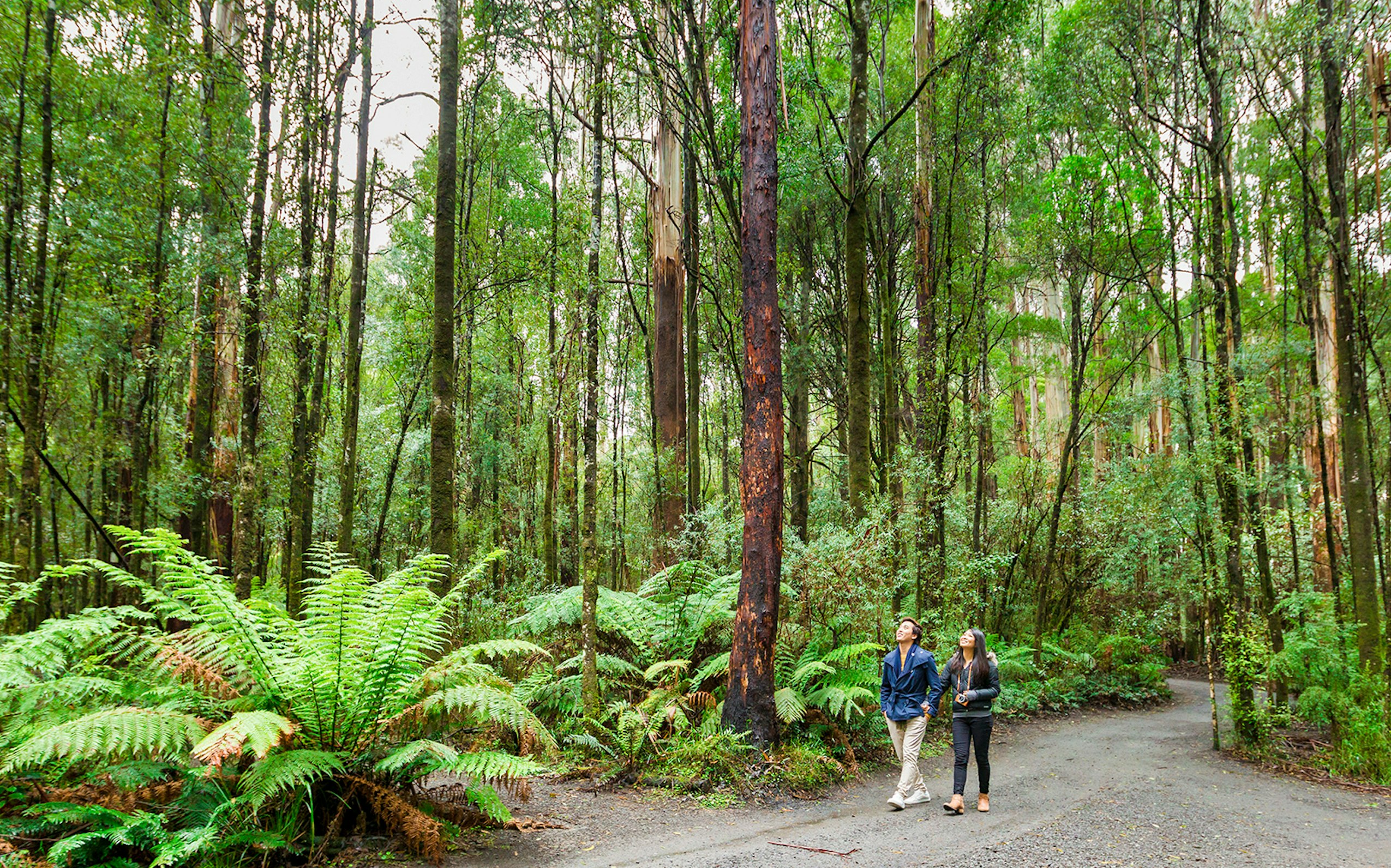 Some of Australia's best rainforest scenery comes together at the Otway ranges. On one side of the park, you will see rugged coastlines, sandy beaches, limestone rock formations and soaring mountains, and on the other side tall forests, ferny gullies, and cascading waterfalls grace nature. Along with the scenery, there is also plenty of opportunity for adventure with the Otway fly treetop adventures. You can take an exhilarating walk 47 meters above the forest floor or zipline through the treetops. Whatever you choose to do, it's all fun at Otway.
Best Time to Visit
June to August
Discover Wildlife
A visit to Otway National Park is an excellent opportunity for some furry encounters - sleepy Koala's wedged between branches and native birds like the kookaburra, cockatoo or even the pink robin prancing about. Witness Kangaroos and Wallabies hop about and canoe through Lake Elizabeth to try and spot the Elusive Platypus.
Visit The Waterfalls
Trek through lush ferns that unfold into magnificent cascading waterfalls -the Triplet Falls, Hopetoun Falls, Beauchamp Falls, Stevenson Falls and Sabine Falls. Each trail is different, so choose your pick!
Lake Elizabeth
Located on East Barwon River within the Otway State Forest, the lake was formed over 50 years ago due to artificial flooding in the valley. Discover the calm waters and incredible beauty that surrounds the lake. At dusk, you can see glow worms lighting up the shores
Cape Otway Lightstation
Built in 1848 after many tragic shipwrecks along the coast, the Cape Otway lightstation is Australia's most important lighthouse. Enjoy the spectacular views and learn about Australia's war history over storytelling sessions with local guides.
By Car
Traveling by car is the quickest and easiest way to go from Melbourne to Great Otway Park - a total travel time of 2 hours and 45 minutes. When travelling from Melbourne CBD, drive onto the Westgate Freeway, continue on the Princes Hwy, take the Torquay exit and journey down the scenic Great Ocean Road to reach the park.
By Train
If you would like to get to the national park by train, you can board the V/Line train from Melbourne's southern cross station to either Geelong or Warrnambool. From there, there are daily connecting bus services.
By Bus
There are daily buses that run from Geelong Station, and every wednesday from Colac Station, serviced by the Melbourne - Warrnambool train line.
5

Mornington Peninsula
Day Trips From Sydney
75 km
Distance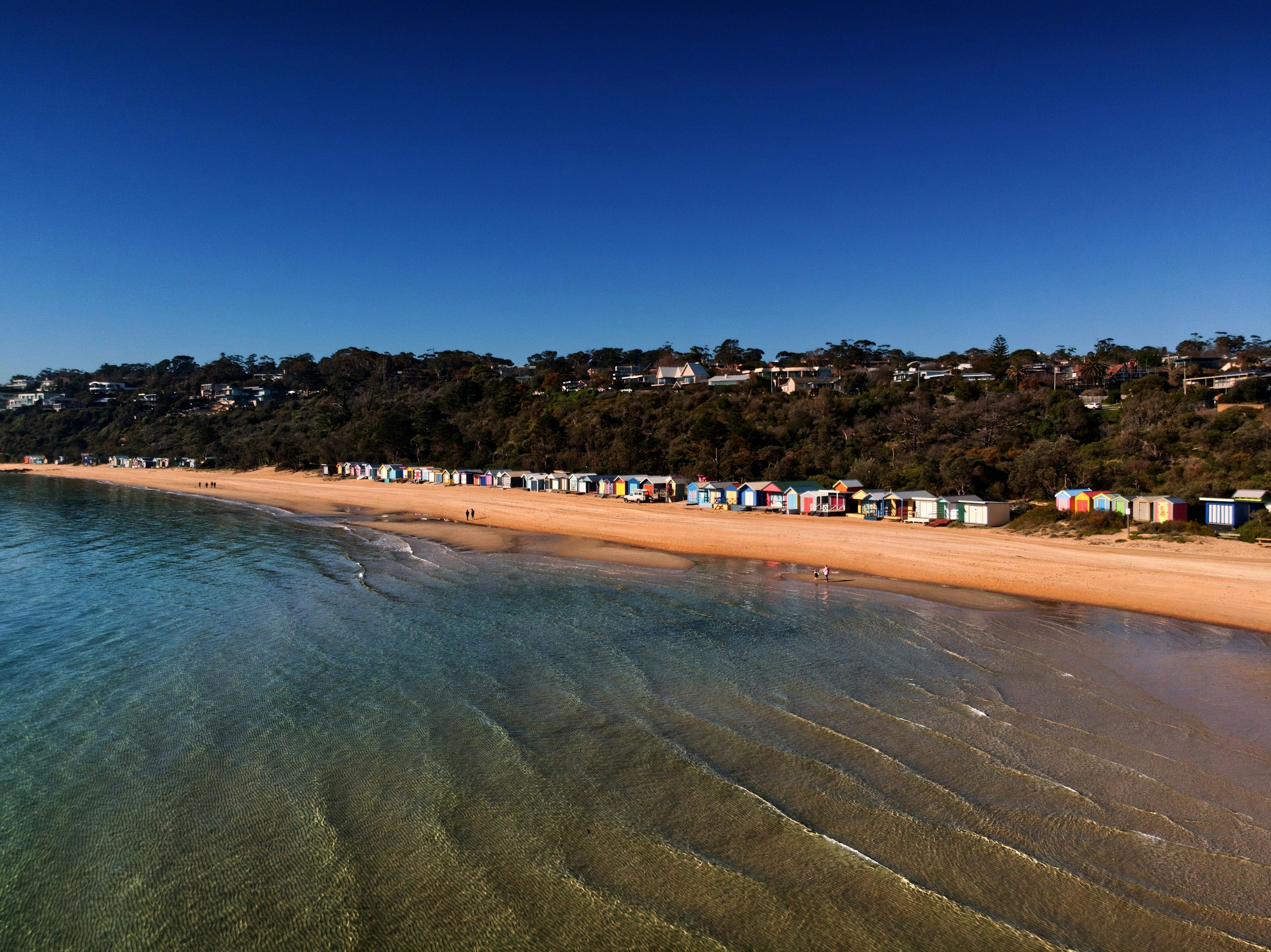 Spas, coastal vistas, wineries, wooden bathing boxes, and gardens - Mornington Peninsula boasts an embarrassment of getaway riches. This summertime playground for Melburnians, with the ocean on one side and Port Phillip Bay on the other is the perfect place to go hiking and biking, horseback riding and even swim with dolphins! This picturesque region is undoubtedly one of the most popular weekend getaways from Melbourne.
Best Time to Visit
February to April
Travel Time
1 Hour 35 Minutes
Mornington Peninsula National Park
An enticing slice of coastal wilderness on the far western rim of the peninsula, Mornington Peninsula National Park encompasses wild, windswept ocean beaches. Explore much of the park's coastal areas while clifftop hiking, go horseback riding on the beach; surfing the ocean swells and enjoy long nature walks.
Peninsula Hot Springs
Peninsula Hot Springs is an award-winning natural hot springs and day spa destination on the Mornington Peninsula. Natural thermal mineral waters flow into the pools and private baths at this coastal oasis, providing an idyllic setting for relaxation and rejuvenation.
Arthurs Seat Eagle
Soar the heights of the Mornington Peninsula with scenic views across Port Phillip Bay on the Arthurs Seat cable car. Gliding quietly through the sky in a gondola at Arthurs Seat Eagle, the experience is one of flight through an area steeped in history and surrounded by nature.
Point Nepean National Park
At Point Nepean National Park, explore history and nature at the same time. The rugged landscape here was once the center of military activity as a quarantine station and fort, and today, you can visit some of the remnants of the military buildings and forts on hiking trails.
Dolphin and Seal Swim
Home to around 80 wild bottlenose dolphins, you can go swimming with these playful creatures - a highlight for most those who visit Mornington Peninsula.In addition to the dolphins, you can also swim with the resident Australian fur seal colony and view many species of seabirds.
Ashcombe Maze
Ashcombe Maze boasts the "oldest circular rose maze in the world", a series of lavender gardens, and the Great Gnome Hunt activity. The café in here, serves a great selection of local produce and is a favorite wedding venue.
By Car
Follow the coastline from Melbourne via Frankston to access Port Phillip bayside towns and take the M1 linked with the Western Port Highway. For a faster journey (60 minutes) take the M1 and join the Eastlink tollway, and from here take the Mornington Peninsula Freeway and then Moorooduc Freeway to quickly reach the Mornington Peninsula.
By Train
Jump on a metropolitan train service (running every 15-20 minutes) from Southern Cross Station in Melbourne to Frankston and then connect through Hastings to Stony Point on Westernport Bay.
By Bus
Buses travel from Melbourne to Mornington Peninsula village. Bus number 788 departs Frankston station for towns alongside Port Phillip Bay to Portsea every 45 minutes on weekdays, and every 1-2 hours on weekends.
By Ferry
Choose the scenic option and spot dolphins as you make the stunning ferry crossing from Queenscliff on the Great Ocean Road to Sorrento. Ferries depart every hour on the hour, all year round. Foot passengers, bicycles, cars, towed caravans and trailers, motor homes, motorcycles and truck are all allowed onboard.
Melbourne Day Trips - Compare Your Options
| Day Trips | Distance | Duration | Category | Best Time To Visit |
| --- | --- | --- | --- | --- |
| Great Ocean Road | 113 KM | 1 Hour 30 Minutes | Ocean Road Trip, Skydive | February to March, October to November |
| Phillip Island | 142 KM | 2 Hours | Surfing, Wildlife, Penguin Parade | November to March |
| Yarra Valley | 58 KM | 1 Hour | Vineyards, Gourmet Food | March |
| Otway National Park | 210 KM | 1 Hour | Wildlife, Adventure Activities | June to August |
| Mornington Peninsula | 75 KM | 1 Hour 35 Minutes | Wineries, Hot Springs | February to April |
Melbourne Day Trips Map
FAQs
There are many towns that are two hours away from Melbourne. Some of these include Ballarat, Bendigo, Daylesford, Geelong, Hepburn Springs, Horsham, and Macedon.
Phillip Island is approximately 2 hours and 40 minutes from Melbourne.
There are many things to do on Phillip Island. Some of these activities include visiting the Penguin Parade, Churchill Island Heritage Farm, The Nobbies Centre, and Phillip Island Nature Parks.
There are many towns that are one hour away from Melbourne. Some of these include Avalon, Beechworth, Buninyong, Dandenong, Kyneton, and Yarra Glen.
The closest beach to Melbourne is Brighton Beach. Brighton Beach is located about 12 kilometers from the Melbourne CBD.
Yarra Valley is located about an hour east of Melbourne.
The Great Ocean Road is about 243 kilometers long and it takes approximately 3 hours and 30 minutes to drive the whole road.
There are many things to do on the Great Ocean Road. Some of these activities include visiting the Twelve Apostles, Loch Ard Gorge, London Bridge, and the Great Otway National Park.