Valentine's Day brings out the best in everyone, turning words sweeter and tinting the air with shades of pink. And Although every moment spent with your partner is special, this day gives you both the chance to actively show your love and appreciation for each other. Melbourne is filled with unique options for all kinds of Valentine's Day date ideas, for every kind of couple. Whether you're the nature-loving, outdoorsy kind of pair that loves old-school activities, adventure sports, and connecting with nature - or you're the kind of couple who enjoys popular haunts and more touristy, urban finds, Melbourne has something to suit all preferences.
Valentine's Day in Melbourne - Top Picks
---
1. Lose Yourself in the Lap of Nature at Phillip Island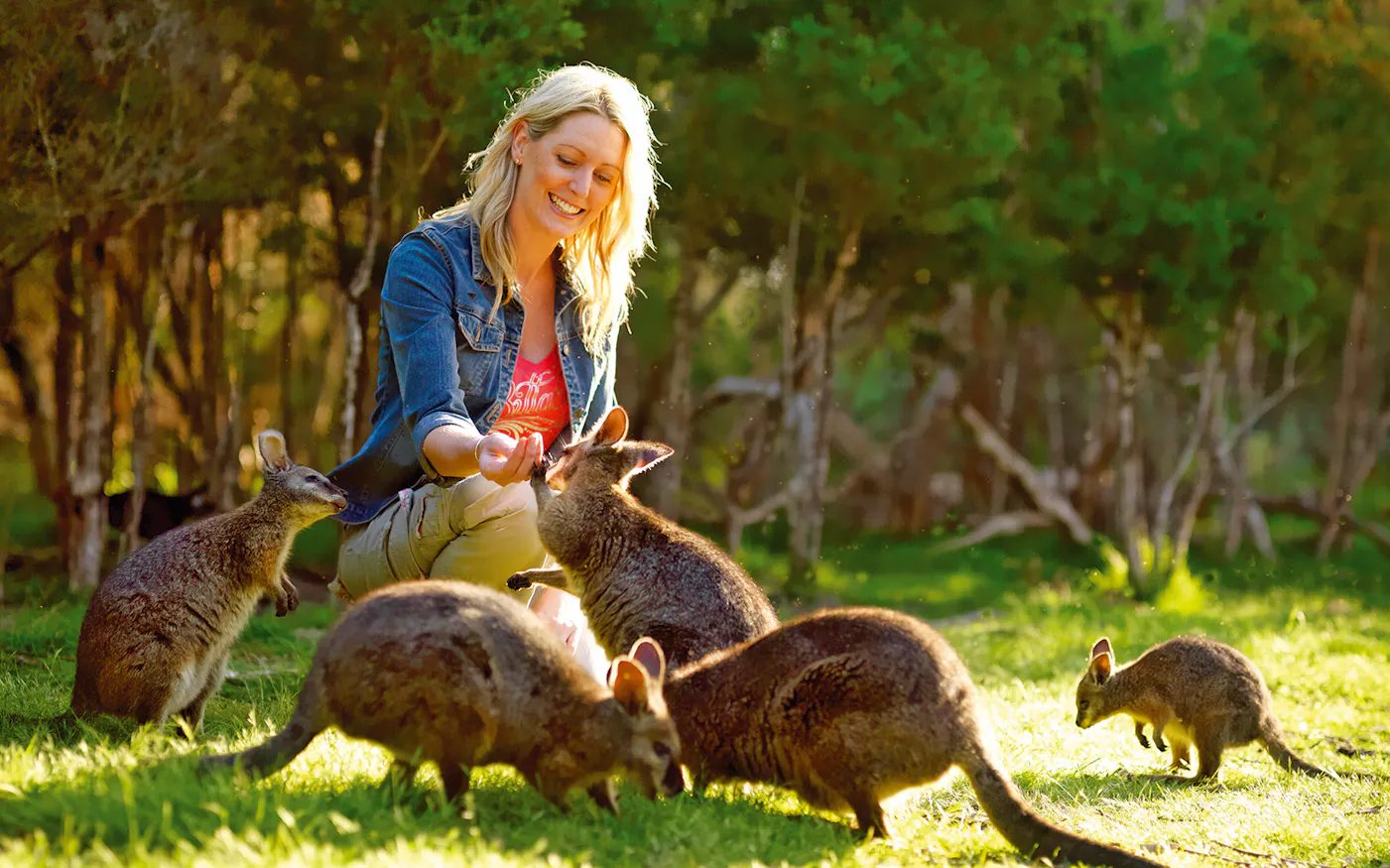 This date activity is splendid for the animal-loving couple that can spend all day outdoors, in the lap of nature. This conservation park, located on Phillip Island, is a great way to spend Valentine's Day amongst penguins and koalas while supporting an institute that is dedicated to animal conservation and research. In fact, Phillip Island Nature Park is the only commercial venture across the world where penguins are housed within their own natural environment. Located at a drive of just 1.5 hours south of Melbourne, this makes for the perfect Valentine's Day date, with plenty of time for you and your partner to make it back to the city by nightfall for a romantic dinner. This wildlife conservation park houses several animals including seals, dolphins, sharks, koalas, and penguins. You'll definitely share a moment of adoration with your partner as the tiny penguins return ashore at dusk in what has been dubbed the Penguin Parade.
2. Go on a Sunset Tour along the Great Ocean Road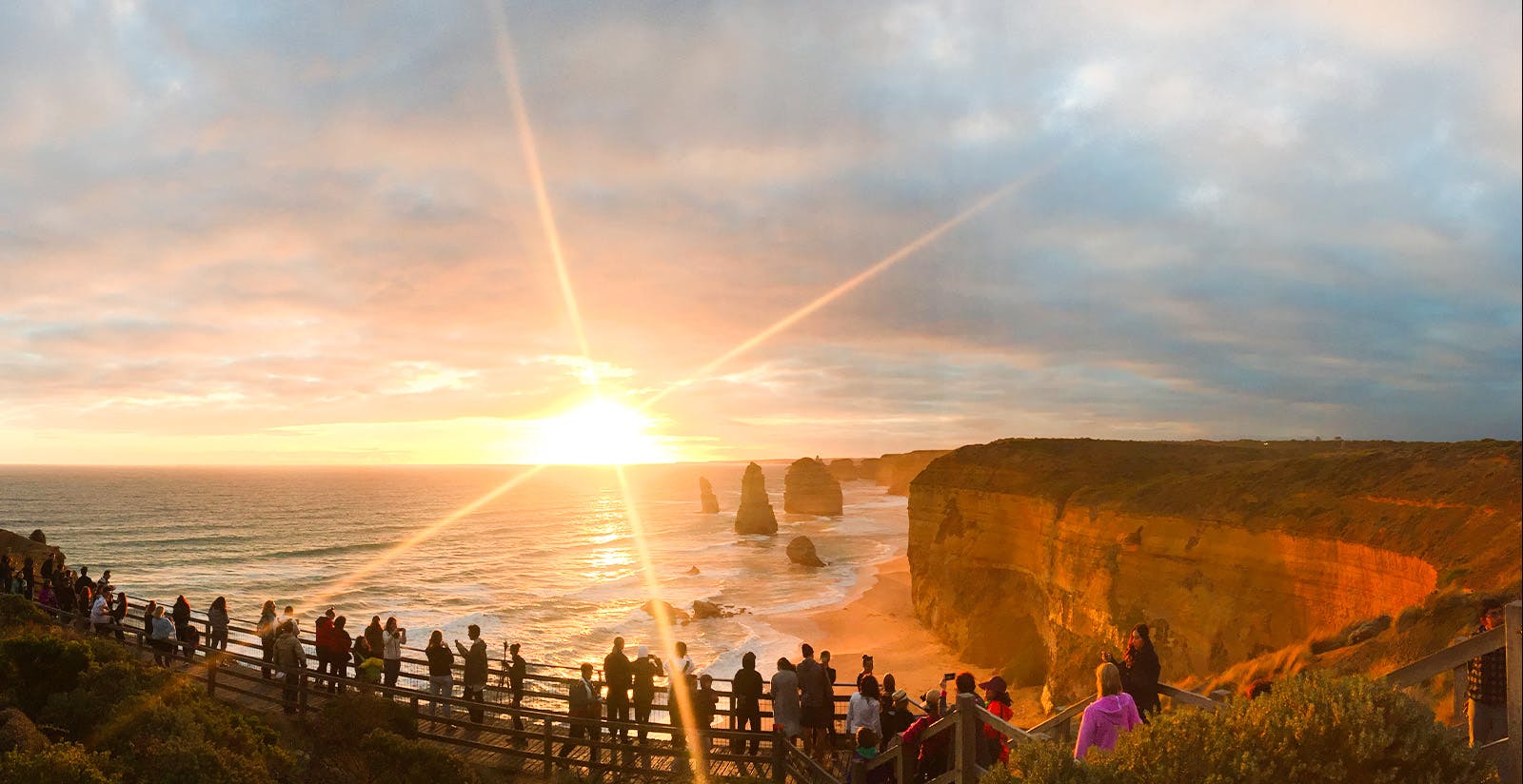 Take your special someone on an adventure of a lifetime and explore the stunning coastal views, lush green rainforest and iconic landmarks as you leave Melbourne. Begin your expedition by basking in the magnificent views of Port Phillip Bay. As you journey towards Surf Coast, explore the charming town of Geelong. Make a pitstop in Anglesea and take the time to stroll along the picturesque river before traveling over to Kennett River for lunch, if you please. Don't forget to keep an eye out for those lovable koalas perched on the fragrant eucalyptus trees. As the sun sets for the day, prepare to be astonished by Mother Nature's artwork as you witness a magnificent sunset over Twelve Apostles near Port Campbell National Park.
3. Go to Breathtaking Heights Above Melbourne at Eureka Skydeck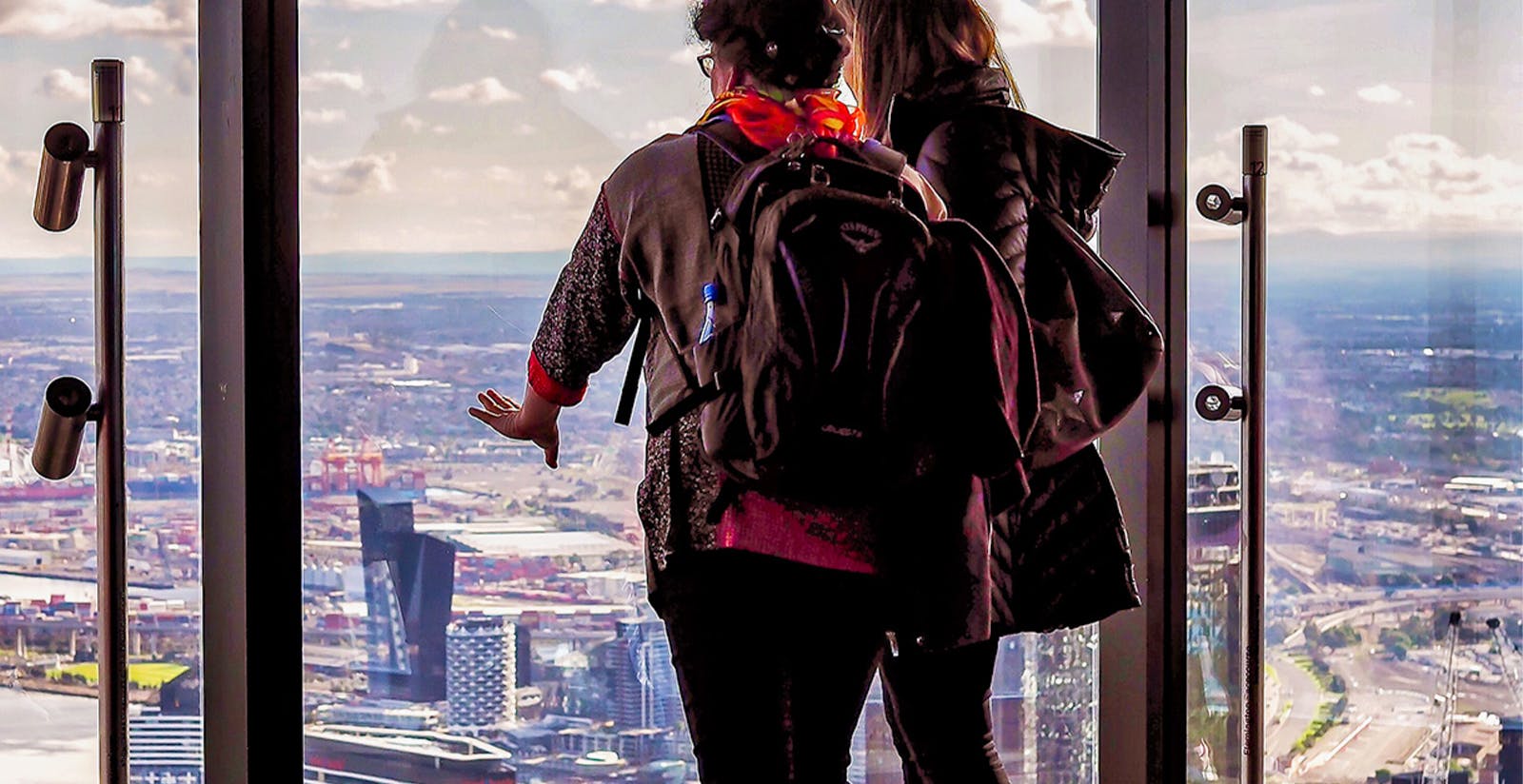 Spend Valentine's Day in Melbourne at the highest observation urban point in the southern hemisphere. Take your partner to the breathtaking height of 300 meters above Melbourne and ride one of the world's fastest elevators to the Eureka Skydeck! This stunning vantage point is perfect for the daring couple that isn't afraid of heights. The magnificent 360-degree view of Melbourne is ideal if you've been planning a big proposal. Or simply soak in the spectacular sight, arm-in-arm with your Valentine. Take advantage of the free WiFi to live stream your favorite moments and post share-worthy panoramic views from your seat in the clouds. And if you're a true set of daredevils, head on over to walk onto The Edge at an additional charge. Projecting out onto the 88th floor, this glass enclosure is not for the faint-hearted. Take our advice and sweep your beloved away to this picture-perfect spot to catch the stunning sunset view of Melbourne from the Eureka Sky Deck. You can book your tickets in advance here!
4. Unwind with your Partner in Mineral Pools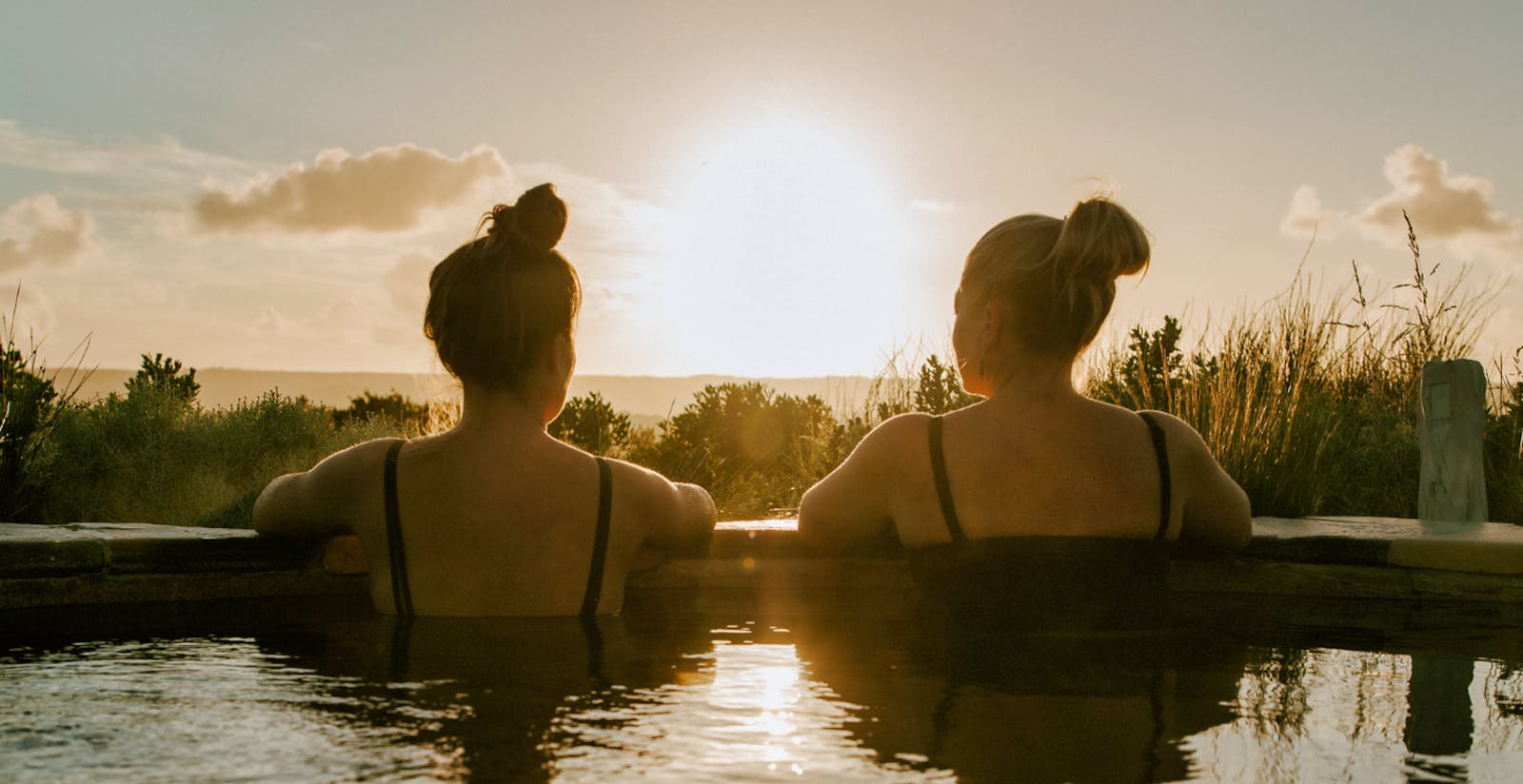 These 4 hours at the Mornington Peninsula Hot Springs might be exactly what your partner needs this Valentine's Day. If you or your partner are self-aware workaholics, then this natural healing bath house is the perfect spot in Melbourne for you to unwind and relax as a couple. A little bit of self-care goes a long way in maintaining a healthy relationship, not just with your significant other, but most importantly with yourself. You and your better half can pamper yourselves by soaking in the thermal mineral pools, or loosening up at the Turkish hamam. It is said that the water that feeds the bath house's pools comes right from the earth's core, and is believed to be over 10,000 years old. The Mornington Peninsula Hot Springs also house saunas, a hydrojet pool, and a hilltop pool with a 360-degree view of the surrounding landscape. Let your stress float away and out of sight this Valentine's Day with your partner. You can get your tickets online in advance here.
5. Cozy Up to your Partner at Melbourne's IceBar Prepare to get cozy and huddle up next to your partner on Valentine's Day, for a wintery date at Australia's coolest (pun intended) bar. IceBar Melbourne is an eccentric cocktail bar situated in The Atrium at Federation Square, and is made out of over 30 tonnes of exquisitely sculpted ice blocks. After wearing the snow cape and gloves provided upon entry, brace yourself for amazement as everything inside the bar is made out of ice, including the chairs and tables! Make a toast to your partner's beauty while sipping cocktails at sub-zero temperatures, or head here for a double date and stage a couples' ice hockey tournament. For a family friendly Valentine's Day, this is a bar you won't mind taking your kids to - with plenty of fruity mocktail options and endless boardgames, the younger members of your family will find themselves entertained at every turn. Don't forget to snap pictures with the gorgeous ice sculptures of polar bears and the White Walkers from Game of Thrones.
Sign up for our monthly newsletter
Your dose of travel fix - from hacks and deals to travel tips and everything in between, delivered monthly to your inbox
Please enter a valid email
Unsubscribe anytime
6. Have a Picnic Date at Ballarat National Park!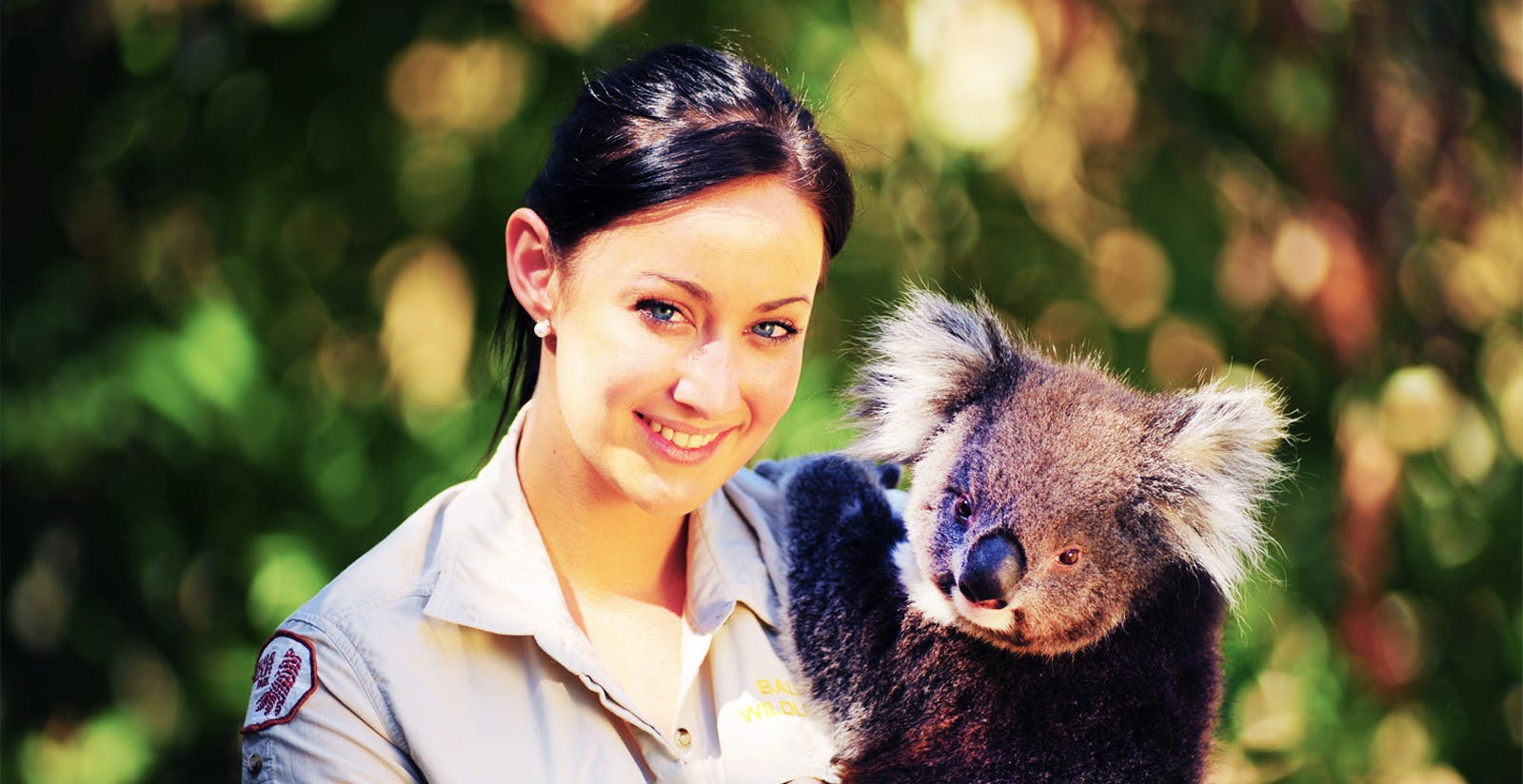 Meet the exotic and native Australian creatures of Ballarat National Park and marvel at the beauty of nature on a relaxing picnic date, this Valentine's Day. This is a must-visit attraction for the couple whose night routine is incomplete without tuning in to National Geographic. Witness the penguins, tigers, koalas, and crocodiles - and get up close for some beautiful moments with the free-roaming kangaroos. This is another great option if you'd like to celebrate Valentine's Day out with your family. You can take your kids to see the six new meerkats, and visit the Little Penguin exhibit, before going to say hello to the koala joeys. In the Tiger Sanctuary, you'll get to see the glorious Sumatran tigers named Maneki and Satu. There are plenty of feeding presentations and animal shows to watch and enjoy as well. Enjoy the park's lush green surroundings and snack on some homemade goodies for an intimate and simple lunch, or head to the cafe situated on the grounds, instead.
7. Take Trust Falls to an Extreme with Sky Diving!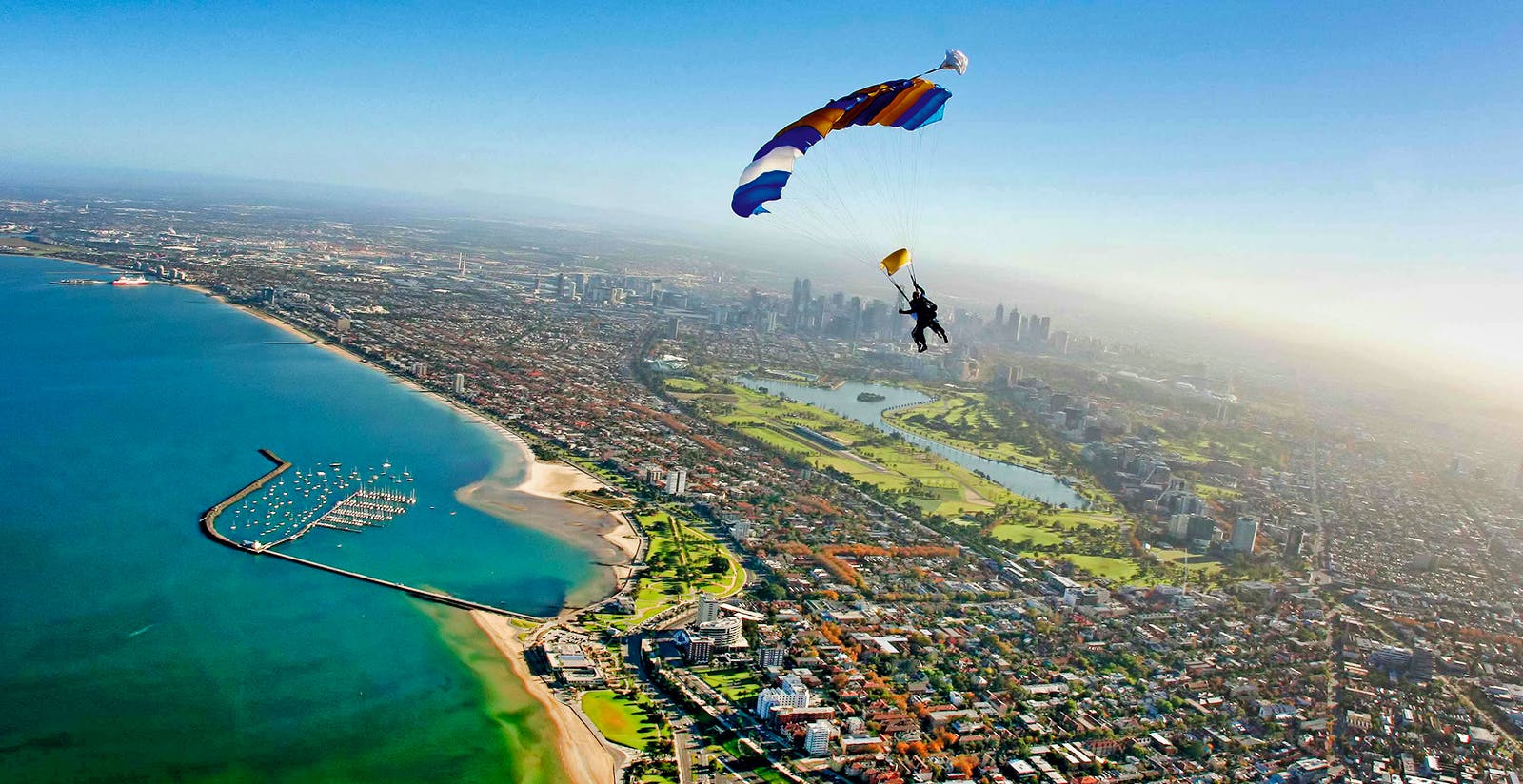 Prepare yourself for the experience of a lifetime as you jump from 15,000 feet over the Great Ocean Road with Skydive Australia. What could be a more romantic idea for Valentine's Day, than to check off a bucket list item with your significant other while soaring over Australia as you both experience the exhilaration of freefalling? Mark this momentous occasion with photos and videos (optional with your ticket) before you safely land with the help of the trained skydiving team. During your descent, you'll get to witness remarkable views of the Great Ocean Road's beaches, and Torquay. You can put your safety in the hands of the well-trained tandem jumpmasters and rest assured that you will be fitted with failure-proof, state-of-the-art equipment. You and your partner will cherish this memory for a lifetime, remembering how the jitters hit you as the plane doors open 15,000 feet above the ground.
8. Enjoy One of the Best Views of the City from an Observation Wheel!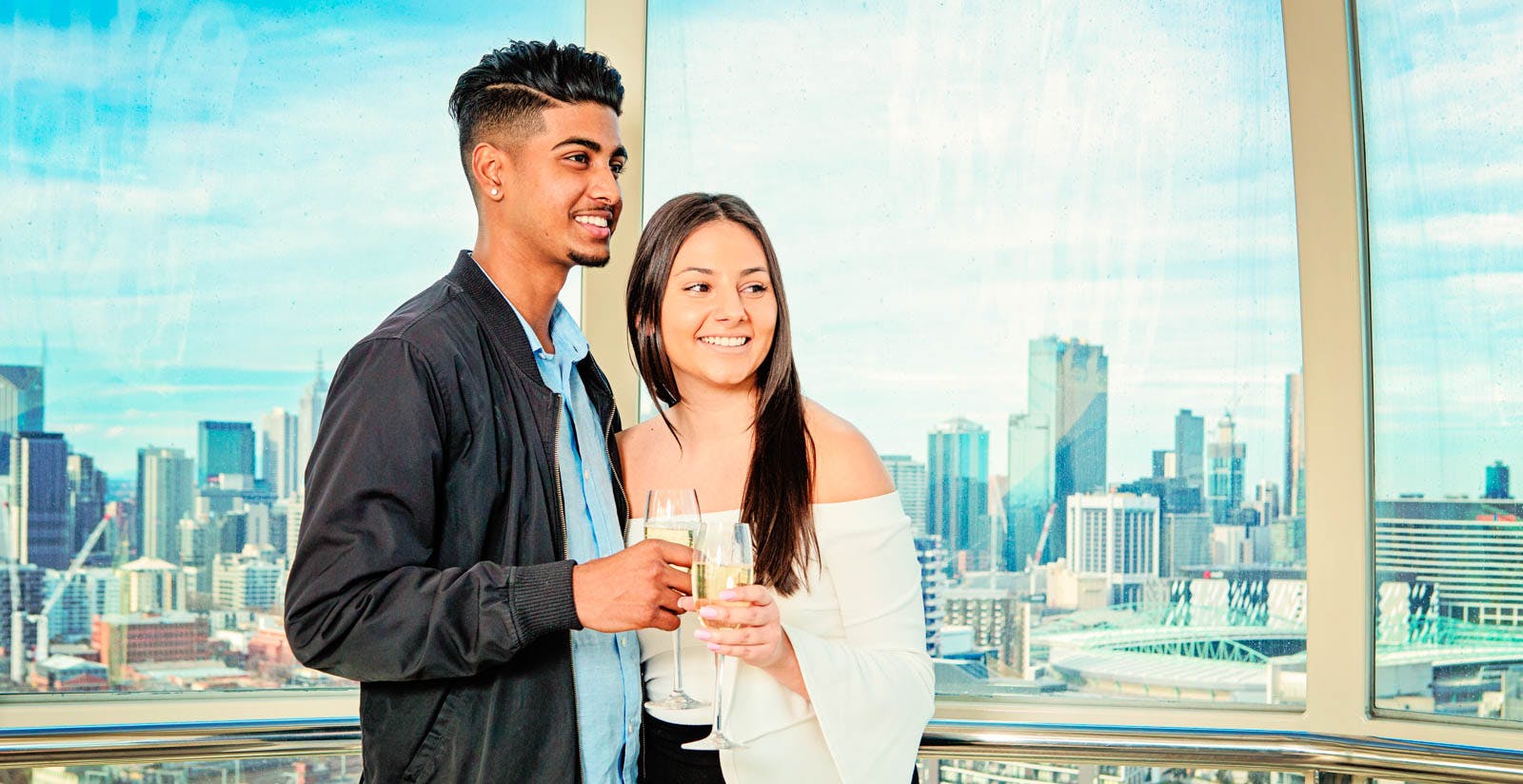 Spend Valentine's Day aboard one of the world's largest observation wheels at Melbourne Star and enjoy 30 minutes of breathtaking views of the city. At its peak of 120 meters, the Melbourne Star is a stunning vantage point to glimpse the beautiful landmarks that dot the skyline of this Australian city, while learning fascinating facts from the onboard audio commentary. Located in the Waterfront City precinct in the Docklands area, and offering 360-degree views of Melbourne, this observation wheel is unsurprisingly one of the top attractions of the city. Glimpse Port Phillip Bay from the roomy cabins while you walk around to catch sight of Melbourne from each angle, and snap pictures with your partner before disembarking from the observation wheel.
9. Wine and Dine in the Countryside with your Partner!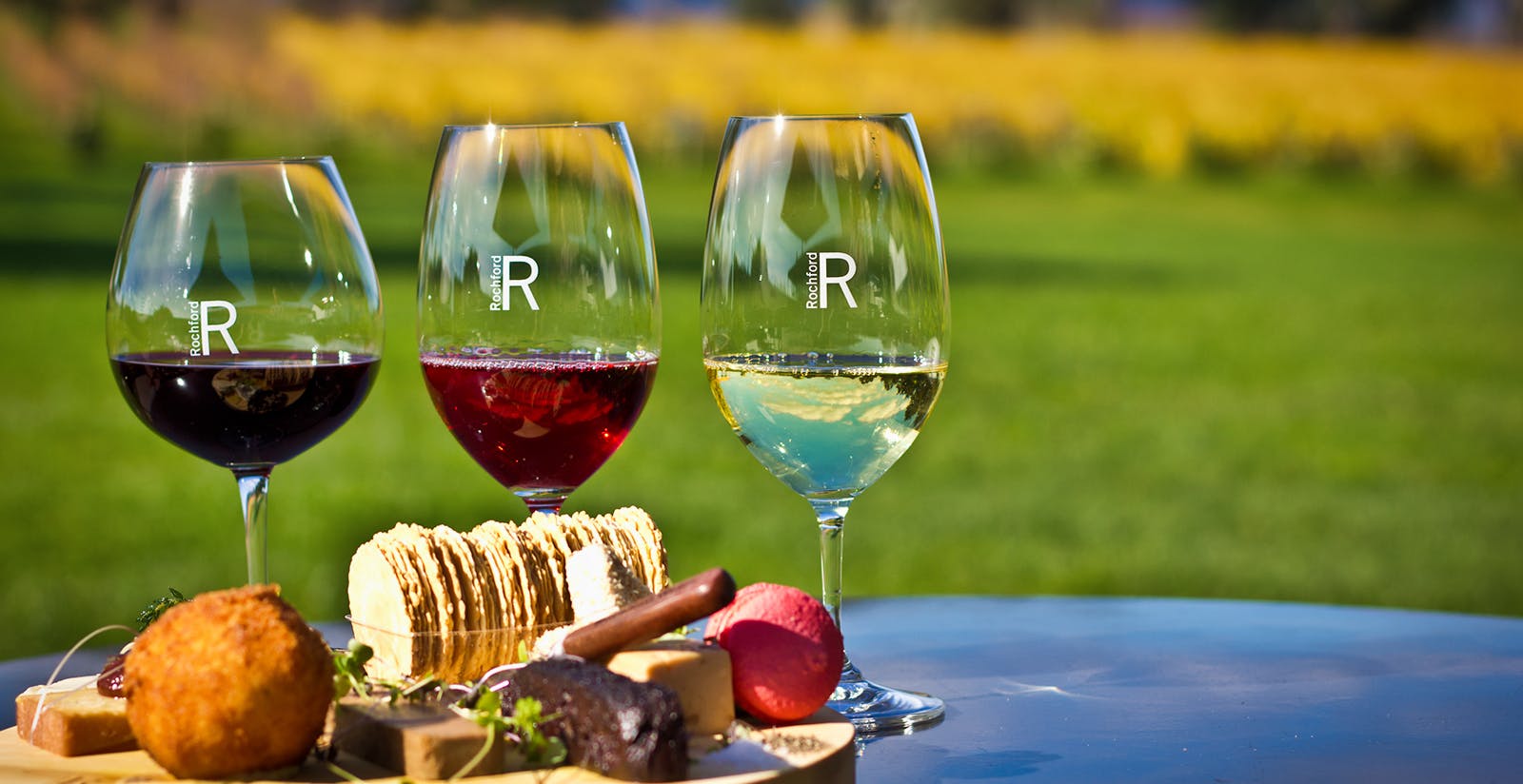 Take an exciting tour of Yarra Valley which is well-known for its notable wineries, and grab the opportunity to sample some fresh local produce followed by a wine-tasting session at DeBortoli Wines. This famous family winery stocks deliciously fine varieties of wine, making this the perfect Valentine's Day date idea if you or your partner are wine connoisseurs - or just love drinking it with cheese! For the latter, head to Yarra Valley Dairy and get your hands on some fresh cheese, followed by lunch at Rochford wines. Close the day by treating your taste buds to premium chocolates at the Yarra Valley Chocolaterie. This is the perfect getaway to the Melbourne countryside and a romantic way to spend Valentine's Day, straight out of a movie. Spending the day touring Yarra Valley is overall a great way to get a taste of this renowned region's delectable wines and fresh local produce, while spending some quality time with your partner.
FAQs
---
Ranging from fine-dining in the cities, to being able to indulge in adrenaline-pumping activities, Melbourne has a lot to offer for everyone! Make sure to plan in advance and also take a look at Romantic Date Ideas in Melbourne for more inspiration!
Of course! What's not to love about the Day of Love! While it's not a national holiday or anything of the sort, the day still brings with it magic and romance. Gifts are exchanged, as are flowers and chocolates. Be on the lookout for special Valentine's Day discounts across the city, be it for shopping or dining.
February is slightly cooler than January in Australia. While the average temperatures in coastal cities like Sydney would be about 25 degree celsius, you can expect an occasional heatwave to hit the city at about 37 degrees.
Expect sunny days and balmy nights. It's best to pack light and airy clothes that can help you stay comfortable even if the temperatures were to rise unexpectedly.
Summer! A great time to visit the city and enjoy the excellent beaches the city has to offer with your partner.
Valentine's Day Melbourne Guide