With 225 sprawling hectares of wild savannah, the Werribee Open Range Zoo in Melbourne is a stunning African paradise, home to several species of animals and birds. Watch a pride of lions laze under a grove of trees or laugh at the mischievous gorillas at Melbourne's Werribee Zoo. A visit to this zoo takes you on a fun and adventurous safari tour of the grassy homeland of rhinoceros, giraffes, zebras, antelopes and so much more. Tighten your shoelaces for an exhilarating day out at Werribee Zoo in Melbourne.
What to Expect at Werribee Open Range Zoo?
---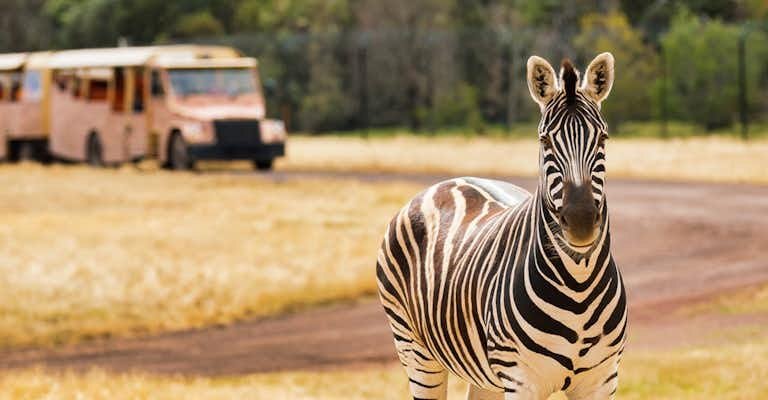 Located 30 minutes away from Melbourne's city center, the Werribee Open Range Zoo promises a whole lot of action packed into a day-long excursion. Along with closely observing the wildlife of Africa, the zoo also allows you to experience African culture from up close. With plenty of interactive attractions for children, there will never be a dull moment for adults and children. Werribee Zoo recreates natural habitats of animals and lets you explore exciting trails like the Australian Journey and Pula Reserve Trail. Being an open range zoo, a 40-minute bus safari with live commentary by a tour guide takes you through some of its well-maintained grasslands.
Werribee Zoo tickets give you the opportunity to sneak a peek into the lives of the Kubu Hippopotamus, Kulinda the Cheetah and a mob of Meerkats! The Gorillas encounter is one of the largest in the world and allows you to feed and interact with the mammals.
Werribee Zoo Tickets
---
Considered as one of the most exciting attractions in Melbourne, it is safe to say that Werribee Zoo tickets are highly sought after. Purchasing a ticket online is your best option to avoid waiting in long lines. We also recommended opting for a guided tour pass to learn more about the various animals and their habitats inside the zoo.
If you're planning to visit during the peak season or during the weekend, book your Werribee Zoo tickets online, in advance.
A Detailed Overview of Werribee Zoo
---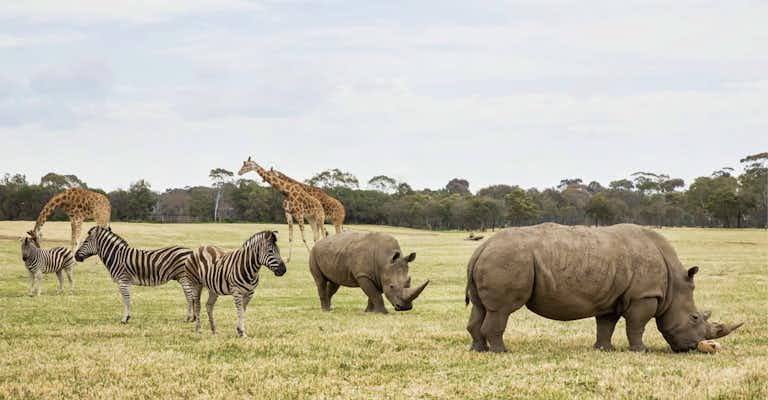 Gorilla Calling : Recognised as one of the largest gorilla exhibits in the world, Gorilla Calling is the highlight of Werribee Zoo! The exhibit not only educates you about the life of Western Lowland Gorillas, but also lets you get a closer look at the way they live in their natural habitat. These carefully constructed exhibits consist of elevated play space and a climbing area for the apes. Guests can enjoy a behind-the-scenes encounter with the gorillas, where the caretakers guide you to their dens and you can learn how to tend for the gentle giants.
Lions on the Edge : What is a savannah without its king? Lions on the Edge enclosure bring you up close with the majestic beast while on a safari bus. The tour, complete with live commentary, takes you through the open range grassland where you can learn about the habitat and lifestyles of a pride of lions. This tour also includes a thrilling ride in a jeep, which is not for the faint-hearted!
Kubu River Hippos : This exhibit at Werribee Zoo allows you to watch some river hippopotamus laze or sun-bathe in water. The river, which is inspired by the Okavango Delta River of Africa, is recreated for the Kubu hippos and has been constructed to replicate its peace and tranquility. Enjoy the insightful tour with a keeper, who is sure to enlighten you with some interesting tidbits about these animals.
Meerkat Encounter : Embark on a 20-minute tour with the adorable meerkat family that helps you get acquainted with their world. This tour allows you to get a closer look into their enclosure with a ranger who will share details of their life in the wild. Learn more about their habitat and fall in love with this interesting animal during your visit.
African Cat Encounter : Witness the best of the savannah at the unique African cat encounter enclosure. The 40-minute experience brings you face-to-face with some stunning cats from Africa. The exhibit also has a special feature where a keeper introduces you to these cats, and explains the existential threat to their lives.
Kangaroo Tales Experience : The curious Kangaroos, best known for being an Australian icon, have their very own exhibit at Werribee zoo. Get a closer look into their exhibit and their peaceful coexistence with the emu. In a compact eight-member group, a 25-minute guided tour takes you through their life in the zoo. Discover how they are fed, cared for and how they look after their young ones. Ideal for children, the exciting experience is sure to put a smile on their faces.
Practical Information
---
Timings
Monday to Sunday — 09:00 AM to 05:00 PM. Entry closes at 3:30 PM.
Address
K Rd, Werribee South VIC 3030, Australia.
Transport
There is no direct way to reach Werribee Zoo by public transport. However, you can take a train from Melbourne Central Business District (CBD) to Werribee station and change to Bus439 to the closest stop, Jacqueline Cl/Duncans Rd. From here, you can find the Werribee Zoo within walking distance. A cab journey takes about 30 minutes from Melbourne and can be reached via Geelong Road or Westgate Bridge.
Other facilities
The zoo offers accessible parking at the entrance of the zoo and has accessible pathways for wheelchairs and strollers. You may also hire a stroller, which costs AUD$17 for members and $20 for non-members. Wheelchairs are also available for hire from the Village Traders Zoo App. Werribee Zoo allows service animals that are certified by registered authorities, mobile guided tours as well as access for hearing impaired people. There are also several restaurants within the zoo premises — including Hippo Beach Cafe, Village kitchen, The Meerkat Bistro, Tribal Beats kiosk and Cheetah Lawn BBQ — that one can choose from.
Tips For Your Visit
---
Wear comfortable shoes as the zoo may involve a lot of walking around its exhibits
Carry a dry towel for the hippo play area, which involves a lot of water splashing
Check out the Meerkat cafe which doubles as an exhibit for Meerkats as well
Purchase your tickets online to make sure you avoid queues during rush hour
Dress warm during the winter as the open spaces can get chilly. During the rainy season, carry an umbrella and don't forget to carry sunscreen if you visit during summer.
Visit the website before your trip to learn more about exciting events, upcoming safaris and new animal habitats
The Werribee Zoo is also a great location to host events like corporate retreats or birthday parties. Make sure to book in advance to get the best deal.
FAQs
---
What are Werribee Zoo Melbourne ticket prices?
What are Werribee Zoo timings?
How long does it take to reach Werribee Zoo from Melbourne CBD?
Do I need to buy an additional safari ticket at Werribee Zoo Melbourne or is it included in the admission pass?
Are service animals allowed during the safari at Werribee Zoo Melbourne?
Can I feed the animals at Werribee Zoo in Melbourne?
Are children allowed on the off-road safari in Werribee Zoo in Melbourne?