With artistic ruins and historical benchmarks along its sprawling cityscape, Rome is a favourite amongst tourists wishing for a picturesque getaway. Throughout its timeline, Rome has been a part of some of history's greatest masterpieces — today it stands as a treasure trove with medieval churches, aesthetic piazzas and eclectic traces of western art in every nook and corner. Today, Rome is also well-known for its vibrant night life. Preppy haunts, contemporary fine-dine and street side cafes that are known to be brimming with a fashion-conscious crowd. Apart from what it looks like on the outside, Rome welcomes its visitors with warm hospitality and food. Jovial locals are often observed making merry and indulging in their favourite food — including the famed pasta, pizza and sparkling white wine. Wind up with a delicious scoop of gelato while you walk down the quaint streets of Rome!
What makes Rome in November Special?
---
Nearer to winter, Rome in November begins cooling down and experiences a drop in the temperature. Although popular with tourists from around the world all year round, Rome witnesses a considerable decline in the population of tourists all in all. Rome in November is a good time for travellers to enjoy a quieter, more peaceful time around the city without the hassle of a crowd. This month also sees a number of events springing up — whether it be music, art or religious — and Italians are observed having a gala time amongst themselves. Visitors travelling to Rome in November have a chance of catching a glimpse of Starling Murmuration — a rare phenomenon where thousands of starlings come together in the sky to form patterns. Apart from that, enjoy delicious Roman Castagnaccio — a seasonal dessert made using chestnut. There couldn't be a better time to grab the sweetest deals on hotels and airfare after all!
Rome Weather in November & What To Wear
---
With a constant decline in temperature beginning from October itself, Rome in November offers a respite to visitors looking for a moderately cool weather. With winter just around the corner, be prepared to experience anything between 14 degrees to 18 degrees in the day time and 10 degrees in the evening. Just like other European destinations, Rome enjoys a whole of seven hours of sunshine throughout the day, leaving you with plenty of time to get your sightseeing done before the sun sets. However, there are several packages fit to explore the nightlife of this illuminated city.
Apart from the wintry winds, expect a fair amount of rainfall in every couple of days. It is wise to pack thicker clothes, denims and jackets this season. A good pair of gloves and a scarf is a must-pack amongst your other essentials as well. It is advisable to carry a comfortable pair of walking shoes that don't mind the slush. Also, don't forget to carry an umbrella to shelter yourself from the erratic rains!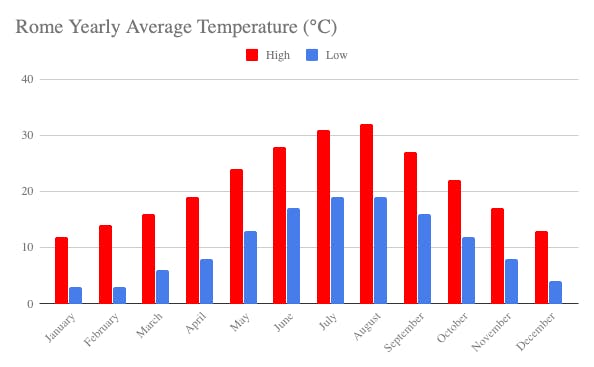 Rome in November : Things to do
---
Considered as the icon of Rome, the Colosseum is the capital's most remarkable monument. It was build back in 70 AD, the Flavian Amphitheatre attracts as many as 6 million tourists every year. It is also in the list of the seven wonders of the world for its poignant past and marvellous architecture.
Roman Forum & Palatine Hill
The Roman Forum, which is located today in between Piazza Venezia and the Colosseum was once the hub of all socio-political activity in Rome during its yesteryears. Located hardly 40 meters above the Roman Forum is Palatine Hill, the central part of the seven hills or Rome. It is also one of the oldest surviving architecture of the city.
Vatican Museums & Sistine Chapel
Located within the Vatican City, the Vatican Museum showcases an eclectic collection of art surpassed by the former Popes. The collection boasts of 70,000 renowned Roman sculptures and works of art dating back to the Renaissance period itself. The Sistine Chapel located within the Vatican City is the official residence of the Pope is considered to be a Michelangelo's masterpiece. .
St. Peter's Basilica St. Peter's Basilica holds great importance in the Christian pilgrimage and is considered to be one of the holiest sites for Catholics. It was named after one of Jesus's twelve disciples — Saint Peter — who went on to become a founder of the Catholic Church. The burial ground of St. Peter is where the Basilica stands today.
Piazza San Pietro, 00120 Città del Vaticano, Vatican City
Italy
Getting There ›
Home to some of the most remarkable pieces of art from the fifteenth to eighteenth century, Borghese Gallery is located in the beautiful Villa Borghese — an elegant mansion. Apart from the artworks, the gardens located within the periphery of Villa Borghese also attract a lot of tourist attention and are considered to be the third largest gardens in the world.
Angels & Demons Official Tour
Indulge in half a day of excursion around Rome, exploring the locations behind Dan Brown's inspiration —Angels & Demons . Walk through a secret, unused passage and know undiscovered facts about the illuminati. Celebrate the beauty of Rome with a skilled guide on an off-beaten tour through a road that has never been taken before.
Embark on an eerie expedition underneath Rome's artistic exterior. Explore the subterranean passageways underground that were once a burial ground for a number of centuries. Know more about Rome's valiant history and dig deeper into the Roman routes as you scout in the dingy trove of secrets within the Catacombs
Make the most of your trip with a culinary exploration that takes you through some of the most delectable and loved delicacies of the Romans. In an intimate group of five, take a journey that briefs you to the making and tasting of pizzas, cheese, charcuterie, beers as well as wines of Rome. Get insider tips and hints on eating in Rome and taste the finest amongst all Roman food.
Rome in November — Events to look out for
---
All Saints Day
Celebrated as a public holiday in Rome on November 1, All Saints Day is an important day for the Romans. The day witnesses hundreds of locals visiting the graves of their departed ones. The holds importance for those saints who died for the church. People are seen going to church and attending masses on that day as well. All Saints Day observes a holiday throughout Rome, so make sure you plan your trip wisely so as to not encounter the closed shops and tourist places in the city.
Roma Europa Festival
Held between 8th September to 20th November, theRoma Europa festival is an international affair that attracts crowd from all over the world . Rome's multidisciplinary arts festival returns with the 37th edition of its annual programme of contemporary dance, theatre, art, music, technology and events for kids. This year there will be 80 different shows taking place in 18 venues across the city, involving more than 400 artists from around the world.
Rome International Film Festival
The Rome International Film Festival is entering its 19th year and will occur November 10-13, 2022. It is also best known as Rome's first independent film festival. The aim of this festival is mainly to evoke enthusiasm in young filmmakers about films and film making. The seven day celebration offers a stage to the young crowd to present their work in front of an audience and notable chief guests. The festival also witnesses various aspects of drama, dance, fashion as well as exhibitions apart from cinema. The festival often concludes with an award ceremony towards the end.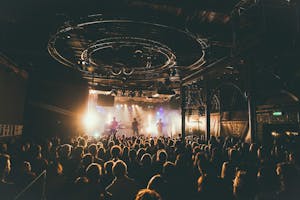 Kodaline Music Concert
Kodaline's upcoming concert with St. Lundi at Orion in Rome on 15 November 2022. They are an Irish rock band, originating from Dublin, Ireland. Their music style is often cited as belonging to the indie genre. From their debut EP, the single 'All I Want' was selected as BBC Radio 1s record of the week, allowing the relatively unknown band some great exposure. Their songs have been used extensively on television, as background tracks to The Vampire Diaries and The Fault in Our Stars, to name but a few. Potentially the most popular track the band has produced to date is their hit single 'High Hopes'.
Rome in November : 5-day Itinerary
---
Rome Essentials
---
Where to Stay in Rome during November
Depending on your budget, there are a range of hotels that you can pick while you're in Rome. Beginning from economical BnBs to luxurious spaces, there is no dearth of options for tourists
What to Pack for Visiting Rome in November
Considering the rising winter chills, it is absolutely essential to have warm woollen jackets and thicker clothes handy during your trip. Make it a point to carry a scarf and gloves with you at all times. A rain-hat, umbrella or a raincoat is also a must as it tends to rain erratically during November. If you're planning to go out on an excursion, it is best to have comfortable leggings and durable shoes to last you throughout your trip.
Getting Around Rome in November
As compared to the other European cities, Roman Metro line isn't very useful for the tourists. While there are two lines — Metropolitana Linea A, and Metropolitana Linea B — that connect you to some major monuments like Colosseum and the Vatican City , there are several other attractions which will require you to depend upon other modes of transport. In contrast to the train network, Rome's bus network is intricately spread all over the city. There is also an option of using the tram, which overlaps the routes of the bus and train in Rome. In case of transfers between hotel to airport, there is an option of hiring a fixed rate taxi as well.
Tips for Visiting Rome in November
---
Rome in November is on the onset of winter, it is best to pack warm woollens and also an umbrella, for it tends to be a rainier month.
Holidays in Rome are a busy time. Make sure you do a thorough check as monuments and important attractions have a tendency of remaining shut.
November in Rome is a great time to try new and seasonal dishes. Vegetables such as artichokes, pumpkins and onions are found in plenty during this season.
November is great if you want to spend some more time exploring the monuments as the offbeat season attracts a lesser crowd. Several museums are also open late on weekends.
On Sunday, November 26th, the last Sunday of the month, the Vatican Museums are open and free.
Explore Rome by Months
---