There is no Rome without its centuries' worth of tradition and culture. And you would have to be living under a rock to not know that art runs through Rome like blood courses through our veins. Out of the 10 million tourists that will visit Rome by the end of this year, a vast majority will only turn up because of Rome's lengthy catalog of museums and art galleries. You would understand why that is once to step inside Borghese Gallery (or Galleria Borghese), one of the most prominent art galleries in the world. This gallery is perpetually swarming with illustrious artwork and their admirers. It is rightly said that if you can visit just one art gallery in a lifetime, let it be Galleria Borghese in Rome.
Galleria Borghese's Essential Information
---
Handy information
| | |
| --- | --- |
| ⏰ Suggested Duration: | 2 hours |
| ☀️ Best Time to Visit: | Morning Hours |
| 💜 Must See: | Apollo and Daphne by Bernini |
| 🎟️ Borghese Gallery Entry Ticket: | €22 |
| 😍 Borghese Gallery Guided Tour: | €54 |
| 🎫 Vatican Museums + Borghese Gallery: | €46.55 |
Must-see paintings
David with the Head of Goliath & Boy with a Basket of Fruit by Caravaggio
The Deposition by Raphael
Melissa by Dosso Dossi

Things to know
Number of visitors per year: Half a million
Number of artworks: 800
Established: 1902
Architect: Scipione Borghese

Opening Hours And Address
Tues to Sat - 8:30 AM to 7:30 PM
Closed on Mondays

Address : Piazzale Scipione Borghese,
5, 00197 Rome, Italy
Get There
What Makes Galleria Borghese Special
---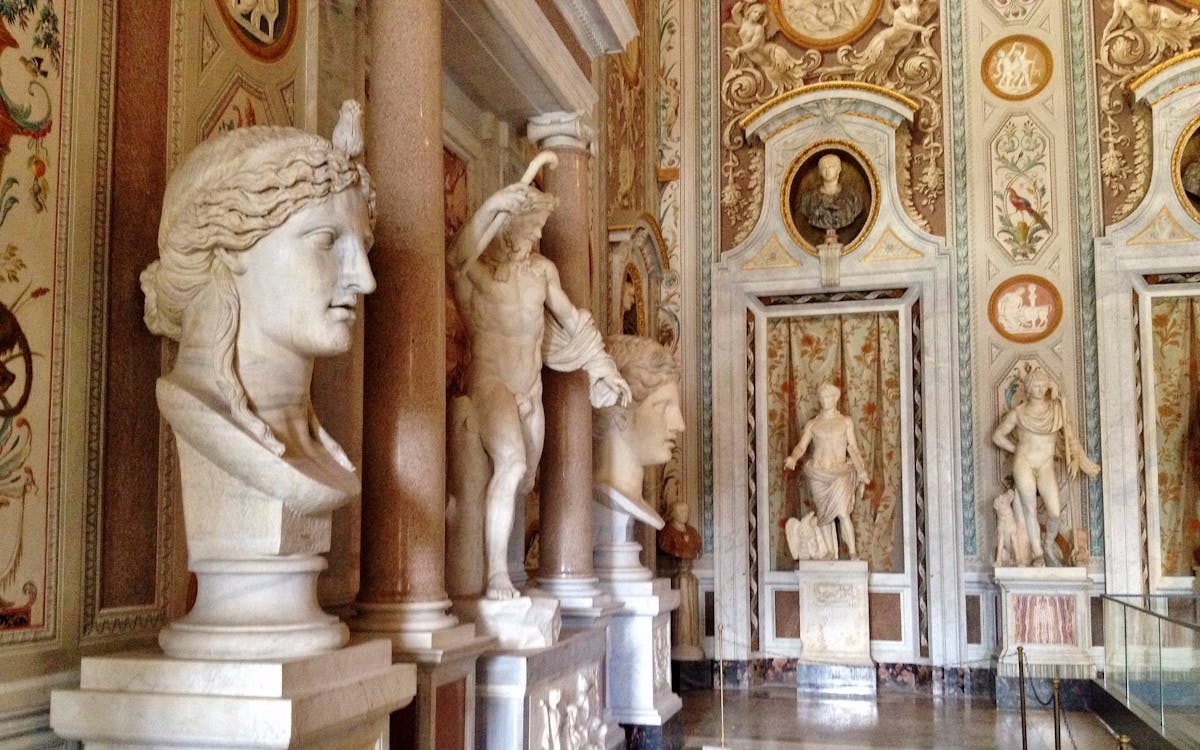 As the name suggests, Galleria Borghese is the principal home of the collection of sculptures and art that were put together by the legendary Borghese family. This includes the historically significant works by the old masters, as well as other renowned contemporary painters from around the globe. Consequently, Borghese Gallery in Rome serves as a time capsule freezing art from 1st century CE onwards. The exhibitions are segregated by time period to aid a parallel critique of the evolution of different techniques.
Galleria Borghese is hosted in the former Villa Borghese Pinciana. The villa itself is adorned with architectural masterstrokes. The two floors of the villa that now welcome thousands of art aficionados are reminiscent of quintessential Roman architecture. Moreover, the walk to and from Borghese Gallery will take you through the serene Villa Borghese Park. This can possibly be one of the most tranquil experience you will ever have. It would be a big mistake to miss Borghese Gallery when you are in Rome.
Some of the most famous works of art in the Borghese Gallery includes David with the Head of Goliath and Boy with a Basket of Fruit by Caravaggio, The Deposition by Raphael, Melissa by Dosso Dossi, Apollo and Daphne and David by Bernini, and Pauline Bonaparte as Venus Victrix by Canova.
Villa Borghese Gardens
The Borghese Gallery shares its grounds with the equally impressive Villa Borghese gardens. With over 90 points of interest that includes classical statues and monuments, the Borghese Garden is one of the largest and most beautiful public parks in Rome. Located atop the gentle Pincian Hill, one can catch impressive views of the bustling Piazza del Popolo, the Tiber and Rome.

Galleria Borghese History
---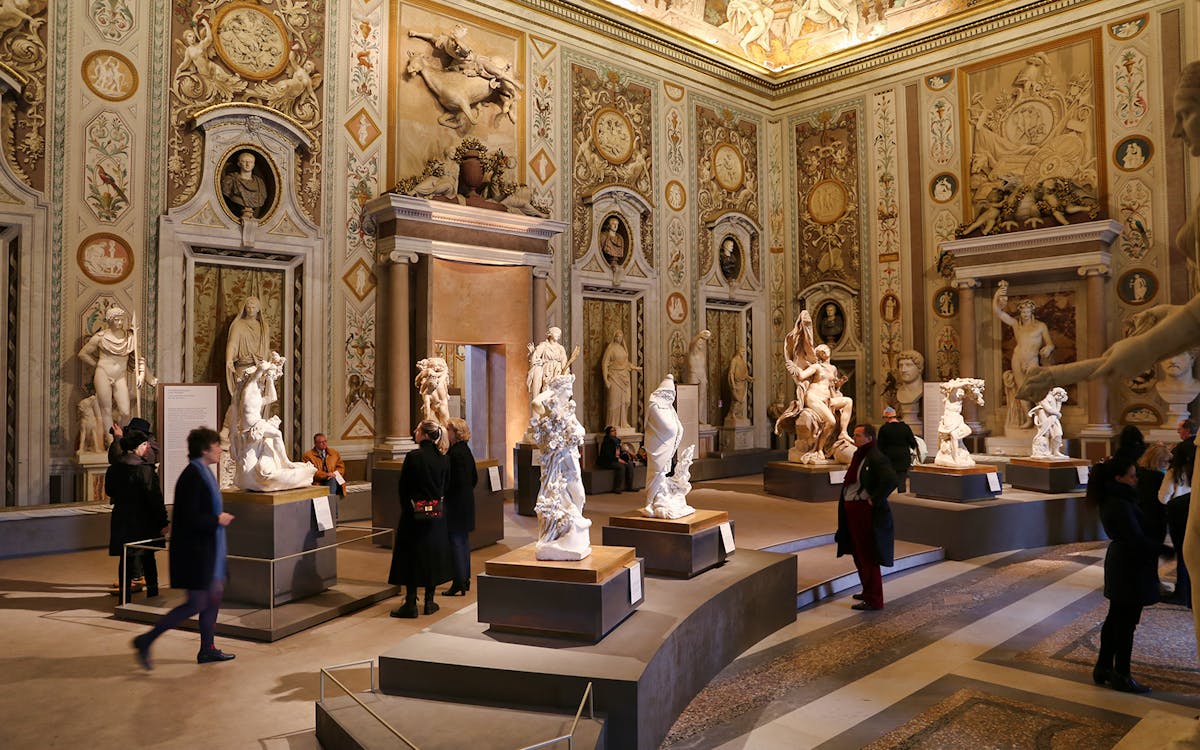 In 1660, a leading patron of art in Rome, Cardinal Scipione Borghese used his position to begin a private collection of artworks. He had an impeccable eye for creative genius and the collection that attracts a large number of tourists these days can be attributed to him. However, the history of the Borghese Gallery is not completely chaste. Cardinal Scipione Borghese was known to imprison artists so that he could collect their works for his gallery. In the early 19th Century, two of the best-known artworks of the Borghese Gallery had to be sold to Napoleon, which can now be seen at the Louvre Museum in Paris. The Borghese Gallery attained its current form in 1903 when it was opened for public visits.
Galleria Borghese - Long Queues & How to Skip Them
---
The Borghese Gallery is one of the most important attractions in Rome and a must-visit place on every traveller's bucket list. However, it is also one of the most regulated galleries with a strict visiting policy. Only 360 visitors are allowed to be inside the gallery at once. Each day, there are five time slots when guests can visit. Each time slot is for two hours. At the end of the two hours, you have to leave the museum. As result, Borghese Gallery tickets are highly valuable and tend to sell out quickly. Especially during peak tourist season, it's imperative to book tickets in advance. If you arrive at the museum without a ticket in hand, it's very likely tickets will be sold out, in which case you will have to wait two hours, until the next time slot. In addition, even if you do get tickets, the line is regularly quite long, since admission is done at a particular time rather than at a constant flow.
Getting Borghese Gallery Tickets
Online tickets are also difficult to come by and sell out months in advance due to the museum's regulated entry policy. So how do you secure your time slot and avoid the long queue? Well let's give it a look:

• First things first, purchase your ticket online. This cuts down anywhere from 30 minutes to 2 hours of a potential wait. These Borghese Gallery skip the line tickets are available on Headout for €22.
• With this ticket, you're guaranteed a spot at the time of your choice. You also get to head straight to the priority access entry, by passing the long queue.
• On the day of your visit, head straight to the ticket office located on the ground floor inside the museum.
• Here, you will find two lines - a long line of people looking to buy tickets and a smaller line for prepaid ticket holders. Simply display the tickets on your phone at the prepaid ticket counter and get seamless access to the museum.
This unique timed reservation system at the gallery might sound like an inconvenience at first; however, it's actually extremely beneficial for guests. With crowds constantly kept at a minimum, you can savor the incredible art without having to push your way through the packs of tourists to catch a glimpse of each painting or sculpture.

Skip The Line Hacks
3 ways to Skip The Lines at Borghese Gallery
We have found 3 sure shot ways you can skip the long queues at Borghese Gallery.
Galleria Borghese Tickets & Reservations
---
While the museum's unique timed reservation system is great for keeping crowds to a minimum inside the Borghese Gallery - you can expect to find a whole lot of people waiting in line outside the museum. Aside from the tedious queue, tickets are limited and sell out quickly. Pre-purchasing your tickets online will ensure you get your preferred time slot and help save time with skip-the-line access.
With these priority access tickets, enjoy stress-free entry and make the most of your time exploring one of the world's most enticing art collections.
Self-Guided vs. Guided Tours of Borghese Gallery
---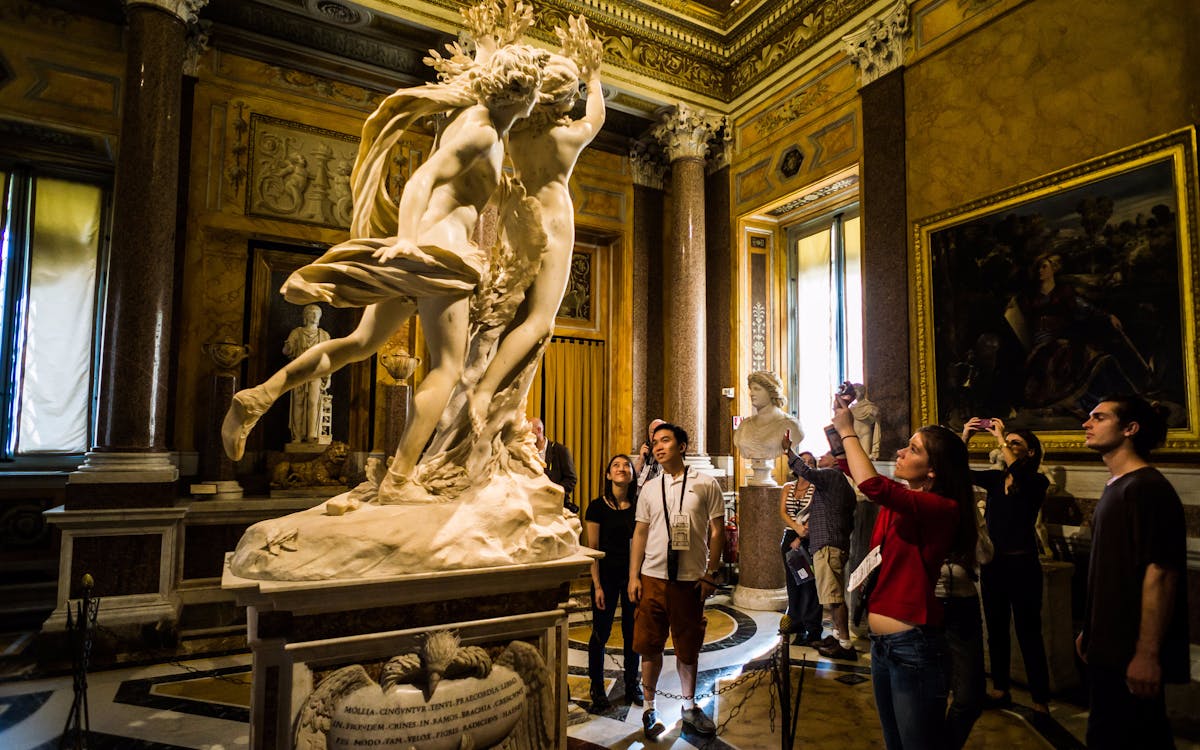 When planning your visit to the Villa Borghese- the first thing you should decide is whether you'd like to explore the gallery on your own, or with a guide.
On a self-guided tour, immerse yourself in one of the world's most iconic and prestigious art collections. Explore the 20 rooms at your own pace and gaze at your favorite artworks for as long as you'd like without the pressure of keeping up (or behind) with a group and guide. You can also add an audio guide for a small fee of €5.
While self-guided tours are certainly a good experience, guided tours offer a chance to dive even deeper into the gallery. Every piece of art has an interesting story to tell. A professional guide can take you through these stories and ensure you don't miss anything - after all, you only have two hours to explore the 20 rooms. The Borghese Gallery small group guided tour is a perfect way to experience the gallery in its entire magnificence. For just an additional €8, the Borghese Gallery Elite Walking tour takes your visit one step further, with a guided tour across the expansive Borghese Park, Pincio Terrace and the Spanish Steps. For those in need of transport, you can opt for the Borghese Gallery and Gardens half-day tour with hotel pickup and drop-off .
Galleria Borghese Exhibitions
---
While each and every art work at the gallery is special and irreplaceable, there are some masterpieces that stand out. Make sure you view these artworks on your visit to the Borghese Gallery –
Apollo and Daphne, by Bernini
Boy with a Basket of Fruit, Caravaggio
David with the Head of Goliath, by Caravaggio
Pauline Bonaparte as Venus Victrix, Canova
Pluto and Persephone, by Bernini
Sacred and Profane Love, by Titian
The Deposition, by Raphael
The Enchantress Circe (or Melissa), by Dosso Dossi
The Rape of Proserpina by Bernini

Borghese Gallery Highlights
An Artist's Guide To The Top 10 Borghese Gallery Highlights
Get a glipse of the top 10 gallery highlights and the story behind them at Borghese Gallery with this guide!
Apollo and Daphne by Gian Lorenzo Bernini
Definitely, one of the most iconic works of art you will ever see, this masterpiece by Bernini was sculpted between 1622 and 1625. The sculpture portrays a pivotal scene from Ovid's Metamorphoses in which the nymph Daphne is seen sprouting leaves from her arms and hair while her feet turn into roots. Apollo witnesses this event shell-shocked.
Sacred and Profane Love by Titian Vecellio
The naming of this work by Titian goes against his intention. Sacred and Profane Love presents a delicate Neo-Platonic vision of love, that was a feature of Titian's school of thought. The crown jewel of Borghese Gallery embodies eternal beauty as it delights thousands of visitors every year.
David with the Head of Goliath by Caravaggio
In yet another one of Borghese Gallery's prized possessions, Caravaggio plays with light and shadows to breathe life into the macabre illustration of David holding the severed head of Goliath. Caravaggio worked on this piece between 1609 and 1610. Presently, David with the Head of Goliath can be seen in Room 8 of the Borghese Gallery.
Young Woman with Unicorn by Raphael
Young Woman with Unicorn is one of Raphael's best-known works till date. However, it is different from most other works of art in the Borghese Gallery. Even though it was completed in 1507, centuries later, it was revealed that Raphael wasn't the only artist who worked on it. There is an aura of mystery that envelops this artwork, and that is why it's a must-see.
The Rape of Proserpina by Gian Lorenzo Bernini
Under the patronage of Scipione Borghese, a 23-year-old Bernini completed this sculpture in 1622. The artwork depicts another scene from Ovid's Metamorphoses. Pluto is seen abducting Proserpina in this work of his. The highlight of The Rape of Proserpina is the astonishing physical realism that has been achieved by Bernini at such a young age.
Insider Tips For Your Galleria Borghese Visit
---
Official word is to arrive 30 minutes before the time slot. But since all 360 people tend to arrive at the same time, the lobby tends to get crowded. You will be better advised to come down even earlier.
If you have baggage, use the cloakroom to store them. You can store your baggage only 20 minutes before your time slot.
Do not rush through Borghese Gallery. There is plenty to be explored and you may miss out if you do not use your entire 2 hours' time.
Most people start from the bottom and work their way to the first floor. If you want to avoid the commotion, start at the top.
During your guided tour, use the headphones to listen to your guide better.
Decent cafes and restroom facilities may be scarce in the area, so make proper use of the bar to get some refreshments and use the facilities.
Once done with Borghese Gallery, take a stroll through the park, visit the zoo, row a boat in the lake, or kick back and relax under the umbrella pines.
Galleria Borghese : Practical Information
---
Galleria Borghese Opening Hours
Open Tuesday – Sunday
9 AM - 12:45 AM
Time slots are : 9 to 11 am, 11 am to 1 pm, 1 to 3 pm, 3 to 5 pm and 5 to 7 pm.
The gallery is closed on Monday.
Prices
Free entry for anyone under 18 years of age.
Roma Pass gives free access to Borghese Gallery
Reserve tickets in advance.
DIRECTIONS
Location: Piazzale Scipione Borghese, 5, 00197 Roma RM, Italy Directions
Transport
Bus: Take bus 116 and get off at Galleria Borghese or take bus 910 (from Termini Station) and get off at Pinciana/Museo Borghese.
Metro: Closest stop is Spagna; however, be prepared for a bit of an uphill walk.

For bus tables and public transport maps, click here.
Interesting Galleria Borghese Facts
---
Cardinal Scipione Borghese, the creator of Villa Borghese, was the nephew of Pope Paul V.
Villa Borghese was envisioned to have the largest garden in Rome, complete with its own lake. This model was later followed in Villa Doria Pamphilj and Villa Ludovisi.
The current host of the Borghese Gallery was once notorious for being the center of homoerotic liaisons.
One of the most famous and historically poignant works of art displayed at Borghese Gallery was The Borghese Hermaphroditus. It was sold to Napoleon under duress in the early 19th century.
Scans on the painting Young Woman with Unicorn by Raphael has shown that the unicorn was originally a puppy. The unicorn that we see now was added later on by a different painter.
Galleria Borghese Reviews
---
Do not miss this. The Bernini sculptures are beyond description. Absolutely amazing experience. But you have to reserve a ticket several days in advance - it is extremely popular. Worth every cent - we just got the audio devices from the Gallery and did not have a tour and that seemed to work out fine. A tour might be nice, too. But - you only get 2 hours and then they kick you out, unfortunately. You could easily stay all day. From now through early 2018 I believe they are having a special Bernini sculpture exhibit which I am sure is fantastic.
Kiwefe, TripAdvisor, November 2017
Book ahead!! We were told by friends to book tickets ahead of time and we're glad we did! They are very precise about your entering time and your timed ticket, so don't be late. They also make you check your bags. It was a stunning gallery and a "don't miss" if you are going to Rome. We got the audio headset and gave ourselves a tour. Afterward we hopped on the tram (3 euros) and rode around the gardens, which unfortunately were not in bloom, to get a better view of the entire estate and it was worth the price.
LovesToTravel27, TripAdvisor, November 2017
Frequently Asked Questions About Galleria Borghese
---
Is Galleria Borghese free?
What did the collection at Galleria Borghese include?
Who built Villa Borghese?
How big is the Borghese Gallery?
Why is the Galleria Borghese important?
Why was Galleria Borghese built?

When was Galleria Borghese built?

How do I get tickets to the Galleria Borghese?

How much are tickets to Villa Borghese?