Barcelona, a beautiful city located on the Mediterranean coast of Spain is one of the most visited cities in the world. While Barcelona still preserves the old ancient charm, it has evolved into a remarkable modern city with extensive connectivity, delightful dine & wine and a vibrant nightlife. The deep blue Mediterranean lures visitors with its sun soaked golden sandy beaches promising a leisurely experience. And while you immerse yourself in all these exquisite experiences, there is more awaiting; local traditional markets offering from food to antiques to paintings to clothes to knick knacks etc. as well as top end designer outlets with irresistible merchandise! If you're planning to visit Barcelona in December, here's all you need to know!
Quick Jumplinks to Navigate the Guide
What makes Barcelona in December special?
---
With blue winter skies, Barcelona in December is simply beautiful. If you are looking at escaping the maddening rush of tourists and enjoying the city in its original traditional glory, then December is the month for you. While the streets are decored in preperation for Christmas celebrations, the town buzzes with Christmas markets & nativity is floating all around. Compared to other European countries during winter, Barcelona in December has cool mornings and evenings but a pleasantly mild afternoon. Though Barcelona's weather in December can be erratic and unpredictable, there are many a snug cafes where you can indulge in warm churros and hot chocolate to keep you company. It is also the best time of the year to savour the traditional food of Spain made with fresh seasonal ingredients. To top it all, Barcelona in December allows you to visit your favourite attractions with little or no crowds.
Barcelona Weather In December
---
The average maximum temperature in Barcelona in December is 57°F/14°C and the average minimum temperature drops down to 43°F/6°C. One can expect an average of 6 hours of sunshine every day. December is a great time to visit Barcelona, with just the right amount of sunshine paired with a light Catalan breeze.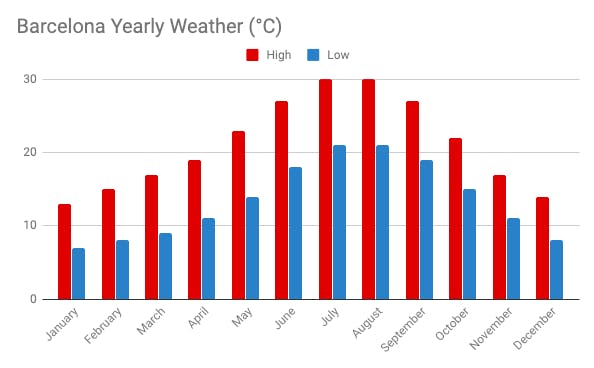 Visiting Barcelona in December: Things to do
---
Sagrada Família, a colossal Roman Catholic church still under construction is one of the top most attractions of Barcelona. Designed by the famous Catalan architect Antoni Gaudí, these parts are on the UNESCO World Heritage List. Ranked #1 amongst the things to do in Barcelona, Sagrada makes for a visit no matter what season you go.
December Timings
09:00 AM - 18:00 PM except 25th and 26th December- 09:00 AM - 14:00 PM
A Unesco-listed site, Park Güell is a blend of gardens and architectonic elements designed by Antoni Gaudí. Extremely popular for its natural as well as created beauty, the park attracts millions of visitors each year. The queues to this marvellous garden are definitely shorter in December.
December Timings
Open daily from 08:30 AM to 6:15 PM
Poble Espanyol is an open-air architectural museum with the richness of Spanish heritage. There are buildings, theatre, restaurants, live craftsmanship, museum of contemporary art etc. in this complex giving the feel of age old Spanish villages. Wander about and experience the soulful catalonian spirit here.
December Timings
10:00 AM to 6:30 PM on Monday
10:00 AM to 7:00 from Tuesday - Sunday
A UNESCO World Heritage Site, Casa Vicens is the the first home designed by the great architect Antoni Gaudí. Located in the peaceful neighbourhood of Gràcia, it is one of the first works of Catalan Modernism with an Oriental style.
December Timings
Open daily from 10:00 AM - 8:00 PM, with last entry at 7:00 PM.
Closed on 25th December, 1st and 6th January.
A masterpiece created by Antoni Gaudí for a wealthy aristocrat in the center of Barcelona is indeed a unique building seen to be believed. The natural coral coloured facade of Casa Batlló gives the impression of being made out of bones and skulls. An illuminated look of the building in the nippy December evening is quite a mesmerising experience.
December Timings
Open daily from 9:00 AM - 9:00 PM, with last entry at 8:00 PM
Built between 1906 and 1912 this unconventional private residence designed by Antoni Gaudí is one of the most iconic works of civic architectures of Spain. Casa Mila is a UNESCO certified World Heritage sight making it a highly popular tourist spot in Barcelona. It houses a cultural centre today, holding a number of exhibitions. Night Tours are conducted at the Casa Mila and are highly recommended.
December Timings
December 26 - January 3
Monday to Sunday: 9:00 AM - 8:30 PM
Night tour: 9:00 PM - 11:00 PM
Barcelona is famous for its traditional Catalan cuisine. No wonder the food tours are so popular here. Ranging from the classic tapas tour to other innovative options, you can eat like locals and experience the grassroots of their culture. The mild Barcelona winters in December are ideal for venturing on a food trail during the day.
Walk around Las Ramblas and Barri Gòtic
December is an ideal month to walk around Barcelona's most famous pedestrian strip, Las Ramblas. Bustling with animated buskers and street peddlers, roadside lively cafes and shops this is the activity hub of Barcelona. The adjoining cobbled lanes of Barri Gòtic is famous for its Gothic churches and ancient Roman relics besides hordes of shopping, drinking and dining options.
Mediterranean Seafront to Ronda de Sant Pere, 08002 Barcelona,Spain
Getting There ›
A trip to Barcelona would be incomplete without watching their famous dance form Flamenco, an art that emerged in the 18th century. Watching an authentic Flamenco show is an ecstatic experience that just cannot be missed at any time of the year! Dress up and go feel the duende in Barcelona.
Montjuic Cable Car is a gondola lift that runs from lower terminus to the Montjuïc Castle on top of the hill giving you a unique aerial view of Barcelona coastline. The spectacular panoramic view from the comforts of roomy cable car is a memorable experience. Walking around the Castle on a nippy December day makes for a great afternoon adventure too.
December Timings
Daily from 10:00 AM to 6:00 PM
Barcelona in December: Events to Look Out For
---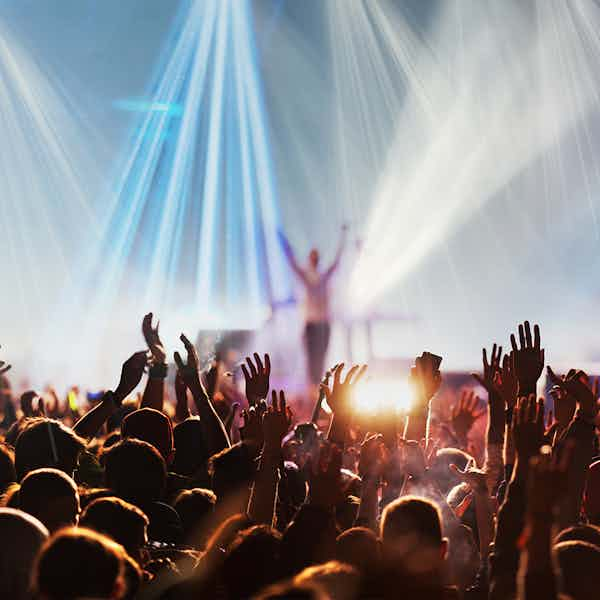 Blackpink Concert
5th December 2022
Now it's girl group Blackpink's turn to show off their power over pop fans in Barcelona, kicking off with a lot of confidence in the massive Palau Sant Jordi as part of their first European tour. The female foursome, who have hundreds of millions of listeners on streaming platforms, present their first LP, 'Blackpink in Your Area' (2018), an infallible mix of pop and hip hop that alternates between Korean and English.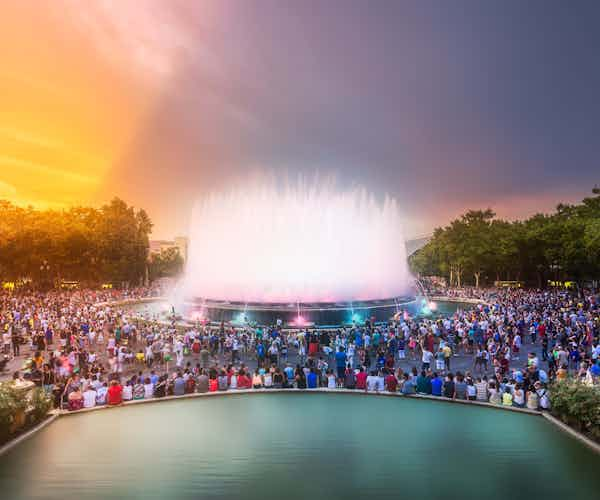 MONTJUIC MAGIC FOUNTAIN
22nd December 2022 - 31st of March 2023
The Magic Fountain is one of the Barcelona's most visited and and best loved landmarks. It is open to everyone and admission is free. Watching the light, colour and sound accompanying the water movement is simply spectacular. In December the fountain is usually open only on certain days like Easter and Christmas week, so catch the show from 7:00 PM to 9:00 PM on these days.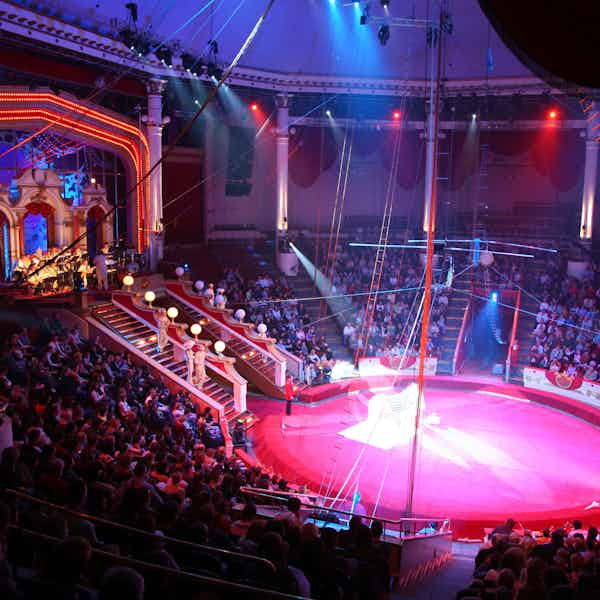 CIRC RALUY
3rd December 2022- 2nd February 2023
The Circ Raluy is a Barcelona Christmas tradition and brings a new show to town every Christmas. Circ Raluy is both a historic travelling circus with seating for 700 and evem has a circus hotel where guests can stay in a traditional circus carriage. If you are in Barcelona for Christmas then don't miss this traditional and fun experience. Circ Raluy can be found at the north end of Moll de la Fusta at the Barcelona marina Port Vell. Barcelona New Year's Eve
31 December 2022- 1st January 2023
Barcelona is famous for its nightlife and street parties, which makes it an excellent destination for New Year's Eve celebrations. The city hosts massive fireworks and a public countdown with music and various festivities. A free live music concert at Montjuïc starts around 9:30 pm. The square gradually fills with people and is usually packed when the New Year celebration begins at around 11:45 pm.
Barcelona in December: 5-day Itinerary
---
Barcelona Essentials
---
Barcelona Weather in December
Temperatures in Barcelna don't fall too low in December specially because of the warming effect of sea in winter. Barcelona in December experiences clear skies, a nippy wind and what we usually call the sweather weather. You will experience highs of 16°C and lows of 6°C through the month making for pleasant winter strolls.
Where to Stay in Barcelona during December
Most visitors choose to stay in four central Barcelona city areas namely Plaça de Catalunya (downtown city center), Eixample district (19th century modernist area), Ciutat Vella district (old medieval city center) and Sant Marti (beach area). The central areas as expected are more expensive but give you easy access to main attractions and are very well connected. Barcelona has some great luxury 5 star hotels like Majestic Hotel & Spa Barcelona, The One Barcelona GL, Soho House Barcelona etc. These are in the range of £200 to £300. There are some nice budget properties like B-Hotel, Mercure Barcelona Condor, Room Mate Emma, Hotel Pulitzer etc. if you have a budget of £50 to £90 in mind. There are also plenty of hostel accommodations like Rodamón Barcelona Hostel and B&B properties for those wanting a basic clean place to stay.
What to Pack for Visiting Barcelona in December
Barcelona compared to most of the Europe is not very cold in December but the weather definitely demands you to cover up to stay warm. Dressing in layers is a good idea considering the variation in temperature. A light jacket, a thin cardigan/ sweater, a mix of some full sleeve and half sleeve shirts, T-shirts, full pants/slacks or warm shorts and comfortable shoes should be some of the things you should pack for Barcelona in December.
Getting Around Barcelona in December
Barcelona is an easy-to-get-around-city with a wide range of public transport options available. Metro, tram and FGC are the quickest, simplest and most convenient way to commute in Barcelona. Barcelona also has a full fledged fleet and extensive network of day and night buses which are again very convenient to use. If you have the time and inclination, biking in Barcelona is very common with fully integrated cycle lanes. Taxis are also widely available, but are an expensive option.
Tips for Visiting Barcelona in December
---
Temperature can vary substantially during the course of a day and from one place to another in Barcelona in December. Layering of clothes is a good idea to take care of this.
T10 travel pass comes in very handy if you are planning to use the public transport system in Barcelona.
TThere are many special events planned out in December like the ice skating rink, musical fountain shows, special markets etc. Try to find out in advance and make them a part of your itinerary.
Many attractions have free access and some museums have free entry on specific days. If you are a budget traveller check these out.
Be wary of pickpockets,keep your bags and wallets closed and close. Certain parts close to the night clubs can be eerie after midnight. By and large, it is better to be watchful.
Explore Barcelona by Months
---