Barcelona is one of those unique cities where one can never ever get bored. There is just so much to see and do here, from chilling on the beach to enjoying delicious tapas to rocking the dance floor all night long, that you will scarcely be left wondering "What can I do next?" And one of these activities, that is as quintessentially Catalonian as Gaudi, Tapas and Football, is the Spanish art-form, known as Flamenco.
What is Flamenco?
---
Essentially, Flamenco is an emotional style of dancing that is usually characterized by fast-beats, hand-clapping, finger-snapping and guitar-playing. The movement or dance is very evocative and highly entertaining to watch. Flamenco has always been part of the Spanish culture (since the 18th century) and in recent years, it has grown and spread all over the world, with its popularity ever-increasing. Watching a Flamenco show in Barcelona is something you absolutely must, must do. Not going for one is like visiting Paris and not going to the Eiffel Tower, completely unthinkable. In this article, you will read about the best Flamenco shows in Barcelona and what you need for an amazing Flamenco experience.
History of Flamenco in Barcelona
---
This beautiful and passionate art-form is said to have originated in Andalusia, in the South of Spain, in the 18th Century. At the time, Andalusia was home to people of many different races and backgrounds such as Arabs, Gypsies, Jews, Africans etc. Here they lived together and adopted various folk dances, until eventually they came up with their own, a dance influenced by a number of different cultures, styles and traditions. It wasn't until the arrival of the Romantic era (late 18th-19th century) in Europe that the popularity of Flamenco grew. Soon, with the opening of cafes and bars (called cafés cantantes) specifically for Flamenco, this Spanish art flourished and extended all across Europe, and eventually the World. Today, Flamenco is almost synonymous with Spanish identity.
As far as the name goes, Flamenco, there are a number of theories as to its origin. The most widely accepted theory is that the name was derived from the Arabic phrase "Felah-Mengus", which translates to "wandering country person". Another plausible theory is that the name came from what the local Andalusians used to call the Gypsies back then, the people behind this art-form, "flamencos".
Best Flamenco Shows in Barcelona
---
If you're planning to squeeze in a Flamenco experience while in Barcelona, here are the best Flamenco Barcelona Tickets you can get in town! Grab them well in advance because they sell like hot cakes.
Barcelona Flamenco Olé Show
Watch art-history unfold before your eyes at the Palacio del Flamenco
Enjoy the intricate dance moves, classic guitar and exquisite costumes on display
Satisfy all your senses with delicious tapas, food and drinks
Barcelona Flamenco Olé Show Tickets
Immerse yourself in the wonderful world of Flamenco at one of Barcelona's most famous and popular restaurant-theaters, Palacio del Flamenco. The Flamenco Olé show is characterized by intense, powerful and sensual moves performed exquisitely by trained dancers and performers.
Tablao Cordobés Flamenco Show in Barcelona
Watch Spain's most popular dance-form take place in front of your eyes, at a premier Flamenco venue
Stomp your feet and clap your hands to the guitar, beats and dancers
Watch some of the country's best Flamenco performers take the stage
Complement the amazing show with a delectable dinner, a tapas tasting or a refreshing drink
Experience and embrace Spain's culture and music through this historic and renowned form of art
Tablao Cordobés Flamenco Show Tickets
Get ready for a night of entertainment and excitement at one of Barcelona's top Flamenco venues. Choose from 3 different options and enjoy the performance with dinner, tapas tasting or a drink!
Barcelona Flamenco Pasion Show
Watch some of the most passionate, intense and emotional dancing you have ever seen live!
Lose yourself in this traditional art-form and understand its history and roots
Pair the performance with some delicious Spanish food and drinks
Barcelona Flamenco Pasion Show Tickets
Lose yourself in one of the most popular Flamenco shows in Barcelona. The Pasion show is a late night show at Palacio del Flamenco, featuring some great routines, smooth guitar-playing and exceptional dancing.
Barcelona Flamenco Gipsy Show
Soak in the rich history of this Spanish folk dance and admire its simplicity and beauty
Move your body to the beats and music of this wonderful Gypsy show
Choose to watch the performance with either dinner, tapas or a drink
Barcelona Flamenco Gipsy Show Tickets
Prepare yourself for a night of utter excitement as you watch a talented troupe of Flamenco dancers, singers, musicians and guitarists perform the beautiful and sensual art-form of Flamenco right before your eyes, at Barcelona's best restaurant-theater, Palacio del Flamenco.
Best Place to Watch Flamenco in Barcelona
---
Wondering where to watch Flamenco in Barcelona? Here's our handpicked list of the top 5 places to watch a Flamenco show in Barcelona. Enjoy the cultural fiesta!
Palacio del Flamenco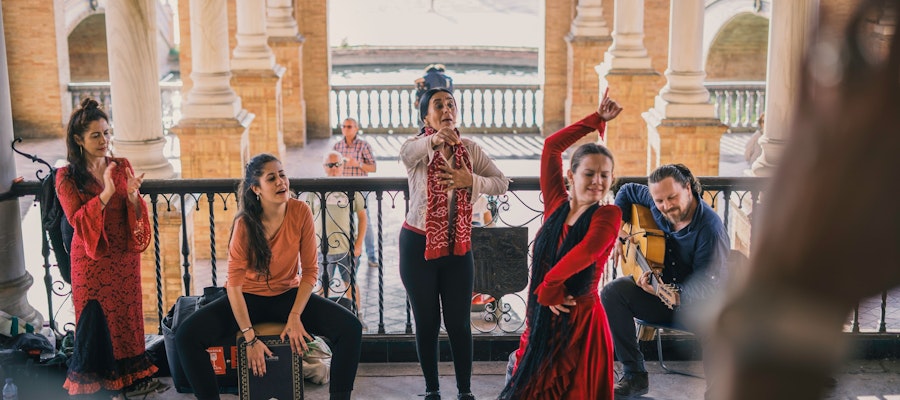 Have an unforgettable night at the Palacio del Flamenco, a restaurant and theater located in the heart of Barcelona.
Why watch Flamenco here
Since the 1920's the Palacio del Flamenco has been a popular dance and music venue in Barcelona. With a capacity of 380 people and 3 levels of seating, it is the largest flamenco venue in the city and is operable 365 days of the year. Although it isn't as intimate as the other Flamenco venues, it still has a great atmosphere and vibe.
Palacio del Flamenco Timings
Flamenco and Ole: 6:25 PM - 7:25 PM
The Bajano Gypsy: 8:15 PM - 9:15 PM
Flamenco Passion: 10:30 PM - 11:30 PM
Tablao Flamenco Cordobes Perhaps the most well-known Flamenco Tablao in all of Spain, this place should be on the top of your 'must visit' list.
Why watch Flamenco here
Tablao Flamenco is located in the famous La Rambla boulevard and has been there since the 1970's. Considered a pioneer of the Flamenco art-form, this place has showcased some of the greatest Flamenco artists of yesteryears and of the present. With its authentic, traditional setting and cave-like hall, it creates the perfect ambience for a night of entertainment.
Tablao Flamenco Timings
1st November to 14th March shows @: 6:30 PM, 8:15 PM, 10 PM and 11:30 PM
15th March - 31st Oct shows @: 5:50 PM, 7:15 PM, 9 PM, 10:30 PM and 11:45 PM
Los Juanele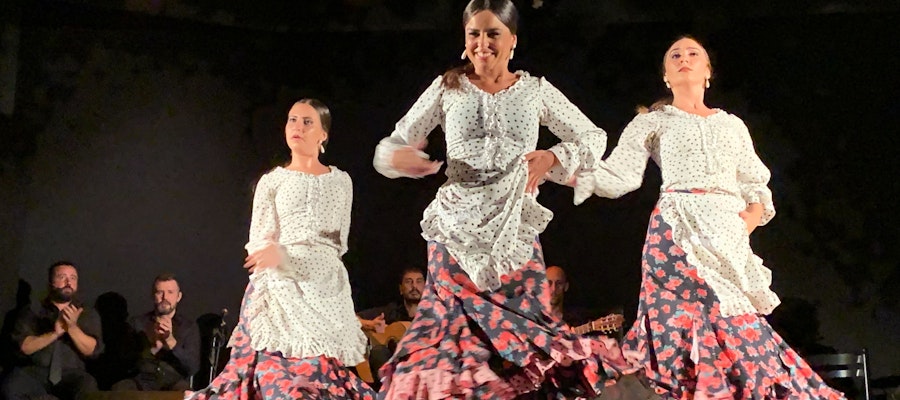 Los Juanele is another wonderful place to go for a Flamenco show. And what's more? They even organize Flamenco and Sevillanas classes for patrons! So don't just watch, dance.
Why watch Flamenco here
This place is very popular amongst the locals for its wide variety of tapas and rebujito (a special drink made of Sherry wine and soda). Apart from the food and drinks, Los Juanele is also a Flamenco hotspot with a number of shows taking place here on the weekends. And as mentioned earlier, this place organizes a dance class every Thursday, so you can learn your favourite dance, right here.
Los Juanele Timings
9 PM to 11:30 PM on Thursdays, Fridays and Saturdays
El Tablao de Carmen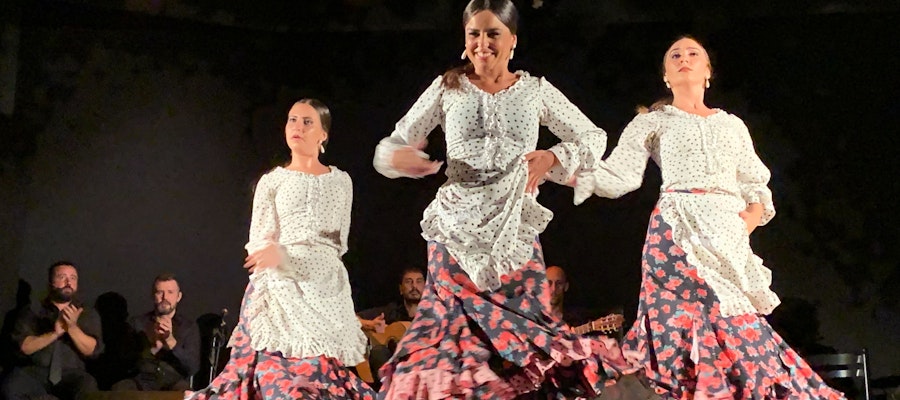 Named after one of the most celebrated Flamenco dancers in history, Carmen Amaya, this place is perfect for a evening of live music, live dance, drinks and dinner.
Why watch Flamenco here
The experience you get at El Tablao de Carmen is like no other. The entire place is set up like a village celebration, with large tables filled with delicious tapas, for people to gather around and feast together, while the Flamenco dancers take the stage right in front of them. The venue is set on two levels, both offering great views of the stage.
El Tablao de Carmen Timings
1st show: 6 PM to 6:45 PM
2nd show: 8:30 PM to 9:15 PM
Los Tarantos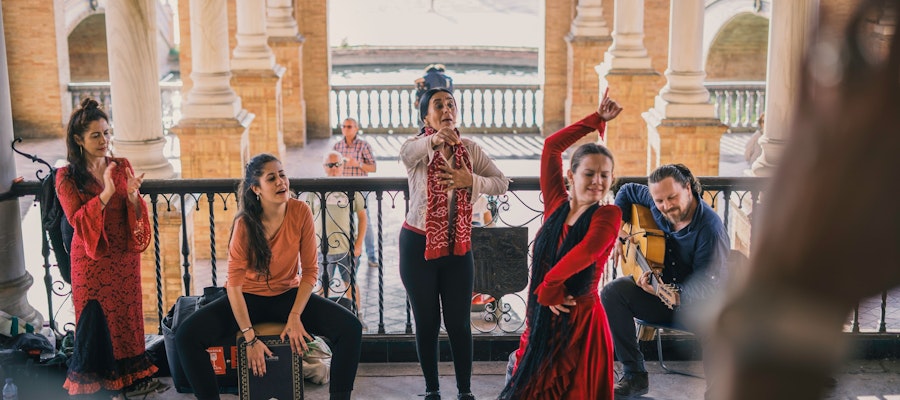 One of the leading Flamenco venues in Barcelona, Los Tarantos has been on the Flamenco scene since 1963.
Why watch Flamenco here
Los Tarantos is located right in the centre of the Gothic Quarter and is one of the oldest Flamenco venues in the city. In the 80's and 90's, this place went through considerable changes and updated their decor to suit the modern times. Unlike most other Flamenco venues, Los Tarantos has a modern and sleek vibe to it, however this does not translate to the music and dance, which stays true to its roots and traditions.
Los Tarantos Timings
June to September shows at 7:30 PM, 8:30 PM, 9:30 PM and 10:30 PM
October to May shows at 7:30 PM, 8:30 PM and 9:30 PM
Tips for watching Flamenco in Barcelona
---
Make sure you book your tickets online and well before the intended date. Booking online saves you considerable time at the venue and you also get a chance to avail some awesome discounts and offers. During the high season (summertime) these shows can sold out pretty quickly, so book in advance!
Dress code: There is no particular dress code as such. A Flamenco is generally an informal event, but people usually dress well for these dinners. You can wear smart casuals, however you must remember that there is air-conditioning inside so it can get pretty chilly.
Come 20-30 minutes before the show to enjoy your dinner. Eating while watching is quite distracting, and by doing this, you won't be able to enjoy either to its fullest!
For all the parents out there, don't worry, children above the age 4-5 are allowed for these events. Just make sure they aren't cranky. Or hungry. Or sleepy (you know best).
Try getting seats as close to the stage to get the best experience. By sitting close to the performance you will be able to see the dancers expressions and emotions, and this just adds to the allure of Flamenco