Rated as one of the top cities in Europe, Barcelona is a modern day gem on the Mediterranean coastline. Teeming with rich culture, history, art and heritage, it is no wonder why this picturesque city is one of most visited destinations in the world. From world class beaches, endless number of Tapas restaurants and a 24/7 electric nightlife to countless art museums, architectural marvels and a general feel-good vibe around the city, Barcelona is definitely a place you want to visit.
Being a coastal city, the weather here is generally warm and pleasant throughout the year. However, during summers Barcelona gets quite hot and humid; typical of any coastal city. The cooler months begin from September, hence making November a breezy time to visit Barcelona.
Why is Barcelona in November a Must-Visit?
---
Barcelona in November offers two main advantages - First, due to the decrease in temperature, travelling in and around the city is much easier and more enjoyable as compared to the hotter months. Secondly, the tourist season comes to an end, so admission into attractions will not take you forever. All in all, Barcelona in November is truly enchanting, with lesser crowds, a good number of outdoor events and a jovial atmosphere all around.
Barcelona Weather in November
---
Barcelona enjoys Mediterranean weather, with the summers characterized by high temperatures and the winters relatively mild. In November, the winter sets in, with highs of 17ºC and lows of 8ºC. November in Barcelona is a transition between summer and winter, the ideal weather for long strolls and lazy lounging.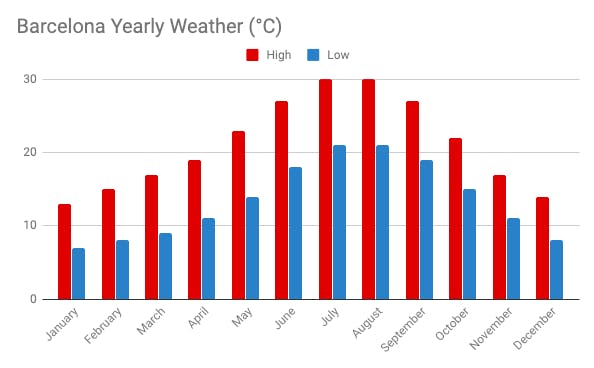 Visiting Barcelona in November : Top Things to Do
---
What the Eiffel Tower is to Paris, so is Sagrada Família to Barcelona. A trip to this city is truly incomplete without a visit to Gaudi's world-famous Sagrada Familia. Visiting in November will allow you to enjoy this marvel to its fullest with lesser crowds and more time to explore.
November Timings
Daily from 9:00 AM to 6:00 PM

An open-air architectural museum in Barcelona, Poble Espanyol is a very unique site consisting of 117 replica buildings built to represent the 15 communities of Spain. Made like a small village, you can find literally everything here from restaurants to workshops to even a museum of contemporary art.
November Timings
Mondays - 9:00 AM to 8:00 PM | Tuesday, Wednesday, Thursday and Sunday - 9:00 AM to 12:00 AM | Friday - 9:00 AM to 3:00 AM | Saturday - 9:00 AM to 4:00 AM
Antoni Gaudi's very first design for a house, Casa Vicens, now a museum, is a must visit for all you aesthetes out there. Said to kick off the Art Nouveau and Modernisme movement in Catalan and Europe, this structure is highly regarded in the architecture world.
November Timings
Daily from 10:00 AM to 8:00 PM
Doors close at 7:00 PM
Another one of Gaudi's flamboyant creations, Park Guell is the second most visited monument in Barcelona and for good reason. Filled with Gaudi's creations, Park Guell is an absolute pleasure to walk through during the coolers months in Barcelona, especially in the month of November.
November Timings
Daily from 8:30 AM to 6:15 PM
Last Entry at 5:30 PM
Day trip to Dali Museum in Figueres
Another gem for all you art-lovers, the famed Salvador Dali Museum in Figueres, Girona. Located about 143 km from Barcelona, the Dali Museum is the second most popular museum in Spain! Capturing some of Dali's most famous works, taking a day trip here is one of the 'must-do' things in Barcelona.
November Timings
10:30 AM - 6:00 PM
(Last Entry at 5:15 PM)
Take a Barcelona Food Tour
One thing you can never go wrong with in Barcelona is taking a food tour. Taste all the wonderful treats this city has to offer and savour its deliciousness. Two seasonal specialties that you absolutely must sink your teeth into are the "Churros y chocolate" from La Granja and chestnuts during Castanyada!
Something you cannot leave Barcelona without doing is attending a Flamenco show. A Flamenco is traditionally a musical style characterized by fast-paced guitar riffs, finger-snapping, handclapping and electrifying dancing. So sit back, sip on some wine, enjoy delicious tapas and watch years of Spanish Culture unfold before your eyes.
November Timings
Daily from 5:00 PM to 10:30 PM
An absolute legend in the art and architectural circles, Casa Batlló is a true specimen of Gaudi's technique and vision as a creator. Declared a World Heritage Site by UNESCO, this wacky structure looks like it's straight out of a fairytale, with its curvy and colourful facade.
November Timings
Daily from 9:00 AM to 9:00 PM
Last Entry at 8:00 PM
Casa Mila or La Pedrera is another one of Gaudi's modernist masterpieces that can be found in Barcelona. This was the great architect's final residential building in the city and is definitely a must see. Casa Mila is particularly unique in the sense that it is the only building in Barcelona that provides an extensive view of the genius that is Antoni Gaudi.
November Timings
Till Nov 4th - 9:00 AM to 8:30 PM
From Nov 5th - 9:00 AM t0 6:30 PM
The Montjuic Cable Car allows you to experience a new side of Barcelona, away from all the city hubbub, beaches and parties. This Cable Car journey takes you up the Montjuic Hill to the Montjuic Castle. The ride itself is a wonderful experience as you take in the views of Barcelona from the sky, with a backdrop of icy mountains and lush green forests.
November Timings
Daily from 10:00 AM to 6:00 PM
Barcelona in November: Events to Look Out For
---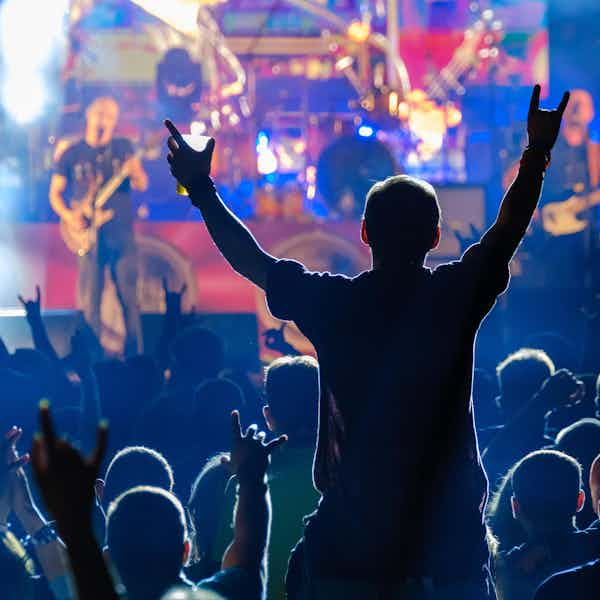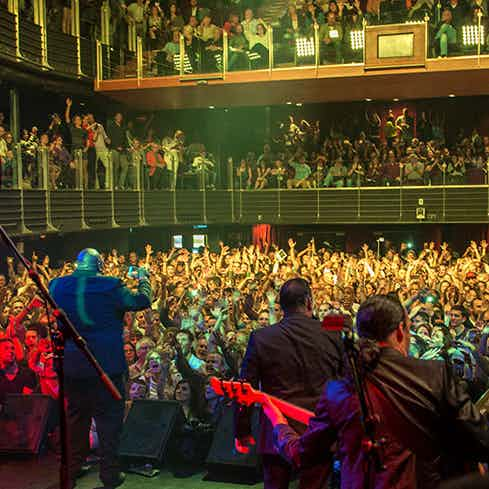 Concert "James Bay"
2nd November, 2022
James Bay, multi-platinum selling artist, three-time Grammy nominee and multiple BRIT award winner, singer, songwriter, producer and guitarist, returns to Spain with The Leap Tour 2022. Bringing with him new tunes that have yet to be released you'll also hear those that made him famous such as "Hold Back The River," "Let It Go" and "Us." Kodaline Concert
10th November, 2022
Do you know that nostalgic feeling when raindrops slide down the window glass and you feel like you're inside a video clip? This is how Kodaline makes you feel. The Dublin quartet manages to move people like no one else. Perhaps that is why mythical songs like "All I want or Brother" are part of all the emotional playlists that exist.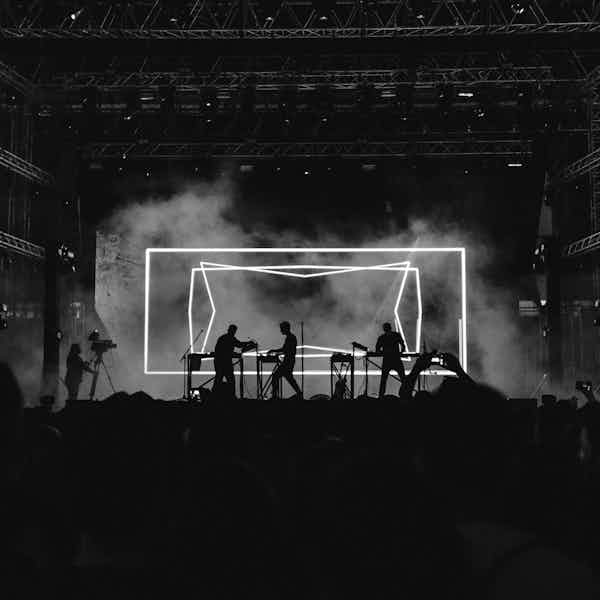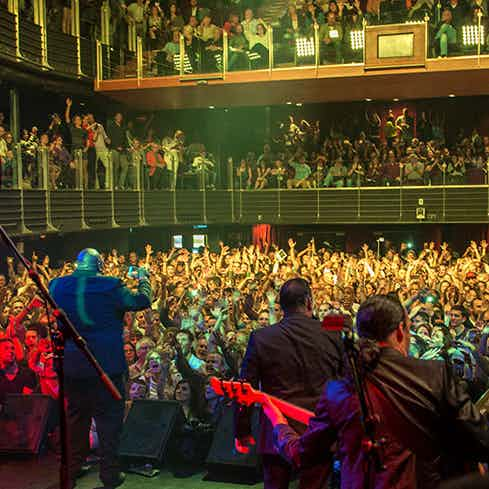 MIRA Festival 2022
11th November, 2022
MIRA is a festival that aims to explore innovation and artistic creativity through digital arts, music, art, and technology. Held annually in Barcelona since 2011, MIRA showcases audiovisual shows, art installations, fulldome 360º screenings, live performances, and VJ-DJ sets.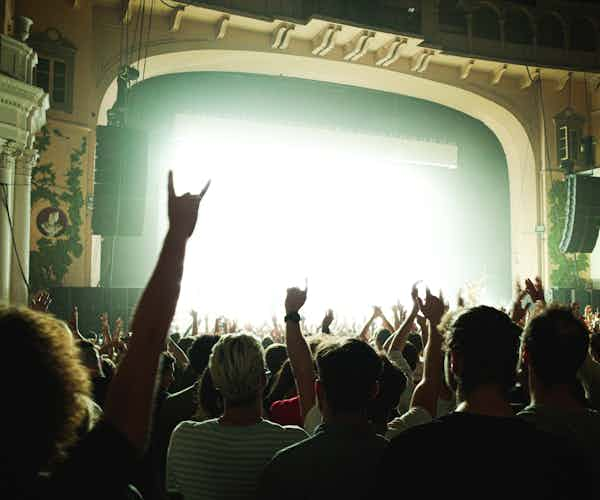 Ombra Festival
24th - 27th November, 2022
The 2022 edition of the Ombra festival will take place from November 24 - 27 in Barcelona. It will be the last edition at this location, and therefore the last opportunity to enjoy the festival in its current format. For those who don't know it yet, UTOPÍA 126 is an old industrial factory located in the Poble Nou area that becomes for OMBRA the perfect setting to generate its unique atmosphere and gives authenticity to the industrial aesthetics of the festival.
Barcelona in November: 5-day Itinerary
---
Barcelona Essentials
---
Barcelona Weather in November
As mentioned earlier, in November, the temperature starts reducing and touches an average of about 16-18 °C during the daytime. Towards the end of the month, November 20th onwards, it starts getting considerably cold with the temperatures dropping down to around 8°C . Although this is not a severe winter, it is considerably cold for Barcelona, a city that enjoys warm weather for majority of the year.
Where to Stay in Barcelona during November
Since Barcelona is a popular tourist destination, you can find all sorts of accommodations here, from high-end luxury villas to simple and affordable hotels. Depending on your budget, you can choose from a wide variety of luxury and budget accomodations in Barcelona.
What to Pack for Visiting Barcelona in November
The weather in November can range from warm and sunny to cold and windy, so pack accordingly. It is recommended to carry a warm jacket or fleece, a couple of sweaters and long trousers. You can carry shorts and t-shirts, however you should wear them underneath your warm clothes and de-layer whenever necessary. Also, please note that Barcelona nightclubs and parties usually have a dress code, so for men long trousers and a shirt should suffice, while women can simply wear anything elegant (you know best).
Getting Around Barcelona in November
According to most locals, the easiest way to get around the city is by using the Metro and FGC trains. Barcelona is very well connected and distances usually end up being small. Buses are also a good way of getting around the city, however you could fall prey to traffic, which tends to be the case more often than not. Biking around the city, especially for short distances, is becoming increasingly popular amongst the locals. With more cycle lanes and free spaces, biking has become a simple and eco-friendly way of exploring the city. To make your transportation in Barcelona easier, we'd recommend purchasing the Hola BCN Pass.
Barcelona in November - Must Try Delicasies
It is no secret that Barcelona is a food haven. Every foodie, at least once in his life, has dreamt about taking a food tour of Spain, and for good reason. Spanish food is one of the most diverse and rich cuisines in the world, and Barcelona is right at the heart of this thriving food culture. Below are 5 dishes you MUST try on your next trip to Barcelona in November, and also where you can find them.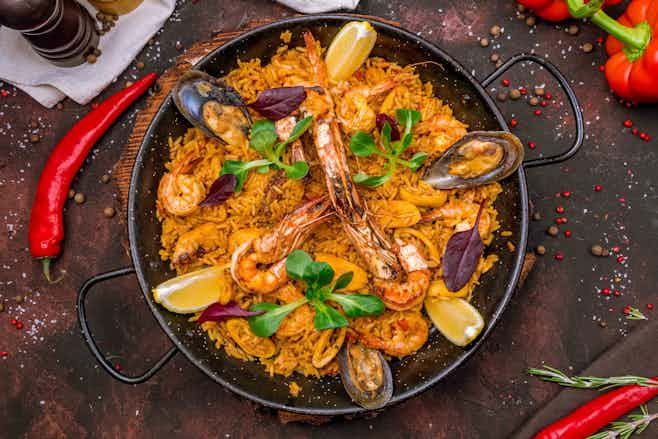 Paella
Originally from Valencia, Paella is a hearty dish consisting primarily of rice and meat. Considered Spain's 'National Dish' by many Spaniards, Paella has found its home in almost every corner of the country. Although there are many variations of the dish, the traditional Valencian Paella consists of white rice, green beans and usually chicken meat.
Best place to try Paella - Bodega Joan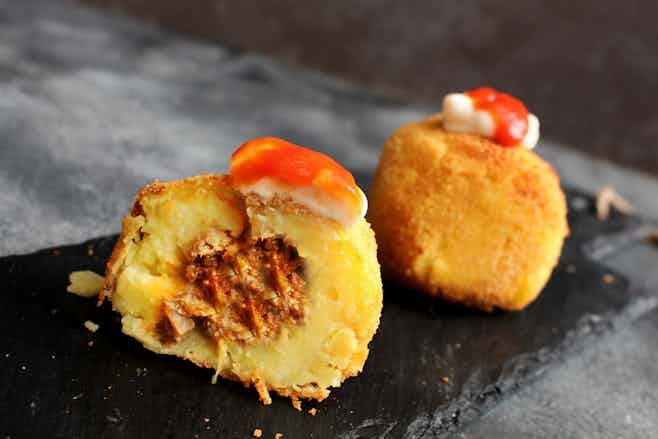 Bombas
Literally meaning 'bomb', this dish is guaranteed to cause an explosion of flavours in your mouth. Bombas is essentially a breaded and deep-fried ball of mashed potatoes, meat (pork or beef) and goodness. It is served with a lovely white garlic allioli and a spicy red sauce to heat things up.
Best place to try Bombas - La Cova Fumada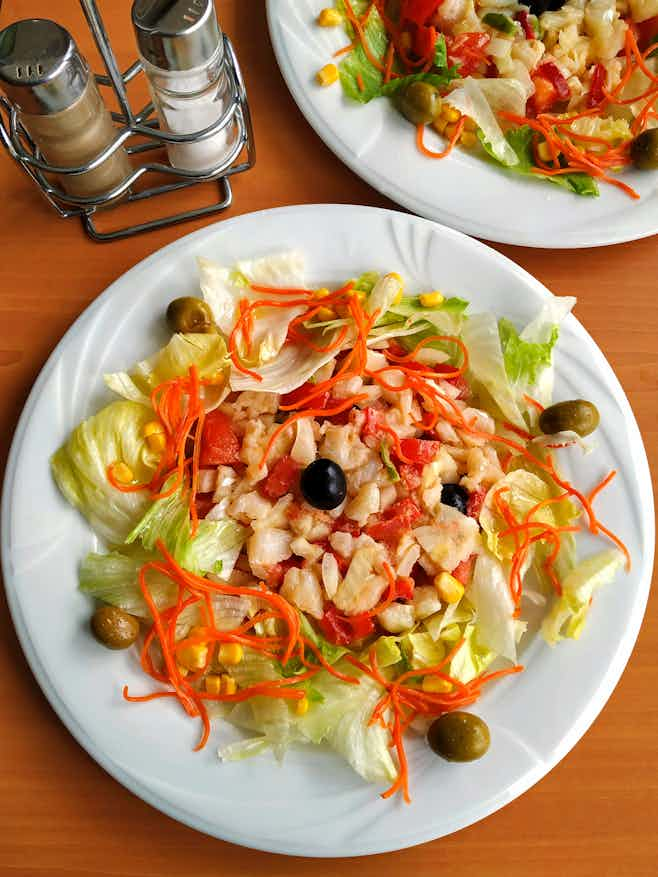 Esqueixada
Esqueixada is an emblematic dish that's very simple and consists of shredded salt cod, tomatoes, onions, peppers and olive oil. All these simple ingredients come together in perfect harmony and create one beautiful, refreshing salad. Paired with a nice Catalan Cava, and you have yourself a delicious meal.
Best place to try Esqueixada - La Vinateria del Call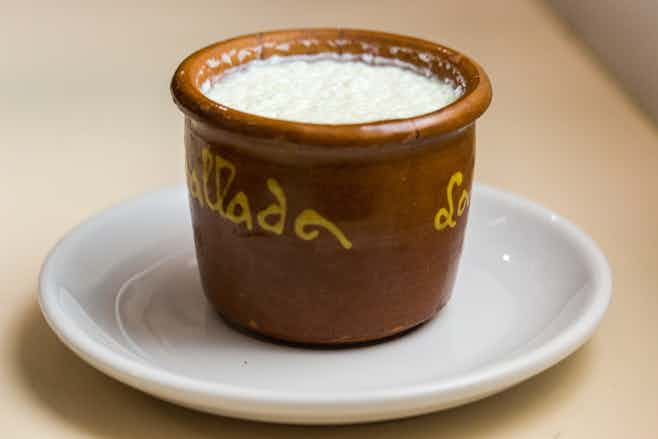 Mató
Although this is not a dish per se, it is a must try item in Barcelona. Mató is an unsalted, fresh cheese made from goat's milk. It resembles Ricotta and Cottage Cheese, and is an absolute favourite among the locals in Catalan. One of the popular dishes made using this cheese is Mel y Mató, which is a dessert made of Mató, honey and walnuts.
Best place to try Mató - Formatgeria La Seu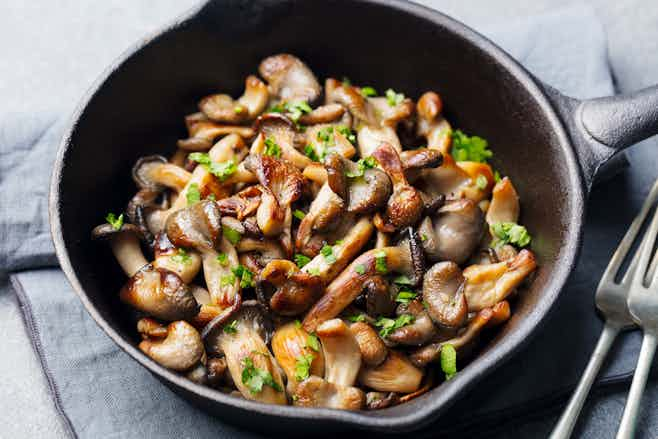 Mushrooms
Although this is not a dish, mushrooms are definitely worth eating in Barcelona in the months of October and November. Restaurants all over the country create special mushroom-centered menus and serve mushrooms. From Oyster mushrooms to red pine mushrooms to black truffles, you can try it all here.
Best place to try mushrooms - Santa Gula
Tips for Visiting Barcelona in November
---
Be sure to book your tickets to attractions/shows online. This not only helps you save time at the attraction itself but can also get you offers and discounts.
Make sure you carry an umbrella or raincoat with you. Although it is not a common sight in November, the rains are sometimes unpredictable and it is best to always have an umbrella with you.
Try the mushrooms and chestnuts during La Castanyada. These 2 are seasonal specialties, so you must sink your teeth into them!
Expect low accommodation prices and fewer crowds around major attractions. November 1 is All Saints Day, many shops and establishments may be closed. Carry layers of clothing to ensure a comfortable experience in November.
Attend all the events you can in the city. During the last few months of the year, there tend to be a lot of live performances, food festivals, flea markets and other events organized by the locals, which are a lot of fun!
Explore Barcelona by Months
---