Casa Amatller is a magnificent building located in the heart of Barcelona, Spain. Built in the late 19th century by Antoni Amatller, it is an example of the transition between neo-Gothic and modernism styles. The building is owned by the Amatller Foundation and houses a museum that displays furniture, sculptures, ceramics, paintings, and other works of art from the 19th and 20th centuries.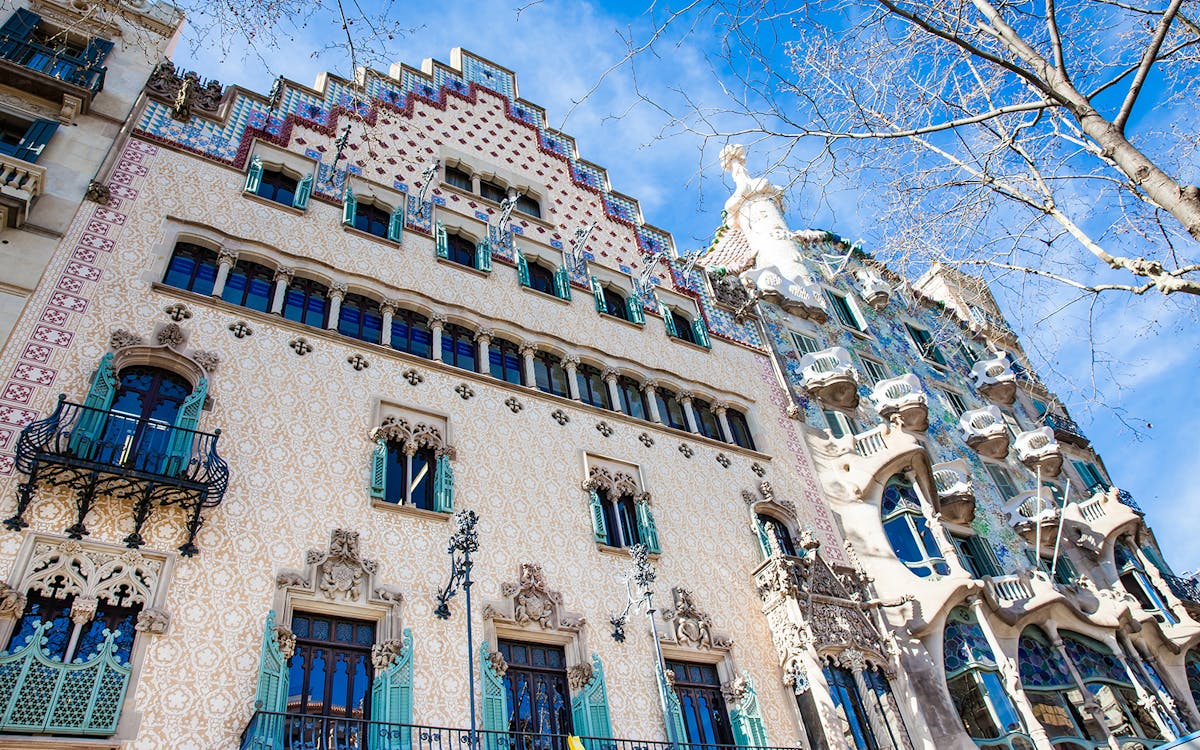 Casa Amatller - In A Nutshell
---
Things to know
Constructed in: 1875
Location: Barcelona
Architect: Josep Puig i Cadafalch
Redesigned by: Antoni Amatller
Architectural style: Art Nouveau Architecture
Opening Hours And Address
Tuesday - Sunday: 10:30 AM to 8:30 PM
Last Admission at 6:30 PM
Closed on Mondays

Address: Pg. de Gracia, 41, 08007 Barcelona, Spain
Get Directions
Why Is Casa Amatller Worth Visiting?
---
The architecture at Casa Amatller is spectacular. The mansion features stunning Gothic architecture, with a façade featuring sculptures, gargoyles, and stained glass windows.
The mansion holds historical significance since it was the home of Antoni Amatller, a noted chocolatier and patron of the arts.
The museum at Casa Amatller showcases an impressive collection of works by Catalan modernists such as Ramón Casas and Santiago Rusiñol, as well as pieces from other European countries.
The courtyard at Casa Amatller offers a peaceful escape from the busy city of Barcelona. With its fountain, sculptures, and benches, it makes for a perfect spot to relax and take in the beauty of the building.
As the former home of a chocolatier, it would be remiss not to mention the delicious chocolates, sweets, and marzipan figures available at Casa Amatller that you can sample!
Casa Amatller Tickets
---
You can choose from a variety of tickets while visiting Casa Amatller including a Guided Tour and an Audio Guided tour. You can also club your experience with the next door neighbour, Casa Batlló!
History Of Casa Amatller
---
In 1898, Antoni Amatller acquired a lovely building, which would later be known as La Casa Amatller, in the Passeig de Gracia neighborhood. The architect Josep Puig i Cadafalch was commissioned by Antoni Amatller to make drastic changes to the building. This overhaul resulted in a lavish façade that defied Cerdà Plan regulations due its unique ornamentation and impressive height.
Since then, Casa Amatller has been passed down through generations of the Amatller family. In 1992, it was declared a historic-artistic monument by Barcelona's City Council. After this declaration, Casa Amatller underwent extensive restoration projects that allowed for the preservation of its unique architecture.
Today, Casa Amatller is open to visitors as a museum that showcases furniture, sculptures, ceramics, paintings, and other works from the 19th and 20th centuries. It also houses a courtyard that features sculptures and fountains – making for a peaceful escape from the busy city of Barcelona.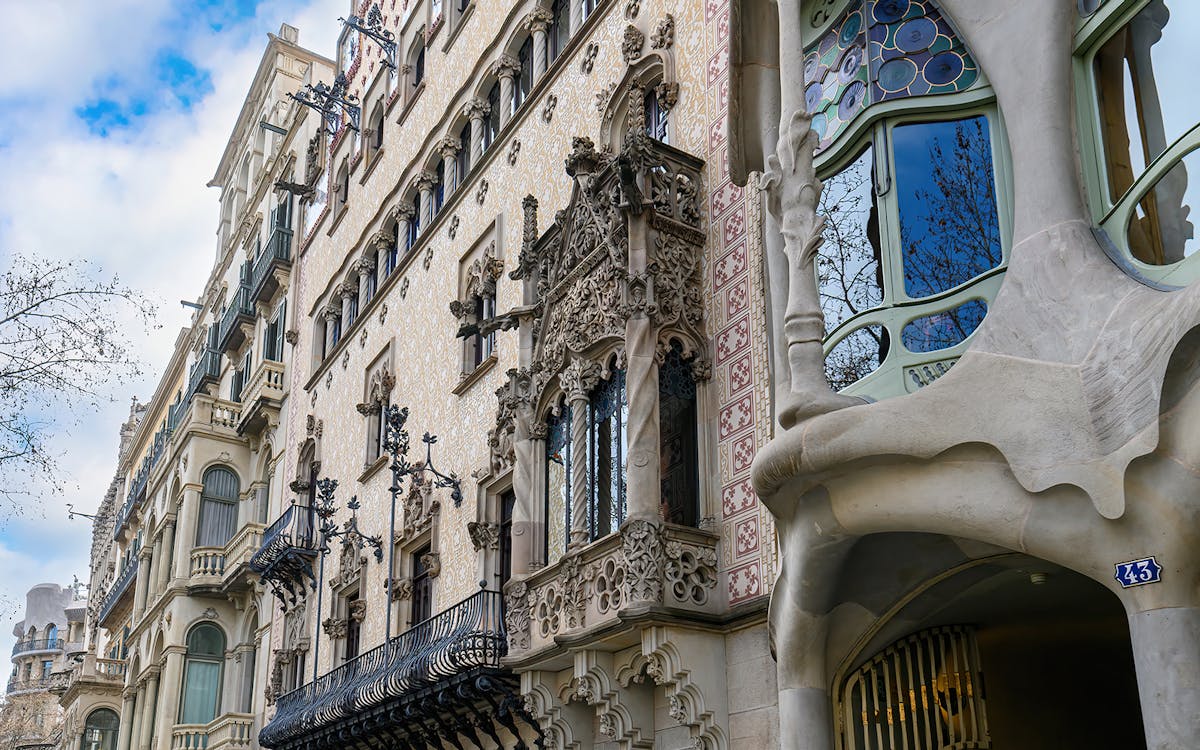 Casa Amatller Architecture
---
The façade of the building has a curious mixture of Neo-Gothic and modernist elements, with its four towers at each corner. The main entrance is framed by two stone figures representing warriors ready to protect the house from danger. The grand balcony, adorned with intricate ornaments and embellishments, presents a sight that can't be missed. Upon closer inspection, you'll find four characters representing the arts: painting, music, architecture, and sculpture. And of course, we can't forget about Sant Jordi - the patron saint of Catalonia!
The interiors are decorated with stained glass windows, ceramic tiles, and modernist furniture. On the upper floors there is a library and several rooms furnished in an eclectic style. The building also has a beautiful garden courtyard surrounded by ivy-covered walls.
When visiting Casa Amatller, visitors can explore its many interesting features including the grand staircase and its impressive stained glass ceiling. It is a unique example of Catalan Modernism that truly stands out from all other buildings on Passeig de Gràcia.
Top Highlights Of Casa Amatller
---
The façade of Casa Amatller is one of the most recognizable and photographed buildings in Barcelona thanks to its ornamental features. Drawing on distinct architectural styles like Romanesque and Catalan Gothic, Puig i Cadafalch masterfully reimagined the façade of a typical Eixample flat. His interpretation was richly layered with symbolism and embellished with decorative elements.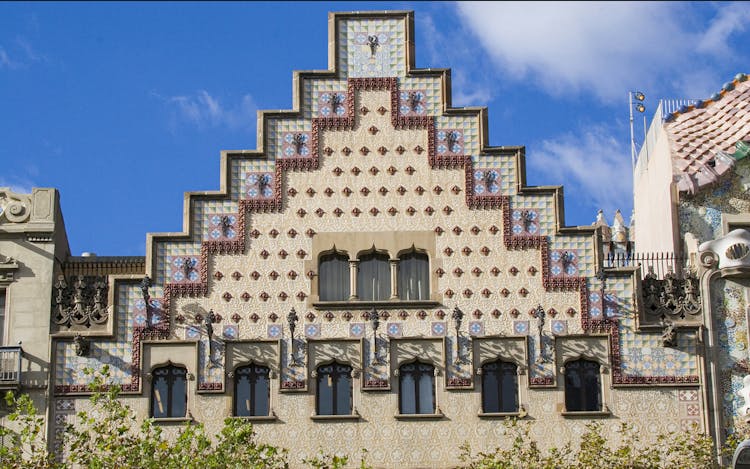 The vast collection of archaeological glass gathered by Antoni Amatller makes an impressive museum dedicated to these ornamental pieces. There are over 750 glass objects representing a range of designs, time periods, and origins, and you can find most of the collection in the Living Room.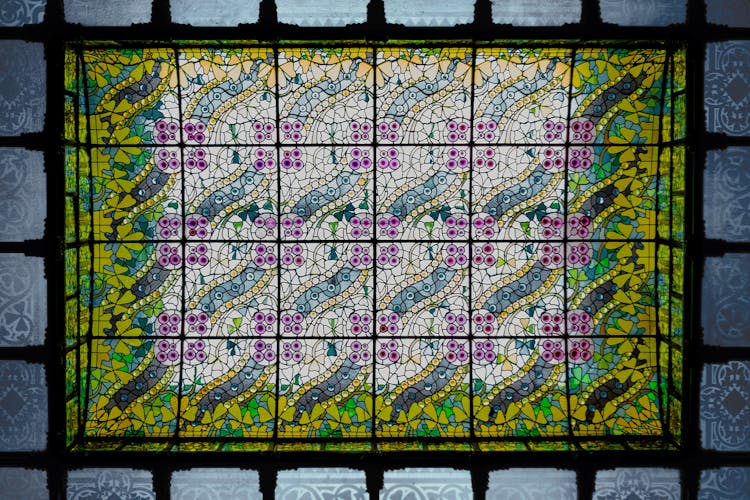 This is the coziest corner of the house. The Marble floors provide a perfect foundation for the furniture crafted by the Salat brothers in an old-world style. The wooden beams bring back memories of a simpler time, while the grand fireplace serves as a highlight with an homage to the chocolatier trade between Europe and America created by renowned sculptor Eusebi Arnau.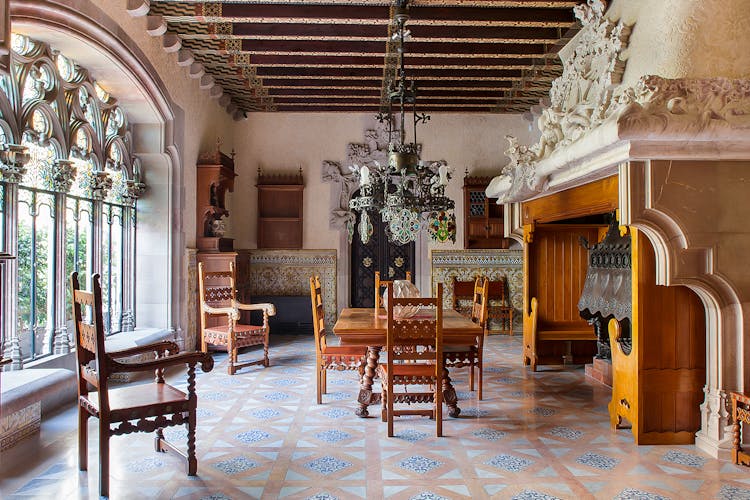 4

Teresa Amatller's bedroom
Teresa's room is covered in floral wallpaper and has a stunning window that looks out onto Paseo de Gracia. On the bedroom door, we find a representation of femininity with a kitten surrounded by balls of wool. A dog stands beside them to demonstrate loyalty and faithfulness; these pieces were crafted with great care by esteemed cabinetmaker Gaspar Homar.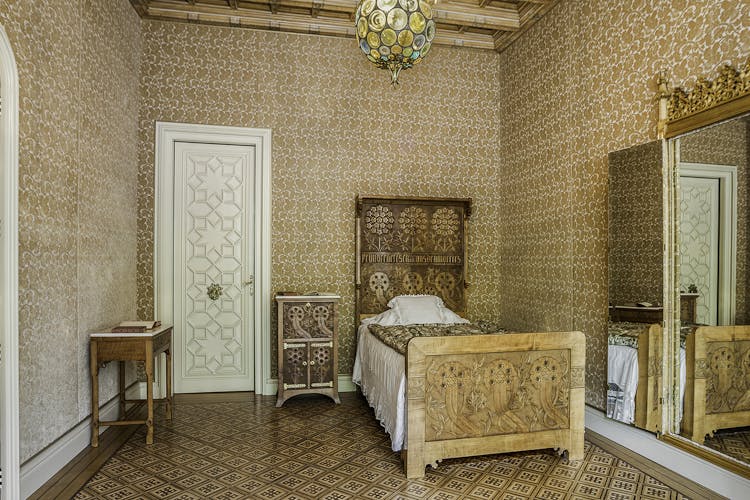 Right at the center of the main floor, lies Amatller's study. This is likely where he'd welcome guests or focus on work in solitude. The roof stands out as one of Puig's most impressive feats; it combines graffito with polychrome & glazed ceramics to gorgeous effect all along its beams!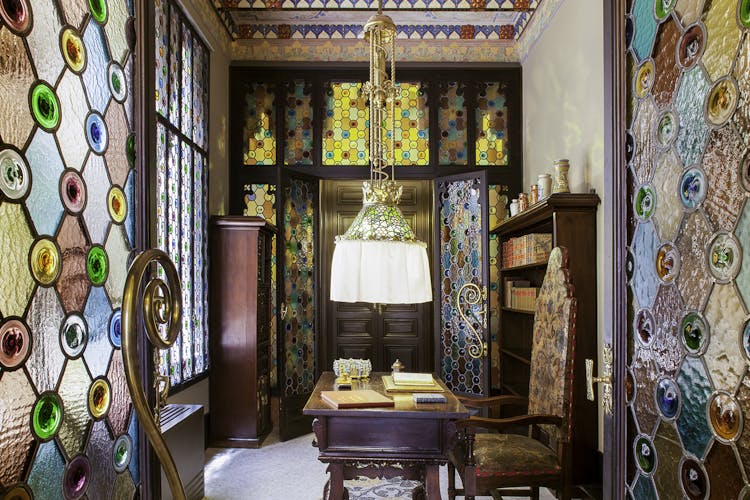 Ascending the main staircase, one can find animal sculptures depicting various tasks related to chocolate production. Also, above the fireplace lies a beautiful sculpture that stands as a testament to cocoa's remarkable journey across two continents. In it, an Aztec princess is joined by her Castilian counterpart in admiration of cocoa - first discovered as food by Europeans centuries ago.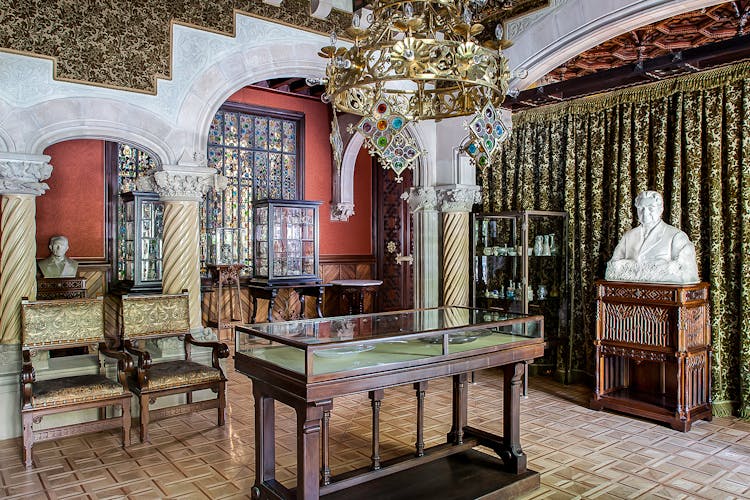 Best Time To Visit Casa Amatller
---
The best time to visit Casa Amatller is during the months of March through October when the weather is pleasant and the days are longer. Visiting this beautiful building during these times ensures that you can fully appreciate its grand architecture and intricate details. In spring and summer, it is especially nice to enjoy a walk in the garden courtyard surrounded by ivy-covered walls. You can admire its Neo-Gothic façade with its four towers at each corner and explore its many interesting features including the grand staircase and stained glass ceiling. Additionally, autumn brings a stunning array of colors as leaves change color around the building's exterior.
Additionally you can learn more about the Best Time to Visit Barcelona.
Casa Amatller Timings
---
Tuesday to Sunday - 10:30 AM to 8:30 PM
Last Admission at 6:30 PM
Closed on Mondays
Closed on 25th December every year
Getting There
---
By Car: The closest parking lot is Interparking Novedades. For two hours of parking, you will be charged EUR 7.50.
By Bus: H10, V15, 7, 22 and 24
Nearest Stop: Pg de Gràcia
By Train: RENFE
Nearest Stop: Passeig de Gràcia Station
By Metro: L2, L3 and L4
Nearest Stop: Passeig de Gràcia
Insider Tips to Visiting Casa Amatller
---
Make sure to plan your visit to Casa Amatller in advance to avoid being turned away at the entrance.
Casa Amatller offers special tours with an expert guide that provides a unique insight into the building's history and architecture. Consider booking one of these tours for the full experience.
While at Casa Amatller, take time to explore all its architectural details like the art nouveau glass windows, stone sculptures, and mosaics.
Avoid carrying backpacks, umbrellas, sticks or other objects that could damage the house. In case you do have any of these, there's a cloakroom on the ground floor for you to leave them.
To preserve the integrity of the house, visitors are required to wear special shoe covers provided by Casa Amatller. Access with high heels is forbidden.
Walking sticks or crutches aren't allowed. Wheelchairs will be provided by the staff at Casa Amatller.
Photography is allowed, but you must avoid flash photography or the use of tripods.
Visitors get free wifi!
Carry your own earphones for the audio-guided tour.
Interesting Facts about Casa Amatller
---
Casa Amatller has been declared "Bien de Interés Cultural" (Heritage of Cultural Interest) by the Generalitat de Catalunya, which means that it is protected by law and forms part of Catalonia's cultural heritage.
It houses the Chocolate Museum, where visitors can learn about the history and production process of chocolate in Barcelona since 1890 up to today.
The building was home to one of the most prominent families in Barcelona during the 19th century: The Amatller family. They were well known for their support and patronage of many local artists at that time, including renowned architect Antoni Gaudí.
Casa Amatller is also home to many cultural events such as concerts, exhibitions, talks and workshops throughout the year.
There are many details throughout the building that depict chocolate production or the chocolate trade in the form of furniture, sculptures, and artwork.
Restaurants Nearby
---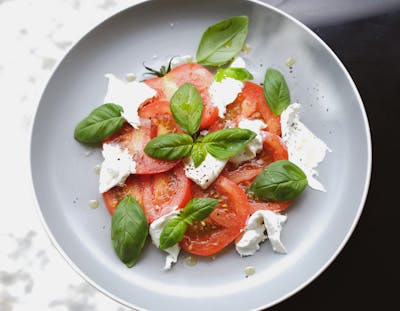 Faborit
This cafe is located inside Casa Amatller! At Faborit, you can enjoy a delicious yet light and healthy meal like salads or freshly-squeezed juice, and of course, Hot Chocolate! The refreshing terrace gives you spectacular views of Casa Batlló next door. Plus, they have an exquisite vertical garden and free wifi access.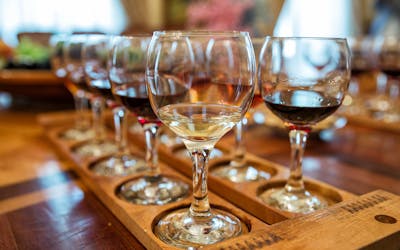 Restaurant El Tros de La Rambla
El Tros de La Rambla is known for its super warm staff, amazing tapas, and generous portions of food! This place is the best of Catalan-Mediterranean gastronomy, accompanied by good wines!
Distance from Casa Amatller: 500 m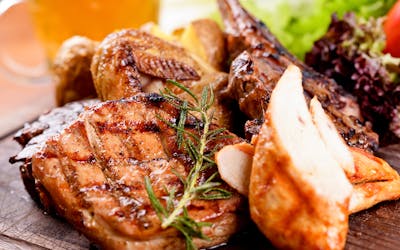 SOLC
SOLC pays homage to the local produce and Catalan cuisine of ages past—sourcing its raw ingredients from an in-house kitchen garden in Maresme as well as nearby producers for meat and fish. These recipes honor tradition while still being mindful of modern tastes. Step inside SOLC to taste a culinary celebration unlike any other!
Distance from Casa Amatller: 400 m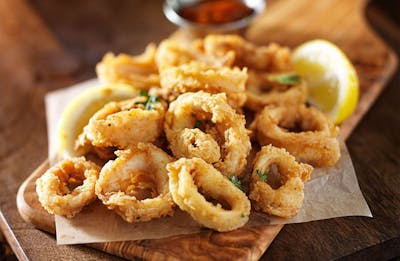 Lasarte
Lasarte is driven by the credence that Nature knows best and operates according to this truth. Their commitment is to work with nature's most remarkable ingredients: from the sea, land, and seasonal harvest; transforming them into an unforgettable dining experience. Every creation reflects their passion for cooking along with its profound appreciation of respect, and care. Make sure to try the tasting menu!
Distance from Casa Amatller: 600 m
Other Attractions around Casa Amatller
---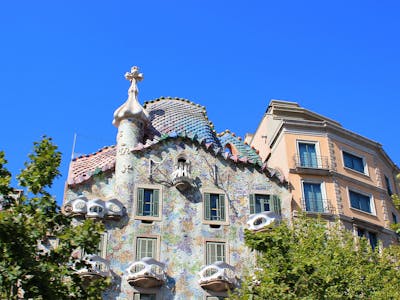 Casa Batllo
Casa Batllo is a remarkable 19th century building designed by the iconic Catalan architect Antoni Gaudí. It stands proudly among the other stunning buildings of Barcelona's Passeig de Gràcia and boasts an imaginative design that evokes the legend of St. George slaying a dragon. Allow yourself to be enchanted by its unique beauty and rich history!
Distance from Casa Amatller: 20 m
READ MORE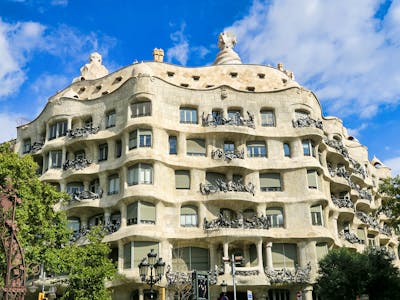 Casa Mila
Casa Mila is a modernist building in Barcelona, designed by Catalan architect Antoni Gaudí. It is considered one of the most iconic pieces of architecture in the city and has an iconic stone façade featuring curved balconies and undulating walls. Visiting Casa Mila offers a unique opportunity to explore the grandeur of Gaudi's work and discover its hidden details.
Distance from Casa Amatller: 550 m
READ MORE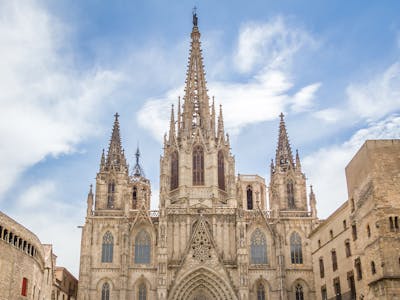 Cathedral de Barcelona
Cathedral de Barcelona is a stunning example of Catalan Gothic architecture, dating back to the 13th century. Located in the heart of Barcelona, this stunning cathedral features grand spires and pointed arches that stretch up toward the sky. With its intricate stonework and amazing stained glass windows, it is a must-see for every visitor.
Distance from Casa Amatller: 1.5 km
BOOK NOW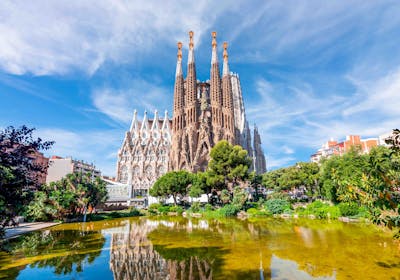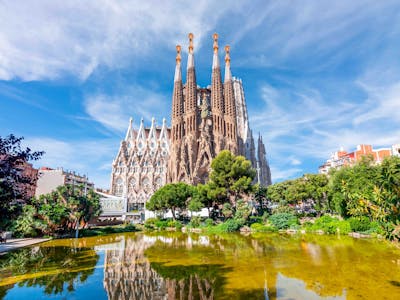 Sagrada Familia
The Sagrada Familia is an iconic landmark of Barcelona, designed by architect Antoni Gaudí. This magnificent structure features stunning architecture and intricate stonework, depicting scenes from the Bible. It is a truly unique sight that must be seen to be believed.
Distance from Casa Amatller: 1.8 km
READ MORE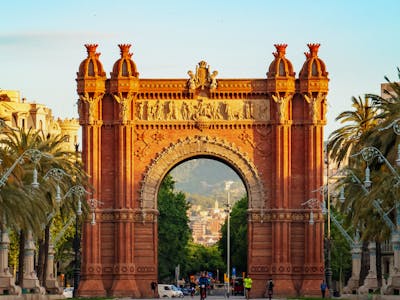 Arco de Triunfo de Barcelona
Arco de Triunfo de Barcelona is a breathtaking monument located in the heart of Barcelona. Built in 1888, it stands as a symbol of the city's long and storied history, with its grand arches, majestic sculptures, and intricate details. Visitors can marvel at this unique sight, and enjoy the beautiful views of Plaça de Catalunya from its balconies.
Distance from Casa Amatller: 1.7 km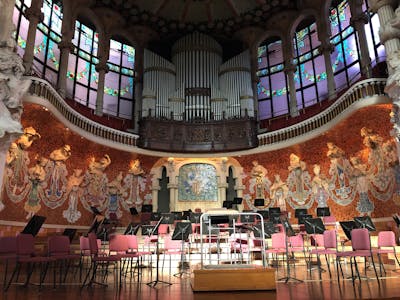 Palau de la Música Catalana
Palau de la Música Catalana is a beautiful Catalan modernist building located in Barcelona. Built between 1905 and 1908, the concert hall is renowned for its stunning architecture and acoustics, making it one of the most beloved venues in the city. Visitors can admire its intricate details and colorful glass façade as they enjoy some of the best music performances in Barcelona.
Distance from Casa Amatller: 1.3 km
READ MORE
Hotels around Casa Amatller
---
FAQs
---
Casa Amatller is open from Tuesday to Sunday between 10am and 6pm. It is shut on Mondays.
Yes they are available. Guided tours start at EUR 11.20, and audio guided tours start at EUR 17.
Yes, photography is allowed in both places but with no flash or tripod as these might damage the works of art.
It takes about 1 hour to see Casa Amatller.
Yes there is a cafe at Casa Amatller. It's called Faborit.