Casa Mila, also known as La Pedrera, was built by Antoni Gaudi in 1912. It was named after the wavelike design of the stone exterior. Casa Mila is a work of art featuring a ripple-like façade and a surreal sculptural rooftop. The construction and function of the building, as well as the ornamentation and decorative elements, break with the architecture of Antoni Gaudis' time.
A visit to Casa Mila is a must since it reproduces the interiors of the Pedrera apartment from the early 20th century. There is something timeless and mysterious about Casa Mila, and its exquisite beauty might make you fall in love. Ready to give it a try? Let's explore the insides of Casa Mila together and see what you find!
Casa Mila - In a Nutshell
---
Handy information
| | |
| --- | --- |
| ⏰ Suggested Duration: | 3 hours |
| ☀️ Best Time to Visit: | Early morning |
| 💜 Must See: | Pedrera Roof Terrace |
| 🎟️ Casa Mila Ticket: | €Starting from €15 |
| 😍 Casa Mila + Park Guell Combo: | €130 |
Things to know
Number of visitors per year: 1 million year
Established: 1912
Architect: Antoni Gaudi
Architectural style: Modernisme
Must-see
Espai Gaudi
Pedrera Apartment
Warrior Rooftop
Flower Courtyard
The Roof Terrace
The Courtyard
Exhibition Hall
Opening Hours And Address
Daily: 9am to 8:30pm
Closed on 25 December 2022
Closed from 9th to 15th January 2023 for maintenance

Address : Provença, 261-265, 08008 Barcelona, Spain
Get Directions
Why You Must Go Inside Casa Mila
---
The Architecture is phenomenal
Built-in 1912, Casa Milà's undulating façade and surrealist sculptural roof make it seem organic rather than artificial. This exemplary building was built by Roser Segimon and Pere Milà and has nine floors: bottom floor, ground floor, mezzanine, main floor, four upper floors, and attic. La Pedrera was inspired by Spain's Art Nouveau style and had a ground-floor garage, a mezzanine for entry, the main floor for Milàs and an upper floor for rent.
The building's two interior courtyards form a figure-eight plan. Another magnificent highlight of fabulous architecture is the sculpture terrace located on the roof. You can move freely and enjoy the space with convenient architectural ancillaries added to the building, such as skylights, emergency stairs, fans, and chimneys. Still, their envelopes create a distinctive sculptural character that has become a part of the building itself.
Learn about Gaudi's life in the attic - Espai Gaudi
Architect Antoni Gaudi is one of the most influential practitioners of Catalan Modernism, which centred on reclaiming Catalan identity through arts and culture. A century has passed since Gaudi's most iconic civil building of Gaudinian architecture was completed: the attic of the Pedrera. The Casa Mila (La Pedrera) is considered the most iconic work of Antoni Gaudi's civic architecture because of its construction, functionality, and ornamentation innovation, breaking away from the current architectural style. The decorative style of Art Nouveau architecture, Neo-Gothic art and Oriental methods also influenced Antoni Gaudi's style. He created elaborate and ostentatious structures.
A spectacular Rooftop
You will be enchanted by the spectacular view the roof terrace of Casa Mila offers. There is nothing like the roof terrace at La Pedrera-Casa Milà. With the terrace pathways filled with Gaud-style sculptures, you'd feel like you were travelling back in time. The staircases providing access to the attic, the ventilation towers, and the chimneys are all elements of the roof that provide order, aesthetics, and functionality. A perfect example is the monochrome mosaic style that covers four of the six stairwells made of recycled stone, marble, or ceramic.
For the Jazz evening concerts
An evening rooftop jazz concert on one of Barcelona's most iconic buildings is the perfect way to see one of the city's most iconic buildings. Enjoy the jazz nights at La Pedrera beginning from your historical visit inside Casa Mila, which offers a glimpse into Gaudi's work and approach to architecture. Star highlights of these energetic live jazz shows are how it depicts Barcelona's cultural spirit. You can find homegrown jazz acts, traditional jazz music nights, and international musicians. Over the summer months, the alfresco stage is set up at night and is an essential destination for jazz musicians from around the globe.
The Exhibition Rooms
Inside Casa Mila, explore the facets of contemporary architecture with a museum full of subcultures. This museum is a visual delight for visitors. In addition to exhibitions and musical performances, La Pedrera holds art and cultural events to promote culture. Inside Casa Mila museum, see the audiovisuals, miniatures, and objects from Gaudi's life, designs, and models. It also features a room called the Pedrera Apartment, which tells the story of life in the "20th century" through audiovisuals, miniatures, and objects.
Buy tickets to go inside Casa Mila
---
Many tickets are available to offer you a brief and illustrious visit inside Casa mila. Our Casa Mila tickets are curated for the best of Casa Mila at the lowest prices possible, giving you the option to skip the line, take an audio guide, or take a guided tour. Our top picks are listed below:
Top Highlights Inside Casa Mila
---
The Flowers and Butterflies Courtyards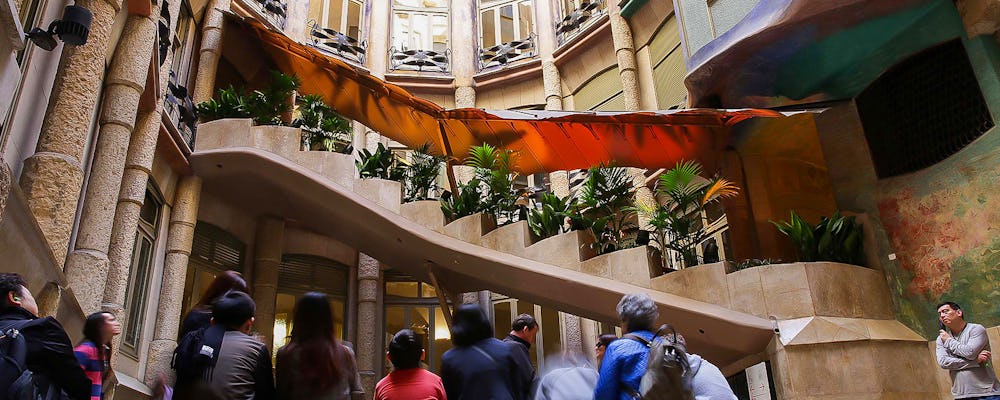 Inside Casa Mila's Courtyard, find an organized floor plan showcasing floral motifs, mythical and legendary scenes, and little polychrome details. The driveway to the basement is via the main door of Casa Mila, followed by a series of two interconnected courtyards. They have a unique arrangement of windows, allowing natural illumination and ventilation. You will find beautiful murals and details in every colour on the floors.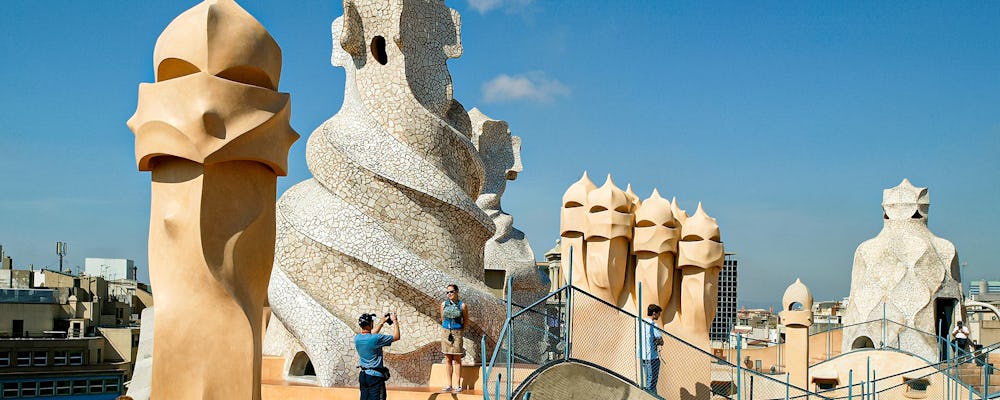 The main highlight of the Casa Mila is its Rooftop terrace. Find out the illustrious and detailed sculptures that define modern architectural details, mixed with Gaudi's influence on the Art Nouveau style. A stone sculpture on the terrace and mosaics in some places served another practical purpose as well-- they act as vents to keep the building ventilated.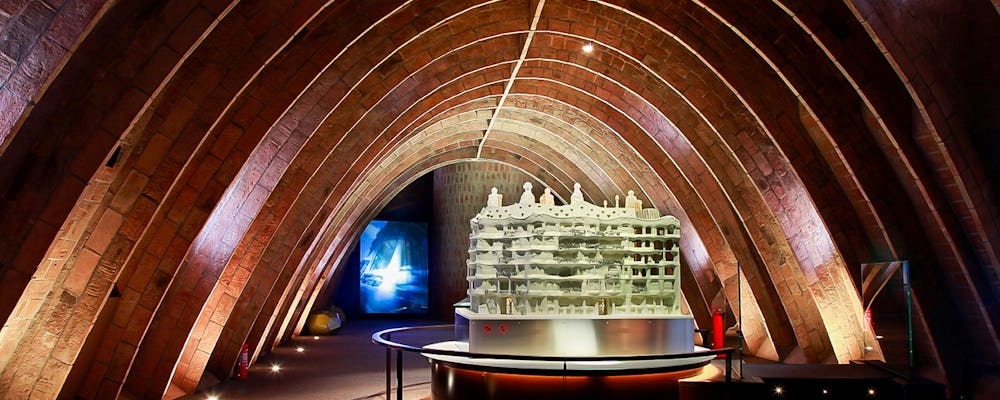 Inside Casa Mila, on the fourth floor, you'll find The Espai Gaudí, a visual room. It is in the attic and built with 270 parabolic arches. Witness the extensive exhibition dedicated solely to Gaudí's work and life. You'll come across sculptures, models, photographs, and videos to explore Gaudi's life and architecture.
The Apartment on the fourth floor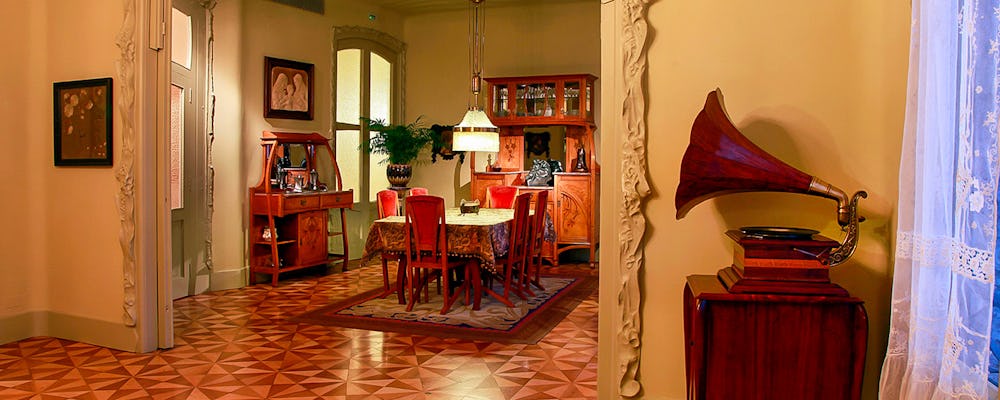 The Pedrera apartment is also known as the apartment on the fourth floor. It reveals the building from many perspectives: its architecture, interior distribution, decorative elements, and habitability. Overlooking Mila's residence, this apartment presents an insight into a bourgeois life in Barcelona in the early twentieth century, re-creating the household with domestic furnishings, utensils, and equipment from the time. An audiovisual presentation also demonstrates how the city transformed and modernized in the early 20th century.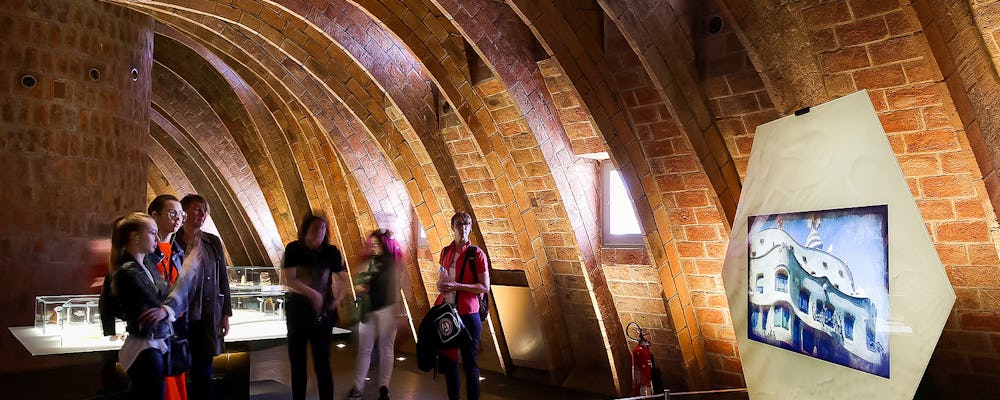 The Exhibition Hall is where you can watch shows, hold musical concerts, and tune up your taste for culture. It's located on the upper first floor and exhibits staircases decorated with murals and Gaud's wrought iron.

Image Courtesy: alhambra.org
The Alhambra Museum is located on the ground level of the Palace of Charles V on the south side. It is divided into seven halls, the first of which houses thematic exhibitions and the rest of which are arranged chronologically. The Provincial Commission of Monuments established the museum in 1870 to protect the numerous archaeological evidence gathered by the commission.
Inside Casa Mila, you'll find balconies with fine furnishings and an architectural exhibit under the catenary arches designed by Gaudi. The balconies of Casa Mila are famous for the wrought iron used in an ideal way for balcony railings and gates.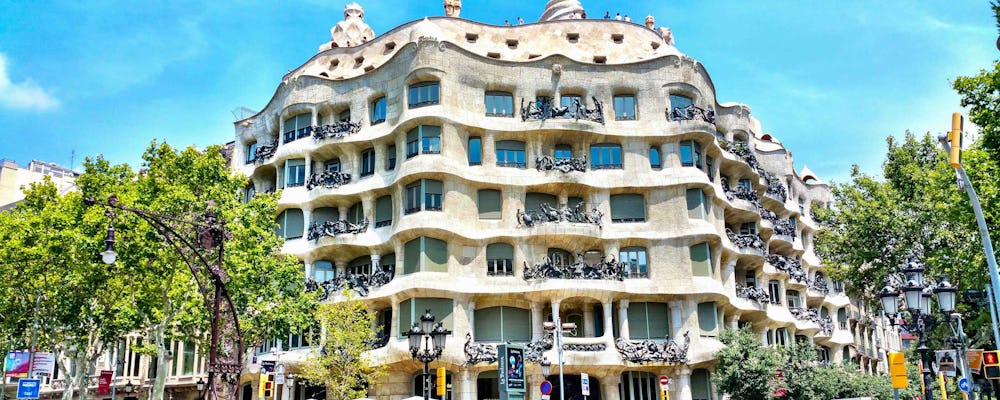 Inside Casa Mila, large limestone blocks form the facade, showing Gaudi's ability to forgo load-bearing walls and allow for a column-free floor plan. Curved iron beams surround the perimeter of each floor to give it support and connect it to the facade. With this innovation, Gaudi achieved a continuous curve, organic geometry, which freed him from traditional structural limitations.
The Floor of the Milà Family: Showroom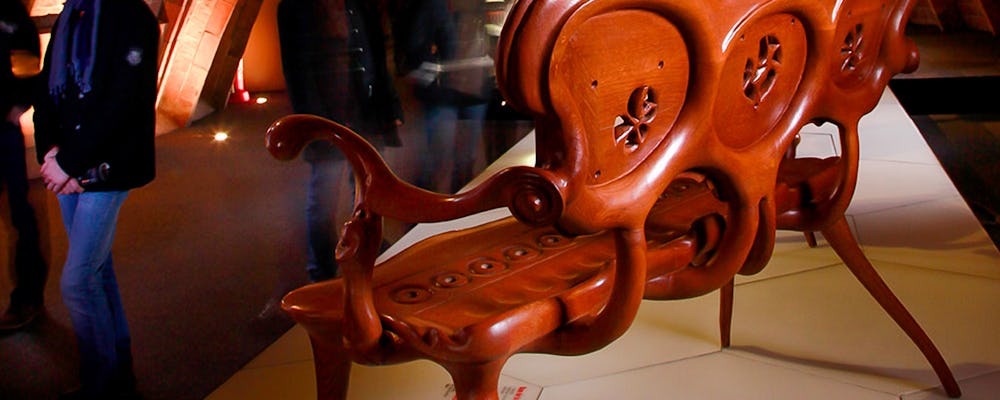 The second floor of the building where the Mila family lived is now part of a museum that used to hold exhibitions. You can find many original items inside the building, including columns with sea-shaped reliefs and inscriptions and some lovely ceilings.
Know Before You Go Inside Casa Mila
---
Smoking is not permitted.
Outside food is not allowed.
The only animals permitted on the property are guiding dogs.
No flash photography is allowed.
No phone calls are allowed inside the building.
No rucksacks are permitted. But, Casa Mila has a luggage area so you may safely store your carry-ons while taking full advantage of the location.
The Casa Mila is wheelchair-accessible.
A special discounted cost at Casa Milà is available to all local Catalans.
FAQs
---
How much time are you required to spend at Casa Mila?
How much does it cost to visit inside Casa Milà?
Is it good to visit Casa Mila at night?
How can you reach Casa Mila?
Can I buy online tickets for Casa Mila?
What are the main things to see inside the Casa Mila?
Ready to head to Casa Mila?
---
Purchase discounted Casa Mila tickets via Headout today!
Explore The Rest of Barcelona
Fancy heading out to some other must-visit Barcelona attractions? Take inspiration from our list of Barcelona Travel Tips & Hacks here. Use our comprehensive Barcelona Travel Guide to explore the rest of Barcelona in a hassle-free fashion with all the need-to-know information in hand.