Singapore is home to a wide variety of wildlife, from the familiar such as monkeys and squirrels, to the more exotic like pangolins and civets. While much of the city's natural heritage has been lost due to development, there are still pockets of rich biodiversity to be found if you know where to look.
If you're looking to get up close and personal with Singapore's wildlife, your best bet would be to head to one of the many wildlife reserves of Singapore. These protected areas are home to an array of plant and animal species, and provide visitors with the opportunity to learn more about our natural heritage.
Wildlife in Singapore
---
The loss of biodiversity is a major concern in Singapore ( and worldwide, really). Various conservation efforts are underway to protect the remaining wildlife. These include initiatives to control the illegal trade in endangered species, as well as habitat restoration projects that aim to create more sustainable homes for our animals.
Singapore's wildlife reserves offer a unique opportunity to catch a glimpse of the country's rich biodiversity. These protected areas are home to an array of plant and animal species, many of which are not found anywhere else in the world. So whether you're looking to learn more about Singapore's natural heritage or just enjoy a day out in nature, be sure to pay a visit to one of our many wildlife reserves!
Wildlife of Singapore & Where To Find Them
---
The tropical climate of Singapore is teeming with spectacular biodiversity. Whether or not you're a wildlife enthusiast, the magnificent creatures found in the forests and reserves of Singapore are surely something that ought not to be missed!
Ranging from the colourful birds in Singapore and variety of venomous snakes, to the cutest pandas in the Giant Panda Forest, Singapore has a lot to offer. Here are ten highlights that wildlife in Singapore has to offer, and where you can find them!
1

Pied Oriental Hornbill

Jurong Bird Park
The Pied Oriental Hornbill is a large bird, known for their black and white plumage, as well as their long, curved beaks. They are shy birds that typically live in pairs or small groups. These are the only species of hornbills that are truly wild and unfettered in Singapore.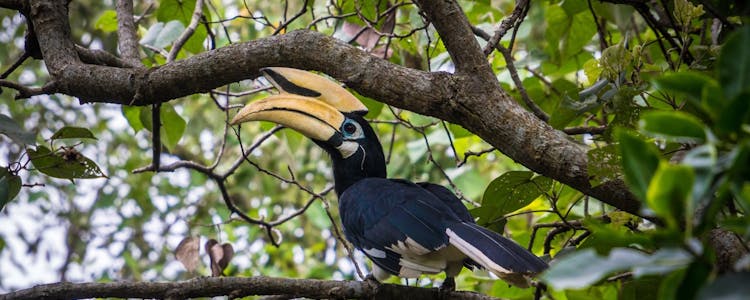 2

Sunda Pangolin

Central Catchment Nature Reserve
One of the most heavily trafficked & endangered species in the world, these creatures are hunted for meat and scales. Sunda Pangolin can be identified by their scaly bodies and long tails. Sunda Pangolins are nocturnal creatures that spend most of their time in trees.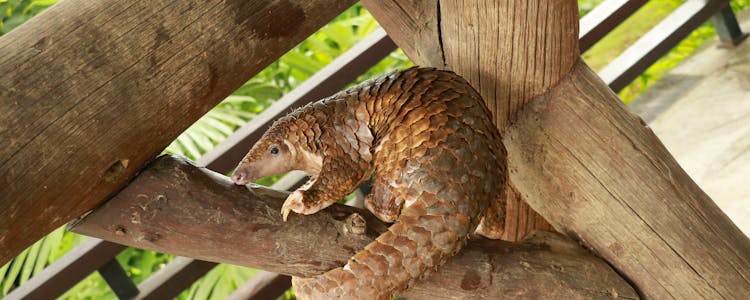 3

Lesser Mouse Deer

Bukit Timah Nature Reserve
You'll surely recognise the Lesser Mouse Deer from the many viral videos on the internet. These cute creatures are the smallest deer in the world! Lesser Mouse-Deers are shy creatures that typically live in pairs or small groups. They are so small that their legs are the diameter of an average pencil!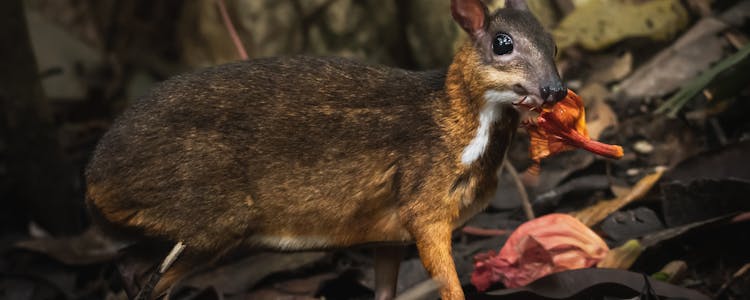 Dugongs are gentle creatures that live in shallow coastal waters. The dugong is an endangered species, and is protected by law. These animals are hunted for their meat, which is considered a delicacy in some cultures. Critically endangered, they are cousins of manatees and look similar, if not plumper.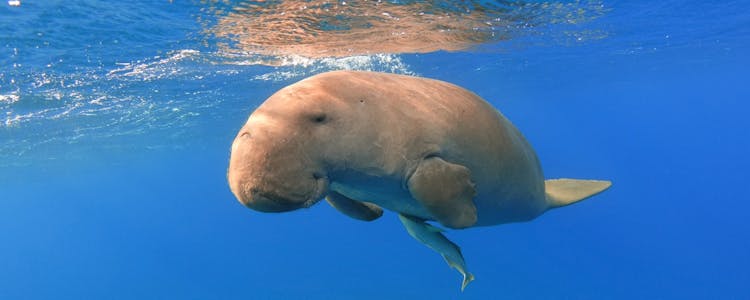 Who doesn't love otters! These friendly creatures are also known to make an occasional appearance on the streest of Singapore, so make sure to keep an eye out. They are dotted across the islands of Singapore and are likely to be spotted in multiple places.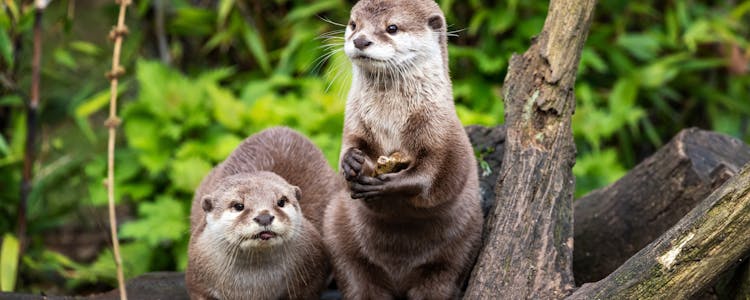 6

Giant Panda

River Wonders
While there aren't any wild pandas in Singapore, River Wonders has a family of giant pandas that you can check out! When you're at River Wonders, make sure to visit the Giant Panda Forest, the largest panda exhibit built in Southeast Asia.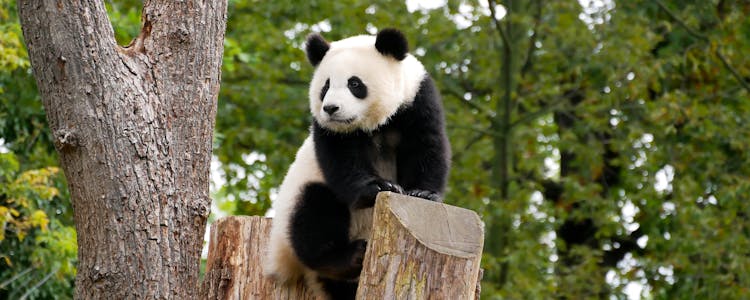 10 Best Wildlife Reserves & Parks of Singapore
---
#1

Singapore Zoo
Biggest Zoo in Singapore
Tickets

The impressive Singapore Zoo is well-known around the world, thanks to its 11 different zones and 12 exhibits that house over 2,800 animals, including over 300 wildlife species of mammals, birds, and reptiles. The zoo has made sure to create exhibits that replicate the exact natural habitat each of its animals would live in. Make a trip to the Primate Kingdom for a glimpse of 39 species of primates, explore underwater galleries, and much more. Guests can also attend interactive animal shows, go on tours and safaris, and feed some of the animals.
Best Time to Visit
Any time of the year, early hours of the day
Recommended Duration
4 Hours
Top Things to Do in Singapore Zoo



Feed animals like the elephant, giraffe, goat, white rhineceros and the giant tortoise.
The zoo hosts a variety of animal shows, like the Splash Safari and Animal Friends so make sure to catch them!
Indulge in Jungle Breakfast within close proximity to orangutans and giraffes.
Make sure to check out the mousedeer, otters and white tigers!
Recommended Singapore Zoo Tickets
Singapore Zoo Reviews
Our whole experience at the Singapore zoo was amazing. Headout provided us with clear information on how to get to the meeting point etc. We also got a discount when we booked through Headout. Overall the whole process was super easy and fast!! I will definitely book with them again.
- Fathima, Headout, June 2022
Loved every bit. All the animals were easy to be seen and their enclosures were clean. It was great, not going to another smelly zoo.
- Becky, Headout, February 2022
#2

Bukit Timah Nature Reserve
Spread Over Singapore's Tallest Hill
Tickets

The Bukit Timah Nature Reserve is a 163-hectare reserve that includes Singapore's highest hill, Bukit Timah Hill. This reserve is home to a variety of plant, animal, and insect life, including the critically endangered Singaporean Blue Spider, as well as the rare White-bellied Woodpecker.
Best Time to Visit
November to March
Recommended Duration
2 Hours
Bukit Timah Nature Reserve - Top Things to Do
Scale the Bukit Timah Summit, highest in Singapore! While the trek isn't very difficult, it does get a little steep if you choose to go through the Main Path instead of the stairs.
A hidden gem of the Bukit Timah Reserve, these caves are located off the Main Path and were created by Japanese soldiers during the Second World War to store supplies.
When here, be on the look out for: Seraya, Red Dhup, Greater Racket-tailed Drongo,Malayan Colugo, Malayan pangolin and the slender squirrel (Sundasciurus tenuis).
#3

River Wonders
Asia's Only River Ecosystem Imitation
Tickets
Nestled right in between the well-known Singapore Zoo and Night Safari, River Wonders (previously River Safari) is a river-themed zoo and aquarium. Designed to recreate the wildlife experience along famous rivers from around the world, the park is home to some rare and impressive creatures from across the globe. Get set to begin your journey alongside meandering rivers and enjoy the chance to view exotic animals such as the squirrel monkey, maned wolf, and jaguar.
Best Time to Visit
Any time of the year, early hours of the day
Recommended Duration
4 Hours
River Wonders - Top Things to Do
The Giant Forest Panda, home to two pandas and their cub! This protected area also houses red pandas.
Take the River Safari Cruise along the upper Seletar reservoir.
The Amazon Flooded Forest is the world's largest freshwater gallery and houses an entire underwater ecosystem in an perfect attempt to recreate the one in the Amazon. Here, you'll find red-bellied piranhas, manatees, electric eel, black-finned pacu, motoro stingray, arapaimas, and giant river otters!
Recommended River Wonders Tickets
#4

Pulau Ubin
Island Getaway in Singapore for Birdwatchers and Adventure
Tickets

Pulau Ubin generally draws tourists for kayaking and cycling, but it's a hidden gem for wildlife enthusiasts! Located in the eastern corner of Singapore, you should definitely explore this safe haven for a variety of animals. Birds like Mangrove Pitta & Straw-headed Bulbul, along with otters, Greater Mousedeer have made this island their home.
Best Time to Visit
February
Recommended Duration
8 Hours to a whole day
Pulau Ubin - Top Things to Do
Cycling
Kayaking
Trek along the eastern trail towards the Chek Jawa Wetlands and walk through an ecosystem consisting of forests, swamps and the beach!
Visit the Pekan Quarry at sunset.
#5

Jurong Bird Park
Largest Bird Collection in Asia
Tickets

Be prepared to experience the ultimate animal encounter at Singapore's Jurong Bird Park! The park houses 5,000 species of birds across 20 hectares of exploratory landscape. Whether you're eager to feed the parrots or are simply excited to watch them soar above you, the park guarantees an incredible opportunity. Hike to the waterfall aviary and witness a 30-meter tall waterfall, home to almost 600 birds. Or, head down to Lory Loft, the biggest lory flight aviary and partake in an up-close feeding frenzy as you walk across a suspended bridge with a cup of nectar in your hand. There are plenty of experiences that'll sweep you off your feet at the Jurong Bird Park.
Best Time to Visit
May, July, August
Recommended Duration
3 Hours
Jurong Bird Park - Top Things to Do
The Waterfall Aviary has the world's tallest man-made indoor waterfall; it helps recreate a tropical rainforest.
Definitely visit the Flamingo Lake - it is exactly as it sounds and houses at least four species of flamningo!
The Penguin Coast is the place to be if you want to watch this majestic birds twaddle about.
Take the opportunity to hand-feed some of the birds at the park!
Recommended Jurong Bird Park Tickets


Jurong Bird Park Reviews
My friend and I enjoyed it so much. So many animals that will really amaze you. Very friendly staff. And about entering the park, it was very easy and there was no problem, thanks to Headout because the ticket passed quickly.
- Mariel, Headout, May 2022
Good memories and great experiences after many years I had visited this beautiful Jurong bird park. I love the aviary where birds are freely flying around. Despite of the rain, I enjoyed the performance at the Amphitheater. Staff is friendly and helpful too.
- Susan, Headout, January 2022
#6

Central Water Catchment Reserve
Largest Nature Reserve in Singapore
Tickets
The Central Water Catchment Reserve is a nature reserve located in the central region of Singapore. It is the largest nature reserve in Singapore, covering an area of approximately 500 hectares. The reserve is home to a rich variety of flora and fauna, as well as several rare and endangered species. The catchment area provides a vital role in regulating Singapore's water supply, and is also an important source of fresh water for the country. The reserve is open to the public for recreational activities such as hiking, birdwatching, and picnicking. There are several nature trails within the reserve that offer visitors a chance to explore the different habitats found here.
Best Time to Visit
Any time of the year, early hours
Recommended Duration
4-5 Hours
Central Water Catchment Reserve - Top Things to Do
Take a walk across the 250m high suspension bridge that connects two of the highest points in the reserve.
Climb atop the Jelutong Tower, a 7-deck observation tower with a direct view of the MacRitchie forest, adjacent to the MacRitchi reservoir.
Be on the look out for long-tailed macaques, pangolin and the cute mousedeer.
#7

Night Safari
World's First Nocturnal Zoo
Tickets
Get up close and personal with as many as 1,000 nocturnal animals. Admire the beauty of dusk and witness animals in their natural habitat as a team of experts take you on an exciting journey. Singapore Night Safari is recognized as the world's very first nocturnal zoo. Set in a humid, tropical forest, the park is segregated into seven geographical zones that you can explore either by foot or by tram. The park promises a unique experience that is unlike any other.
Best Time to Visit
Anytime of the year, late night
Recommended Duration
1 Hour
Night Safari Singapore - Top Things to Do
The Thumbuakar Fire Show - An unmissable show of strength and prowess with fire.
Make sure to take the tram to make the most of your visit; the tram is the best way to scour every inch of the park and comes with a guided commentary.
Recommended Night Safari Singapore Tickets


Night Safari Reviews
Hassle free. We had to reserve a seat for the creatures of the night show but that was not a troublesome process. Simply follow the instructions on the confirmation email and it would be a piece of cake.
- Fathima, Headout, August 2022
Definitely recommend checking it out! We were very lucky and saw a lion roar during the tram ride. The walking trail was a bit scary at night, but definitely worth checking out!
- Leung, Headout, August 2022
#8

Sungei Buloh Wetland Reserve
World's Rarest Mangroves
Tickets

The Sungei Buloh Wetland Reserve is a nature reserve located in the north-western region of Singapore. It covers an area of approximately 200 hectares and is home to a wide variety of wetland habitats, including mangroves, mudflats, and freshwater swamp forests. The reserve is an important stopover for migrating birds, and is also home to a variety of resident bird species. Visitors to the reserve can enjoy activities such as birdwatching, hiking, and picnicking. There are several nature trails within the reserve that offer visitors a chance to explore the different habitats found here.
Best Time to Visit
September to March
Recommended Duration
5-6 Hours
Sungei Buloh Wetland Reserve - Top Things to Do
The wetlands are known for their migratory bird population, so depending on when you go, the birds you'll see will be different. Definitely keep an eye out for the majestic Great-billed Heron!
The Malayan Water Monitor and Estuarine Crocodile are among the animals that these wetlands protect.
Take the Sungei Buloh Walking trail, an easy 2-mile stretch that is popular for hiking, cycling and birdwatching.
Sungei Buloh is home to the world's rarest mangrove marshes, so make sure to take one of the many walks and tours that the wetlands offers.
#9

Adventure Cove Waterpark
Marine Encounters at an Adventure Waterpark in Singapore
Tickets

What could be a better way to beat the heat than a water park? Thrill-seekers, Adventure Cove Waterpark is for you! Enjoy a plethora of water-based activities, ranging from exciting tunnel plunges for the older guests, to gentle pools for the younger kids. There's even an opportunity to get an up close look at the majestic rays at Ray Bay. Afterward, load up on souvenirs from one of the many shops within the premises. Among the many things to do at Sentosa Island, this attraction is the perfect day trip for families and groups of friends.
Best Time to Visit
December to June
Recommended Duration
4-5 Hours
Adventure Cove Waterpark - Top Things to Do
Get up close with dolphins at Dolphin Island and feed the rays at the Ray Bar
Swim with sharks, safely of course!
Go on Adventure River, a unique lazy river of sorts that comes with twists and take you through glass tunnels where you can view marine life closely.
Take your time with the full-fledged waterpark rides and indulge in as many of them as you possibly can! Adventure River, Riptide Rocket and Pipeline Plunge are among the top rides in the park.
Adventure Cove Waterpark Singapore Tickets


#10

S.E.A. Aquarium
One of the World's Largest Aquariums
Tickets

Explore deep and mysterious secrets of the marine world at the S.E.A Aquarium Singapore! Home to a whopping 100,000 marine animals, covering as many as 800 species across 49 habitats, Singapore's aquarium is remarkable and impressive. If you're on Sentosa Island, spare a day for some underwater adventure. The centerpiece of this attraction is without doubt its humongous aquarium for 'Open Ocean' habitat. Peering at the tall glass will make you feel like you're sitting right on the cavernous ocean floor.
Best Time to Visit
Anytime of the Year
Recommended Duration
3 Hours
S.E.A Aquarium Singapore - Top Things to Do
The Open Ocean Habitat is arguably the biggest attraction and designed to be the centerpiece of S.E.A Aquarium. It's filled with 18 million liters of water, and is home to more than 129 species of sea creatures.
Make sure to check out the S.E.A Aquarium's coral collection, the largest collection of live corals in the world.
Don't miss the Shark Seas, a shark exhibit housing about 70 sharks from 12 different species; these can be viewed both from a viewing panel or an underwater tunnel.
Attend an interactive feeding session at the Discovery Pool where you can interact with sea stars & epaulet sharks.
S.E.A Aquarium Singapore Tickets


S.E.A Aquarium Singapore Reviews
The most relaxing & enjoyable experience to view fishes swimming in their habitats. The background music used was absolutely relaxing.
- Thomas, Headout, January 2022
I had an amazing time at the aquarium. The attaction was done up so nicely with so much to look.
- Daniel, Headout, March 2022
Tips to Experience Wildlife in Singapore
---
If you're not quite sure where to start, or would like to learn more about the wildlife in Singapore, consider going on a guided tour. There are many organisations that offer tours led by experienced naturalists, such as the WildSingapore Nature Tours, which run regular trips to different parts of Singapore.
Another great way to enhance your wildlife experience is to arm yourself with some knowledge before you head out. A good field guide can be really helpful in identifying the different plants and animals you encounter. The Nature Society Singapore has a handy online guide that you can consult, or you can also check out popular field guides such as the Collins Bird Guide and the Butterflies of Singapore.
Of course, no wildlife watching adventure is complete without the right gear! Make sure you have a good pair of binoculars or a camera with a zoom lens to help you get up close and personal with the animals. If you're planning on doing some birdwatching, bring along a bird call or two to attract the feathered friends your way.
One of the most important things to remember when wildlife watching is to be patient. Animals are often shy and may not show themselves immediately, so it pays to be patient and keep your eyes peeled.
It helps to go out early in the morning or late in the evening when the animals and birds are most active.
FAQs
---
Bukit Batok Nature Park, Central Water Catchment Reserve, Singapore Zoo and Sungei Buloh Wetland Reserve are some of the best places to see wildlife in Singapore.
Hiking, birdwatching, and picnicking are some of the activities that can be done in the nature reserves.
No, there is no entrance things that can be done at Sungei Buloh Wetland Reserve include birdwatching, hiking, and picnicking.
Some common animals that can be found in Singapore are monkeys, snakes, lizards, geckos, frogs, toads, and bats. There are also a variety of birds, such as parrots, peacocks, kingfishers, and hornbills.
The best time to see Singapore wildlife is during the dry season, which runs from February to October.
If you see a snake, it is best to stay calm and call the Singapore Zoo at +65 6269 3411. Do not try to catch or kill the snake yourself.
There are no dangerous animals in Singapore. However, you should always be cautious when dealing with any wild animal.
Wildlife in Singapore Guide