Referred to as the 'Coronation city', Reims (pronounced like "rance") has witnessed the making of French history right since the dawn of the millennium. The city is also the base to explore the beautiful Champagne trail of 'Montagne de Reims', where the world's best champagnes come from!
From the Reims Cathedral to the vineyards and cellars of the champagne houses, there is a lot to explore in Reims, which is why it gets over 1.5 million visitors each year. A mere 145 km away from Paris, it is ideal for a day trip to enjoy the treasures of Reims. Move it to the top of your list of day trips from Paris.
Paris to Reims - In a Nutshell
---
Distance: 144 km (89.5 mi)
Duration : 1 hr 40 min
Best time to visit : June-September
Best way to travel : Train/Car
Approximate budget/head : €104 ($110) per day
The Champagne Region of Reims
---
Did you know that Champagne, the bubbly everyone loves to celebrate is named after a region in France, a quaint town located 90km outside of Paris.
And since the birth of Champagne happened right here, all the famous Champagne brands like Moet and Chandon, Veuve Cliquot, GG Mumm, and Pierre Paillard have cellars and vineyards in this region!
The term "Champagne" refers to a type of bubbly, made according to specific standards, within one of the sub-zones of France's Champagne region.
Champagne is made up five wine producing districts within the historical province: Aube, Côte des Blancs, Côte de Sézanne, Montagne de Reims, and Vallée de la Marne.
The towns of Reims and Épernay are the most famous, especially Reims for it's world famous cathedral, the venue of the coronation of the French Kings.
Know that Reims and Épernay are not that close by and all these 5 districts are quite far flung. If you were to arrange a cab to take you from Reims to Épernay, it should cost you around 100€!
You'll see the Cathédrale Notre-Dame de Reims.

Drive along the countryside and enjoy the scenic view.

Savor the 'Red Ribbon' champagne at the Mumm Champagne house!
What Makes Reims Special
---
Reims holds a special place in the history and culture of France. The city that has been around for two millennia has three UNESCO World Heritage Sites – Cathedral of Notre-Dame, the Palace of Tau, and the old Abbey of Saint-Rémi. But there is more to Reims than the towers of the Cathedral and the cellars of the champagne houses.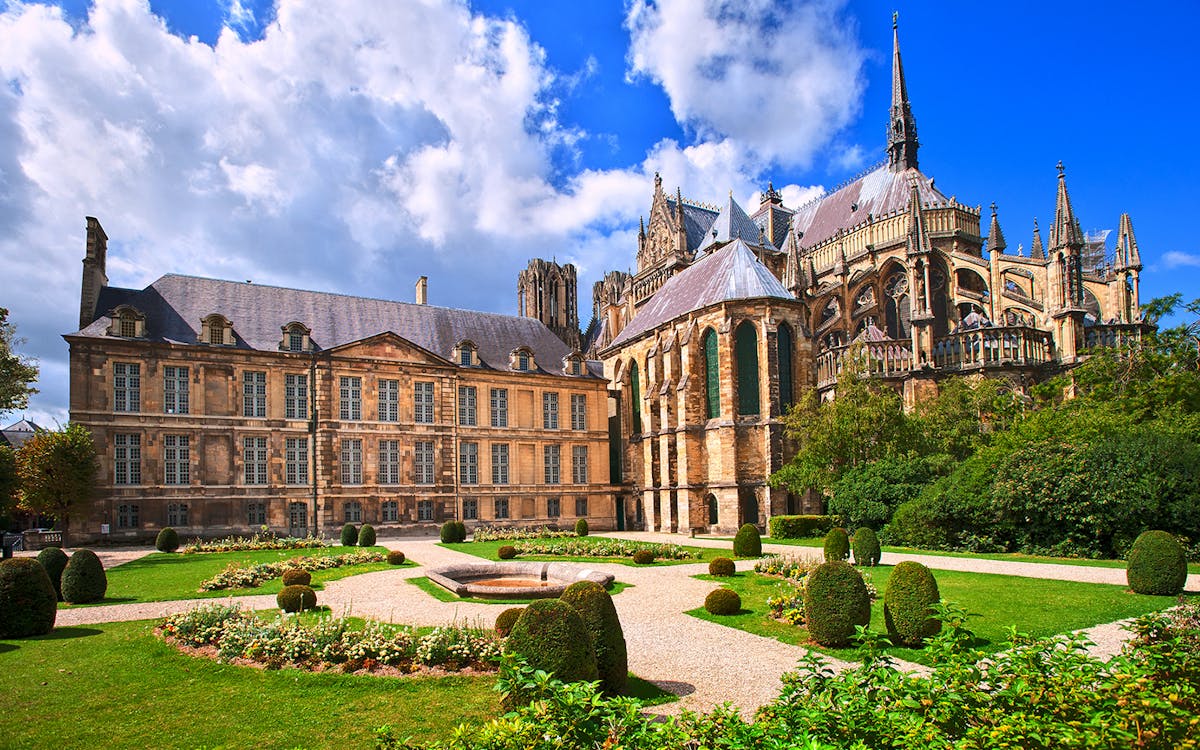 The city played an important in the World Wars and has a legacy of Art-Deco architecture and modern development. It is also known for its fine-dining with Michelin-star restaurants that stir up great food to accompany the excellent champagne of Reims.
Day Trips From Paris to Reims
---
Looking for tours that take you from Paris to Reims? Here are the 2 most popular Paris to Reims tours on the internet! Grab them soon before they sell out on the dates you've planned.
Top Things To Do In Reims
---
A day in Reims will involve you going through some of these iconic attractions. Here's what you should expect during your excursion:
1

Reims Cathedral

ARCHITECTURE •CULTURE •HISTORY
The first chapter of almost every French king's history played out at the Reims Cathedral. The 13th century Notre-Dame de Reims Cathedral is one of Europe's finest Gothic cathedrals and the site of coronation of over 30 French kings. The sun shines through its brilliant rose windows and stained glass, which were painted not only by ancient artists, but even by the 20th century genius Marc Chagall.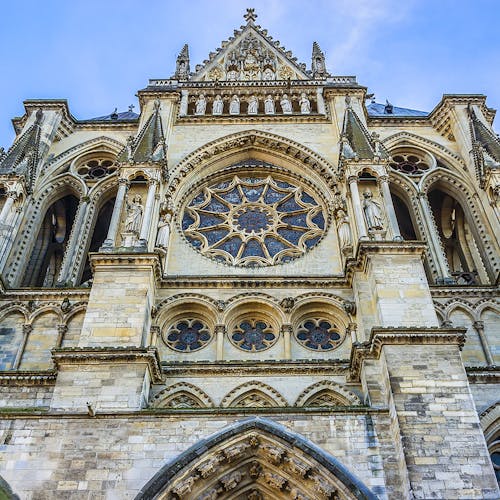 2

Palais Du Tau

ARCHITECTURE •HISTORY •ROYALTY
The walls of the Palace of Tau speak of the gaiety and celebrations of the coronations of kings. The palace hosted the ceremonial banquets after the coronation in the nearby Reims Cathedral. A fixture on every Paris to Reims day trip, the Palace is today maintained as a museum and contains the coronation objects like the Talisman of Charlemagne and the Chalice of coronation.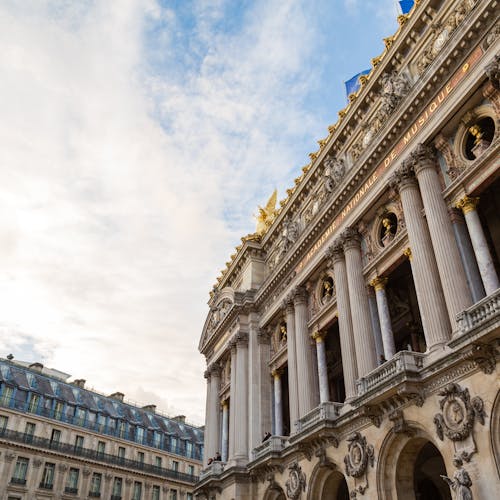 3

Montagne De Reims

NATURE •CHAMPAGNE HOUSES
The mountains of Reims offer the sweet bubbly that people across the world celebrate with – Champagne! The Montagne de Reims are one of the four regions of Champagne district AOC, where houses have the right to call their sparkling wines 'champagne'. A Reims champagne tour will definitely take you through the Montagne de Reims to discover the sunlit vineyards that produce the famous sparkling wine.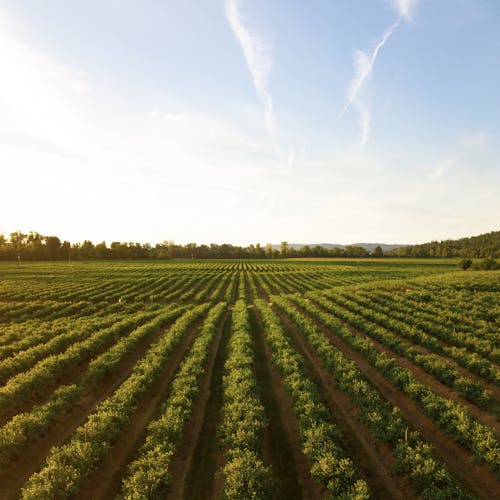 4

Abbey of Saint Rém

•ARCHITECTURE
Saint Rémi is the patron saint of the city of Reims and holds importance as the Bishop who converted Clovis, the King of Franks, to Christianity. His relics are still preserved at the Abbey, beside which is the grander Basilique Saint-Remi. The basilica competes with the Reims Cathedral in size and has been built in classic Gothic style.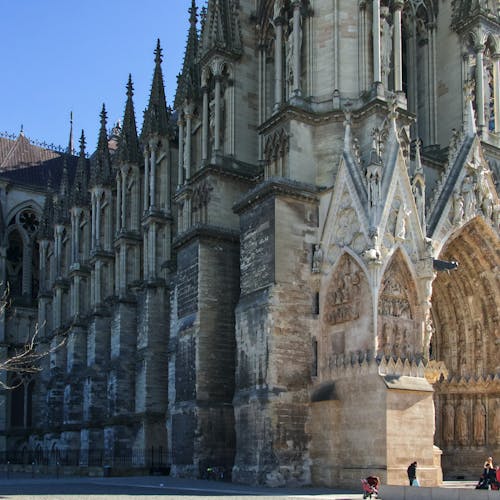 Going From Paris to Reims
---
Distance From Paris: 144 km (89.5 mi)
Time Taken: 1 hr 40 min
Paris to Reims Day Trip Transport Options
---
| Mode of Travel | Time | Cost | Best For |
| --- | --- | --- | --- |
| Train | 46 min | from €34 | Fastest route |
| Car | 1 hour, 22 minutes | 141 km | Scenic route |
| Bus | 2 hours, 15 minutes | from €5 | Budget travel |
| Ride Share | 2 hours 15 min | from €9 | Hassle-free travel |
Best Time To Take Your Trip From Paris to Reims
---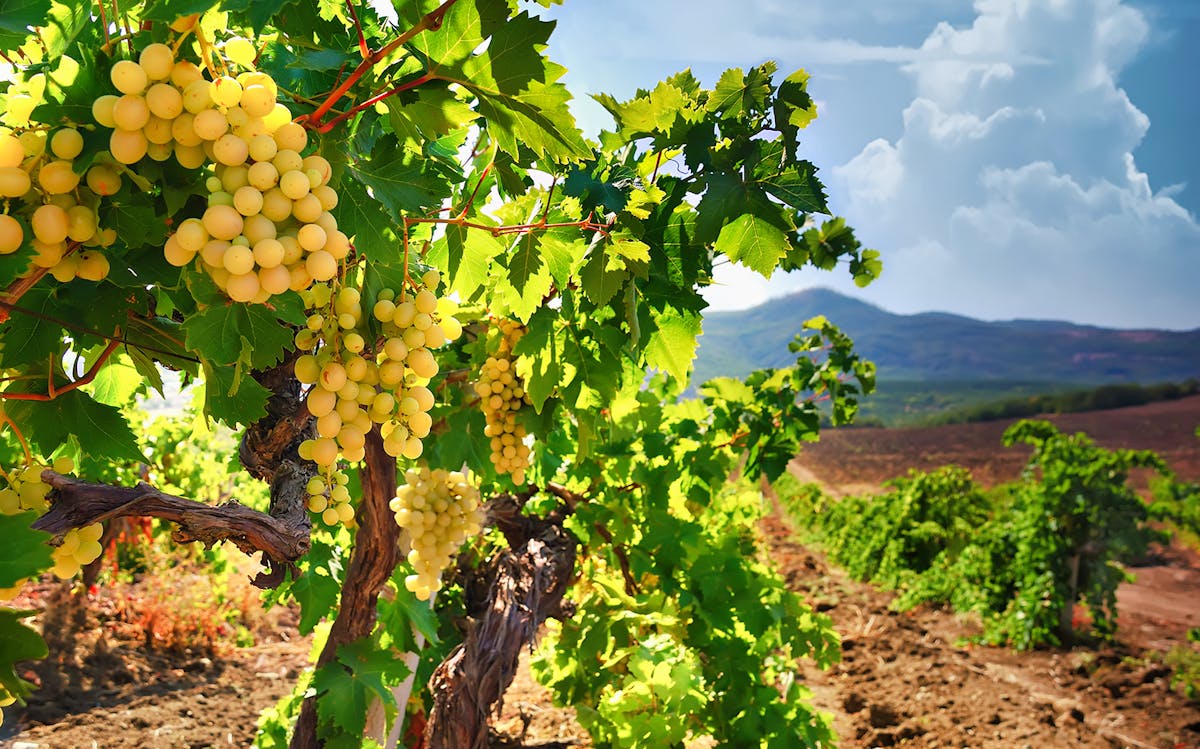 Reims is a beautiful city to explore and while one might want to see and experience everything there are often constraints that need to be taken into consideration.
Season: A day trip to Reims is best from May to October when the weather is just right. The summer season is from June to August when it's warm and the weather is perfect for a visit to the Champagne country. The vineyards can be a delight when the sun is out. All the attractions are open and several festivals and keep happening through this period making Reims a very lively and tourist-friendly place.
Time in Reims: Reims in Champagne region is a historic city with a splash of nature to enjoy. Ideally, visitors can spend an entire weekend in Reims exploring the city and its many offerings. However, if you are in Paris only for a short duration, a champagne tour of Reims is the best way to explore the city within a day. Almost all the champagne tours in Reims design the tour in such a way that you get to see the historic bits as well as the champagne trail.
Tips For Your Paris To Reims Tour
---
Logistics in the Champagne region can be quite frustrating since public transport is patchy. Taxis are very expensive and calling for a pick-up from beyond the city limits require you to pay not only for your journey, but for however long it takes for the taxi to arrive, too. The best way to go about these regions are an organized tour or self-driving. Since these tours sell out quickly, it's best if you book an organized tour that has tickets for wine tasting and vineyard tours included.
The Cathedral can be photographed in all its glory from the street 'cour Anatole France' that is right behind the cathedral.
You can go up the towers of the Cathedral from April to October.
The facade of the Reims cathedral is beautifully lit up in a light show every summer. Known as the Reve de Couleurs it will run from 1st June to 10th September 2018. There is also another light show that takes place at the Abbey of Saint Remi every Saturday at 9:30 PM until October 7th.
Champagne cellars are cool at any given time of the year. The temperatures can go down to ten degrees Celsius, it is best to carry warm clothing on this segment of the tour.
The Boulingrin Market is an old covered market in the city and opens on Wednesdays, Fridays and Saturday mornings. You can find all sorts of local delicacies including Reims Pink Biscuits, ham and mustard.
Reims has got 9 Michelin stars restaurants that you can visit - L'Assiette Champenoise, The Domaine des Crayères, Le Foch, Le Grand Cerf, The Millennium, and Racine.
If you wish to explore the Art Deco architecture, visit the Carnegie Library and the Reims Opera House.
There are also Roman remains in Reims; you can explore them at the Cryptoporticus and the Mars Gate.
Other Day Trips from Paris
---
Paris to Giverny
Art and nature come together in the picturesque village of Giverny. The village made famous by the legendary impressionist artist Monet, is where he spent the last 40 years of his life and created his most iconic paintings. It is here that Monet lovingly created a home and studio, from where he would paint the vivid colors of his Clos Normand garden, the lotus pond, and the Japanese garden. Just 75 km away from Paris, Giverny is an ideal stop to explore the muse and inspiration of generations of Impressionist artists and Monet himself.
Read all about taking a day trip from Paris to Giverny.
Popular Tours From Paris to Giverny
Paris to Loire Valley
If you looking for an extravagant getaway within France, Loire Valley is just a train ride away from Paris. This picturesque stretch nestled between the frontiers of Northern and Southern France was once best known for its strategic importance. Apart from its rich yesteryears, Loire Valley still attracts several visitors who wish to catch a first hand experience of culture, art and splendour in a single trip. Moreover, wine tasting in Loire Valley is quite the fad, and Loire Valley Wine Tours from Paris are immensely popular.
Read all about taking a day trip from Paris to Loire Valley.
Popular Tours From Paris to Loire Valley
Paris to Normandy
Drama is writ large across the countryside of Normandy. From the dreamy woodlands to the stunning beaches, Normandy is a spectacular region with just the hint of drama and history. It's most important part in recent history was played out on the D-Day beaches, where the Allied forces marched to victory, defeating the Germans during the World War II. The poignant war memorials and cemetery reflect upon the sacrifices of the war. A day trip to Normandy will also cover a tour of the countryside and the views of the English Channel from the cliff of Pointe du Hoc.
Read all about taking a day trip from Paris to Normandy.
Popular Tours From Paris to Normandy
Paris to Mont St. Michel
Travel back in time to the medieval ages with a day trip from Paris to Mont St. Michel. Mont St. Michel has a magnificent abbey built in the 8th century, which was once also used as a stronghold and prison. The Abbey forms a dramatic scenery, seemingly rising out of the flat sea. The interiors of the abbey are just as stunning as the exterior, and tell stories of warding of attacks and sieges over centuries. A UNESCO World Heritage Site, more than 3 million travelers visit each year making it one of the most popular destinations in France.
Read all about taking a day trip from Paris to Mont St. Michel.
Popular Tours From Paris to Mont St. Michel
Paris to Versailles
Versailles is one of France's largest palaces, and has an immense cultural and historic significance. Experience this UNESCO World Heritage Site at its finest via a luxury coach from Paris, with special skip-the-line access to both the Palace and its beautiful gardens. Not only was Versailles once home to Kings of France Louis XIV, Louis XV and Louis XVI as well as Queen Marie Antoinette, but it was also plays host to the Hall of Mirrors with its 17 windows and 350 mirrors. Explore all this with a friendly guide and handy headsets via this tour!
Read all about taking a day trip from Paris to Versailles.
Popular Tours From Paris to Versailles
Paris to Champagne
The birthplace of the favorite bubbly drink, Champagne, the Champagne region is a must-visit from Paris, especially for those willing to engage in spirited champagne tasting sessions. Find all your favorite Champagne brands here: Moet and Chandon, Veuve Cliquot, GG Mumm, and Pierre Paillard, among others. Dedicated cellars and lush vineyards dot the scenery of the Champagne region, making it an idyllic day trip destination from Paris, one you must definitely take up!
Read all about taking a day trip from Paris to Champagne.
Ready To Explore Paris?
Check out our comprehensive Paris Travel Guide packed with itineraries, tours, culture trips, best hotels, restaurants and a lot more.