Paris is a beautiful city lined with shaded boulevards, historic monuments, museums, fashionable boutiques, bistros, bars and a lot more. Ideally the best way to discover Paris is on foot. But knowing that it is a large city with 20 arrondissements, one can easily depend on the elaborate public transport system of Paris to get around the city.
In this guide, we will take a look at all the major public tranport options available in Paris and what you need to know about them before visiting the City of Lights.
Paris Public Transportation - The Basics
---
The city of Paris is divided into administrative districts called arrondissements which start in the centre of the city and pinwheel out clockwise. The Paris public transportation system covers these arrondissements pretty exhaustively.
It is operated by state owned public transport operator called "Régie Autonome des Transports Parisiens" (RATP). It includes the Metro (subway system), the bus, the tramway and the RER. With underground Metro being the most frequented public transport, all these modes complement one another and connect any corner of the city to another.
Above ground network of buses and tramways take care of the capital's periphery. The Réseau Express Régional (RER) higher-speed and wider-spaced-station train network connects the capital to more distant suburban regions.
Tickets For Travelling on The Paris Public Transport System
All public transport modes in Paris - metro, RER, bus, tram and the night bus - are run by the RATP and use the same ticket, the T+ ticket. A single ticket costs €1.90 while a pack of 10, usually referred to as the carnet, cost €14.90. With a single ticket, you can travel anywhere within the city of Paris on the public transport networks, and even transfer between lines on the same ticket.
These tickets can be bought from ticket vending machines near the turnstiles in Métro stations,ticket windows, bus stations, tobacconists or for a slightly higher price from the driver on buses.
Another ticket option - a pass with unlimited travel - is also a popular, specially among tourists.
The Paris Travel Card - Paris Visite
The Paris Visite card is a pass that allows unlimited access to the metro, RER, bus and tram networks in Paris.
The Paris Visite pass is available in 1, 2, 3 or 5 consecutive day formats. Each of these formats have have the following options:
• Zones 1 to 3 : Paris and the close suburbs.
• Zones 1 to 5 : Paris, the suburbs & Orly/CDG airports, Disneyland and Versailles.
What Makes Up The Paris Zones Getting to Paris From the Airport
---
Paris is one of the world's most travelled destinations and thus has world class airports to facilitate the travellers. There are two main international airports in Paris, Charles de Gaulle International Airport, also known as Roissy and Orly Airport (ORY). Between these two airport Paris handles millions of travellers each day. As expected the two airports are very well connected to the city through multiple modes of transportation.
From Charles de Gaulle Airport
Charles de Gaulle International Airport, one of the largest and busiest international airports of the world is the principal hub for all major airlines. Spread over more than 30,000 square kilometres it is located 25 kilometers northeast of Paris, in the town of Roissy. The airport has 3 terminals, split over various levels. The terminals are connected by automated metro with a frequency of 4 minutes. During off hours (1am to 4am) shuttle services are available.
By RER
Getting to Paris using the RER train is one of the most quickest and least expensive options.
RER B city trains leave from two terminals of the airport.
The two train stations at Charles de Gaulle Airport , Aéroport Charles de Gaulle 1" and "Aéroport Charles de Gaulle 2 – TGV" are located near Terminal 3 in the Roissypole building and between Terminal 2E and 2C respectively.
Trains for Paris usually leave from platforms 11 and 12. You can look out for signs "RER B" or "All trains go to Paris".
There are trains to Paris every 7-8 minutes stopping at Gare du Nord, Châtelet-Les Halles, Saint-Michel Notre-Dame, Luxembourg, Port-Royal, Denfert-Rochereau and Cité Universitaire.
It takes about 30 minutes from airport to Gare du Nord.
An adult ticket costs about €10 and that for children(4-9 years) about €7. The ticket is used to enter and exit the train.
By Bus
The cheapest airport bus transfer options between Charles de Gaulle airport (CDG) and Paris city centre (Opéra Garnier) are the Roissybus service operated by RATP. The buses leave from all three terminals from 06:00 to 23:00 every day with a frequency of 15-20 minutes.
The ticket cost is about €11 which can be bought from newspaper stands, ticket machines, or from the driver after boarding for a higher price. It takes an average of an hour to reach the city centre due to heavy traffic congestion.
Local bus numbers 350 or 351 are cheaper, going through the suburbs and stopping more frequently. They depart from Terminals 1 and 2 every 20 minutes and take about 2 hours to reach the city centre.
Night bus services, Noctilien lines N140 and N143 are available between midnight to 5am with a frequency of half an hour to an hour.
By Taxi
Cabs operate on a flat fare basis irrespective of the traffic conditions or time of day. The set fares are €50 to the right bank (north of the Seine) and €55 to the left bank (south of the Seine).
From Orly Airport (ORY)
Orly Airport serves as a secondary hub for domestic and international flights in Paris but it is still one of the busiest French airports. It is located 14 km (9 miles) south of central Paris, on the opposite side of the city from Charles de Gaulle. It has two terminals, Orly-Sud and Orly-Ouest, both of which are smaller and easier to navigate than their counterparts at CDG.
By RER
RER B train is a good option for Orly airport transfer to the city.
Orly Airport is connected to the RER B train line at Antony train station by the Orlyval shuttle train.
The southern branch of the RER-B line goes towards Saint-Rémy-les-Chevreuse.
The train has a frequency of 4-7 minutes and it takes about 25-35 minutes for the journey.
It operates from 06:00 am to 11:35 pm and the fare is €13.25 (RER + Orlyval).
By Bus
Bus is the cheapest option of airport transfer from Orly Airport to the city. Bus number 183 picks you up in front of Terminal Sud and drops you at Porte de Choisy station in Zone 1 which is quite central. It takes about 50 minutes and costs €2.
By Taxi
Taxis between Paris and Orly Airport have a flat fare of €30 for the left bank (south of the Seine) and €35 for the right bank (north of the Seine) regardless of the traffic situation or time of the day.
Public Tranportation in Paris
---
---
Metro
--- Metro is the popular rapid transit system for public commute in Paris. Mostly underground this 214 km long network with about 300 stations is one of the busiest metro systems in the world. There are 16 lines( identified by different colours and numbers) operating over different routes covering the length and breadth of Paris. The direction of each line corresponds to its terminal station.
It is easy to identify the entrance of any any metro station by the large yellow letter 'M'.
Most stations have a large metro map at the entrance and at the platform. You can identify your route and the train you need to take on the map.
You can purchase your metro ticket from the ticket windows or from ticket machines.
You mostly have to transfer trains while going from one point to another, choose the route that requires minimum transfers.
They operate between 6:00 AM to 12:45 AM (from Sunday to Thursday) and till 1:45 AM (on Friday and Saturday) with an average frequency of 2 minutes during peak hours.
Paris Metro Tickets
To travel on the metro, you can buy the T+ ticket or use the Paris Visite Card.
Paris Metro Routes & Stations Map Click here to view the map in detail.
---
RER
--- The RER is a hybrid suburban rapid transit train that goes through Paris and beyond to places like Château de Versailles, Stade de France, Disneyland Paris etc. RER functions like the Métro, but has fewer stops and hence faster.The RER train network consists of 5 lines represented by different alphabets and each line has a distinctive colour. It has over 250 stations and several connections with Paris Metro. RER has scheduled service and runs mostly above ground, except within central Paris.
Depending on the part of RER network you will use, you shall purchase the tickets. If strictly using the central Paris Zone 1 (visible in the first RER Map), you can use basic Paris Metro tickets for travel on the RER.
To travel beyond Paris Zone 1 on the RER you require a special ticket Billet Ile-de-France.
Tickets for the Paris RER can be purchased at any RER or Metro station ticket window or ticket vending machine.
Paris RER ticket prices are determined station to station for travel beyond Zone 1 and range from 1.90€ to upwards of 12.05€ .
Similar to the metro, one can use the Paris Visite Card to travel on the RER.
RER train timings are from 6:00 AM to 12:45 AM every day – including public holidays.
Paris RER Tickets
To travel on the RER, you can buy the T+ ticket or use the Paris Visite Card.
Paris RER Routes & Stations Map Click here to view the map in detail.
---
Bus
---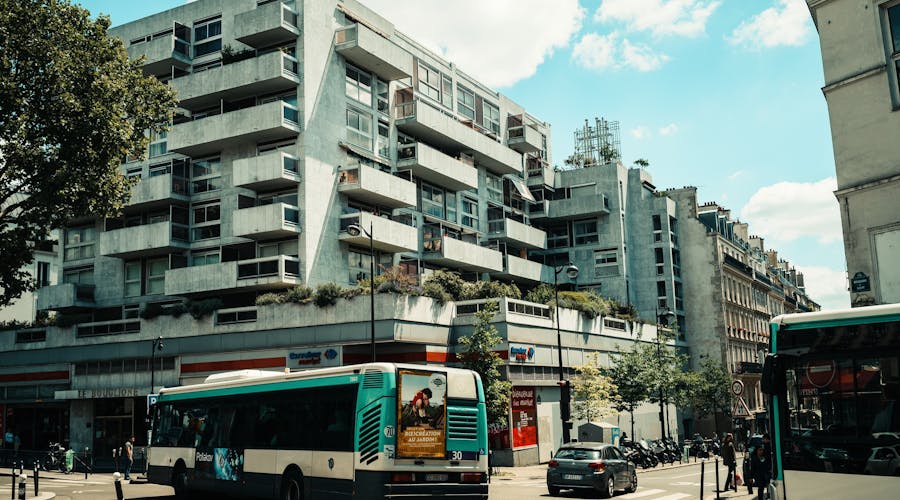 The ease of travelling in the metro is usually contrasted with the accessibilty and the beautiful views of Paris one gets by travelling on the bus. With a total of 64 bus lines and hundreds of stops throughout the city, travelling on the bus is surprisingly easy and sometimes even quicker than the metro. These bus lines are colour-coded and numbered, and directions are indicated by the station name at the end of the line.
You can board a bus from any of the stops.
You can buy T+ tickets from ticket windows in Metro stations or bus terminals, from automated ticket machines in Metro stations or bus terminals or individually from bus driver.
You can use the same ticket as in the metro and there is no limit of the distance (exceptions to this are the special buses like Balabus, Noctilien and routes 221, 297, 299, 350 and 351). You can also transfer between buses provided you take the second one less than 90 minutes after the first.
You'll need to validate your ticket upon first use by inserting the ticket into a validator machine on board.
Paris buses operate from 7:00 AM to 8:30 PM on usual routes and till 12:30 AM on main bus routes. The Noctiliens are night buses that run 12:30 AM until 7:00 AM.
Paris Bus Tickets
To travel on the bus, you can use the T+ ticket or the Paris Visite Card.
---
Tram
--- Paris has 7 tramway lines (T1 to T8, except T4 which is run by the French National Railway ) with 148 stations serving the perimeter of the city. Tramway in Paris is not very popular amongst visitors as the lines only run in the city's outskirts. Lines T3a and T3b run entirely within Paris city limits, and line T2 covers partially.The best tram line for tourists could be line 1, as its final destination is Basilica of Saint Denis though it can also be reached by metro line 13.
T1: Connects Saint-Denis with Noisy-le-Sec in the north of the city.
T2: Connects La Défense with Porte de Versailles in the south.
T3: Links Pont du Garigliano (a RER station) with the metro station Porte d'Ivry.
T5: Runs between Marché de Saint-Denis and Garges-Sarcelles.
T6: Connects Châtillon – Montrouge with Vélizy-Villacoublay.
T7: Runs between Villejuif – Louis Aragon and Athis-Mons.
T8: Connects Saint-Denis- Porte de Paris with Épinay – Orgemont.
Paris Tram Tickets
To travel on the tram, you can use the T+ ticket or the Paris Visite Card.
---
Night Bus
--- The Paris Night Bus service, also called the Noctilien, makes travelling at night very convenient, especially after the metro closes for the night. There are 47 lines branching out from five major transfer hubs: Châtelet, Montparnasse, Gare de l'Est, Gare Saint-Lazare, and Gare de Lyon. All RER stations are served by the Noctilien network. All of the RER stations are connected to the Noctilien network.
You can look out for the sign N in a circle with a red star next to it. The bus lines also have an N before the number of the line.
Ticket for the Noctilien buses are the same as that for other public transport in Paris (Metro, bus and RER) within the city limits.
Paris bus tickets, like Paris Metro tickets, are called T+ tickets and are sold individually for €1.70 or in a 10-ticket pack called a "carnet" for €12.00.
You have to validate a ticket for the first two zones, then an additional ticket for each subsequent zone you enter. If you change buses, you'll also need to validate a new ticket.
Wait time between Noctilien buses varies from 15 minutes to an hour.
Paris Night Bus Timings
Noctilien buses run between 12:30 AM to 5:30 AM.
Paris Night Bus Tickets
To travel on the night bus, you can use the T+ ticket or the Paris Visite Card.
---
Taxis
--- Taxis in Paris can be easily identified by the "Taxi Parisiens" sign board on top of the car. Unlike other cities, the type and colour of the car used for taxis vary quite a lot. So the best way to look for a taxi is to find cars with the official signage on its roof.
There are a total of 18,000 licensed taxis in Paris and you won't generally face an issue getting one. You can easily hire a taxi at one of the 500 official cab stands, by waving one down on the road or by telephoning a cab stand.
Paris Taxi Timings
Taxis in Paris run 24x7.
Tips on Using The Paris Public Transport System
---
Paris has an efficient and elaborate public transport system. With little bit of planning and research you can find it very convenient to use it.
Going through the city maps with various public transport options is very helpful.There are free maps available at all ticket windows.
Google maps app is good for planning routes and schedules.
Keep a margin of 15-30 minutes while using the public transportation as it may be little confusing for first timers to figure out the stations and trains.
If you enjoy the view while travelling do include buses in your choice of public transport.
If travelling with family, public transport may sometime turn out to be almost as expensive as cabs. Do your calculations before deciding.
It is always advisable to check for any current events like a strike which may affect the public transportation in the city.
Like many other cities in the world Paris is notoriously known for pickpockets. It is a good idea to not carry any valuables and to keep your wallets safely.
More Paris Guides
---
Visiting Paris? Get all the insider info and score tickets at unbelievable prices with Headout. Check out these guides to learn more.