Paris in January - the holiday hubbub has lulled, the winter drowsiness has passed and the New Year brings with it a fresh spirit in the air. Everyone's flocking the streets because the skies are finally clear and there's no better way to bask in the after-holiday glow but the yearly shopping ritual (Paris Winter Soldes!). If you ask us, Paris in January is the best season to visit the City of Lights. Wondering why the bold statement? Read on to know more about Paris in January.
What makes Paris in January a must-visit?
---
Less Tourist Hordes - Paris in January takes a quiet note and does not attract as many tourists as other months. This is perhaps because most people go back after their December holidays, schools reopen and the beginning of the year is quite hectic for most companies. Hence, not many people travel to Paris in January, resulting in a sober undertone throughout the city.
Best of Both Worlds - Since the winters haven't completely gone, you can still ice skate in the open. At the same time, you can take a day trip from Paris, simply because you won't freeze by stepping out but will have the company of a nice chill breeze.
Cafe Weather - There's no better time to enjoy the warmth and charm of Paris's snug cafes than in January. Make sure you stock up on books to keep you company while chugging mugs of hot chocolate. If you're into cafe hopping, spend a day at the Latin Quarter or in Saint-Germain-des-Prés.
Great Flight Deals - As always, off season flight tickets are quite cheap and if you book well in advance, you can get a great deal
Paris Weather in January
---
Paris in January is a clean blend of cold and wet, so make sure to pack everything you need to keep yourself warm, high and dry. With highs of 7°C and lows of 3° C, expect about 3 hours of sunshine daily. 17 days of icy rain throughout the month is also typical of Paris in January.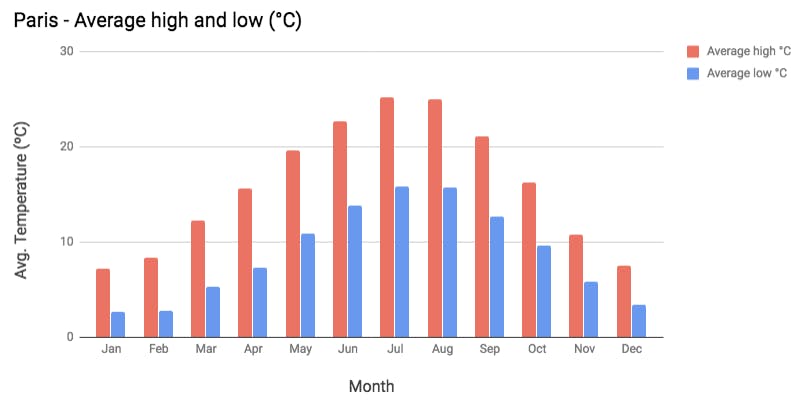 Paris in January: Things to do
---
Be it January or July, no trip to Paris is complete without visiting the Eiffel Tower. It is advisable to buy skip the line tickets to summit in order to avoid queuing up in the cold. Somedays due to cloudiness, the visibility might be compromised, so check the weather forecast before buying your tickets.
January Timings
9:30 AM - 11:45 PM, with the last elevator ascending at 10:30 PM
Louvre Museum - Japonisms Exhibition
If you're one to like musing and lingering over your favorite paintings in a peaceful environment, then there's not better time to visit the Louvre than in January. You can watch the Mona Lisa for as long as you please and till January 13 2019, you can even view the Japonisms Exhibition, an ode to the 160 years of Japan - France relations.
January Timings
9:00 AM - 6:00 PM. Refer here for daily timings
Centre Pompidou is a shrine dedicated to modern art in the form of exhibitions, dance performances, cinemas and artifacts. It boasts of the largest collection of modern and contemporary art coupled with high-tech architecture and incredible visual appeal in all of Europe Enjoy panaromic vistas of the Parisian skyline from its top most floor.
January Timings
11:00 AM - 9:00 PM
Visit the bohemian neighbourhood of Montmartre, nestled on top of a hill above Paris' Right Bank. Feel the January breeze in your hair as you walk down the winding cobblestone streets and steep staircases and experience the traditions, lifestyle, and bohemian character of this artsy neighbourhood on a 3-hour walking tour led by a local historian.
Musée d'Orsay & Musée de l'Orangerie
Musee D'Orsay has the best collection of French art, and the Musee de l'Orangerie has a vast repository of the world's best impressionist and post-impressionist paintings. There are many temporary exhibitions that take place here through the year, and coming January 2019 visitors can enjoy the following exhibitions.
January Timings
9.30 AM to 6:00 PM
Palais Garnier, also known as the Opera Garnier Paris holds a prime status in Paris's ballet and classical music milieu. An ode to Parisian architecture, the Palais Garnier is undeniably one of the most distinguished and grand opera houses in the world. Check the schedule for January and catch a world class opera performance.exhibitions.
January Timings
10:00 AM - 4:30 PM
Paris in January: Events to Look Out For
---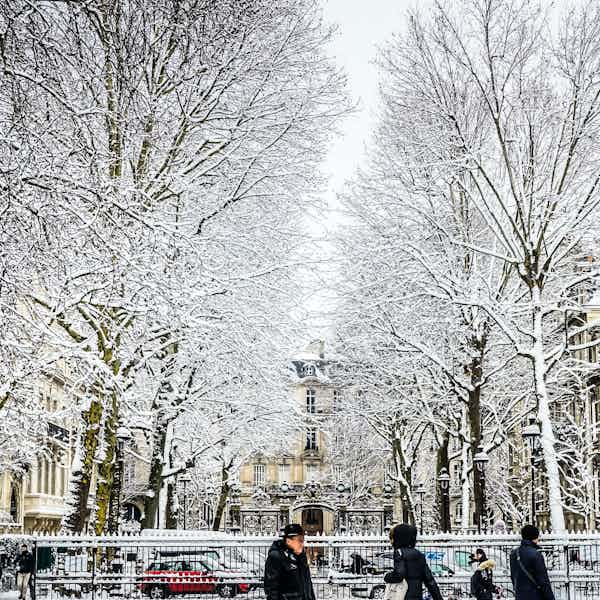 PARIS WINTER SALES
January 8 - February 4 (dates to be updated for 2022)
From the beginning of January, you'll see Soldes signs in store windows all over the city, often followed by a 30-40% discount in the beginning which goes upto 70-80% towards January end. "Soldes" – the fabulous winter sales in Paris is when shopaholics from all around the world descend to grab the fabulous deals. Pick up your French chic staples on a budget while you escape the winter cold.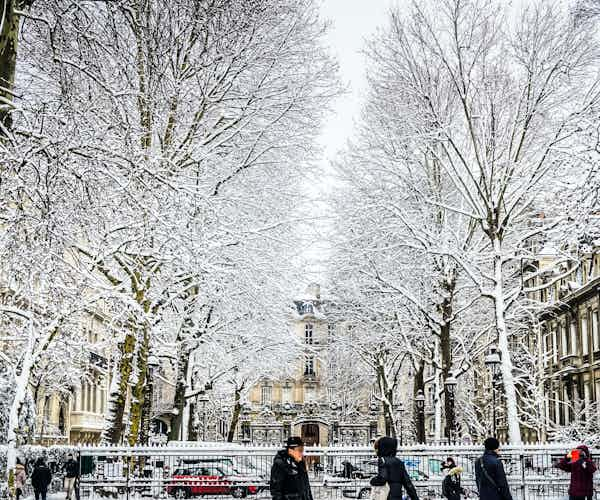 PARIS FASHION WEEK
January 25 – January 28, 2021
The much coveted Paris Fashion Week happens in caps off the international design season after shows in New York, London and Milan and takes place in January. This is when the Haute Couture Spring and Summer Collections for the year is revealed. While the shows invite only, many events take place at the Carrousel du Louvre, so take a walk by and you'll catch a glimpse of the fashion in the air!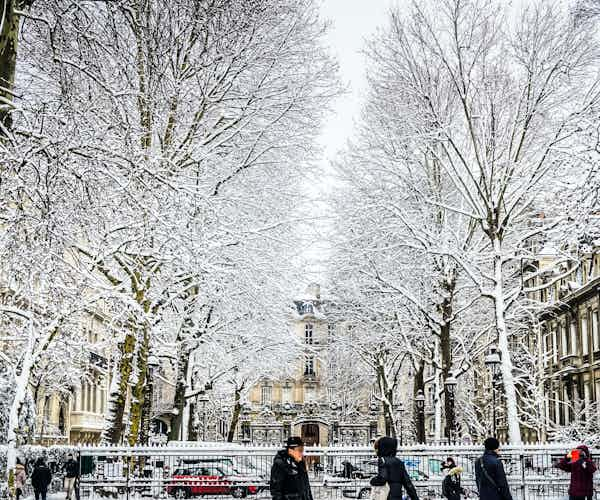 ICE SKATING
End of December, 2021 – Start of January, 2022
When the snow starts, so does ice skating in Paris. Many ice rinks are set up before the Christmas and stay in place through the middle to end of January. The Trocadéro Ice rink is generall open through the first week of January, while the Hotel de Ville is often open through the first weekend in March. Admission is generally free (exclusive of skate rental).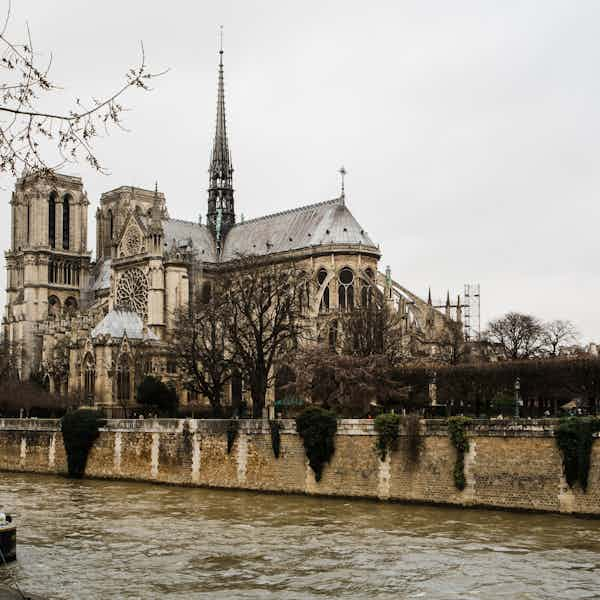 CIRQUE D'HIVER BOUGLIONE
October 2019 - March 2020
The Cirque d'Hiver Bouglione has been home to the shows of the famous Bouglione company for over half a century and is one of the oldest circuses in the world. Every winter, the Bouglione family present a new show with an international cast of clowns, animals, acrobats, trapeze artists, tightrope walkers, jugglers and put on a magical show.
Paris in January: 5-day Itinerary
---
Check out our carefully curated itineraries and plan your visit to Paris better. Whether you're visiting Paris for 1 day, 3 days or 5 days; our itineraries packed with top experiences and traveler tips are bound to come handy.
5 Days in Paris Itinerary
Paris Essentials
---
Paris Weather in January
January is the coldest and wettest month in Paris, France. The average temperature remains a constant at 5°C over the course of the month. Daily highs range from 6°C in the beginning of January to 8°C by the end of the month, rarely going above 12°C or falling below 0°C. Daily lows start off at 1°C and rises to 2°C toward the end of January, rarely falling below -5°C or rising above 8°C.
Where to Stay in Paris
Paris has accomodation to suit everyone's budget, so choose your pick and experience a Parisian stay.
5 & 4 star hotels – Relais Christine, Hotel Tolbiac, Le Narcisse Blanc, Maison Souquet, Hotel The Peninsula Paris, and Goralska Résidences Hôtel Paris Bastille
Budget hotels – Hotel Paris Louis Blanc, Libertel Gare du Nord Suede, Nouvel Hotel, Hotel L'interlude, Hotel Darcet, Hotel de Flore, Art Hotel Congres
Hostels – Les Piaules, Le Regent Montmartre, Le Montclair, St. Christopher's Canal, Generator Paris
What to Pack for Visiting Paris in January
Here's a handy list of packing essentials for a trip to Paris in January: A good waterproof coat, comfortable walking shoes, a warm jacket for the evening, a windcheater, pack warm, fuzzy socks, good gloves, scarves, a few thick sweaters or cardigans in case it gets really cold, and a sturdy umbrella that can resist the wind.
Getting Around Paris in January
The Paris public transport system is managed by RATP and comprises of the Métro (underground), tram, RER suburban express train (which interconnects with the Métro inside Paris), bus, and noctilien (night bus). Paris and its suburbs are divided into 6 zones.
For tourists, Zones 1 and 2 are the most important as they cover the city center and all Métro lines. RATP tickets and passes are valid on the Métro, tram, buses and RER. The Métro alone is very efficient and will take you anywhere you need to go within Paris city limits, and sometimes slightly beyond. Buses are less reliable but still offer a good service.
Paris in January - Must Try Delicasies
Galette des rois
Galette des Rois is a frangipani tart made of butter, pastry and ground almonds. Parisians mark the end of mark the feast of the Epiphany on Saturday by scoffing down this pastry fit for kings. Here's the story of the Galette des Rois - the only tart that can make you feel like a king.
Chaud les marrons
While walking through the chilly streets of Paris in January, you'll occasionally hear shouts of "Chaud les marrons!" from vendors selling chestnuts roasting on coals. These are just the perfect accompaniment to the cold weather, so grab a bunch!
Vin Chaud
In Paris, mulled wine isn't just for Christmas – it's served until early spring. The hot mulled wine, or Vin chaud à la française is made with dry red wine, sugar, cinnamon, cardamom, cloves, orange zest and, for a bit more zing, cognac.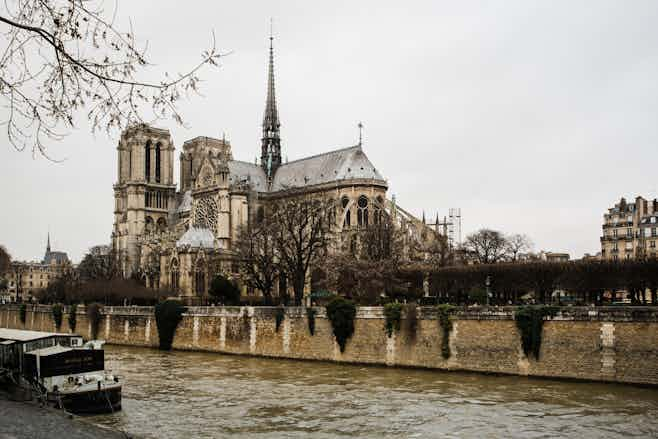 Angelina's Hot Chocolate
Angelina is famous for their hot chocolate (le chocolat chaud en francais), and is often cited as the best hot chocolate in Paris. French hot chocolate is nothing like the conventional hot chocolate we know. It's oozingly warm, thick, rich and marshmallow free. Must try!
Tips to Visit Paris in January
---
While there are many advantages to visiting Paris in the off-season a relaxing cruise on the Seine River is something that is probably best left to the shoulder season or for those early risers in the peak months.
It gets dark at 3:30 PM during the first half of January so, start your day early to make the most of it.
There's no city better suited to cinephilic fever than Paris. There are over 300 films screened per week and has more "salles" (theatres) per capita than a film lover could possibly dream of. Stay indoors, stay warm and watch a classic.
Wander through the elaborate, elegant network of covered passageways in Paris to steer clear of the rain/cold in January.
FAQs
---
What are the top things to do in Paris in January?
What is the temperature in Paris in January?
What are the best day trips to take from Paris in January?
Are any famous attractions closed in Paris in January?
What is an ideal itinerary for visiting Paris in January?
Is January a good time to visit Paris?
Explore Paris by Months
---
Ready to Visit Paris?
---
For more detailed Paris guides, here are some helpful quick links!