Paris is one city that has lured the most number of visitors for decades, and it is likely that you would want to go there sooner rather than later. Here's everything you need to know about the best time to visit Paris, what the tourists season in Paris looks like and when you should avoid going to Paris.
Know Before You Plan Your Trip to Paris
Best Time to Visit Paris
The best time to visit Paris is from April to June and from October to early November when the weather is pleasant and the tourist crowds are thin. However, the cheapest time to visit Paris is early December, January, and February as these are considered off-season due to the harsh winters Paris faces. If you can brave the cold and want to do a budget trip to Paris, these are best months.
Best Time To Visit Paris For Different Kinds Of Travelers
Best Time for Staying Outdoors in Paris : April to October & July to August
Best Time for Sightseeing & Museum Hopping : April, May, June, September, October & early November
Best Time for Honeymooners : May, June, September & October
Best Time for Budget Travelers : November, early December, January & February
Best Time for Shopaholics : Winter Sales run from early January through mid-February, and the summer Sales extend from late June through July.
Paris Through The Year
Tourist Seasons in Paris
High season in Paris is fairly short, yet bustling to say the least. During the months of June through August, the entire world seems to be in Paris. The warm weather makes for a great time to abandon the hotel rooms and watch Paris shine brightly in the gorgeous sun. But beware of the barrage of tourists in the city, who will be swarming almost every place in Paris.
Shoulder season in Paris sees the tourist count drop a little, but it's still more crowded than most European cities. September to October and April to May could be the ideal time to visit for most people. There is a nip in the air, but it's not freezing. The world famous spots like the Eiffel Tower, Louvre Museum, Disneyland are a bit more accessible and the accommodations aren't as pricey.
Low season in Paris is somewhat long given its latitudinal position. From November to March, a large section of tourists avoid Paris due to the harsh weather conditions and overall inconvenience. However, this is the best time for the ones who want to visit the City of Lights without risking bankruptcy. Not only is there a dip in accommodation rates, but you may also find a lucky discount on conveyance charges.
Best Season To Visit Paris
---
Visiting Paris in itself is one of the best experiences you will have in life. For most, it hardly matters what time of the year you visit Paris. However, if you want to know before you go, this is how the seasons in Paris look.
Paris in Spring
Spring is quite special in Paris. The gardens lend the city a wonderful natural hue. The temperature turns comfortable. The comparatively thin crowd plays a major role in making Paris desirable during this time. The city tends to become more festive during this time with Easter around the corner. You may also spot a few music festivals being held in the city.
Paris in Summer
Summer is considered to be the peak tourist season Paris. If you want to explore the city, you won't find a better weather condition than this. Some of the museums in the city put up exclusive exhibitions for close to 30 million visitors from around the world. Although it's crowded, Paris is at its showy best in this season.
Paris in Autumn
Fall in Paris is enigmatic in nature. As the wind begins to nip and leaves decide to return to the soil, the warmth in the city is found in the signature shade of the season. The strange balance between hot and cold makes Paris a cozy haunt for the lovers of solitude. This is the ideal time to visit the yellow cemeteries or experience wine harvest. Paris opens its heart in Autumn.
Paris in Winter
Winter in Paris is harsh, just like many cities in the northern hemisphere. Rain, snow, and haze dominate, making Paris hard to negotiate with. However, if you find comfort in books, wine, and cheese, Paris is the place to be. Score a discount at a hotel with a view and your trip will be memorable for a lifetime. Christmas and New Year at the City of Lights is never boring.
Weather In Paris Year Round
---
The Weather in Paris year round has been charted on a graph below. The Highs are depicted in red and the Lows in blue.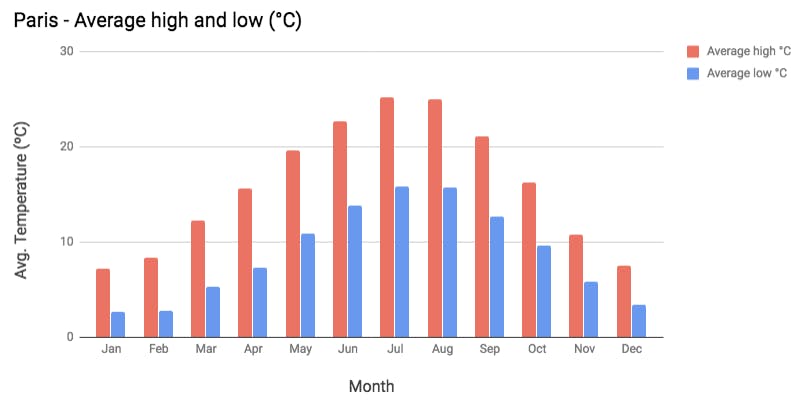 A Month-By-Month Guide To Visiting Paris
---
Follow our detailed guide to pick a month for your Paris exploits.
Paris In January
Average Temperature: 7°C to 3°C
Paris in January is characterized by rain and snow. It is not a time when tourists generally visit, and therefore you can find the city in pristine condition. Since winter is at its mid-point, January is the time to get some ice skating done. One of the best things about Paris is its snug cafes. If you are planning a January visit, you must sneak into one of the cafes and try some hot beverages. Paris in January also boasts of events like the Paris Fashion Week, Paris Winter Sales, and Cirque d'Hiver Bouglione. Additionally, if you decide to visit Paris in January, you may find some great flight deals.
Paris In February
Average Temperature: 8°C to 4°C
February is also a relatively cold month in Paris. There are on an average 4 snow days in the month of February. If you are ready to brave the weather, February can be a good time to be in the city. Apart from flight deals and discounts on shopping, February in Paris is a great time to get all your museum visits done. The otherwise teeming tourist spots are still untouched in February. The view of the sleeping city from Eiffel Tower is mesmerizing. Paris hosts great concerts and art exhibitions in February. You may also want to be a part of Chinese New Year and Valentine's Day in Paris.
Paris In March
Average Temperature : 12°C to 5°C
The season of melting snow is finally here. Paris in March is generally a time of pleasant cool weather. You will need warm clothes if you venture out. March is the beginning of the best time to be in Paris if you want to avoid the crowd and extreme weather at the same time. Take a cruise down the Seine for a unique Paris experience. If you happen to be in the city during Mardi Gras celebrations, you are in for a great show. Apart from that, the Paris Book Fair and Paris Half Marathon are held in March. You may also want to keep your itinerary open for the numerous concerts and operas that are on during the month.
Paris In April
Average Temperature : 16°C to 7°C
April in Paris marks the beginning of Spring. Colors return to the cityscape and so do a few tourists. However, most of Paris's population is still local at this point. Get your city exploration done in April if you have to as the weather is perfect and the crowd is still sufficiently low. As such, hotel and flight deals are still available. Head up the Montparnasse Tower to get a view of Paris in full bloom. You should not miss the Paris Art Fair and the Fair of the Throne that is in full flow in April. You will see the festive side of Paris if you're in the city during the Color Run. Easter in Paris is also a must experience.
Paris In May
Average Temperature : 19°C to 11°C
May in Paris is one of the most beautiful experience you are ever likely to have. The weather walks the fine line of being pleasant and as such, walking around the city is never better than in May. Queues start building up at certain places, but it's still not beyond accessible. Take a nightly tour of the city to make the most of your time here. While you are out, hit the bars in Paris before they become too crowded. May is the time for the famous Jazz festival in Paris. If you are a tennis fan, attending a French Open match should make it into your itinerary.
Recommended Experiences in Paris during Spring
Paris In June
Average Temperature : 22°C to 14°C
June marks the official beginning of the high tourist seasons in Paris. It is also the first summer month in the city. The sidewalk cafes are back in action in the summer and you will find it hard to resist them. Picnics and walks are the flavors of the month. Although the skies are mostly clear, there are quite a few rainy days in June, and Paris manages to make that romantic too. When you find clear skies, make sure you visit a few terraces. There are numerous art and culture shows to go to in June. Make sure you do not miss the Open Air Opera Festival.
Paris In July
Average Temperature : 26°C to 16°C
You have landed in the middle of the fabled Parisian summer. Paris is largely at the mercy of tourists in July since the locals migrate south in large numbers. The weather is at its warmest in July and therefore, you will see a number of popup beaches along the Seine. The weather also calls for a number of free to attend cultural events across Paris. You may opt for these of the crowd at the famous spots seem too much to handle. Attend the Open Air Cinema to really capture the essence of Parisian summer. If you are an art aficionado, the Atelier des Lumières is the place for you.
Paris In August
Average Temperature : 25°C to 16°C
Towards the end of summer, tourist count goes up to its yearly high in Paris. It is the time for you to head away from the world famous sites as they are often too crowded to enjoy. Instead, you should opt for day trips from Paris. When you are in the city, go to quaint cafes and restaurants to avoid the crowd. August is a month of religious importance to Catholics as the Assumption Day is celebrated on August 15. Festivities surrounding the Liberation of Paris also take place in August. For a music love Rock en Seine festival is absolutely unmissable. The Gay Games in August celebrates LGBTQ tolerance.
Recommended Experiences in Paris during Summer
Paris In September
Average Temperature : 21°C to 13°C
Paris begins to transition from summer to fall in September. There is a bit of both in this month. Although tourists are yet to surrender their hold on Paris, the city does its best with its unpredictable weather to keep it interesting for everyone. Pick a warm day to experience the night fountain show at the Palace of Versailles. You may also want to reserve some time for the museums that slowly begin to free themselves from the stranglehold of queues. September is the time of classical music in Paris, as a number of concerts take place all over the city. You would also not want to miss the Paris Design Week and European Heritage Days in the city.
Paris In October
Average Temperature : 17°C to 9°C
Paris is drenched in Autumnal colors in the month of October. The yellow and orange leaves take over the city, and it is spectacular to lay one's eyes on them. Locals begin to regain control of their city as the mercury takes a dive. Tourists are far less, but if you find yourself in Paris in October, you would wonder why anyone would prefer to leave the city in fall. This is another time of the year to take a walk through the parks or take a cruise down the Seine, provided you have warm clothes handy. The City of Lights justifies its name during Nuit Blanche. Paris also hosts the fashion week in October.
Paris In November
Average Temperature : 12°C to 6°C
The inception of Winter beckons Paris in November. With tourists gone, the city is now returning to its own persona. The streets of the city are now its own. The streetside musicians are now playing for themselves and not the visitors. If you want to taste the local flavor of the city, November is the month for you. However, do not forget to keep some serious winter armory in your wardrobe. It's the time to explore everything the city can offer in an indoor setting. Armistice Day is a major attraction in the month of November. Disneyland Paris hosts a splendid fireworks show in November that you must catch. Apart from that, the Paris Photo exhibition and the Paris Horse Show are also worth catching.
Paris In December
Average Temperature : 7°C to 3°C
December in Paris is not a conventional choice, given its frigid weather. It is the time of the year when snowing is inevitable. However, when its Paris, you can be sure that even snow will be beautiful. Acquaint yourself with the very of soul of Paris in the festive season, as the city gears up for Christmas and New Year's Eve. Visit the Christmas Village in Trocadero to get in the festive spirit. Attend the Africolor Music Festival for wholesome music experience. Witness the gorgeous window displays in Parisian stores and skate your way into the new year. As Audrey Hepburn once said, Paris is always a good idea. Read all about spending New Year's eve in Paris
Paris 5-day Itinerary
---
Whether you're visiting Paris in May or November, here's a handy 5 day Paris itinerary to experiencing the best of Paris. You can read our detailed Paris itineraries and plan your trip better.
FAQs
---
The best time of year to visit Paris depends on what you want to see and do. If you're interested in attractions like the Eiffel Tower and Notre Dame Cathedral, April through June or September through November are ideal times to visit – you'll avoid the heaviest tourist crowds and still be able to enjoy all the city has to offer. However, if you're more interested in festivals and events, July and August are when Paris really comes to life. Keep in mind that hotel rates will be highest during peak tourist season.
The worst time of year to visit Paris is during the winter months, when the weather is cold and damp. If you don't mind braving the elements, though, you can often find cheaper hotel rates and shorter lines at attractions.
The winter months can be cold and damp, but there are still plenty of activities to enjoy in Paris. If you don't mind braving the elements, some things you might want to do include visiting the Christmas markets, ice skating at the Eiffel Tower, and seeing the Nutcracker ballet.
The peak tourist seasons in Paris are spring and summer. Many people come to visit during these times because of the warmer weather. However, keep in mind that hotels and attractions will be more crowded and expensive during these times.
The off-peak seasons in Paris are winter and fall.
No, you should not avoid visiting Paris during any time of year. Each season has its own charm and there is always something to see and do in the city. However, keep in mind that some attractions may be closed during the off-peak seasons.
The weather in Paris is fairly mild throughout the year. However, it can be rainy at times, so be sure to pack an umbrella. The spring and summer months are generally the driest and nicest weather wise.
Be sure to pack comfortable walking shoes, as you will do a lot of walking in Paris. Also, pack layers as the weather can be unpredictable. And don't forget your raincoat!