With chocolate bunnies and their delicious aroma wafting from local confectioneries tucked away in picturesque corners, Paris during Easter is a colourful time to be around. As the City of Light gears up to celebrate spring, you may find yourself wandering from one event to another during Easter. The city being home to some of the most beautiful churches and cathedrals witnesses a number of large-scale services being held on Easter Sunday. From indulgent chocolate tasting sessions at chocolatiers, to festive brunches and treasure hunting activities fit for your entire family — there's always something for everyone in Paris during the festive season.
Here's how you can spend Easter in the city if you're planning a visit to Paris during your Easter break!
Easter in Paris 2023
---
Easter in Paris this year falls on Sunday, April 9th. Although most places choose to remain open on this day, the day after Easter (April 10th) is a public holiday this year.

Several shops and restaurants are scheduled to remain shut on Monday, however you may still be able to roam about as city buses and metro will be running on a limited schedule. You will also find wonderful church services at cathedrals across the city during this week.

The three day weekend ( 8th to 10th April) draws a whole lot of crowd from in and around Europe, hence it's best to come prepped with pre-booked online tickets to all attractions you wish to visit, so that can get you through the longest of queues in no time.
Easter in Paris – Traditions and Festivities
---
Several religious services and magnificently decked up churches are amongst a few things that will instantly greet you during Easter in Paris. The city celebrates the festival with some of the largest egg hunts taking place across the city and special Easter concerts happening in spectacular settings. If you're in the mood for some delicious chocolate, this is also the season in Paris to go chocolate tasting. There are various chocolate tasting tours being conducted during Easter that you could and should be a part of! While there may be some restaurants closed for the holiday, this is also an ideal time to combine activities with a lunch or dinner to make the most of your day and avail some attractive discounts.
What's Closed on Easter in Paris
---
In Paris, the day after Easter Sunday known as Easter Monday is an official holiday through France. Banks, public services, small restaurants & cafes will be closed and even the public transit will run with limited holiday hours.
Good Friday is not an official holiday in France, hence most shops, museums and restaurants are open. However, know that train stations will be packed as most Parisians are probably leaving town for the 4 day weekend.

A day before Easter, chocolatiers, fromageries and most markets where food and wine are sold will be jam-packed with locals stocking up for Easter Sunday and Easter Monday. If you're traveling with kids and need to stock up, Friday & Saturday would be a good time. Through Sunday and Monday, expect limited services through the city.
Those looking to explore Paris during Easter, you're in for a treat because most of the attractions like Eiffel Tower, Louvre, Centre Pompidou, Grevin Paris Wax Museum, Guimet Museum of Asian Arts and a few more are open through the weekend. Make sure you buy tickets in advance as they sell like hot cakes during the holiday season.
How to Celebrate Easter in Paris
---
1. Go for The Royal Monceau Easter Egg Hunt & Brunch
For Easter, the Royal Monceau is hosting a spectacular brunch and egg hunt on Sunday April 9th, and Monday April 10th, 2023. An exquisite array of savory dishes, sweet desserts, and decadent chocolates will be featured! From Friday 8th to Sunday 10th April 2023 you can experience this exclusive event at the Royal Monceau Palace - there's something for everyone! And don't forget your little ones because they'll have their own special egg hunt while they're here too. Les Ateliers de Macha has organized a grand egg hunt for children of all ages every day from 2 pm at the hotel! Excitingly, no area will be off limits – kids aged 3 to 10 can explore and enjoy themselves in this spectacular palace.
2. Indulge in an authentic Easter lunch on Seine River
Take a relaxing boat ride down the Seine enjoying a special Easter lunch. Experience the iconic monuments of Paris in a new perspective as you sip on champagne. Relish a three course authentic French meal aboard La Marina which includes a choice of starters, main plates, a cheese platter and a choice of desserts. The two hour cruise will acquaint you to some of the many bridges of Paris such as the splendid Pont Alexandre III and the romantic Pont des Arts and also some various other famous sights like Notre Dame Cathedral, Musee d'Orsay, Palais Bourbon and Grand Palais.
3. Devour a scrumptious Easter Dinner on the Eiffel Tower
Make the most of your trip on Paris during Easter with an unforgettable dinner on top of the Eiffel Tower. Avail a skip the line feature to the first floor of the Eiffel Tower, where you will be escorted to Madame Brasserie for your dinner. Spend a magical evening looking out at the romantic city of lights while enjoying a delectable 4 course meal — including a selection of starters, a main course and a dessert with half a bottle of wine. End your dinner on a high and catch a fantastic panoramic view of the city at night.
4. Free Easter Egg Hunt at Jardin 21
From the 7th to the 30th of April, Jardin 21 is opening its temporary cabin, Cabane du Jardin 21. With activities for people of all ages and tables large enough to accommodate groups big and small, as well as food-on-the-go options available in their designated space of dining; it'll be sure to bring an unforgettable experience before reopening officially on May 4. The Easter Egg hunt at Jardin 21 is free of cost, from April 8th to April 10th from 3pm-7pm. Children aged 3-10 will be able to explore 2000m² worth of grounds filled with eggs. Make sure you register for the event in advance before the slots are full!
5. Free Egg hunt at Rodin Museum
As Easter nears, the beloved Parisian tradition of À la mère de Famille's Easter egg hunt is making a comeback! On April 5th 2023, À la Mère de Famille is hosting an Easter egg hunt at the renowned Rodin Museum! Kids of all ages are can attend this exhilarating event for free. You only need to register here and prepare yourself for a super fun day with your family at the Rodin Museum gardens from 2:30 pm to 5:30 pm! The egg hunt is free for children (3-12 years) and so is the entry to the Rodin Museum. Adults need to have a ticket to enter.
6. Getaway to the Palace of Versailles
Travel to the outskirts for a day long trip to the glorious Palace of Versailles. Listed as the World Heritage Site for the past 30 years, it is remembered as the old hunting pavilion that was also used by Louis XIII's as his residence back in the day. The palace today is open to visitors who can tour its sprawling 63,154 m2 and visit its various exhibitions. Spend your Easter Sunday wandering through the Palace's expansive gardens that are a must visit site. Ornate and well maintained, these gardens have musical fountain shows and other activities planned time to time.
7. Wander the Centre Pompidou with your loved ones
Spend your Easter wandering around the marvellous Centre Pompidou museum which expects a minimum crowd during this time of the year. The 20th century architectural wonder was designed by Renzo Piano and Richard Rogers and is best known for being a home to the National Museum of Modern Art that is internationally known for its contemporary art collections. The building can be instantly recognised by its striking exteriors and tubing. Some of the most iconic works of arts are displayed here in chronological order and visitors may also get a breathtaking view of the city from on top of the museum. For a fun family time after your Easter lunch, head here!
8. Spend your day at the Louvre with lesser crowds
The Louvre chooses to remain open for its visitors on Easter, and you can make the most of it by choosing to opt for a skip the line pass for your day! Follow your skilled guide into the world's largest museum and spend a day educating yourself about the museum's eclectic art and history collection. Witness the beauty of the famed Mona Lisa from up close and browse through the various milestones of France's history in a series of remarkable artworks. The elaborate walking tour will allow a small group which makes the tour comfortable and according to your convenience.
9. Paris Zoological Park (Vincennes Zoo) - Free Easter Egg Hunt
On April 9th and 10th, gather your family together to partake in the classic tradition of an egg hunt at Paris Zoological Park. The occasion will be even sweeter with a special Easter egg hunt taking place on both Sunday and Monday! Make sure you don't miss out on this fun-filled experience that's perfect for young ones (and adults alike). During Easter, this whimsical village opens its gates to young people with an assortment of activities: exploring different animal eggs, creative egg decorating workshops, an exhibition showcasing decorated eggs, and a makeover station. The adrenaline rush crescendos when morning arrives as it ushers in their much-anticipated egg hunt!
Easter Dining in Paris
---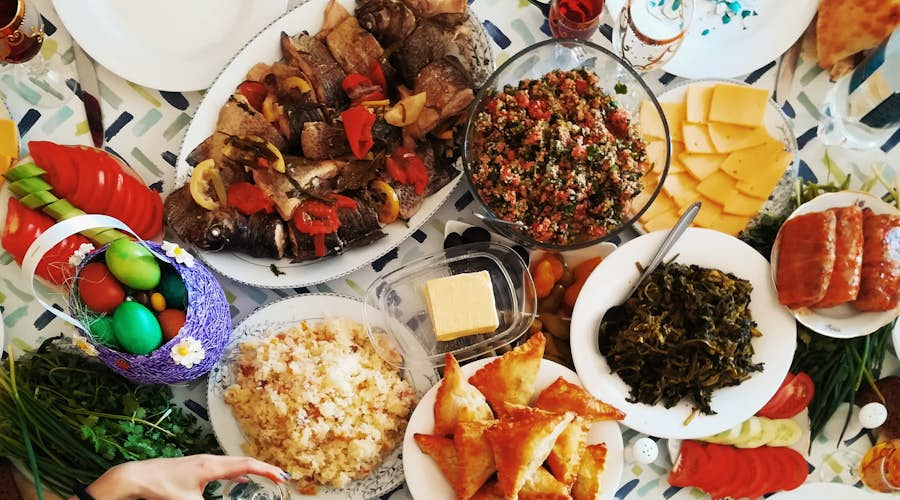 Chocolate Eclair
Perhaps the best way to celebrate Easter is by indulging in a rich chocolate eclair which is also a well known Paris specialty. Get one on the go from L'Eclair de Geine, Carl Marletti, Stohrer or Lenôtre.
Macarons
Colourful, delicious and world famous — these delicate pastries are a must-have during Easter! If you're looking for a selection of sumptuous macarons, head to Laduree Paris, Dalloyau, Pierre Hermé or Carette for a bite.
Pain Au Chocolat
A chocolate croissant would be a great snack in any occasion, let alone Easter! But if you're celebrating the festival on a sweet note, get some delicious croissants at Ble Sucre, Tout Autour du Pain, Le Grenier à Pain or Stohrer.
Weather during Easter in Paris
---
While the temperature during spring in Paris is pleasant, it could fluctuate anywhere from being warm to sunny and extremely wet. However, it ideally stays between 8°C to 18°C (45 to 65°F) from the end of March to April. Rain showers are a regular deal during this season, so make sure you keep your umbrellas and rain shoes handy, just in case! The skies remain overcast for most of the time and it could get chilly during the early mornings or evenings, so a light jacket or two would be advisable while you're packing other essentials for the trip.
Tips for Visiting Paris During Easter
---
Easter in Paris is a busy time of the year, so make sure you book your tickets well in advance.
Reach the venue before time to avoid unforeseen delays.
It could be cold as well as wet. So make sure you're equipped with the right kind of clothes for your trip.
Keep a check on the places you visit as there are chances they may be closed on or around Easter.
Since most restaurants remain closed around the Easter week, buy combo tickets to attractions that allow you to devour a meal as well. Dinner on the Eiffel, lunch on a Seine cruise, Cabaret with dinner and the works
Easter Sunday will be on April 9th, 2023 in Paris.
During Easter week, there are many festivals and events happening throughout the city. You can attend religious services, Easter egg hunts, and much more. Additionally, you can visit historic cathedrals and monuments or explore the city's many parks, gardens, and museums.
Yes! Traditional French cuisine is especially popular during Easter in Paris, so you will have plenty of delicious options to choose from. Typical dishes include roast lamb with herbs, leg of spring veal with artichokes, asparagus risotto, cassoulet (a stew made with white beans) and more.
Every year on Easter Sunday, the French celebrate Pâques des Rameaux (Palm Sunday) by gathering palm fronds and other greenery to decorate churches in Paris. In addition, there are parades and processions celebrating Jesus' resurrection throughout the city.
Temperatures in April generally range from 8-17°C (46-63°F), with occasional rain showers throughout the week. It may be cold outside but most attractions are indoors, so you can still enjoy a lovely holiday experience!
Yes there are! The Jardin 21, Rodin Museum gardens, and Vincennes Zoo (Paris Zoological Park) all are hosting free Easter egg hunts. You need to register on their site in advance.