Thanksgiving Day is a US and Canadian national holiday that commemorates the harvest and other bounties of the previous year. Based on a harvest feast shared by the English colonists (Pilgrims) of Plymouth and the Wampanoag people in 1621, this holiday is best experienced in the US, but that doesn't mean you can't have a gala time in Paris.
Unsure about what to do in Paris for Thanksgiving? While this American holiday in Paris is no different than any other Thursday, there are plenty of things to do and places to visit in the city of lights. Here is a curated collection of things you can do in Paris for Thanksgiving including places to visit, restaurants that serve Thanksgiving meals, and much more.
This year, Thanksgiving falls on 24th November, 2022 and we put together 7 great ways to spend Thanksgiving in the city of lights.
Thanksgiving In Paris
---
France does not celebrate Thanksgiving. In fact, the majority have no idea what it is or how significant a holiday it is for their Western neighbours. The only depiction of Thanksgiving that the French have is from American movies or comedies, where they can see the conventional Hollywood portrayal of the holiday. They are frequently startled to learn that Thanksgiving in the United States is a two-day national holiday that is more important in many households than Christmas.
While Thanksgiving is not traditionally celebrated in Paris, there is still a lot one can do in the city of lights to feel more like home during the holiday. More on that in the next section.
Best Ways To Spend Thanksgiving in Paris
---
Much like Bastille day in France, Thanksgiving is all about celebrating with friends and family!
If you happen to be in Paris on the 4th Thursday of November, and you're an American looking for a taste of home, here are some of our recommendations on the best ways to spend Thanksgiving in Paris.
Visit the ever-glorious Eiffel Tower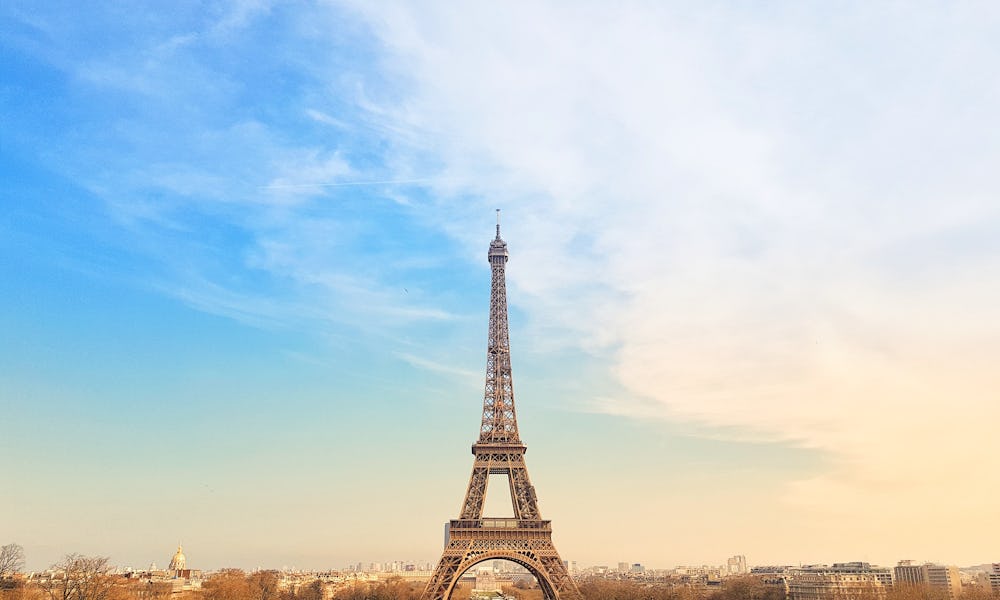 A visit to the magnificent Eiffel Tower can definitely cheer you up if you're feeling homesick during Thanksgiving. Visit during the evening: spend some time admiring the remarkable landmark, and then head over to the Eiffel Tower Restaurant for Thanksgiving dinner. Make your way to either Madame Brassire on the first floor for a refined three-course meal with champagne, or Le Jules Verne for a hearty dinner and a glass of wine on the 2nd floor.
Explore American art at the Louvre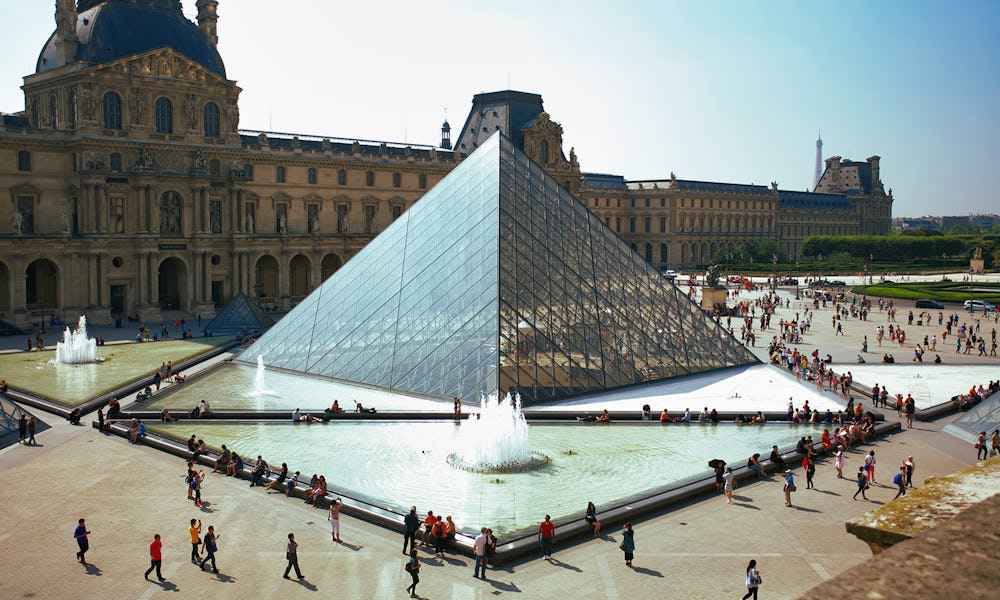 The Louvre brings in millions of visitors annually, with around 10% of them being Americans. As a result, the museum is hosting an exhibit called "New Frontier: American Art Enters the Louvre," which will focus on early American art. The exhibition delves into American landscape painting, which, according to curator Guillaume Faroult, began with Thomas Cole in the early 1800s. Indians, the blood-red leaves of North American autumns, and stunning scenery are depicted in Cole's paintings. This deep dive into American art will undoubtedly transport you back to your home and brighten your holiday season.
Thanksgiving is all about history: step into Paris' eerie history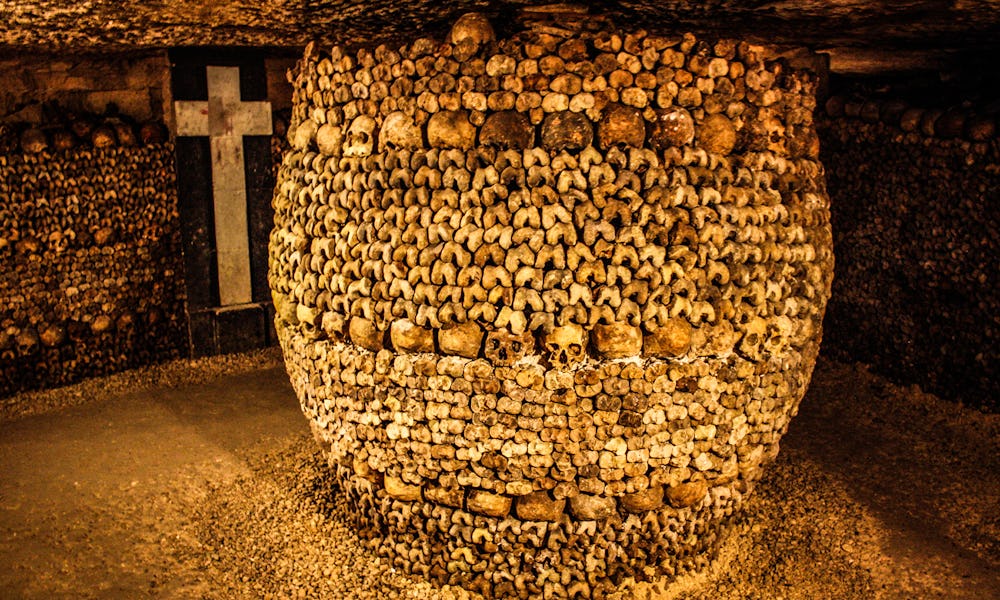 Thanksgiving is celebrated to honor the past and what better way to do that than diving deep into Paris' very own historic landmark' the Catacombs. The Catacombs of Paris are underground ossuaries that house the remains of almost six million individuals in a significant subset of a tunnel system constructed to unite the city's historic stone quarries. Visitors will find an ossuary containing the remains of many million Parisians 20 metres down in a maze of galleries. This one-of-a-kind location commemorates the history of these Parisians and welcomes tourists on a trip through time.
Christmas illuminations at Champs-Elysees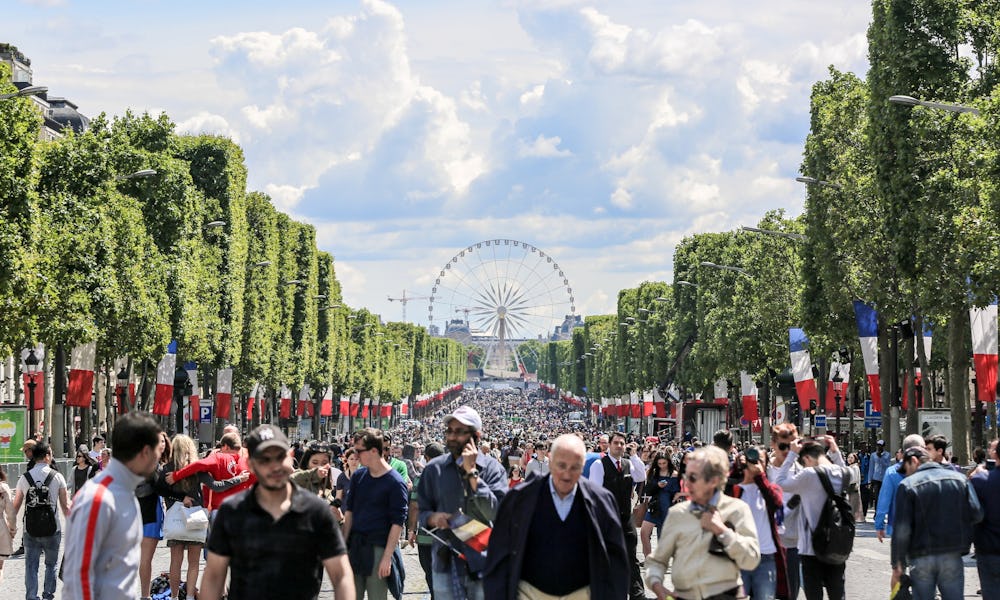 Get into the holiday spirit by strolling around the streets of Champs-Elysees. The Avenue des Champs-Élysées, dubbed the world's most beautiful avenue, is a must-see in Paris. From November 20, 2022 to January 2, 2023, the Champs-Elysées will be lit up with Christmas lights! The first version will begin at 5 p.m. on Sunday, November 20th, and the avenue will be car-free. In effort to save energy, the lights will be taken off a week earlier than usual this time, and will be turnerd off at 11:45 pm every night except on Christmas Eve and New Year's Eve. Head over to Champs-Elysees on Thanksgiving and bask in the warmth and joy radiating from the lit up avenue.
Stumble into a pocket of America: Real McCoy Want to enjoy classic American fare at home to celebrate Thanksgiving? Make your way to the Real McCoy, the biggest American grocery store in the heart of Paris, and shop all your American favorites for Thanksgiving. The store is located on rue Grenelle in the 7th arrondissement. It provides the city's largest selection of American goods. If you can't be bothered to make your own from scratch, they also sell stuffing, corn muffin mix, and pumpkin in a can. The best part? The Real McCoy also delivers! Binge on your favourite snacks and chocolates or buy ingredients for a traditional Thanksgiving feast, the store has everything you need.
Host your own thanksgiving party at home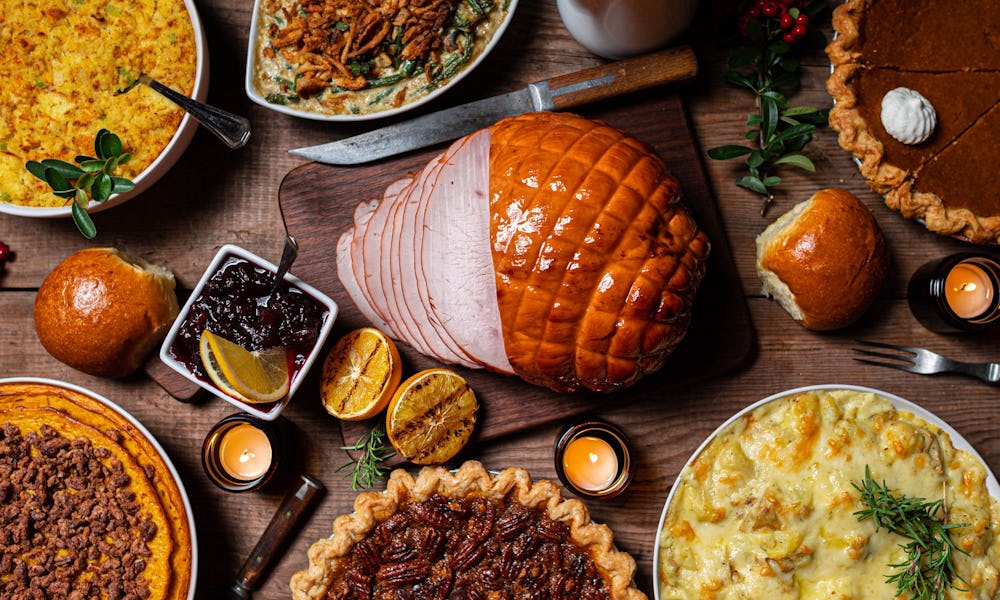 Want to give your Parisian friends a taste of the classic American Thanksgiving experience? You can host your own Thanksgiving party at home. You'll feel great about putting in the work and experiencing the holiday like it's supposed to be celebrated and your local friends will finally understand what all the fuss is about. A full-fledged Thanksgiving party is incomplete without a turkey and you can book yours in advance from Le Coq Saint Honoré, an iconic butcher's shop in Paris. You can find all the other ingredients for your party at The Real McCoy.
Skip the hassle of cooking and GO OUT!
Thanksgiving isn't complete without the typical carb-laden feast. You don't have to skip out on your fall feast if you're in Paris over the holidays. Instead of slaying away in the kitchen, preparing a meal for 30, go out! Fill up on turkey, stuffing, gravy, sweet potatoes, cranberry sauce, and pumpkin pie for dessert at one of Paris' many fabulous restaurants. Oh, and don't forget the wine because, after all, you're in Paris! Hop on to the next section to discover the best places to have a Thanksgiving meal in Paris.
Best places to have a Thanksgiving Meal in Paris
---
Of course, this American tradition cannot be complete without a roasted turkey dinner. Here is our selection of the best restaurants for a traditional Thanksgiving dinner in Paris:
Breakfast In America
Breakfast In America is a hit in Paris, despite the fact that you wouldn't expect an American diner to be so popular. They have two seating times for Thanksgiving at 6 pm and 8:30 pm at both their outlets, each of which includes a typical Thanksgiving plate and your choice of pie. It's worth noting that this menu is only available in the 5th arrondissement.
Date: November 24th
Hotel Vernet
The Thanksgiving dinner at Hotel Vernet is another highly recommended alternative if you're seeking for a truly unique and luxurious Thanksgiving experience. Hotel Vernet is a luxury boutique hotel located near the Louvre in the 1st arrondissement.
Date: November 24th
Cali Sisters
For a few years now, Cali Sisters restaurant has been located in the 2nd arrondissement. They are best known for their Californian and healthy recipes. In 2022, they will be celebrating Thanksgiving for three days straight from November 24-26.
Date: November 24th to 26th
ChoCho
If you're looking to Sample American cuisine through some of its iconic dishes, consider attending Thanksgiving in Paris at the ChoCho restaurant. This year's event is bound to be huge and full of deliciousness thanks to head chef Thomas Chisholm.
Date:November 24th
Hard Rock Cafe, Paris
The Hard Rock Cafe in Paris is a fantastic place to spend Thanksgiving. A scrumptious roasted turkey with chestnut stuffing and mashed potatoes will be served, followed by a delectable pumpkin pie with whipped cream. This is as classic as it gets!
Date: November 24th to 27th.
Address: 14, boulevard Montmartre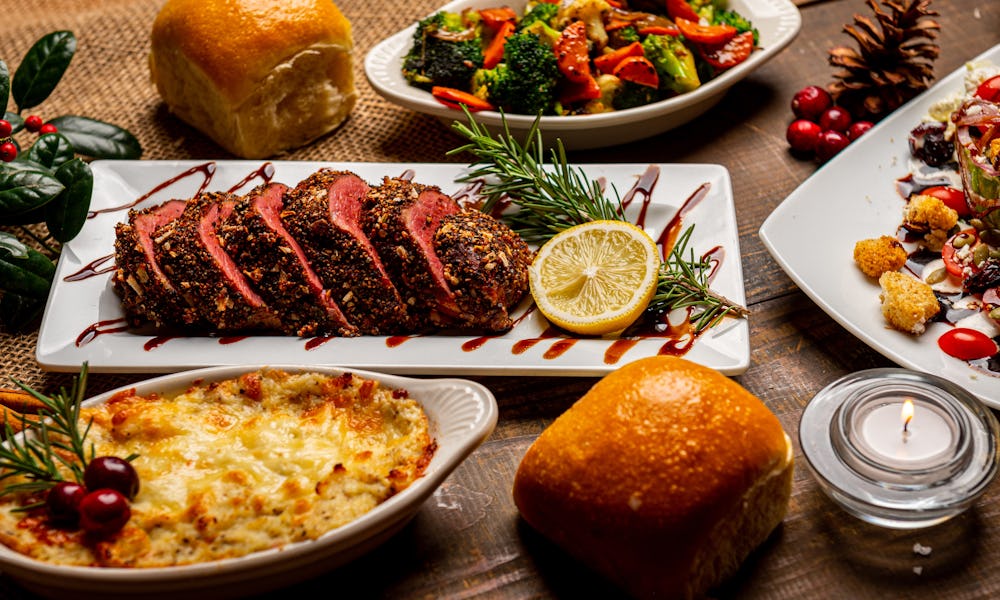 Tips on Spending Thanksgiving in Paris
---
1. Start by choosing the kind of experience you wish to have. A quiet meal at home watching your favourite American sitcom, dinner at the Eiffel Tower, or something in between? The choices are truly endless!
2. Consult other Americans you know in Paris to learn more about the best ways to celebrate Thanksgiving in Paris. They might know of some hidden gem that'll allow you to experience some classic Thanksgiving fun.
3. It gets pretty chilly at night around the time of Thanksgiving. If you're planning on walking around the city at night, wear warm clothes and cover up as much as possible.
4. Planning to visit a restaurant for a fancy Thanksgiving dinner? Make your reservations in advance since walk-ins are very rarely accepted, especially on Thanksgiving day.
FAQs
---
Thanksgiving in Paris is always celebrated on the fourth Thursday of November.
One of the traditional foods eaten on Thanksgiving in Paris is foie gras. Other popular dishes include turkey, chestnuts, mashed potatoes, and vegetables.
Traditionally Thanksgiving celebration in Paris includes festive decorations, food at restaurants, and activities such as parades or visits to monuments or landmarks.
The best way to celebrate Thanksgiving in Paris is by gathering with friends and family, sharing a meal, and expressing gratitude for all that we have been blessed with. Enjoying traditional French cuisine or cooking a classic American dish will make this holiday even more special.
Although there are similarities between Thanksgiving celebrations in both countries, there are also some cultural differences. For example, in France, many people do not celebrate Thanksgiving with a large family gathering as is done in the US. Instead it is often celebrated more quietly with friends or close family members. Additionally, most restaurants in Paris do not offer traditional American Thanksgiving dishes and opt for more French-inspired cuisine.