Ensconced in the Eiffel Tower's spectacular metal structure are three pockets of culinary heaven - Madame Brasserie, Le Jules Verne, and Champagne Bar. With exquisite views, these unique eateries provide guests with the rare opportunity to dine atop one of the world's favorite landmarks. Sip on a glass of wine as you watch the sunlight bounce off the metallic lattice of the Eiffel Tower, savor a traditional French meal, and witness the City of Lights sparkle in the night sky.
Aside from outstanding views, pairing your Eiffel Tower ticket with a meal comes with several other perks. From how dining at the tower can help you skip the long lines to which menu items can't be missed, discover everything there is to know about the Eiffel Tower restaurants with our in depth guide.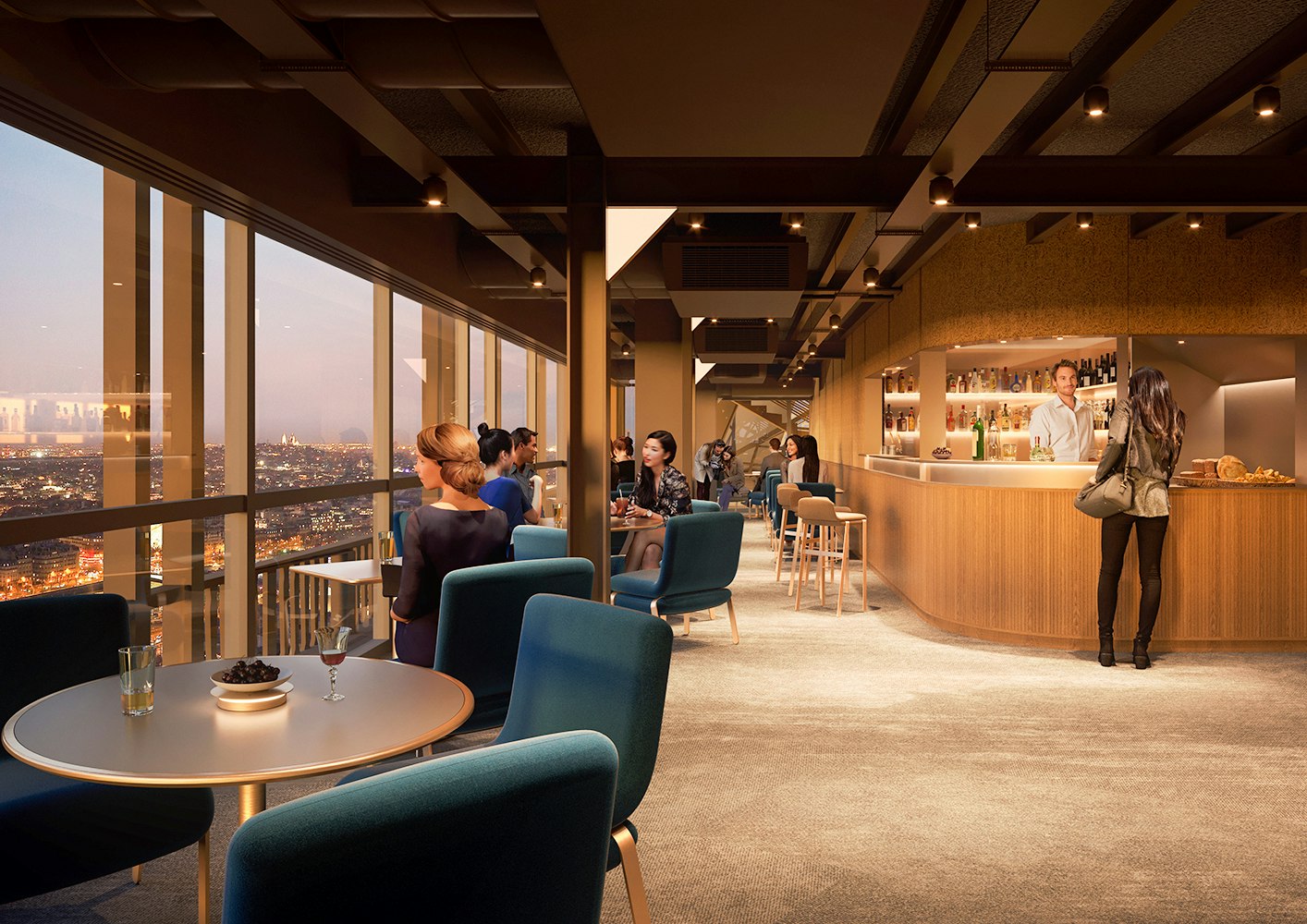 Eiffel Tower Restaurants
---
There are 3 restaurants located on the Eiffel Tower. On the tower's first level, Madame Brasserie. Open for lunch, dinner or a glass of Champagne, the restaurants offers chic, picnic-style lunches as well as traditional, 3-course French meals. Situated on the second floor is the Eiffel Tower's Michelin star Le Jules Verne restaurant. Sophisticated and classy, a meal here offers, arguably, the best view in the entire city. Run by world-famous chefs, both Eiffel Tower restaurants offer culinary experiences unlike anywhere else in the world.
A more unique and recent addition to this culinary adventure is Champagne Bar. Located at the top of the Eiffel Tower, this cozy bar gives you a taste of lux with a world-class view from the most famous tower in the world!
Madame Brasserie
---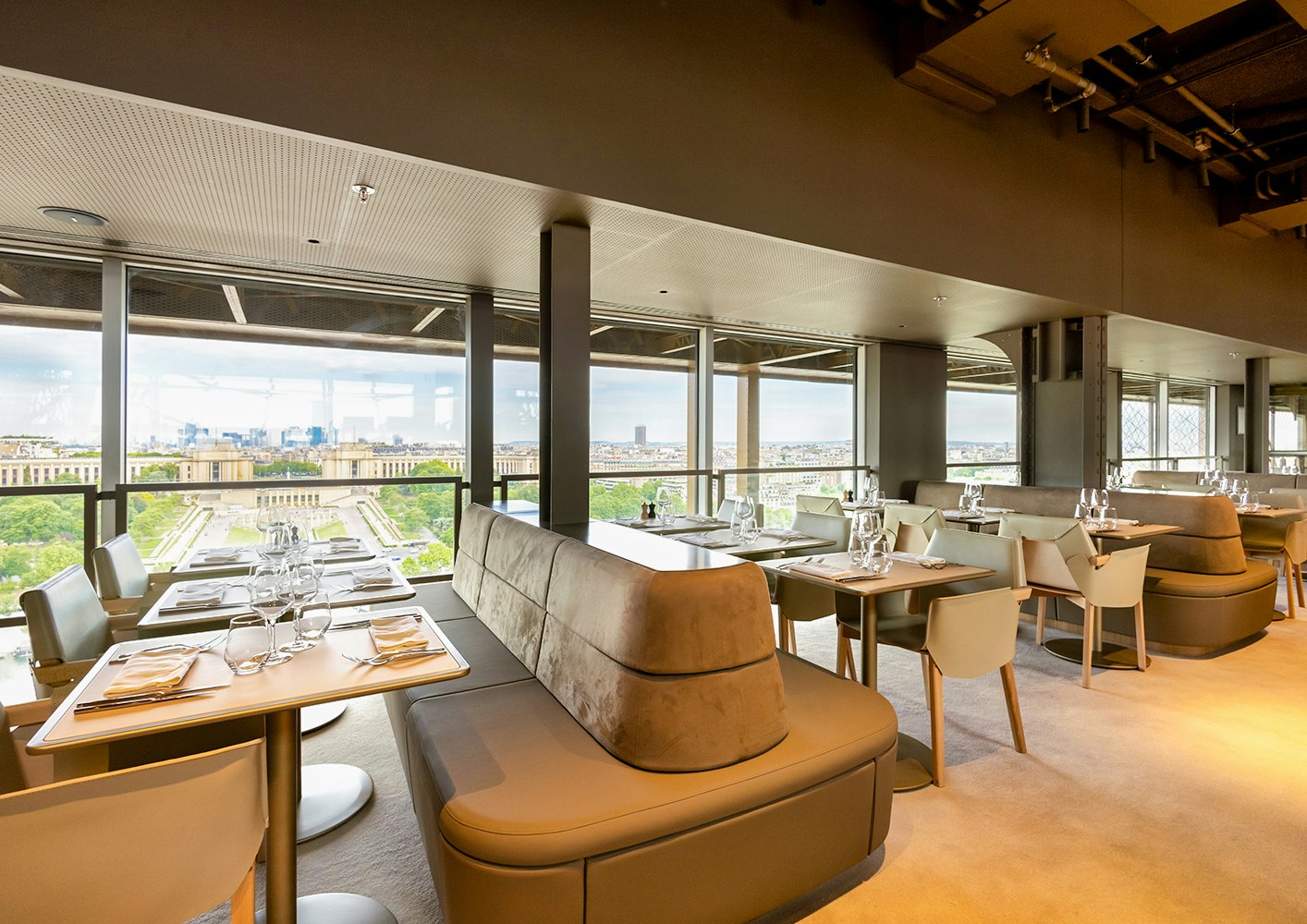 The first floor of the Eiffel Tower features the newly opened Madame Brasserie, with the two Michelin-starred chef Thierry Marx. From steak tartare to foie gras and seafood platters, all dishes are made with fresh local ingredients and presented in a stylish and modern way. The views of the city from this unique vantage point are simply breathtaking, making it the perfect spot for romantic dinners or special occasions. And if you're looking to soak in Paris' truest essence, there's an extensive wine list with some of France's most prestigious bottles! If you have a reservation at the Madame Brasserie, you'll also get access to a private elevator that will take you to the first floor.
Menu Highlights
Breakfast: Madame Brasserie features a traditional French breakfast from 10 am to 12 pm. If you're an early riser and you find your way to the Eiffel Tower in the morning, stop by on the first floor for some croissants, toast, hot drinks and fruit juices with the chef's contemporary touch. You won't need a reservation for breakfast at Madame Brasserie.
Lunch: At Lunch, you won't just enjoy the picturesque views of Paris, but also the views of how beautiful these dishes look on your plate. Start off your three course meal with items like Maison Vérot Terrine or Père Fabre goat's cheese. Move on to the likes of Pork Belly and Chicken Breast for your main course. And finish off with delicious desserts like Buckwheat Crumble With Apple and Pear Confit, or Rich dark chocolate mousse. You can also opt for a children's menu. There are two lunch services everyday, at 12 pm and 1:30 pm.
Snack Time: From 3 pm to 6 pm every day, you can walk into Madame Brasserie for a light snack, without any reservations required. The menu features some refined pastries that you can enjoy while taking in the magnificent views of Paris.
Dinner: Dinner at Madame Brasserie features two menus - The Gustave Menu, and The Grand Dame Menu. Both the menus feature some delicious French-inspired dishes that make it easy to imagine yourself strolling down the cobblestone streets of Paris. From Butternut squash velouté to Blue lobster for entrée, Grilled sea bass to Vol-au-vent for mains, and Rum and raisin baba to Roasted apple for dessert, these menus have it all! You can also enjoy some wine or champagne while you're at it. Dinner services are at 6:30 pm and 9 pm.
Le Jules Vernes Restaurant
---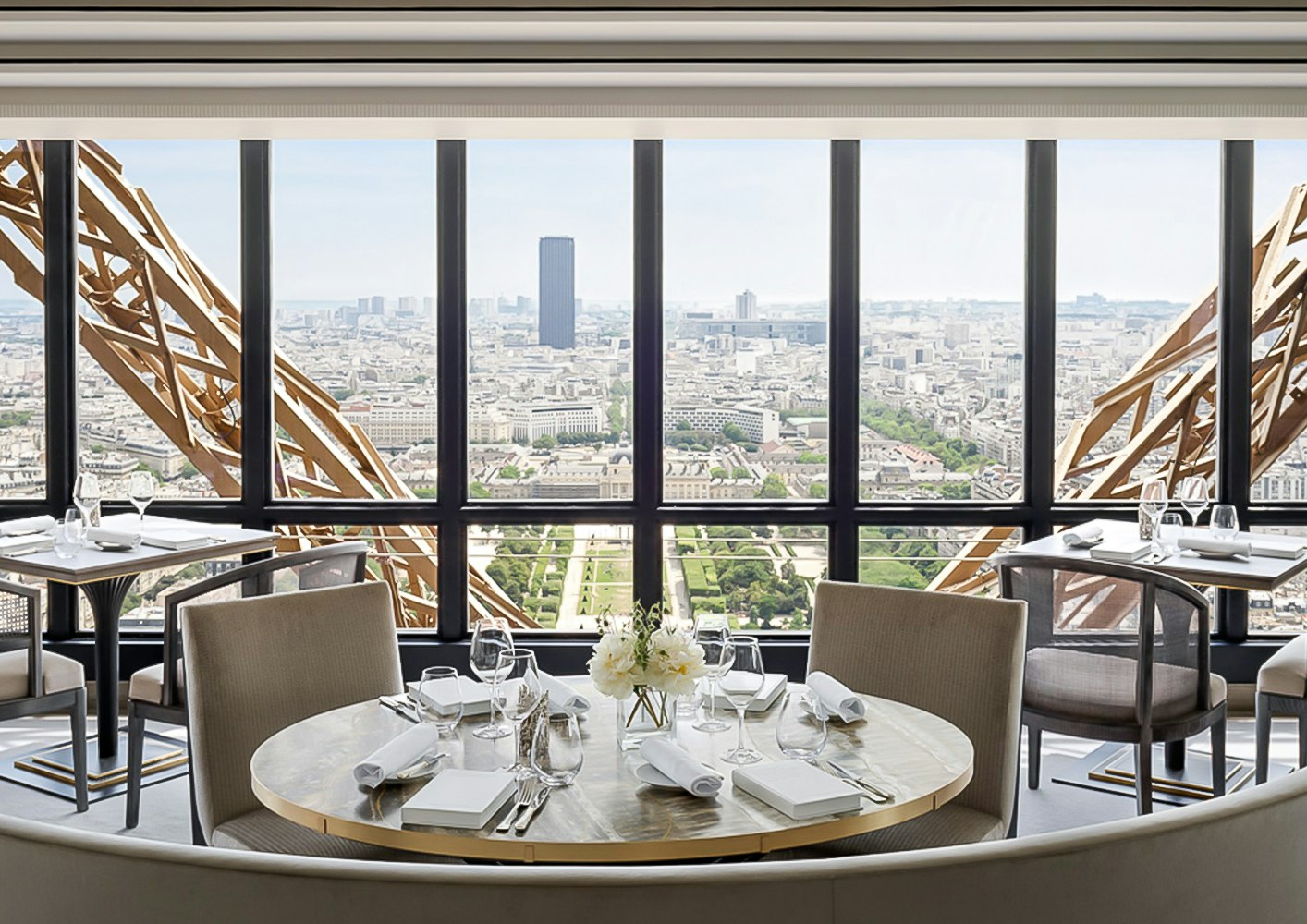 Le Jules Vernes sits like an exquisite jewel atop the Eiffel Tower. Located on the second floor, it offers a more upscale and exclusive gourmet experience. Eiffel Tower's Second Floor is home to the Michelin-star Le Jules Verne restaurant. Previously run by Alain Ducasse, an accomplished chef with 18 Michelin stars, culinary endeavors at the Le Jules Verne are now spearheaded by Frédéric Anton, Jules Verne's new chef who is a three-star chef and a "Meilleur Ouvrier de France". During the day, guests can enjoy naturally bright ambience. By night, a muted, sensual ambiance takes over.
Exclusive Highlight
Early Access Breakfast: With this unique Early Access Breakfast Experience only available at Headout, you can be one of the first people to visit the Eiffel Tower each day! Get early access before it opens to the public and take a dedicated elevator to the 2nd floor with a host waiting for you. This is your chance to explore Paris' most famous landmarks without all the crowds. The menu, designed by Frédéric Anton, features fresh juices, french pastries, salmon eggs benedictine, coffee and seasonal fruit – all picked at their peak of ripeness.
Lunch & Dinner Menu Highlights
À La Carte Menu: At Le Jules Vernes there are two separate lunch menus. The first one is an À La Carte Menu that consists of specially handcrafted dishes like Spinach Mushroom Ravioli, Scallop with Caviar, Cod with Bouillabaisse, Stir Fried Beef, Vanilla Ice Cream and Poached Pear. This menu is available only during lunch hours from 12 pm to 1:30 pm.
5 and 7 Course Tasting Menu: This second menu is an option between a 5 and 7 course meal, consisting of dishes such as Crab with Creamy Burrata, Scallop, Langoustine Ravioli, Cod with Bouillabaisse, Poached chicken with Black Truffle, Poached Pear and Warm Souffle. This menu is available during Lunch and Dinner hours from 12 pm to 1:30 pm and 7 pm to 9 pm.
Champagne Bar Eiffel Tower
---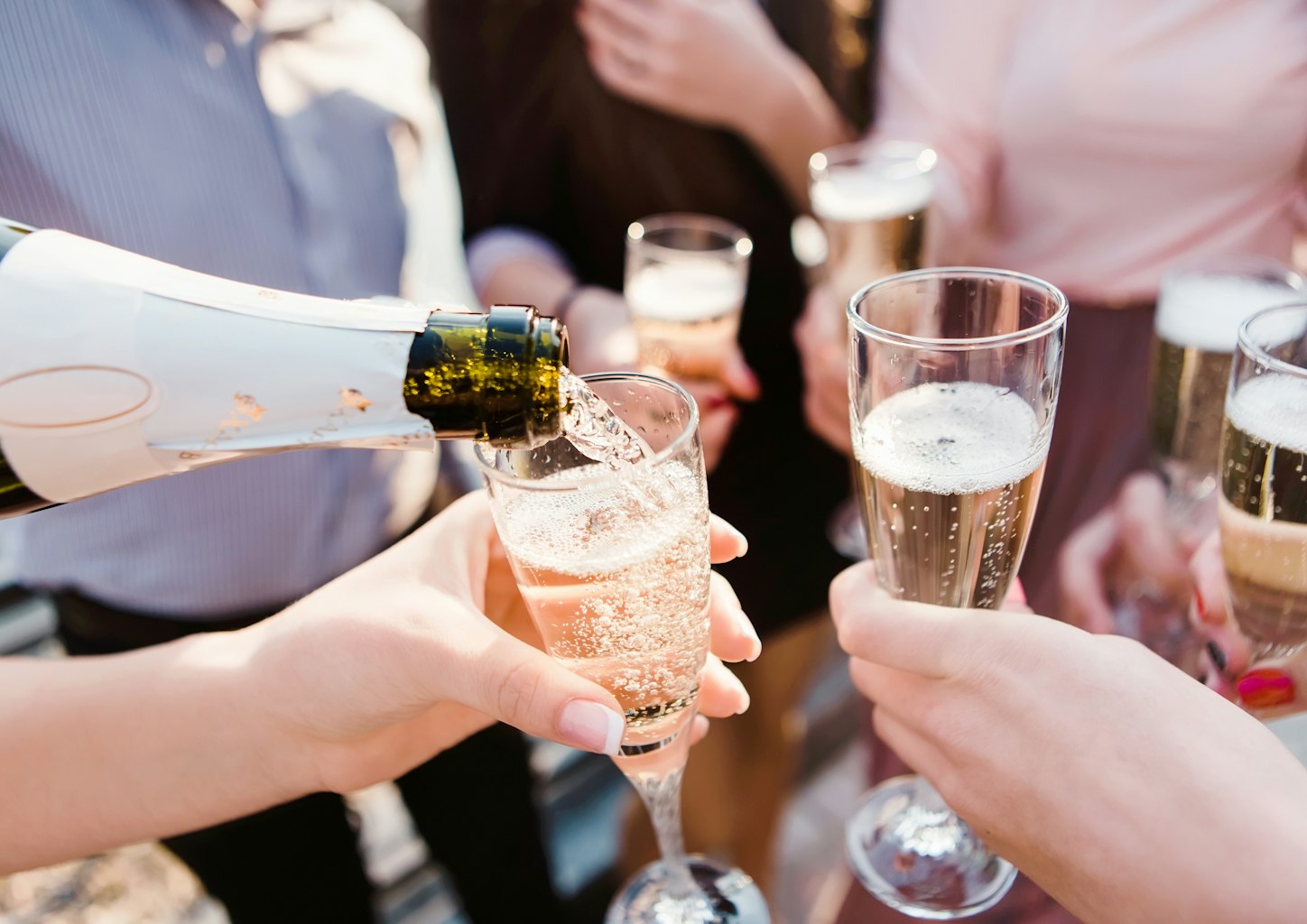 Nestled at an altitude of 276m overlooking Paris' megalopolis is the Champagne Bar. Tucked in on the top of the Eiffel Tower, this bar offers a sip of vintage champagne with an extravagant view of the city. It is also a great budget friendly way of spending a glorious evening in the Eiffel Tower summit since a glass of Champagne here costs only €15 to € 23.
Eiffel Tower Restaurant Menu - Champagne Bar
The menu includes a lavish selection of the White and G.H.Mumm rosé champagnes that can be paired with Caviar. Alternatively, you can also choose Artisanal lemonade, still or sparkling water.
The ambience of Champagne Bar
The bar is cosy and small, hidden at the top floor of the Eiffel. With wind in your hair and a fancy glass of champagne in your hand while standing at 276m on the world's famous monuments, the feeling is inspiring to put it mildly.
Dress Code
Visiting Champagne Bar will require you to summit the Eiffel Tower. So, make sure you are wearing comfortable clothing and shoes. The bar has no particular dress code imposed. Nevertheless, you can choose to wear a casual elegant attire to look comfortable yet polished.
Sign up for our monthly newsletter
Your dose of travel fix - from hacks and deals to travel tips and everything in between, delivered monthly to your inbox
Please enter a valid email
Unsubscribe anytime
Is it Worth going to Eiffel Tower Restaurants?
---
The Pros:
1. Skip-the-Line Access to the Tower
The Eiffel Tower is one of the most visited tourist attractions in the world; as a result, entry lines can leave visitors waiting for up to 3 hours during peak season. Fortunately, booking a meal at the Eiffel Tower comes with a huge perk - you get to skip the long entry line! Each restaurant has its own elevator, reserved only for restaurant guests. This means that a dinner reservation guarantees skip-the-line access.
The Eiffel Tower was awesome especially at dusk. The guide helpful and friendly. The directions on where meet the guide should be more helpful to people new to France ( a link and picture of where to meet would really have helped the taxi driver. Merci'
- Andrea, Headout, March 2023
2. Exclusive Dining Experience
The Eiffel Tower restaurants provide guests with the best view in all of Paris. Meals run on the expensive side, but when you factor in the advantage of skipping the long entry line and the overall once in a lifetime opportunity of dining in the Eiffel Tower - the experience is well worth the cost.
Our experience was excellent. The service was amazing, the aumbiance perfect, and the food was world class.
- Sofina, Headout, February 2023
3. Authentic French Dining
Both restaurants serve up delicious food prepared by renowned chefs. In fact, the Michelin star Le Jules Vernes is run by Alain Ducasse - a talented chef who has earned an impressive 21 Michelin stars in his career thus far! Both restaurants offer traditional dishes, reinterpreted by their masterchefs.
The Cons:
1. Limited Availability
Tickets for this dining experience have to be booked well in advance. Reservations fill up weeks in advance, so if you're unsure or wish to go there on an impromptu plan, it's not likely that you'll get a table. So do book ahead if you're interested in this experience.
Eiffel Tower Restaurant Reservations
---
Whether you want to enjoy a romantic dinner or host a special occasion with friends and family, the Eiffel Tower restaurants have something for everyone. Just make sure to book your reservation in advance, as these restaurants are known for filling up quickly! And don't forget to bring your appetite – you'll be dining on delicious French cuisine amidst an unforgettable atmosphere.
Check the below tickets to grab exciting offers with Eiffel Tower Tickets.
Practical Information
---
Open Hours
June 2022 onward
9 AM - 12:45 AM, last elevator ride to the top leaves at 11:45 PM
Stair access follow the same timings.
Getting There
There is no shortage of ways to get to the Eiffel Tower. The Metro has two lines that have stops in close proximity to the Eiffel Tower i.e Line 6 and 9. Additionally, you can use the RER Train and get off at the Champs de Mars station.
Buses 82, 42, 87, and 69 operate to the Eiffel Tower. You could also get to the Tower by using any of the Batobus boats. This means of transport gives you a different view of the Tower from the water.
Final Thoughts
---
An Early morning, a sunny afternoon, a dusky twilight, or a sparkling night, no matter what time it is, a meal at one of the Eiffel Tower restaurants guarantees an unforgettable experience. Feel like royalty with exclusive priority access, savor fabulous French cuisine by renowned chefs, and enjoy panoramic views of one of the world's favorite city.
For more tips on how to choose the best Eiffel Tower expereience, check out our ultimate guide to planning the perfect Eiffel Tower visit, or if you're looking for other exciting experiences in the City of Love, check out our Paris Travel Guide.
Best things to do in Paris
FAQs
---
Yes! Eiffel Tower has 3 restaurants - Jules Verne (sophisticated dining), Madame Brasserie(fine dining), and Champagne Bar.
Depending on the restaurant at you're visiting, a dinner at the Eiffel Tower costs anywhere between 15 Euros to 230 Euros.
Definitely worth it! Eating at the Eiffel Tower is an experience of a lifetime. Having a classic Parisian meal at an exclusive vantage point is worth every penny!
No, walk-ins are allowed at the Champagne Bar at Eiffel Tower.
For lunch at Le Jules Verne, a 3-course menu costs 105 euros, excluding beverages. For dinner, one can choose between a 5-course mean (190 euros, excluding beverages) and a 7-course tasting menu (230 euros, excluding beverages).
Champagne at the Eiffel Tower costs 12 EUR to 15 EUR.
Lunch is more affordable than dinner on week days at Jules Verne. But for a more unique experience, go to Le Jules Verne for an exclusive breakfast.
Yes it is! If you go to Le Jules Verne for breakfast, you get an exclusive access to the Eiffel Tower in the early hours of 8 am. Visiting the tower at this time has its own unique charm.
Madame Brassier has the perfect dinner setting at the Eiffel Tower. It's affordable and the menu is wide!
Eiffel Tower Restaurants Guide