Welcome to Monet's Garden in Giverny, France – a wonderland that will transport you to a world of vibrant colours, lush landscapes, and serenity. This place was not only a sanctuary for the legendary artist Claude Monet but also the muse behind some of his iconic paintings. You can't miss walking through the lovely flowerbeds, soaking in the gorgeous views from the Japanese bridge, or witnessing the captivating water lilies that float effortlessly in the pond. A must-visit destination for anyone looking for an inspiring blend of art and nature! Book your tickets today!
Monet's Garden in a Nutshell
---
Getting There
84 Rue Claude Monet, 27620
Giverny, France
Get Directions
Opening Hours
9:30 AM-6 PM
Closed on Mondays, May 1st and December 25th and from November to March
Why is Monet's Garden worth visiting?
---
Experience the world of Monet: Stroll through the gardens that inspired some of the most famous paintings in art history.
Stunning natural beauty: Be mesmerized by the colourful flowerbeds, Japanese bridges, and serene water lilies.
Escape the hustle and bustle: Take a break from the city and immerse yourself in the tranquil countryside of Normandy.
A photographer's dream: Capture postcard-perfect photos of the gardens' exquisite flora and idyllic landscapes.
Memorable day trip: Enjoy a relaxing day trip from Paris, just a little over an hour away by train.
Recommended Monet's Garden Tickets
---
Monet's garden is one of the most beautiful and iconic destinations in France, renowned for its stunning array of flowers and serene atmosphere. Here are some of the must-see tickets to explore this breathtaking masterpiece.
Monet's Garden History
---
Monet's Garden in Giverny is more than just a tourist attraction; it's a crucial part of the city's cultural heritage. Claude Monet created them in the late 19th century, and it still remains as a testament to his love of nature and devotion to his art. The gardens are a masterpiece of landscape architecture, with winding paths, vibrant flower beds, and serene water features. Monet's artistic sensibility is evident throughout, and the gardens remain a testament to his love of nature and his devotion to art. Over the years, the attraction has become an essential part of the cultural history of France and a symbol of the country's enduring artistic legacy. They have served as an inspiration for many artists, writers, and filmmakers. In fact, Monet's Garden has even appeared in popular culture, from the novel "The Age of Innocence" by Edith Wharton to the beloved animated film "Ratatouille." Whether you're a fan of art and architecture or simply looking for a beautiful place to relax, Monet's Garden is worth a visit. It's a memorable and culturally significant destination that you won't want to miss.
Monet's Garden Architecture
---
Monet's Garden in Giverny boasts a stunning landscape that reflects the beauty of nature. The garden's architecture is a perfect blend of simplicity and elegance, designed to complement the natural beauty of the surroundings. The Japanese-inspired water garden is one of the most popular spots in the garden, featuring a serene lily pond and a charming bridge. Another exciting area is the colourful flower garden, which is a delightful explosion of vibrant colours and fragrances. Now, if you're looking to snap some Instagram-worthy pictures, the best time to visit Monet's Garden is during the spring and summer months when the flowers are in full bloom. However, the garden is beautiful all year round, with each season bringing its own unique charm. Monet's Garden's simple yet stunning design and peaceful ambience make it a perfect destination to unwind and appreciate the beauty of nature.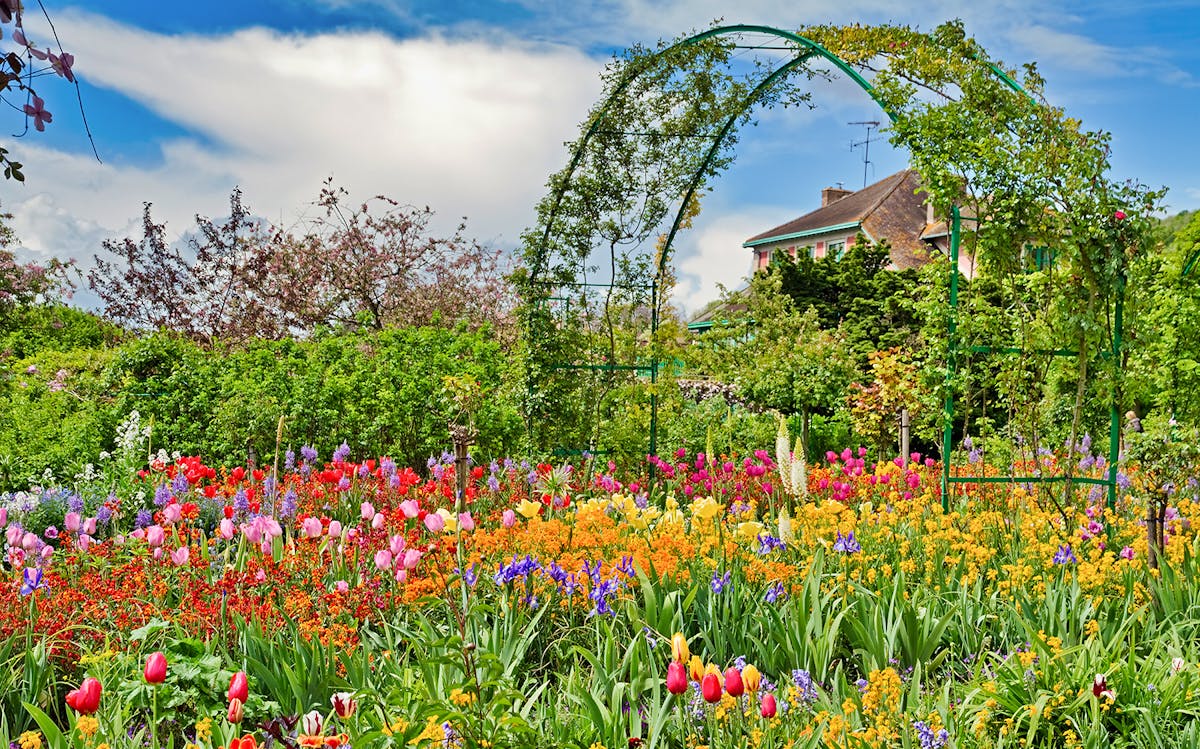 Highlights of Monet's Garden
---
A Japanese-inspired oasis of serenity with a footbridge, weeping willows, and bamboo that served as inspiration for some of Monet's most famous works. Enjoy a stroll along the winding paths or sit back and relax by the tranquil pond.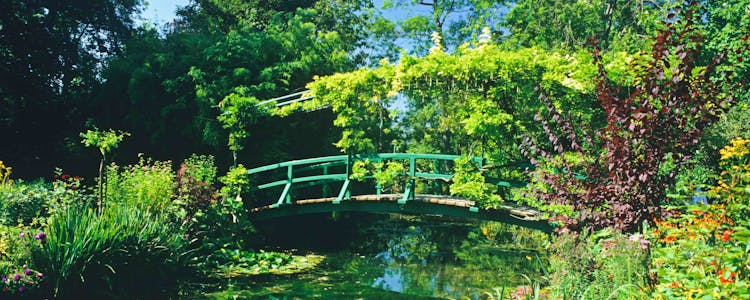 A symphony of colours and fragrances, Monet's Flower Garden is a visual delight of flowers arranged in a structured design. Carefully selected to bloom in succession, the garden is a living canvas that changes with the seasons. Capture the perfect Instagram shot amidst the kaleidoscope of flowers.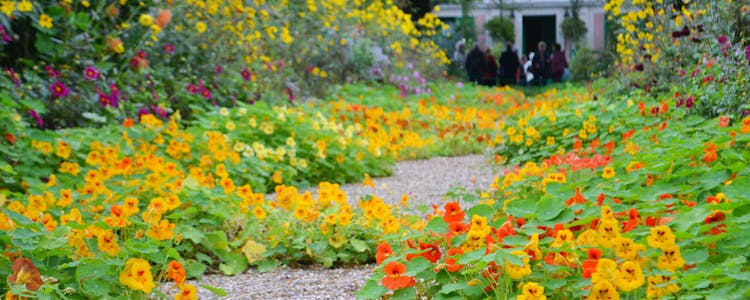 Step back in time and explore the charming pink house where Monet lived for 43 years. Wander through the artist's private apartments, admire the antique furniture, and browse his collection of Japanese prints. Marvel at the famous yellow dining room that doubles as a painting studio.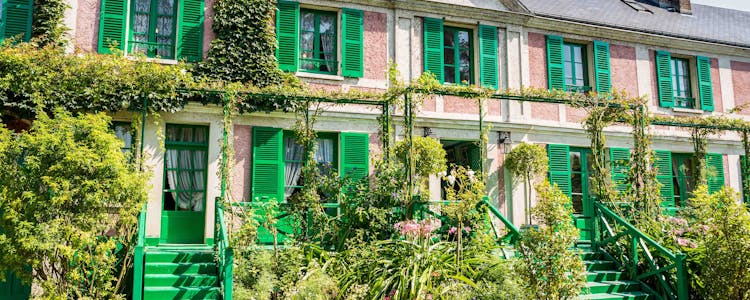 An iconic feature of Monet's Garden, the Japanese Bridge is a charming wooden footbridge draped in wisteria. A favourite subject of Monet's paintings, it offers a picturesque view of the lily pond and water garden.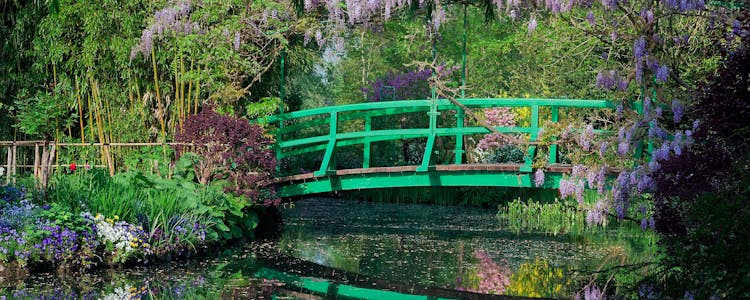 A must-see for any Instagram enthusiast, the Tunnel of Wisteria is a magical walkway covered in cascading purple blooms. Stroll through the tunnel and take in the heavenly scent and picturesque views.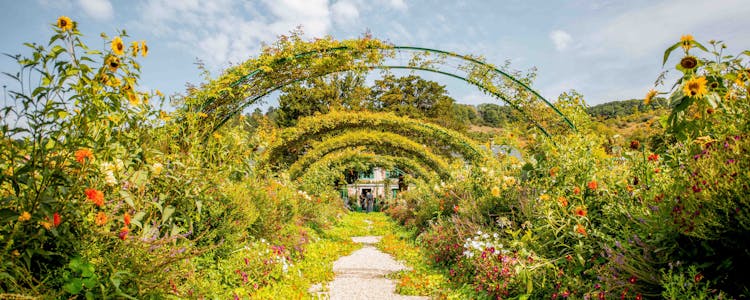 Best Time to Visit Monet's Garden
---
Timing is vital if you want to get the most out of your visit to Monet's Garden. Crowds tend to peak during the summer months, so if you want to avoid long lines and the hustle and bustle of the high season, consider visiting in the spring or fall. Weekdays are generally less busy than weekends, and arriving early in the morning or later in the afternoon can also help you avoid the biggest crowds. It's also worth noting that Giverny can get quite congested with traffic during peak hours, so plan your journey accordingly. Finally, be sure to check the daylight hours during your visit, as you'll want to give yourself plenty of time to explore this beautiful garden at a leisurely pace.
Monet's Garden Timings
---
Monet's Garden is open daily from April 1st to November 1st.
Opening hours are from 9:30 AM to 6 PM, with the last entry at 5:30 PM.
The garden is closed on Mondays except Easter Monday and Whit Monday.
It is also closed on May 1st and from November 1st to March 31st.
Getting There
---
Getting to Monet's Garden is an adventure in itself, as you wind your way through the charming countryside of Normandy. Here are some transportation details to help you plan your journey to this magical destination.
Bus
Take the line 240 bus from Paris Porte Maillot to the Giverny Eglise bus stop, 5 minutes from the garden. This bus runs only on weekends and public holidays.
Train
Take the SNCF train line from Paris to Vernon-Giverny Station, then hop on a shuttle bus directly to the garden (around 15 minutes ride).
Insider Tips to Visit Monet's Garden
---
Do not miss Monet's house, which is adjacent to the garden, to get a glimpse into his life and artwork.
Check out the charming village of Giverny, which is located nearby and has several quaint cafes and shops.
Visit during the weekdays to avoid the crowds and enjoy a more peaceful experience.
Go during the off-season (November to March) for a quieter and more budget-friendly experience.
Stroll through the "Clos Normand" garden, which features an array of colourful flowers and plants.
Don't miss the Japanese bridge, built by Monet himself, which is a key feature of the water lily pond.
Monet's Garden Facts
---
Monet's Garden was originally a vegetable garden before Monet started transforming it into a floral paradise.
The garden is home to more than 250 types of flowers, including tulips, irises, and peonies.
Monet designed the garden himself and often worked on it with his own hands, wearing his signature white suit while he painted.
The garden is divided into two parts: the flower garden, called Clos Normand, and the water garden, which is situated across the road from the main house.
• The Japanese footbridge that features prominently in Monet's famous water lily paintings was built after the artist's death, based on his sketches and notes.
Restaurants Near Monet's Garden
---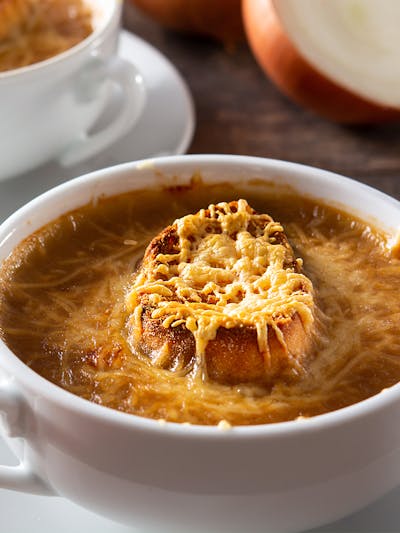 Les Nympheas
This restaurant offers French cuisine in a lovely garden setting and is only a 5-minute walk from the garden. Prices start at around €25 per person for a main dish.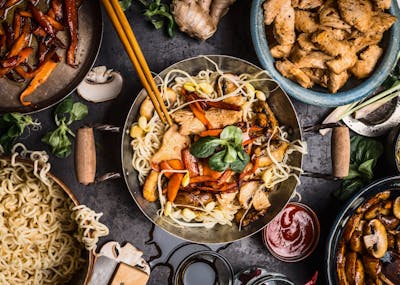 Le Jardin des Plumes
With a Michelin-star rating, this restaurant is a bit pricier at around €100 per person for a complete meal. It's about a 10-minute drive from Monet's Garden and is known for its elegant atmosphere and creative cuisine.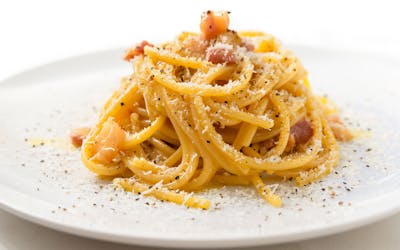 Le Moulin de Fourges
This charming restaurant is located in a renovated mill and serves classic French dishes. Prices start at around €30 per person, and it's about a 20-minute drive from the garden.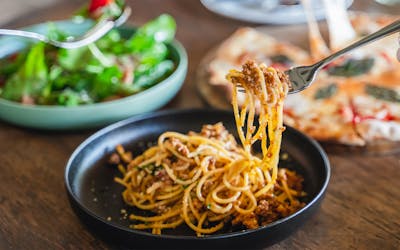 La Musardiere
A cosy restaurant that serves French cuisine in a relaxed atmosphere. Prices start at around €20 per person, and it's about a 15-minute drive from Monet's Garden.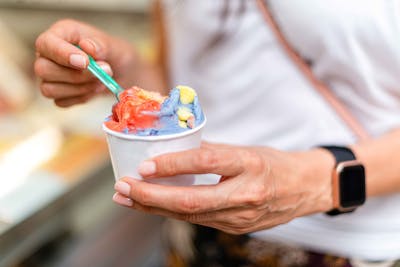 L'Estaminet Gourmand
This restaurant is known for its delicious crepes and galettes and is a great budget-friendly option, with prices starting at around €10 per person. It's about a 10-minute drive from the garden.
Places to Stay Near Monet's Garden
---
Things to Do Near Monet's Garden
---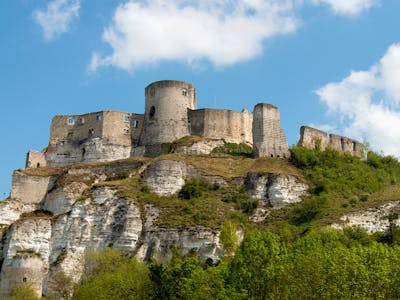 Château Gaillard
Château Gaillard is a medieval fortress located around 9 kms away from Monet's Garden. Built in the late 12th century by Richard the Lionheart, it stands atop a high cliff overlooking the Seine River.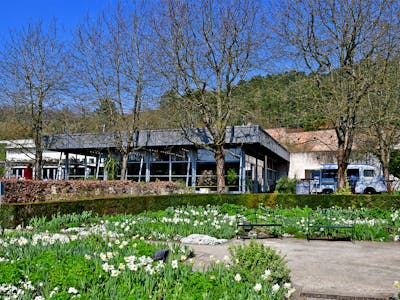 Impressionism Museum
A museum dedicated to Impressionist art, situated 7 km from Monet's Garden. The museum has a collection of paintings, sculptures, and other artworks and is a great place to learn about the art movement.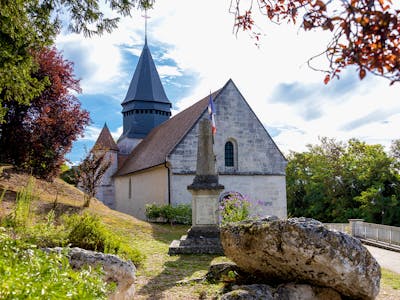 Church of Saint-Radegonde
A beautiful 12th-century church situated 7 km from Monet's Garden. The church's architecture and stained glass windows are breathtaking, and visitors can learn about the church's history.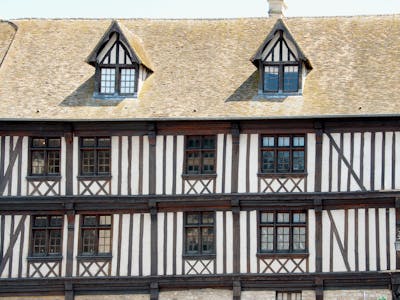 Vernon Museum
A museum dedicated to the history of the town of Vernon, situated 5 km from Monet's Garden. The museum has a collection of objects, photographs, and documents that showcase the town's rich history.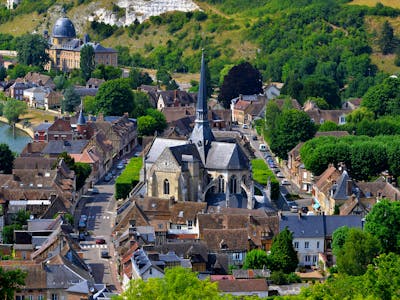 Les Andelys
A picturesque town situated 10 km from Monet's Garden. This town offers a quick glimpse into French rural life and allows you to marvel at the beautiful medieval architecture, quaint cafes, and stunning views of the Seine River!
FAQs
---
Monet's garden is over 100 years old, having been created by Claude Monet in the late 19th and early 20th centuries.
Claude Monet, the famous French impressionist painter, designed and built his own garden at his home in Giverny, France.
Monet's Garden is approximately 2.5 acres in size
The best way to reach Monet's Garden is via bus or train.
Monet's Garden is typically closed from late October to late March each year for the winter season.
No, Monet's Garden is closed on Christmas Day (December 25th) and New Year's Day (January 1st).
No, there are no restaurants inside Monet's Garden itself. However, there are several restaurants and cafes located nearby in the village of Giverny, just a short walk from the garden.
Yes, there are public restrooms available for visitors to use at Monet's Garden.
No, there is no specific dress code to visit Monet's Garden. However, visitors should keep in mind that the garden is an outdoor attraction, so comfortable shoes and weather-appropriate clothing are recommended.