Champagne is synonymous with Paris. How then, is it possible to visit the city of lights and not plan a day trip to the region where it all started?
If you are a connoisseur of wine, this heavenly town will leave you wanting for more. From visiting champagne houses and wine tasting sessions to witnessing the process of making this sparkly drink, you will have many interesting activities to choose from on your day trip from Paris.
Why Take A Day Trip From Paris To Champagne?
---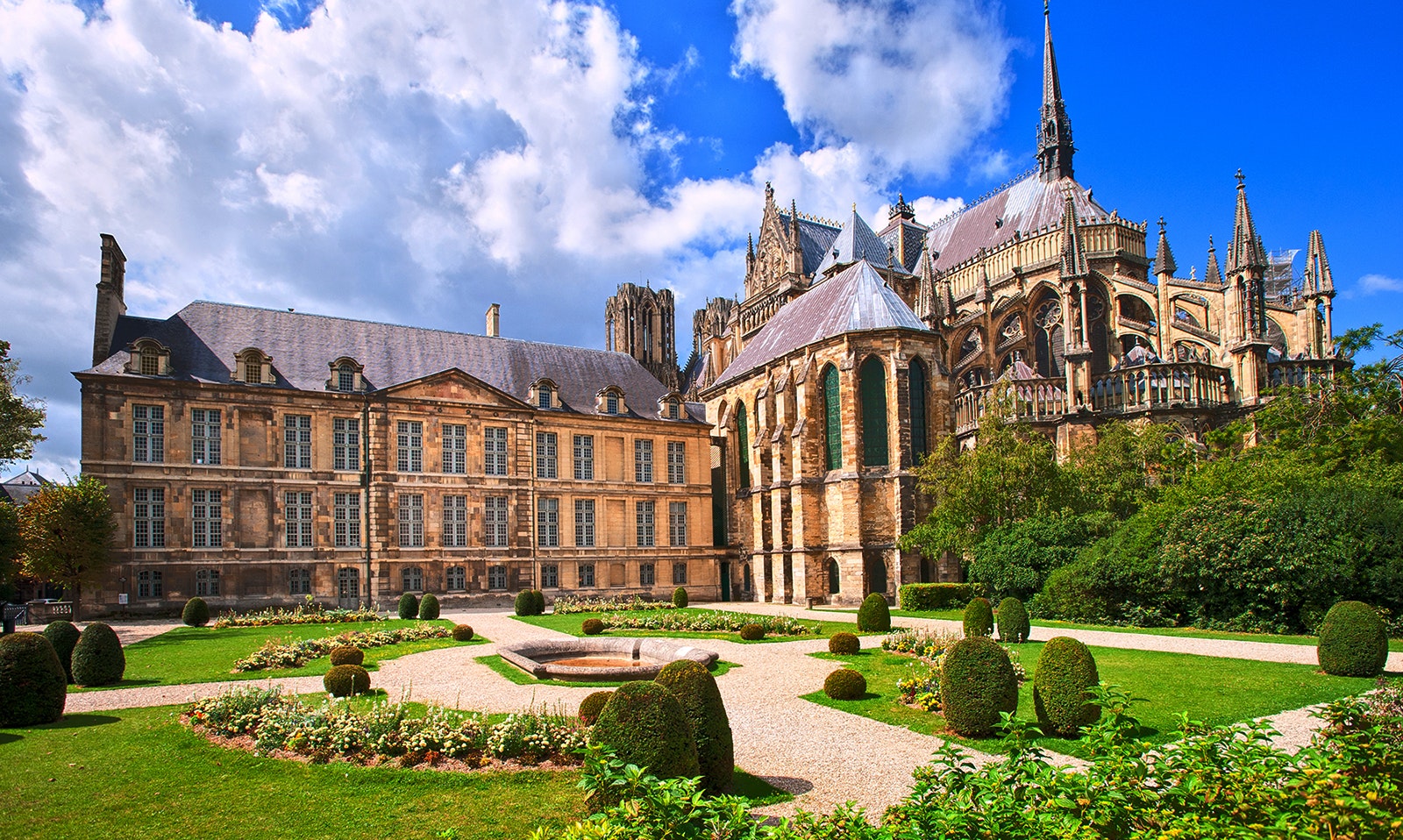 Birthplace of the world-famous champagne: As the name suggests, the world-famous sparkly drink is said to have been invented here. Who wouldn't want to know more about the history of this romantic drink? From museums and underground cellars to expansive vineyards, a once-in-a-lifetime experience awaits you on this day trip.
Just a drive away from Paris: Champagne is considered to be an ideal destination for a day trip from Paris because of its proximity. Located at a convenient location of about 121 km from Paris, it would also make for a beautiful ride. The distance between the two destinations can be covered in about 1 hour 30 minutes by car.
Exploring the town of Reims: Contrary to popular belief, Champagne is not all about vineyards and wine tasting. The capital region of Reims boasts attractions such as a historical cathedral, the Reims Archbishop's palace and much more.
UNESCO world heritage site: In the year 2015, the region of Champagne was declared a UNESCO world heritage site. The beautiful hillsides, the quaint houses and the lush greenery tell the story of years bygone, making for a historical day trip.
Paris To Champagne: Ticket Options
---
Guided Tour of Reims Champagne & Mumm House from Paris
Travel in comfortable A.C. buses and enjoy the picturesque scenery till you reach Champagne.
Visit the Mumm and Nicolas Feuillatte Champagne houses and taste world-famous champagnes.
Enjoy a walking tour of the city of Reims with a visit to its iconic Gothic cathedral.
Small Group: Champagne Tour from Paris with Reims Cathedral
After reaching the region of Champagne, explore the Cathedral of Reims.
Head over to a local winery and watch a 3rd generation winemaker explain all about the champagne-making process.
Visit the house of Moët & Chandon, Dom Perignon's grave and other attractions.
Visiting Champagne: The Experience
---
Enjoy a comfortable drive to the Champagne region
Board a comfortable A.C. bus and drive through the scenic French countryside for about 1.5 hours. Allow your English-speaking professional guide to regale you with fascinating stories on the history and traditions of the region.
Explore the local wineries
Visit a local winery and learn more about the history and processing of champagne. At the winery, a professional winemaker will explain the champagne making process to you step-by-step, from pressing the grapes to corking the bottles. Your visit also includes an exciting champagne tasting session where you will taste different types of champagnes.
Visit the other attractions
Explore the picturesque French town and enjoy lunch at one of the many traditional cafés, bistros and bakeries. Depending on your choice of tour, you can visit all the remaining attractions after lunch. Some of the must-visit attractions of the area include the prestigious house of Moët & Chandon along with the Cathedral of Reims.
Visiting Champagne: Attractions You Can't Miss
---
Mumm Champagne house: At Mumm Champagne house, you will get to witness some of the most famous champagnes in the world. As you marvel at the array of bottles on display, you will be provided with a tour of the place. They even conduct wine tastings sessions!
The Cathedral of Reims: The Cathedral of Reims is most famous for being the seat of the archdiocese. However, this attraction also has a historical significance. It was in this cathedral that the kings of France were coronated for many years.
Don't forget to marvel at the famous rose window and admire the intricate stained glass windows of the church. Some artifacts displayed at the cathedral include a collection of tapestries and a holy flask.
The house of Moët & Chandon: A favorite of King Louis XV, the wine produced here was famous all over Europe. At present, they are said to produce more than 25 million bottles a year.
Regardless of their legendary status, their grounds are open to the public. Visitors can learn more about the process of champagne making, explore the underground cellars and of course indulge in wine tasting sessions.
Dom Perignon's grave: If you are a true fan, no trip to Champagne is complete without paying tribute to the man who invented this wonderful drink. Head over to the quiet little village of Hautvillers and pay your respects at Dom Pérignon's grave.
Visiting Champagne: Self Guided vs Guided Tours
--- Hassle-free and convenient: Although self-guided tours give you the freedom to explore the region and its attractions at your own pace, a guided tour offers a hassle-free and convenient experience that allows you to sit back and relax.
Comfortable transfers: Champagne is around 121 km away from Paris. The easiest way to get to this attraction is by taking the train. However, if this is your first time in Paris, navigating through the transport system might prove slightly overwhelming. To avoid this, you can opt for a guided tour that includes transfers.
Getting around: The two main centers of Champagne are Reims and Épernay, where you will find some of the best champagne houses. However, both these regions are located quite far apart. In order to avoid the hassle of getting from one place to the other, you can book the all-inclusive guided tour.
Visiting the best champagne houses: If you visit Champagne on your own, there is a chance that you may miss out on many interesting experiences. A guided tour will ensure that you make the most of your day trip.
Visiting Champagne: Tips, Guidelines & More
---
Travel: If you decide to travel from Paris to Champagne by yourself, the easiest way to do so is to take the train. Both the major points of the region, Reims and Épernay, are accessible via the train. Trains ply back and forth quite frequently, so don't worry about missing your train.
Do your research: If you opt for a self-guided tour, you may be overwhelmed by the sheer number of champagne houses you come across. To avoid wasting time, do your research and decide which ones to visit before you embark on this journey.
Decide which regions you want to visit: Champagne consists of at least five different regions. Even though these regions are relatively small in size, it would not be possible to cover each and every region in a single trip. Therefore, if you opt for a self-guided tour, make sure that you do your research beforehand.
What to wear: Most tours of the region include trips to the underground caves where champagne is aged. While this makes for a very interesting experience, make sure that you dress comfortably. These caves can get quite cold, so don't forget to carry a light jacket or shrug with you.
When to visit: If you are looking to beat the crowd, you should avoid the harvest season (late summer) at all costs. The months of October and November would be ideal as you get to avoid the throng of tourists while still being able to enjoy the vineyards.
More About Paris
---
To know more about visiting Paris, give these links a quick read!
FAQs
---
How far is the region of Champagne located from Paris?
How do you tour Champagne in France?


Can I attend a champagne tasting session on my day trip to the Champagne region?
Where should I stay while visiting the Champagne region?
​When should I visit Champagne, France?