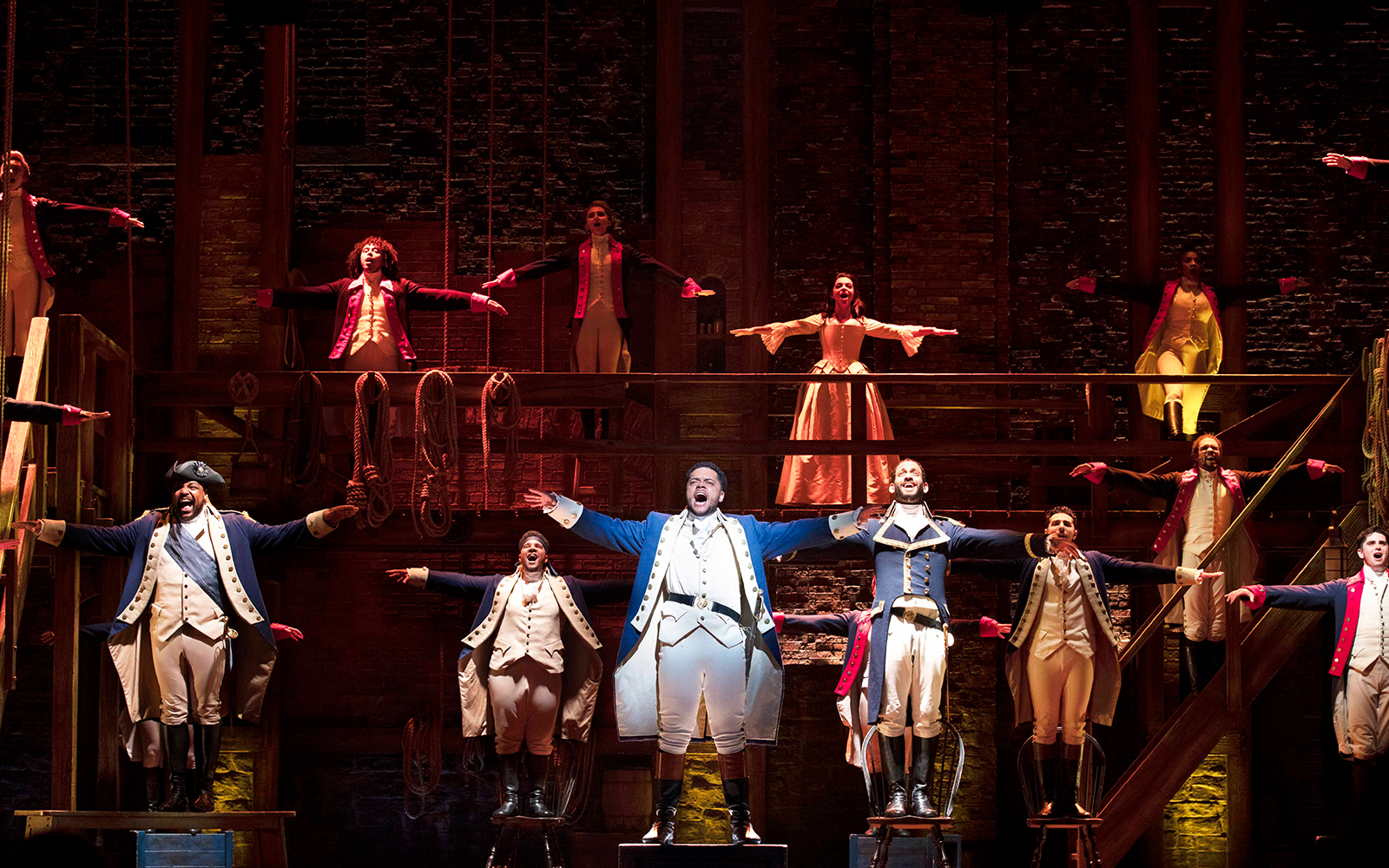 Starting on June 19th 2023, a new company of Hamilton will begin performing at the Victoria Palace Theatre.
Declan Spaine has been selected to play the character of Alexander Hamilton. He has previously appeared in the Bob Marley Musical called "Get Up, Stand Up!" at the Lyric Theatre. Ava Brennan has been cast as Angelica Schuyler. Simbi Akande will play both Peggy Schuyler and Maria Reynolds. Dom Hartley-Harris will portray George Washington, while Lemuel Knights will portray both Marquis De Lafayette and Thomas Jefferson.
Simon-Anthony Rhoden will continue as Aaron Burr, alongside the current cast: Emile Ruddock as Hercules Mulligan/James Madison, Shan Ako as Eliza Hamilton, Joel Montague as King George III, and Jake Halsey-Jones as John Laurens/Philip Hamilton. Alex Sawyer will play the role of Alexander Hamilton during certain performances.
The Hamilton ensemble cast includes Gabriela Acosta, Elizabeth Armstrong, Alishia-Marie Blake, Maya Britto, Matthew Elliot-Campbell, Manaia Glassey-Ohlson, Aimie Hibbert, Sam Holden, Barney Hudson, Nicolais-Andre Kerry, Ella Kora, Christian Knight, Aaron Lee Lambert, Nathan Louis-Fernand, Stacey McGuire, Lewis Newton, Kerri Norville, Hannah Qureshi, Samuel Sarpong-Broni, Hassun Sharif, Lindsey Tierney, Alex Tranter, Maddison Tyson, and Brandon Williams.
Hamilton Creative Team
Book, Music, & Lyrics by: Lin-Manuel Miranda
Directed by: Thomas Kail
Choreography by: Andy Blankenbuehler
Scenic Design by: David Korins
Costume Design by: Paul Tazewell
Lighting Design by: Howell Binkley
Sound Design by: Nevin Steinberg
How to Buy Hamilton Musical Tickets in London?
If you're look to buy Hamilton musical tickets in London, your best bet is to book them online. Not only do you get the option to book your choice of seats, but you also get to skip long queues at the Box Office.Don't miss out on this revolutionary musical and book your tickets now!
You can also check out our blog on Hamilton cheap tickets. Get to know the ways in which you can acquire the best seats on a budget and tips and tricks to get the most out of your money!
Other Top Rated London Theatre Shows
---
More West End Guides
---
For more West End information, here are some helpful quick links!