London To Stonehenge Tours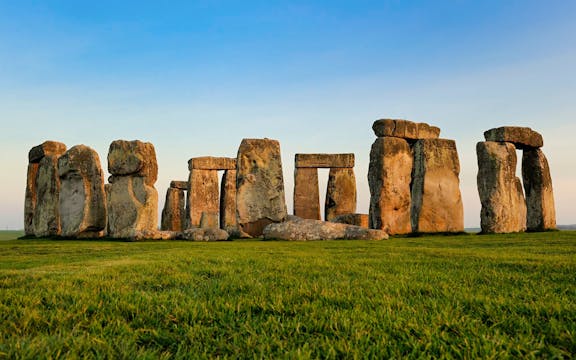 Headout's Top Recommendations
Inclusions
Stonehenge admission tickets
25% discount off Stonehenge guidebooks
Audio guide in several languages
Day trip to Stonehenge and Bath
Entrance to the Stonehenge (optional)
Entrance to the Roman Baths (optional)
25% discount off Stonehenge guidebooks
Free Cancellation
This ticket cannot be canceled but can be rescheduled upon request
This ticket cannot be canceled but can be rescheduled upon request
You may cancel up to 24 hours in advance for a full refund.
London To Stonehenge Tours Guide
The outskirts of London hosts a wealth of picturesque towns, UNESCO World Heritage Sites and fairy tale castles that are truly worth visiting. These attractions are just a few hours away from the main city and can be covered on a day trip. Stonehenge is one such attraction that cannot be missed. Read on to find out about Stonehenge tickets, tour highlights and more.
Post COVID-19 Safety Measures and New Rules at Stonehenge
In light of the COVID-19 pandemic, Stonehenge has enforced several safety measures:
London to Stonehenge tours can be booked online. Since visitor capacity is strictly limited per day, it's best to prebook your tour online. Visitors must carry their e-ticket on the tour and will be given admission only after the confirmed ticket has been scanned and approved.
It is mandatory that all guests wear masks throughout the duration of their visit.
Social distancing between all visitors is mandatory at the site.
Hand sanitizers are available for public use.
Some points have been marked with specific signage to ensure unidirectional flow.
A takeaway catering service will be provided in the outdoor seating area.
Audio guides will be provided that can be downloaded on smartphones.
All Your London to Stonehenge Tour Options Explained
Located in Salisbury, which is around 115 miles from the city, a London tour to Stonehenge is not to be missed. You can opt to book Stonehenge tickets, guided tours or combo tickets that will also include a tour of other popular cultural sites around London like Bath and Windsor.
Stonehenge Tickets
Guided Tours
Combo Tours
Explore the UNESCO World Heritage Site at your own pace with these Stonehenge tickets. Please note that you will not be allowed entry into the Stonehenge circle itself. Your Stonehenge tickets allow you to go within 10 meters of the monument. You will also gain access to the Stonehenge Exhibition Center which houses numerous artifacts belonging to different eras. 
Why go for these tickets?
Enjoy access to the Stonehenge and discover the wonders of the monument at your own pace. 
Visit the Stonehenge Exhibition Center and learn more about the history of the monument.
Recommended Experiences
Visit one of the most historic locations of the United Kingdom, Stonehenge, and witness the massive stones that were mystertously erected more than 5000 years ago. 
Located around 115 miles from London, Stonehenge makes for the perfect day trip from London. Travel comfortably in an air-conditioned coach from London and visit one of the most important cultural icons of England. Learn more about Stonehenge with the help of an audio guide which is available in 10 languages. You can also visit the Stonehenge Visitor Center which houses various exhibitions and a souvenir shop with this
Stonehenge guided tour
. 
Why go for these tickets?
Travel to Stonehenge in the comfort of an air-conditioned coach. 
Understand more about the history of the monument with the help of a multilingual audio guide. 
Recommended Experiences
Enjoy a picturesque journey through the English countryside and arrive at Stonehenge. Explore the ancient structure at your own pace and learn more about its mysterious origins. 
The outskirts of London hold a wealth of beautiful destinations that are truly worth visiting. If you are looking for an immersive experience, you can opt for a combo ticket that allows you to explore not just Stonehenge, but other fascinating destinations like Bath, Salisbury Cathedral, Windsor Castle, and more. These day-long tours are the best option if you have limited time and would like to see more of London's neighboring towns.
Why go for these tickets?
Enjoy access to some of the busiest attractions of London such as Windsor Castle with these Stonehenge combo tickets. 
Your professional guide will help you in making the most of the tour by regaling you with interesting history and trivia about these attractions. 
Recommended Experiences
Discover the wonders of some of England's most iconic sightseeing locations on this excellent value tour. Your experience includes a local guide's services and return transfers.
On this day-long tour from London, visit iconic locations like Stonehenge, Windsor, Salisbury and Bath. Travel in comfort on a luxury coach and learn about the history of these locations with your professional guide.
Plan Your London to Stonehenge Tour
Visiting Stonehenge can prove to be an overwhelming experience due to its popularity. Here's all the information you'll need for a seamless visit. 
Timings
Getting from London to Stonehenge
Tips/Guidelines
What are Stonehenge timings?
Stonehenge opening hours vary depending on the time of the year you plan to visit:
September to May: 09:30 AM to 05:00 PM
June to August: 09:30 AM to 07:00 PM
It is open all days of the year except for Christmas Day.
How long is a London to Stonehenge tour?
It takes at least 1.5 hours to explore just Stonehenge, but you can expect to spend about 6-8 hours on a round trip from London.
What is the best time to go for a London to Stonehenge tour?
Weekends are busiest, so the best time to visit Stonehenge would be during weekdays. June-August are the busiest months here, so if you're looking to avoid crowds, it's best to plan a visit between October to April.
Where is Stonehenge located?
How do I get from London to Stonehenge?
While opting for a guided tour with return transfers is the fastest way to reach Stonehenge, you can alternatively choose to drive down or take a train till Salisbury. 
How do I get from London to Stonehenge by train?
Visitors can board their train from London's Waterloo and get down at Salisbury. Stonehenge is located at a distance of nine miles from Salisbury. Once you reach Salisbury, you can take one of the tourist buses that go to the Visitor's Center.
Nearest Railway Station: Salisbury
Can I get from London to Stonehenge by bus?
No. Stonehenge is not accessible by public buses.
Is photography allowed at Stonehenge?
Photography for private consumption is permitted, but strictly prohibited for commercial or promotional reasons.
Is Stonehenge wheelchair-accessible?
Yes. The main areas including the Stone Circle and the visitor centre are open to differently-abled visitors.
Is food and drink available at Stonehenge?
Yes, while a cafe does provide snacks and refreshments to visitors at Stonehenge, it is currently closed. Instead, visitors can take-away food and drinks.
What to Expect on a London to Stonehenge Tour
No visit to London is complete without witnessing the ancient Stonehenge. Let's take a look at what you can expect from your
London tour to Stonehenge
.
Travel to Stonehenge
Travel comfortably in an air-conditioned bus and arrive at Stonehenge from London. Salisbury is a beautiful medieval town that should not be missed. Once you've witnessed the stone circle, depending on your choice of Stonehenge tour, you will be provided with return transfer services as well.
Explore the Stone Circle
Once you drive at Stonehenge, there is much to explore. Witness the stone structure that has baffled archaeologists and scientists for centuries and listen to your guide explain to you the numerous folk tales surrounding its origin. You will also get to see the exact points of the structure where the first rays of the rising sun will fall.
Visit the Stonehenge Visitor Center
The Stonehenge Visitor Center has numerous exhibitions that tell us more about the Neolithic era. From jewelry to pottery, you'll find a number of artifacts that were discovered during excavations. Interestingly, the Visitor Center also has a 360-degree audio-visual simulation room that will give you an opportunity to experience the wonder of standing at the center of the Stonehenge during various seasons. 
London to Stonehenge Tour FAQs
Is Stonehenge open to visitors now?
Yes. Stonehenge is now accepting visitors with prebooked online tickets.
What are the safety measures and guidelines in place at Stonehenge?
Several steps have been taken to maintain social distancing within Stonehenge at all times. Apart from recommending online reservations, all visitors have to wear appropriate safety gear such as masks.
Are London to Stonehenge tours available online now?
Yes. You can book your tours online as they now accept only digital reservations. Guests are advised to prebook their tickets online so as to avoid losing out on their preferred visitor slot.
What are the different London to Stonehenge tours available?
Guests can choose to book standard admission tickets, or opt for guided tours or combo tours. Admission tickets only provide direct entry to Stonehenge, while guided tours include the services of a local guide and return transfers. Combo tours include a visit not just to Stonehenge, but to other popular sites like Windsor, Salisbury, Oxford, Bath, etc.
Are return transfers included in my London to Stonehenge tours?
It depends on the tour you book. You would have to specifically book London to Stonehenge tours that include return transfers.
How long is a London to Stonehenge tour?
While it would take you around 2 hours to visit the Stonehenge, walk around and click photos, the entire tour could take between 10-12 hours.
What are Stonehenge timings?
Stonehenge timings vary based on the time of year you choose to visit:
September to May: 09:30 AM to 05:00 PM
June to August: 09:30 AM to 07:00 PM
It is open all days of the year except for Christmas Day.
What is the best time of day to visit Stonehenge?
It is recommended that you visit Stonehenge early in the morning, right after it opens or two to three hours before it closes in order to avoid the worst of crowds.