Looking for a quintessentially British experience? The outskirts of London hosts a wealth of quaint towns, UNESCO World Heritage Sites and whimsical castles that you just cannot miss. Topping that list is Stonehenge, a 5,000-year-old stone structure that dominates the British landscape. Perhaps one of the most awe-inspiring remnants of Britain's past, Stonehenge is a collection of rocks that are arranged in a ring formation. Each of these rocks is said to weigh around 25 tons. Situated in Salisbury, only 115 miles from London, a visit to this site must be on your bucketlist!
Read on to know everything you need before you plan your Stonehenge tour.
Stonehenge Tour In A Nutshell
---
Handy Information
| | |
| --- | --- |
| 📍 Location: | Salisbury |
| ⏰ Suggested Duration: | 2.5 Hours |
| ☀️ Best Time to Visit: | Before 9:30 am for after 4 pm |
| 🎟️ Van Gogh Museum Tickets: | £19.50 |
| 🚏 Closest bus stop: | Visitors Centre |
Opening Hours
Open daily from 9:30 am to 5 pm
Highlights
Named as World Heritage Site in: 1986
Owned by: The Crown
Height of each stone: 13 ft
Materials used: Sarsen, Bluestone
Why Take A Stonehenge Tour?
---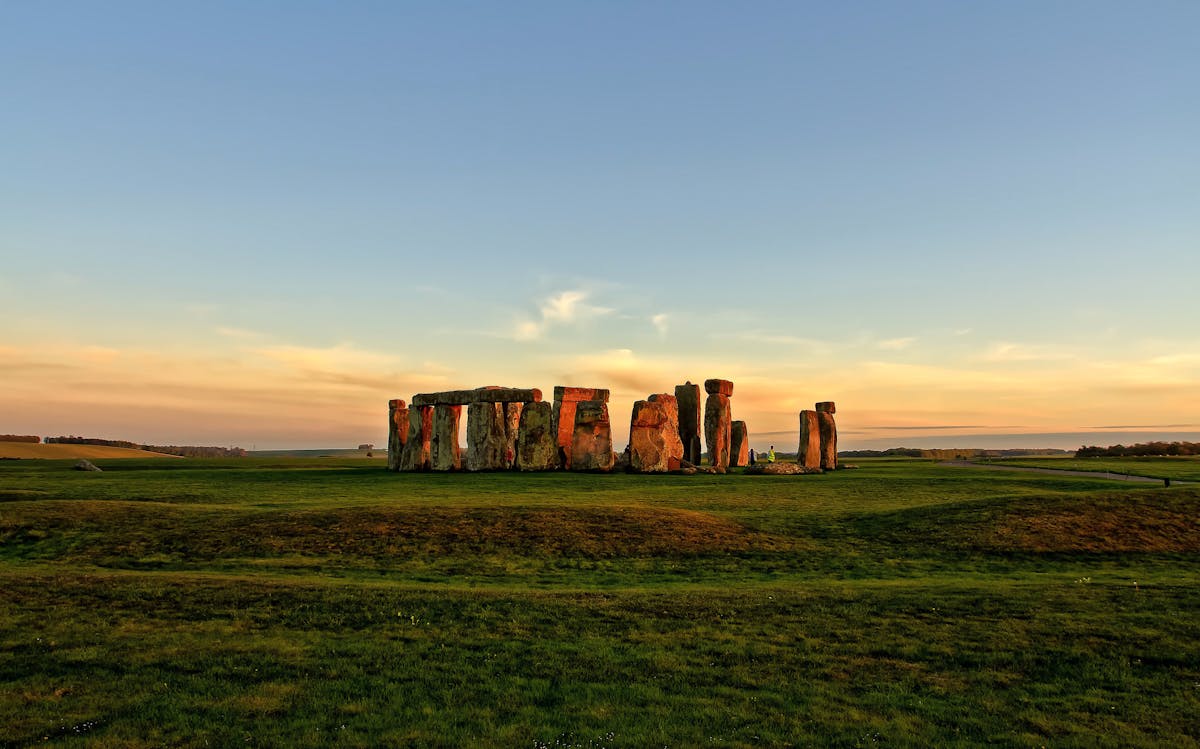 A visit to Stonehenge allows you to go back in time to 2,600 BC as you try to unravel the mystery surrounding this prehistoric monument. If you are planning a visit to London, here are some reasons for you to add this mysterious site to your itinerary.
Unravel The Mystery Of Stonehenge
Perhaps the most interesting aspect of the ancient structure is the mystery that surrounds it. Over the years, historians have been baffled by the gigantic ring of stones that stand at a height of about 13 feet. The legend has it that these stones were carried by giants from far-away lands. Another story is that these stones have certain healing powers. Even though research has shown that these stones are indications of an old burial site, the numerous stories regarding this prehistoric monument make for a very interesting visit.
Discover The Magic Of Summer And Winter Solstice With Stonehenge Tours
Another fascination aspect of Stonehenge is that the structure has been strategically constructed in order to align with the summer and winter solstices. During the summer solstices, the first rays of the sun will fall on the heart of Stonehenge. Thousands of people visit it to witness this sight. Similarly, during the winter solstice, the sun sets between the gaps in the stones. However, this spectacle can no longer be witnessed as some stones that make up the structure have toppled over.
Look Through Historically Significant Artefacts With Stonehenge Tours
Stonehenge also has a Visitor's Centre that boasts almost 300 exhibits. Each of these exhibits have been unearthed during archeological excavations and hold great historic significance. Other than these artefacts, Stonehenge also conducts exhibitions that depict its history with the help of models and audio-visual effects.
Choosing The Best Stonehenge Tours
---
If you are planning a visit to London, here is a list of Stonehenge tours that you can choose from. Depending on the time you are willing to spend and your budget, you can take your pick from the numerous Stonehenge tickets and tours that are available.
Stonehenge Tickets
If you are more keen on travelling solo and exploring the place by yourself, you can opt for the Stonehenge Admission ticket with audioguide.
Half Day Tours
If you are short on time, yet would like to make the most of it, we've got you covered. Choose from exclusive half-day London to Stonehenge tour with transfers from London.

Best London Tours to Stonehenge
Stonehenge is located only 145km from London and a no miss if you are visiting London. Read all about the best London to Stonehenge Tours and everything you should know about them before you plan a trip.
Combo Stonehenge Tours
Get the best deal by combining other attractions along with a tour of Stonehenge. Not only will you save time by booking once instead of multiple times from multiple sites, but also save a few euros, only with Headout.
A Typical Stonehenge Guided Tour Experience
---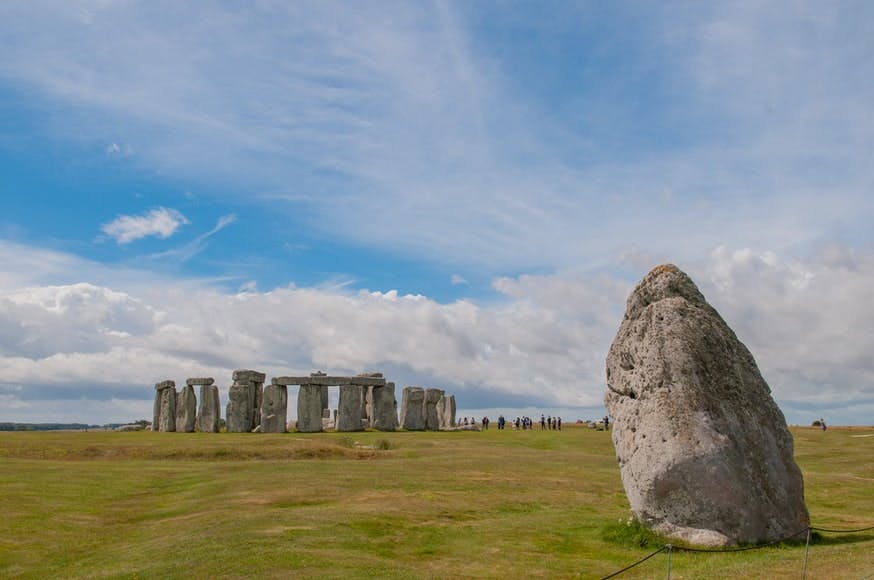 From exploring the ancient ruins to witnessing the historically rich artefacts on display, a visit to Stonehenge is filled with unique experiences. Read on for a detailed explanation of what you can expect from your visit to the largest surviving stone circle in the world.
Travel To The Legendary Stone Circle In Luxury
Enjoy the beautiful English countryside from the comfort of your air-conditioned bus as you travel to Stonehenge from London. You will pass many charming towns and hamlets along the way such as Andover and Amesbury. Depending on your choice of Stonehenge tour, you will be provided with return transfer services as well.
Wonder At The Mystical Stonehenge
Explore the legendary stone circle that has baffled archaeologists and scientists for centuries. Believed to be built during the Neolithic Age(10,000-3,000 BCE.), the strange stone structures have stood the test of time, becoming one of the most iconic tourist attractions in England. Your guide will tell you about the supposed origins of this magnificent archaeological site along with the folklores and myths surrounding it. You will also get to see the exact points of the structure where the first rays of the rising sun will fall.
Make the Most of Your Experience by Visiting the Stonehenge Visitor Centre
Apart from a wide array of souvenir shops and exhibitions, the Stonehenge Visitor Centre boasts a newly opened cafe. You can enjoy a cup of coffee as you admire the stone structure. The centre also has a 360-degree audio-visual simulation room that will give you an opportunity to experience the wonder of standing at the center of the Stonehenge during various seasons. Not to forget the variety of artefacts on display that take you a step closer to the Neolithic way of life. These artefacts include jewelry, pottery, and bones found during excavations.
Things To Keep In Mind While Visiting Stonehenge
---
Once you reach Salisbury, you have two ways to reach Stonehenge. You can either catch a bus or opt to drive down to the historical site yourself. We recommend that you opt for the bus ride. The town of Salisbury is quite picturesque and the perfect example of a medieval town. The bus ride offers a comprehensive tour of the entire town which should not be missed.
It is always a good idea to book your Stonehenge tickets in advance. Because only a certain number of tickets are sold each day, there is always a good chance that you might have to wait.
Another popular tourist spot, Bath is merely 45 minutes away from Salisbury. There are many combo tours available that cover both of these attractions. By opting for one of these combo tours, you can save both time and money.
If you want to beat the crowd, arrive at the site as early as possible. It gets quite crowded after 10 AM. If you can not make it early in the morning, visit the Stonehenge right before closing time. Not only do you get to see the stone structure under the light of the setting sun, but you also get to avoid the crowd.
Whether you are visiting during summer or winter, it is a good idea to dress in layers. This is because no matter what the season, Stonehenge tends to be quite windy. It is also a good idea to carry an umbrella or a raincoat as the town of Salisbury sees quite a bit of rainfall.
Don't forget to explore the picturesque town of Salisbury. Once you are done admiring Stonehenge, take a walk along the countryside and get a feel of the quintessential British town.
Know Before Booking A Stonehenge Tour
---
Opening Hours
The Stonehenge is open daily from 9:30 am to 5:00 pm
When To Visit
The best time to visit the ancient ruins is during the summer months of June-September. However, these months also see the highest number of visitors. Therefore, if you are visiting during these months, expect a large crowd. One way to avoid this is to visit the ruins as early as possible.
Another option to beat the crowd is to visit during the winter months. However, the days tend to be short and cold so make sure that you equip yourself to withstand the cold.
Reaching The Stonehenge
Opting for a tour is the fastest and cheapest way to reach Stonehenge. However, if you are travelling independently, you can board a train from London's Waterloo to Salisbury, which is situated at a distance of nine miles from the historic site. Trains run from Waterloo to Salisbury every half hour from 6.30AM onwards.
From Salisbury, you can take a tour bus that goes to the Visitor Centre. Public bus service is not available.
Facilities Available
Parking
Food & drinks
Toilets

Stonehenge Map
---
7 Astonishing Stonehenge Facts
---
In 2013. 50,000 human remains were excavated from the site which indicates that Stonehenge might have been a burial ground.
Charles Darwin had solved the mystery why the stones were sinking and concluded that the earthworms in the soil of the area had been the cause.
The construction required more than thirty million hours of labour.
It is believed to be built between 3100 – 1100 BCE incorporating mathematical and geometrical understandings still mysterious to today's scientists.
Stonehenge is the most well-known of the nine hundred stone rings that lie on the British Isles.
It is one of the most popular UNESCO world heritage sites, attracting more than one million visitors each year.
A circle of 56 pits encloses Stonehenge which is believed to have held stones or posts.
Restaurants Near Stonehenge
---
Although Stonehenge seems isolated and far from busy streets, here are some hidden eatery gems where you can grab a snack or a meal after your Stonehenge tour.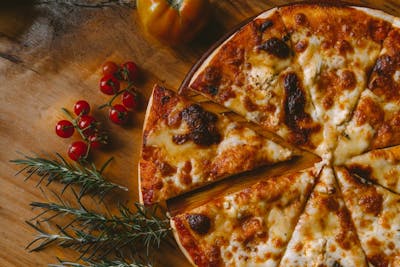 Pizza Venti
Pizza Venti serves classic woodfire Italian pizzas with vegan and vegetarian options. There are a wide variety of toppings and the service is courteous. The chocolate pizza or ice cream delish are among people's favourites.
Distance from Stonehenge: 650 meters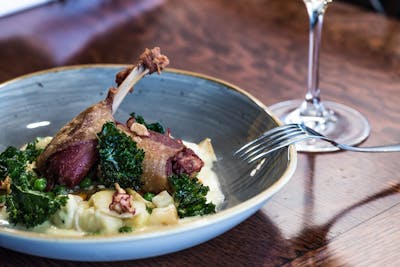 Agora
Agora is a budget-friendly restaurant that serves Turkish, Greek, and Middle Eastern delicacies. They also have vegetarian, vegan, and gluten-free options. Some of the yummiest on the menu are lamb and chicken Iskender, lamb Sarma Beyti, and Efes beer.
Distance from Stonehenge: 5.2 Kms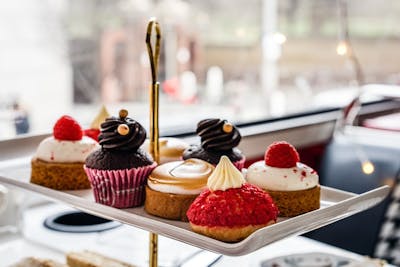 A Date With Thyme
A Date With Thyme is a cute cafe located just 8 minutes from Stonehenge, offering healthy British bites. The cafe is wheelchair accessible and has wifi availability, too.
Distance from Stonehenge: 7.6 km Tandoori Nights
Savour lip-smacking Indian food at Tandoori Nights. Shami Kebab, Chicken Tikka, and Samosas are the highlights of the menu.
Distance from Stonehenge: 8.2 km
Hotels near Stonehenge
---
The Salisbury Plain is a wonderful stopover on your trip to Stonehenge tour. Here are several hidden hotels and stays that will provide you with ample time to explore the region. Holiday Inn Salisbury Stonehenge
Located in very close proximity to Stonehenge is Holiday Inn Salisbury Stonehenge. It is a very sleek and stylish hotel with all the modern amenities. You must pay a visit to their Solstice Bar & Grill restaurant, located inside the hotel to relish the delicacies of the region.
Distance from Stonehenge: 4.9 km King's Head Inn
This country hotel was built in the 1800s with comfortable suites with tea, coffee machines, AC machine, TV and wifi. The staff are hospitable and will help you out with out-of-sight attractions and places you can discover in the area.
Distance from Stonehenge: 12.4 km The Stones Hotel
Another gem of a stay located very close to Stonehenge is The Stones Hotel. It is top-notch in the amenities provided and is furnished with classical decor.
Distance from Stonehenge: 6.3 km The Antrobus Hotel
Formerly a vicarage, this is a 17th Century Coaching Inn located a stone's throw away from Stonehenge. They have a special Beatles Suite where the Fab 4 stayed to film 'Help'.
Distance from Stonehenge: 3.2 km
FAQs
---
What is the best Stonehenge tour?

How long does it take to tour Stonehenge?

Should I book my Stonehenge tour tickets in advance?
Do I need a ticket to tour Stonehenge?
Can I cover both Stonehenge and Bath in one day?
What should I wear on a Stonehenge Tour?

Are Stonehenge tickets refundable?

Why is Stonehenge so famous?
Who originally built Stonehenge?
What is the theory of Stonehenge?
Ready To Explore London?
Check out our comprehensive London Travel Guide packed with itineraries, tours, culture trips, best hotels, restaurants and a lot more.