Want to see a bit of that fabled and historic countryside that makes England great? Well, London is surrounded by attractions and places of importance, and visiting the mysterious Stonehenge is the perfect way to take in some fresh air and picturesque scenery.
While London itself can provide an experience that just cannot be described in words, it's Stonehenge, a UNESCO World Heritage Sites, that provides the quintessential British experience. Whether you're a tourist visiting England for the first time, or a local who wants to indulge in a quiet and scenic getaway, we've got you all covered. On your tour, visit the historic Stonehenge, or combine your day tour to include other classic monumental locations like Windsor or Bath.
What to Expect on Your London Tour to Stonehenge?
---
London to Stonehenge tours when purchased with the admission to Stonehenge, allow you access to the monument along with giving you admission to the Exhibition Centre. With more than 300 artefacts from the early Bronze age, you'll discover the connecting threads of history here which links the prehistoric monument to its builders and purpose. Finally, you can unravel the mystery of the iconic Stonehenge.
You can choose to book just admission tickets, or half-day/full-day tours from London.
London Tours to Stonehenge with Bath and Windsor
---
Bath, is another popular town visited by individuals on day trips from London. This charming town is the first UNESCO World Heritage Site in England and is famous for its picturesque Georgian design architecture. Another famous site in Bath is the Pulteney Bridge, modelled after the world-famous Ponte Vecchio in Florence. What makes Bath a truly spectacular place to visit are the age old Roman Baths, which attract one million visitors annually. The Roman Bath is divided into four major areas which can be explored upon purchase of the Roman Bath admission tickets. The Museum within the Bath is an important historical catalogue which features Celtic curse tablets, Roman currency coins and many more relics from the past.
Another must-visit location on your day tour from London is the town of Windsor. Known for its lovely cobblestone streets, a lively High Street and the residence of the Queen - Windsor Castle - walking through this town is a stunning experience in itself. At Windsor, you will want to visit the inside of the WIndsor Castle, the world's oldest running castle which was originally built by William the Conqueror in the 11th century. Here the walls are adorned with works from the Royal Collection, the State Rooms are known for housing prominent world figures and St. George's Chapel is renowned for hosting some of the most important events in British history. Take in the rich culture of the land and feel the spirit of the British Empire resonate all through this lively, delightful town.
How To Make The Most Of Your London Tour to Stonehenge
---
Time. The second most important thing to consider on an out-of-town visit from London. If time is of the essence, you might want to cover just one attraction completely instead of visiting multiple places for a more wholesome experience. Our Stonehenge London tours are the best to save on time.
However, if you have some time at hand it's best to cover multiple sites. We suggest taking a coach trip from London for at least a day as some sites are more than 100 miles away. You also have the added advantage of choosing to go to attractions such as the Roman Baths, Salisbury Cathedral, Stonehenge and the Windsor Castle on these tours. Pre-purchasing your attraction tickets is ideal as tickets might sell out at your time of visit as most of the attractions such as Windsor Castle and Roman Baths only allow a set amount of visitors inside the grounds.
If you're a tourist who has multiple days open or if you're on vacation, then we suggest you cover as much ground as possible and indulge yourself completely into the rich English countryside. The South-West Coast is a stunning stretch of land where you can see the magnanimous Durdle Door.
Book London Tours to Stonehenge
---
The best way to ensure that you've gotten your money's worth is by booking your London to Stonehenge tours online. You have a variety of options to choose from, depending on your budget, schedule, interests, and more.
Here are a few benefits of booking your tours on Headout
Choose to book standard admission tickets or half/full-day tours. Standard admission tickets give you direct entry to the landmark, while half or full-day tickets – depending on what you've chosen, include essential benefits like round-trip return transfers, multilingual audio guides, or local tour guides.
Booking your tickets at Headout gives you the benefit of discount prices with additional 5%-10% cashback.
An added benefit of booking your tickets online is that you can escape the long waiting lines at Stonehenge or any other attraction. Due to their immense popularity, you can always expect large crowds here. Simply avoid the wait at the ticket counter by carrying your confirmed mobile tickets.
London Tours to Stonehenge, Bath, Windsor & More
---
If you're hungry for more visits to sites soaked in British history and culture, it's best to book a combo ticket. These day-long tours take you to fantastic spots like Windsor, Bath, Salisbury Cathedral, Oxford, and more.
You can always browse through more London to Stonehenge tours and find the one that best suits you.
Best Time to Go For A London Tour to Stonehenge
---
Summer is a beautiful time of the year and plenty of crowds flock to the nearby attractions from London. As such, these sites become more populated and crowded during the summer months. However, winter presents its own challenges of insulation and comfort. Nevertheless, all sites are open throughout the year and a winter trip is definitely cheaper and less crowded if you're willing to embrace the cold.
FAQs
---
What is the best time of the day to visit the Stonehenge and other attractions which have an entrance fee like the Roman Baths and the Windsor Castle?
The best time to visit the Stonehenge or any of the other attractions is the morning. All venues are least crowded at these times and if you want a more private experience, we suggest going for these attractions as soon as they open. Another brief window opens up at lunch time when other visitors are grabbing a bite. In some cases, particularly the Roman Bath, evenings are a little less crowded.


Is there any thing for kids to do on day trips from London?
Yes. There's plenty for kids to enjoy and discover on day trips from London. Even basic Stonehenge tours from London allow kids opportunities to see monumental sights and some of nature's best landscapes, while the more in-depth tours allow them to immerse themselves in the history of the land while looking at breath-taking sights.


How long can I stay at the attractions upon purchase of the ticket?
There are no time restrictions on any ticket. However, visitors at Windsor Castle are allowed to move only in one way, so if you zip through it, you will not be able to go back to see anything you've missed. Apart from this slight hiccup, your tickets allow you to spend as much time as you like at the attractions.


What can I do for food if I'm not carrying any?
All the places have small eateries or cafes nearby to supplement any of your food and drinks requirements. However, we do suggest carrying your own lunch box as this will help you save on money.


Should I carry anything on these day trips from London?
We suggest carrying just a small shoulder bag/backpack. Luggage and large backpacks are not allowed into the attractions. Please carry only the essential personal use items such as medication or sunglasses.
Other Day Trips from London
---
London to Oxford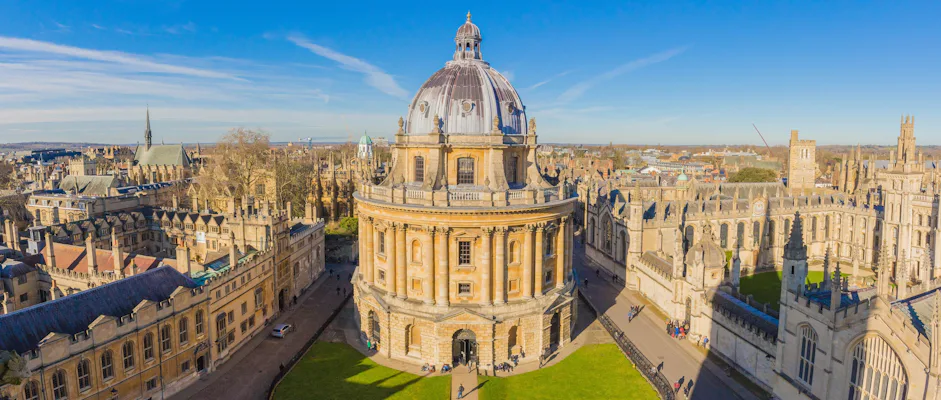 Dubbed the City of Dreaming Spires, Oxford is one of the most celebrated university cities in the world brimming with a blend of vibrant yet medieval culture. Located about 92 kms from the city, a London to Oxford day trip is a great way to spend your time.
London to Dover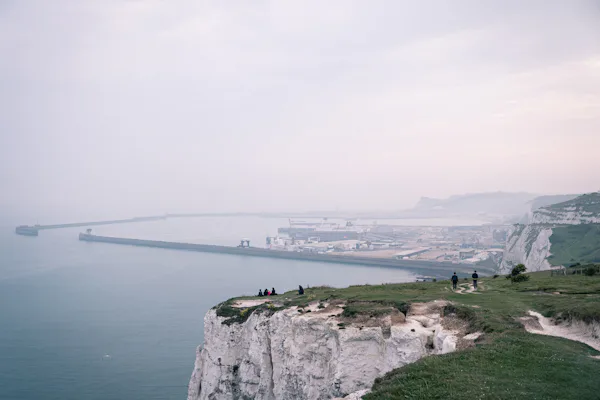 Imagine scenic, chalk-white cliffs, a multitude of boats, a majestic medieval castle rising above the cliff and overlooking the sea – this is the port town of Dover. Dover is just 2 hours away from London, making it an ideal destination for a day trip from London. Book London to Dover Castle tickets.
London to Cotswolds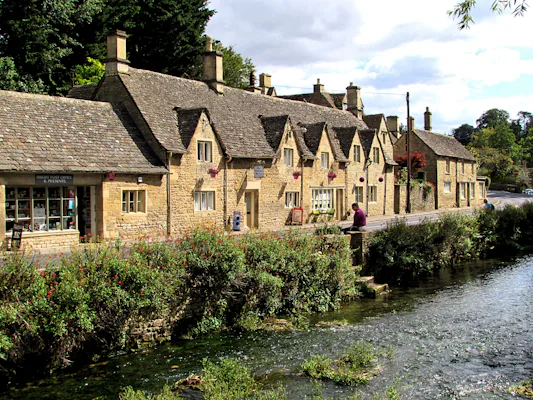 Cotswolds is a charming old world town located about 100 miles from London. Over half a century back it was declared an Area of Outstanding Natural Beauty (AONB) putting it on the tourist map, making it famous day trip destination from London. Book London to Cotswolds day trips for a relaxing, picturesque day..
London to Bath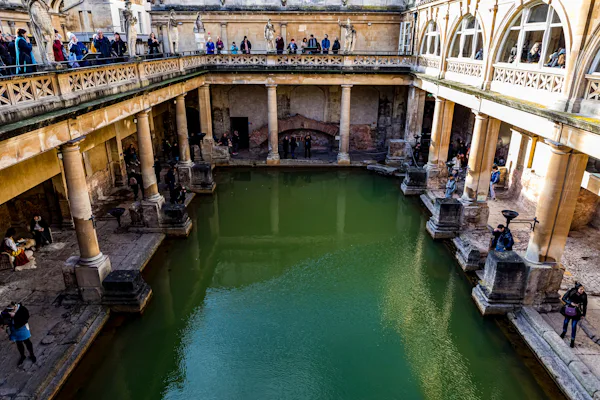 Set in the valley of River Avon, Bath is a part of the Somerset county of England and mostly famous for its Roman built baths. Comfortably located just an hour and a half away from London via train, Bath makes for a great day trip from London. Add to your Stonehenge visit by booking London to Bath day trips.
More Day Trips from London
---
While it's impossible to completely cover the variety of beautiful locations outside of the city, browse through our entire collection of day trips from London. Not only can you visit Stonehenge, but other rare finds such as Leeds Castle, Canterbury Cathedral, and more.