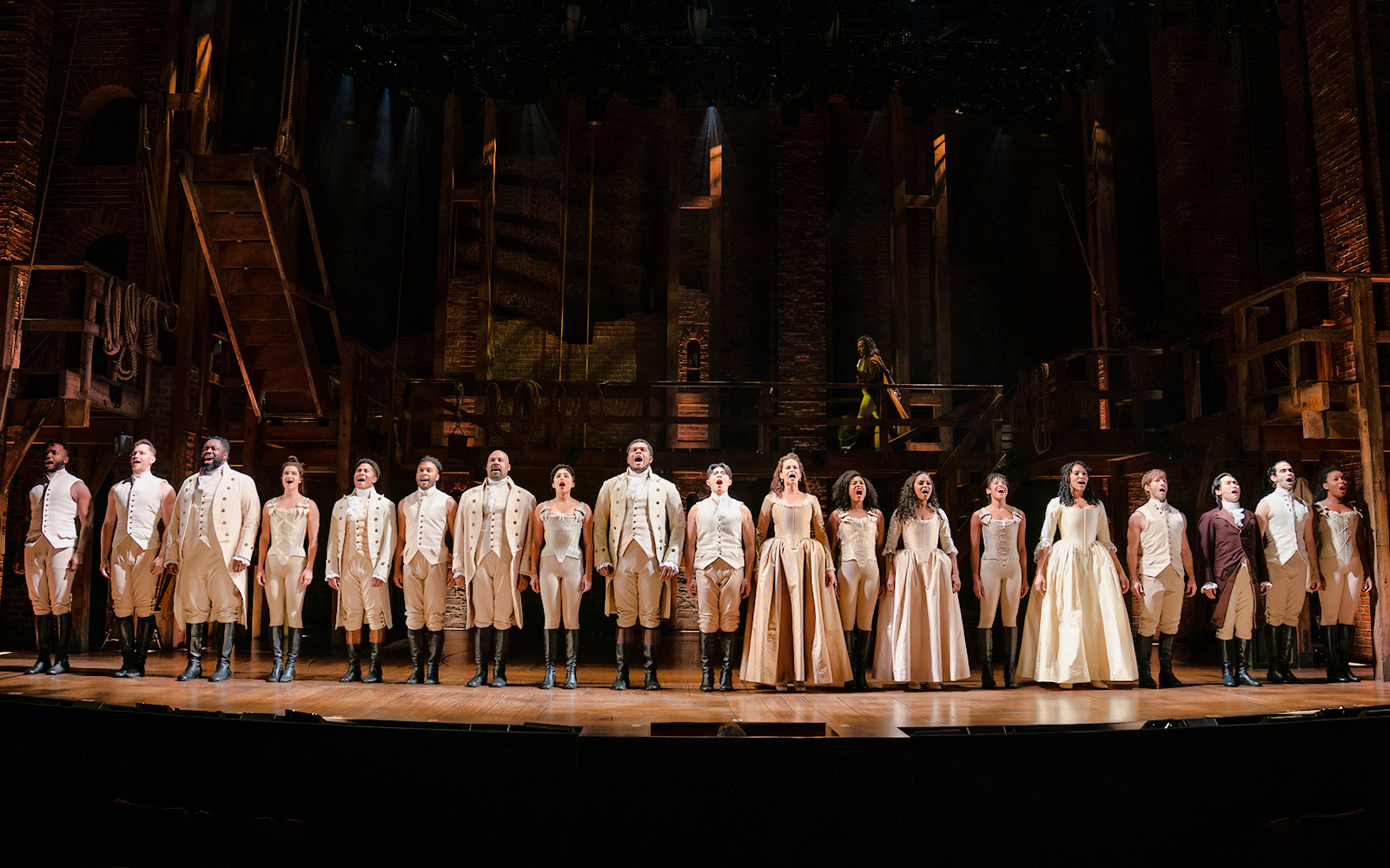 Hamilton is one of the most talked-about musicals in recent years, and it made its way to London's West End in 2017 and has been running successfully at Victoria Palace Theatre ever since. Lin-Manuel Miranda's masterful masterpiece has charmed audiences all over the world, and its London production is no exception. Hamilton brings to life the story of one of America's most prominent Founding Fathers, Alexander Hamilton, through a captivating blend of rap, hip-hop and conventional musical theatre. Hamilton's London reviews speak nothing but praises and the same reflects in the plethora of Olivier awards and other awards the musical has bagged.
What is Hamilton the musical about?
---
The show depicts the life of Alexander Hamilton, from his arrival in New York City to his ultimate demise in a duel with Aaron Burr. Along the way, we see Hamilton's relationships with his wife Eliza, his friends John Laurens, Marquis de Lafayette, and Hercules Mulligan, and his political rival Aaron Burr. The show explores themes related to legacy, ambition, and the consequences of fame, providing a thought-provoking and emotional experience for the audience.
Hamilton London Review: The Cast, Set, Costumes & the Soundtrack
---
Hamilton West End Cast
The cast of Hamilton at the Victoria Palace Theatre is simply outstanding. Reuben Joseph gives a fantastic performance as Alexander Hamilton, bringing power and charm to the role. The rest of the lead cast is equally amazing. The talented ensemble cast stands out with each performer bringing their own special talents to the show. Andy Blankenbuehler's choreography is mesmerizing, and the performers execute it flawlessly.
The Set and Costumes
The set design utilizes rotating platforms to effectively portray multiple locations throughout the show. The lighting design adds depth and texture to the scenes. The costumes display a unique combination of historical accuracy and contemporary style. The show's use of colour and texture is notable, providing additional visual appeal.
Hamilton the Musical Soundtrack
Lin-Manuel Miranda's genius score blends the beats of rap, hip-hop, and timeless musical theatre, delivering a one-of-a-kind and unforgettable musical experience. The lyrics are clever as well as poignant, with each song telling a story and moving the plot ahead. Some of the top songs from the musical are "My Shot," "The Room Where It Happens," and "Who Lives, Who Dies, Who Tells Your Story." The music is played by a live orchestra, enhancing the immersive experience of the show.
Hamilton London Review: Final Verdict
Hamilton deserves a solid 5 out of 5 stars. Hamilton the Musical is a true masterpiece, combining music, storytelling, and history into an outstanding experience. The cast, set, costumes, and soundtrack all are brought together effortlessly, creating a show that is both delightful and thought-provoking. Anyone who loves musical theatre must experience Hamilton at least once.
The musical is great for history buffs and fans of modern music alike. I highly recommend that readers of this Hamilton London review go and watch the musical. It is a one-of-a-kind experience that will stay with you long after the show is over.
How to Buy Hamilton Cheap Tickets in London?
If you're looking to buy Hamilton cheap tickets in London, the best and most hassle-free method is to book your tickets online. Not only do you get last-minute availability and the option to book your choice of seats, but you also get to skip the effort of standing in long Box Office queues and book your tickets from the comfort of your home, anytime, anywhere.
Hamilton London Review: What The Critics Think
---
"Whether or not 'Hamilton' is the best musical of our generation – it clearly is, but whatever – it's been a hit for the only reason anything is a hit: because it is a great work of entertainment."
— Andrzej Lukowski, Time Out
"...it's a rollercoaster of a show in which a bare-headed, largely non-white cast capture the fervour and excitement of revolution while reminding us how much America's identity was shaped by a buccaneering immigrant, Alexander Hamilton."
— Michael Billington, The Guardian
"Miranda's portrait of a 'young, scrappy and hungry' immigrant's astonishing rise is, explicitly, a story of America's abundant possibilities. It pictures the country's Founding Fathers not as frozen marble monuments but as spirited, fallible and crafty, while making 18th-century politics seem as explosively immediate as a rap battle."
— Henry Hitchings, Evening Standard
"Lin-Manuel Miranda's awe-inspiring skyscraper of a modern musical, towering above all others, is back. It so happens that London has pipped New York to the post in restoring it to the repertoire of must-sees."
— Dominic Cavendish, The Telegraph UK
"What sets Hamilton apart from its competitors is the soundtrack. Heavy with Hip-hop and musical rap, Miranda's score achieves magical fusion with any genre it touches. The result is unmistakably musical theatre, just not as you've known it. There's many a show that would sell its proverbial granny to achieve just one of Hamilton's rousing themes, or touching harmonies."
— WJ Quinn, The Quinntessential Review
"Hamilton creator Lin-Manuel Miranda astonishingly modernises the story of the immigrant Hamilton, a bastard by birth who revolutionised the US constitution, and created the country's first banking system. Hamilton's life is told almost exclusively in rap (it seems bonkers, right?), but it creates a fury of energy on stage – fuelled by the bopping heads in the audience, like we're at an Eminem gig – like no show has before."
— Adam Bloodworth, Metro
"This interpretation is also an ideal first experience for "Hamilton" virgins and for anyone unaccustomed to the rap and hip-hop that make up much of Mr. Miranda's score, which sounds richer every time I hear it. The cast, a multiethnic ensemble as it is in all "Hamilton" productions, enunciates more precisely than their American counterparts."
— Ben Brantley, The New York Times
"They may wear knee breeches and period costumes, but Hamilton and his band of brothers – the Marquis de Lafayette, John Laurens, and Hercules Mulligan – are played by performers of colour (the cast are of diverse ethnic backgrounds) and they rap in exuberant volleys of assonance and street-smart word-play, syncopated riffs and sprung rhythm ("Lock up ya daughters and horses, of course/It's hard to have intercourse over four sets of corsets"). The idiom takes you right into the fiery metabolism and word-drunk wit of these youthful rebels, desperate to seize and mould a nascent nation."
— Paul Taylor, Independent
Other Top Rated London Theatre Shows
---
More West End Guides
---
For more West End information, here are some helpful quick links!