Milan is relatively small but offers all the perks that a large city would give, thus making it an ideal tourist destination. Tourists can explore most of the city's attractions and museums on foot.
Some of the most beautiful landmarks include the Opera House, Duomo di Milano, ancient churches, and an array of museums and art galleries to wander through. Recognized as the world's most important fashion capital, Milan also offers a variety of interesting museums and things to see and experience.
In this guide, you will get all the information you need, if you are planning your trip in February to the capital of Lombardy.
What makes Milan in February special?
---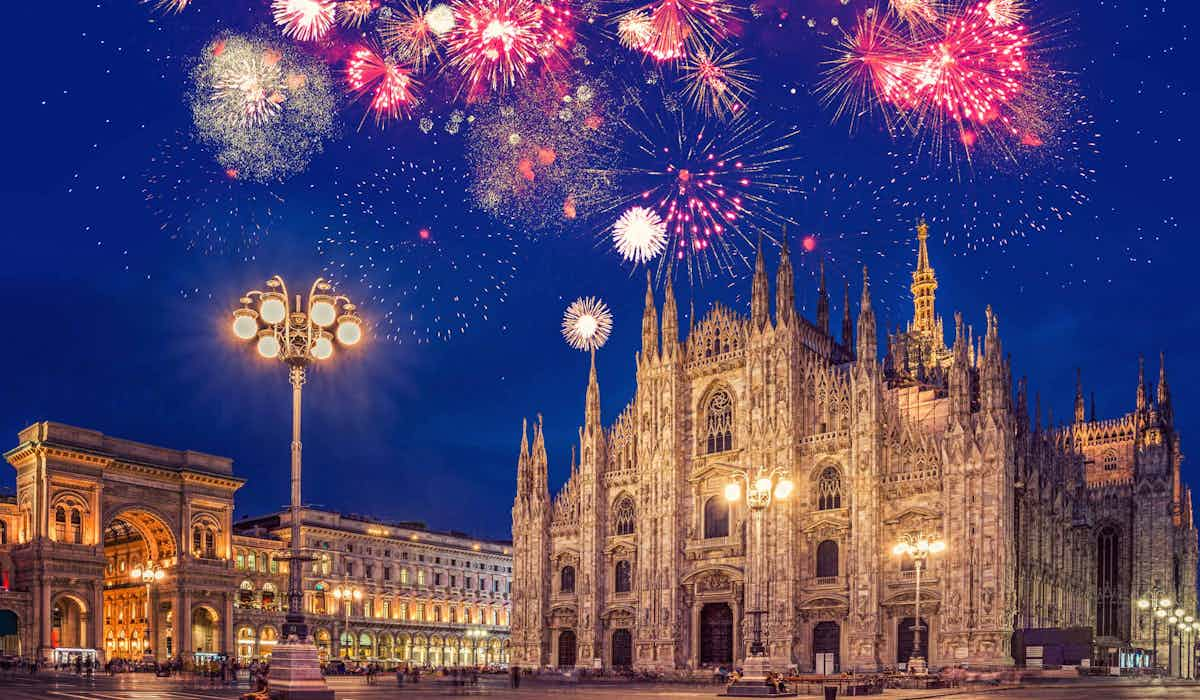 February in Milan is a touch cooler with a high probability of snow, but with the Fashion Week, Carnival, and all the February expos and no crowds, a visit at this time of the year makes it worthwhile.
There is plenty to see and do in February, so don't be disheartened by the weather if you are in the city. To explore the city and make the most of your time there, bus tours allow you to see the iconic sights, give you time to go shopping, and also offer you a tour guide to Milan.
There are plenty of attractions in Milan that the city is known for. One of these is the Palazzo Borromeo, a 13th-century building situated in the heart of Milan and is a great place to walk around as you soak in the stunning architecture of the city. If you love to party, don't miss out on the Carnevale Ambrosiano, Italy's largest carnival begins in February and goes on till the first Saturday in Lent, bringing Milan to life.
Milan In February Weather
---
Milan continues to remain cold during the month of February. Spring begins to appear at this time, but only towards the end of the month. The city experiences an average temperature of around 6°C (43°F), and it can still dip as low as 1°C (34°F). Milan experiences sunshine, with an average of five hours of sunshine per day. In February, the city experiences rainfall only six days in the month.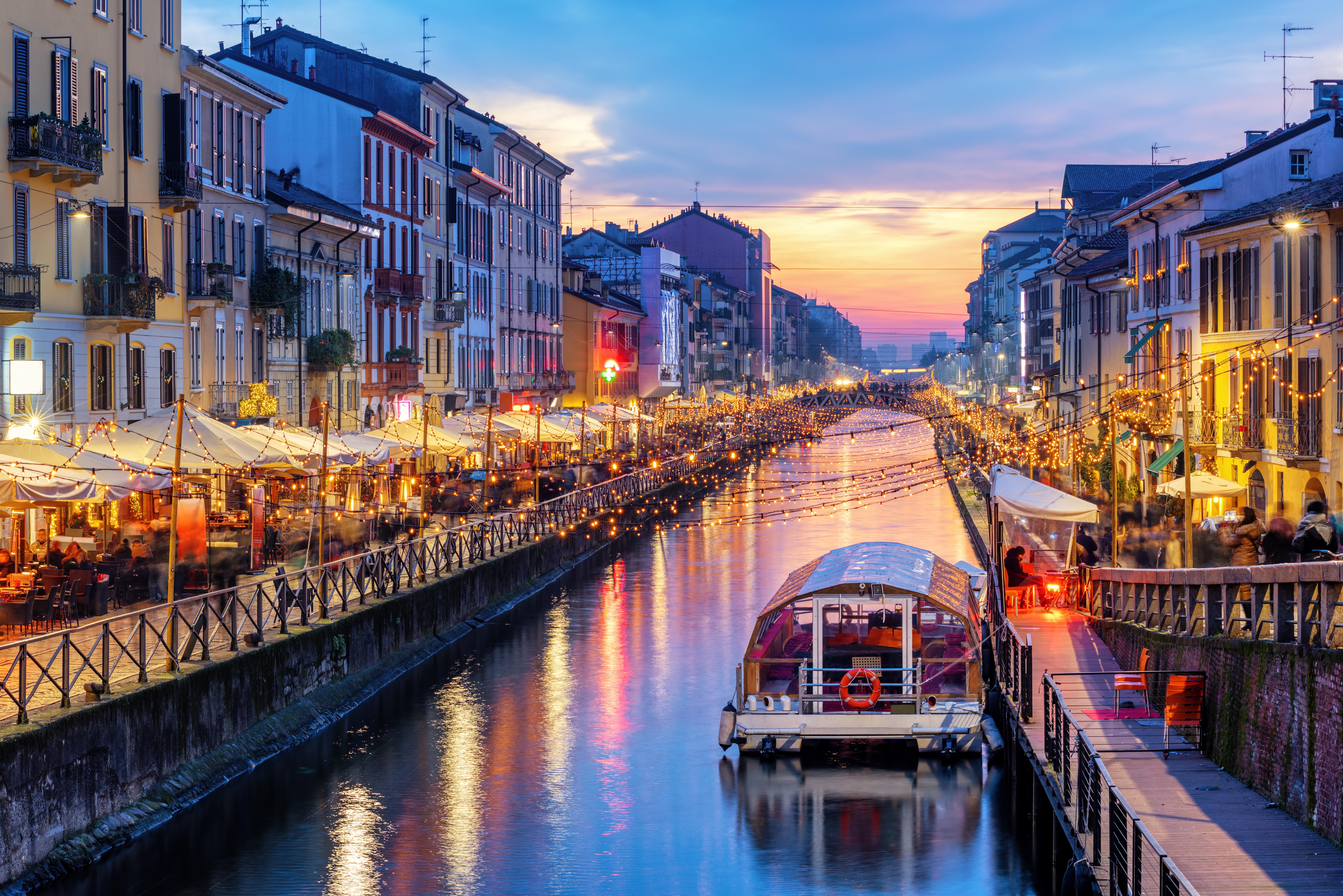 Must-Do in February
---
This is Italy's most famous mural and is hidden away on a wall of the refectory, next to the Basilica di Santa Maria delle Grazie. This piece of art is a hard miss as it depicts Christ and his disciples at the dramatic moment when he's aware of his betrayal. If you are visiting Milan in February, don't go without witnessing this iconic masterpiece.
February Timings: 9.30 am and 3.30 pm from Tuesday to Sunday
The Duomo Milan is a 600-year-old extravagant Gothic cathedral and has a pearly white façade that is adorned with 135 spires and 340 statues. Its interiors are extremely impressive and have three enormous stained-glass apse windows.
February Timings
Duomo 8 am-7 pm, roof terraces 9 am-7 pm, archaeological area 9 am-7 pm

National Museum of Science and Technology Leonardo da Vinci
Discover the largest museum of science and technology in Italy, the Leonardo Da Vinci National Museum of Science and Technology, and immerse yourself in the largest permanent collection dedicated to Da Vinci in the world. Enjoy the various interactive workshops and visit the temporary exhibitions.
February Timings
All days, except Mondays -10:30 am, 11:30 am, 12:30 pm, 1:30 pm, 2:30 pm, 3:30 pm and 4:30
Hop Aboard the Bernina Express
Enjoy a remarkable alpine tour as you take a ride on the Bernina Express Red train. Soak in the stunning landscape of the Swiss Alps and learn all about the fascinating history of the Swiss territory from your tour guide. Board the train and zoom along the UNESCO Bernina Pass.
February Timings
Daily at 7:15 AM
At Leonardo's Vineyard in Milan, wander through its serene gardens and learn all about Renaissance heritage and history as you explore. Descent into the attraction and discover the Atellani House's antique architecture. Learn all about the Renaissance heritage and history and witness Leonardo's most prized possession, his vineyard.
February Timings
Tue-Sun: 9 AM to 6 PM
Built-in the 14th century, learn all about the famous Medieval Renaissance fortress Sforza Castle which was once one of the largest citadels in Europe. Its' history continues to be Milan's most treasured and visited landmarks. The place is currently home to museums displaying numerous historic displays and art by famous artists like Leonardo da Vinco and Michelangelo.
February Timings
Daily, 7 AM to 7:30 PM
Take a day trip from Milan to Lake Como
If you are visiting Milan in February, taking a day trip from Milan to Lake Como is a must. Enjoy picturesque gardens, classic restaurants, beautiful houses and a clear lake, Lake Como, Italy's enticing holiday town. On this tour, discover the scenic towns with an expert tour guide and simultaneously visit the towns around.
Marvel at the wonder of Renaissance
Get set to discover and marvel at the beauty of the glorious city by spotting the Renaissance treasures of history. Get an insight into the cultural and historical heart of Milan. Soak in the excellence of Leonardo da Vinci's The Last Supper and experience other artistic attractions like the Sistine Chapel of Milan, Little Cloister of the Frogs and more.
February Timings: Thursdays at 2 PM
Teatro alla Scala is a popular opera house in the city of Milan and was inaugurated on 3 August 1778. The place was formerly known as the Nuovo Regio Ducale Teatro alla Scala. The premiere performance was Antonio Salieri's Europa riconosciuta.
February Timings
Mon to Sat from 12 noon to 6 pm
Events in February
---
February is a low season in the city with not too many tourists, giving you the opportunity to explore Milan without any hustle and bustle. Without any doubt, this is the best time to visit with tranquillity all of Milan's top events and landmarks.
Here are some of the important events you can take part if you decide to be in Milan during February: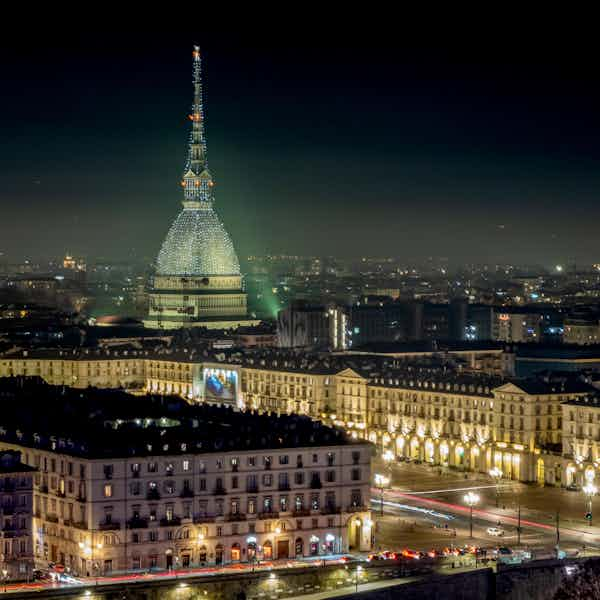 Ambrosian Carnival
February 25, 2023
This Carnival happens every year on various days, and in Milan it is celebrated a few days later than the rest of Italy. Wondering why? Well, the reason is that it concerns the bishop of Milan who had left for a pilgrimage and promised to return on time to Milan for the Carnival, in order to start Lent. Even though he announced his late arrival, the citizens chose to wait for him, prolonging the Carnival and postponing the beginning of Lent.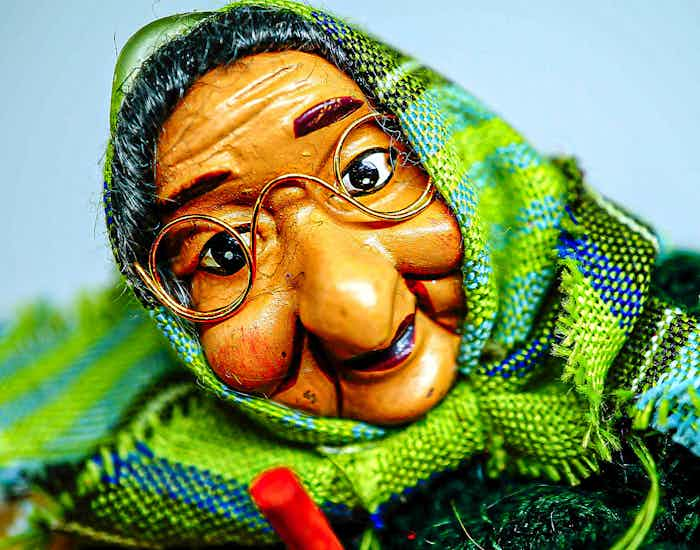 San Valentino
February 14, 2023
If you wish to spend the night with your better half, there are numerous offers of beautiful hotels in Milan. With luxurious facilities, equipped with comfort, you can make use of the various services that are offered by the hotel. For more queries, you can always visit the San Valentino Milan website.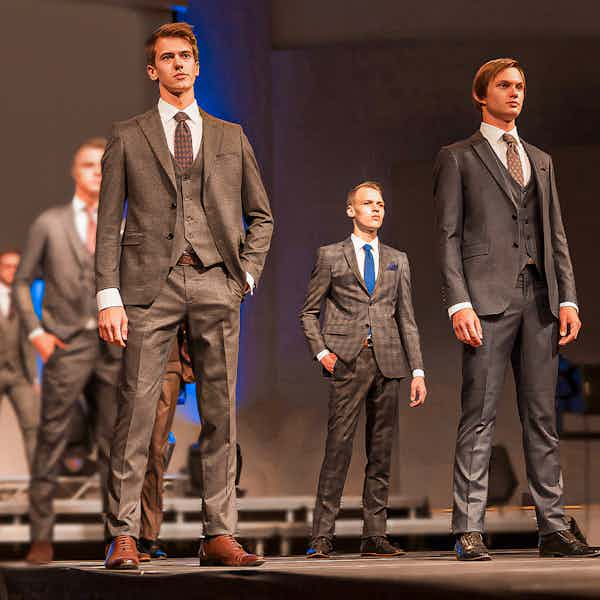 Lineappelle
February 2th and 22nd, 2023
This is an international exhibition that exhibits leathers, components, synthetics, accessories and models for footwear. This event showcases the leading Italian companies, their inimitable style, alongside the quality and customer care. It takes place in Milan between the 20th and 22nd, and is sure to be a must visit.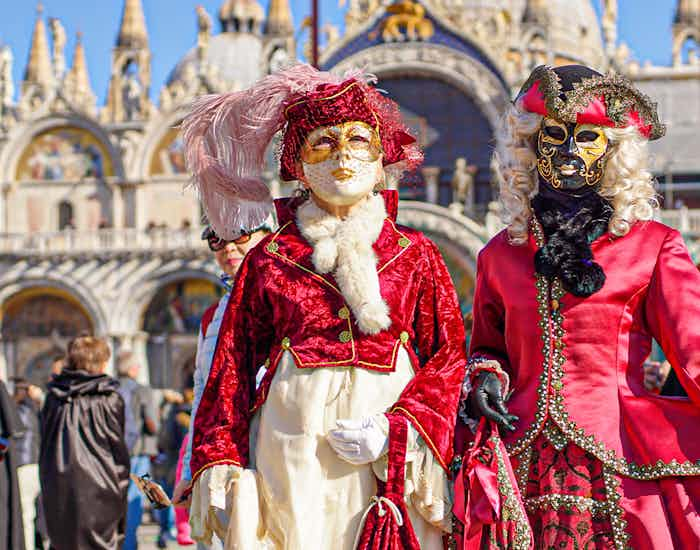 Hobby Show Milano
February 22nd and 24th, 2023
From the 22nd to 24th of February, the city of Milan has its Hobby Show that is a big Italian creativity show dedicated to the fine arts and handicrafts where the special accent is in focus to the female handicrafts. This multi-theme show is a must watch on your visit to Milan.
Milan in February : 2-day Itinerary
---
Check out our handmade itinerary guide to spend 2 days in Milan to plan your trip efficiently.
Milan in February : Essentials
---
Weather
As you creep into the year, the temperatures in Milan lift and it begins to feel like spring is right around the corner. Milan in February has a maximum temperature of 10 degrees and sometimes, the temperature can climb higher if you are lucky! But do expect cold weather, low temperatures and snow is not a rare phenomenon for this month.
Where to stay
Accommodation is quite pricey in Milan, but you can get a great deal, especially since you are travelling during an off season. The Biocity Milan is a contemporary hotel that is situated next to the Milan Cathedral Train Station. You can enjoy well-decorated rooms with a great buffet that includes organic jams and homemade cakes.
Another option is the Chateau Monfort, housed in an exotic building in Milan's historic centre and is close to the major landmarks in Milan. The rooms are extremely spacious and are undoubtedly a magnificent place to stay if you are visiting Milan.
What to Pack for Milan in January
Since the weather in February can be quite wet and foggy, we recommend you to carry warm clothing and waterproof clothing. The night temperatures can drop below zero and it will be quite chilly, so ensure you carry thermal wear, boots, winter accessories like socks, hats and jackets for this trip.
Getting Around Milan in January
The ideal way to get around Milan is through a public transportation system called the ATM. This system of buses, subway and trams is far-reaching and quite cheap too. Another good option is the use of metered taxis, although they can be expensive, you can use them as a sole form of transportation.
The ticket prices are the same on the subway, tram and bus and are valid only for 90 minutes after purchase. If you intend on using the ATM during your stay, book 10 tickets and it costs 13.80 euros.
Although walking through the entire city is not possible, if you are near the Duomo, it is best to take a walk as there are few iconic landmarks a mile apart.
Seasonal Delicacies
---
February continues to have an abundance of the winter traditions of lentils, spinach, cabbage and oranges. On your visit to Milan, here are some of the best dishes that are a hard miss!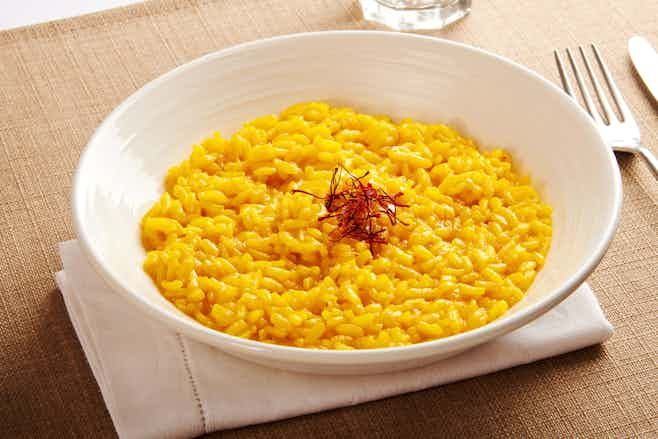 Risotto alla Milanese
This dish is the city's most renowned dish and is known for its saffron-infused golden hue. The rice is perfectly cooked in bone marrow broth and then diced with onions and butter. You can't miss trying out on this entrée in its very birthplace.
Try this dish here: Osteria Conchetta prepares this dish by adding parmesan cheese and simmers the rice right in front of you.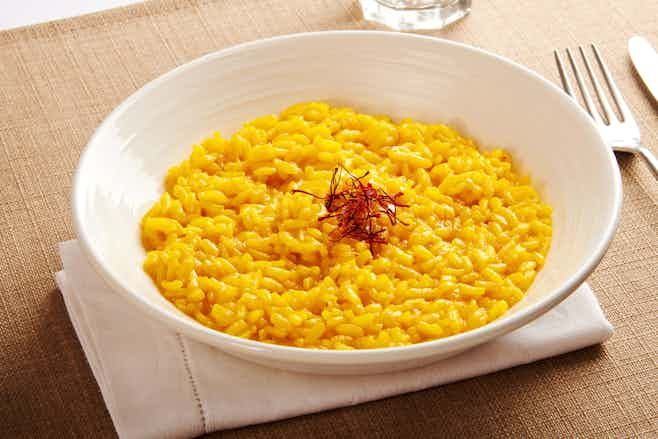 Ossobuco
This is a Milanese dish that is curated from braised veal browned in a mixture of carrots, onions, white wine and celery. This dish is served with a mouth-watering side of polenta or risotto and is very tender.
Try this dish here: Head to Antica Trattoria della Pesa (Viale Pasubio 10) for a delicious plate of ossobuco in one of Milan's first restaurants.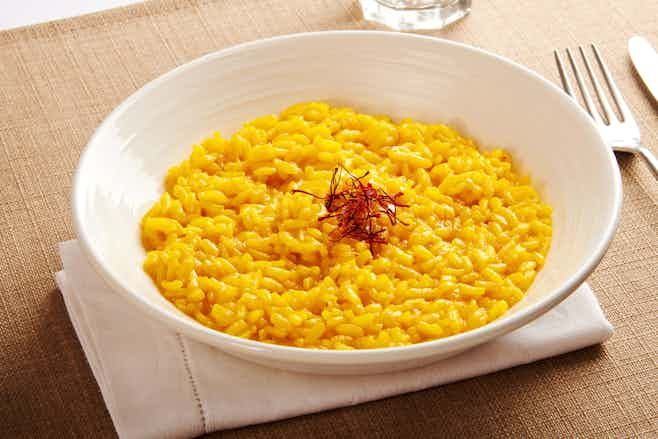 Michetta
This puffy treat is the city's staple bread. It originated from the Latin term 'mica', which means crumb. Michetta is extremely light and beat eaten alongside hearty meals like crumbs.
Try this dish here: Enjoy this dish best at Michetta's Panini Milan and enjoy an array of paninis stuffed with the meat, cheese, or veggies of your choice.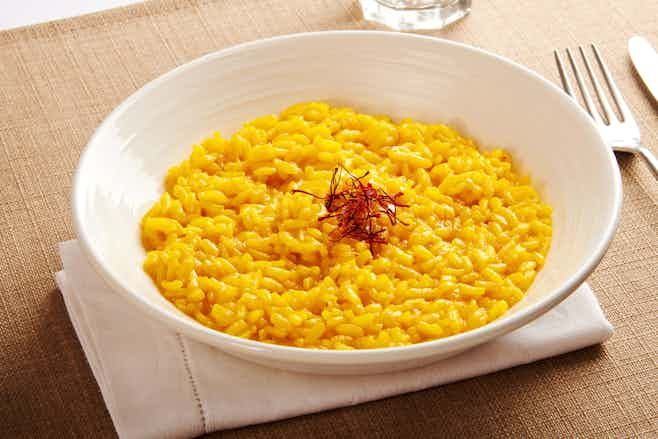 Mondeghili
This dish is Milan's version of a conventional meatball. It was designed by peasants to avoid the wastage of any leftover food, consisting of sausage, salami, beef or eggs, covered in breadcrumbs and cheese – all before being fried in butter.
Try this dish here: La Pobbia serves great succulent mondeghili and offers an intimate family dining experience.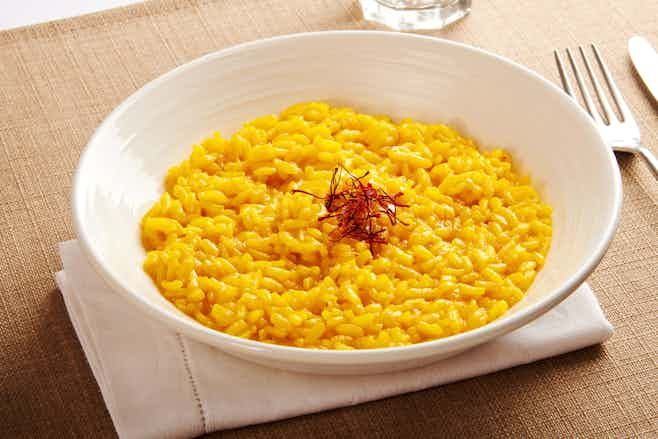 Panettone
This is a traditional Italian cuisine that is a brioche bread baked with raisins, and fruits. It is undoubtedly a perfect Christmas dessert and symbolises the holiday season. It pairs best with hot coffee and even sweet wine.
Try this dish here: Pasticceria Cova is well known for handcrafting heavenly panettone, and features Santa Claus in December. This shop sells this sweet treat all year round.
Tips to visit Milan in February
---
Given below are some useful insider tips for your smooth trip to Milan in February:
Do carry your usual travel essentials and it is a good idea to carry plenty of layers as Milan experiences winters in the month of February.
A pair of shoes, with waterproofing will help you while you stroll around shopping or sightseeing.
You are likely to encounter rain at this time in Milan, so ensure you carry a raincoat and umbrella with you.
You can carry refillable water bottles to refill at water fountains around the city.
Festivities occur at Milan's formidable cathedral. The square tends to get alive with performances, concerts, dances and pantomimes too. Ensure that you attend the festivities to get into the festival spirit.
Frequently asked questions about visiting Milan in February
February is a low season in Milan and has less tourists flowing in. This gives you an opportunity to explore the city without much hustle and bustle. You can visit the top landmarks in Milan with tranquillity.
The temperatures in Milan during February increase slightly but you can still expect the weather to be cold and grey throughout this month. The average high temperature is 12°C and the average low is 1°C.
We recommend you to spend at least a minimum of 2 complete days in Milan if you wish to explore all the main attractions the city has to offer. You can also relax a bit without being rushed.
If you wish to get to Lake Como from Milan, then simply take the train that goes to Como Nord Lago and you can get there within an hour. You will directly reach Lake Como and it is beautiful!
It does not rain much in Milan during February. It has the fewest wet days with an average of 5 days with at least 0.04 inches of precipitation.
Planning to Visit Milan in February?
---
Here are a few detailed guides on essentials in Milan that will help you plan your trip better.