Milan: this city breathes style and feeds on its inhabitants' frenzy. One look at the city's skyline and you know that this place is unlike any place you have ever been. One might wonder if it's possible to sample the best of Milan in a day. We assure you, with the help of our specially curated itinerary, one day in Milan can be magical!
1 Day in Milan - How To Spend Your Day
---
One Day In Milan - Detailed Itinerary
---
AM
MORNING: A Blast of Milanese Culture

PIAZZA DELLA SCALA

DUOMO DI MILANO

GALLERIA VITTORIO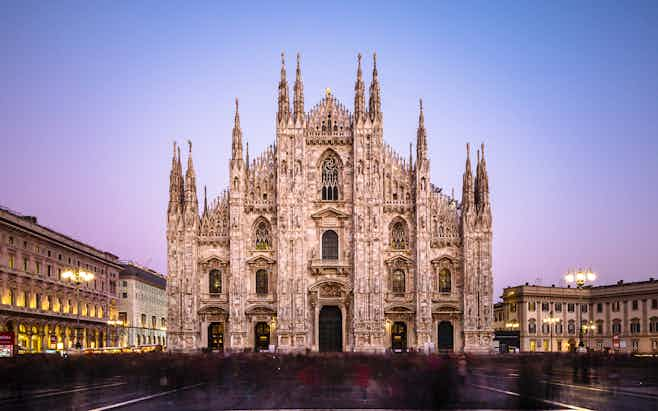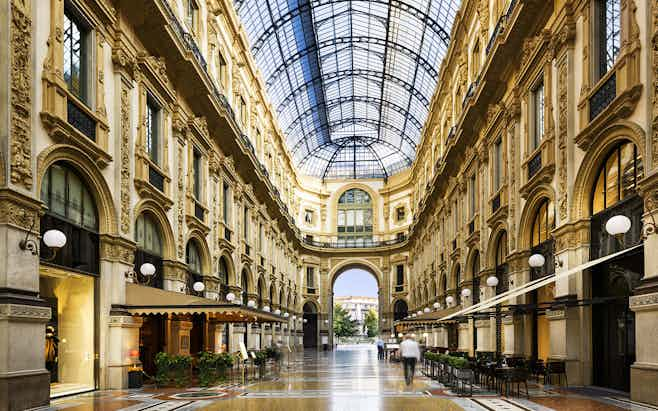 While a single day in Milan is a frenzy affair, fret not, for we've got you covered. Your morning begins bright and early with a walk through the famous Piazza Della Scala, an iconic pedestrianized square of Milan. Scramble onto Duomo di Milano next, a revered attraction before going for a quick session of retail therapy at Galleria Vittorio Emanuele II!
The best way to begin your whirlwind tour of Milan is to visit the legendary Scala Square. This pedestrianized square has stood at its current site since the 19th century. Scala Square is the ideal Italian location. At the center of the square is a monument paying homage to Leonardo da Vinci. Around the square stand several historical structures that reveal a lot about Italian culture and contemporary architecture.

Want some inspiration on what to do at Piazza Della Scala? Find out more here.
Travel Tips
The square gets crowded as the day goes on. Make sure you reach early to experience Scala Square's pristine glory.
Do not miss out on a tour of the Palazzo Marino that opens at 8 AM from Monday to Saturday.
Duomo di Milano or the Milan Cathedral is one of the largest churches in the world. The structure is a fine exponent of erstwhile Gothic architecture. It is brilliantly contradicted against the bright white color of the front facade. When the sunlight catches this facade in the morning, the detailed work springs to the fore. Commissioned in the late 14th century, the construction of Duomo di Milano was only completed in 1965. Explore your Milan Duomo ticket options here.
Travel Tips
One of the biggest perks of reaching here in the morning is the view from the Cathedral's roof. You get a birds-eye view of the city skyline. On a clear day, the Alps and Apennines are visible as well.
It is advisable to finish visiting the Duomo before 11 AM as the tourist hordes start trickling in then.
As we have mentioned before, there is no city like Milan. And the fact is nowhere more obvious than at the Galleria Vittorio Emanuele II. This a large composite building made of two Latin cross-shaped arcades and has a glass ceiling. However, instead of housing a quaint museum, it is home to the likes of Gucci, Louis Vuitton, and Prada. You may also enjoy a meal here from some of the greatest and oldest establishments in Italy. The central dome has a gorgeous mosaic depicting the continents of the world.
Travel Tip
Once you are done exploring the arcade and the numerous boutiques, you should step into the McDonald's outlet in the structure. The meals are inexpensive as everywhere else, but the decor is in accordance with its setting.
Milan Guided Tour: Includes Galleria Vittorio Emanuele II
Headout Price: €109
Book Now

Guided Tours
Tour Milan With A Local Expert Tour Guide
Here's an absolute value deal! For just 79 Euros you can do all of the above in just 3 hours with a local guide! The tour starts at 9:30 AM, so you can the best of Milan before 12 noon and get on with exploring the rest of the city at your own pace.
Noon
AFTERNOON: An Artistic Treat

SANTA MARIA DELLE GRAZIE

LAST SUPPER

CASTELLO SFORZESCO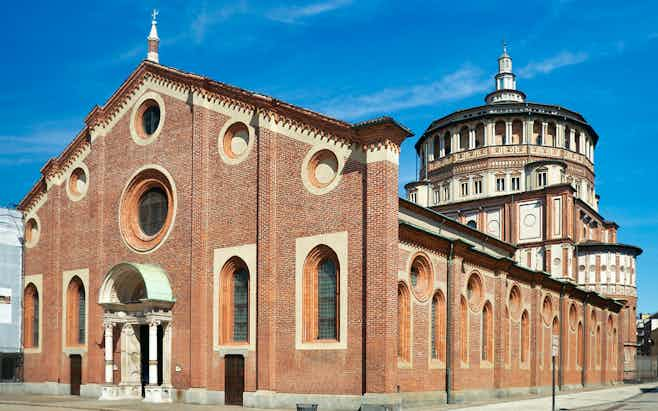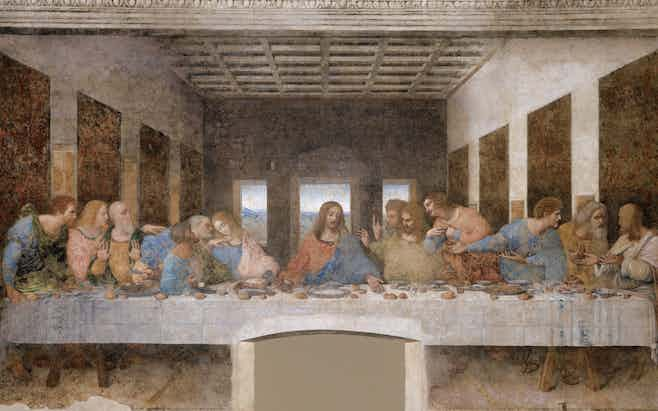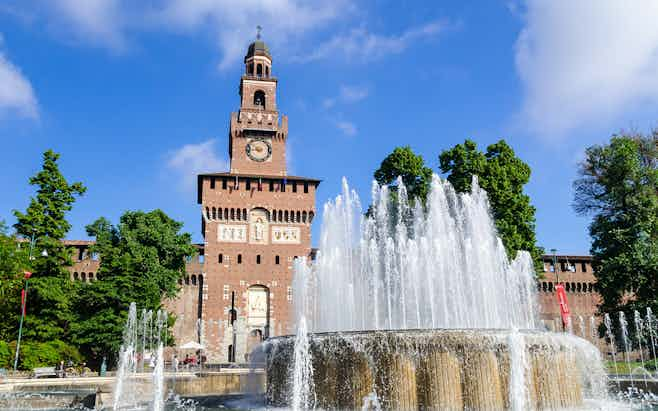 Two iconic Milanese landmarks make up your afternoon: one of the most iconic churches, Santa Maria Delle Grazie with the world-famous mural of Leonardo Da Vinci's The Last Supper. The second being the ever-glorious Sforza Castle.
After you have had your lunch, make a small journey to the south west of Milan to the Santa Maria Delle Grazie. The humble-looking church is one of the finest exhibits of renaissance architecture in Milan. The UNESCO World Heritage Site was founded in 1463. The credit for the architecture goes to Donato Bramante. The church currently houses a large collection of historically significant works of art. At the back of the church a square cloister with five arches in each.
Travel Tip
Crowd thins out for a brief period after 12:30 PM in Milan, so make the best use of this time. The church is immensely popular for its artworks, which is why you will be well advised to go of those first and then take a tour of the rest of the church.
Skip The Line Tickets to Santa Maria Delle Grazie
Headout Price: €44
Book Now
The refectory of Santa Maria Delle Grazie houses the mural of Leonardo Da Vinci's The Last Supper. The location of the artwork no mere coincidence. During its heydays, the mural stood as a reminder to the dining priests how their life was an extension to Christ's. Leonardo Da Vinci used his theoretical knowledge of the Florentine school of art to create the masterful work. The Last Supper was commissioned by Duke Ludovico Sforza, who wanted to install his own tomb in Cenacolo Vinciano.
Travel Tip
Bookings are necessary to seek admission to the refectory. You can book your tickets upto 3 weeks in advance, so make sure you book them online for assured entry on your desired slot.
Reach at least 20 minutes in advance to collect your tickets from the counter and know that only 25 people are admitted inside the church for a duration of 15 minutes.
Sforza Castle is regarded as one of the representative monuments of Milan. Fans of medieval military strategy games will immediately recognize the structure's defensive build. Since the beginning of its construction in the mid-14th century, the castle has undergone multiple transformations. Apart from being a timepiece freezing the nuances of military architecture, the castle hosts a number of museums that together form the broadest artistic collection in Milan. One of the most famous works of art to catch at the castle is Michelangelo's Pietà Rondanini. Entry to the castle is free cost of cost, but the museums have a nominal fee for entry.
Travel Tip
If military structures intrigue you, go for the guided tour of the walls of the Sforza Castle.
Not only do you get the view of the entire castle from here, but it is also interesting to know the little nuggets of information regarding the castle's defenses.
PM
EVENING: Where Art Means Serenity

Brera Design District

Navigli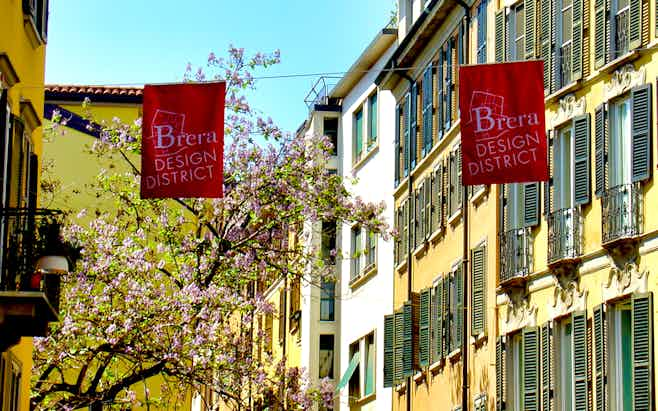 After an afternoon siesta, it's time to head over to the historic center of Milan, a funky, artsy neighborhood known for its antique boutiques and charming art galleries: the Brera Design District. At nightfall, stroll along the Navigli district and gaze out at the serene navigable canals of Milan.
The first place to go as soon as the sun sets is the Brera Design District. It is an artsy neighborhood in the historical center of Milan, famous for its small churches, antique boutiques, and charming art galleries. As you make your way down the streets, keep your eye out for the artistic window displays of the stores. You may want to do your shopping here from some of these stores. Brera Design District is also a little caught in its own time capsule, with fortune tellers and psychics dotting the quaint lanes.
Now that you are done with your sightseeing and are properly exhausted, head down south on a metro to enjoy a leisurely end to the day. Navigli district is famous for a network of navigable canals that were once used to transport goods from the lakes in the area. With its distinctive countryside charm amalgamated with the bars and pubs lining the canal, heading down to Navigli might be the best way to end any day in Milan. It is rumored that Leonardo da Vinci might have contributed to designing the canals himself. If you do not have time for Venice, Navigli has you covered.
Travel Tip
Just before you go into one of the eateries along the canals for your dinner, you may want to drop in for a quick artistic exploration in one of the many galleries in the area. Some of the galleries offer great prices for the artworks and will be just the souvenir you need from you one-day trip to Milan.
How To Spend One Day In Milan under 100 Euros
---
Looking to budget your one day in Milan? Here's how you can do it under 100 Euros. If you're a first timer on Headout, use promocode : GOMILAN to get an addition 6 Euros off your cart price!
Morning : Piazza Della Scala, Duomo di Milano & Galleria Vittorio Emanuele II
€18
Afternoon : Santa Maria Delle Grazie, Last Supper & Castello Sforzesco
€29
Evening : Brera Design District & Navigli
Free
Book your Milan Attractions tickets on Headout, and spend just €47 on your 1-day vacation in Milan! Hit up all the prime attractions in this charming city and save more while you explore more. Read on to see our detailed 1-day Milan Itinerary and learn more about visiting each of these attractions.
Tips & Hacks For Making The Best of One Day In Milan
---
Milan is one of the busiest tourist destinations in Italy, so make sure to book all your tours and tickets in advance. It will save you a whole lot of time, money and energy.
The best time to visit Milan is from April to September, as these months see the most sunshine, making it comfortable to explore the city on foot. While July and August can get quite hot, December and January is chilly and foggy. There are chances of a light shower through the year, so be prepared with a raincoat for your Milan visit.
If you do not want to spend money on a Hop On Hop Off bus, you can buy the Milan blochetto for €4.50. While this is definitely cheaper, you'll have to chart out your stops and know the closest halts to the attractions you intend to visit. Make sure to plan this out or you could lose a lot of time.
If you can squeeze in a visit to the Cimitero Monumentale, you must! It is one of most impressive cemetries in Europe, filled with massive mausoleums and spectacular tombs.
If you can extend your stay in Milan, definitely go for a day trip from the city. You can choose between Lake Como, Swiss Alps, Cinque Terre, Venice or Bergamo. Check out our detailed guide on Day trips from Milan and pick your favourite for a quick getaway.
For your meals in Milan, steer clear of the eateries close to the cathedrals and museums. They are almost always steep, what we call a "tourist trap". Exploit the stuzzichini culture in Milan, the Italian version of a "happy hour" which comes with its fair share of fine food. If you order a drink around 6 or 7 p.m, you'll usually be greeted with free appetizers (stuzzichini) in the form of olives, cheese, bread and maybe even pizza or pasta dishes! These light meals make it pretty easy to live well and spend less in Milan.
If you ask for a coffee (un caffè), you will get an espresso . Caffè Americano is usually served as an espresso with extra hot water. Cappuccino is a morning drink, if you order it any other time of the day, it's considered uncouth.
If you're looking to travel around Italy and visit other cities like Rome, Florence, Naples etc, checkout this detailed travel blog on how to travel around Italy by train. It's economical and it's fun!
Milan One Day Essentials
---
Traveling to Milan for the first time? Here are a few blogs with details that will come handy plan a terrific day in Milan.
Milan in 1 Day - Itinerary