Milan is known to be one of the most modern and cutting-edge cities in Europe. Milan is full of skyscrapers which makes it one of the most aesthetically pleasing cities to come across with towering buildings both up and down the main streets of Milan. One of these buildings that stands out among all is by far the Pirelli Tower, one of Italy's tallest skyscrapers and the second tallest buildings in Europe outside London. There are major shopping centers in the city, but if you take the time to explore the back streets of Milan you'll be treated to exquisite art galleries and nightlife hidden in the most unexpected places! The city also houses two of the biggest football clubs, A.C. Milan and Inter Milan. If you are all set to visit Milan, then this Milan trip planner is sure to get handy to plan your Milan itineraries, things to pack, the best budget-friendly accommodations in Milan, and many more. Dive in!
Best Time To Visit Milan
---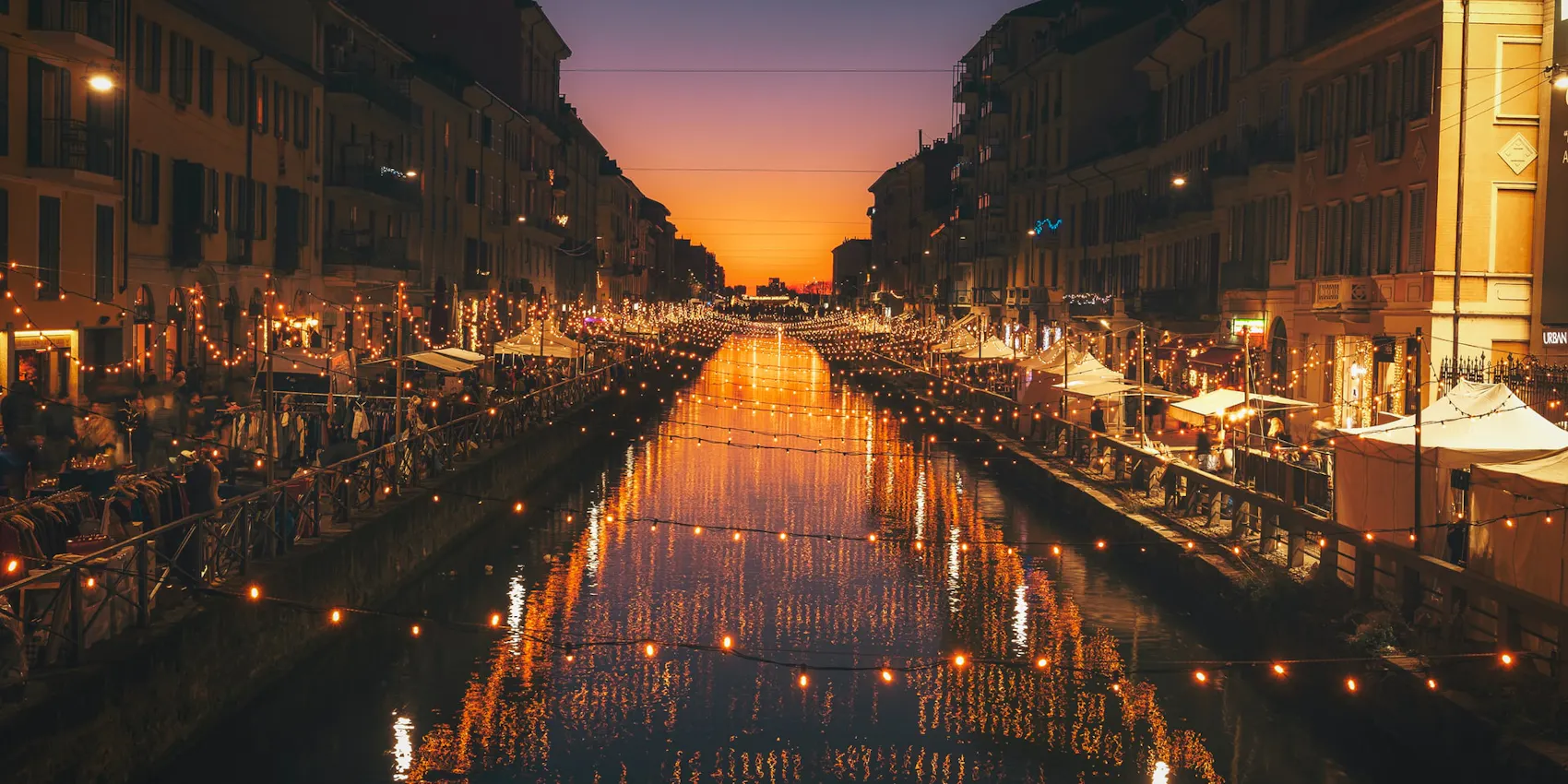 The best times to visit Milan are from April to May or September to October! The spring and fall months straddle the city's manic peak tourism season, and they also escape the summer's sweltering temperature. Every spring, the festival season kicks off in Milano. As you plan your next travel destination, be sure to take into account some of the city's most special events. One such festival is Milan Design Week. However, the summer months from June through August may be surprisingly warm
Read more about the best time to visit Milan.
Milan Itineraries
---
Depending on how long you're in Milan for - whether it's just a day, 5 days or the weekend, we have the perfect itineraries crafted for you. Go through these Singapore itineraries and plan your stay well in advance!
If this is your first time traveling to Milan, we know you'd love some help planning your daily itineraries. Apart from the basic planning (flight tickets, visa, accommodation etc.), you'll need to consider your day-to-day activities - where to go, what to see, how to get there, and more. But fret not, for we are here to help.
1-Day Milan Itinerary
Weekend in Milan Itinerary
Packing For Milan
---
Although the city may be experiencing warmer temperatures, the surrounding region is still susceptible to cold snaps and sudden violent thunderstorms. It's best to prepare for a variety of conditions which means packing layers in case you don't need them one day but might need them the next day. That's why it's best to always pack a convertible jacket (a light, compact one) and some layering options that you can switch out whenever temperatures take an unpredictable turn or when unseasonably warm spells occur throughout the year.
Where To Stay In Milan
---
If you're looking for an exciting place to begin exploring Milan and need to find the landmarks of this amazing city, take a step back in time by visiting the historical Centro Storico area. Here, you will be immersed in the old-world architecture that makes Milan such a beautiful city. You can find practically any store your heart could desire for fashionistas or gourmet foodies alike in the area. In addition, Piazza del Duomo is at the very heart of it all and is where you will find most museums located as well as shops that are local favorites of designers such as Valentino, Dolce & Gabbana, Versace and more!
Accommodation on a budget
As a tourist planning to visit Milan, Italy for a weekend trip, you don't have much time to spend and you want to make the best use of it. Fortunately, there are several low-cost hotels in Milan where you can find accommodation at reasonable prices, which would help you save up on your travel budget. For instance, there are many cheap hotels in Milan located near the Milano Centrale station, which means easy access to the city's top attractions. Some of them are UNA Maison Milano, Hotel Canada Milano, Hotel Star, Hotel LaGare Hotel Milano MGallery by Sofitel, and Hotel Milano Navigli among others.
Nightlife
If you're seeking a destination that offers both high-energy nightlife and buzzing daily activity, Milan may be the perfect place for your next trip. A major financial hub teemed with multi-cuisine restaurants and bustling shopping malls, travelers from across the globe frequently visit Milan to discover its world-famous attractions. Bar Basso, Monkey Cocktail Bar, Nottingham Forest Cocktail Bar, Teatro Dal Verme, La Chiesetta, and La Balera Dell' Ortica are some of the high-end places where you can experience the nightlife of Milan.
Shopping hub
Shopping in Milan is as captivating as it gets. With every corner of this fashion capital brimming with promise, the first-time visitor will discover treasures left and right. Whether you're looking for branded stores or specialty boutiques selling top-quality clothing from the designer runway, Milan has everything and more to satiate the inner shopaholic in you. Some of the well-known places to satiate the shopaholic in you are Via Monte Napoleone, Via Della Spiga, Corso Buenos Aires, DMAG, Fiera Di Sinigaglia, and Corso Como, and Cavalli E Nastri.
A kiss of luxury
Milan Design Week takes place every year during April, and it's by far one of the best ways for you to enjoy some time spent exploring Milan's creative culture firsthand! Another great way for you to experience the Italian lifestyle without burning a hole in your wallet is by taking part in one of Milano's many flea markets during August. They're warmly appealing on every level – from food to arts and crafts!
Getting Around In Milan
---
Milan has both public and private transportation options that are cheap, comprehensive, and easy for most tourists to adapt to if you're going to be riding often. One of the best ways to get around the city is by bus, which can help you quickly access places of interest or just drop you off in the area around wherever you may be staying. If you're going to be taking the public transport more than a few times, it might be worth getting what's called a "carnet. Every ticket stays valid for 90 minutes and you can board numerous trams and buses within the given time and get around the city.
5 Best Day Trips from Milan
---
While sketching your Milan itineraries, don't forget to include some of the best places to visit in Milan. With all its magnificent palaces, churches, and opera houses as well as noteworthy places of interest from the past, Milan attracts visitors around the year. Those visiting this place should not miss the opportunity to get acquainted with its scenic places around the city.
Milan Travel Tips & Hacks
---
Learning some basic courtesy words will help you to get acquainted with the locals and help to get to know the culture of Milan better.
While chalking your Milan itinerary, don't miss out on visiting the Last Supper. Leonardo da Vinci was a gifted artist. Therefore, before visiting the Last Supper, don't forget to book the tickets in advance!
When the sun is shining and you're still full of energy before starting your shift, it can quickly change when an unexpected dark cloud suddenly appears on the horizon. Therefore, don't forget to carry an umbrella with you.
While chalking your Milan itinerary, don't be too rigid in doing so. Sometimes many tourists tend to take a stroll and find some hidden gems.
While visiting Milan, one should keep a check on store timings as many of them tend to be closed during business hours and on Sundays too!
For café service in Italy, there is commonly no cover charge or service fee. Tipping isn't entirely essential however visitors can be generous if they want to.
Milan is more expensive than other European cities, therefore, one should try to save as much as they can on accommodation and transportation.
The city bustles with crowds throughout the year, therefore, it will ideal to book in advance.
You can visit some of the greatest museums in Milan for free on the first Sunday of every month.
While planning your Milan itinerary, make sure not to rent a car and use public transportation.
FAQs: Milan Trip Planner
---
Yes, Milan is the fashion mecca of Italy and one of the most beautiful cities in Italy.
The best time to visit Singapore is when the weather is pleasant, ie February to April. For budget travelers, the best time to visit are August and September.
Tourists should explore the numerous museums and canals in Milan, visit Leonardo da Vinci's Last Supper, and explore places like the Church of Santa Maria delle Grazie, Castello Sforzesco, Sant Ambrogio, and Piazza dei Mercanti among others.
Some of the must-visit places in Milan are Milan Cathedral, Santa Mari Delle Grazie, Sforzesco Castle, Teatro Dal Verme, Museo Del Novecento, and Cimitero Monumentale among others.
It's important to line up some appropriate attire that's stylish yet comfortable and can be worn from day into night! Pack an assortment of outfits with you when traveling including biker jeans, smartly tailored trousers, and sleek black leather leggings for bottom wear. In addition, you should pack some chic chunky knits and soft white sweaters so that you're able to dress up or down as needs be throughout your visit!
Buses and trams are two of the cheapest modes of transportation to get around Milan.
The best neighborhood to stay in in Milan is Centro Storico.
Singapore Trip Planner Guide