Charming, romantic and cosmopolitan, there's much more to Milan than meets the eye. Tucked away in Northern Italy, the world's fashion capital is often overlooked amidst the tourist-friendly Venice and Rome. The city is a true kaleidoscope -- brimming with stunning art and architecture, home to the world's biggest fashion brands, an endless tirade of green spaces and of course, offers delectable food. If you're wondering about what to do in Milan, look no further! Our 2 days in Milan itinerary is just what you need to navigate your way through this culture-filled city.
Our guide to spending 2 days in Milan brings to you important attractions, food and stay recommendations, travel tips and much more.
How to Spend 2 Days in Milan Under €55
---
Planning to make the most of your trip without buring a hole through your pocket? Let us show you how!
Day 1: Duomo di Milano, Vittorio Emanuele Gallery, La Scala Museum and Theatre, Quadrilatero d'Oro
€22.50
Day 2: La Vigna di Leonardo, The Last Supper, Castello Sforzesco, Via Dante, Naviglio Grande canals
€32
Book your Milan attractions tickets on Headout and spend just €54.50 on your two-day vacation in Madrid! Hit up all the prime attractions in the city and save more while you explore more. Read our detailed 2-day Milan itinerary and learn more about visiting each of these attractions.
2 Days in Milan: The Highlights
---
2 Days in Milan: A Detailed Overview
---
Day 1
1. Duomo di Milano
A trip to Milan is incomplete without visiting the magnificent Duomo. Famous around the world for its gothic architecture, towering spires and overall intimidating structure, the cathedral took a whopping six centuries to be built. Several statues --about 3,400 and another 700 figures -- are perched atop the spires, the most famous one being of Mary, also known as Madonnina, where she symbolically looks over the city. The cherry -- literally -- on top? You can head right to the top of the terrace and enjoy the spires and statues up close and take in stunning panoramic views of the city. As the largest church in Italy, the Duomo is awe-inspiring, oozes extravagance and is therefore always crowded with tourists. Book your tickets online to avoid waiting in long queues and get an extra pass to go to the top: it is worth the wait.
Tickets for the Duomo cost €3.50 for adults and €2.50 for school students and children between the ages of 6 to 11. Those under the age of 6, people with disabilities and their assistants, and military personnel can enter for free. To visit the rooftop, an additional pass is to be purchased. Adults pay €10 for access by stairs, €14 for access by lift and €23 for fast-track access by lift. Children between 6 to 11 pay €5 for access by stairs, €7 for access by lift and €12 for fast-track access by lift. All Duomo tickets can be booked online.
The Duomo is open everyday between 08:00 AM to 07:00 PM with last entry at 6:10 PM. The cathedral's rooftop is open between 09:00 AM to 07:00 PM everyday with last entry at 6:10 PM.
2. Galleria Vittorio Emanuele II Your next stop is the Galleria Vittorio Emanuele II, just a few minutes from the Duomo. Colloquially known as the world's oldest shopping mall, the gallery is home to famous, more often out-of-reach brands like Roberto Cavalli, Ferragamo and Valentino. If you're traveling on a budget, shopping at Galleria Vittorio Emanuele II might be difficult; but window shopping is always an option! If you thought world-famous brands define this landmark, think again: its architecture is legendary in Italy. A confluence of marble, glass, iron and beautiful mosaic patterns, the gallery represents Italy at its finest. Its glass dome is simply stunning and overpowers every visitor. The Galleria Vittorio Emanuele II spells luxury with its intricate design, haute couture boutiques, a seven-star hotel and unique restaurants like Bar Camparino and Savini.
NThe Galleria Vittorio Emanuele II is open 24 hours, although the restaurants and stores have set timings. Entry is free into Galleria Vittorio Emanuele II. If you want to go to the rooftop - a walkway between Piazza Duomo and Piazza della Scala, it is open from Monday to Friday between 12:00 PM to 03:00 PM and 5:00 PM to 08:00 PM, and on the weekend, it is open from 12:00 PM to 09:00 PM. A pass to use the elevator costs €12.
3. La Scala Museum and Theater Some of the world's most famous composers like Giusepe Verdi and Arturo Toscanini have graced the La Scala Theater and Opera House, also known as Teatro alla Scala. We highly recommend a tour of its interiors to take in its grandeur. Its history is tragic: while it was built in the late 1700s, it was closed during World War 1 and bombed during World War 2. In 2001, La Scala was extensively renovated with influences of neo-classical and baroque-era architecture. The beautiful Bohemian crystal chandelier, however, is what sets Teatro alla Scala apart from other opera houses.
The La Scala Museum and Theater is open everyday of the week from 09:00 AM to 05:30 PM with last entrance at 05:00 AM. The museum and theater are closed on 1 January, Easter Sunday, 1 May, 15 August and 7, 24, 25, 26 and 31 December. Tickets for the museum cost €9 for adults and €6 for students, children and senior citizens. You can visit the auditorium as well, except for when rehearsals and performances are taking place. Make sure to wear semi-formal or formal clothing in the theater; shorts, sleeveless outfits are not allowed.
4. Quadrilatero d'Oro Your final stop of the day is Milan's beating heart, Quadrilatero d'Oro, the city's answer to everything high-fashion. Loosely translated to The Golden Rectangle, Quadrilatero d'Oro is one of the world's most expensive streets - look out for the crème de la crème of fashion, like Fendi, Ferragamo, Valentino and Gucci among many others. Walk around the lovely cobbled streets of Quadrilatero d'Oro and soak in Milan's finest, from rich leather wallets and tote bags to gorgeous boots.
You can also head to a pub or cafe in the area to relax, people-watch and feel at home in Milanese culture. A few high-end options include Paper Moon Giardino, La Veranda and Pasticceria Cova, while economical eateries include Don Lisander, Chez Panin and Kisen Moscova. For more options, check out this website.
Day 2
1. La Vigna di Leonardo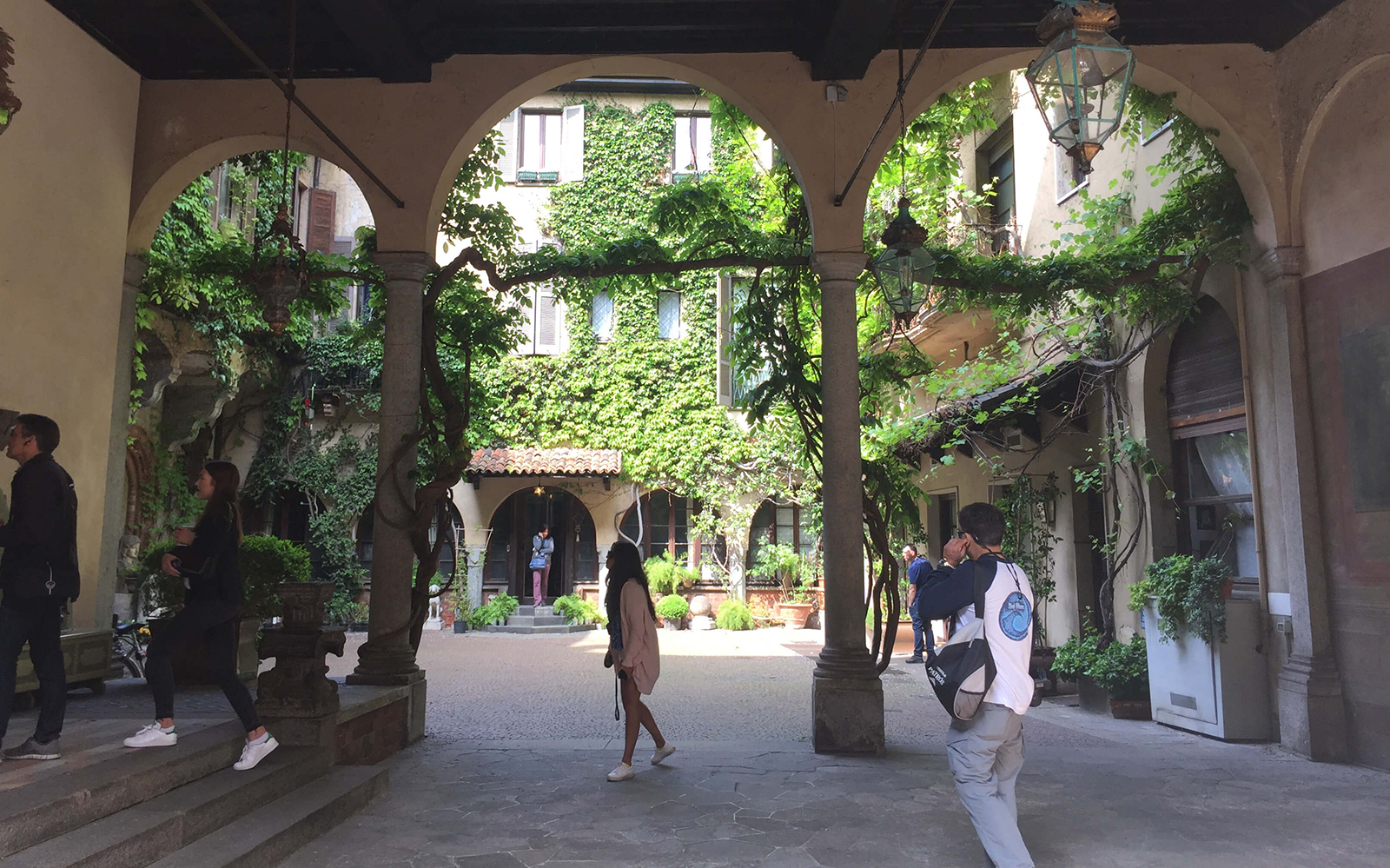 A great way to understand the legacy of famed artist Leonardo da Vinci is by heading to La Vigna di Leonardo -- his personal vineyard. La Vigna di Leonardo was gifted to da Vinci by Milan's former Duke in 1498, just a few years after the completion of The Last Supper. The vineyard suffered severely under multiples fires and bombings during World War 2. It was only in 1920 and then in 2015 that restoration effort was taken. Today, La Vigna di Leonardo offers deep insight and history into da Vinci's life, study, achievements and artwork.
La Vigna di Leonardo is open between 09:00 AM to 06:00 PM from Monday to Friday with a tour every 30 minutes. On Saturday and Sunday, timings remain the same, but tours take place every 15 minutes. Tickets cost €10 for adults and €6 for children between ages 6 to 18. Children under the age of five, people with disabilities and their carers can enter for free.
2. The Last Supper at Santa Maria delle Grazie A visit to Milan is incomplete without visiting the Santa Maria delle Grazie -- a monastery famous all over the world less for its design and architecture, but more for being home to the Last Supper by Leonardo da Vinci. Travelers flock from all around the world to Santa Maria delle Grazie in Milan to catch a glimpse of the celebrated painting. It depicts Jesus Christ's final moments with his apostles when he declares one of them, Judas, to be a traitor. The Last Supper has been a subject of art appreciation for decades now; it's often dubbed not as a still portrait, but rather one that mirrors Christ's expressions and movements in fluid motion. Strangely enough, most of Santa Maria delle Grazie was bombed during World War 2 except for the wall that carried the Last Supper.
Due to its popularity, bookings to see the Last Supper close months in advance. We recommend reserving your spots much earlier so as to not miss seeing the painting. It is open to the public between 08:15 AM to 07:00 PM from Tuesday to Sunday and is closed on Mondays, 1 January, 1 May and 25 December. Tickets cost €10 + €2 reservation fee for those above the age of 18. EU and EEA citizens between the ages of 18 to 25 pay €5 + €2 reservation fee. All visitors under 18, those with disabilities can enter for free. For more information on ticket pricing and eligibility, visit here.
3. Castello Sforzesco Built in the 15th Century, the walls of Castello Sforzesco narrate multiple stories about Milan's rich history. The castle has seen a past mixed with happiness and tragedy: it was earlier a fortress under the Visconti family and was later adopted by the Sforzas and converted into a mighty palace. It went through an era of of restoration and art, underwent Spanish occupation, was severely damaged during Napoleon's reign and also used by the Italian army to house military personnel. Finally, it was restored towards the end of the 19th Century with grandeur and incredible design. Castello Sforzesco also offers visitors interesting museums and the beautiful Parco Sempione.
The castle is open daily between 07:00 AM to 07:30 PM, while the museums are open from Tuesday to Sunday between 09:00 AM to 05:30 PM. Both the castle and the museum is closed on 1 January, 1 May and 25 December. Tickets cost €10 for visitors above 18 and is free for those under 18, those with disabilities and others. Complete information can be found here.
4. Via Dante Named after the legendary poet Dante Alighieri, Via Dante is one of Milan's most popular commercial streets. It's a one-stop destination for those who would like to eat, drink, take photos, people-watch or shop for both street and high fashion. It's a great place to lounge and observe the Milanese dressed in their finest. It is lined with several commercial buildings, most from the 18th and 19th Century. Earlier, vehicles were allowed into Via Dante, though now it is completely reserved for pedestrians. While at Via Dante, make sure to pick up a hot chocolate from one of the street vendors around.
5. Naviglio Grande Canals There's no better way to spend your evening and final day in Milan than by casually strolling around the Naviglio Grande canals. Located in the Navigli district, one of Milan's most sophisticated and hip neighborhoods, the canals were initially built to transport marble, granite and other construction material. Today, they're used for irrigation in the city. Walk around the picturesque canals, vibrant little buildings, stop for a filling meal and don't forget to grab a final glass of spritz or aperitif before leaving the city.
Best Time to Visit Milan
---
Milan is busiest and hottest between June to August; tourists flock in from all over the world, so it's going to be crowded and sticky. March and April are relatively calm, with no major festivals or events. The weather is warm during the day, but can get chilly at night. Perhaps the best time to visit Milan would be during May or between September to December. Crowds are thinner and the season is full of interesting events with locals settling into their holiday spirit.
Getting around Milan
---
Public transport is your best option for traveling around Milan. We would recommend purchasing the 24- or 48-hour travel card that costs just €4.50 and €8.25 respectively. This pass can be used for commuting in trams, metro, buses and trains. Alternatively, you can also purchase a Milan Pass, that not only gives you to commute within the city using public transport for free, but also gives you free entry to top attractions in the city, along with some great offers and discounts. For more information on the different passes available and their respective prices, visit their website. We've listed below the best way to get around the city using different travel options.
By bus: Of all the transport options, Milan's urban bus network is the most extensive. The city has more than 80 bus lines, highly convenient for those looking for quick commute while saving on travel. Buses run from 06:00 AM to 12:30 AM every day while night buses run between 12:00 AM to 06:00 AM. Tickets can be purchased at any parking meter, metro station or travel kiosk in the city for €1.50. You can also take the bus to commute between the city center and Linate airport.
By tram: Milan's tram system is older than most countries and cities! It was inaugurated in 1876 and is one of the fastest ways to travel from one point to another in the city. Trams run between 05:00 AM to 02:00 AM and are well-connected to prime points in the city. You can purchase tickets at metro stations or kiosks across the city. A one-way ticket costs €1.50.
By metro: The Milan metro runs along four lines, covering a surface area of almost 95 km. If you're not staying in the city center, travel by the metro's Red and Yellow lines since they cover all the prime areas with major attractions. The metro runs between 06:00 AM to 12:30 AM on a daily basis, with one arriving every 2-4 minutes. A ticket costs €1.50 and can be purchased at any metro station or kiosk in the city. If you need to commute to the airport, taking the metro is a quick option.
By taxi: Taxis are the fastest way to get around the city, although not as economical as using public transport. The minimum fare between 06:00 AM and 09:00 PM is €3.30 on weekdays and €5.40 on weekends and public holidays. Post 09:00 PM, the minimum fare rises up to €6.50. The base fare per kilometer is €1.09, but increases to €1.50 after the meter reaches €13.50.
Where to Eat in Milan
--- Italian cuisine is famous worldwide for its simple, yet flavorful dishes. Here's a list of eateries in the city that cater to every foodie's heart.
Tips for Your Milan Vacation
--- Taxis in Milan will not stop if hailed at the side of the road. You need to walk to the closest taxi stand or book one in advance for your commute
Opt for guided tours of popular attractions or to get an authentic feel of the city. This would be the best way to explore and learn about Milanese culture and history.
Public transport is your best bet. Opt for a 24- or 48-hour pass, or the Milan Pass, to get your money's worth.
If you're traveling on a budget, look for a place to stay outside the city center; they are usually far more reasonably priced. Since public transport is economical, you can get from Point A to Point B without spending too much on stay.
A lot of stores and museums are closed during August, the hottest month of the year. Make sure to plan your trip accordingly.
You don't have to leave a tip at restaurants in Milan
Entry to most museums is free on the first Sunday of every month. You can plan your visit accordingly.
The Milanese take their fashion seriously. When heading out at night, make sure to wear your best shoes.