Milan To Swiss Alps Tours
Prepare yourself for a visual treat like no other as the Bernina Express takes you from Milan to Swiss Alps with an expert guide. Traverse through the magnificent Bernina Pass, and finally reach the UNESCO World Heritage route of St. Moritz. Spend time at its quaint streets and shop for the world-famous Swiss chocolates.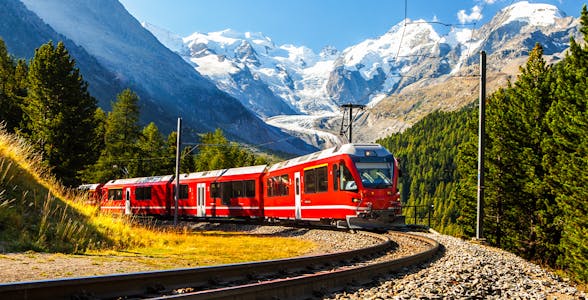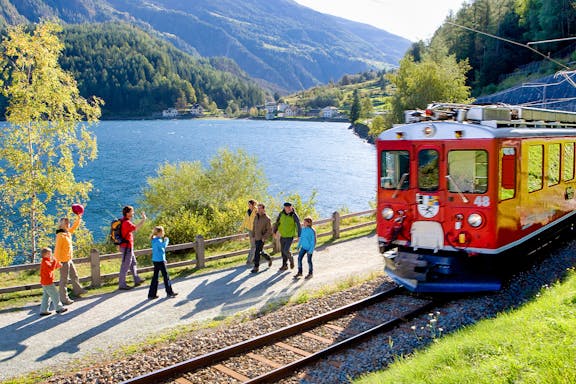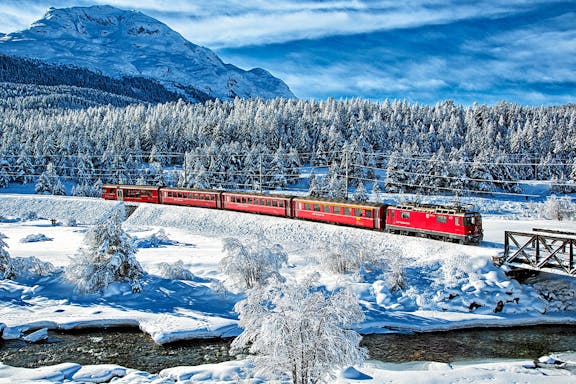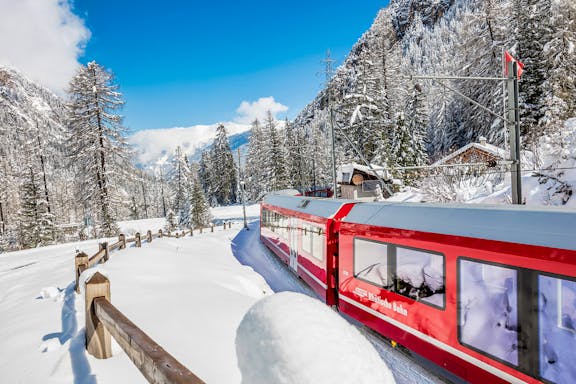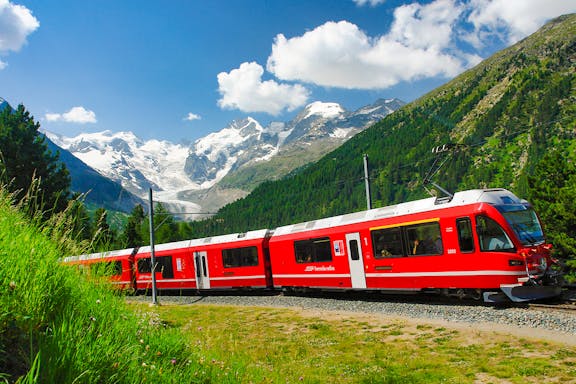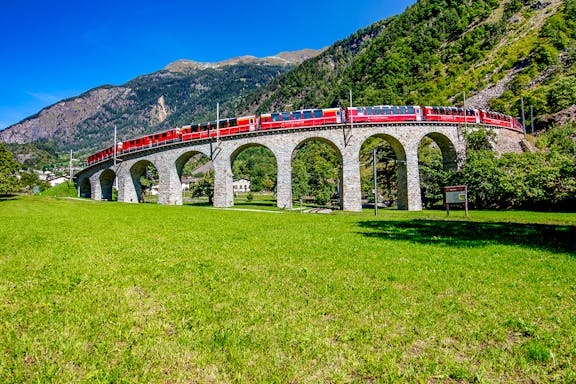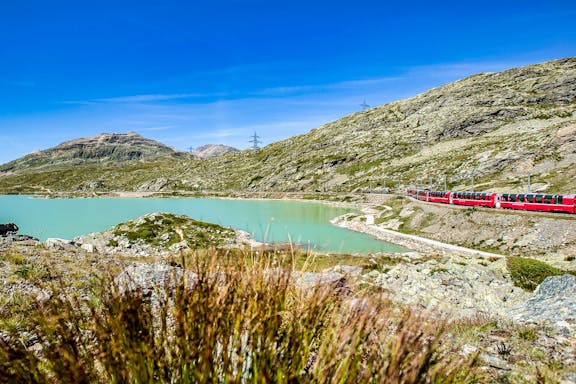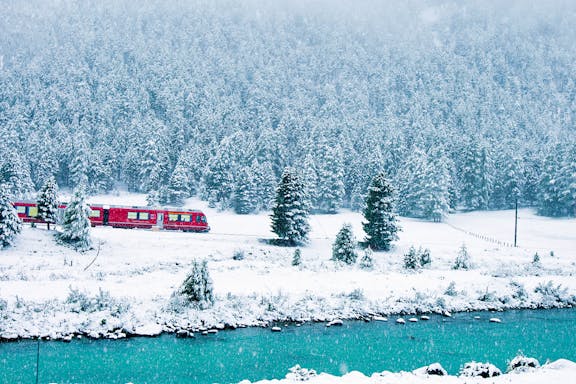 Millions love heading out with us
Milan To Swiss Alps Tours Guide

Picture forested mountains, lush gorges, and sprawling, snow-speckled topography en-route your day trip from Milan to Switzerland- that's what you're signing up for, along with a myriad of other exciting highlights. The distance from Milan to Switzerland by the Bernina Express covers 257km and takes about 3.5 to 4 hours. Here's everything you must know about taking a day trip from Milan to Switzerland.
Milan to Switzerland - In a Nutshell

Distance : 257km (160 mi)
Duration : 3 hrs 30 mins
Best time to visit : July-Sept
Best way to travel : Train/Car
Approximate budget/head : CHF 230 - 370 per day
Highlights : Lake Geneva, Rhine Falls, Chillon Castle, Jungfraujoch, Matterhorn & more.
Switzerland: Home to The Matterhorn & Swiss Fondue!

When it comes to raw alpine scenery and quaint villages dipped in storybook charm, there is little competition for Switzerland. Be it the snow-capped Alps, the shimmering blue lakes, the lush valleys, or picturesque bankside hamlets, there is an otherworldly charm that surrounds this mountaineous region. Scenery isn't the only thing Switzerland has to offer: many are charmed by the cultural attractions.

Historic cities like Geneva, Zurich, Lausanne, and St. Moritz are filled with museums, buildings, galleries, and musical festivals for you to frequent. The capital city of Bern boasts a gorgeous medieval town that hugs the crook of a river! Of all the neighboring countries, most people find it most convenient to travel from Italy to Switzerland- for multiple reasons- key among them being you're promised a scenic route with plenty of stops along the way for a great day trip!
Day trip from Milan to Switzerland on the Bernina Express

A guided tour is the most convenient way to get from Amsterdam to Volendam, ensuring you make the best of your time in Amsterdam.

Seamless transportation : The locations across the Waterland region are easily accessed by road and not too far from each other. Instead of waiting for public transport you can hop on to the luxury coach and get places quickly, spending more time exploring the attractions.
Cover multiple locations : The guided tours are designed to ensure you explore maximum attractions in the region. You can cover places like Zaanse Schaans, Edam, Volendam and Maarken all in one day without the strain of figuring out your itinerary or arranging transport!
Authentic experiences : A tour will also offer unique experiences like cheese making and tasting, authentic dining, and visit to wooden clog workshop.
Day trip from Milan to Switzerland on the Bernina Express

The bordering countries of Switzerland are Germany, Italy, Austria, and France. Of the four, most people prefer traveling from Italy to Switzerland for a reason: the Bernina Express. The convenience of this train along with the scenic route it takes makes this a MUST-TRY. So, if you're in Milan or Tirano and want to explore the Swiss Alps, don't think twice before booking

Bernina Express tickets

to get you there!
Reasons To Visit Switzerland

Go hiking in the idyllic mountain ranges

Located in the heart of the Alps, Switzerland offers some of the most diverse trekking options in the entirety of Europe. You can find tailored experiences based on your expertise and fitness. Strolling around in the foothills can be just as tranquil an experience as ascending to the peaks. Hiking through the Alps in winter can be both challenging and immensely rewarding.

Stumble upon enchanting medieval architecture

Some of Switzerland's castles date all the way back to 10th century AD! Burrowed in the lap of the Swiss countryside, many of these castles also feature full-fledged museums and other historical attractions. You will find many of these structures perched high atop a mountain or jutting out into a lake, making for some marvelous photo opportunities.

Take one of the continent's iconic train rides

The train ride from Milan Central Station to Zurich Central Railway Station is nothing short of stunning. Catch sweeping vistas of Alpine meadows, lakes, and pristine forests from the window of your Eurocity train. A visit to the Bahnhofstrasse shopping avenue, which is just a few minutes away from the Zurich railway station, is a perfect way to start your tour of Switzerland.

Experience diverse cultures

Each of the 26 cantons (member states) of Switzerland boasts its own unique culture. The art collections housed in museums across the country exemplify the country's rich history and culture. Swiss cheese, chocolate, and alphorns are all a part of this fascinating tradition.

Get your adrenaline pumping with adventure sports

From skydiving to kayaking, adventure sports in Switzerland span the full spectrum of adrenaline-inducing activities. Owing to its massive collection of mountains, paragliding and mountaineering are also popular tourist attractions.
Best Day Trips from Milan to Switzerland

Guided Tour from Milan To Switzerland

Not one for planning your own itinerary from scratch? Woudl you prefer an organized guided tour, led by a local tour guide, and inclusive of all your tickets and transportation costs along the way? A guided tour is the way to go! This is the most efficient use of your time: you'll see the most without having to worry about the travel logistics.

Day Trip to the Swiss Alps by Bernina Express from Milan

Full-Day Tour of St. Moritz from Milan with Round-Trip Bernina Express Tickets

Enjoy a day-out of Milan with your family and friends and visit the Alps, one of the greatest natural features the Earth has to offer
Rail tour from Milan aboard the Bernina Express, one-of-the world's most picturesque train routes which wind through the Swiss Alps and mountain passes
Explore the Alps on a thrilling adventure that takes you the fascinating town of St. Moritz, 'The Top of the World'
A professional guide will be with you through the journey providing commentary on the sites you see and the region in general.
Return to Milan by an air-conditioned coach. Take in the breathtaking scenery all around you as you make your way back.

Book now

Soak up the stunning landscape of the Swiss Alps aboard buses and trains.
Commence your journey with a short guided tour through Tirano, a historic town in Italy.
Learn all about the fascinating Swiss territory from your expert tour guide.
Enjoy unmatched views of the Switzerland-Italy border here.
Board the amazing Bernina Express Train next and zoom along the UNESCO Bernina Pass.
At the resort of St. Moritz, enjoy the view of the Swiss Alps with a cup of hot chocolate in hand.
This ticket offers guided tours in English, Spanish and Portuguese.

Book Now
St. Moritz Switzerland - Things to do
Guided Vs Self-Guided: How To Decide?

While a self tour allows you the liberty to spare enough time to every attraction, a guided tour involves the company of a skilled tour guide that will brief you to local bytes and facts of Switzerland. A guided tour also involves the security of groups, and allows you to socialise with other travellers with safety. A guided tour often also involves several perks and added ancillaries to make your tour a memorable one. Apart from this, you may also put your worries to rest about travel and food apart from comfort — all of which goes hand in hand with your ticket.

That said, a guided tour is not for everyone- waking up a certain hour, mingling with other tour group members, and following a perfectly-charted out itinerary for instance- is not everyone's cup of tea! So choose according to your fancy.
Best Time To Visit Switzerland from Milan

The best months to visit Switzerland are July through September.

Tourist crowds can be quite high during the early summer and spring months; the crowds begin to thin out around August. Although the popular belief is that Switzerland gets unbearably cold post-summer, this is not quite the case. Temperatures hover between 18°C to 22°C during the day and night-time temperatures rarely fall below 8°C.

Paleo Festival De Nyon is one of the most popular folk festivals that generally takes place in the third week of July. You can enjoy the beautiful music and vibrant atmosphere of the festival if you are planning to visit the country in late July.

If you are a jazz music fan, the Montreux Jazz Festival held in July is an excellent place to come face-to-face with all your jazz icons.
Best way to get from Milan to Switzerland: All Transport Options

Milan to Switzerland by Bus

Milan to Switzerland by train

Milan to Switzerland by Car

Organized tour

Traveling from Milan to Switzerland by bus is pretty convenient, albeit slightly more time consuming than the other travel options. Multiple buses run throughout the day. Explore your options to travel by bus

here.

Travelling to Switzerland from Milan is easily facilitated by voyaging onboard the Bernina Express, that takes you through some of the most scenic routes in the world. With plunging gorges, spiralling tunnels and lush slopes, the train takes you through a well-known UNESCO World Heritage Route.

To book your tickets and for more information, head 

here.

TDriving from Milan to Switzerland by car is quite rewarding: the winding roads and ever-glorious beauty of nature on both sides will make your drive worthwhile. The average fuel cost ranges between CHF 40-60.

A recommended route would be:

Milan - Lugano in 1.5 hours (stay for an hour)
Lugano - Goschenen in 1 hour (stay for an hour)
Goschenen - Zug in 45 minutes (stay for an hour)
Zug - Zurich in 40 min (stay for as long as you please)

You can avoid the hassle of planning the day trip by simply booking an organized tour. No more waiting in lines, worrying about planning a step-by-step itinerary and arranging travel from scratch. Soak in the best of the scenic region with this

guided tour from Milan to St. Moritz.
Grab a bite on your day trip
Where can I stay in Switzerland?

Rest your weary legs after a long day of sightseeing at a local hotel. This is also super beneficial if you're thinking of extending your trip for another day or two. Here are some of our top hotel recommendations.

Hotel Gletscherblick

Hotel Dakota

Crowne Plaza Zurich

Hotel Gletscherblick

Located less than 500 meters from Hasilberg Congress, Hotel Gletscherblick is known for its pastoral setting and alpine views. The scenic Reichenbach Falls is very close to the hotel as well (15km).

City: Grindelwald

Hotel Dakota offers functional rooms and a delectable breakfast in a semi-formal setting. The grayscale paintings inside the hotel are the prime attractions.

City: Meiringen

Crowne Plaza Zurich

Enjoy fine dining and fitness activities at the Crowne Plaza Zurich. This is also one of the most affordable 4-star tourist hotels in the city.

City: Zurich
Buying souvenirs from Switzerland
Tips for your day trip from Milan

Always purchase chocolate from local outlets. Larger international chains package their products better, but the chocolate from local chocolatiers is generally cheaper and has its own unique flavor. Avoid buying chocolates at the airport.
You do not need to buy bottled water. Carry a few empty bottles instead. Switzerland is known to have the most robust water processing system, and hence, the cleanest tap water in the world.
If you are planning on trekking in the Alps, make sure you have all the right medication for altitude sickness (AMS). Keep yourself hydrated and try to stay with your group while trekking.
Don't be afraid to go off the grid and explore the countryside. Switzerland is a very safe place to wander around.
Buying a travel pass is one of the best ways to travel around Switzerland. Cabs can be exorbitantly expensive.
People in Switzerland generally speak one of four official languages: French, Italian, German, or Romansh. This might be daunting for a newcomer, but English will work in most scenarios.
Stores and restaurants can have surprisingly early closing times. Ensure that you are aware of the closing time of your intended destination at all times.
Swiss culture does not favor boisterous partying or being unnecessarily loud. Although this is not always the case, it is usually better to be respectful of local traditions.
Switzerland uses the Swiss Franc instead of the Euro as its local currency. Although you do not need too much, it's a good idea to keep a few Swiss Francs in hard cash while traveling.
Is it worth going to Switzerland from Milan?

It is definitely worth taking a trip from Milan to Switzerland. You're promised great views and a memorable trip!

Is Switzerland very expensive?

Switzerland has been dubbed the most expensive country in the world to visit with Zurich and Geneva being 2 of the 10 most expensive cities to live in.!

How much should I budget for 2 days in Switzerland?

Expect to spend 230 - 370 Swiss Francs per day.

What train runs from Milan to Switzerland?

The Swiss Alps Bernina Express Rail from Milan is one of the most popular and efficient ways to travel from Milan to Switzerland by train.

What is the closest Swiss city from Milan?

Lugano is the closest Swiss city from Milan.

How long is the train ride from Milan to Switzerland?

The Bernina Express Rail will take about 3 hours and 22 minutes to reach St. Moritz.

What are the must-visit cities in Switzerland?

Some of the must-visit cities in Switzerland are Zurich, Bern, Lucerne, Interlaken, etc

Is Lake Como in Switzerland or Italy?

Lake Como is technically in Italy but borders around Switzerland.

What is a souvenir I must pick up from when in Switzerland?

Switzerland is known for its chocolates, cheese fondue sets, and watches, among others.

Is the top of Europe worth visiting?

Definitely visit Jungfraujoch- the top of Europe if you have the chance for stunning vistas of the Alps and its surroundings.