Bike down a narrow lane, lined with tiled gabled houses on one side and a meandering canal on the other. Stop at a bruin cafe for a cup of coffee and top it with a stroopwafel and slow down to people-watch. Life in Amsterdam can be as slow as you want or as upbeat as you can handle! Its galleries filled with Van Gogh's and Rembrandts allow a peek into art, while its museums of Anne Frank and Rijksmuseum take you through history. Amsterdam in June comes alive with tourists from all over the world, and its venues spruce up with summer blossoms and cultural events galore. Here is a guide on how to enjoy Amsterdam in June, things to see and do and relish the gezellig life!
What makes Amsterdam in June special?
---
Best of Spring & Summer: Amsterdam in June is on the cusp of summer and is one of the drier months of the year. The balmy temperatures accompany clear skies and form the perfect conditions for great photography. The countryside around Amsterdam is especially verdant and scenic.
Outdoor activities: Amsterdam is a city that is best explored on foot or cycle, and the pleasant weather makes it ideal for getting on a bike and not worry about getting wet! You can enjoy outdoor picnics, explore gardens and parks, take canal cruises and enjoy al-fresco meals in Amsterdam in June.
Cultural extravaganza: Amsterdam in June is in the midst of the busy tourist season, but it comes with perks like concerts and events. From music concerts to performance arts events, and food festivals to sporting competitions, there is a lot to do in Amsterdam.
Amsterdam in June: Weather
---
The weather in Amsterdam in June is filled with blue skies, sunny days, and the occasional shower. The average day-time temperatures are about 20° C (68° F) while it goes down to 10° C (50° F) at night. You may experience cloudy afternoons or evenings but it won't last for long, overall it's a pleasant time to be in Amsterdam.
Amsterdam in June: Things to do
---
Vincent Van Gogh is Netherland's most famous artist and the Van Gogh Museum celebrates his work and holds the largest collection of his paintings. In June, you can admire the permanent collection as well as the Hockney and Pissarro collection, plus an exhibit on his painting Sunflowers and an interactive exhibit on Van Gogh's dreams.
June Timings
June 1st – June 20th: Everyday - 9 am–6 pm, Fridays 9 am–6 pm
June 20th – June 30th: Everyday - 9 am–7 pm, Fridays and Saturdays 9 am–9 pm
Zaanse Schans is a beautiful village on the banks of the River Zaan, it is a portal back in time to the 18th & 19th century. The village boasts of iconic windmills, green wooden houses and workshops where you can watch the making of cheese and wooden clogs. A guided tour from Amsterdam to Zaanse Schans is the best way to explore the countryside.
June Timings
Depends on tour chosen
Rijksmuseum, the Dutch National Museum, and was started in the year 1800 in Hague and was later shifted to Amsterdam in 1885. The museum houses over 1 million objects. More than 2 million people visit the museum each year and hence it's a great idea to buy skip-the-line tickets to save some extra time and explore the museum.
June Timings
Daily, 9 am-5 pm
The Amsterdam canals are a UNESCO World Heritage Site and they are best explored on a boat cruise. You can view the 17th Baroque architecture and the modernist architecture movement which is pioneering trends across the world. June poses ideal weather to explore the canals without the rain or cold to catch you off-guard!
June Timings
Cruise Timings depend on tour chosen

The Red Light District of Amsterdam with its famous glass windows is as synonymous with the city as the canals! Take a walk down the historic street Warmoesstraat with a local on a guided tour and learn about the history of the area. Along the way, explore Chinatown and a local brewery.
June Timings
Depends on the chosen tour
The Willet-Holthuysen House is a vestige from Amsterdam's Golden Age as it was built in 1687. The building located on the Herengracht canal is one of Amsterdam's finest homes and a visit to the museum will introduce to its last residents and the history of Holland's finest families.
June Timings
Everyday – 10 am–5 pm
Day Trip To Volendam and Marken
The real charm of Netherlands lies in the countryside that is dotted with windmills, expansive farmlands and picturesque architecture. Take a guided tour and get out of the city on a short road trip to Volendam, Edam, and Marken. In June, the countryside turns bright with blue skies and green earth.
June Timings
Depends on the chosen tour
Amsterdam in June: Events to Look Out For
---
Holland Festival
June 3 – June 26, 2022
The 75th edition of the Holland Festival will bring together artists from Europe, Africa, Asia to create excellent art and music. The International Arts Festival, which started in 1947, showcases the best of theatre, opera, dance, classical music, ballet, art, and multimedia performance. The festival has multiple venues and most events transcend language!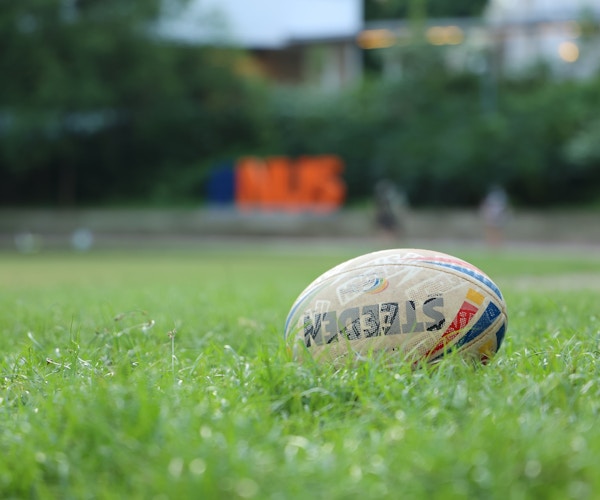 Amsterdam Sevens
June 4 - June 5, 2022
Adrenaline runs high in Amsterdam on the first weekend of June when over 120 Rugby teams battle it out in Amsterdam Sevens. The tournament, running since 1972, is a highlight on the Amsterdam sporting calendar and is a fun social event with sporting cheer and great beer. It's a fantastic way to soak in the culture of Amsterdam beyond the natural and historical! Taste of Amsterdam
June 2 - June 5, 2022
Learn how to make a cocktail and go on a whiskey tour, or watch a chef prepare a meal that's as amazing as a theatrical experience! You can indulge in your inner gourmet at Taste of Amsterdam, a culinary festival that brings together celebrated chefs and restaurateurs to offer foodies a weekend of good food and fun culinary experiences.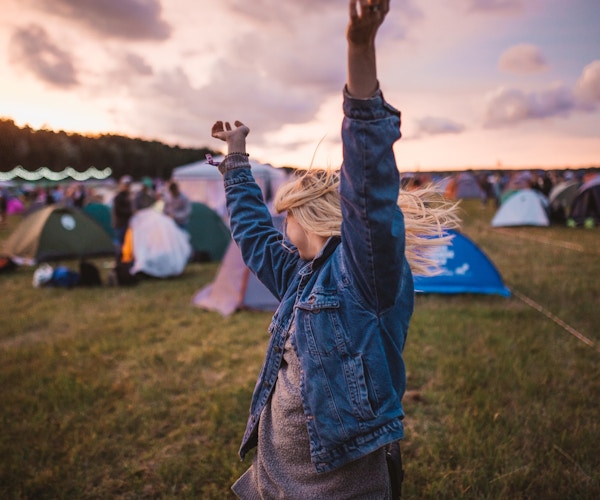 Rock and Pop Concerts
All month
The music scene in Amsterdam is thriving and come spring, summer music concerts are the best way to spend your evenings in the city. In June, Billie Eilish, Olivia Rodrigo, Eric Clapton, Red Hot Chili Peppers, Lorde, My Chemical Romance, Elton John, The Strokes, The Rolling Stones, Eagles, Alt-J, are all performing in various venues across the city.
Amsterdam in June: 5-day Itinerary
---
Amsterdam Essentials
---
Amsterdam Weather in June
June is on the cusp of summer season and enjoys bright days with few rain showers. The days are long and the sun rises around 5:30 AM and sets around 10:00 PM, giving you ample daytime to explore the city. You can expect slight humidity during the rains, and it can get quite windy in the countryside.
Where to Stay in Amsterdam during June
Amsterdam is fully-equipped to host travelers from all walks of life; however it is counted amongst the more expensive cities in Europe. You can choose to stay in Old Centre which is the historic area but is also in proximity to the Red Light district; the Jordaan is a residential neighborhood lined with pretty canals and hip restaurants; Eastern Docklands and Amsterdam Noord offer cheap stays in the outskirts.
Getting Around Amsterdam in June
It is a breeze to get around in Amsterdam as the public transport is one of the best in Europe. You have multiple choices including –
Tram - There are 14 tram lines that cover Amsterdam and have hundreds of stops.
Metro - The metro is quick and ideal for longer distances, there are five routes with 39 stations.
Bus - Buses are convenient but take time, and there are over 42 routes across the city.
Ferry - There are six ferry routes over the IJ River and convenient to ferry bicycles and motorbikes.
Apart from these, biking is the most popular way to get around in Amsterdam, and you can rent a bike from almost every hotel/street in the city. An Amsterdam City Card is the best way to travel in the city as it includes free transport and entry to attractions.
Amsterdam in June - Must-Try Delicacies
---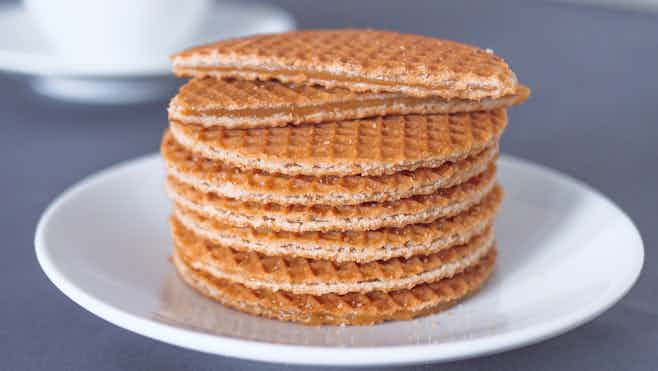 Stroopwafel
Want a quick snack or dessert? Bite into the caramel crunchy goodness of a stroopwafel. It has two thin waffles sandwiched together with a caramel syrup filling, and is best eaten after warming up on a cup of coffee to enjoy its gooey and crunchy texture.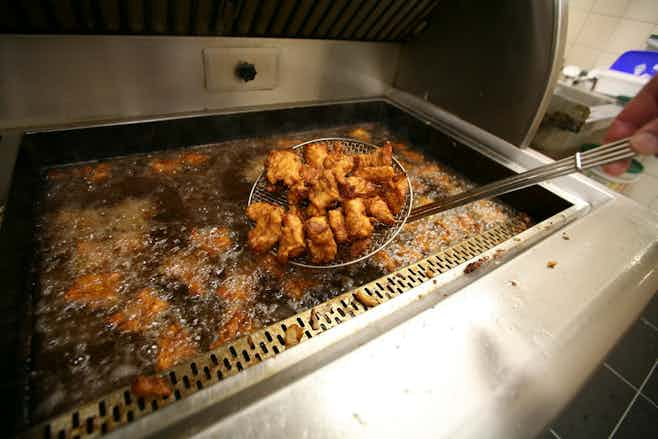 Kibbeling
June is the perfect time to indulge in snack foods on the go and nothing better to fill your tummy than the delicious goodness of Kibbeling! The dish is fried cod fish and is served with a side of tangy herb sauce. Grab a dish and walk along the canal for a comfort meal on the go!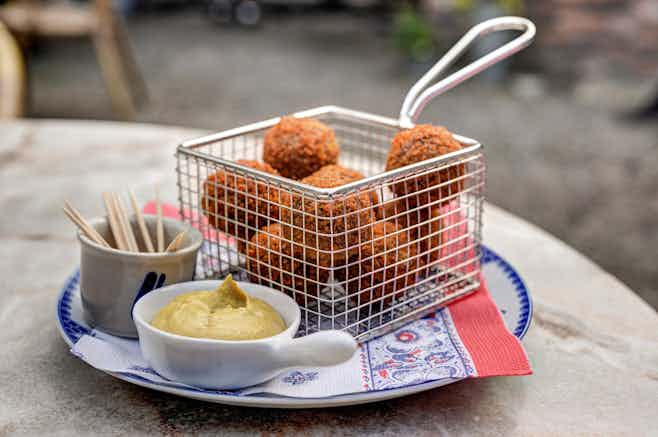 Bitterballen
You cannot go wrong when you order a side of bitterballen with a glass of cold beer! A staple dish in all of Amsterdam's bars, the bitterballen are fried meatballs that are served with mustard. The lip-smacking fried balls will help you enjoy the Dutch beer all the more!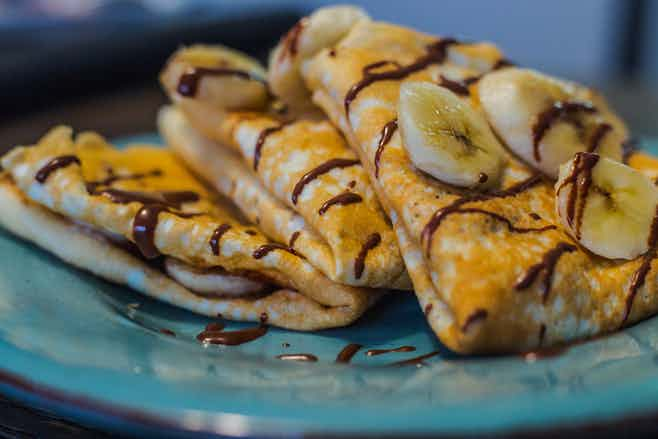 Pannenkoeken
Is it a pancake, or a pizza or a crepe? When in Amsterdam, the traditional Dutch pancake the Pannenoeken will have you spoilt for choice! Available throughout the day, the pancakes are thin like crepes but often come topped with savoury and sweet toppings that make for a great meal.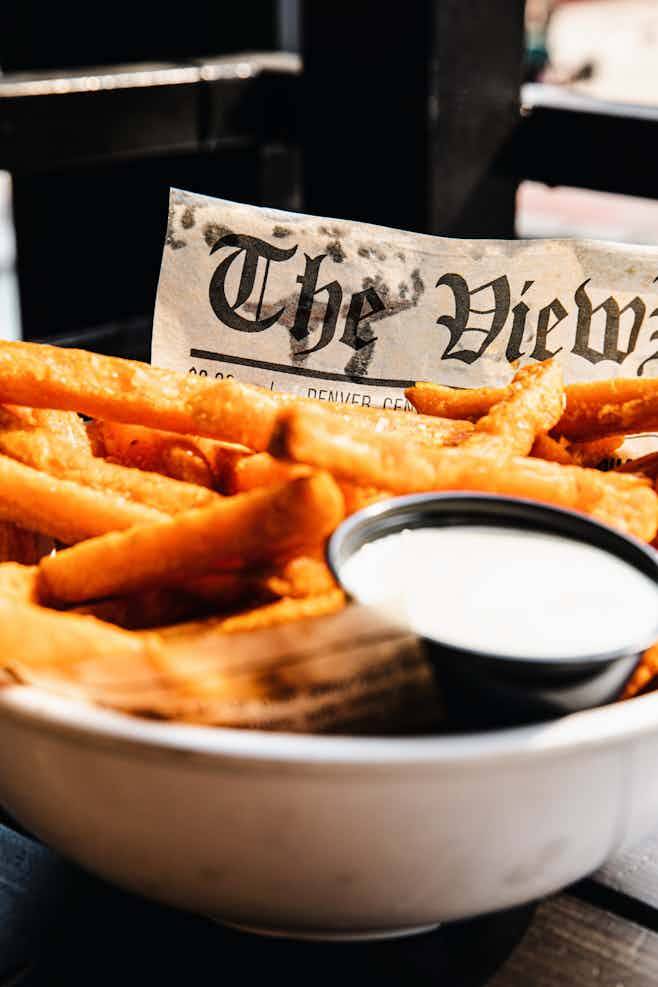 Vlaamse Frites
You will find locals and tourists around carrying paper cones laden with golden fries all over Amsterdam. A favorite Dutch food, the potato fries are thick, deeply fried and topped with a variety of sauces. They are best eaten in street markets and tiny speciality stores across the city.
Tips to visit Amsterdam in June
---
June is a pleasant time to be outdoors and a great way to save some money and enjoy the outdoors is a picnic with items bought from a supermarket. Vondelpark, Westerpark, Amstelpark, Erasmuspark, Frankendael Park, Beatrixpark, and Noorderpark are some of the nicer parks in the city.
Don't have money to shell for rock concerts? You can still enjoy exciting music at the free concerts held at the Vondelpark Open Air Theatre that runs every weekend in June. Friday nights are for dance, Saturday and Sunday afternoons have live music, and Saturday evenings have comedy shows.
Once a year, over 30 private gardens in Amsterdam open their doors to the public on Open Garden Days. On 17, 18, and 19 June 2022, you can visit these beautiful landscaped gardens that are Amsterdam's best kept secrets!
If you are looking for a hot cup of coffee in Amsterdam just look twice before entering into a coffee shop. In Amsterdam, a cafe or a koffiehuis (coffee house) serve coffee and baked goods, however a coffeeshop is a licensed cannabis seller. You can still get a coffee but the place mainly serves cannabis products. You can look out for a green and white sticker which indicates it's a cannabis seller.
June 6th is Whit Monday and a national holiday in the Netherlands. However, it does not affect life in Amsterdam, attractions are open and all the major stores and restaurants are open as well. Only the banks and small stores outside the centre of the city might be closed as the locals go out to the countryside to spend the holiday.
Explore Amsterdam Through The Year
---
Ready to Visit Amsterdam?
---
Here are some more guides for your reference.
FAQs
---
June is a great month to visit Amsterdam, in terms of the weather. You can expect quite a bit of sunshine, lots of blue skies and an average temperature of 15° Celsius (59° F)
The best things to do in Barcelona in June include visiting the Van Gogh Museum, visiting Zaanse Schans, going on a Canal Cruise and taking a day trip to Volendam and Marken.
Amsterdam has an exceptional public transport network that includes metros, buses, trams, ferries and trains.
A pair of jeans or long pants, light t-shirts or tops, and a thin cardigan or sweater for the evenings are perfect for Amsterdam in June.
The Holland Festival, Amsterdam Sevens, Taste Of Amsterdam 2022 are some of the few exciting events and festivals in Amsterdam in June. Apart from this there are many Rock and Pop music concerts scheduled in June as well.