Amsterdam, often known as 'Venice of the North' is home to historic buildings, iconic museums and a unique vibe that escapes most other tourist cities. This 17th Century capital is unlike any other city in the world with its singularly creative art and culture scene. There's nothing quite like a stroll through its cobbled streets and narrow lanes. Each turn gives way to a new surprise; a cafe offering homemade pastries, a bookshop selling trinkets made from local items found in the city or a flower shop with a dazzling bouquet of multicoloured tulips. This city is also home to world-famous attractions like the Van Gogh Museum, the Anne Frank House, the Royal Palace of Amsterdam and much more.
Don't be overwhelmed with everything Amsterdam has to offer! There's a lot you can experience in one day. Our Amsterdam in a day guide has been carefully designed to give you the best experience possible.
1 Day in Amsterdam - How To Spend Your Day
---
Amsterdam In A Day - Detailed Itinerary
---
AM
Say Hello to the Rijksmuseum and Vondelpark

Rijksmuseum

The Van Gogh Museum

Vondelpark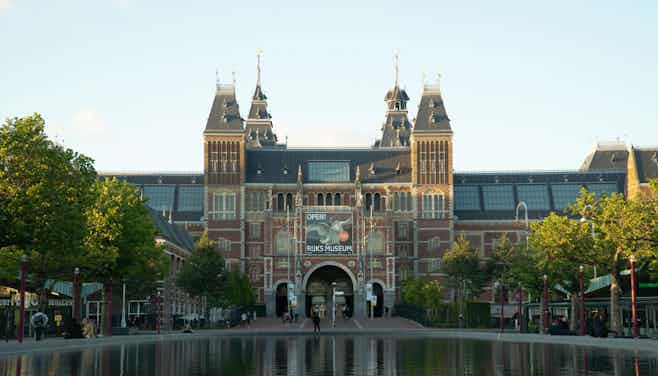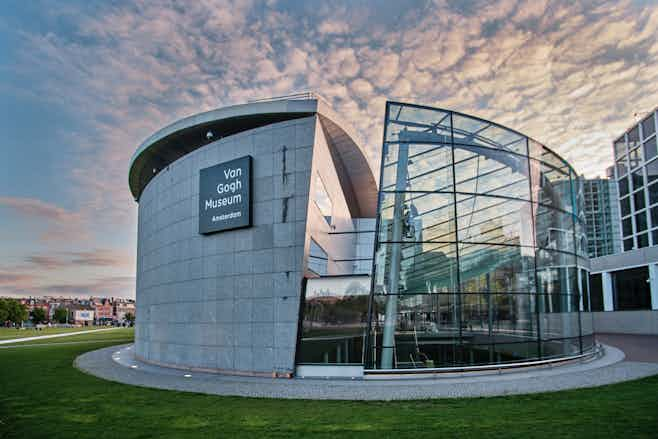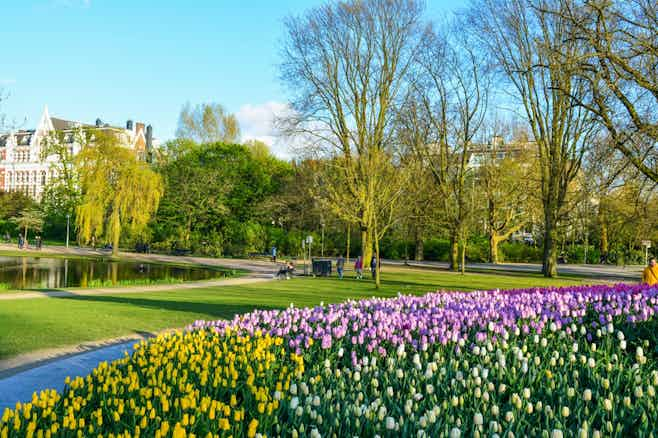 Start your day with a bang: at the famous Rijksmuseum. Cover the main attractions in this city, including the "The Van Gogh Museum" and Vondelpark.
Begin your day in Amsterdam with a little history! The Dutch national museum, Rijksmuseum, was founded in the Hague on 19th November 1798 and moved to Amsterdam in 1808. Located at the Museum Square, it is home to over 8,000 pieces of art and history, including masterpieces by Johannes Vermeer, Rembrandt, Frans Hals, Van Ruysdael and more. Ideally, you'll need about two hours to explore the Rijksmuseum, but if you're short on time, you can also opt for a quick one hour tour. Rijksmuseum is open between 9:00 AM and 5:00 PM. For children under 18 entry to Rijksmuseum is free, while adults have to pay €19.
Travel Tips
As one of the most popular landmarks in Amsterdam, the Rijksmuseum is generally crowded and the waiting line at ticket counters is usually long. Avoid this by pre-purchasing your tickets online.
Begin your visit in the Gallery of Honour and Night Watch Gallery will position you smack in the center of the second floor, which is bookended by the Great Hall and Sculpture Gallery.
Take advantage of the free wifi, since there are several types of tours, integrating thematic tours or specific rooms/galleries tours and mentioning the highlights among artists, times, or types of works.
More Reads on Rijksmuseum
🇳🇱 Hot Local Tip 🇳🇱
The Gallery of Honor attracts the most people because it's home to The Night Watch and other gorgeous Golden Age paintings. If you arrive in the morning, head straight to these pieces first. If you arrive after 3 p.m, save them for last.
Dedicated to the works of art maestro Vincent van Gogh and his contemporaries, the Van Gogh Museum is one of the most visited attractions in Amsterdam. Since its inception in 1973, this art museum boasts the largest collection of paintings and drawings by Van Gogh in the world and offers a memorable experience to both art aficionados and casual visitors. The museum consists of two buildings: the Rietveld building, and the Kurokawa wing, that feature artworks by Van Gogh's contemporaries like Auguste Rodin, John Russell, Emile Bernard, Maurice Denis, Paul Gauguin and more.
Travel Tips
The museum closes at 6:00 PM from Saturday to Thursday, while on Friday it closes at 9:00 PM. Last admission to the museum is 30 minutes before closing time, so plan your visit accordingly.
Take out sufficient time for your visit and avoid going on a rainy day.
The museum prohibits photography and the rule is strictly enforced. As a remembrance of your time spent with Van Gogh, you can pick up a souvenir or postcard from the gift shop.
More Reads on the Van Gogh Museum
🇳🇱 Hot Local Tip 🇳🇱
You can take photos at the designated areas and selfie walls, but remember to turn the flash off and leave your tripods at the hotel. There's also free Wi-Fi available throughout the museum.
Head to Vondelpark, Amsterdam's largest and most famous public park, for a few peaceful hours amidst nature. Centrally located, the Vondelpark attracts more than 10 million visitors annually. Apart from its natural beauty, you can also enjoy free concerts which are organized at the open-air theatre or the park's bandstand. Other attractions at Vondelpark include a statue of the poet Vondel, the Groot Melkhuis with a playground for children and the cast iron music dome. You can also visit the Blauwe Theehuis, a popular ring-shaped cafe, for a refreshing drink.
Travel Tips
You can opt for well-known shopping streets, PC Hoofstraat and Beethovenstraat. Both of these shopping streets are pretty much crowded because of its popularity. If you are looking for a quieter place to shop, go to Cornelis Schuytsraat.
Tourists interested in equine can fulfil their craving at Hollandsche Manege, which is Vienna's celebrated Spanish Horse Riding School.
Taking a Taxi for the commute is the fastest option as it would only take 15 mins. However, the cost would be on a little higher side with 40 Euros a ride.
🇳🇱 Hot Local Tip 🇳🇱
Amsterdammers turn out in droves for the free open-air theater performances every Friday, Saturday, and Sunday during summertime.
Restaurant Recommendations
Time for breakfast? Fret not, there are many good restaurants around the area. Our personal recommendations include:
NOON
Exploring Amsterdam's Architectures

Amsterdam Begijnhof

Amsterdam Canal Cruise

Anne Frank House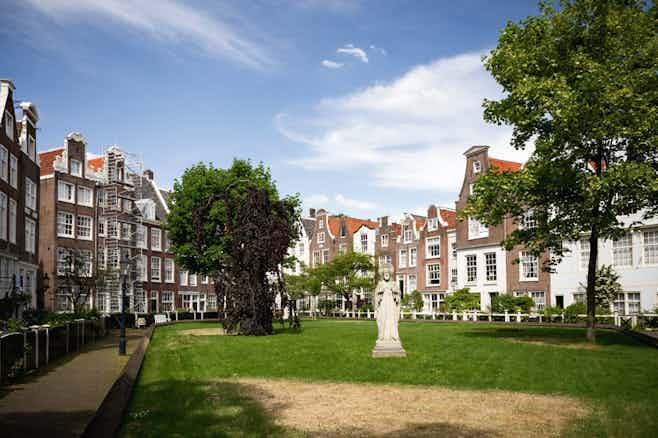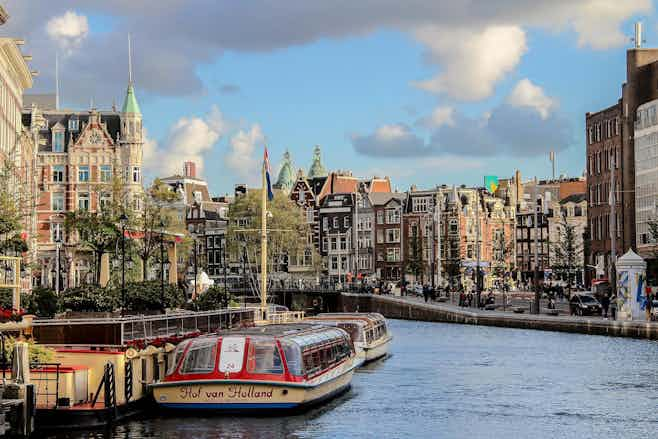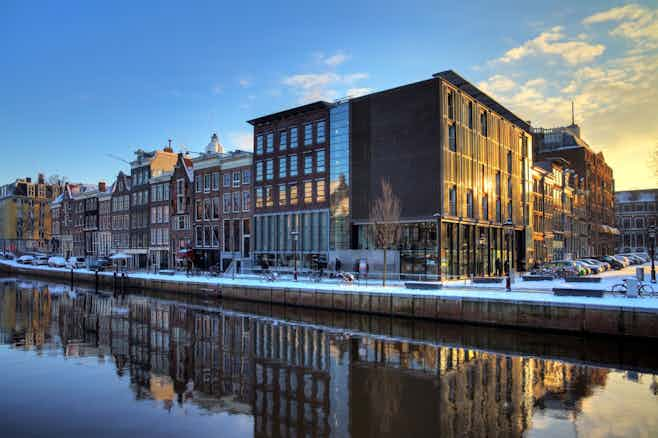 After a quick lunch, continue your tour through Amsterdam. Cover 3 top attractions in Amsterdam you do not want to miss out on at a go!
Continue your day in Amsterdam by visiting one of the most famous and historic hofje in the city: Begijnhof. Hofje in Dutch means courtyard. Back in the day, hofjes were closed communities where widows and seniors lived together. Begijnhof was a little different from your typical hofje and functioned almost like a nunnery, although the women were free to leave the order and get married. Visit Begijnhof to get a truly authentic look at Amsterdam with a church, ancient houses and more housed within a beautiful courtyard, right next to the bustling city center.
Travel Tips
Begijnhof is open from 9:00 AM to 5:00 PM and entry is free of charge.
One can reach in a short time of 15 minutes with a taxi ride. The cheapest option available that consumes less time is by sharing your ride.
The best time to visit Begijnhof is from April to May and September to November. These months of the year are best to explore the true colors of the area.
Photography and any kind of filming are prohibited at this place. Many people don't even like getting photos of their private residences being clicked.
🇳🇱 Hot Local Tip 🇳🇱
You can go on tours that take in the Begijnhof courtyard, and possibly the best way to do this is by booking a personalised tour of Amsterdam so that you choose exactly where you want to go.
An experience you must have while in Amsterdam is a cruise through its Golden Age era canal system. It's a pleasant sight to witness the beautiful city from a boat. Given their popularity, you'll find countless canal cruise options to choose from. There are semi-open boat tours, evening canal cruise, hop-on hop-off canal cruise, an Amsterdam culinary cruise and many others. A canal cruise is also a great way to explore the city without having to walk too much. While each cruise option follows a different route, you'll be passing by iconic Amsterdam landmarks in all of them.
Travel Tips
Try booking your Amsterdam canal cruise tickets online to avoid waiting in long lines.
Consider Skip the Line Tickets & Combo Deals.
For Travel Flexibility, Try The Hop-On-Hop-Off Cruise.
Make Use Of The Audio Guides.
More Reads on Amsterdam Canal Cruise
🇳🇱 Local Travel Tip 🇳🇱
Everything is possible - candle-light dinner, museum tour and also some wacky variants like the pancake roundtrip.
This biographical museum is dedicated to Jewish wartime diarist Anne Frank and is arguably one of the most important landmarks in Amsterdam. Anne Frank museum was originally the Frank family's escape, where they hid from Nazi persecution during World War II. While Anne herself did not survive, her diary was published in 1947 detailing her time during the war. This museum opened in 1960 and showcases a permanent exhibition on the life of Anne Frank including rare family pictures, the room in which they remained hidden and other authentic memorabilia.
Travel Tips
The Anne Frank House is open to visitors from 9:00 AM to 10:00 PM.
Ticket price for adults is €10 and for children aged 10-17, it's €5. For children aged 9 and below, entry to The Anne Frank House is free.
You can buy tickets online to avoid waiting in a line.
More Reads on Amsterdam Canal Cruise
🇳🇱 Local Travel Tip 🇳🇱
You'll need to reserve your tickets to the Anne Frank House as early as possible. As soon as you know you're going to Amsterdam, book those babies.
Restaurant Recommendations
Time for lunch? Fret not, there are many good restaurants around the area. Our personal recommendations include:
PM
Cruising and Strolling About Amsterdam

Damrak

Foodhallen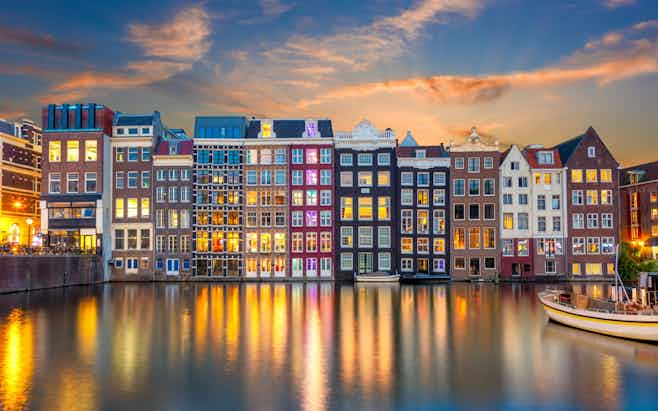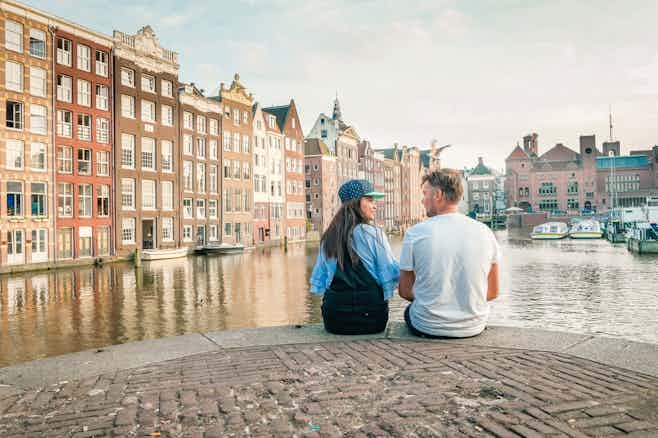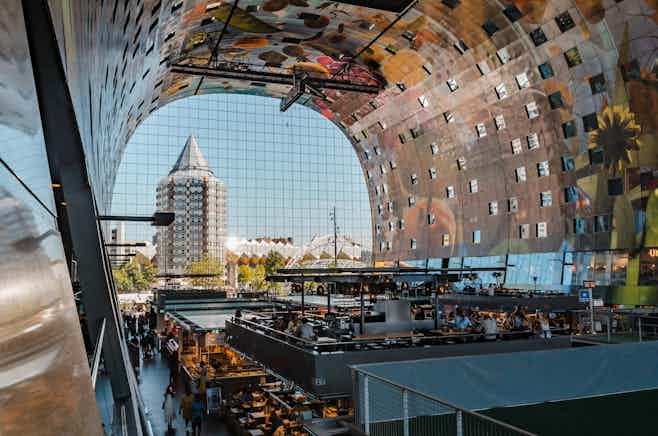 After a heavy dose of Amsterdam's history and heritage, it is time to kick back and relax. Brace yourself for some cultural therapy as you stroll through Amsterdam in the evening.
The Damrak is an avenue in the heart of Amsterdam, located between Amsterdam Centraal railway station and Dam Square. A partially-filled canal, the Damrak is now Amsterdam's equivalent of New York's Wall Street. This busy street was once home to Beues van Berlage, the former stock exchange building and other historic buildings usually found on postcards from Amsterdam. Damrak is also lined with cafes, restaurants and tourist shops, making it the perfect stop for a snack or an early dinner.
Travel Tips
The best time to visit Dam Square is during late autumn till the early winters get over.
Reach Dam Square by car, bus, and train.
You can click photographs freely at most of the places except where it is not allowed. Watch out for the "No Photography" sign.
🇳🇱 Local Travel Tip 🇳🇱
Experience the Dutch food culture here and make sure to grab on the specialty dishes: Korket, Dutch cheese, and stroopwafel.
Walk to the final destination in your one day Amsterdam tour -- Foodhallen, an indoor market that houses some of the best food options in the city. Foodhallen is particularly great for tourists who don't want to struggle to find a good place to eat. Here, you'll find both local and international cuisines in one convenient place; from fresh oysters and lobsters to hot dogs and gourmet pita bread, Foodhallen has all your food cravings sorted. An added bonus of visiting Foodhallen is the chance to interact with locals and attend fun events.
Travel Tips
You can try some of the stalls in other places so maybe go for the ones that are unique.
It's not the cheapest way to eat, but certainly most main dishes at De Foodhallen are under €10 which if you compare that to a restaurant is decent.
Follow the tramlines which are still on the ground and admire the beautiful old architecture of a building that has been lovingly restored.
Stall Recommendations
Time for dinner? Fret not, try to maximize your foodie experience, from stands that freshly-fry classic Dutch bitterballen, to places that serve up twists on old favorites!
Spend A Day In Amsterdam Under €100
---
With an action-packed visit and great savings at hand, your trip to Amsterdam will have you coming back for more! Not only do you benefit from unlimited access to Amsterdam's public transport system, but you also gain access to some of the best attractions in the city for 24 - 120 hours!
I Amsterdam City Card
Over the course of the time you choose to spend here, enjoy the best the Dutch capital has to offer on this hassle-free I Amsterdam City Card. Gain unlimited access to public transport, a free one-hour canal cruise, along with several famed museums and attractions. You will get to visit the ARTIS Amsterdam Royal Zoo, one of the oldest zoos in Europe where you can experience nature right in the centre of the bustling city. You will also get to visit the magnificent Stedelijk Museum, along with the Rijksmuseum, the Diamond Museum, NEMO Science Museum, Rembrandt House Museum, Hermitage Amsterdam and many more! Enjoy additional benefits such as discounted rates at cafés, restaurants, bike rentals and many more!
I Amsterdam City Card
Headout Price: €99
Book Now
More Amsterdam Itineraries
---
Have some more time to kill in Amsterdam? That's alright, we've got other options for you. Check out our other itineraries for further inspiration:
Public Transportation In Amsterdam
---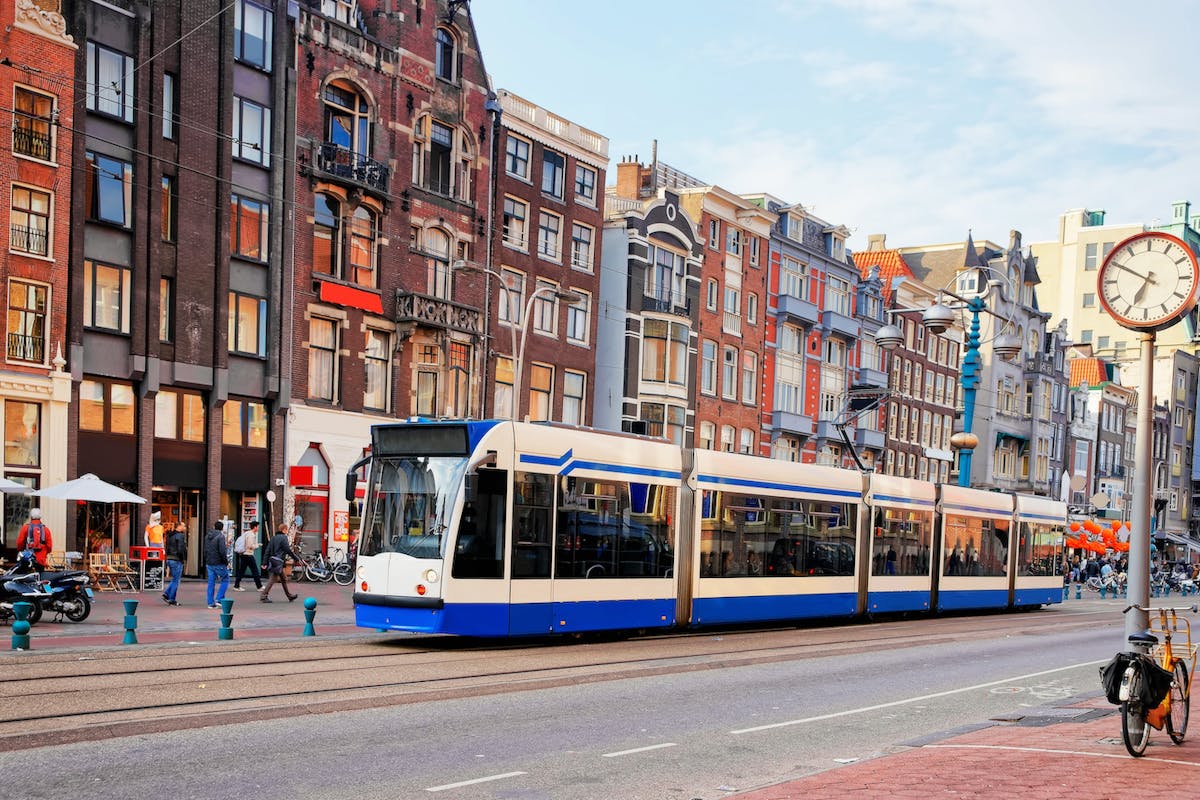 Getting around in Amsterdam using public transport is convenient and easy on the pockets too. Here are your options:
Metro: Amsterdam's metro network originates from Central Station and connects to the city's outlying districts including Bijlmer, Amstelveen and Diemen. With over five different routes and 39 stations, the metro is perfect for long-distance travel. You can purchase a one-hour ticket or a rechargeable public transport chip card at GVB service desks or vending machines at metro stations.
Buses: There are three primary bus operators in Amsterdam: GVB (operating mostly within the city), Connexxion and EBS. The bus network in Amsterdam is pretty comprehensive and well connected with over 42 different routes across the city. Buses are also the cheapest mode of public transport in Amsterdam. You can purchase single-journey tickets or one-hour tickets directly from the driver. A more convenient option would be a 24-hour ticket which grants you unlimited access to the bus network for an entire day.
Trams: An iconic part of Amsterdam's public transport network, the tram service is best suited for short-distance travel within the city. One of the quickest ways to get around and into the city centre, the tram in Amsterdam is spread across 14 lines and 100+ stops. When travelling by tram, most locals make use of the public transport chip card (OV-Chipkaart). However, if you're in the city for just one day, you can get a one-hour ticket aboard a majority of Amsterdam trams -- a ticket attendant sits in a booth towards the rear of most trams.
Ferries: Take a ferry to cross River IJ if you're on a walking tour, or using your cycle or moped. The ferry service is free of cost and a great way across the water to and from Amsterdam Noord.
Bikes: One of the best ways to explore Amsterdam in all its glory is on a bike. You'll find cycles or fiets available everywhere in the city for rent. You can rent a cycle for around €7 for a couple of hours or €9.50 for a day.
If paying for all the modes of transport seems like too much effort, make use of the convenient I Amsterdam Card. This card gives you free access to over 70 museums, city-wide public transport and discounts on restaurants and concerts. If you're nervous about navigating the unfamiliar Amsterdam landscape, there are many apps you can use to plan your travel.
Where To Stay in Amsterdam?
---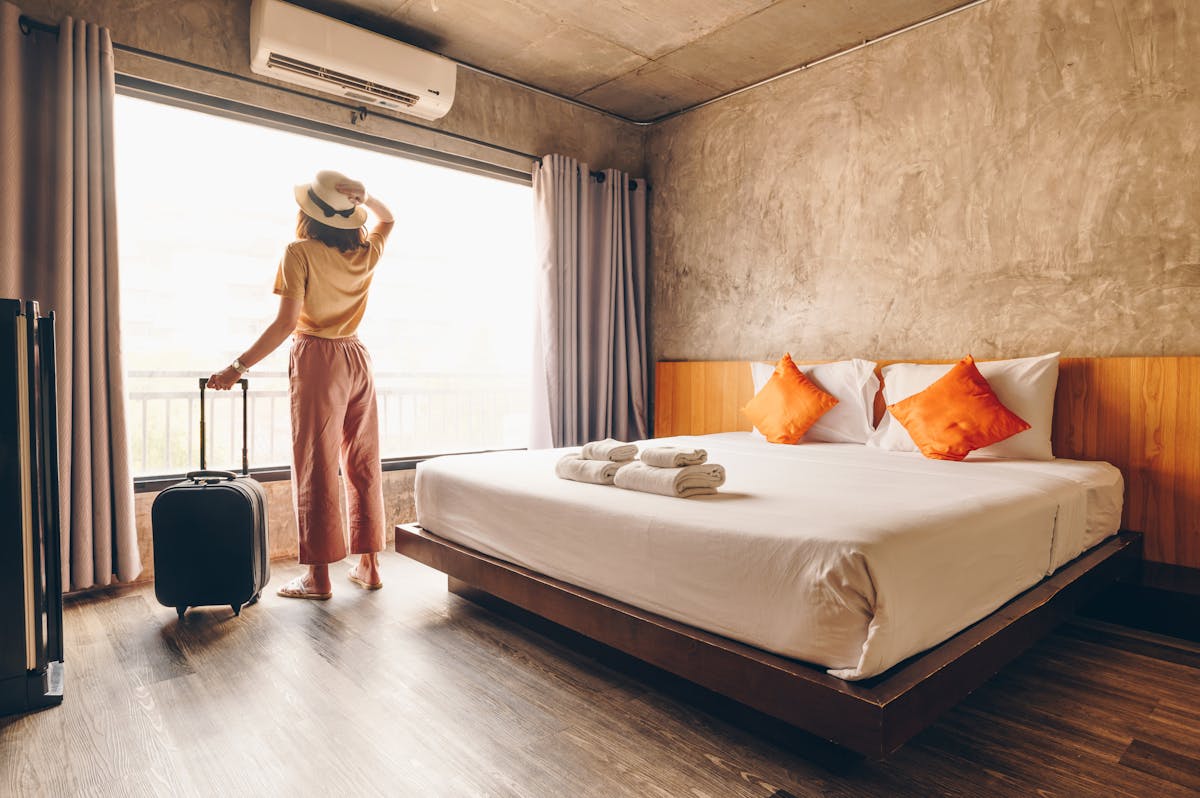 Amsterdam is home to a variety of housing options since it sees millions of tourists every year. Depending on your budget, you can choose to stay in either quirky, comfortable hostels, welcoming homestays or luxurious hotels. Here's a list of options to choose from:
Recommendations:
1. Around Van Gogh Museum:
2. Around Rijksmuseum:
3. Around Anne Frank House:
Tips & Hacks For Making The Best of Amsterdam In A Day
---
Given how bike-friendly Amsterdam is, there's a dedicated lane for bikes in the city. Make sure you stick to this lane while riding. Also, don't stop in the middle of the lane to click photographs since you'll be obstructing the way for other riders.
Amsterdam is one of the few cities in the world where cannabis is legal. You'll find countless Coffeeshops within the city selling marijuana and related products. Note that this Coffeeshop is different from your regular Coffee Shop. Ask around if you're having trouble locating a Coffeeshop.
Pack regular clothes like jeans, thin sweaters or light jackets, since the city has a very laid back vibe. Also, no matter what time you visit Amsterdam, bring a scarf since it gets pretty windy during the evening.
Remember to carry an umbrella at all times. Amsterdam weather is often unpredictable and you don't want to be stuck in the rain, especially when you only have one day to explore the city.
Fridge magnets and keychains aren't the souvenirs you would want to take home from Amsterdam. Instead, you can choose from unique Dutch licorice, candy, cheese or alcohol. You'll also find wooden clogs at Zaanse Schans, funky crockery, cookie moulds and more items specific to Amsterdam.
Socket Type C, E And F can be used to charge your devices in Amsterdam.
When planning your trip, book tickets for the attractions you're planning on visiting as well. Booking tickets in advance not only works out to be cheaper but you can also avail discounts and cashback offers.
Amsterdam is famous for its beautiful, multicolored tulips. Please note that tulips bloom only from mid-March to mid-May. Don't be fooled by sellers offering tulip bulbs in spring.
Rome in 1 Day - Itinerary
FAQs: Amsterdam 1 Day Itinerary
---
Yes, Amsterdam is worth-visiting for everybody to unleash their wanderlust and discover the beauty and heritage of this city.
Some of the must-visit places in Amsterdam are Rijksmuseum, Anne Frank House, Speciality Museums, Van Gogh Museum, The Jordaan, A'dam Lookout, Vondelpark, and Moco Museum among others.
The best time to visit Amsterdam is between March to April and September to November.
Tourists are usually seen bustling on the roads of Amsterdam. One can take a tour of the canals, go sightseeing, cycle to hidden gems, visit museums, try herring from a herring cart and much more.
If you don't want to walk around the city while experiencing the beautiful sights, you can choose to opt for an OV chip card.