The vibrant culture of Amsterdam is intoxicating. If you are ever lucky enough to find yourself in this city, then you will know how the beautiful and vast canal networks, their 17th-century Dutch charm, and their vibrant nightlife can be borderline addicting. This city has upgraded itself to the modern era while also holding onto its precious historical past.
A visit to the 'Venice of the North cannot be complete without visiting the famed Van Gogh museum. This 21st-century museum is a tribute to the works in the life of the ingenious Van Gogh. This beautiful four-storeyed museum showcases the art of Van Gogh and his contemporaries like Monet, Gaugain, and Millet. This guide will tell you everything you need to know about the Van Gogh Museum tour.
Advantages of a Van Gogh Museum Guided Tour
---
Skip the line entry to Van Gogh Museum, and enter at the time slot chosen
The Van Gogh museum is a popular tourist attraction in Amsterdam. This means that there is sure to be a long line at the booking station. You can skip the pesky lines by opting to book a Van Gogh Museum tour. This way you can skip past the long lines and still get to the museum at a time of your choosing!
A comfortable Minivan transports you to the museum
With the rising temperatures becoming relevant day by day, the last thing you would want to do is to be stuck outside without any reliable transport. However, with the Van Gogh Museum tickets, you also get a reliable transport option. A comfortable minivan will take you to and from your hotel to the Van Gogh museum. Believe us, comfortable transport is a blessing during the heat waves and the cold months!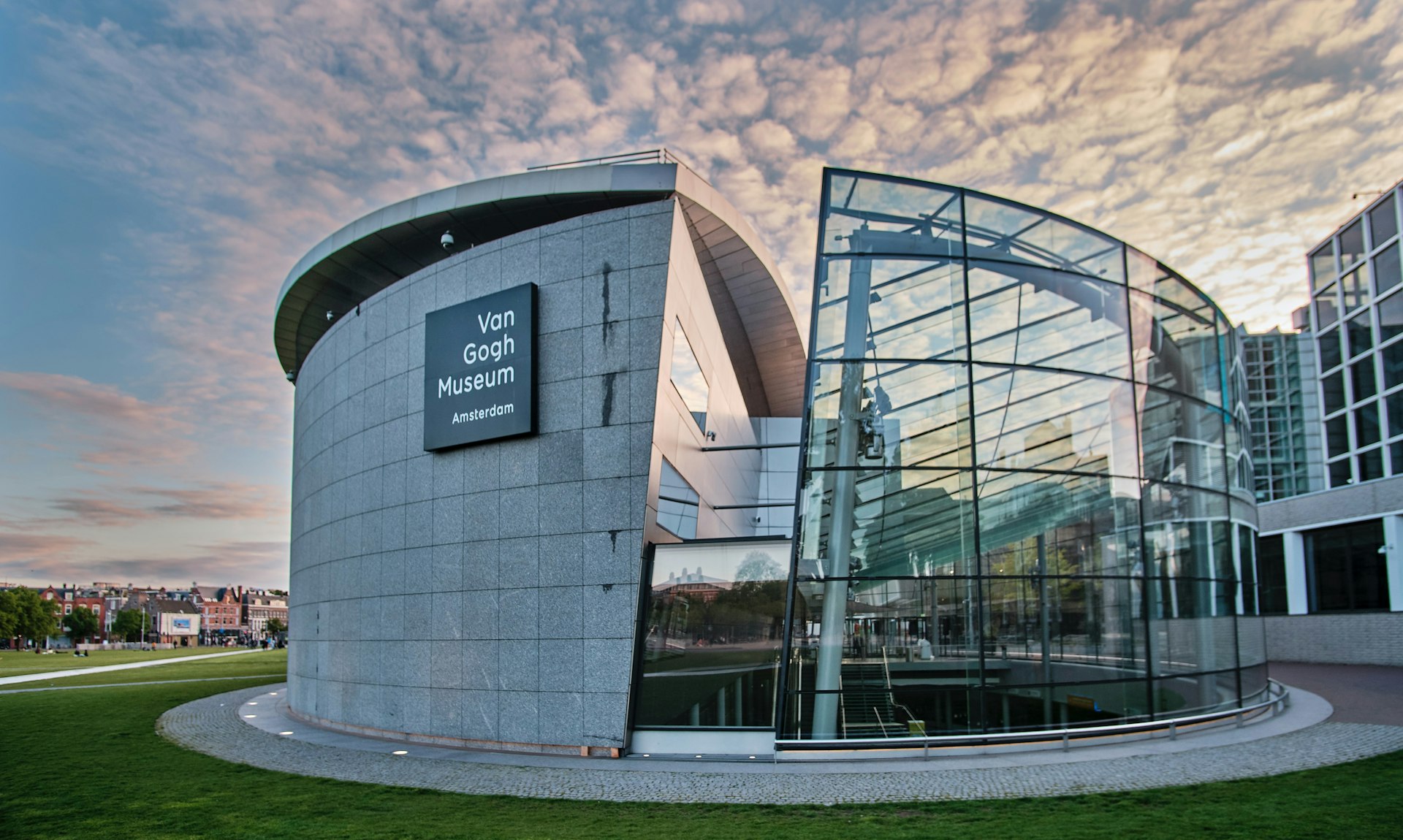 An expert guide who knows the works of Van Gogh in and out!
To fully know about the life and works of Van Gogh, just touring the museum wouldn't be enough. With the Van Gogh Museum tickets, you also get yourself a personal licensed expert guide. Your guide will be fluent in English and will have expert knowledge about Van Gogh and his works. You can ask your guide questions and get answers that you otherwise wouldn't get in the normal tour!
A personal tour with a small group of 8 people only
With the Van Gogh Museum tickets, you can opt to get yourself in a small tour group. Usually, with larger groups, there isn't much-personalized care given to every tour member. But with your small-sized tour group, you can choose to ask as many questions as you need to your guide. You can also find out fun tidbits and facts from your tour guide!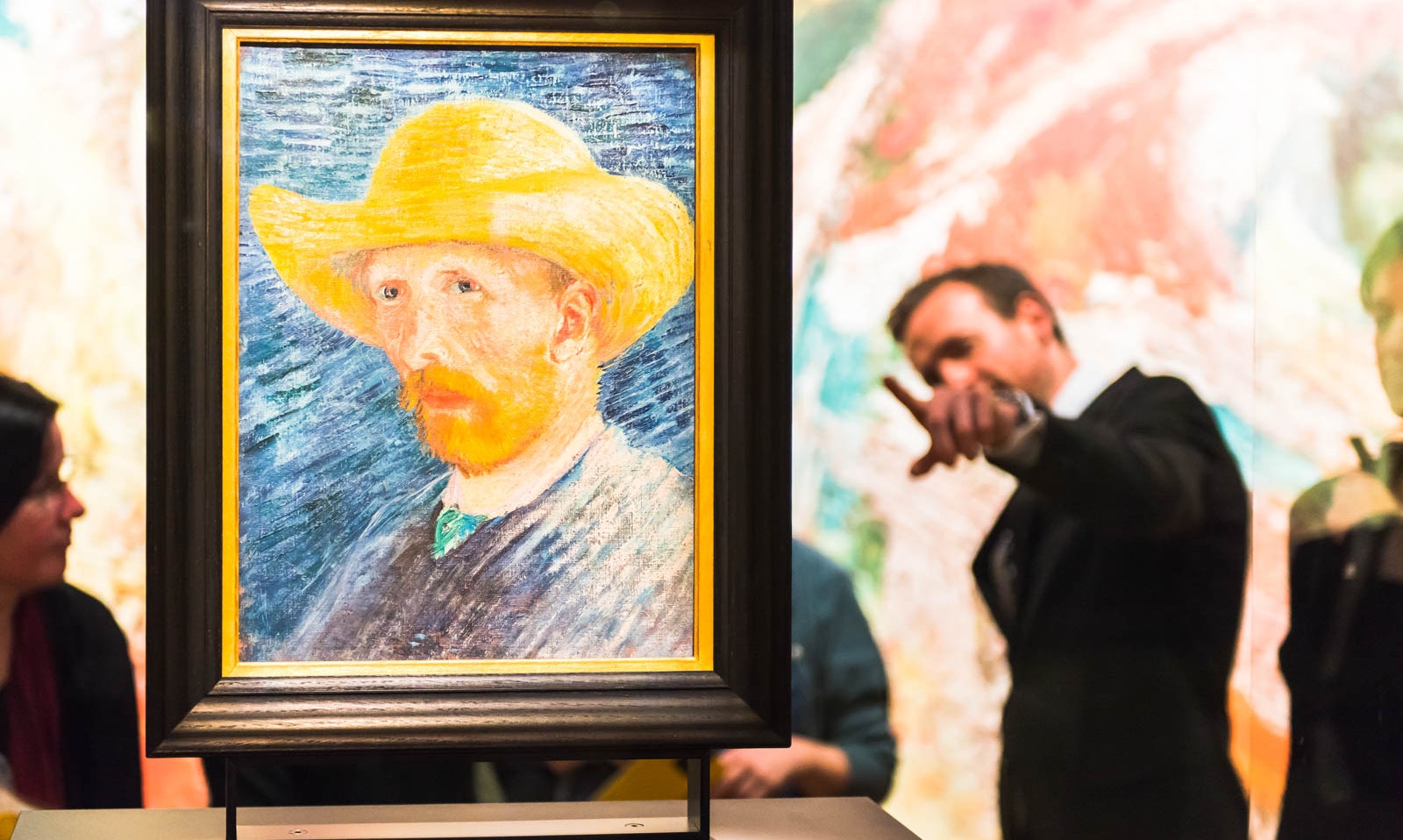 The Best Van Gogh Museum Guided Tours
---
Guided Tours
Combo Guided Tours

Van Gogh Museum
The Complete Guide To Van Gogh Museum
Here's all you need to know about visiting the Van Gogh Museum, taking a Van Gogh Museum tour and the highlights of all that is inside the Van Gogh Museum.
Choosing the Best Van Gogh Museum Guided Tour
---
Before choosing your tour, take a look at the main features of each type of tour and then make an informed decision. Here's a list of all your Van Gogh Museum tour options and their highlights.
Take a plunge into the life and works of Vincent Van Gogh. Take a walk through some of his most awe-inspiring works and feel closer to the artist. Let the tour inspire you and take you through a journey of the artist that inspired a whole century's worth of artists. The tour will also show you the sights and sceneries that inspired Van Gogh.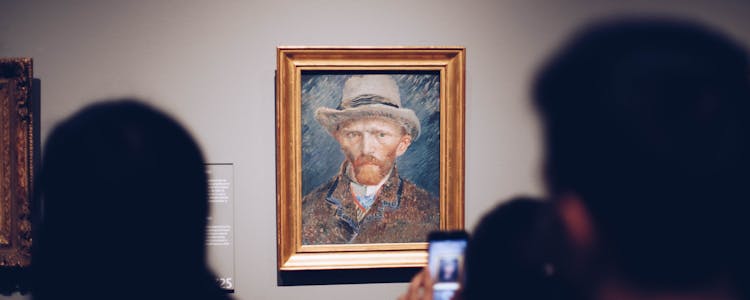 2

Only Skip The Line with Audio Guide
Make the most of your trip to Amsterdam by visiting the Van Gogh Museum. This multi-storeyed museum pays a tribute to the late Van Gogh and his contemporaries. You will come out of the tour feeling inspired and more knowledgeable about this prominent figurehead in today's art and culture scene. Know everything there is to know about this man and figure out the creativity behind the process of creating some of his most famous paintings.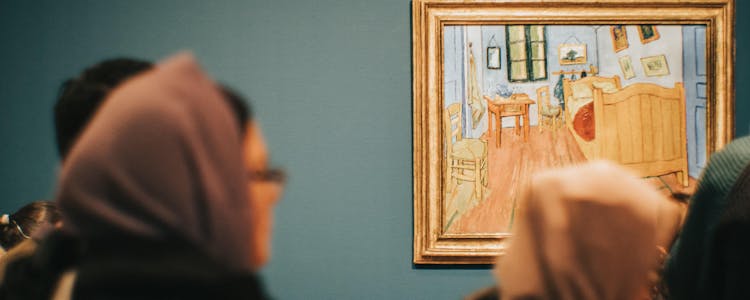 Van Gogh Museum Tours Deconstructed - A Typical Guided Tour Experience
---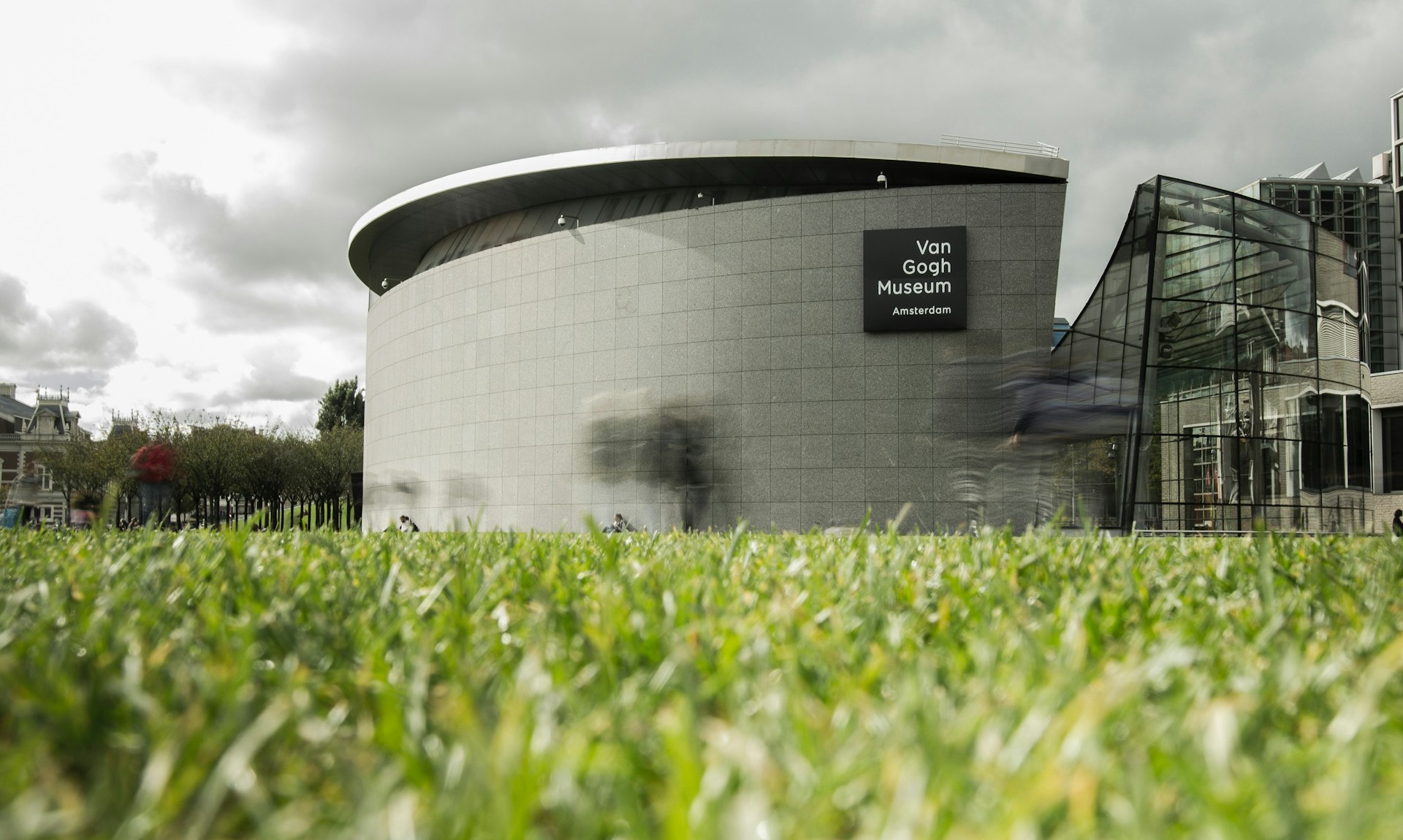 With a guided tour, your guide will take you through a journey that spans Van Gogh's career and his life. The tour guide will take you through all four stories of the museum. Immerse yourself in this beautiful experience. You will come out of this experience as a new person!
The Potato Eaters
All his life Van Gogh had to work hard to prove to his contemporaries that he was a serious artist. Van Gogh decided that his piece- the Potato Eaters- will be his showpiece. The painting has a relatively more complex composition than most of his other drawings. The painting features five peasants, who are hunched over a table and eating potatoes.
Self-Portrait with Felt Hat
The Self-Portrait with Felt Hat showcases Van Gogh's first few forays into Pointillism. He had been in Paris for two years when he made this painting, and the french influences creep into this painting in the form of short brush strokes that form kind of a halo structure around his head, and his venture into experimentations with color.
Wheatfield with Crows
Wheatfield with Crows is considered to be Van Gogh's most famous work. The beautiful dark skies are said to showcase his 'sadness and extreme loneliness. On the flip side, he wanted to show what was 'healthy and fortifying about the countryside. Van Gogh uses a very high contrast color palette to bring out the starkness of his storytelling.
Irises
Van Gogh created this beautiful piece in the psychiatric hospital in Saint-Rémy. The painting was a study of colors. He had an idea to put two contrasting colors against each other and still create harmony. He created a painting that featured purple flowers against a yellow backdrop. He created two studies with this same color theory, the other painting had contrasting colors of purple, pink and green.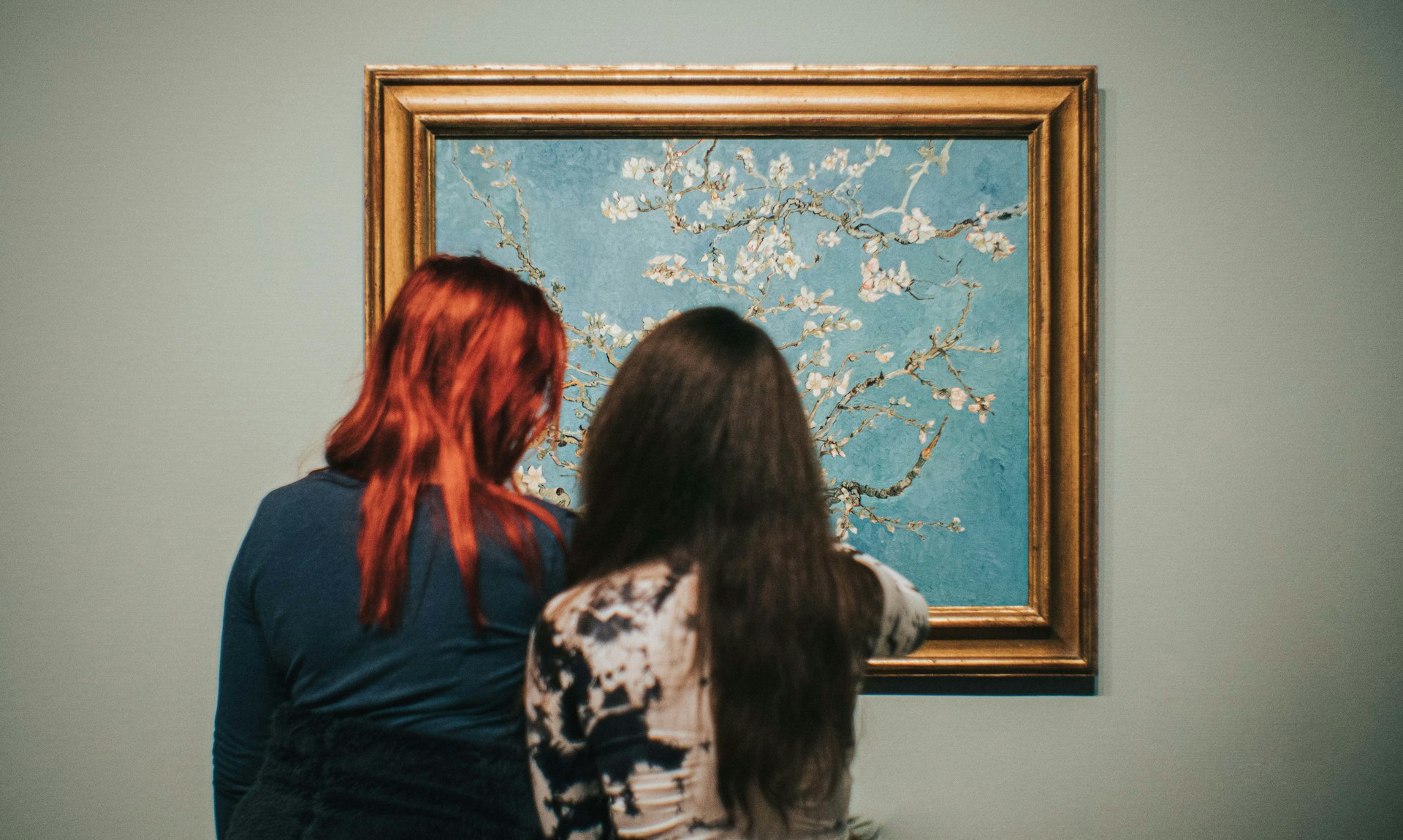 Almond Blossom
Van Gogh was most inspired by tree branches against blue skies. He borrowed the technique of screen printing from the Japanese and created this beautiful drawing. The bold outlines and the positioning of the branch against the blue skies are reminiscent of Japanese screen printing techniques. This painting was gifted to his nephew, who was named after Vincent Van Gogh.
The Pink Orchard
During his stay in the south of France, he was depressed by the onset of winter. However, at the onset of spring, Van Gogh enthusiastically made a series of studies that pictured the trees in blossom. When he put the pieces side by side, he had the idea to make triptychs. Triptychs are three or more drawings that are combined to make a harmoniously flowing piece of art. Van Gogh went on to make 14 paintings of fruit trees in blossom.
Women on the Peat Moor
Vincent Van Gogh has always been inspired by country life. He relished in the simplicity and groundedness the countryside had to offer. During his two-month stay in the village of Nieuw-Amsterdam, in the rural Dutch province of Drenthe, he was inspired by the scene of the women gathering dried-out peat sods in the fields.
Sunflowers
Amongst some of his most famous works is the Sunflowers. This beautiful piece of art highlights Van Goghs ability to create art with simple compositions. He made a total of five large canvasses with sunflowers in them. He created these gorgeous pieces of art in the South of France. He demonstrated his ability to create stunning art using only three shades of yellow.
Are Van Gogh Museum Tours Worth it?
---
In short, yes. A Van Gogh Museum guided tour is worth it. The tour comprises a licensed tour guide who can go at your pace so that you can make the most out of the tour. The tour will also provide you with comfortable transport, and museum admission at a time of your choosing. These advantages make the Van Gogh Museum guided tour worth it. The tour will inspire you and make you come out with a better understanding of Van Gogh's creative process.
Van Gogh Museum Practical Information
---
Opening Hours
The Van Gogh museum is open all seven days of the week, from 9 am-6 pm.
Getting to Buckingham Palace
By Car: Parking is available underneath Museumplein, Q-Park (entrance Van Baerlestraat) is the closest car park to the Van Gogh Museum. Please note that paid parking applies on the streets near the museum.
By Tram: The nearest tram stops are Van Baerlestraat or Museumplein.
Insider Tips
---
Make sure to wear comfortable shoes when visiting the Van Gogh museum. Because even though the museum is all indoors, it will still take 1:30 to 2 hours to tour the whole museum.
The Van Gogh museum is dedicated to accessibility for everyone. There are various mobility aids for people with disabilities. And for people with hidden disabilities, special care will be given as long as the person is wearing their Hidden Disabilities Sunflower Keychain.
Remember to book tickets with the start time online in advance
There are storage and locker facilities available for you. However, the Van Gogh museum cannot accommodate big luggage and big rucksacks.
You can take photographs without flash in most areas of the museum. However to not cause problems for other visitors you are asked to not take photos of the paintings. Most of the artworks are available for download on the Van Gogh museum website.
If your luggage is big, try keeping it back at the hotel, or back in the car.
If you need to change the date and time of your visit, make sure to contact the Van Gogh offices. As long as it is 48 hours before your planned visit, you will most likely be able to change your timing and dates.
You don't even have to print out your tickets before the visit.
Check out the Van Gogh gift shop on the first floor. You can find print replicas of your favorite art pieces.
If you have small children who require strollers or prams, you can use them inside the museum.
Royal Palace Madrid Guided Tours
FAQs
---
If you're having trouble figuring out what routes to take, make sure to visit 9292's website. But usually, you can find a tram line to the museum easily.
The whole museum is four stories high. The museum is huge, and it'll take you at least one and a half hours to complete the tour. It usually takes two hours to finish the time.
Yes. As of right now, you need to book your tickets beforehand. This is done to make sure that a certain number of people can enter the museum at a time.
For some visitors, you can visit the Van Gogh museum for a discount. International students can get into the museum at a discounted price of 10 euros. While press members can get in for free as long as they have their registration done at the Van Gogh museum press office.
You need to book your tickets online. Your tickets will show you your admission time. If you buy tickets for more than one person, your name will be printed on the ticket. The person who pays for the tickets will have their name printed on the tickets. You can buy tickets for more than one person.
Ready to head to Van Gogh Museum?
---
Purchase discounted Van Gogh museum tickets via Headout today! Explore Van Gogh Museum in a hassle-free fashion with all the need-to-know information in hand.
Fancy heading out to some other stunning Amsterdam attractions? Take inspiration from our list of the best things to do in Amsterdam here.
In Amsterdam for a few days?
In the city for a few days and want some help charting out an itinerary? Check out our 1 day in Amsterdam and our 5 days in Amsterdam itineraries for inspiration.