The cultural capital of the Netherlands, Amsterdam is situated in a tourist hotspot that attracts 4 million tourists every year who come to explore the old city's architecture and take a boat ride through the famous canals, visit museums and experience the liberal & international culture. Once you've had your fill of its canals, picturesque windmills and cutting-edge museums, set out to explore the rest of Netherlands on a day trip from Amsterdam. Here are the top recommended day trips from Amsterdam, that one should squeeze into their itinerary while in Amsterdam.
8 Best Day Trips From Amsterdam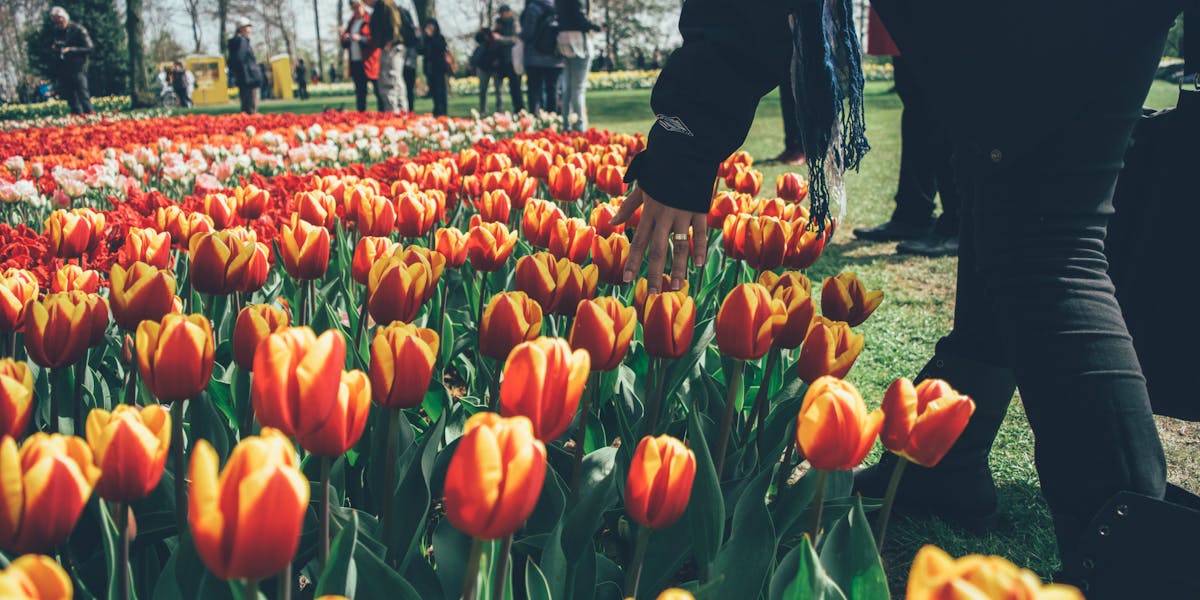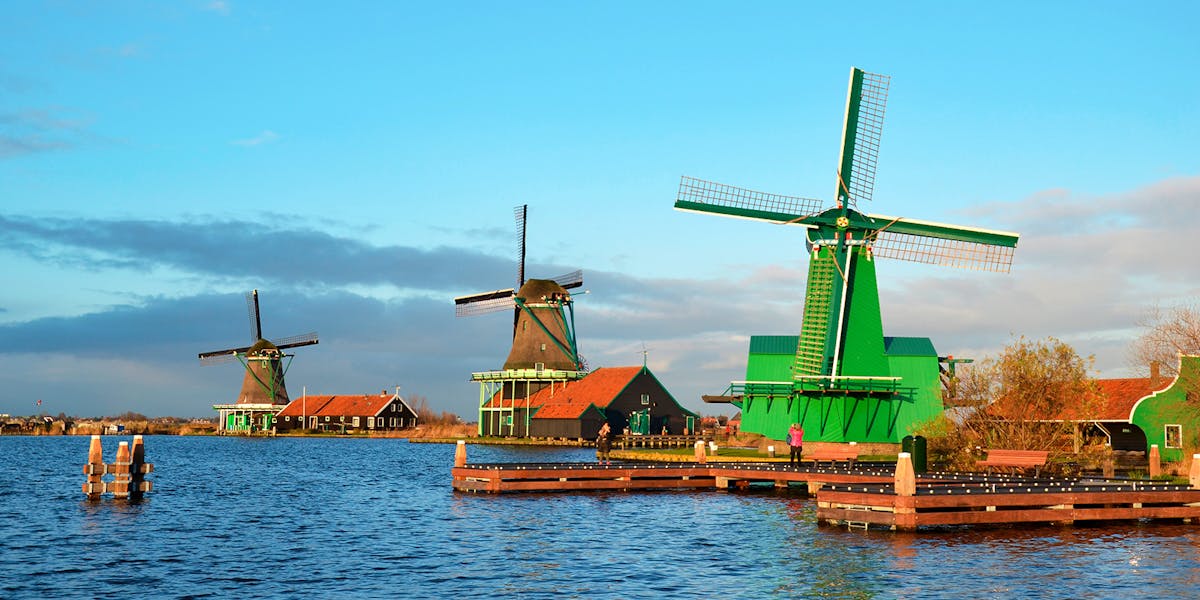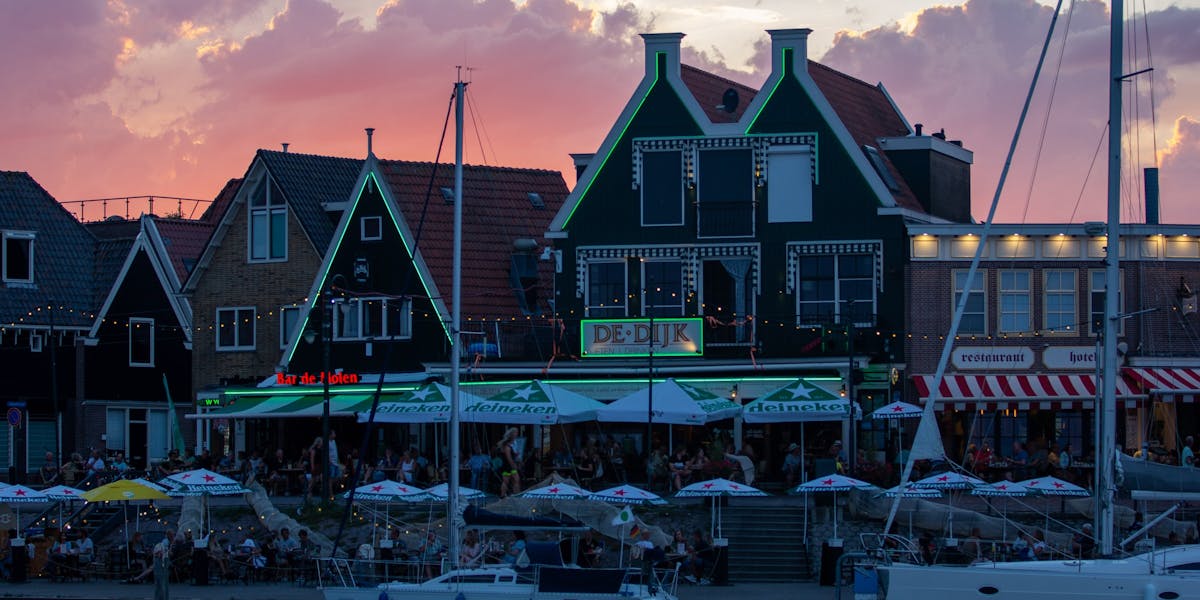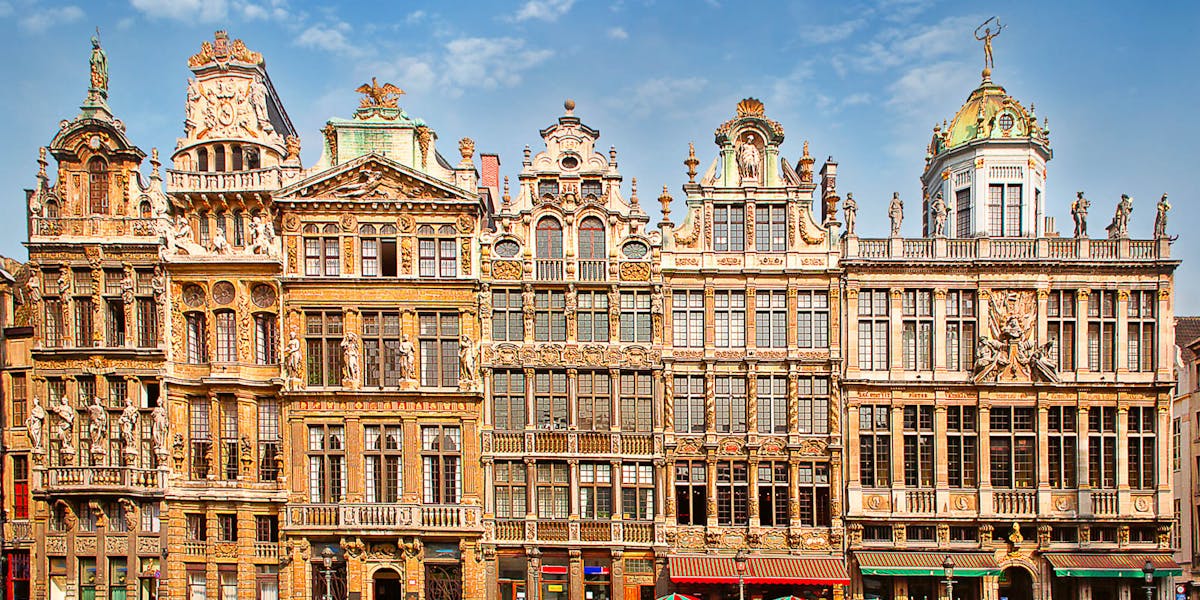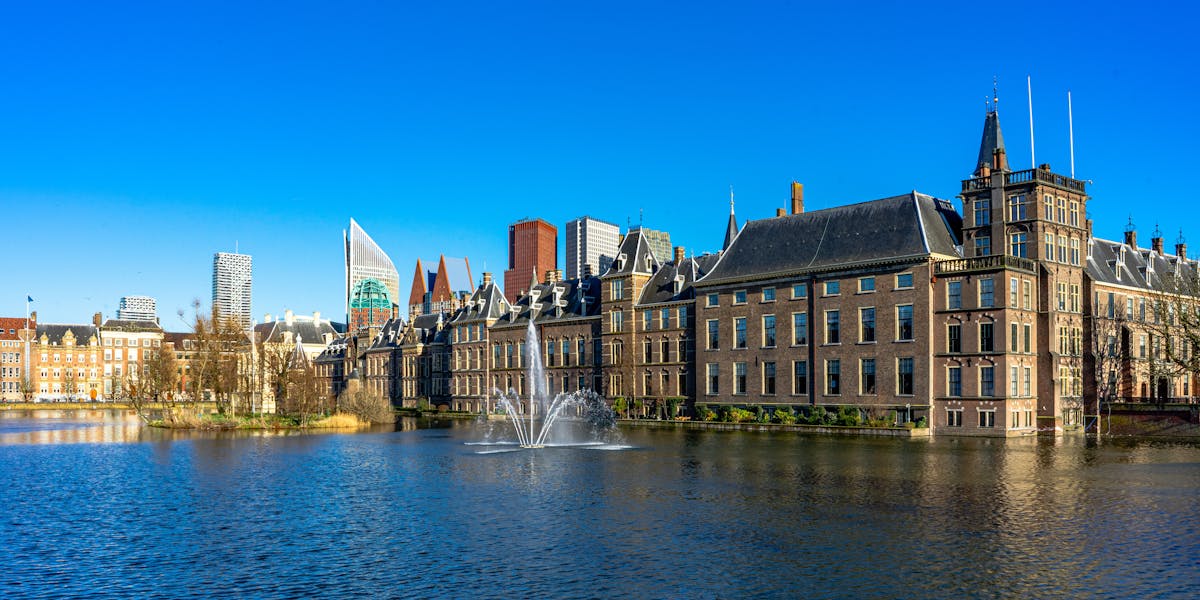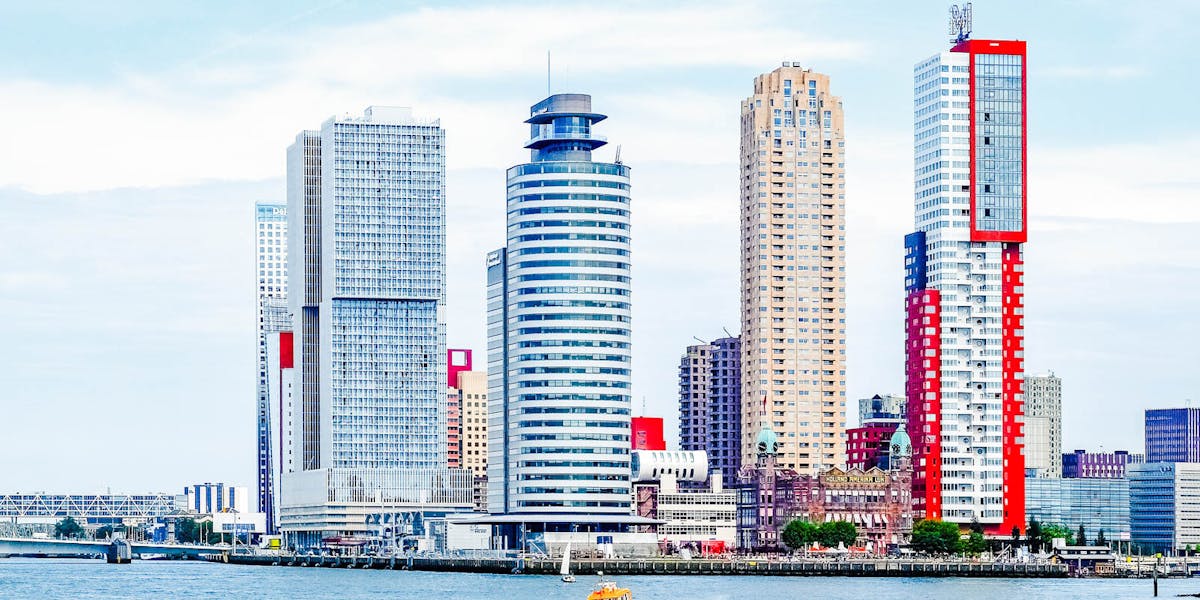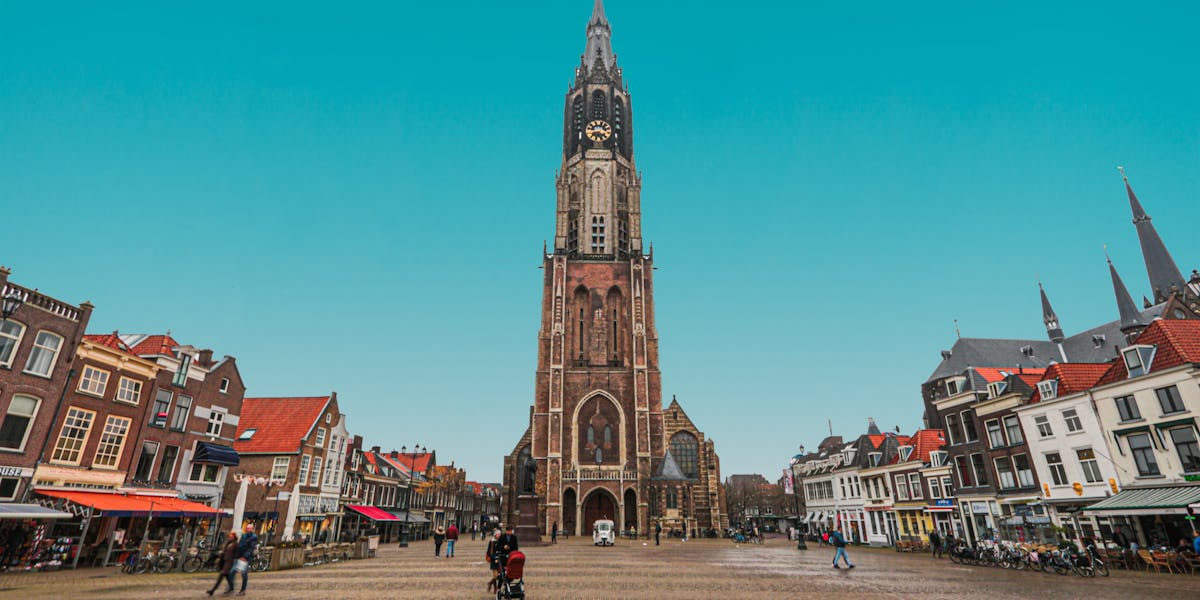 1

Keukenhof
Day Trips From Amsterdam
53 km
Distance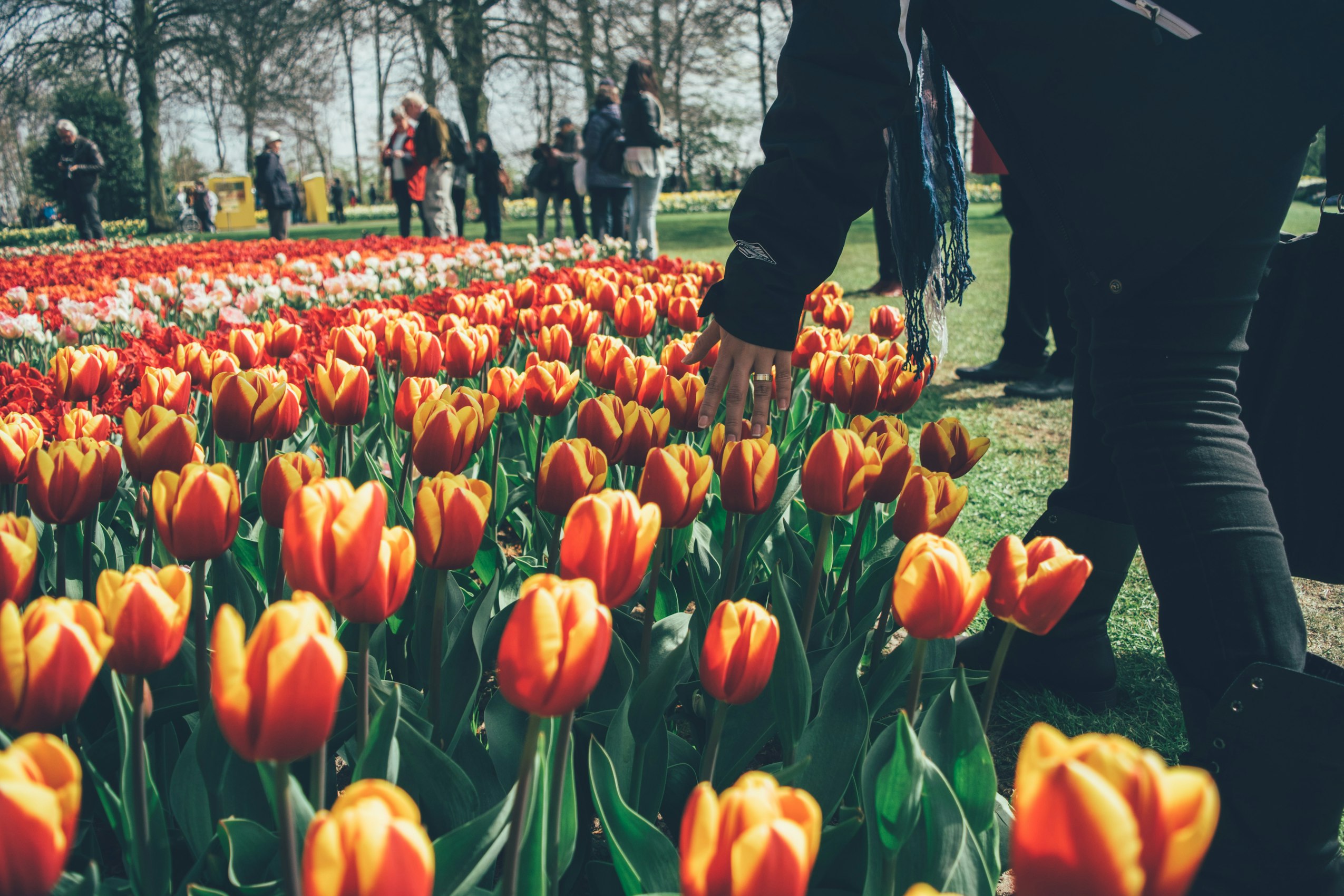 In spring, the countryside of Bollenstreek transforms from regular farmland to popping rows of varied coloured tulips! The tulip bloom takes places only in the months of March to May and the best spot to enjoy these rare and beautiful flowers are at the Keukenhof Gardens. One of the world's largest flower gardens, with over 7 million flowers blooming each year, a day trip from Amsterdam to Keukenhof in the months of March to May is an absolute must.
Best Time to Visit
March to May
Keukenhof Tulips
Keukenhof translates to 'Kitchen Garden' in Dutch, an local event started in 1949 to display the flower produce of the Netherlands, then a fledgling industry, which is now the world's leading exporter of flowers. Open only for a short duration of 59 days, the garden hosts exhibitions, landscaped flower beds, installations, and sculptures to showcase the best of the tulip season in Amsterdam.
Whisper Boats
You can choose to go on a boat trip through the canals that cut across the endless tulip fields surrounding the Keukenhof park. This 45 minute boat ride promises spectacular photos and a memeorable experience.
Amsterdam Flower Parade
The Amsterdam Flower Parade or the Bloemencorso Flower Parade is the pride of the Bollenstreek Region. The parade, includes incredible floats made of fresh flowers like tulips, and is joined by enthusiastic locals who dance, sing and entertain onlookers, who number in the thousands!
By Train
The town of Lisse does not have a train station. You can travel to the one of the nearby train stations and take the Keukenhof Express Bus to reach the gardens.
From Haarlem – You can take the train from Amsterdam Centraal to Haarlem Station and it takes about 20 minutes on average. From Haarlem you can take the Regional Bus Line 50 to reach the gardens.
Leiden – You can take the train from Amsterdam Centraal to Leiden Centraal, a 35 minute journey on average. From Leiden you can take the Keukenhof Express Bus Line 854 to reach the gardens.
By Bus
The best way to take a direct bus from Amsterdam to Keukenhof is by using a Combi-Ticket that offers fast track entry to the Keukenhof Gardens plus round-transfer on a AC coach. You can board the bus from Amsterdam Central Station. There is no direct public bus from Amsterdam to Lisse, you will have to take a connecting bus to Hoofdorp, Amsterdam RAI, or Schiphol and then board a Keukenhof Express Bus.
By the Keukenhof Express Bus
The Keukenhof Express Bus is the official bus that transports visitors to the Keukenhof Gardens. There are four lines which will take you straight to the Keukenhof Gardens –
Bus Line 858 – From Amsterdam Schiphol Airport (Aprox. Travel time – 35 minutes)
Bus Line 852 – From Amsterdam RAI (Aprox. Travel time – 35 minutes)
Bus Line 859 – From Hoofddorp (Aprox. Travel time – 22 minutes)
Bus Line 854 – From Leiden (Aprox. Travel time – 25 minutes)

By Car
Keukenhof Gardens are about 40 KM away from Amsterdam and it takes about 40 minutes by car. It is a convenient drive and ideal for a short road trip, you can also use the car to drive by the countryside of Bollenstreek. The parking fee for cars is € 6.Take the A4 Highway will getting out of Amsterdam, and take the exit at Nieuw-Vennep to Leimuiderweg/N207. Drive on the road for about 10 KM and you will reach Loosterweg Noord, near the gardens.
Guided Tours From Amsterdam to Keukenhof
The private tours have comfortable AC buses which start from near Amsterdam Central. You don't have to travel to Schiphol or Amsterdam RAI and then take the Keukenhof Express. It offers a direct transfer! You can also beat the crowds at the Keukenhof Gardens and get skip the line entry with guided tours. A guided tour will also take you to nearby attractions like a bulb farm, flower fields, Marken, Zaanse Schans, Volendam, and even get a free Amsterdam Canal cruise. You don't have to worry about arranging transportation for these additional locations.
Top recommended Keukenhof Tours
2

Zaanse Schans
Day Trips From Amsterdam
22 km
Distance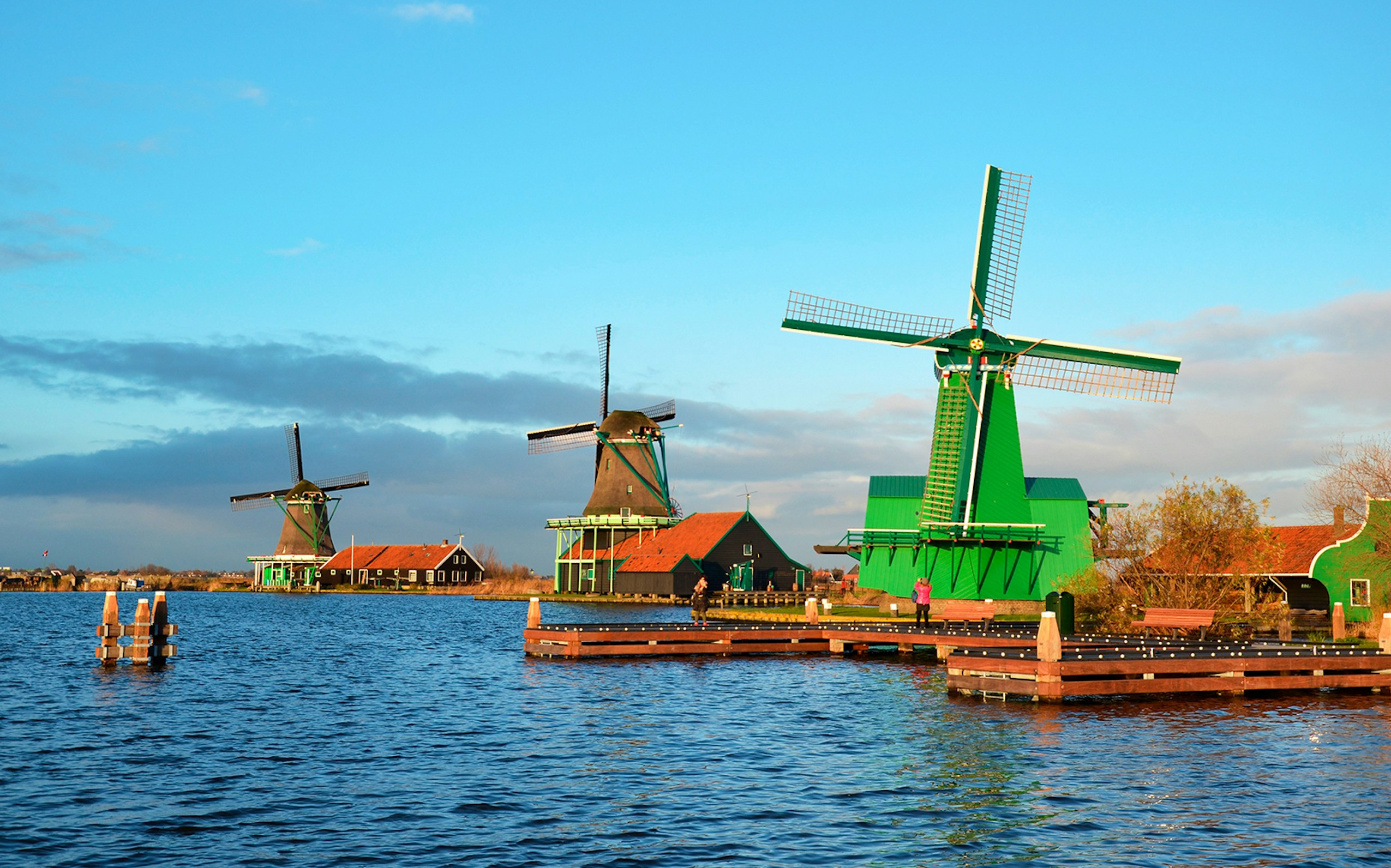 Zaanse Schans, home of Dutch pastoral delight is dotted with winsome windmills and little green wooden house - designed to capture your imagination. Zaanse Schans also has a number of museums that narrate the history of the various aspects of the Dutch lifestyle. Once home to over 600 active windmills and factories, this idyllic town currently boasts a variety of unique activities including a bakery museum, clog museum and workshop and local cheese farm among many other places. Safe to say, a visit to the Netherlands is not complete without taking a day trip to Zaanse Schans.
Best Time to Visit
April to May
Zaanse Schans Clog Workshop
When you think of something typically Dutch, windmills and wooden clogs come to mind. Traditionally, skilled artisans made clogs by hand and could produce up to seven pairs each day. Today, clogs are made by machines, but clog makers still do make them by hand at the Zaanse Schans Clog Workshop.
Venture inside a windmill
As of 2019, only 6 windmills are open to the public in Zaanse Schans. You can go to the mustard mill, saw mill, peanut oil or all of them and some more. Here's a list of all the working windmills at Zaanse Schans.
Cheese Tasting
Catch a whiff of all kinds of local cheeses, jams and chocolates. Regular Gouda, smoked Gouda with herbs, Gouda with chilies and even a neon green Gouda with pesto -it's raining gouda here. The Cheese Farm De Catherinahoeve also conducts free cheese making demonstrations throughout the day and is open daily from 8am – 6pm.
Historic Albert Heijn Grocery
The historic Albert Heijn Grocery is how Albert Heijn, grandfather and founder of the mighty Ahold supermarket emporium, began when he took over the small grocery store from his parents in 1887.Admission to the museum is free and it is open Tuesday – Sunday from 10:30am – 1pm and 1:30pm – 4pm.
By Train
A journey from Amsterdam to Zaandijk- Zaanse Schans in a train takes just about 20 minutes. The problem with this route, however, is that you have to take a 10-minute walk through the suburb via Julianabrug Zaandijk to reach Zaanse Schans from the railway station.
By Bus
Buses are believed to be the easiest way to travel to Zaanse Schans from Amsterdam. There are plenty of buses departing from Amsterdam for Zaanse Schans. The Connexxion Bus 391 connects the Amsterdam Central station to Zaanse Schans. These buses leave Amsterdam every 15 minutes and the journey takes roughly 40 minutes.
By Car
If you have your own car or are going to opt for a rental, the journey takes just about 18 minutes. Since the car ride will take you to your exact destination, it will be more comfortable than other mediums that require walking. From Amsterdam, take the IJtunnel to A10 and follow it to Zaandijk. From there, take the N515 to Zaanse Schans past St. Michaël College.
By Boat
Zaanse Schans derives its name from the defensive hold that was housed in the neighborhood on the banks of river Zaan. This river flows by both Amsterdam and Zaanse Schans and serves as a waterway for the Zaanferry to operate. With the hop on hop off tickets, you could also get down at Zaandam Center if you wish.
By Bike
Zaanse Schans neighborhood is famous for its quaint natural beauty. As such, a biking tour might not be a bad idea. You can get rental bikes from Amsterdam and cross the IJ on a ferry.
Guided Tours From Amsterdam to Zaanse Schans
Another great way to visit Zaanse Schans is to opt for an organised tour. Not only your travel hassles are taken care of, a professional tour guide will aid you throughout your excursion for a better understanding of the place. The costing, timing and tour route depends on the route chosen.
Top recommended Zaanse Schans Tours
3

Volendam
Day Trips From Amsterdam
22 km
Distance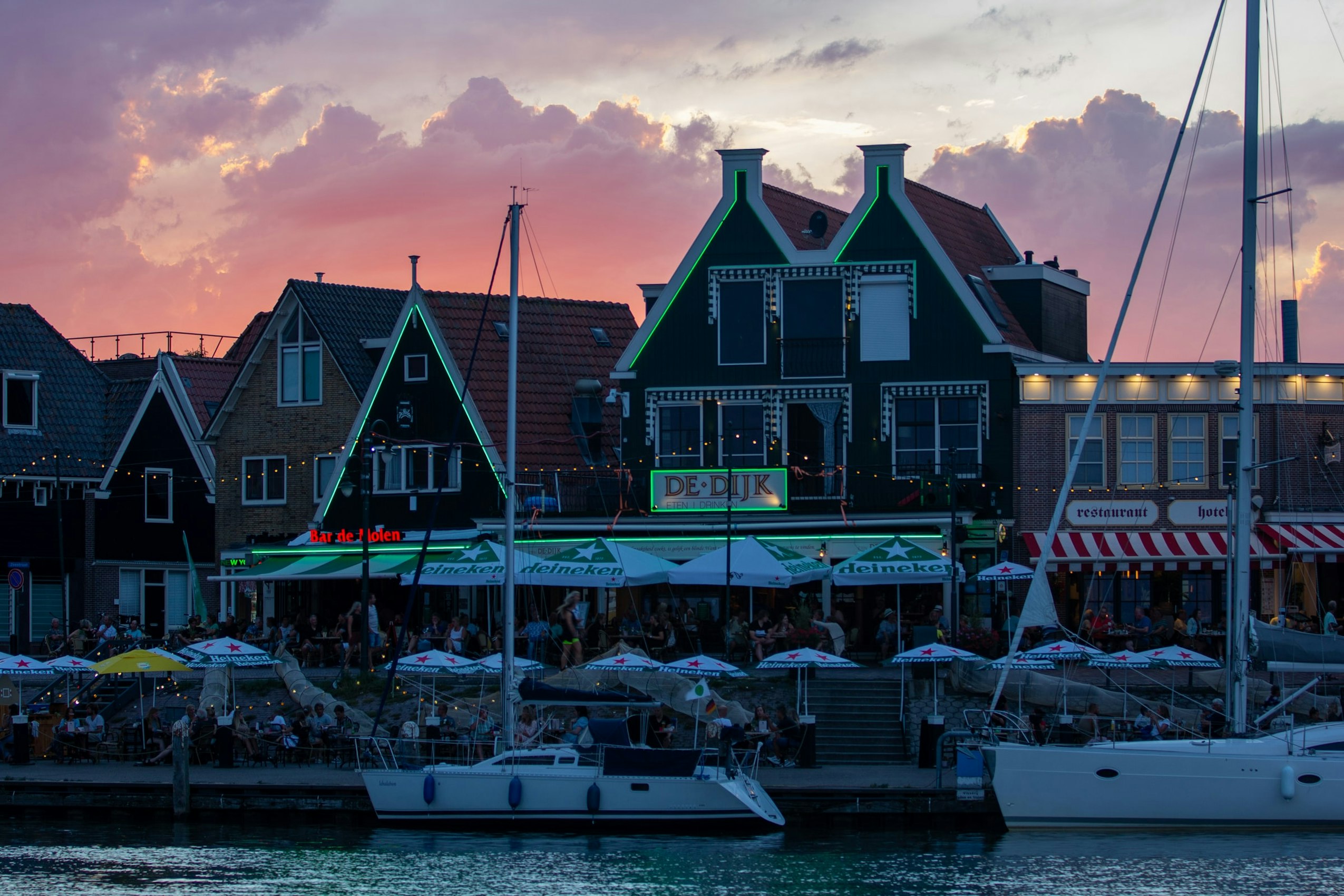 Volendam, Holland's most popular fishing village is a quaint town on the shores of Lake Markermeer. Old Dutch fishing boats are anchored at the harbour, lined with colorful wooden cottages. Today, Volendam has become a tourist destination which offers visitors a taste of Dutch countryside. Amsterdam to Volendam makes for an ideal day trip and you can combine it with other Dutch destinations like Marken, Zaanse Schans, and Monnickendam.
Best Time to Visit
June to August
St. Vincentiuskerk
Built in 1860, and dedicated to Saint Vincent, this church was constructed after protests from Roman Catholics who had been forced to walk all the way to Edam to attend mass for centuries. Every year the Volendam Opera Choir organizes a concert in the Sint-Vincentius Church.
Volendam Museum
A historical museum focusing on the period 1850 -1950, the Volendam Museum shows traditional costumes and interiors, as well as paintings and other works of art made by artists who visited Volendam.
Palingsoundmuseum
The Palingsoundmuseum in Volendam sheds light on 100 years of music in Volendam. Palingsound is a Dutch music genre with its own characteristic sound with typical harmony vocals and easy listening tunes, wrapped up in a mix of Country music and Southern European Folk Music. It focuses on the development of music in Volendam since 1905, including the palinsound (or eelsound) from the sixties.
Doolhof and Oude Kom
One of the best ways to truly discover Volendam is to wander through its ancient streets of Doolhof and Oude Kom. Discover the old neighbourhoods, beautiful streets and exquisitely classic houses that characterise the fishing villages around the Ijsselmeer lake. This is the oldest part of Volendam city centre.
By Train
The nearest train stations to Volendam are Purmerend (14.5 KM) and Amsterdam Centraal (24 KM). There is no train station in the town of Volendam and thus there is no easy way to reach from Amsterdam to Volendam by train.
By Bus
The journey from Amsterdam to Volendam by bus takes 30 minutes via bus Number 316 from Amsterdam Centraal. The bus will drop you at the Volendam Centrum from where the Volendam Museum is just around the corner and the Volendam Harbor is a walk of 500m.
By Car
Traveling from Amsterdam to Volendam by car is a quick and convenient option. The distance between Amsterdam and Volendam is about 20 KM and can be covered in around 30 minutes. There are at least four free parking lots in Volendam.
By Boat
Volendam has a harbor and it offers regular ferries to the town of Marken. However, there is no direct boat transfer from Amsterdam to Volendam. You can go to Marken via Bus or Car; it is about 24.5 KM from Amsterdam Centraal. If you wish to travel by Bus you can take the 314 or 305 to Broek in Waterland and then shift to Bus number 315 to Marken. The entire journey from Amsterdam to Marken will take you about 45 minutes. From Marken you can take a ferry to visit Volendam, the cost of ferry for an adult is Return (€ 11.50) and One way (€ 8.50).
By Bike
The bicycle lane distance between Amsterdam and Volendam is about 25 KM and is ideal for a day trip out of the city. You can use the GPS or just follow the road signs. You will cross several villages along the way including Monnickendam and Broek in Waterland.
Guided Tours From Amsterdam to Volendam
A guided tour is the most convenient way to get from Amsterdam to Volendam, with seamless transportation, allows you to cover multiple locations like Zaanse Schaans, Edam, Volendam and Maarken all in one day; and finally offers unique experiences like cheese making and tasting and authentic dining in every town.
Top recommended Volendam Tours
4

Bruges
Day Trips From Amsterdam
252 km
Distance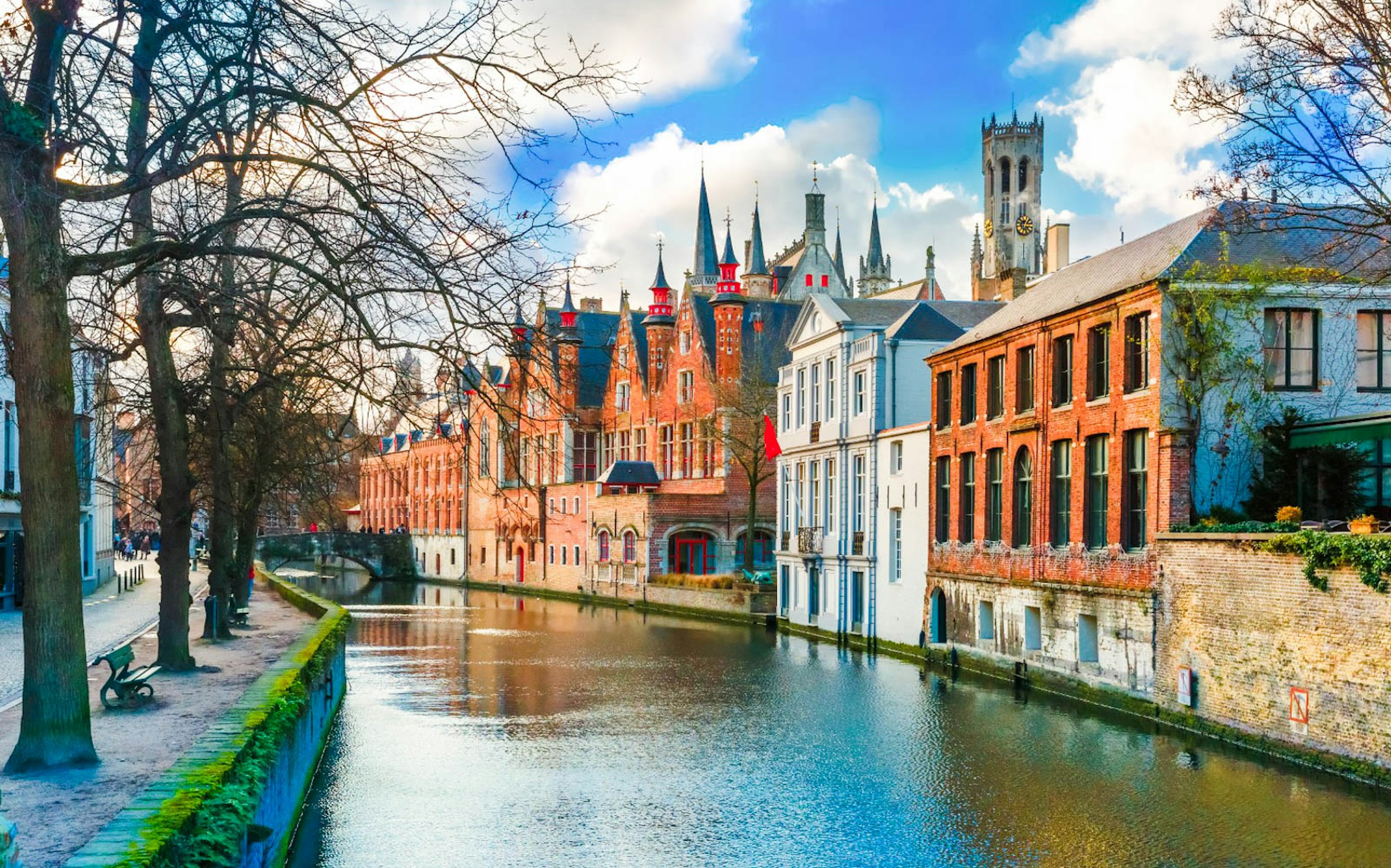 Bruges, filled with historical and medieval buildings, canals, and cobblestone streets, is typically what pulls the crowd to Belgium. Little Bruges is a pocket-sized medieval city, laced with canals, a fairy-tale like town center, picturesque cobbled lanes and a photogenic market squares lined with soaring towers, historical churches and lane after lane of old whitewashed almshouses. Gorge on waffles and chocolate, cruise the canals and get your cultural fix while perusing the artwork at the Groeninge Museum.
Best Time to Visit
June to August
Belfry Tower
This is Bruges' unmissable attraction – the Colosseum or Eiffel Tower of this postcard perfect city. Climb the 366-steps on the hour to hear the tower's incredible ensemble of bells ringing out their special tunes.
Canal Boat Tour
Dubbed the "Venice of The North", you have waterways crisscrossing the gothic city, so it's easy to see why a boat tour is one of the most popular things to do in Bruges. Witness beautiful buildings stretch off in every direction with the rugged skylines reflecting in the water.
Hof de Jonghe
Hof de Jonghe, is located in the north end of the Old Town and though it's bit of an effort to find, once you do, you'll be greeted with a peaceful green space and a giant pen full of bah-ing sheep!
Torture Museum
Set in one of the oldest prisons in Europe, this museum is a collection of instruments of torture from centuries gone by, with a series of pain-causing implements in chronological order. Since it's in an underground bunker, it's one to visit if the weather turns sour during your visit.
Basilica of the Holy Blood
This beautiful renaissance building has two churches and is best known for a small phial inside which apparently has a cloth with the blood of Jesus Christ on it.
De Halve Maan Brewery Tour
The Half Moon Brewery is an old and established brewery in Bruges, with daily 45 minute tours between 11:00 AM and 4:00 PM. The tour also includes a degustation of a Brugse Zot Blond, because what's a brewery tour without actually drinking some beer!?
By Train
Travelling Amsterdam to Brussels can be done either using the high speed Thalys train or by the Intercity Brussels train. The direct Thalys train runs 14x daily from Amsterdam and takes 1 hour 50 minutes to Brussels Zuid/Midi. The 13x daily Intercity Brussels can get you to Brussels in 2 hours 48 minutes.
By Bus
Eurolines runs a 4x weekly coach service from its Amsterdam Duivendrecht terminal to Stationsplein Bruges. The journey takes about 5 hours 45 minutes and a one way fare starts at €14.
By Car
The signs on the Belgian roads can sometimes be a little confusing – however, these days most people are using navigation systems. A road trip takes about 3 hours 20 minutes in total on the A2 south and A27.
Guided Tours From Amsterdam to Bruges
Explore the fairytale medieval town of Bruges on this full-day trip from Amsterdam. Enjoy an expert-guided tour of the city's historical center, a UNESCO World Heritage Site. At the end of your tour, get a chance to walk around and discover the city at your own pace!
5

Brussels
Day Trips From Amsterdam
206 km
Distance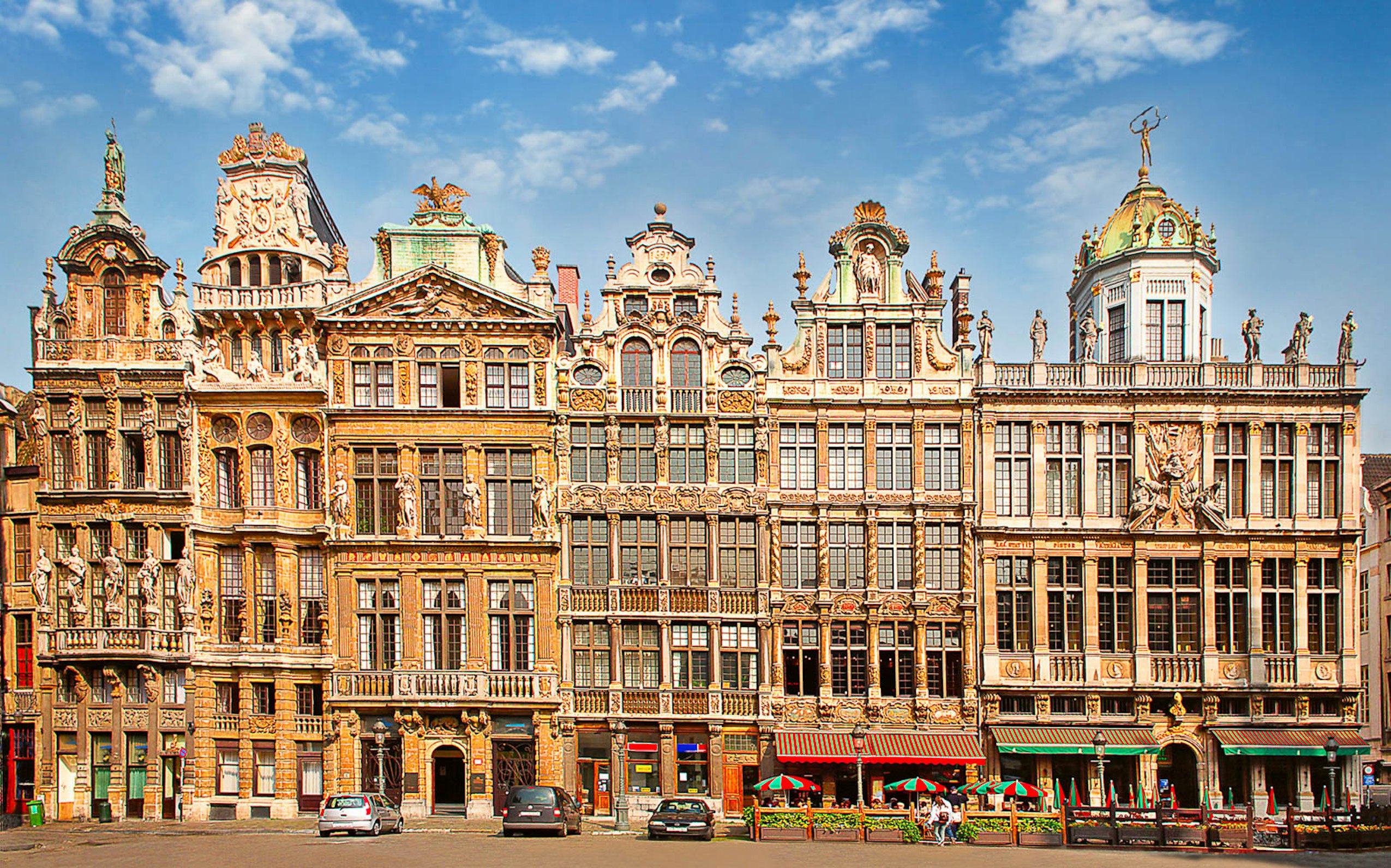 Belgium's largest city and the capital of the European Union, Brussels is known for its architectural landmarks, as an administrative center for some of the world's most powerful international organizations like the EU and NATO, and not to forget - waffles! Brussels is multicultural to its roots and is home to many museums including the Belgian Comic Strip Center, the Museum of the Army, and the Royal Museum of Fine Arts.
Best Time to Visit
March and May, September and October
Grand Place
Hidden away in the centre of the city, this beautiful 15th Century city hall is sure to impress you with its six guild halls and striking architecture. The square is worth visiting several times at different times of the day.
Notre Dame Du Sablon
This spectacular Gothic cathedral was constructed in the 14th Century when it was used as a chapel by the Archer's Guild. The popularity of the supposed healing powers of the Madonna statue located within (allegedly stolen by a husband and wife team of thieves in a rowing boat) is the tourist magnet here.
Le Botanique
Le Botanique was historically the botanical gardens of the city, with a greenhouse, that dates back to the 19th Century. This space is now host to a range of performing arts and makes the place feel like more of a cultural centre than just a garden.
Musee Royaux Des Beaux Arts
If you are craving some top notch art, look no further than the Musee Royaux Beaux Arts. The museum incorporates collections of modern and ancient art across a range of styles, with various works by Peter Rubens, Anthony Van Dyke and Hans Memling on display.
Parc Du Cinquantenaire
The Parc Du Cinquantenaire has been around since the reign of Leopold II. Whether you plan on having a picnic on the grass whilst absorbing the stunning architecture, or whether you intend to appreciate the vast collection of 35,000 artifacts housed in the museums here, a trip to the Parc Du Cinquantenaire should be part of any trip to Brussels.
Atomium
The Atomium, located in Heysel Park is a jaw dropping model of an atom which just happens to be a whopping 100 metres tall. The sculpture was made in 1958 to welcome a new and atomic age to Belgium. The glass roofed lift takes guests to the top in just 20 seconds,so make sure to go up and enjoy the stellar views.
By Train
The high speed Thalys service runs from Amsterdam Central station to Brussels Zuid/Midi station and is served 14x daily with a journey time of just 1 hour 50 minutes. There is also a 2x daily London-Amsterdam Eurostar service which stops in Brussels. You can also take the Intercity Brussels which runs hourly (13x daily) between Amsterdam Central and Brussels Zuid/Midi. The journey takes around 2 hours 50 minutes.
By Bus
The coach is the cheapest option between Amsterdam and Brussels with a journey time varying between 3 - 5 hours. Eurolines runs frequent coaches from its Amsterdam Duivendrecht terminal to Brussels Noord (Rue du Progrès 80) with fares starting from €12 one-way. Flixbus offers services between Amsterdam (both Sloterdijk and Bijlmer stations) and Brussels Noord and Zuid. Fares start at €9 one-way. OUIBUS is a French Railways subsidiary and provides a 3x daily Amsterdam-Brussels premium coach service with the lowest fares starting at €9 one-way.
By Car
The signs on the Belgian roads can sometimes be a little confusing – however, these days most people are using navigation systems. A road trip takes about 2 hours 30 minutes in total on the A27 or A2.
Guided Tours From Amsterdam to Brussels
Scout through the heart of Belgium and learn the tale of its capital city as you hop on a comfortable bus and ride through Brussels' most enchanting points of interest. Your multilingual tour guide will fill you in on the many attractions on your comprehensive itinerary - Basilica of the Sacred Heart, EU Headquarters, the Atomium, the Royal Palace and the Congress Column. At the revered city square, soak in sights of the Grand Place and the famed statue, Mannekepis. Explore the city on your own for a bit and try the Belgian beer and waffles before calling it a day and heading back to Amsterdam.
Top things to do in Brussels
6

Den Hague
Day Trips From Amsterdam
65 km
Distance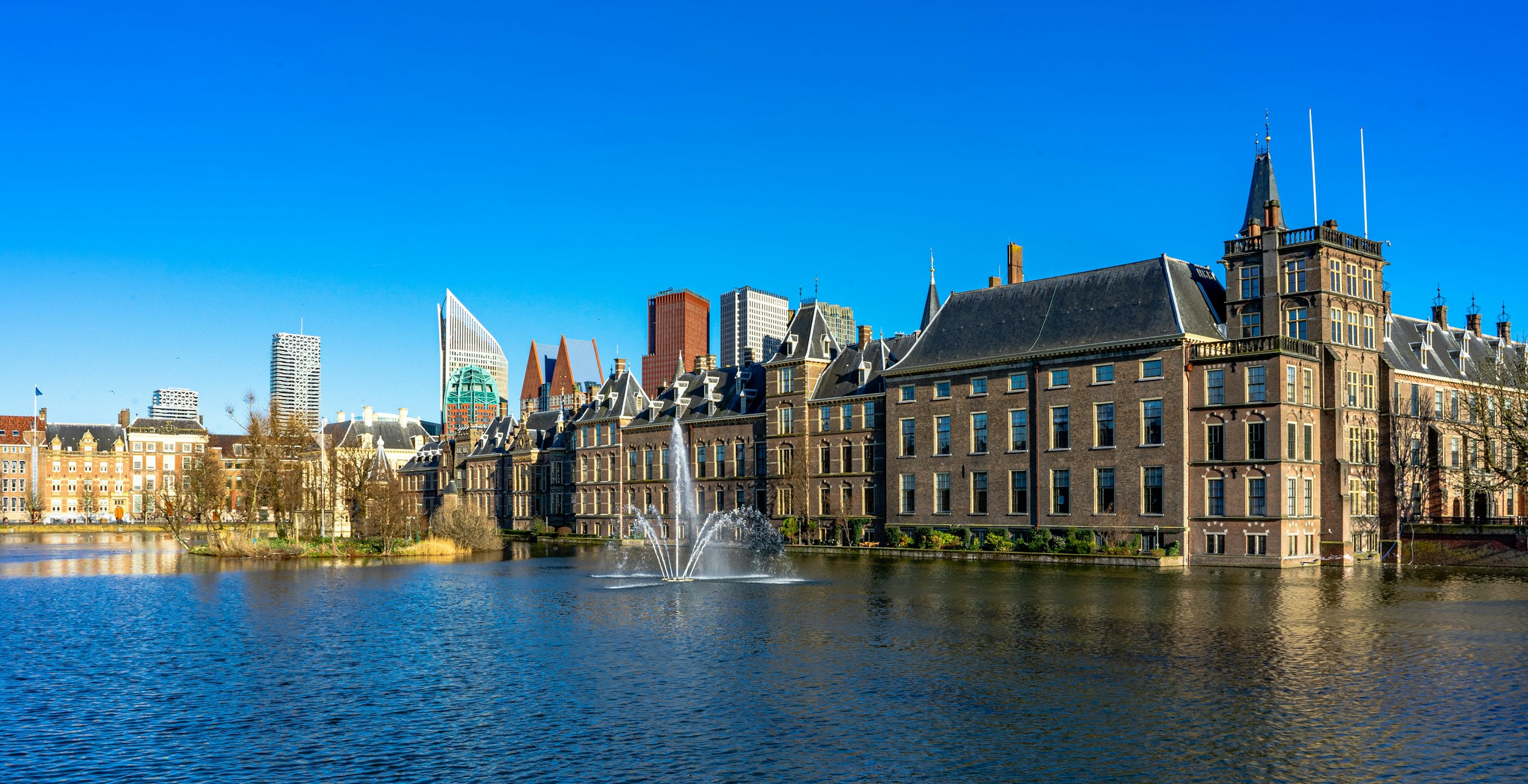 The Hague is the third largest city in the Netherlands and the country's political centre. There's a lot more to Den Haag than what meets the eye. The city's cultural scene – anchored by the presence of the world-renowned Mauritshuis museum and Nederlands Dans Theater – is one of the most exciting in the country. The city's many museums, beautiful parks and fascinating architecture makes The Hague an extremely popular destination, second only to Amsterdam.
Best Time to Visit
April to October
Mauritshuis Museum
The Mauritshuis Museum is an art museum, constructed in 1636 in a Dutch Classicist style, located in the centre of Den Haag. An extensive collection with famous works from the likes of Rembrandt, Vermeer and Rubens and over 800 objects, a majority of which come from the Dutch Golden age are housed here.
Madurodam Model City
The Madurodam Model City contains a huge scale model representation of various parts of the Netherlands - with buildings, vehicles, people and tress recreated to a 1:25 scale with an unbelievable amount of detail. This model city includes the Rijksmuseum (Amsterdam), the Binnenhof, Schiphol Airport, the seaport of Rotterdam, Dutch tulip fields and of course windmills.
Binnenhof
The Binnenhof is the oldest parliament building still in use in the world. It serves as a meeting place for several political groups in the Netherlands including the Ministry of General affairs. Today you can enter the Binnenhof and its ground, and admire the stunning architecture and history of the buildings including the fabled Hall of Knights.
Drievliet Amusement Park
The Drievliet theme park is a fantastic place for the whole family, featuring several hair-raising rollercoaster's, a log flume, water games, a haunted castle and so much more! There are also a range of fairground stalls, a restaurant, and small food and drink vendors.
Hague Tower
The Hague Tower is a large Skyscraper located near Den Haag HS railway station, not far from Chinatown. The building stands at 132m and is the third tallest building in The Hague, with fantastic panoramic views of the city and even see as far as the Hook of Holland and watch boast coming in from the North Sea. The elevator ride takes 40 seconds an there is also a reception with a informative movie, and a cafe where you can enjoy a drink and a snack in the clouds.
By Train
Direct trains run from Amsterdam Central Station to The Hague Central Station and The Hague HS every 30 minutes. The journey takes a little less than an hour.
By Car
A road trip from Amsterdam to the Hague takes only an hour via A4. Having a car at your disposal in this city is great, as you can drive around at leisure and explore the different treasures the city has to offer.
Guided Tours From Amsterdam to The Hague
Most guided tours club a visit to the Hague and Delft together, a great chance to venture beyond Amsterdam, to two of The Netherlands' most popular cities. Your journey typically begins with a bus tour from central Amsterdam, past the scenic countryside of South Holland, all the way to Delft. Known for its canals, churches and townhouses, Delft is most famous for its blue pottery. At the Hague, explore the government buildings known as the 'Binnenhof' as you drive past them along with your guide, and admire the houses of parliament. You'll also get to see the Peace Palace on the way. Your last stop is at Madurodam, considered to be Holland's smallest theme park.
7

Rotterdam
Day Trips From Amsterdam
78 km
Distance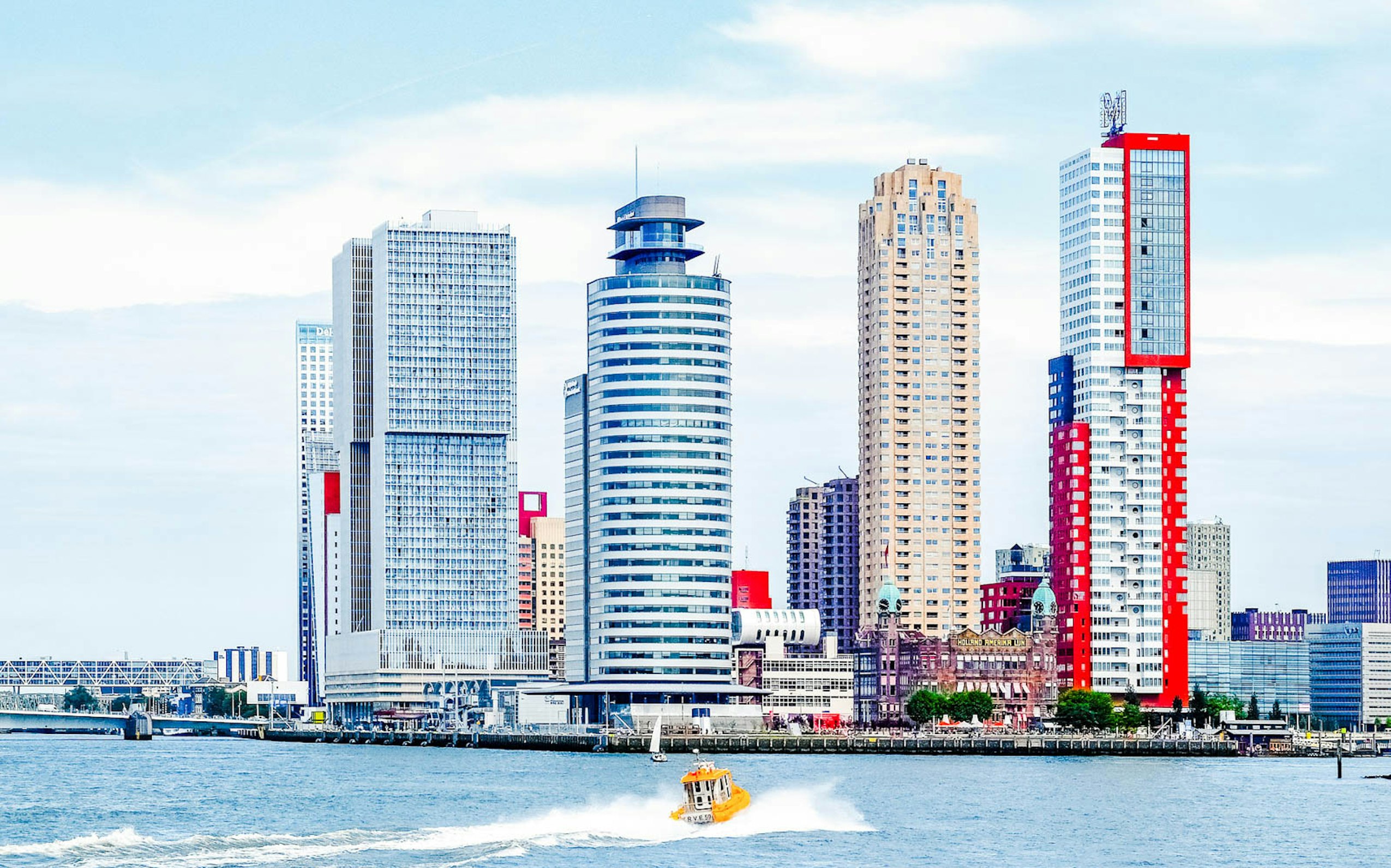 Rotterdam is the second largest city in the country after the capital Amsterdam, a major city for many hundreds of years and has always served as a large port on the banks of Rhine-Meuse-Scheldt river delta.During WWII Rotterdam saw extensive bombing and its centre was almost completely destroyed, however after this the city was slowly rebuilt and once again stands as a modern port. Rotterdam features some fantastic architecture like the modern cube buildings and the Euromast Tower, but also has a wonderful variety of museums, eateries and experiences to enjoy.
Best Time to Visit
April to October
Markthal Rotterdam
The Markthal is a stunning piece of architecture constructed in 2009 and serves as both an office building and a marketplace. With a large semi-circular grey façade, a large windowed section facing out to the surrounding courtyard and some amazing work by Arno Coenen showing various colourful fruits, plants, insects and flowers - it's a piece of art. Grab a drink or sample some food at this vibrant place.
Rotterdam Zoo
Also known as the Diergaarde Blijdorp, the Rotterdam Zoo features a Botanical garden and Oceanium and also operates breeding programs to help endangered species such as the Red Panda.
Euromast Tower
The Euromast Tower is an observation station created in 1960 at 606ft to provide panoramic views of the Rotterdam Cityscape. It is the tallest building in Rotterdam and features a restaurant, a conference room for business meetings, a hotel suite and of course, an observation deck. You can also zip-line or abseil from the tower!
Erasmus Bridge
This monumental bridge spans the Nieuwe Maas distributary of the Rhine and runs from the confluence of the Noord and Lek rivers. The length of this impressive bridge stretches to an immense 802m making it the second largest in the Netherlands. The bridge is nicknamed the Swan due to its large upright mast that resembles the neck of a swan.
Grote of Sint-Laurenskerk
The Church of Saint Laurence constructed in 1449 is the only remaining piece of medieval architecture that survives in Rotterdam. This is one of the first all-stone buildings to be created in Rotterdam and has served as a place for many important events.
By Train
Multiple Direct trains run from Amsterdam Central Station to Rotterdam Centraal every 20 minutes. The journey takes only about 40 minutes.
By Bus
From Station Duivendrecht in Amsterdam, there are hourly buses to Rotterdam. The journey takes a little over an hour.
By Car
A road trip from Amsterdam to the Rotterdam takes a little over an hour via A4. Having a car at your disposal in this city is great, as you can drive around at leisure and explore the different parts of the city.
Guided Tours From Amsterdam to Rotterdam
An organized tour from Amsterdam to Rotterdam is a great idea. Most guided tours club a visit to the Hague and Delft and Rotterdam over a day, so you can discover a hearty mix of modern, historical and political Netherlands all in one day! Coach transfers and super comfortable and you can also choose to add on an hour-long canal cruise and catch all the highlights of Amsterdam from the waters! Here's more about a guided tour from Amsterdam to Rotterdam
8

Delft
DAY TRIP FROM AMSTERDAM
69 km
DISTANCE
Located in the South Holland province, Delft is directly in-between The Hague and Rotterdam. Delft is a city replete with culture, traditions and laced with canals. In recent times, Delft has become well known for its ceramic pottery industry, well-preserved medieval-era houses, delightful market square and a plethora of historical monuments and stunning architecture.
Best Time to Visit
May to October
Molen de Roos
Erected in 1679 as a means to produce ground corn, this 350-year-old structure was on the site of an older mill known to have been in existence in the mid 1300s. The last survivor of 15 windmills that once graced Delft, this attractive stone building extends some seven stories tall and offers wonderful views over the city.
Oostpoort
Along the East End Canal is the picturesque old Eastern Gate, also known as the Oostpoort. Though it is privately owned, you can wander around the building's exterior and explore its wonderful canal views.
Oude Delft
A short walk from the attractions around the Old City of Delft is the Old Canal (Oude Delft).This lovely stretch of water is lined with many picturesque houses and you can explore the entire stretch on foot or by bike.
Lambert van Meerten Museum
Lambert van Meerten Museum is home to an important collection of applied art, as well as period furniture, paintings, and an extensive display of Delftware. Housed in the former home of the city's best known collector of antiquities and art, Lambert van Meerten, also contains impressive collections of Chinese porcelain and Dutch tiles.
Oude Kerk and Nieuwe Kerk
Oude Kerk and Nieuwe Kerk translate to old church and new church respectively, but there's nothing "new" about the new church. The old church affectionately known among locals as "Old John" — was built around 1250 and is notable for its slightly leaning tower, along with its fine timber vaulting from 1574. The New Church was built between 1396 and 1496, this splendid church's Gothic tower rises a tad over 108 meters above the large square, offering great views and pleasant chimes from its 17th-century carillon.
By Train
There are hourly trains on Dutch Railways from Amsterdam Centraal to Delft and takes about 1 hour.
By Bus
You have direct buses from Amsterdam to Delft with multiple operators which allow online ticket purchase. The journey takes a little over an hour.
By Car
A road trip from Amsterdam to the Delft takes about 40 minutes via A4.
Guided Tours From Amsterdam to Delft
An organized tour from Amsterdam to Delft is a great idea. Most guided tours club a visit to the Hague and Delft and Rotterdam over a day, so you can discover a hearty mix of modern, historical and political Netherlands all in one day! Coach transfers and super comfortable and you can also choose to add on an hour-long canal cruise and catch all the highlights of Amsterdam from the waters! Here's more about a guided tour from Amsterdam to Delft
Amsterdam Day Trips - Compare Your Options
| Day Trips | Distance | Duration | Category | Best Time To Visit |
| --- | --- | --- | --- | --- |
| Zaanse Schans | 22 KM | 24 Minutes | Windmills, Open Air Museum | April to May |
| Volendam | 28 KM | 30 Minutes | Harbour, Fishing Village | June to August |
| Keukenhof | 53 KM | 45 Minutes | Tulip Gardens, Seasonal | March to May |
| Den Hague | 65 KM | 1 Hour | Political Capital, Interesting Architecture | April to October |
| Delft | 69 KM | 1 Hour | Pottery, Canals & Culture | May to October |
| Rotterdam | 78 KM | 1 Hour | Cosmopolitan, Modern Architecture | April to October |
| Brussels | 206 KM | 2.5 Hours | Historic Buildings, Museums & Galleries | March and May, September and October |
| Bruges | 252 KM | 3 Hours | Canals, Postcard Towns | June to August |
Amsterdam Day Trips Map