Straight out of a romantic novel; Paris does not require an elaborate introduction to paint a picture in our minds. With cutesy cafes and cobbled-stone by-lanes, Paris has a certain old world charm that cannot be missed. Travellers from around the world find themselves wandering about the city only to come face to face with yet another culturally diverse side of Paris. Being the cultural capital of France, there couldn't be a better way to experience Paris than by indulging in its art, music and delectable cuisine unlike other. Whether it is a museum, a gallery or an interactive bar — find yourself exploring your way through the city's captivating age-old architecture.
What makes Paris in December special?
---
The city of lights, Paris , cools down in December, right in time for Christmas and New Year's Eve. While the temperature is nippy around these months, this is the ideal time to experience Paris without its peak season chaos. Christmas in the city of light warms up with its enchanting Christmas markets that pop up almost everywhere around the city. Paris in December also brings you an opportunity to cosy up inside a cafe with a book or two, and watch the snow shimmer down the slanting roofs of the apartments. The season is also ideal for those wishing to try their luck at one of Paris' many ice-skating rinks during the day. While you may be at the receiving end of Paris' winter, the season definitely promises quality time with the city if you don't forget to bundle up. Paris in December is a great way to escape the peak season crowd, as tourists prefer visiting in the summer season instead. Find yourself witnessing an unexplored side of the City of Lights like never before.
Paris Weather in December
---
Paris in December experiences cold weather. This could range anywhere from mild snowfall, to rain or just cool wind. The temperature around this month drops down from 7 degrees and can go upto 3 degrees minimum. While snowfall here in this month is rare, it is best to pack gumboots to avoid slush on the ground.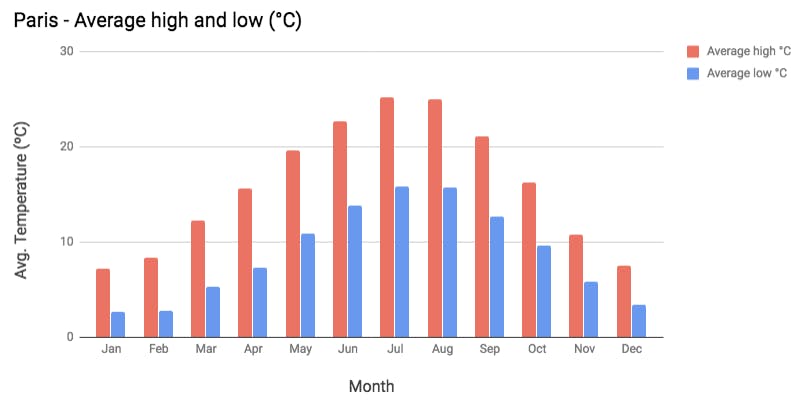 Must-see in December
---
What is Paris without a trip to the Eiffel Tower? Not only is the view splendid on a chilly, winter night, but there is also a chance to enjoy a moment of peace with a considerably lesser crowd. Stand back and look at the city glimmer into the fading colours of the dusk.
Walk through the dingy catacombs to uncover Paris' dark past that hides beneath its pavement. Explore the eerie, spiralling man-made passageways to learn more about the city. Paris in December is the ideal time to skip the otherwise three hour long queues at the Catacombs.
A sprawling collection of art and history alike, Louvre is a cultural hotspot for those interested in a piece of Paris' history. This December the Musee du Louvre along with the State Hermitage Museum in Saint Petersburg are joining hands in December for an outstanding exhibition based on the collection built up by the Marquis Campana. This exhibition will loosely feature around 12,000 archeological objects, paintings, sculptures and will provide an overview of 19th century's largest private collection.
Bateaux Mouches Dinner Cruise
Set sail on the Bateaux Parisien's luxurious ride that takes you through the illuminated waterways of Paris. Witness the city in all its nighttime glory. The nippy weather in December also gives a perfect excuse to cosy up on this exclusively romantic cruise ride.
Moulin Rouge Show with Champagne
As you sip on a tall, sparkling glass of champagne, experience the sparkling lights and the energetic performance of a passionate cabaret troupe at Moulin Rouge. With some of the finest performers from around the world performing a breath-taking show 'Feerie', cabaret in Paris simply should not be missed.
Sainte Chapelle Christmas Concerts
Get into the Christmas spirit by attending a soulful Christmas concert at Saint Chapelle. Marvel at the painted glass windows, gothic architecture and the beautiful Christmas decorations as you sit back and enjoy the performance.
Serenade your partner and enjoy the banks of the Seine, a UNESCO World Heritage Site, on this incredible dinner cruise. The heated batobus will keep you cozy for the entire 1.15-hour long cruise and the 3-course dinner with a glass of wine; will keep you wishing the cruise never ends.
Disneyland Paris Christmas
An outing fit for both family and friends, Disneyland Paris celebrates Christmas this year with a host of festivities and frolic. Tailor-made for all age groups, the park is organising a grand mouse-party that involves Disney's Christmas Parade, Nighttime Show — Goofy's Incredible Show and #NOELSUPERSTAR amongst a few.
Paris in December: Events to Look Out For
---
Ice Skating Rinks
There couldn't be a better way to bring out the child in you! Paris in December witnesses a number of ice skating rinks. The Eiffel Tower rink lends an incredible view of the city from its first level. Enjoy several snow sports apart from ice skating at the Hotel de Ville and a stroll around the Christmas market located next to the Trocadéro Ice rink.
Champs-Elysées
Experience a scintillating show of lights and illuminations light up one of the most prime streets of Paris. Apart from a sprawling shopping arcade, the iconic Champs Elysees is considered to be the place to be at for Christmas if you're in Paris.
Christmas Village in Trocadero
A holiday tradition in Paris, visit to the Trocadero Christmas Village is a must during your trip in December. A stone's throw away from the Eiffel Tower, there are a number of activities apart from shopping during its course that lasts upto January. Pick up your favourite Christmas souvenirs apart from gifts and delicacies being available in this market.
Africolour Music Festival
This year the Africolour Music Festival will find its roots in the heart of Paris. Watch them make the stage come alive with their passionate music and groovy songs. The award-winning group portray their struggle and find themselves shunning the pre-conceived rules of the society.
Paris in December : 5-day Itinerary
---
Check out our carefully curated itineraries and plan your visit to Paris better. Whether you're visiting Paris for 1 day, 3 days or 5 days; our itineraries packed with top experiences and traveler tips are bound to come handy.
5 Days in Paris Itinerary
Paris December Essentials
---
Where to Stay
For many, planning a trip to Paris can be the trip of a lifetime. Which is why, it is important to choose your stay accordingly. There are several budget friendly hotels, hostels to luxurious Air BnBs available for tourists as well as travellers. Here are a couple of them you can consider for your next trip:
Luxury hotels - Four Seasons George V, Relais Christine, Hotel The Peninsula Paris, Grand Hotel Du Palais and Shangri-La
Budget hotels - Hotel Chopin, Hotel Ibis, Hotel Regent Montmarte, Hotel Leonardo De Vinci and Hotel Little Regina.
What to Pack
Bundle up! While the temperatures in Paris does not dip beyond 3 degrees, it is always wise to carry warm woollen sweaters, scarves and long coats. It is important to carry an umbrella along as it tends to rain erratically during the month of December. Pack enough shoes as per your daily need, however, keep in mind that the snowy slush can create a slippery environment to walk on. Reserve your good shoes for an indoor event. Don't forget to carry waterproof gloves and a head gear.
Getting Around Paris
Paris has an impressive public transport system that facilitates easy connectivity throughout the city. Managed by the RAPT, it comprises of the Metro (underground), RER Suburban Express Train (which interconnects with the metro), trams, buses, cabs and Noctilien (night bus). Paris and all of its suburbs are segregated into six parts. As a tourist, zone 1 and zone 2 cover some of the most important parts of the city as well as the metro lines. You can use RAPT tickets as well as passes on metro, trains or trams respectively. For easy accessibility, metro is an efficient mode of transport that will connect you to almost every suburb of Paris, and sometimes even beyond the city limits. Cabs may be reliable but are slightly on the steeper side when it comes to budget.
What to Eat?
Pain Au Chocolat
Best known for its baked treats, Pain Au Chocolat is a delicacy enjoyed by both children and adults alike. It involves a buttered croissant role with chocolate fill on the inside. Ideal as a treat to pick on the go, Pain Au Chocolat is best enjoyed in a cosy cafe. Enjoy this delicious sweet treat in Blu Sucre.
Baguette
The iconic baguette has almost earned a UNESCO recognition, however it is more than just a bread loaf that makes this type a special one. Baguettes are basic lean dough that are often associated with their long and crisp exterior. You can get a baguette from a boulangere or a local bakery from where you can try baguette.
Crepes
A type of a very crisp pastry, crepes are an all-time favourite street food in Paris. You can spot vendors selling crepes in every nook and corner. Usually, two types of crepes are made — savoury and sweet — that can be enjoyed with eggs or chocolate respectively. Don't forget to gorge on the best crepes in Paris that are found in the Breizh Cafe.
Steak Frites
Or steak with fries is a common delicacy around Europe, however Paris boasts of some of the best varieties possible. This classic dish can be paired up with potato, cheese and garlic as per your request. Experience this plateful of delicious indulgence at the Le Relais de l'Entrecôte in Paris.
Macarons
With France being the birth place of the macaron, it is only natural to find these being served a plenty around the city. The sweet confectionary is made using a meringue-based cream that is whipped up with egg white, icing sugar and almond powder. Available in several flavours and colours, macarons are best available at Laduree.
Tips to Visit Paris in December
---
As it gets dark as early as 5 PM, it is a great opportunity to visit several monuments that are lit up during the festive season. Make the most of the City of Lights!
Indulge on hot beverages at Paris' many-a-cute cafes. Don't forget to sip on the famous hot chocolate.
A great idea to tour the city is using the hop on hop off bus. This will help you save on some time and make an economical option.
It is advisable to keep a warm coat or a woollen sweater handy as the temperature can drop down during the night time.
Some monuments tend to remain closed in the winter season, make sure you do your research well before you plan your day.
FAQs
---
What are the top things to do in Paris in December?
What is the temperature in Paris in December?
What are the best day trips to take from Paris in December?
Are any famous attractions closed in Paris in December?
What is an ideal itinerary for visiting Paris in December?
Is December a good time to visit Paris?
Explore Paris by Months
---
Ready to Visit Paris?
---
For more detailed Paris guides, here are some helpful quick links!