Prague is a city ideally located in the peaceful, relatively cold, and small country of the Czech Republic, surrounded by woods and mountains and bordered by four rivers. The city's architecture ranges from Gothic to cubism and comprises an exciting blend of medieval structures with buildings from more recent periods. Prague is also a vibrant city full of music and cultural art, whose charming mix of antique beauty and modernity has made it a favorite among tourists looking for something different yet still familiar. Whether you're up for sightseeing or happen to be in town during one of Prague's many festivals or special events such as food festivals, concerts, or fairs, spending time here will indeed be unforgettable! Read through this Prague trip planner and chalk out your Prague itineraries to experience the beauty of this European city.
Best Time To Visit Prague
---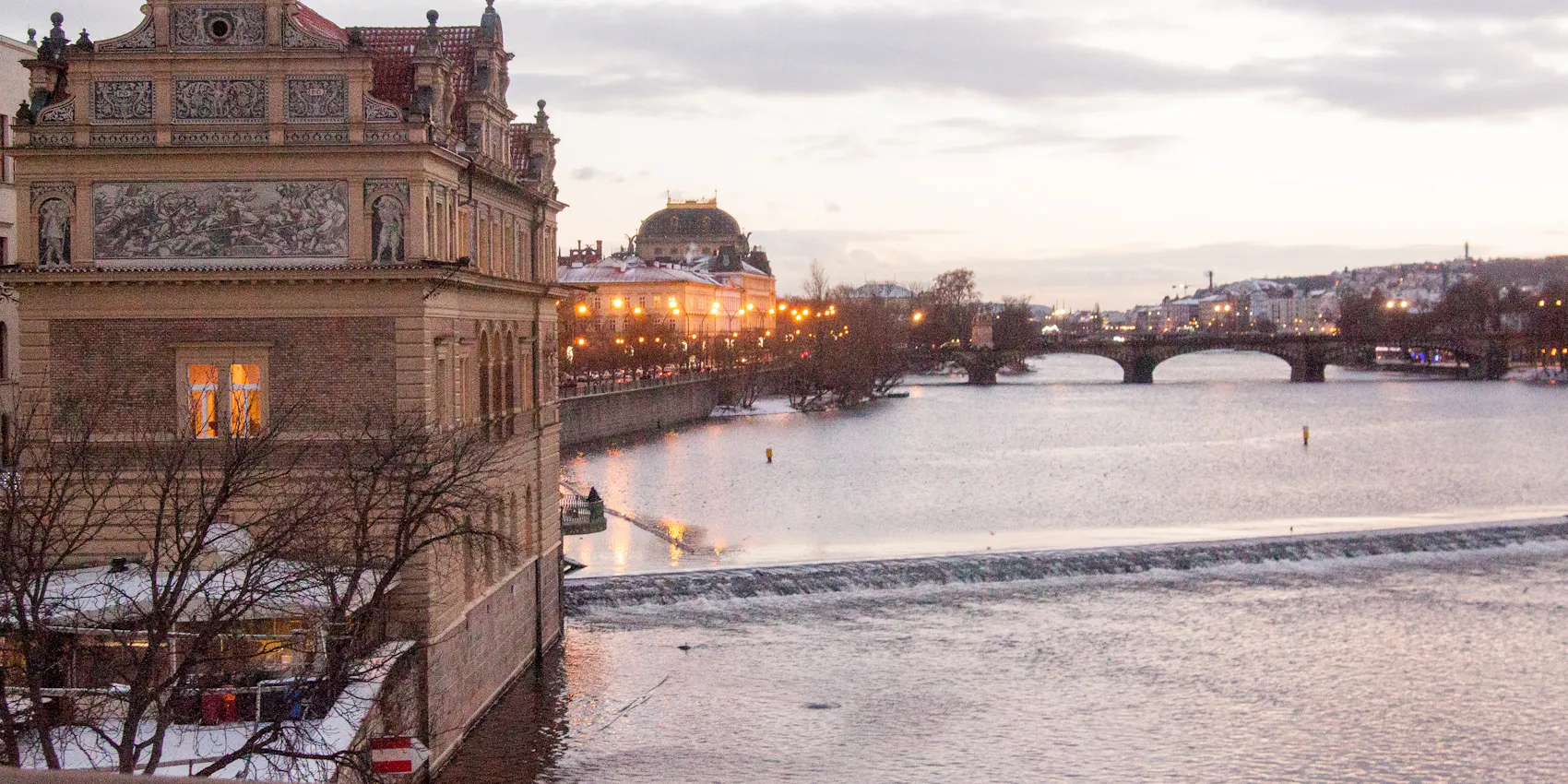 The best time to visit Prague is in May, June, and September during the spring and fall seasons. During these months, you'll find the most comfortable weather conditions in all parts of the city along with affordable hotel reservations and affordable flight bookings from whichever country you happen to be coming from because flights tend to be less expensive during those months than they would be any other. Prague also has a humid continental climate that experiences cold winters when there is little sunshine with long hours of darkness each day, making it hard for tourists to enjoy all of the landmarks in one day. On top of that, Prague gets windy because western winds blow across all its neighborhoods almost every single day!
Read more about the the best time to visit Prague.
Prague Itineraries
---
Depending on how long you're in Prague for - whether it's just a day or 3 days, we have the perfect itineraries crafted for you. Go through these Prague itineraries and plan your stay well in advance!
If this is your first time traveling to Prague, you could use some help planning your daily itineraries. Apart from the basic planning (flight tickets, visa, accommodation in Prague, etc.), you'll need to consider your day-to-day activities in Prague - where to go, what to see, how to get there, and more. But fret not, for we are here to help.
1-Day Prague Itinerary
3-Day Prague Itinerary
Weekend in Prague Itinerary
Prague Travel Restrictions
---
Given the current situation across the globe, it is important to read up on the travel restrictions. As of now, the Czech Republic has has partial restrictions in place, and it is important to keep that in mind before traveling to this country. Find out about the new rules and reopening of attractions on the blog post below.
Hacks To Buying Cheap Prague Flight Tickets
Now that you've figured out the perfect time to visit Prague and braved through the restrictions, it is time to look for flight tickets. Go through our 17 golden hacks for cheap flight tickets before scouring through the flight ticket websites. You'll be surprised how easy it is to save a pretty penny while booking flight tickets!
Do I Need Travel Insurance?
Traveling involves a certain amount of uncertainty always. With the pandemic, this amount has only increased. Opting for travel insurance is not something many people have done (pre-pandemic), but post-pandemic, it is highly recommended that you opt for it. Choosing the right travel insurance plan gives you a safety net to prevent losses if things go downhill.
Travel insurance can be complex- how do you know what to choose? For this very reason, we can crafted a ultimate guide to choose travel insurance post-covid.
Packing For Prague
---
You can pack sweaters, light jackets, and raincoats during the spring and fall seasons. Ankle boots will stay warm even if you step in a puddle, but make sure that they don't get ruined. A thick pair of socks will keep your ankles warm! Europeans like to dress up more than Americans, and jeans are perfectly acceptable in Prague. Dark-colored skinny jeans can look chic and formal depending on how you style them with a sweater or with a blazer! Leggings are also great to wear over long tunics though out the spring and fall as well. Lightweight fabrics are beautiful around this time because it gets chilly after sunset during these months. They look chic under pencil skirts or dresses especially when paired with chunky ankle booties or playful flats.
Where To Stay In Prague
---
Old Town is a historic neighborhood in Prague that happens to be the most centrally located neighborhood and offers proximity to many essential attractions and amenities for travelers who wish to take selfies with the famous astronomical clock. A large part of the medieval city center, it is home to many desirable hotels, restaurants, and attractions as well as a tourist information office, shop, and restaurants. It's also a very dynamic area where people watch at its best with buskers on every corner, who can be easily spotted thanks to their bright costumes.
Accommodation on a budget
Traveling is one of the many joys that visiting new lands brings and visiting Prague is no exception. There are plenty of great, low-cost hotels to be found in this beautiful city, which will make it easy for you to explore this stunning country with your travel companion. Some of the budget-friendly hotels found in Prague are The Icon Hotel & Lounge, Hotel Salvator, Áurea Legends, Ambiance Hotel, and Mosaic House Design Hotel among others.
Nightlife
Prague offers a diverse choice of activities and attractions for both tourists and locals to enjoy. For those looking to dance the night away, nightclubs across the city offer a range of electronic music from underground club classics to more modern top hits. Karlovy Lazne, Double Trouble Bar & Club, Hangar Bar, KU Bar & Lounge, Hemingway Bar, and MeetFactory are some of the places where one can taste the nightlife of Prague.
Shopping hub
While Prague is a place steeped in history and culture, the shopping culture here is on the rise to becoming one of the most famous destinations for people looking for a good bargain. Often referred to as a shopping paradise, Prague makes it easy for shoppers who are searching for something specific such as urban wear and up-to-date clothing fads, or perhaps those looking for more down-to-earth things like fresh produce or common household goods. Some of the well-known places to shop in Prague are Wolfgang, El Nino Snow and Skate Shop, Rony Plesl Studio, Shakespeare and Sons, Gastronomica, Mint Design Market, Deelive Designs & SmetanaQ Showroom, and Bohemian Retro.
Kiss of Luxury
While planning your Prague itinerary, don't forget to visit the Strahov Monastery and its marvelous library. The library sports an alluring architecture and holds a massive collection of 16,000 books, over 110,000 volumes, and manuscripts. Another lavish experience would be to dine at Spices restaurant where every dish is creatively prepared and served that is pure bliss! Prague Castle and the Charles Bridge are two of the major attractions in Prague that one can't afford to miss.
Getting Around In Prague
---
Prague's metro (or subway) is cheap and efficient. The Prague metropolitan transit system is considered one of the most impressive in Europe and covers all important locations in the city. If your destination is a bit further away, you can utilize Prague's extensive tram network that covers thousands of kilometers and is useful for both short and long-distance trips downtown. Another great resource tool is the Prague buses that are used by locals to get around their town - but unfortunately, they aren't usually suitable for tourists since they're not well connected or legible!
Best Day Trips From Prague
---
Prague has so much to offer, including many extraordinary things to see and do that complement the central European experience. While planning your Prague itineraries, don't forget to include some more additional sights that offer priceless perspectives about what makes Prague so special in the context of this iconic central European city.
Prague Travel Tips & Hacks
---
Waking up early to go sightseeing can be one of the most ideal ways to experience the beauty of Prague.
Withdrawing money from the ATM is more convenient than opting for currency conversion now and then.
Prague offers an excellent and cheap transportation system and it is an ideal option to buy a long-term ticket.
You might feel fatigued while planning your Prague itineraries but you have to walk to the top of the Charles Bridge to experience a serene view of the city.
Uber is a better and cheaper choice than taxis.
It is important to tip 10% of the bill while you dine at restaurants in Prague.
Book the Old Town Hall tickets online to avoid standing in a long queue.
Plan your Prague itinerary and visit it during the off-season to avoid crowds and experience the picturesque views without being bothered by people.
The metro shuts down at midnight, therefore, you must be careful while planning your trip.
Taking a day trip from Prague will be a change in scenery and help you to appreciate the city more.
FAQs: Prague Trip Planner
---
Yes! Prague is one of the hippest European cities that is bustling with art, architecture, and vivid nightlife.
The best time to visit Prague is due to the spring and fall seasons when there aren't many crowds and one can conveniently experience the city.
The top things to do in Prague are to explore the Old Town Square, watch the Astronomical Clock strike an hour, climb the steps of Charles Bridge, witness the Nazi concentration camp, visit the KGB Museum, and get awestruck at the Lennon Wall.
Prague Zoo, Staromestske Namesti, Charles Bridge, St. Vitus Cathedral, Prague Castle, Lesser Town, and Vysehrad National Cultural Monument are some of the must-visit places in Prague.
Jeans, T-shirts, and a light jacket are your best bet for exploring Prague. If you plan on frequenting some of the bars around town, we suggest that you bring along a pair of closed-toed shoes and comfortable sneakers for those times when you're trying to explore outside of touristy areas.
Every mode of transportation in Prague is catered to make your stay as convenient as possible. Trams are cheap and convenient ways to get around the city, and there are now plenty of options for you to jump on a bus to travel anywhere you like without moving an inch! It even includes a cruiser ferry for making it across the harbor when the weather permits!
The metro or subway is the cheapest and most convenient mode of transportation in Prague.
While chalking out your Prague itineraries, don't forget to include Kutna Hora, Terezín Concentration Camp, Karlovy Vary, National Park Bohemian Switzerland, Aquapalace, Karlštejn Castle, Monínec, and Wrocław.
Old Town is one of the best neighborhoods to stay in Prague. Old Town is a great location for families with children because there aren't as many younger people enjoying the nightlife. However, if you're looking for more excitement, New Town might be the better location choice because it does have areas that buzz with activity late into the night.
Prague Trip Planner Guide