A hotspot of culture, traditions, architecture and old-world charm, Prague is among the most visited cities in Central Europe. With its rich heritage and a confluence of different styles of architecture - from the Bohemian to Baroque, Gothic, and Renaissance, there's a lot to learn about the city's glorious past by simply strolling by its cobbled alleys. Home to plenty of museums, churches, theatres, galleries, and other monuments of historical importance, a trip to Prague will set your heart racing to the beat of your favorite romantic song! Here are some handy Prague travel tips to help you plan the holiday of a lifetime:
Prague Essentials
---
Best Time To Visit Prague
---
Spring (Mid-April to May) and Early Fall (September to mid-October)
The 'City of a Hundred Spires' can delight tourists all year round, but if you're yet to book tickets, then I'd suggest you work out your travel dates during Spring (Mid-April to May) or Early Fall (September to mid-October). Warm days and breezy weather in Spring make it ideal for sightseeing, and it helps that the crowds are thinner. Early autumn is also an excellent season to visit Prague as the landscape makes for a pretty picture with plenty of brown leaves and pleasant ambiance all around, plus it's the mushroom picking season for the locals, and you'll get to see a different side of this illustrious city!
Prague Travel Tips 101 - A First Timer's Holy Grail
---
Below are the tips and hacks you're here for. Read on and thank me later!
#1 Czech Crown Reigns Here
The beautiful Bohemian city of Prague uses Czech Crowns (CZK) or 'Koruna', not Euros in the city. While Euros may be accepted among the bigger shops, most establishments only accept the CZK. You can avail banknotes for 100, 200, 500, 1000, 2000, and 5000 CZK coins. Be wary of locals walking around in tourist areas who claim to charge no commission on exchange rates, as they may end up swindling you. It's best to get the exchange formalities sorted at your home country, or you can get them directly from ATMs in Prague.
#2 Use Debit/Credit Cards To Your Heart's Content!
You'll be relieved to know that unlike in some European nations, the Czech people are fairly advanced when it comes to using cards for transactions. Even small commercial establishments allow you to pay by credit or debit cards even for smaller transactions. While it's usually better to have enough spare change in the local currency, you can use your favorite, reward-points generating cards with ease while in Prague!
#3 The Bread Isn't Complimentary!
While it's natural to discover a plate of refreshing-looking pretzels or flavored bread on your table after you're seated in a restaurant, you'd be wise to remember that these are not complimentary! It's a common practice in many European countries to offer bread as an appetizer, but these will be charged in your bill! So if you really don't want to have this baked goodness or pay for them, ensure you ask the waiter to take it away well in advance.
#4 Don't Wait for the Cuckoo's Call The Astronomical Clock in the Old Town Square is among the most famous landmarks in Prague, and many brochures and travel companies insist on you seeing the cuckoo that pops out every hour. While it's a much advertised even and an engineering feat considering how ancient it is, I would recommend planning your day around this unless you happened to be in the vicinity as you won't be missing out on much!
#5 Instant Payment & Tips are Appreciated!
If you're dining in a restaurant or cafe in Prague, and are just given the bill, don't be surprised to see the waiters hovering around your table. Out here, the waiters expect to be paid right after the bill is presented to you - and this includes the tip as well. So you may want to take a moment after your meal to do the mental math before calling for the bill. Depending on the service, people usually leave a tip of up to 5 to 10% of the total amount of the bill.
#6 A Vltava River Cruise is a Must
River Vltava meanders through Prague and is one of the best way to get a different perspective of the city. Be it a romantic sun down river cruise or dinner cruise with friends, a river cruise in Prague gives you an opportunity to view the different attractions in a new light. What makes this experience even better is the narration that keeps you gripped throughout the tour. Indulge in the sights and sounds of Prague as you float by some of the most remarkable bridges around the city.
Here's all that you must know before choosing a Vltava Cruise for your Prague vacation.
Top Recommended Vltava Cruises
#7 Witness Sunsets at Offbeat Points If you want to bask in the glorious view of the sunset in Prague, ditch the usual favorites - the iconic Charles Bridge and the Old Town. Instead, head over to Letna Park or Riegrovy Sady for a tranquil and debatably more beautiful sunset! These are public parks that allow you to make a picnic out of watching the sunset. Another exciting option for a sunset viewpoint is to climb atop Prague's Mini Eiffel Tower - the Petřín Tower, or on top of the Žižkov Television Tower. Just ensure that purchase tickets online in advance, or the queues will ensure you'll reach atop after the sunset!
#8 Good Wi-Fi Networks Throughout!
If you don't want to lose touch with your social-media family, fret not! The quaint and historic Prague has plenty of free Wi-Fi spots through the city with easy access in most cafes, pubs, restaurants and hotel rooms. A lot of cafes encourage you to sit and work on your laptop - so this is ideal for the digital nomad in you! On the network front, you will find decent 4G connectivity in the city on most international networks.
#9 Ever Seen the Book Tunnel in Prague? One of the most instagrammed spots in Prague, the Městská knihovna v Praze (Municipal Library) located bang in the city center deserves a visit for all the right reason. Right at the entrance you'll find a unique vertical "tunnel" made of books where you'll see a neverending hole of books- unlike any other you've seen before. It is little bit difficult to describe it as the best way how to understand the whole priciple is to see it on your very eyes! Definitely worth a fun photo opportunity stop.
Pro Tip: The library is closed on Sunday and Monday.
#10 The Early Bird Gets The View
Prague's most iconic destination - The Charles Bridge is usually supremely crowded during the days regardless of when you're visiting. If you are keen to experience a moment of solitude at this picturesque locale, then rise early and take a walk down here as early as 6 AM. The pleasant sunrise and quiet setting will be a visual treat for your eyes and might just make it the best moment of your trip here!
#11 Trdelník is not Czech
While you'll see plenty of vendors selling Trdelník (spit cake/chimney cake), know that this is not a local delicacy. While it has become one of the most popular Instagram accessories in Prague, this dessert is a native of a town called Skalica in Slovakia. That said, Trdelník's don't taste bad in Prague; however, if you're looking for an authentic dessert, go for the Makový koláček.
#12 Visit the John Lennon Wall In Mala Strana, near the French Embassy you'll see the John Lennon Wall. At first glance this wall may look like any other graffiti-covered wall you see around the world. Safe to say, this is Prague's equivalent of the Berlin Wall. The John Lennon Peace Wall is not only a memorial to John Lennon and his ideas for peace, but also a monument to free speech and the non-violent rebellion of Czech youth against the regime. This historical wall oozes vibes of love & peace and adding to charm are street performers tuning to songs of the Beatles.
PS: Squint your eyes for the original portrait of Lennon under the layers of new paints and you'll find tributes to Lennon and a yellow submarine!
#13 Be Walking Ready!
Prague's fusion of art and architecture will strike you in the smallest ways when you take a walk in the Old Town area. Wear comfortable footwear and a bottle of water to go with you as you embark on an adventure to explore the beauty of the city. Nothing helps you absorb the culture of a city than a good walk, pleasant conversation with the locals, and streetside food to fill you up!

Embark on free walking tours in Prague to see the heritage structures through Old Town, New Town, Prague Castle, and the Jewish Quarter. While these are marketed as free, you are welcome to contribute towards the end based on how much you enjoyed your trip!
#14 Get Out of the Old Town and Explore!
Famous for its cobbled lanes and pretty sights, Old Town, is the most crowded destination in Prague, and most tourists can't seem to get enough of it. But there's more to Prague than this crowded city center, and to enjoy the authentic charm of the city, you ought to take a detour and explore the other quaint areas surrounding Old Town for interesting bars, bakeries, open-air markets, and friendly faces.
Checkout 10 epic things you must do in Old Town before you stray off the beaten path!
#15 Be Wary of 'Classical Concerts'
Given Prague's rich musical history, you may come across several event companies trying to sell you tickets to genuine classical concerts. While it may seem like a good idea to attend to these, you ought to know that they're basically staged for tourists and are far from the experts set about in revamped halls and not historic venues, so if you want to save your money and give these a skip!
#16 Always Opt for Skip the Line Tickets!
Prague gets insanely crowded, especially during summers and if you don't buy skip the line tickets for the prime attractions in the city -you'll spend you holiday hopping from queue to the other! Trust me when I say this. What's more, with Skip The Line tickets purchased online, you're likely to score a few discounts and cashbacks.
Grab discounted Skip the Line tickets to the Prague Castle today!
#17 Get Local Souvenirs - Avoid the Russian Dolls!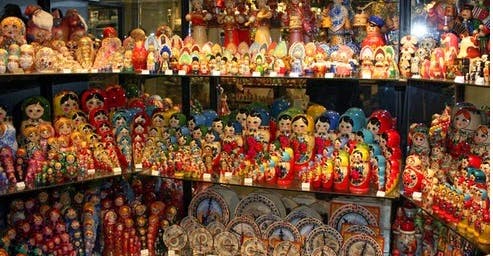 Getting a bunch of souvenirs is a great idea, especially if you like to keep a memento of your travel experiences. You'll see a whole lot of Russian Dolls for sale but avoid these because they're not in the least Czech. Instead, opt for locally made, skillful puppets or Marionettes. The locals believe that you don't choose the puppet, and the puppet chooses you. (So much for picking puppets like wands, eh?) Other souvenirs that make for great gifts include Bohemian Glass or Garnet jewelry pieces.
#18 Leave Prague to Explore the Bohemian Countryside
The Czech Republic has more to offer than just Prague. The nearby towns like Kutná Hora, Český Krumlov, Karlstejn and Karlovy Vary offer make for a quick day trip from Prague, something you should consider if you're in the city for over 2 days.
Best Rates Day Trips From Prague
Tips For Saving Money On Transportation In Prague
---
Prague has a well-developed transport system which is not only efficient but easy on the pockets as well! With metro, trams, buses, and taxis, you'll be spoilt for choice when it comes to deciding on your travel options. Here are a few transportation tips in Prague to see you through safe and sound:
If you want to use the Prague public transport, you need a single ticket for metros, trams or buses and you can conveniently switch from either of these.
If you're flying into the Prague Airport, you can either take a taxi to the city or hop into a bus because there's no metro facility from there. If you have a lot of luggage, you're better off with a taxi. But if you're backpacking, then the bus which takes about an hour is a decent option as well!
The taxi drivers in the city are known to overcharge. So be a little wary about hailing taxis that are not app-based.
The major part of the commute is figuring out how to reach the city and check into your hotel. Once you have checked in, you're in for a feast, for you'll discover that everything is reasonably close by, and you can walk around most of the city center.
It helps to purchase tickets before boarding the metros or buses, and you can always combine this with day-long passes, either 1-Day or 3-Days. Just ensure that you tend the exact fare amount at Public Transport Information centers or the colored ticket machines at major tram and bus stops for otherwise you may be stranded.
The ticket-vending machine can be slightly tricky on your first attempt and it only accepts coins, so feel free to ask around if you need help! It's also important to remember that the fares mentioned to the left-side of the machine are for adults, and the ones to the right are for kids.
Make sure your tickets are stamped before getting onto the platforms or you'll be charged a hefty fine, if caught.
Prague has three metro lines that cover most of the city and is your best bet if you want to travel the length and breadth of the town. However, metros stop at midnight, so plan your late-night travel accordingly
Trams are among the most popular modes of transport in Prague and add to the charm of the historic city. Two of the most popular pictursque routes are from Wenceslas Square to the National Theatre, then over the river to the Lesser Town or up to the Prague Castle.
Tips For Saving Money On Eating In Prague
---
While Prague is synonymous to art, architecture, and beer, the Czech cuisine is something that you have to taste to admire - for it's delicious, comforting and calorie high count! Here are some Prague travel tips to keep you ready for the culinary treats that come your way!
Most dishes in Prague are made of wheat flour, so if you're allergic to gluten, you'll have to be extra careful while ordering.
Restaurants in Central European countries usually prefer that you call ahead and reserve your table because they tend to fill up fast, and it's a bummer to have to wait in a long queue during meal times.
If you are looking forward to indulging in the many variants of beer without burning a large hole in your pocket, head to the Prague Beer Museum - a pub that's dedicated to bringing the many flavors of Czech Beer to the world!
Not many know this, but the Czech people have perfected the art of their winemaking, and you can savor a few sips of these at the umpteen wine bars in the city.
More Tips to Save Money In Prague
---
If you're visiting Prague for the first time, it's a good idea to stay in the Old Town area - where all the action is. However, if you're keen on a budget stay, then the New Town area has a lot more options and is a hit among backpackers.
While Prague is a center of celebrated art and culture, it is also home to many museums that offer discounted admission tickets during different days of the week!
The Prague Castle Picture Gallery has a free entry every Monday while the Museum of Decorative Arts allows visitors in for free on Tuesday afternoons. Besides these, a lot of galleries in Prague offer family discounts on tickets, and you may use these in addition to senior citizens or student groups to save on entrance fees.
If you're an art lover, you must check out The Dvorak Sec Contemporary Gallery - a private collection that celebrates the work of local as well as international contemporary masterpieces. Another place that should be on your to-do list is the Futura Gallery of Contemporary Art.
Several other museums in Prague do not charge admission fees - the Wallenstein Palace, Army Museum, MeetFactory and Museum of the Infant Jesus of Prague.
If you're in Prague over the weekend - give the conventional sightseeing a miss within the city to avoid the crowds. Instead, embark on a half-day trip to Kutna Hora and marvel at the heritage city and the Sedlec Ossuary - the latter will give you the chills as you witness a chandelier made of human bones!
The Terezin Concentration Camp is another day trip that you can embark upon for an educational experience but one that will leave you touched.
For a leisurely trip in Prague, do experience the Hop-On Hop-Off Bus and Boat sightseeing in Prague along with a cruise on the serene Vlata River regardless of which season you're visiting in!
Top Things To Do In Prague
---
I'm sure you have your itinerary all sorted, but here are my top 10 favourites in Rome. If any of these are missing from your itinerary, make sure you squeeze them in! There are a few recommended tours for each attraction, so if you haven't grabbed tickets as yet, now would be a great time.
1. Prague Castle
2. Vltava Cruise
3. Old Town Prague
4. Spanish Synagogue
5. St. Vitus Cathedral
6. Charles Bridge
7. Petrin Tower
8. Dancing House
9. John Lennon Wall
10. Klementinum library
Ready to explore Prague?
---
Here are a few more guides that should help you plan your visit.