The capital of the Czech Republic, Prague is a historic city with breathtaking scenery, centuries of art and architecture, culinary experiences and an all together extraordinary atmosphere that tends to keep travelers amused for days together. However, a day trip from Prague is much recommended to broaden your perspective of the country and explore more of the versatile and vibrant Czech Republic.
One of the many reasons that makes Prague a fantastic long-stay city on a typical Eurail trip is its proximity to several great destinations, just a short train ride away. If you have a few extra days to spare, here are a few day trips from Prague you should squeeze into your itinerary.
5 Best Day Trips From Prague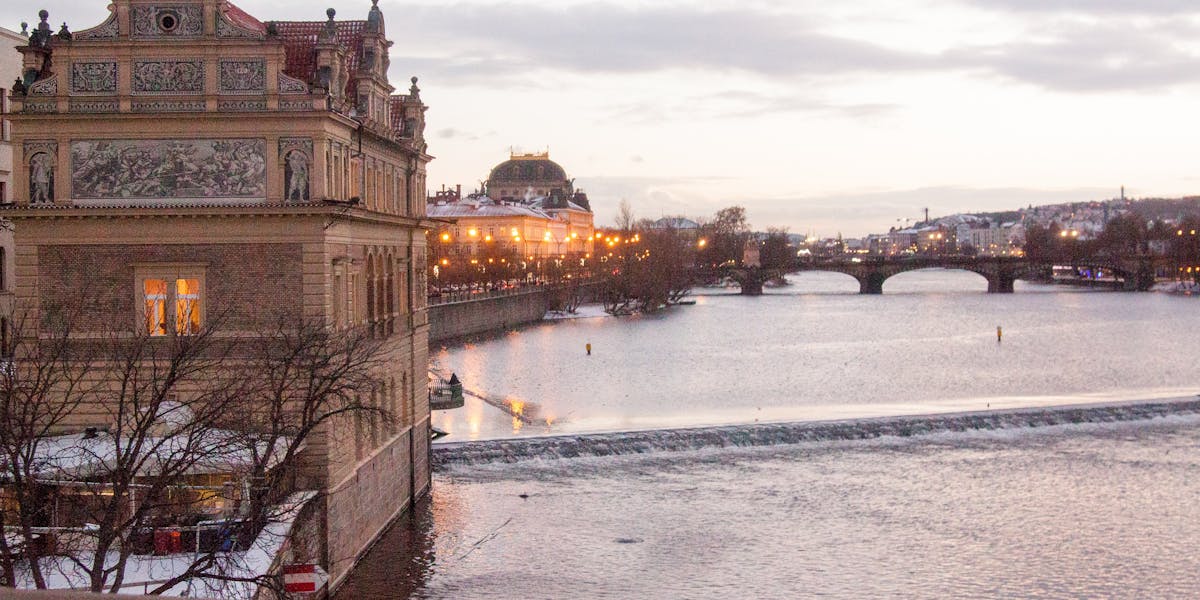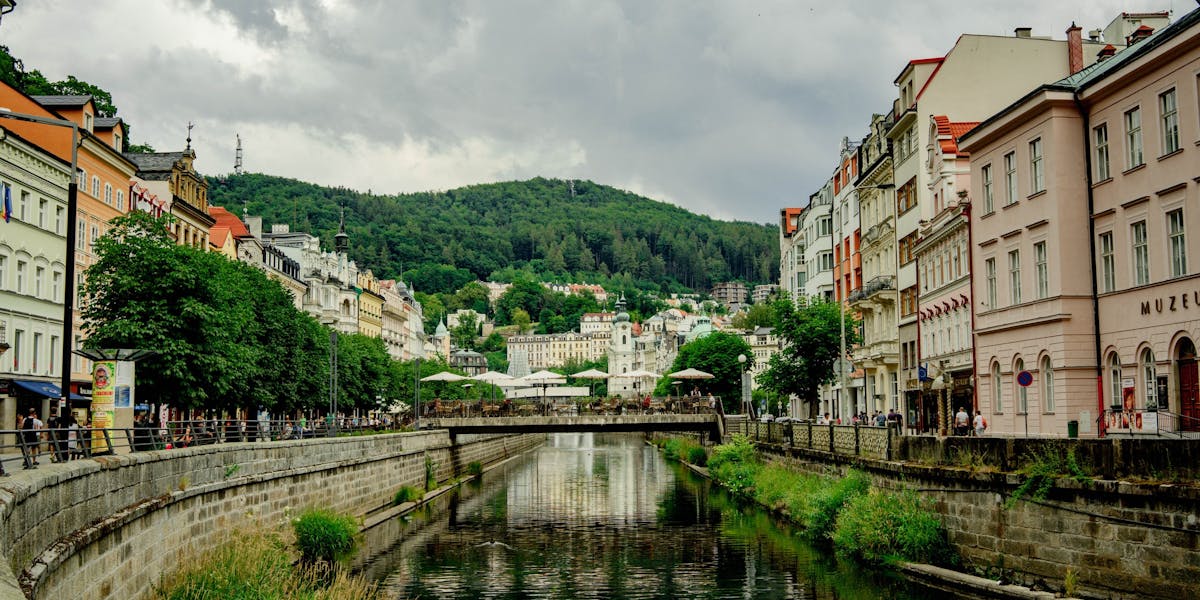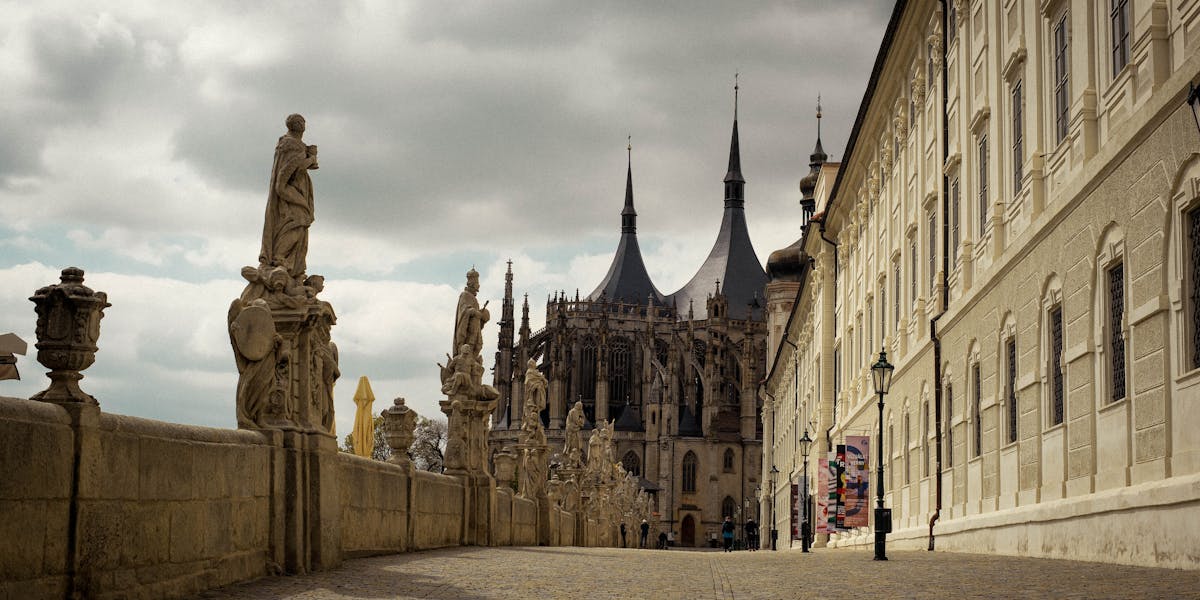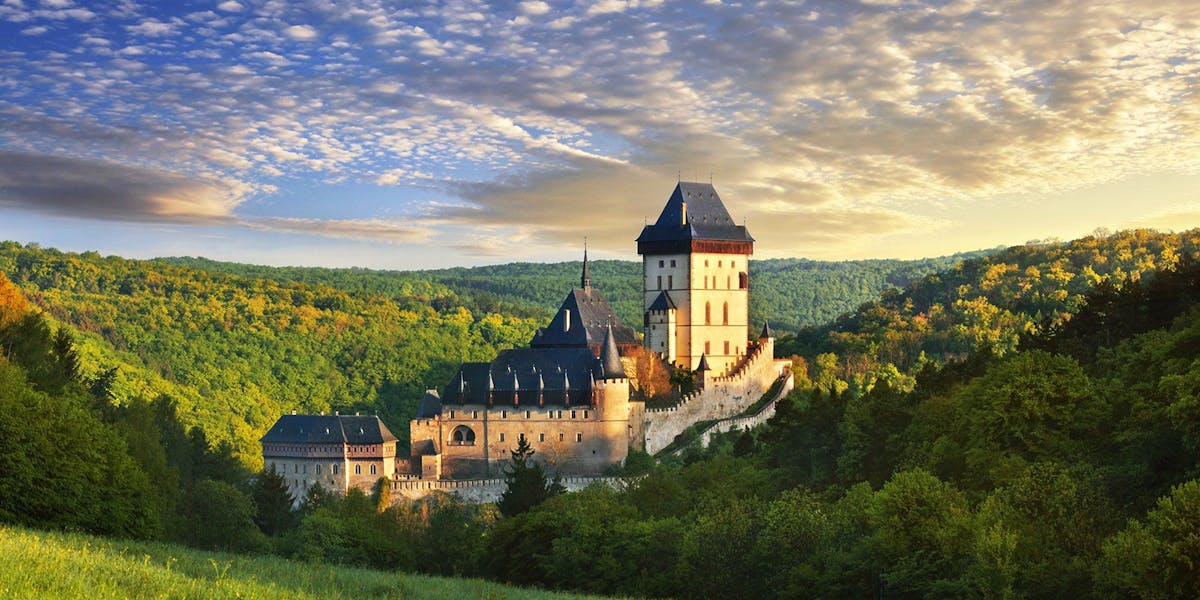 1

Český Krumlov
Day Trips From Prague
171 KM
Distance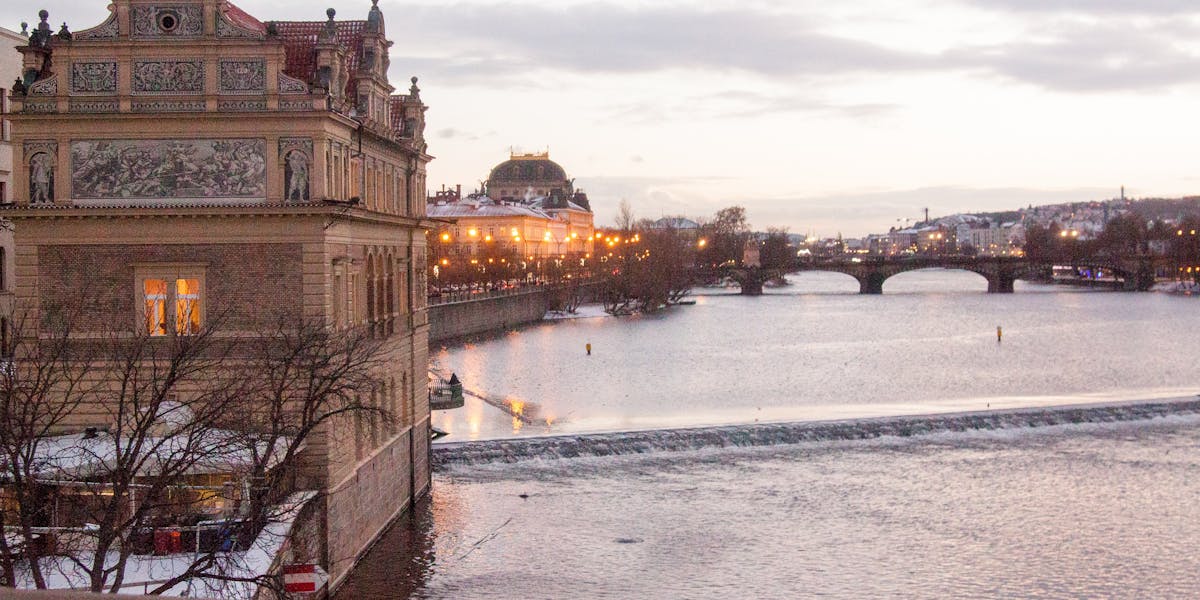 Český Krumlov, also called the "Pearl of Bohemia", is a picturesque town recognised as a UNESCO World Heritage site. This magical and magnificent town located in South Bohemia could easy pass off as a setting for a fairytale. This town was part of a large estate owned by powerful noble families, who played an important role in the political, economic, and cultural history of Central Europe. With majestic castle perched on a picturesque cliff, and the Vltava veining through; Český Krumlov with its clusters of dinky orange roofed medieval houses makes for a day's visit from Prague.
Best Time to Visit
May to August
State Castle Český Krumlov
The highlight of any trip to Český Krumlov, the State Castle is a magnificent castle perched atop a cliff. It features Gothic, Late Gothic, Renaissance, and Baroque styles, and was constructed in the 13th century.
Museum Fotoatelier Seidel
This is a unique museum of global importance which has on display the work of local photographers Josef Seidel and his son František. Expect to find unique period images with Seidel's personal notes, diaries, customer records, and the original furniture and fixtures in the house.
Egon Schiele Art Centrum
An excellent museum and gallery devoted to the Austrian painter Egon Schiele, who lived in Český Krumlov, it documents his life and work, and presents an exhibition of his works. It also houses various rotating exhibits of both classical 20th century and contemporary art.
By Train
Most trains leaving from Prague to Cesky Krumlov come with a mandatory transfer in the town of Ceské Budejovice and will get you to Cesky Krumlov in three to 3.5 hours. There's a single direct train leaving from Prague once a day, at 8:00am and takes 3 hours to cover the distance. Note, the train station in Cesky Krumlow is located a 30 minute walk outside the city. You can also take a local bus into the city center.
By Bus
LEO Express runs two buses per day between Prague and Cesky Krumlov. A single way ticket costs €7.5, but the online reviews are not so pleasant, hence we would suggest taking the train.
By Shuttle
There are numerous shuttle companies that connect Prague to Cesky Krumlov. These shuttles are more expensive but offer door-to-door service and drop you off at the city center in Cesky Krumlov. The journey takes about 3 hours and costs approximately 1000 CZK one way.
By Car
If you have a car, it takes approximately 2.5 hours to drive from Prague to Cesky Krumlov. There's parking available in the city center of Cesky Krumlov.
Guided tour from Prague to Cesky Krumlov
If you're overwhelmed by the idea of putting together a day trip itinerary, an organized Cesky Krumlov Day Trip from Prague could be the perfect solution. Get on an air-conditioned vehicle and let a professional guide walk you through the medieval town center, the 13th-century castle, and the magnificent Church of St. Vitus.
2

Karlovy Vary
Day Trips From Prague
135 KM
Distance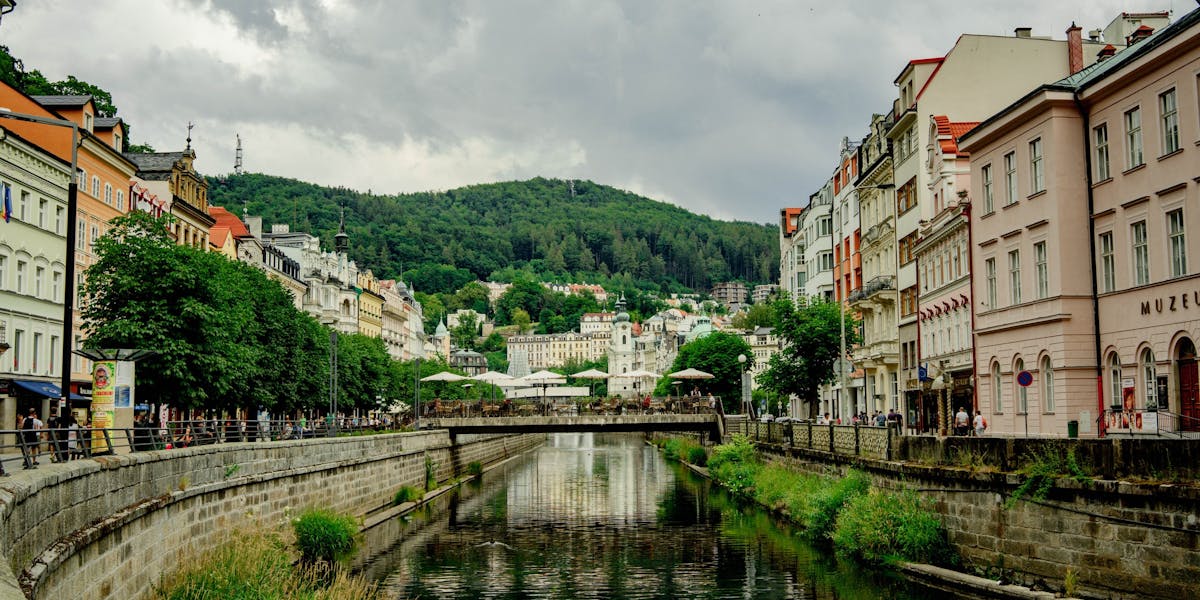 The laid-back spa town of Karlovy Vary is an ideal getaway especially if you are spending a few days in the country. From hiking in the woods, sipping the hot spring water, a wealth of Bohemian history and culture to relaxing at the spas, there is a lot to do in Karlovy Vary! Fun fact, Karlovy Vary is home to the greatest number curative hot springs in the world. Here are the top spa facilities in Karlovy Vary
Best Time to Visit
June to August
Mill Colonnade
The Mill Colonnade is a long colonnade that houses hot springs and stretches up to 132m in length and is supported by 124 Corinthian columns. Built between 19871-81, it has five hot springs – Mill Spring, Rock Spring, Libuse Spring, Nymph Spring, and Prince Vaclav I Spring – all of them with medicinal properties.
Moser Glass Museum
The Moser Glass Company has over the years become synonymous with Karlovy Vary. This factory cum museum housing over 2,000 exquisite glass works and art pieces is touted as 'King of Glass, Glass of Kings'. The 150-year old company is also the pioneer of eco-friendly lead-free glass.
Diana Lookout Tower
For an epic aerial view of the colorful town of Karlovy Vary, head to the Diana Lookout Tower nestled in the verdant swathes of the forest. This 40m tower built in 1914, can be accessed by a hike through the forest or by the funicular from the Grandhotel Pupp.
Becherovka Museum
Becherovka is a unique herb liqueur that has been manufactured in the town of Karlovy Vary for almost 150 years. The iconic green glass bottle is identified among liqueur connoisseurs worldwide and is known for its soothing and medicinal properties.
By Train
A train journey from the Prague Main Railway Station to Karlovy Vary takes 3 hours 17 minutes, with around 7 trains covering this route everyday.
By Bus
Buses are a convenient mode of transport when traveling from Prague to Karlovy Vary and take only 2 hours. Buses start from UAN Florenc at the Prague Main Bus Station.
Guided Tour from Prague to Karlovy Vary
The Prague to Karlovy Vary full day tour offers a great deal and is the most convenient way to undertake a day trip. You will save the trouble of figuring out public transportation and have the services of a guide who will plan your entire day so you can cover the best spots in Karlovy Vary. This way you can make the best of your short time in the town and return feeling satisfied with your trip.
3

Kutna Hora
Day Trips From Prague
84 KM
Distance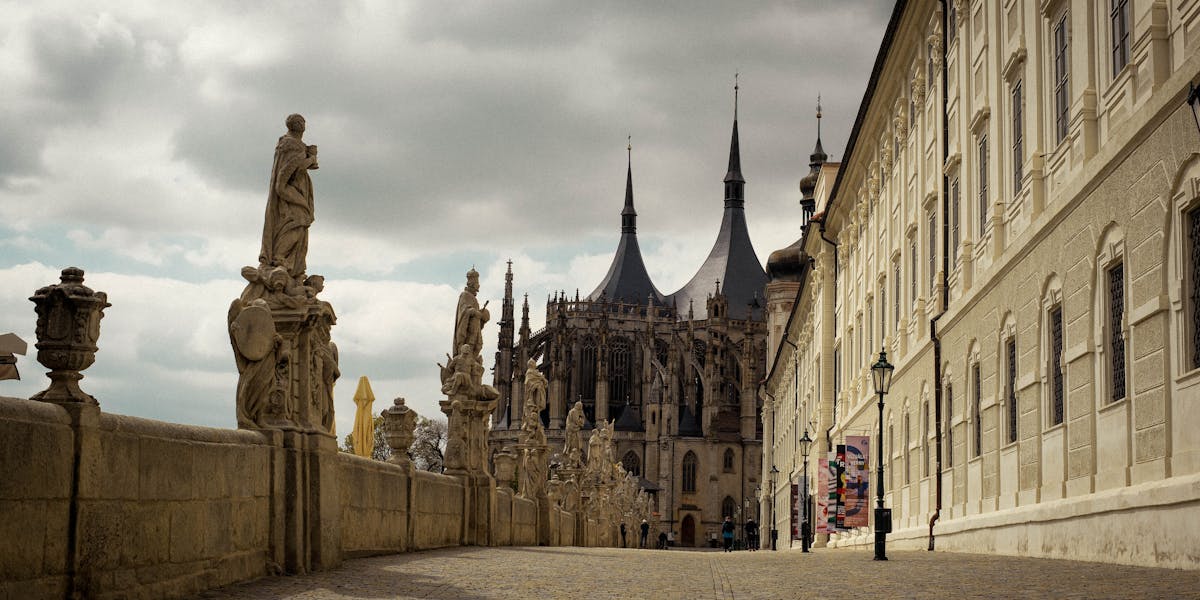 One of the most popular day trip destinations from Prague, Kutna Hora was once the residence of several Bohemian Kings, as well as the central mint that produced the 'Silver Groschen', the currency favoured by all of Central Europe. The city has an interesting collection of historic buildings but it is the Chapel of Bones that causes the most amount of intrigue for visitors. Don't forget to make time for the Hrádek Castle and Sankturin House too.
Best Time to Visit
May to September
Sedlec Ossuary
Sedlec Ossuary also known as the'Kutna Hora Bone Church' does not have a sinister history as expected. More than 800 years ago, the King of Bohemia had sent the abbot of Sedlec Monastery to Jerusalem, who brought back a handful of holy soil and spread it across the cemetery. The word spread and people came from far and near to buried at Sedlec upon their death, and the rest is history!
St. Barbara's Church
The tall spires of the St. Barbara's Church, sitting atop a cliff is visible even before you enter Kutná Hora. The construction of the church took nearly 600 years, braving centuries of war and economic upheaval. Designed in Gothic and Baroque style, it is one of the best churches in Czech Republic, rivalling even the St. Vitus Cathedral!
Stone Fountain
The 12 sided gothic styled Stone Fountain was built in the central square of the city to combat the crisis caused by the silver mining industry which was polluting the ground water in the city. The stone fountain was used as a water source until 1890. Today, it is a protected monument and is beautifully lit up in the night accentuating the beautiful stone work.
Czech Silver Museum
The Czech Silver Museum was started in 1996 to commemorate the history of the mining city. Housed in the historic Hradek ("Little Castle") building, the museum has two tour routes – The Town of Silver and The Journey of Silver. You will find old exhibits of the mining industry and even a 250m long medieval mine.
By Train
The most convenient and budget-friendly way to get to Kutna Hora is via train operated by Ceske Drahy railways. Look for the train "R 975" and €5 later, you're reach the town of Kutna Hora.
By Bus
Taking a bus from Prague to Kutna Hora is definitely cheaper than a train ride by 2 euros, but the journey takes 2 hours. If you're planning a day trip, lesser time in commute is recommended. Morever, the Prague stop is all the way at Haje station (last stop of line C subway).
Guided Tour from Prague to Kutna Hora
If you prefer guided tours with local guides an organized tour with two-way transfer by air-conditioned minibus, local guide, lunch, and tickets to St. Barbara's Church and the Sedlec Ossuary is recommended. You simply have to get onboard the bus and simply enjoy your day.
4

Karlštejn
Day Trips From Prague
32 KM
Distance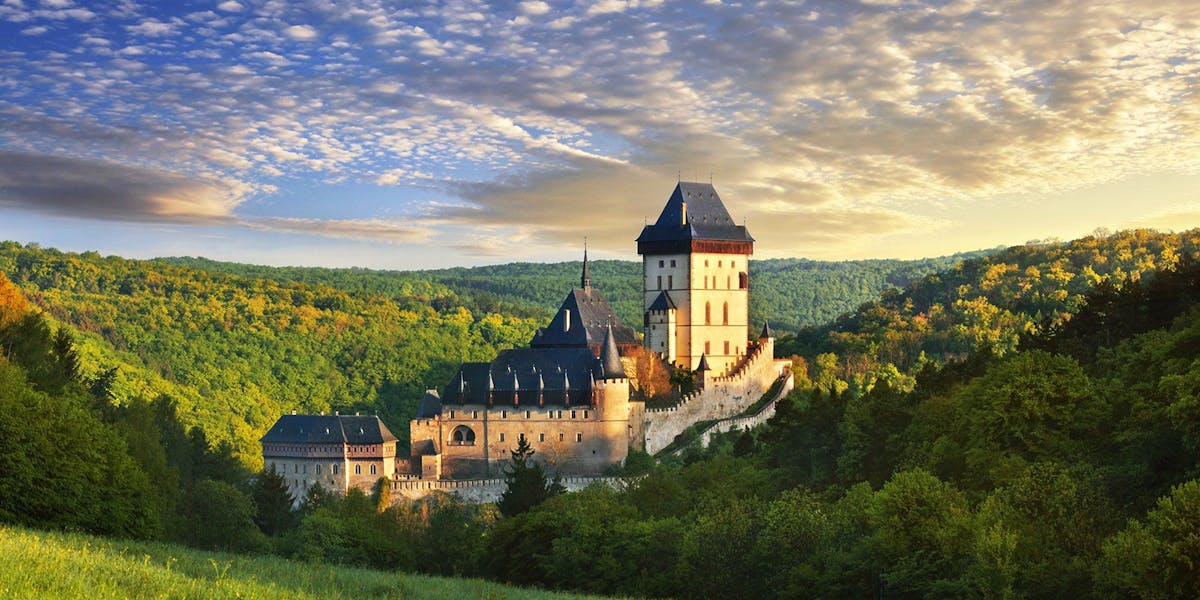 Karlštejn is a town on the Berounka River, located southwest of Prague. It's most well known for its 14th-century Karlštejn Castle, a Gothic fortress with royal jewels, wall paintings and portraits. That Castle apart, the Wax Museum Karlštejn and House of Clocks, are attractions tourists enjoy in this quaint town. For the more adventurous ones, there are several open pit limestone quarries, called Malá Amerika/Velká Amerika ("Little America"/"Big America") filled with water, a popular place for Czechs to go swimming.
Best Time to Visit
June to August
Karlštejn Castle
Karlštejn Castle is an impressive piece of Gothic Citadel started under the reign of Czech king and Holy Roman Emperor Charles IV in 1348. A hideaway for the royal treasures, holy relics, imperial insignia, and the crown jewels, this castle is one of the most visited castles in the Czech Republic.
Wax Museum Karlstejn
This is a small museum that is uses wax figurines to illustrate Czech history from medieval to modern times. If you're traveling with kids, this is a fun place to keep them edutained!
Lom Malá Amerika and Lom Velká Amerika
Velká Amerika and Malá Amerika are partly flooded, abandoned limestone quarry near Mořina village. You can trek down to the emerald water and even take a quick dip in the pool if you're prepared. The quarries are connected with each other by long tunnels.
By Train
On the Czech Railways (ČD) you have hourly trains from Praha Hlavni Nadrazi to Karlstejn. The journey takes about 45 minutes and it's the cheapest and most convenient way to traverse the distance.
Guided Tour from Prague to Karlstejn
Enjoy a comfortable trip to the Karlštejn and the Karlštejn Castle with a complimentary pick up from your hotel and cap off your tour with a tantalizing lunch that includes some local delicacies. At the castle, you get to catch a glimpse of the extravagant life led by Bohemian Kings. The day trip is a comfortable option for those who don't want to undergo the hassle of arranging their own transport and itinerary for the day.
By Bike
You can ride a bike from Prague to Karlštejn in just 4 hours. It's an easy ride, mostly off road, following the valleys of the Vltava and Berounka rivers. For the most part, it is very clearly signposted, so you are unlikely to get lost. The town of Karlštejn is a pedestrian zone all day long and it is closed for cars as well as for bicycles. Please respect pedestrians. Thank you.
By Car
The best road route from Prague would be through Prague-Radotín, Dobřichovice, Řevnice, Hlásná Třebaň to Karlštejn.
5

Terezin Concentration Camp
DAY TRIP FROM PRAGUE
32 KM
DISTANCE
When Nazi Germany invaded and occupied Czechoslovakia in 1940, they turned Terezín into a Jewish ghetto and concentration camp. More than 1,50,000 Jews from Czechoslovakia, as well as those deported from Germany, Austria, Netherlands and Denmark were sent to Terezin Concentration Camp. The Terezin Concentration Camp served as a transit camp for Jews en route extermination camps but was also presented as a "model Jewish settlement" for the purpose of an eyewash for the Red Cross.
Best Time to Visit
June to August
Terezin Concentration Camp
The Terezin Concentration Camp Tour takes you back to the most unimaginable eras of sufferings; the agony of over 150,000 prisoners during World War 2. Hundreds of thousands of Jews lost their lives most painfully in the ghetto of the Terezin Concentration Camp. Divided into two halves these fortresses hold the stories of pain, misery, deceit, cruelty and hope within its walls.
Terezín Memorial - Ghetto Museum
To mark the 50th anniversary of the start of deportations of Jews from the Protectorate of Bohemia and Moravia, the first permanent exhibition on the history of the Terezín Ghetto was opened in the former municipal school in Terezín in the fall of 1991.
The Terenzin National Cemetery
The National Cemetery was created artificially after liberation in 1945.Former prisoners and the heirs of those who died, requested physical remains were exhumed from six mass graves in the ramparts of the Small Fortress which had been in use from March 1st to May 7th 1945.
By Train
The trains depart from the Praha Masarykovo railway station or from Prague's main station. The latter ones take lesser time, roughly an hour to Bohusovce ad Ohrim. The faster trains are marked R and the slower ones O. You get off at the station and it is a 15-30 minutes walk to the Small Fortress.
By Bus
There are multiple buses( about 10) that leave from the main bus station Florenc, Prague. Buses also depart from stand 7 of the bus station beside Prague's Holešovice train station. They leave you at the carpark at Terezín if you want to begin your sightseeing at the small fortress and prison museum. If you plan to begin at the large fortress and ghetto museum you should stay on and get off at the tourist information office.
Guided Tours from Prague To Terenzin
Guided tours to Terezín from Prague are very popular because they are very informative and convenient. You assemble at a central location in Prague and are taken to Terezín by public transport (mostly buses). The tour includes your entry ticket at Terezin Concentration Camp and an interesting guided tour with historical facts and stories. In the evening you are dropped back to the meeting point.
Prague Day Trips - Compare Your Options
| Prague | Distance | Duration | Category | Best Time To Visit |
| --- | --- | --- | --- | --- |
| Terezin Concentration Camp | 32 KM | 45 Minutes | Concentration Camp, Holocaust | June to August |
| Kutna Hora | 84 KM | 1 Hour | Chapels, Historic Buildings | May to September |
| Karlštejn | 132 KM | 45 minutes | Castles, Architectural Heritage | June to August |
| Karlovy Vary | 135 KM | 2 Hours | Spas, Hiking | June to August |
| Český Krumlov | 171 KM | 2 hours | Castles, History | May to August |
Prague Day Trips Map
FAQs
The most popular day trips from Prague tend to be to Karlstejn Castle, Cesky Krumlov, and Kutna Hora. However, there are many other great options depending on your interests. Terezin, for example, is a must-see for history buffs interested in the Holocaust. And if you're looking to get out into nature, there are plenty of options for hikes and other outdoor activities.
The easiest way to get to Karlstejn Castle from Prague is by taking the train from Prague's Main Train Station. The journey takes about an hour and a half, and there are plenty of trains to choose from throughout the day. Once you arrive in Karlstejn, it's just a short walk to the castle.
There are a few different ways to get to Cesky Krumlov from Prague, but the easiest is probably by taking the bus. There are several direct buses that depart from Prague's Florenc Bus Station every day, and the journey takes between two and three hours.
Absolutely! Kutna Hora is a UNESCO World Heritage Site and home to some of the most well-preserved medieval architecture in the Czech Republic. It's also home to the Sedlec Ossuary, a bone church decorated with the remains of over 40,000 people.
The best way to get to Terezin from Prague is by taking the bus. There are several direct buses that depart from Prague's Florenc Bus Station every day, and the journey takes around an hour and a half.
Yes, there are plenty of great day trip options for families with kids! Cesky Krumlov, Karlstejn Castle, and Kutna Hora are all great choices, and there are also several kid-friendly museums and galleries in Prague that make for great day trips.
Be sure to pack comfortable shoes and weather-appropriate clothing, as you'll likely be doing a lot of walking on your day trip. And if you're traveling in the summer, be sure to bring along plenty of sunscreen and water. Finally, it's always a good idea to have some Czech cash on hand, as not all places will accept credit cards.