A tourist is not the same as a wanderer. Both of them might be traveling from the same place, but their destination will more often than not be different. One of the rare occasions, when a tourist and a wanderer heads to the same place, is when the terminus is Prague. Despite being a popular tourist spot, Prague has not succumbed to the pitfalls of fame. Its millennium-old heart is nestled firmly amidst history and culture. Prague's lanes have retained their old world charm. The art galleries still show what Prague really is on the inside. Furthermore, the native microbreweries spew some of the best beers you are ever likely to find in the world. This beer is the perfect metaphor for a tour of Prague, even in April.
Why is Prague in April a must-visit?
---
The City of a Hundred Spires attracts close to 10 million tourists every year. Clearly, one does not need a lot of convincing to visit Prague. In April, the city is in the throes of Spring. Prague is a visual treat at this time of the year. As such, April is a great time to explore the city on foot.
Prague is home to numerous castles, which carefully preserves its rich history within its walls. April is a great time to tread off the beaten path and discover the real Prague. You could also take an aesthetically pleasing tour down the Vltava River or learn about the somber past of Terezin Concentration Camp.
The spring weather brings out the festive side of the city. A number of events take place in Prague which you would love to attend. Majáles is a traditional fest that features a parade followed by concerts and other shows. St. Matthews Fair, Prague Castle Easter Market, Witches' Night Parade are some other events that make April a prime time to visit Prague.
Prague Weather in April
---
April is in the middle of the springtime in Prague. The average high during this month is 14°C while the average low is 4°C. The sky is mostly overcast during the early part of the month. Rain is quite likely in April but snowing is very rare. There is a light breeze throughout the month.
Prague in April: Things to do
---
If you are planning to visit Prague, this is the first that should make it into your itinerary. Currently serving as the seat of the President of the Czech Republic, this castle holds the Guinness World Record for the largest ancient castle complex. Within the complex are a number of historically significant building and galleries that you may take your time exploring in April.
April Timings
Prague Castle Complex: 6:00 AM – 10:00 PM
Historical Buildings: 9:00 AM – 4:00 PM
St. Vitus Cathedral has remained under construction for 600 years, thus incorporating multiple schools of architecture in its intricate work. Within the cathedral are treasures that represent the cultural heritage of the nation. Although the cathedral is fairly popular, you should still find some time to explore this glorious structure and learn about its illustrious history.
April Timings
Monday – Saturday: 9:00 AM – 5:00 PM
Sunday: 12:00 PM – 5:00 PM
Great Tower of St. Vitus Cathedral : 10:00 AM – 5:00 PM
Prague is a treasure trove of architectural marvels, as evident in the current list. The National Theatre is another structure that will leave you awestruck. The National Theatre was opened in 1881 and it burned down within weeks. It was restored and reopened with the help of donations within the next two years. Pick an April weekend and book a guided tour to the National Theatre or experience a show at the magnificent venue.
April Timings
Guided Tours take place on Saturday and Sunday between 10:00 AM and 06:00 PM
Vltava River runs through the heart of Prague. Taking a cruise down the river would enable you to experience the Prague spring in a unique way. Some of the tours come with lunch and dinner options along with sightseeing. Alternatively, you can pick a tour that includes the cruise as a part of the entire experience. Regardless of the cruise you pick, you are guaranteed to have a great time in the Vltava.
April Timings
Timings vary according to the chosen cruise
Prague Astronomical Clock
The Prague Astronomical Clock is an iconic attraction in the city, which also has become the center of many urban legends. The clock was first placed on the tower in 1410. This clock is not just one that tells the time. It has a few advanced features like the hourly procession of the Twelve Apostles and the moving figurines of Vanity, Greed, Death, and Lust. Even though the premises of the tower gets a bit crowded in April, the experience is still worth it.
April Timings
Monday: 11:00 AM – 09:00 PM
Tue - Sun: 09:00 AM to 09:00 PM
This landmark in Prague stands as a representative of the city's architectural flexibility. The Dancing House lies overlooking the Vltava River, on a plot of land that has witnessed misfortune during the Second World War. The deconstructivist architecture of the building sets it apart from most other landmarks in the world. The asymmetry also means that the building has an unorthodox internal structure. Examine every quirk of the Dancing House on a pleasant April day.
April Timings
Daily: 10:00 AM – 10:00 PM
Old Town and Jewish Quarter
One of the biggest attractions of Prague is the old part if the city that is still stuck in its glorious past. Adjacent to it is the Jewish quarter that has had an interesting history. Take a walking tour through these two popular parts of Prague as you dine on the nuggets of trivia served to you by the professional guide. Know the association of the place with Franz Kafka and its influence on his literary body.
April Timings
Tour starts daily at 11:00 AM
A day trip to Terezin Concentration Camp
Prague is aware of its dark past and you can acquaint yourself with it at the Terezin Concentration Camp. It is believed to be one of the most terrifying oppression centers operated by Adolf Hitler. Take a guided tour of this spot in accompaniment of an expert guide and know about Czechoslovakia's side of the World War misery. A tour of Terezin Concentration Camp in April might move you away from a majority of tourists.
April Timings
Tours go on daily from 8:00 AM – 4:30 PM
Prague in April : Events to Look Out For
---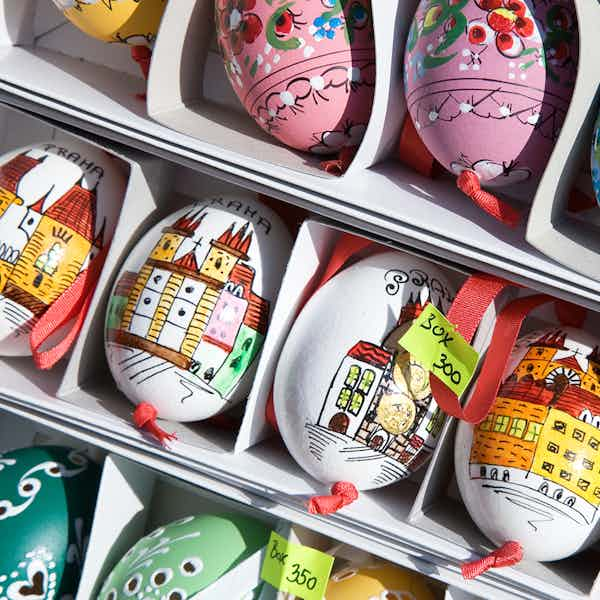 Prague Castle Easter Market
March 25 to April 16, 2023
As Spring bathes Prague in pretty colors, the festive side of the city makes itself known more profoundly. The Easter markets are a characteristic feature of a typical Czech spring. Little huts take over several locations of Prague and sell glassware, jewelry, embroidered articles, toys, ceramics, scented candles, puppets dressed in traditional costumes, to name a few. There are numerous food stalls as well.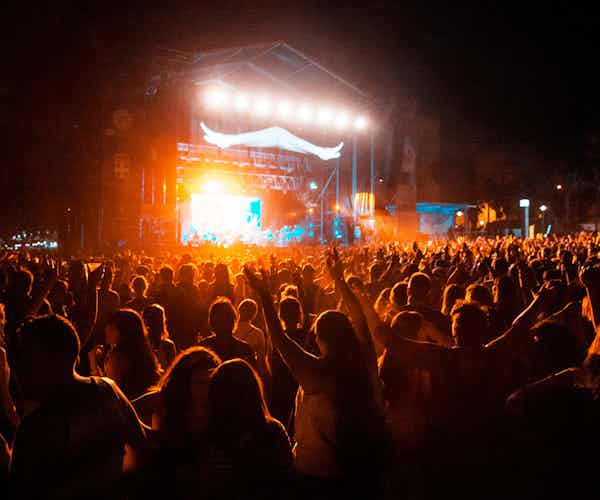 Prague Majáles
April 29, 2023
The Prague Majáles is a celebration of the vigor of Spring and the spirit of youth. The festival is held in many cities across the Czech Republic, and Prague has its own rendition of it. Apart from a parade, Majáles is mainly celebrated with a music festival that has an envious lineup of famous artists. The entire month of April has a number of related events across Prague that builds up to the final hurrah of the Majáles.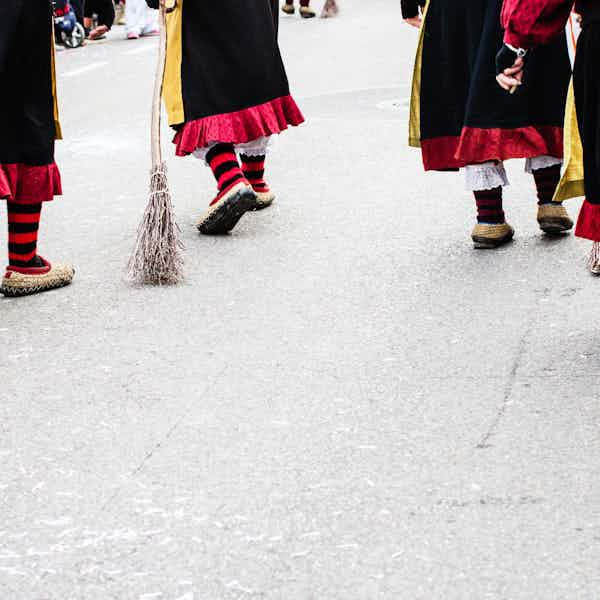 Witches' Night Festival
April 30, 2023
If your tour party has children, they would definitely love to be a part of the Witches' Night Festival. This is a Czech version of the Guy Fawkes ritual in which an effigy of a witch is burned. The witch signifies winter and the burning represent the departure of the cold weather for the year. People spend weeks to design the fire that burns the witch. The witch is traditionally paraded through the streets before it is set on fire.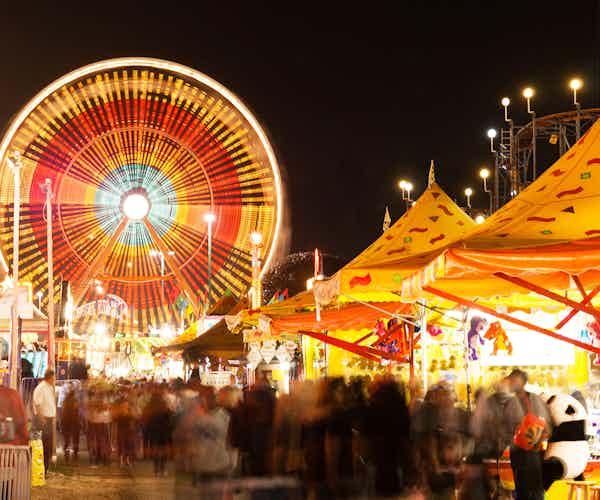 St. Matthew's Fair
March 5th - April 25th, 2023
This is the largest and most popular fair in the Czech Republic. Hosted in the Prague Exhibition grounds every year, this fair has a number of attractions meant for visitors of all ages. Apart from the fair regulars like the Ferris wheel, roller coaster, and other domestic and global attractions, the fair also has a number of food stalls selling snacks. This is one fair that you need to experience.
Prague in April : 3-day Itinerary
---
Explore the best of Prague in only three days! Checkout this Prague 3-day itinerary for a perfect balance of sightseeing, leisurely activities, and local culture.
Prague Essentials
---
Prague Weather in April
In March, the weather of Prague sees a transition from winter to spring but the temperature is slow to rise and hence the environment is predominantly cold with up to 6 hours of sunshine in a day. The temperature reaches a high of 10° C while it can go as low as 2°. in the night.
Where to Stay in Prague in April
Prague is fairly used to accommodating a large number of tourists in the city, therefore you won't be facing a lot of trouble finding a room for yourself. Depending on your budget, you will have a large number of hotels to pick from.
Luxury: Four Seasons Hotel, Mandarin Oriental, Augustine Hotel
Mid-range: Hotel Paris, Buddha-Bar Hotel, The Grand Mark
Budget: Hotel General, Hotel Three Storks, Questenberk Hotel
What to Pack for Prague in April
April is officially springtime in Prague. Temperatures remain quite predictably pleasant during the month. However, the overcast conditions and wind may make it chilly at times. Pack light clothes for your walking tours, but forget a few warm clothes at your own peril. Comfortable walking shoes are a must. Under no circumstances should you forget to pack waterproof coats and boots since it rains every other day in April in Prague.
Getting Around in Prague in April
The whole city is served by a big fleet of trams, trains, metro, and buses that are operated centrally by the Prague City Transport Authority. Since the city is quite compact, traveling is not complicated. A single public transport ticket purchased grants you the ability to avail any means of transport for a set period of time. The most cost and time effective means of transport is the metro. Taxis can also be hailed, but you might be could be overcharged.
Prague in April - Must Try Delicasies
---
Czech cuisine is famous for being exotic but healthy, and there's no dearth of restaurants to sample this fare. Presenting some of the top dishes for you to try when visiting Prague: Smažený Sýr
The best way to discover any local cuisine is to take a stroll down the lanes and feast on the street food. Smažený Sýr is a signature Czech delicacy that is sold almost everywhere. The hero of the dish is deep-fried cheese. It is served with fries, bread roll, or salad. Go to U Houmra to eat the most authentic Smažený Sýr in Prague. Chlebíčky
Chlebíčky is a breakfast and lunch staple. Generally served in social gatherings, Chlebíčky is basically an open sandwich. It is widely favored for the simplicity of its preparation and the fact that it makes for a filling meal. Chlebíčky is made with a number of fillings, including ham and chicken. Try the best Chlebíčkies at Chlebíčky Letna. Guláš
This dish was adapted by the Czech from its Hungarian counterpart. The difference is in composition. The Czech version has less quantity of vegetables and more proteins. Beef is the preferred meat used. It is stewed and then topped with gravy, vegetables, and bread dumplings. Have the best Guláš at U Zajice.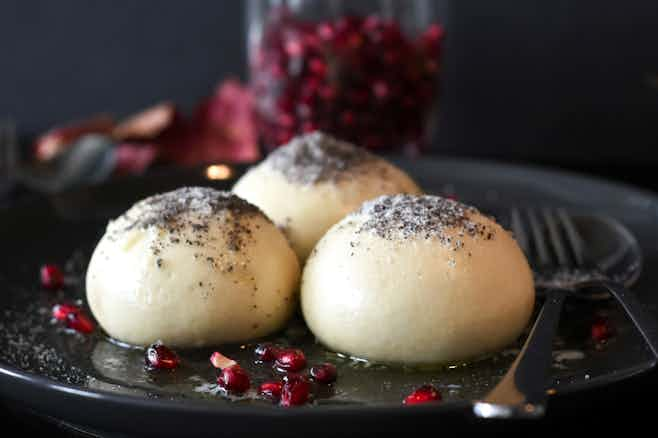 Fruit Dumpling
In Czech tradition, there is such a thing called the main sweet dish which is had right after the appetizer. One of the most famous main sweet dishes is fruit dumpling. These dumplings are filled with fruits and served in a deep dish that is then garnished with butter & sugar. Try the fruit dumpling from Krystal Mozaika bistro.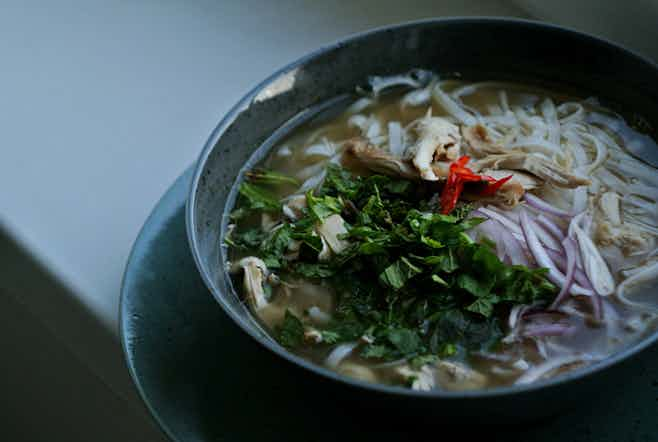 Palačinky
This is an absolute Prague essential. Palačinky is a traditional Czech thin pancake that looks like the French crepe. Typically, Palačinky is rolled up served with jam, fresh fruits, or cream. There are some versions of this dish that are savory as well. Creperie Aux Clochettes serves some of the best Palačinky in Prague.
Tips for Visiting Prague in April
---
Explore the city and discover a number of events that take place all across the city during the entire month mainly centered around the theme of Easter.
Attend the Street Food Festival on April 14, 2019, and gain a unique perspective of the city's culinary tradition.
Dine at some of the outdoor dining restaurants that begin opening up due to the rising mercury in April.
Stroll through the parks of Prague and get a preview of the curated gardens that start popping up at certain places in the city.
Make your bookings early if you are planning to visit Prague around Easter. Although April is not a busy tourist season, the Easter events might drive in a few more people into Prague.
FAQs
---
What are the top things to do in Prague in April?
What is the temperature in Prague in April?
What are the best day trips to take from Prague in April?
Are any famous attractions closed in Prague in April?
What is an ideal itinerary for visiting Prague in April?
Is April a good time to visit Prague?
Explore Prague Through The Year
---
Ready to Visit Prague in April?
---
Here are some detailed blogs that will help you plan your Prague vacation better.