It hasn't been a very long time since Prague was only frequented by people seeking a path less beaten by hordes of tourists. Currently, the Czech capital receives over 20 million visitors annually and the number is climbing every year. As such, it is important to know when to visit Prague. If you factor in the tourist count and weather, February, March, April, October, and November are the best months to be in Prague.
Know Before You Plan Your Trip to Prague
---
Best Time To Visit Prague For Different Kinds Of Travellers
Best Time for Sightseeing: May to September
Best Time for Backpackers: February, March, and November
Best Time for Honeymooners: March, April, October, and November
Best Time for Festivals in Prague: May, June, September, October, and December
Prague Through The Year
---
Tourist Seasons in Prague
High season in Prague: June to August
This is the warm weather period in the Czech capital. This period of time also has generally longer daylight hours, making it ideal for sightseeing. However, the high season sees the most amount of tourists in Prague. You should abandon the idea of enjoying the Charles Bridge by yourself.
Shoulder season in Prague: March to May & September to November
This season in Prague lies on either side of the high season. It is the time that is known for mild weather and slightly less tourist crowd. You could roam around the city a bit more peacefully during this time. The weather is fickle during the shoulder season and can be considerably difficult to pack for.
Low season in Prague: January to February
These are the coldest months in the city. The holiday season is over by this time and tourists flee for the fear of the weather during the low season. If you are planning to visit Prague during this time, be prepared for the chilly climate. On the plus side, you are almost guaranteed the cheapest airfare and hotel rates in the low season.
Best Season To Visit Prague
---
Prague in Spring
Spring season in Prague is known to be around mid-April to May. The temperature keeps rising as the season goes by. The parks of Prague are at their variegated best during the Spring. If you can plan a trip during this season, you can get some discount deals on accommodations and airfare.
Prague in Summer
Summers stretch in Prague from the month of June to August. The day temperature hovers around a comfortable 70 degrees during the season, making sightseeing an altogether pleasurable experience. Even though there is an overload of tourists, you will have a comfortable stay if you can take advantage of the early sunrise and head out.
Prague in Autumn
Autumn in Prague begins in September and lasts halfway through October. The foliage changes its colour and gives Prague a warm hue. The temperatures keep dropping throughout the season, so the earlier in Autumn you head to Prague, the better. Autumn provides you with an opportunity to explore Prague at your own pace after the high season.
Prague in Winter
Winter season is quite bitter in Prague. The chill sets in at the beginning of November and lasts well into March. Snowing is common during the winter season. This also means that the least amount of tourists can be spotted in Prague except for the few weeks of the holidays. If you don't mind carrying around a lot of warm clothes, you could have one of the most economical trips of your life during this season.
Weather In Prague Year Round
---
The Weather in Prague year round has been charted on a graph below. The Highs are depicted in red and the Lows in blue.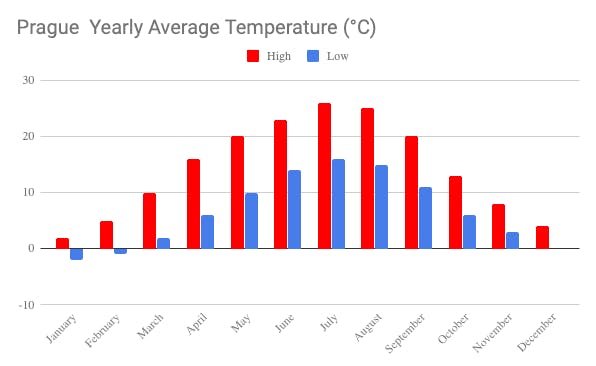 A Month-On-Month Guide To Visiting Prague
---
Follow our detailed guide to pick a month for your Prague exploits.
Prague In January
Average Temperature: -2°C to 2°C
January is the coldest month of the year in Prague. The mercury often drops below the freezing point and snowing is not uncommon. This is why most of the parks will remain closed or will have restricted opening time in January. Do not forget to carry plenty of warm clothing as you would be needing them throughout your trip. January generally sees a drop in the crowd, so you may be able to get considerable discounts on lodging and commuting expenses. If you are in Prague in January, you may be able to catch the last few days of the famed Christmas Market. The fireworks display on New Year's day is also a spectacle.
Prague In February
Average Temperature: -1°C to 5°C
It is still winter in Prague. In fact, it isn't uncommon to get temperatures 10 degrees below the freezing point in February. The weather is far more fickle at this point of the year. There are clear days as well as snow days in this month. It would be wise to pack a lot of warm clothes if you are planning to be in Prague in February. There are still no tourists around, so you should be able to secure some great deals on flight and hotel rates and roam around the city in peace. Do not forget to check out the ice skating rinks at Tower Park and Letna Park. A Czech Press Photo Exhibition also takes place during the month and it is worth attending.
Recommended Experiences in Prague during Winters
Prague In March
Average Temperature : 2°C to 10°C
March shows the first signs of melting snow. The temperature steadily moves away from frigid throughout the month. However, do not ditch all of your warm clothes as there is still a likelihood of chilly weather, especially after sundown. There are a few rainy days in March as well. March is the time when some tourists begin returning to Prague. If Easter and Good Friday happen to be in March, you will notice a slight surge in regional tourists. One of the most notable events of the March is the OneWorld International Documentary Festival that brings together remarkable films and media from around the world.
Prague In April
Average Temperature : 6°C to 16°C
April weather in Prague is rather silly. The mercury is on its way up, but then, often, about of rain will bring the chills back. Keep this factor in mind when packing for an April tour of Prague. You cannot visit Prague in April without waterproof clothing. Despite the rain, the outdoor cafes start popping up throughout the city. Most of the years, Easter week is in April, which is why there is a moderate flow of tourists this month. Spring season is indicated with the landscaped parks and gardens. Pick a clear day and set out on the Jazzboat for a once in a lifetime musical experience. The AsiaFest at Smichovska Nabrezi is also worth attending.
Prague In May
Average Temperature : 10°C to 20°C
Prague is completely in the throes of Spring in May. The city is in full bloom and the rain lessens a bit from the last month. You will still require a sweatshirt during the evenings. You must go out for a walk in the city in May. Tourists begin coming in steadily, but you may still be able to secure some lucrative deals on hotels. Keep your eyes peeled for the restaurants that pop up around the Vltava river as the summer warmth seems imminent. The Czech Republic celebrates Liberation Day on May 8th, so you may find a few closed attractions on this day. You may be able to visit the Czech Senate and the Czech Parliament on this day. You cannot afford to miss the Prague Food Festival at Vysehrad in May.
Recommended Experiences in Prague during Spring
Prague In June
Average Temperature : 14°C to 23°C
Summer finally arrives in Prague in June. The temperature soars to a comfortable level and so does the tourist footfall. Pack some light clothes for the walking tours during June. There is still going to be some rain in June, so do not forget your umbrellas and jackets. Also, keep a small bottle handy if you are going to be out in the sun. Enjoy the last few days of the Spring Classical Music Festival in June. One of the marquee events of the summer in Prague is the Holi: Festival of Colors that is celebrated in June. A beer and music festival by the name of Den Kozel is also worth attending.
Prague In July
Average Temperature : 16°C to 27°C
Historically, July has been the warmest month in Prague. The days will be hot, especially with the impact of climate change. You can experience a few thunderstorms during the July evenings. You need to carry breathable clothing as well as waterproof jackets in July. July is in the middle of high season in Prague. You are unlikely to find any attractions devoid of queues. You may have a hard time finding proper accommodation if you do not make prior bookings. Head to the Old Town Square for Bohemia Jazz Festival. Throughout July you will be able to attend various French and Italian cultural events in Prague.
Prague In August
Average Temperature : 15°C to 26°C
The short tenure of Summer is towards its end in August. Temperatures are still warm and comfortable. On hot days, you might want to take a dip in the Vltava river, but the mountain water is too cold to be pleasant. Wear light clothes and use plenty of sunblock during the August days in Prague. Rain is least likely of all the summer months in August. Try to beat the crowd by heading outside the city limits. If you want on offbeat experience, go for the Invisible exhibition which lets you experience 90 minutes in the world of blind people. You could attend the Prague Pride parade that celebrates love and inclusiveness.
Recommended Experiences in Prague during Summer
Prague In September
Average Temperature : 11°C to 20°C
Summer gives way to Fall in September in Prague. The temperature is warm and there is far less likelihood of rain. The occasional rain brings the temperature down temporarily, which is altogether delightful. The foliage in the city gets a warm tinge as well. It is a great time to roam about in the parks and gardens. Carry light clothes and sunblock for your on-foot expeditions. A one-day kayak festival by the name of Naplavka should make for an interesting experience. You shouldn't miss the Jack Daniel's BurgerFest that takes place at Křižík's Fountain. It is a barbecue and grill festival that is attended by chefs from all around the world.
Prague In October
Average Temperature : 6°C to 13°C
The temperature keeps dropping as October. Fall is about to come to an abrupt end in October. If you happen to be Prague at this time of the year, make it a point to visit the last few outdoor cafes that you will see. Pack some warm clothing and a few full sleeved tees for October. There is a likelihood of rain, so have umbrellas handy as well. The tourist footfall in October drops considerably, making it a good time to secure deals on hotels and flight fare. Attend the String of Prague festival that has a mix of classical and contemporary music concerts. During the Signal Light Festival, you will see Prague decorated in numerous light pieces.
Recommended Experiences in Prague during Autumn
Prague In November
Average Temperature : 3°C to 8°C
Freezing temperature makes its return to Prague in November. Towards the end of November, Prague typically receives its first snow of the winter. Pack plenty of warm clothes. You may ditch light clothes completely for November. There are several winter specialities among food items that begin popping up in November. In terms of tourist count, November is one of the least popular months in Prague. Look for empty avenues to walk around when the sun is out. Head to any of the cemeteries in Prague on the evening of November 2nd to see the candlelit graves on All Souls Day. Don't forget to witness the Airship exhibition at the DOX.
Prague In December
Average Temperature : 0°C to 4°C
Despite the freezing weather, some tourists come to Prague in December in the hope of witnessing a white Christmas. It is not quite unlikely either. December generally has clear skies and a chilly wind. Remember to bring enough layers to bury yourself in. It is time to enjoy the classic Czech combo of rum, hot water, and lemon juice. December is mostly about the holidays, so don't forget to head down to the Old Town Square to listen to the Christmas carols. The ice rinks around the city open up in December. Perhaps the most popular and essential attraction of December is the Christmas Market.
Prague 3-day Itinerary
---
Check out our 3 day itinerary in Prague and plan your visit like a pro!
Also use our comprehensive Prague Travel Guide - packed with itineraries, tips, hacks and local recommendations to plan your trip better.