A melting pot of global culture, hanging out on an island off the southern coast of Malaysia is the city-state of Singapore, or the Lion City - epitomised in the spirit of the land and immortalised in its name. Singapore was founded as a British trading colony in 1819 and has been independent since 1965, going on to cement its place as a global commerce and finance hub. The island nation is known to be one of the safest and cleanest places to visit in the world, thus finding itself ranking quite high on the list of most popular travel destinations in the world. And once you're here, let not the abundance of experiences overwhelm you. With tons of attractions that cater to a universal crowd of all ages, Singapore has something for everyone.

Something For Everyone
No matter the company you go with or the time of the year you go in, you will always have the best experience in Singapore. While the kids can have a ball at one of the many theme parks and attractions in Sentosa, the adults can hit the town - discovering a city teeming with culture. With cuisine from across the world, a vibrant nightlife, and some truly unique attractions, you will leave Singapore with some unforgettable memories.

A Global Center of Culture and Commerce
The culture of Singapore is an eclectic mix of Asian and European cultures, and has been heavily influenced by the colonial era English, Malay, South Asian, and East Asian populations. Where else can you enjoy a delicious South Indian breakfast, lunch in a typical Chinatown eatery and dine with the Malays in Kampong Glam - all in distinct ethnic neighborhoods that have managed to preserve their culture in this ever-changing world.

Sentosa
No other nation in this world has an entire island dedicated to the entertainment and leisure of its people than Singapore. Off the southern coast of Singapore lies a small and green island that has been transformed over the years from a forested island visited by birds to a center of leisure. At Sentosa, you will find world-class theme parks such as Universal Studios Singapore, KidZania and Adventure Cove Waterpark.


Top Experiences in Singapore
Detailed Singapore Guides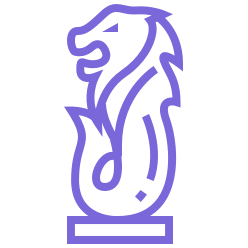 Looking for discounts on
Singapore Attractions?
Get SGD 10 discount on your
first Headout booking
using the code GOSNG!
CHECK PRICES NOW
Short on time and unable to plan your Singapore holiday? Take a look at these meticulously crafted itineraries that have been designed to help you make the most of your stay in Singapore - taking in all that makes Singapore the global hub that it is.
No results have been returned for your Query. Please edit the query for content to display.