Italy's glorious capital, Rome, is one of the world's most spectacular, beautiful and breathtaking cities. A unique amalgamation of dramatic landscapes, calassic landmarks, lush cuountrysides and ancient ruins, Rome and its nearby cities offer an array of picturesque destinations for you to explore.
One such destination is Venice, a heady mix of grand churches, impressive palaces, royal museums and picturesque landscapes. This city never fails to inspires its visitors with its rich cultural and artistic heritage. From cruising along the Grand Canal in a gondola to enjoying lunch in a quiet bacaro, Venice will captivate you with a wealth of new experiences, making it an ideal destination for a day trip from Rome.
Rome to Venice in a Nutshell
---
Here's everything you need to know for your day trip to Venice from Rome!
Best Time to Visit Venice: March, April, October, November
Distance from Rome: 526.2 km
Travel Duration: 4 hours by train
Guided Tours: Available
Why Take a Day Trip from Rome to Venice?
---
Just a brief ride away
Rome to Venice travel time is a mere 4-hours by train. The ride is not only scenic but also convenient with almost 70 trains plying daily. Rome to Venice by train takes you through the Apennine mountain range, allowing you a glimpse of the picturesque Italian countryside.
Take a break from the city
Venice is a labyrinth of winding pathways and hidden streets. These mysterious nooks and crannies sometimes lead to the loveliest of neighborhoods. Discovering these hidden corners is one of the most interesting things you can do in Venice. A day trip to Venice from Rome will provide you with a much-needed respite from the hustle and bustle of the city.
Back to the 15th century
As you walk around Venice, you will realize that most of its architecture is heavily influenced by the Renaissance era. This is not surprising as Venice was at its wealthiest between the 13th and 18th centuries. Thanks to strict rules regarding the preservation of its historic heritage, most of the city remains unchanged. Thus, a Rome to Venice tour will allow you a glimpse of a bygone era.
Art, architecture and more
Venice is crammed with elaborate palaces, beautiful churches and massive museums. However, there is much more to this city than its historic landmarks. Filled with quaint little cafes, picturesque canals and romantic gondolas, Venice make for an ideal day trip destination.
Rome to Venice Day Trip Experience
---
Enjoy a comfortable ride in a high-speed train from Rome to Venice and admire the scenic beauty of the Apennine mountain range. Once you arrive in the city of Venice, marvel at the gorgeous water canals and the picturesque alleyways as you make your way towards the iconic St. Mark's Square. Explore the Square at your own pace and grab a bite at the local cafe nearby.
Skip the long queues to enter St. Mark's Basilica and admire its architectural beauty. Once you have had your fill of the Basilica, head over to the Grand Canal and indulge in a ferry-ride as you cruise along the clear Venetian waters.
Full Day Tour of Venice from Rome
Enjoy a scenic ride from Rome to Venice in a comfortable high-speed train.
Explore the streets, canals and architecture of Venice at your own pace.
Enjoy skip-the-line access to the iconic St Mark's Basilica.
Make the best of the city with your twelve-hour pass for the Vaporetto, the city's water bus.
How to Reach Venice from Rome
---
---
By Train
---
One of the fastest ways to reach Venice from Rome, the high-speed rail system takes only around 3.5 to 4.00 hours. You can either deboard directly at Santa Lucia or get down at Mestre station and then take another train, bus or tram to get into the city of Venice.
Duration: 4.00 hours
Nearest stations: Santa Lucia & Mestre station
---
By Bus
---
While it takes around 6 to 8 hours to travel from Rome to Venice by bus, it is definitely the most budget-friendly option. The bus stops nearest to Venice are Tronchetto and Mestre.
Duration: 6-8 hours
Nearest bus stops: Tronchetto & Mestre
---
By Car
---
Even though it takes around 5 hours to reach Venice by car, the drive is definitely worth both time and effort. However, since Venice is filled with narrow streets and alleyways, you can not depend on your car to move around within the city.
Self Guided vs Guided Tours
---
Travel made easy
Even though there is at least one train to Venice from Rome per hour, they run at different speeds. Some trains can take as much as 6 hours to reach Venice. Similarly, the frequency of trains reduces during weekends and holidays. Keeping these points in mind, making the necessary travel arrangements for your Rome to Venice day trip might become overwhelming, especially if it is your first time in the city. An easy way to solve this problem is to book a guided tour of Venice, where your tour guide will take care of your travel arrangements.
Navigating the city
While Venice is best explored on foot, its many bylanes and narrow streets will confuse even the best! If you are on a one day trip to Venice from Rome and are short on time, it is advisable to opt for a guided tour instead of wasting precious time trying to navigate the city.
Going the extra mile
While it is not impossible to explore Venice on your own, opting for a guided tour will ensure that you get the most out of your day trip. Allow your local guide to regale you with interesting tidbits regarding the history and origin of Venice.
Hassle-free trip
Venice is one of the most popular tourist destinations in the world. This means that it remains crowded throughout the year. If you do not wish to waste time standing in never-ending queues, opt for a guided tour with skip-the-line facility.
Things to do in Venice in a Day
---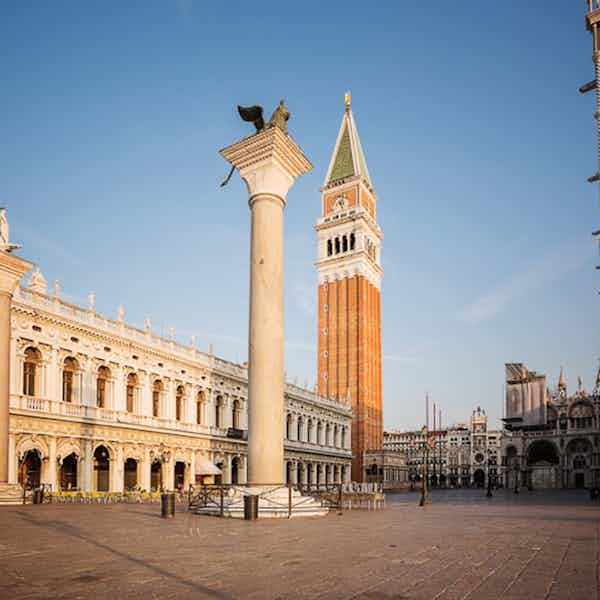 Doge's Palace
A symbol of Venice's rich cultural heritage, this palace was once the seat of the Venetian government and serves as the perfect example of Venice's Gothic influence. It now functions as a museum with many interesting artifacts on display.

Here's everything you need to know about the Doge's Palace.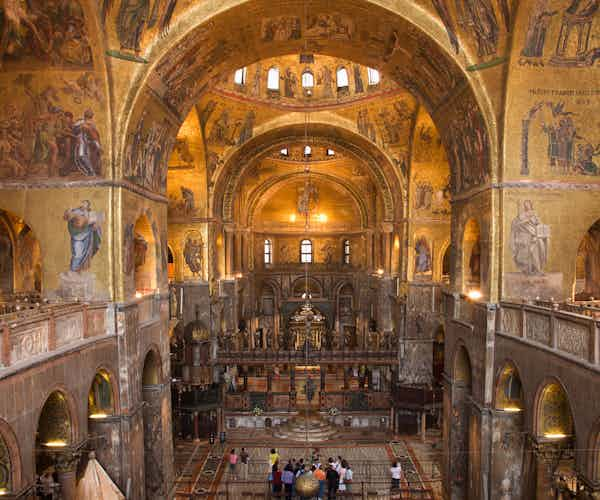 Saint Mark's Basilica
Saint Mark's Basilica is also known as the Church of Gold. As the name suggests, it's most attractive feature is the gilded mosaics used for decoration. This impressive structure, a perfect example of Byzantine architecture, is a must-visit.

Here's everything you need to know about Saint Mark's Basilica.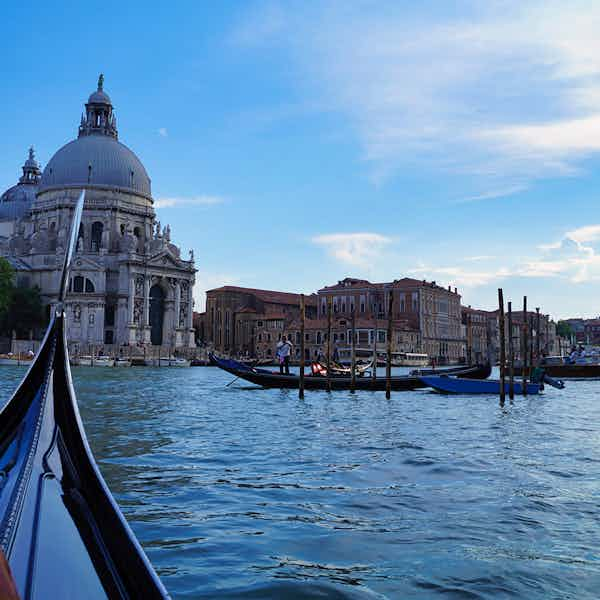 Grand Canal
Stretching from San Marco Basilica to Santa Chiara Church, the Grand Canal spans an area of 3 km. A favorite among tourists, it is always bustling with gondolas and water buses. The perfect way to experience this waterbody is by opting for a gondola ride.

Here's everything you need to know about the Grand Canal.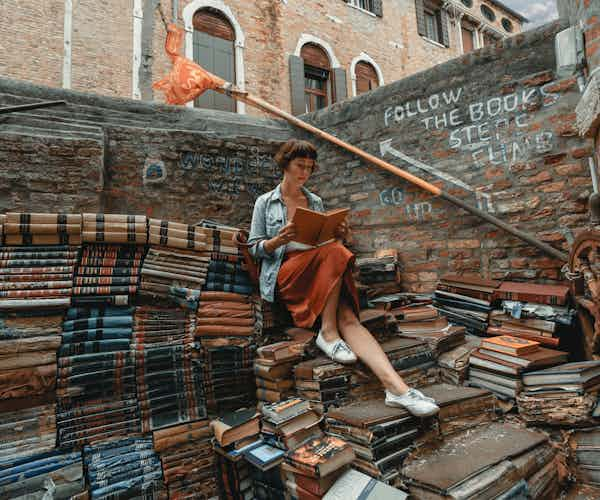 Libreria Acqua Alta
A quaint little store located near St. Mark's Square, this bookshop started gaining popularity for its unique display of books and magazines. In order to save the precious titles from the constant floods, they are stored in waterproof tubs and even gondolas!

Here's everything you need to know about Libreria Acqua Alta.
Must Try Eateries in Venice
---
Contrary to popular belief, Venetian cuisine goes above and beyond freshly baked pizza and creamy pasta. A majority of Venice's traditional dishes rely heavily on seafood and vegetables. Here's a list of cafes and restaurants you must visit on your day trip to Venice.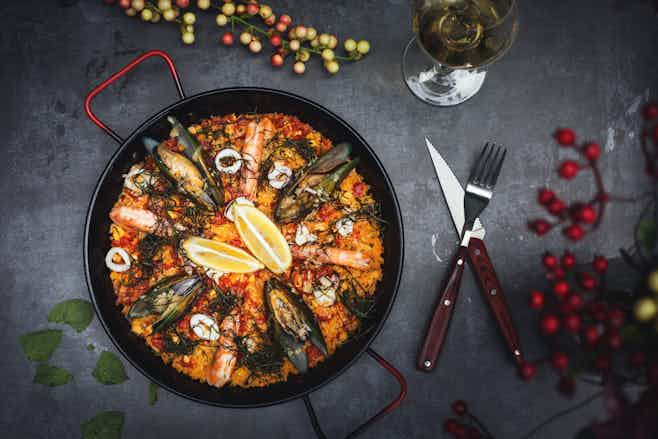 Al Covo
A cozy family-run restaurant, Al Covo is famous among locals and tourists alike. The menu is simple and filled with local delicacies. Tasting menus are also available, along with great wine. Al Grill
Famous for its juicy steaks and sizzling ribs, Al Grill is a reasonably priced restaurant with great service. It might be a little hard to find the restaurant, so don't forget to use Google Maps.
Hard Rock Cafe
Take a break from pastas and pizzas and indulge in traditional American cuisine. Located in the heart of Venice, the legendary Hard Rock Cafe is a must-visit for all party lovers.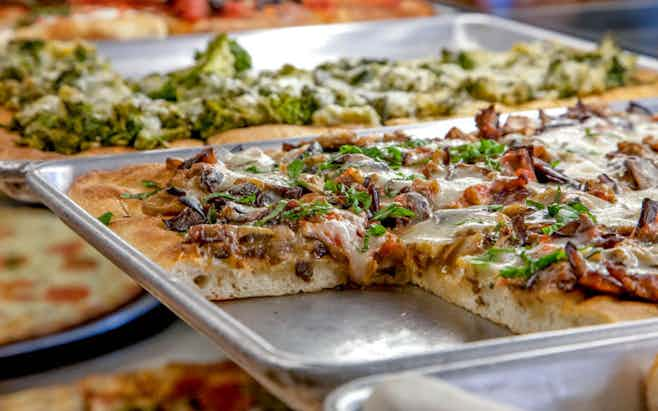 Ristorante Antico Martini
Located just a few blocks away from the iconic Teatro La Fenice, Ristorante Antico Martini is a fine-dine restaurant that serves great sea food. Don't forget to try their grilled seabass and herbed crabs!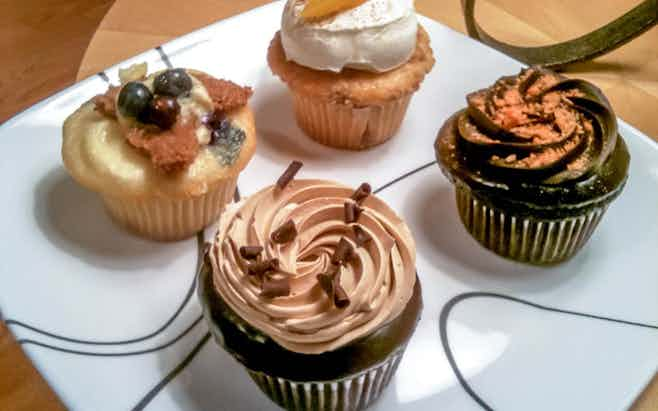 Hotel Papadopoli
Choose from a wide variety of breads, pastries and sausages at this 4-star hotel. Their elaborate breakfast menu is filled with Venetian dishes that you just can not miss.
More Day Trips from Rome
---
Here is a complete list of day trip destinations from Rome!
Know Before you go on a Rome to Venice Day Trip
---
Do not follow the crowd: While it is important to cover the iconic landmarks of the city, it is equally important to sometimes choose the less-traveled path and discover the real Venice.
Visit during the shoulder season: The months of March, April, October and November are the ideal months to visit Venice. The weather is pleasant enough without being too warm and the crowds are also relatively less. Here is a complete guide on the Best Time to Visit Venice.
Avoid tourist traps: Refrain from eating near tourist spots like Piazza San Marco or the Grand Canal. The restaurants here serve average food and often charge a bomb. To avoid tourist traps, follow the locals. They always know where the best food is!
Never say no to skip-the-line tickets: Venice is always crowded. So unless you want to spend hours waiting in line, purchasing a skip-the-line ticket is worth the extra money.
Do not miss the annual carnival: If you are visiting Venice in February, do not forget to take part in the annual carnival. During this carnival, hundreds of people take to the streets, wearing costumes and masks.
What to buy: Glassmaking is a traditional art in Venice. You will find everything from intricate jewelry to unique figurines, which you can take back home as souvenirs.
What to eat: Venice is a seafood lover's paradise. The local cuisine includes everything from shellfish to sardines. Don't forget to try out Sarde in Saor, a local delicacy. Here are some more Venice Travel Tips you may find useful.
Travel light: Venice is a city best explored on foot. To make your experience a pleasant one, carry only the essentials with you. Leave your heavy suitcases at the hotel!
Expect to get lost: Venice is known for its multitude of by-lanes and alleyways. Prepare to get lost as you try to find your way around the old city. Since most of Venice is not well-documented online, it is always a good idea to invest in a city map.
Venice is almost always flooded: Flooding is a frequent occurrence in Venice. Make sure that you check the weather forecast before you arrive in the city. However, since the flooding happens only in certain areas, you can simply avoid them or make use of the elevated sidewalks created for this very purpose.
Invest in a Water Bus Pass: Individual travels in the water bus can eat into your budget very quickly. To avoid this, invest in a Water Bus Pass if plan to make more than 3 trips.
Make use of the water fountains: Water fountains in Venice can be found in every piazza. Since they are safe to drink from, carry a water bottle with you and refill from the fountains whenever you want. This will prove way cheaper than buying bottled water.
Other Day Trip Destinations
---
FAQs
---
How far is Venice from Rome?
Are there direct trains from Rome to Venice?
Are day trip tickets from Rome to Venice refundable?
How long does it take to cover Venice on a day trip from Rome?
Are transfers included in day trips from Rome to Venice?
When should I visit Venice?