Crane your neck and look out the aircraft window when you're about to land in Venice. You will understand why Venice is rightly called "The Floating City".
Nestled in between the Adriatic Sea and Italian mainland, Venice is an archipelago of 120 islands built over an ancient lagoon. Lapis lazuli water in meandering canals flanked with brightly painted buildings and a labyrinth of 411 narrow bridges is what Venezia is all about. Not to forget, the bedecked gondolas gracefully gliding through these dreamy waterways.
Check out
Venice Gondola Rides
.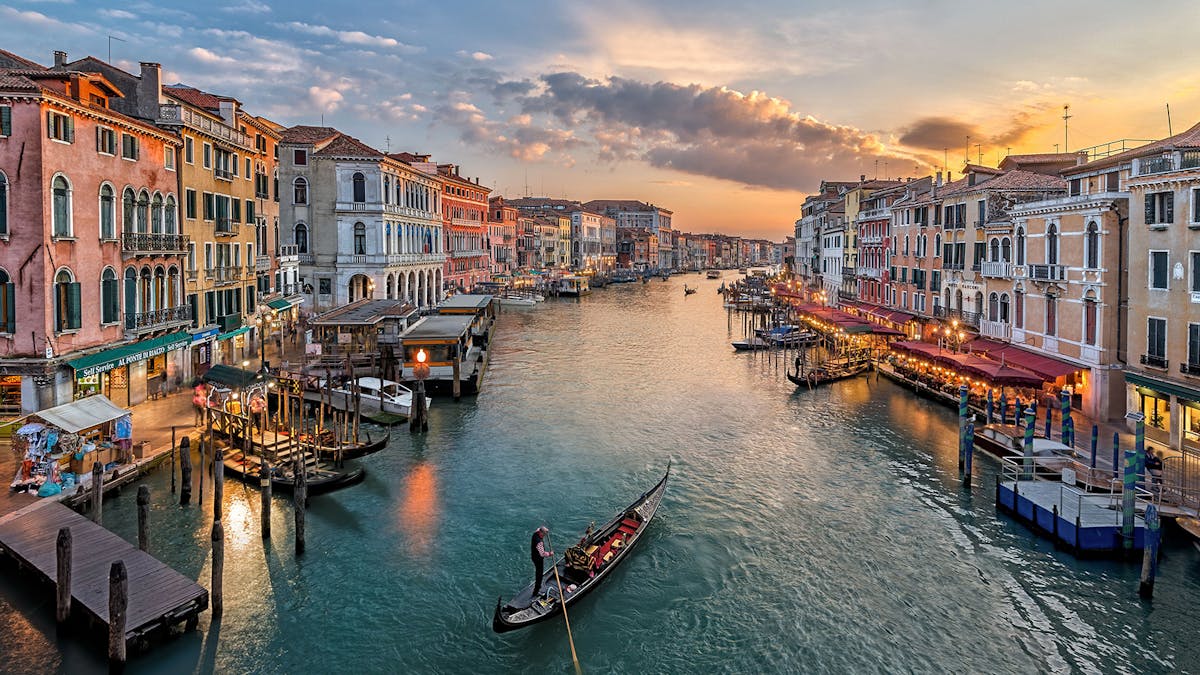 Getting around Venice
---
Motorized transport or bicycles are not allowed in Venice, hence these waterways are basically the arteries of this city. Roads are quite frankly a rarity in this Land of Canals. Hence, the best ways to get around Venice is by foot or water-borne modes of transport. Amongst the water-borne crafts, you have 4 options to choose from:
The taxi acquei (water taxi)
The gondola ( Venetian flat bottomed boats)
The traghetto (gondola ferry)
If you are visiting Venice, you can consider skipping a whole lot of things but you cannot afford to miss gliding on a gondola by the venetian lagoon because there is nothing more Venetian than the absolutely romantic Gondola ride. Here's all you need to know before taking a Gondola Ride In Venice.
What Are Gondolas?
---
Gondola ( pronounced as Gone-duh-la) are Venetian flat bottomed rowing boats built specially to waft by the Venetian lagoon. It may look like a canoe, however it is much narrower and almost always more decorated than a canoe. Gondolas were traditionally the chief means of transportation and though they still hold that role in the public transit system, they are touted to be the most romantic way of exploring the tapering alleys and charming landmarks of Venice you can't imagine reaching on foot.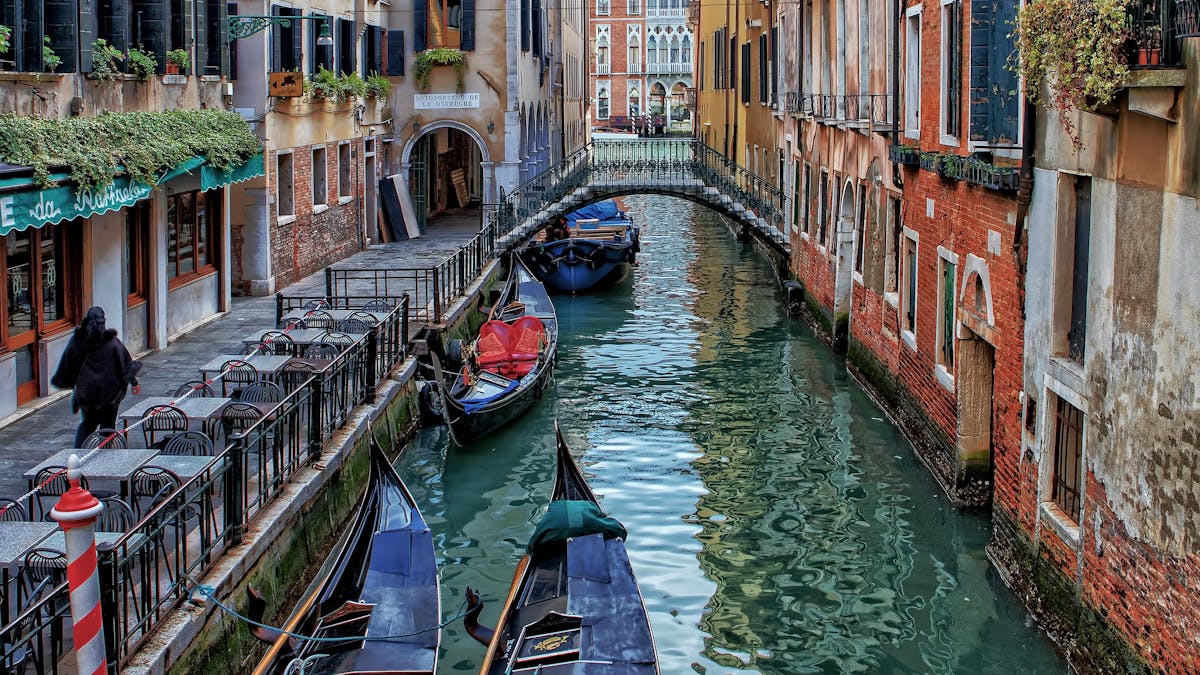 A hundred years ago there were about 10,000 gondolas but today there are only around 400 licensed gondoliers in Venice. A standard Gondola ride is for about 40 minutes and their fares are standard around 80 Euros. However buying them online works out cheaper and is a more peaceful affair than haggling with the gondoliers who rarely entertain bargaining their quoted price. Fares for gondola rides are higher at night so if you intend to romance under the stars, it might cost you a few extra bucks.
Why A Gondola Ride In Venice Is An Absolute Must?
---
Going to Venice and not hopping onto a gondola is synonymous to going to Dubai and skipping the Burj Khalifa. There's nothing, I repeat nothing, more quintessentially Venetian than a Gondola ride. Descending onto an elegantly black boat and setting off on an enchanting glide is one of the most romantic affairs in Venice. Sitting comfortably on the cushioned seats of your traditionally clad gondolas and passing under awe inspiring bridges flanked by architectural masterpieces and scintillating buildings is an all together paramount affair.
Venice Gondola Ride Tickets
---
While there are different types of Venice gondola ride tickets, the most sought after ones are the gondola rides with a serenade experience. Having an Italian singer hum mellifluous music while you glide on the canal is a mesmerising experience that simply cannot be put into words. Experience a Gondola ride in Venice and see for yourself!
Venice Gondola Ride with Audio-Guide

Book Now

Venice Gondola and Serenade

Book Now

Gondola Ride with Serenade and Dinner

Book Now

About
Discover Venice on a 30-Minute shared gondola ride and immerse yourself in Venice's bibrant history with a multilingual audio guide.

Learn More

Enjoy Venice from the waters on this delightful canal cruise while a singer serenades you with traditional Italian songs.

Learn More

Enjoy a Gondola ride with a traditional musician serenading mellifluous music and complete the experience with a authentic Italian private dinner.

Learn More

Schedule

Every day at 11:00 AM and 3:00 PM.

This tour is also available at 5:15 PM only from April to October.

From 1st November to 31st March – 3:30 PM

From 1st April to 31st October – 6:30 PM, 7:00 PM and 7:30 PM.

April to October: Daily at 6:30 PM and 7:30 PM

From November to March: Daily at 3:30 PM

Highlights

Priority access to a 30-minute shared gondola ride.
Map with a description of attractions.
Mobile app with audio-commentary.
Super Flexible Cancellation Policy which allows you to cancel up to 24 hours in advance for a full refund.
Audio Guides in English, Spanish, German, Japanese, Russian, Chinese, Italian and French

30-minute shared gondola ride.
Italian Singer onboard
You may cancel your tickets up to 24 hours in advance for a full refund.
Entry for children below the age of 2 is free, as long as the child does not occupy a seat of his/her own.

30-minute shared gondola ride.
Live music with serenade.
Mobile app with commentary to download on your device.
Dinner in a Venetian restaurant from 6.00 PM to 09.00 PM (Private table) with a menu of your choice.
You may cancel up to 24 hours in advance for a full refund.
Skip The Line Gondola Tour with Guided Walking Tour

Book Now

Skip the Line Doge's Palace Entry and Guide Book with Gondola

Book Now

Skip the Line St. Mark's Basilica Guided Tour with Gondola Ride

Book Now

About
Dive into Venice's fascinating history on an immersive guided tour and traverse its majestic canals on a delightful 30-minute gondola ride.

Learn More

Enjoy skip the line access to the Doge's Palace get the chance to relax and watch the city life from the canals on a traditional gondola ride!

Learn More

Enjoy a traditional 30-minute gondola ride after which, you will explore the St. Mark's Cathedral on a guided tour with skip the line access.

Learn More

Schedule

April to October: Daily at 3:45 PM

From November to March: Daily at 3:00 PM

Daily at 11:00 AM & 4.00 PM

November 1st 2018 - March 31st 2019: From Monday to Saturday at 11:00 AM.

Does not run on November 1st, December 8th & 25th, January 1st & 6th.

Highlights

Expert Guided walking tour of Venice.
30-minute shared gondola ride
Guided Tours in English, French, Spanish and German
Child tickets (children below 6 years of age) are available at a reduced price of €32.00.
You can cancel up to 24 hours in advance for a full refund.

30-minute shared gondola ride.
Skip the line access to Doge's Palace
Handy Guide Book with details of Doge's Palace, Basilica, Saint Mark's square.
Entrance to St Mark's Square Museums.
Complimentary map with public boat transportation information.
You may cancel up to 24 hours in advance for a full refund.

30-minute shared gondola ride.
Shared guided tour of St. Mark's Basilica with professional guide.
Map of the places you will get to see on your Gondola ride.
Audio receiver devices in case the group is larger than 10 people.
You may cancel up to 24 hours in advance for a full refund.
A Typical Gondola Ride In Venice
---
Depending on whether you choose to waft by secluded canals or the elaborate Grand Canal, your views will vary from a backdrop of Baroque buildings to brightly coloured dwellings. From the neighbourhood churches to buildings in intimate spaces, to landmarks with intricate ornamentation like the La Fenice Theatre and Basilica della Salute , you are likely to encounter many famous landmarks as well as unseen gems. If you happen to cruise under the Bridge of Sighs, don't forget to sneak a kiss to your partner. Legend goes that if you kiss under the bridge during sunset, lovers are granted eternal love! Though gondola rides are popular throughout the day, nothing beats watching the sunset on a Gondola. Watching the sky turning a pinkish hue and the water turning a golden shade from the sun's reflection against the backdrop of gothic roman buildings will turn you into a romantic, for however short a while. Don't resist it, breathe in the mystical air and enjoy this experience.
Know A Little About Your Gondolier
---
The gondola is steered by a gondolier who uses a rowing oar and swifts through the canal, occasionally humming Italian melodies. It is interesting to note that gondolier-ing is a centuries old guild and is considered a noble profession in Venice. Gondoliers are required to go through years of apprenticeship and have levels of exams on art, history, boating and linguistics. They are required to know 3 languages to become a licensed gondolier! Your gondoliers is likely to be in his uniform - black pants, a striped shirt and closed toe black shoes. He stands on one edge of the gondola and rows with the single oar and occasionally yells out 'OY' in a peculiar fashion to caution his fellow peers around the corner. Savor this experience through quiet canals interspersed with musical echoes, occasional shoutouts and unbeatable views. Tips For Your Gondola Ride In Venice
---
Consider buying your Gondola ride tickets online for a hassle and haggle free experience.
Plan your ride such that you can watch the sunset while you're on your gondola.
Combo deals of Gondola rides with a dinner or tourist attraction work out to be more economical.
Shell out a little extra for a gondola serenade. It is worth the experience. Also, they consider it offensive if you ask them to hum a tune, so unless you have paid for a serenading experience, don't ask them to sing.
Reviews Of A Venice Gondola Tour
---
I am really glad my husband insisted on buying tickets online. We saw many people haggling with the gondoliers and skipping the experience all together due to the high prices quoted by them. But , I strongly suggest a gondola ride when in Venice. It is completely worth every penny. We started off at the Grand Canal and meandered through tiny waterways as well. I personally enjoyed the narrow waterways better because the Grand Canal was frankly too crowded. It had a charm of its own nonethless, especially when the sun was about to set. Undeniably romantic and forever memorable...
Yara Papov , TripAdvisor, October 2017
Ever since I started reading up about Venice for our trip, I was most excited for the Gondola ride. We bought our tickets off Headout, a combo deal that allowed us a dinner+ gondola ride. Worked out much cheaper than I had expected. The dinner was great, but the gondola ride was brilliant. We had a chatty gondolier who actually took the pains to point out landmarks and other touristy spots on the way. We didn't know where to look because every nook and corner is so beautiful. I was afraid I'd miss something if I blinked!And yes, we did sneak a kiss under the Bridge of Sighs. Totally worth the shot!
Michelle_Nor, TripAdvisor, December 2017
Read what others have to say about Gondola Rides in Venice on Tripadvisor
More Venice Guides
---
Looking for other things to do in Venice? Here are a few detailed guides on top things to do in Venice that will help you plan your vacation better.