Venice, the city of canals makes for a great travel destination year round. Whether you're planning to make it in time for the Venice Carnival or you're looking to steer clear of the acqua alta, this guide will give you an idea of the best time to visit Venice. You can also glance through what happens in Venice every month of the year and what makes Venice a year-round delight.
Know Before You Plan Your Trip to Venice
---
Best Time for Staying Outdoors in Venice
If plenty of sun and a day by the beach is what you're looking for, Venice offers you its best from March onwards till August. In these months, you will find several resorts and pools opening up for the holidaying crowd. You may also indulge in sailing or rowing, which is a popular activity in Venice during summers.
Best Time for Sightseeing & Museum Hopping
Art enthusiasts can head to Venice between August to November. The temperature during these months is pleasant, and one can also make the most of the iconic Venice Film Festival that is held during this time. Being the shoulder season, these months also witness relatively less crowd around the city.
Best Time for Honeymooners
Venice boasts of pleasant climate during the months of September and February. With the winter either settling in or making its way through the city, Venice witnesses partly cloudy and foggy climate that makes up for the ideal romantic destination. Honeymooners can also avoid the crowd during these months as they fall just before the high season in Venice.
Best Time for Budget Travellers
If you're looking for an economic getaway, planning your trip around the months of November to January is an ideal option. Off-season in Venice sees lesser crowd and budgeted accommodation. Apart from this, there are also several holiday events lined up around the city that you simply shouldn't miss!
Best Time for Shopaholics
Venice houses an annual sale during the months of November and December. It is also during these months that there are pop up markets around the city during Christmas. Shopaholics can make the most of their trip by having a go at some of the most ornamental Christmas markets in the city.
Venice Through The Year
---
Tourist Seasons in Venice
High Season
June to August witnesses a very busy time for Venice. It is during this time of the year that you may find long queues, swarms of crowd and lack of accommodation in Venice. However, if you're looking for a summer holiday with lots of sunshine by the beach, this season could provide in abundance.
Shoulder Season
Beginning from March to May and from September till November is shoulder season in Venice. This season relatively sees a lot less crowd than summer, but still has people visiting for the pleasant temperature and iconic festivals. While it does not promise cold, a thick jacket is advisable for the season as it gets nippy every now and then.
Low Season
December to February in Venice marks a low season in the city. With the mercury dipping down to zero and days getting shorter, there are often very few activities available to enjoy. However, the holiday season does bring in the necessary fervour and you may spot arrays of Christmas markets in the city and before the New Year kicks in.
Best Season To Visit Venice
---
Visiting Venice in itself is one of the best experiences you will have in life. For most, it hardly matters what time of the year you visit Venice. However, if you want to know before you go, this is how the seasons in Venice look.
Venice in Spring
Venice welcomes Spring season at the beginning of March and it extends upto the end of May. The pleasant weather and the energetic ambiance is a welcome change after the gloominess of winter that often overstays up till February. It is also the time before summer kicks in, leaving enough time before the crowd finds its way to the city. Venice shows wonderful shades of the season with flowers blooming everywhere you go.
Venice in Summer
Cheerful sunshine and blue skies looking over the Venetian beaches — summer is quite a popular time to visit Venice and several tourists from around the world believe so. You may encounter large crowds and longer queues, so make sure you book on time. With long days and starry nights, Venetian summers also give way to interesting events taking place every now and then.
Venice in Autumn
If you're looking for a nip in the air without having to face the music, Autumn is the best time for you to visit Venice. With winter settling in slowly and summer making its way out, there are a lot of open air activities that you could enjoy during this season. Venice also hosts a number of art festivals during this time that could be enjoyed by art-enthusiasts.
Venice in Winter
While the weather may seem challenging during winter, Venice is a sight for sore eyes with quaint pop-up markets and cutesy outdoor cafes prepping for Christmas. The temperature dips down to 0°C but the city retains its charm and lively ambiance during the season. The season also witnesses a relief from the crowd that is around for the summer or spring season in Venice.
Weather In Venice Year Round
---
The weather in Venice year round has been charted on the graph below. The Highs are depicted in red and the Lows in blue.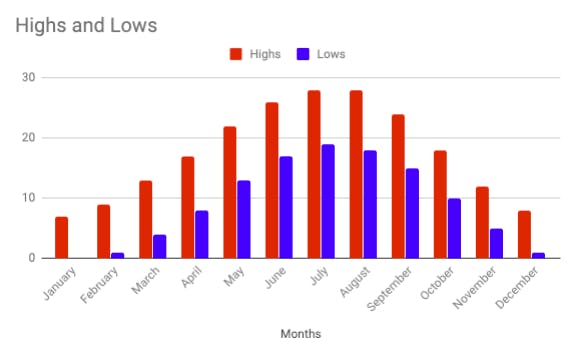 A Month-By-Month Guide To Visiting Venice
---
Follow our detailed guide to pick a month for your Venice exploits.
Venice In January
Average Temperature: 3°C to 6°C
If you're looking to spend some quiet time in Venice, January is an ideal time to get acquainted to the city. With the mercury dropping every now and then, the city offers you an ambiance that is straight out of a romantic movie. Days can be cloudy, accompanied with some Venetian fog, and there's always chance of untimely rains. However, the weather is pleasant and does not get as chilly as it does in December. Pack enough layers, including gloves, scarves and a warm coat to make the most of the weather in January.
Venice In February
Average Temperature: 5°C to 6°C
Despite the retreating winter, February can be quite cold in Venice. While you don't need to pack as heavy as you would in January, you still require to carry enough overalls to keep you warm during early mornings and late evenings. February, however, hosts the most-awaited Venice Carnival that is the right time to stop by for a gala time and indulge in public shows as well as other events lined up especially for it. February is the ideal time to visit if you're planning to enjoy the Venetian winter without having to book tickets during holiday season!
Recommended Experiences in Venice during Winters
Venice In March
Average Temperature: 8°C to 12°C
With the onset of Spring, Venice warms up and you can enjoy the newly bloomed flowers across the city. Expect a little more of rainfall than usual in this season, but apart from that there is plenty of sunshine with 12 hours of daylight on an average. Celebrations begin to pop up around this month and you may notice various events being held for Women's Day on 8th of March and 19th March which is St. Joseph's day (also celebrated as Father's Day in Venice). With Easter break just around the corner, be prepared to encounter moderate crowd.
Venice In April
Average Temperature: 12°C to 16°C
With April comes pleasant weather and lots of sunshine in Venice. Light clothing and comfortable footwear goes a long way during this season. This is the best time to visit outdoor cafes and open-air events that happen around this time of the year. Along with Easter in Venice, other iconic festivals including the feast of St. Mark on the 25th of April bring in a lot of cheer and celebration on the St. Mark Square. Apart from this, Venice also celebrates Liberation Day on the same day, commemorating Italy's liberation during the World War II.
Venice In May
Average Temperature: 15°C to 21°C
May marks the beginning of the peak season in Venice, which means you may encounter larger crowds, more queues and accommodation issues. However, this will also mean a cheerful atmosphere and sunshine that will brighten up the city unlike any other weather. You can expect warm days but don't be surprised to see the temperature dipping by the end of the day. This season will also witness several water sports taking place, as Festa della Sensa, commemorating Venice's marriage to the sea, takes place on the first Sunday after Ascension Day. It is also followed by Vogalonga, a rowing race, something that tourists as well as locals believe in participating.
Recommended Experiences in Venice during Spring
Venice In June
Average Temperature: 16°C to 24°C
With the peak season along with summer, both on a full-swing, Venice is hot and sunny during June. There is still a chance of rain and some afternoon thunderstorms which drop in unannounced during summer season here. Pack light along with your beachwear, which is recommended if you want to catch some tan during the longest day in Venice, June 20. During odd numbered years, Venice hosts its Art Biennale, that runs from June to November. You may also catch up on its various previews and pre-events, apart from Art Night Venezia.
Venice In July
Average Temperature: 18°C to 28°C
July is not only the hottest month in Venice, but is also the peak of its tourist season. The temperature rising can This is perhaps the best season to pack your bathing suits and sandals to cool off at the beaches. It is advisable to pack a sunscreen with high SPF to avoid a possible sunstroke. Venice celebrates its biggest festival — Festa del Redentore — commemorating the end of plague in the city during 1587. The spectacle attracts many from around Europe and the world and is celebrated widely across Venice with pomp and fervour.
Venice In August
Average Temperature: 18°C to 27°C
August in Venice can still be hot, however, night time can turn pleasant as compared to June or July. There is above average rainfall during this month and also a chance of thunderstorm. It is recommended to pack according to the changing weather and keep a raincoat at hand. August in Venice is a great time to go rowing or sailing, which could provide a respite from the heat in this season. Ferragosto, a traditional Italian holiday, takes place in August along with the preparations of the famous Venice Film Festival. You may also find a lot of interesting outdoor concerts and movie screenings taking place in this month.
Recommended Experiences in Venice during Summer
Venice In September
Average Temperature: 15°C to 24°C
September witnesses a decline in the temperatures in Venice, however it does not require you to pack heavy just yet. Carrying a sweater for the evenings can do the needful as temperatures tend to dip moderately during the night time. While rain isn't significant in this month, expect light drizzling every now and then which could cause the temperature to cool. With the Venice Film Festival taking place, September is also a lively time to visit the city. Experience a fun-filled, traditional gondola race at the Historical Regatta, which also takes place at the start of the month.
Venice In October
Average Temperature: 14°C to 16°C
It gets noticeably cooler in Venice during October, and you may also find a little less crowd than usual as the peak season dissipates. You may require a thicker jacket during this weather as the temperature gets nippy with the daylight constantly decreasing. Opera season kicks in at La Fenice in October which is ideal for those who are enthusiastic about the art. With Halloween around the corner, several lively parties and haunts come alive in October with a much younger crowd. Expect to find some fun events lined up for the festival across the city if you're in town.
Recommended Experiences in Venice during Autumn
Venice In November
Average Temperature: 4°C to 11°C
There is a dramatic drop in the temperature that marks the onset of winters in Venice. November can also get rainier, with rainfalls occurring every now and then. The temperature can drop more as the month progresses, so be sure to pack wisely. November starts off with an All Saints Day in Venice, which is a public holiday for the city. The Festa della Salute held on the 21st of November is yet another festival that commemorates the end of plague in 1631. November is a great time to sip hot chocolate in an outdoor cafe before the winter kicks in in December.
Venice In December
Average Temperature: 0°C to 7°C
December is the coldest month in Venice, and is also the beginning of holiday season in the city. Packing your cold gears, heavy jackets, hats and gloves is advisable if you plan to visit Venice during this season. With Christmas and Hanukkah around the corner, you may encounter several pop-up Christmas markets in the city. Closer to the New Year's Eve, Venice will also have lively events taking place leading up to December 31st. The finale on New Year's Eve features a firework show on Piazza San Marco and ends with couples kissing on midnight.
FAQs
---
What is the best time of year to visit Venice?
How many days should I plan to spend in Venice?
What are the must-see attractions in Venice?
Can I take a gondola ride in Venice?
What is there to do at night in Venice?
What is the food like in Venice?

What should I pack for my trip to Venice?

When should you avoid Venice?