Venice, known also as the "Floating City," is arguably one of Italy's most picturesque cities. The city is known for its mesmerizing canals, beautiful gardens, heritage buildings, architecture, and cathedrals. It's not hard to fall in love with Venice. With its fascinating architecture, refreshing climate, and a magic blend of people, it's no wonder this dream-like city has captivated so many outsiders. The entire city is an absolute joy to explore by boat. The whole city is so pretty that it makes you want to snap plenty of pictures – and with the endless maze of picturesque canals at your disposal, who could blame you? This Venice trip planner will help you to plan your Venice itineraries, what to pack for Venice, the best day trips in Venice and a lot more.
Best Time To Visit Venice
---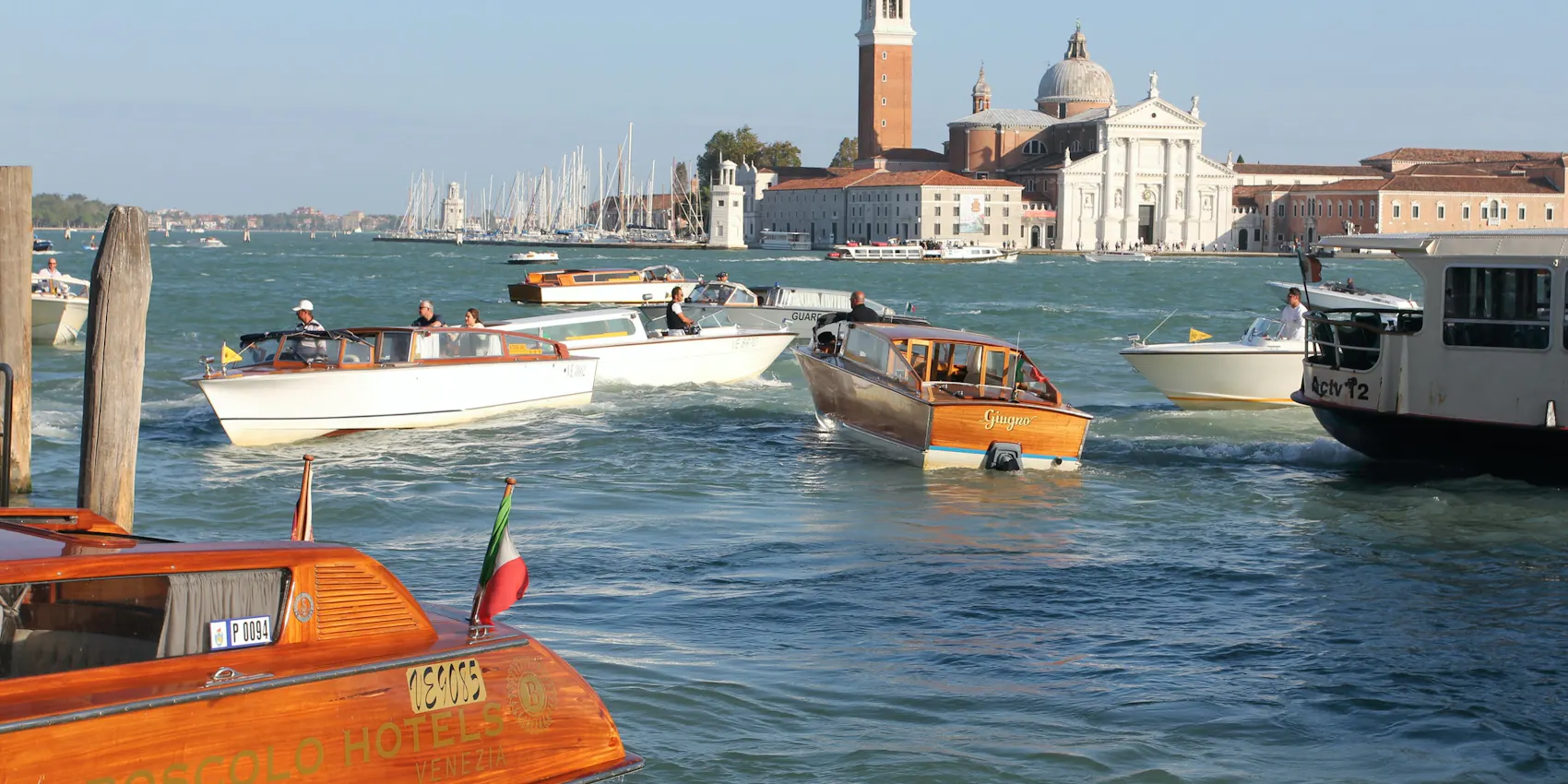 To truly experience the city of Venice, you must visit it during one of its best months. April, May, September, and October are the four most pleasant times to visit Venice. These weather-friendly months do not have winters colder than 10 degrees Celsius but are packed with warm sunshine and light winds. These pleasant conditions attract few crowds and help keep your daily visits much more personal and peaceful than they could be in other seasons. Halfway through May is also a great time to visit Venice because the weather is well above freezing with tons of that Mediterranean sunshine.
Read more about the the best time to visit Venice.
Venice Itineraries
---
Depending on how long you're in Venice for - whether it's just a day or 5 days, we have the perfect itineraries crafted for you. Go through these Venice itineraries and plan your stay well in advance!
If this is your first time traveling to Venice, you could use some help planning your daily itineraries. Apart from the basic planning (flight tickets, visa, accommodation in Venice, etc.), you'll need to consider your day-to-day activities in Venice - where to go, what to see, how to get there, and more. But fret not, for we are here to help.
1-Day Venice Itinerary
3-Day Venice Itinerary
Weekend in Venice Itinerary
Venice Travel Restrictions
---
Given the current situation across the globe, it is important to read up on the travel restrictions. As of now, Italy has has partial restrictions in place, and it is important to keep that in mind before traveling to this country. Find out about the new rules and reopening of attractions on the blog post below.
Hacks To Buying Cheap Venice Flight Tickets
Now that you've figured out the perfect time to visit Venice and braved through the restrictions, it is time to look for flight tickets. Go through our 17 golden hacks for cheap flight tickets before scouring through the flight ticket websites. You'll be surprised how easy it is to save a pretty penny while booking flight tickets!
Do I Need Travel Insurance?
Traveling involves a certain amount of uncertainty always. With the pandemic, this amount has only increased. Opting for travel insurance is not something many people have done (pre-pandemic), but post-pandemic, it is highly recommended that you opt for it. Choosing the right travel insurance plan gives you a safety net to prevent losses if things go downhill.
Travel insurance can be complex- how do you know what to choose? For this very reason, we can crafted a ultimate guide to choose travel insurance post-covid.
Packing For Venice
---
When planning your springtime trip to Venice, you'll want to look at your travel wardrobe in a new light. Many locals in Venice like to dress with a more classic and sophisticated touch. City life tends to be faster-paced here than in other regions of the country because of its high population density, making it ideal for well-tailored suits that are still designed according to the latest trends. The culture of Venice is all about being sophisticated, classic, and appropriate. Neutral colors are a great bet when traveling here, along with fitted and polished items. Weather can change quickly too; in springtime, you should expect temperatures that range from pleasantly cool at night to somewhat warm on sunny days of the month.
Where To Stay In Venice
---
Every year visitors flock to see Venice's masked revelers, gondoliers, exotic architecture, and brightly colored palaces. Adventurers can look forward to taking day trips from here when visiting Venice over the festive period. While crowds are common at some of the hot spots across south Italy and Sardinia during this time, there are more than enough rooms for everyone looking for a romantic vacation or get away with friends.
San Marco is one of the most-loved places in Venice. While this busy location offers little in terms of refuge from the masses, a square-like San Marco ensures that you will always be able to find your bearings as you work your way through this picturesque part of Italy's 'floating city.' Take some time to appreciate the history and culture of Venice before or after your gondola ride.
Accommodation on a budget
There is no dearth of budget-friendly accommodations in Venice. Some of the most popular hotels where you can find lodging are Ausonia Hungaria, Hotel Bauer Palazzo, Hotel Ai Cavalieri, Hotel Monaco & Grand Canal, Hotel Canal Grande, and Hotel Antiche Figure among others.
Nightlife
Even if Venice has a low-key nightlife, you can still find some high-class bars and restaurants with live music. The best places to go for late-night entertainment in the Lido area are nightclubs and bars. In Cannaregio, people enjoy a few drinks in the bars along the Fondamenta della Misericordia as it is called where there tend to be cheap and friendly nightclubs with in-house concerts nearly every night of the week. The live music at Venice Jazz Club is a chilled-out place to take in an intimate concert and sip on a cocktail while enjoying your favorite wine or beer.
Shopping hub
When visiting Venice, the famous Italian city of canals, one will be treated to a unique shopping experience. Aside from the many souvenir and clothing shops that can be found within Sandro Botticelli's Renaissance masterpiece, The Birth Of Venus (1486), there are also some great places for souvenir shopping just a short trip away from the city center. To find these hidden treasures on a budget, take a walk along Ca'Palio where you'll find accessories including wallets, belts, and fountain pens made by local designer Luigi Serafin. A good area for souvenir and gift shopping in Venice is the Campo Santo Stefano street north of St Mark's Square.
Food in Venice
Make sure you try out seafood when visiting Venice. You'll find that this style of eating has been favored by the people in this area for centuries. If seafood isn't your thing, there are plenty of options such as steaks and even sandwiches to be found here too!
Osteria Campo Santa Marina started as a simple sandwich shop but has now become one of the must-visit dining experiences in Venice. Eolo is another restaurant that you need to visit. The restaurant is a classic property with a modern twist and looks aesthetically pleasing. Some other places where you can dine are Al Covo, La Zucca, Terrazza Danieli, and Enoteca Al Volto among others.
Getting Around In Venice
---
Private or public transportation may be used by Venetians when needed. For example, those who live far away from the center of town may use buses or boats daily to get around. Boat transportation is often implemented during times of high tourism due to its convenience especially because there are so many tourist attractions scattered throughout the city. Rowing boats are primarily used for leisure and other recreational activities whereas private boats tend to be used more for work-related activities or simply for spending a day out on the sea itself!
5 Best Day Trips From Venice
---
The city of Venice is a relic of the past and a cultural touchstone in Europe, but while it's important to take the time to appreciate the culture you're surrounded by daily, there's an entire country of great sights and experiences right outside your doorstep that are waiting to be explored as well. If you're sick of seeing canals and churches every day then all you need to do is visit one of the many transport options mentioned before or go for something adventurous like skiing or scuba diving! Have a look at the best day trips to include in your Venice itineraries and unleash the wanderlust in you!
Verona
Cortina and the Dolomite Mountains
Florence
Bassano del Grappa
Villa Barbaro
Venice Travel Tips & Hacks
---
Hop on the Gondola Ride and experience the leisurely lifestyle of Venice. Make sure to travel light as you might come across steep bridges. Moreover, while sightseeing in Venice, a piece of heavy luggage serves as a major setback, therefore, it is recommended to pack light and enjoy the beauty around you.
Like those old-world travelers who relied on maps to get them where they wanted to go instead of GPS, you'll do just fine. It's surprising what a wrong turn can lead to, so don't be afraid when one presents itself and embrace the challenge as you might unfold various secrets of Venice!
Make sure you have enough money to travel the rest of the way into town. Even though a long-term bus or plane ticket takes you directly to the city center, their tickets are less flexible than intra-city transport passes.
If you aren't looking for a full four-course meal at a restaurant, then you should check into bacari near the city center. Many bacari serve small portions of food and wine and that will help you save some money.
During the summer and spring seasons, you will encounter a few mosquitoes in Venice. Therefore, it is advisable to carry mosquito and bug repellants.
FAQs: Venice Trip Planner
---
Yes, Venice is worth-visiting for everybody to unleash their wanderlust and discover the scenic beauty of this city.
One should visit Venice during the month of May-June as the weather is mild and sunny which is best for sightseeing and clicking pictures to take back home. September-November is also a good time to visit Venice!
Tourists enjoy tasting gelato, gondola rides, basking under the sun on the bridges, discovering numerous canals, and unveiling the secrets of the museums in Venice.
Some of the must-visit places that one must include in their Venice itinerary are St. Mark's Basilica, Piazza San Marco (St. Mark's Square), Palazzo Ducale (Doge's Palace), Canale Grande (Grand Canal), Ponte di Rialto (Rialto Bridge), and Santa Maria della Salute among others.urists, metros and taxis are the best modes of transportation in Barcelona.
While visiting during the summer or spring season, one must pack light and breezy clothes like dresses and skirts. Make sure that you pack light and carry waterproof clothing for unwanted drizzles.
One can easily use public transportation which includes taxis, buses, water taxis, gondola rides, traghetti, and much more. Otherwise, many tourists also prefer to walk around Venice and experience the beauty of the city at its best!
Water buses are the cheapest mode of transportation in Venice.
Lake Garda, Murano, Torcello and Burano islands, Verona, Padua, Prosecco Region, Florence, and Venice Lido are some of the places that one must include in their day trips from Venice.
San Marco is one of the most loved places and best neighborhoods to stay in Venice.
Venice Trip Planner Guide